Snapshot: Pleasantries and Simplicity at Pop's Eatery
Not quite a hole in a wall but a hidden gem as good as any other, Pop's Eatery is probably Bangsar's best kept secret.
A modest little eatery, this newest of two in the franchise is building a reputation as a local haunt for the nearby offices and condominiums with its affordable meals, off-the-beaten-path location (making it a great quiet spot for lunch and dinner), and if you sit at the right tables, unbeatable views of the Mid Valley area.
Tucked away under a parking lot for the adjacent Syed Kechik Foundation Building, Pop's unassuming facade is your best bet for value-for-money Western fusion foods, a definite welcoming change from the competitive hustle of the larger Telawi and Bangsar Village areas at the foot of the hill. Its simple interior of wooden benches and plankwood tables give to an airy atmosphere, a well welcomed on in this increasingly unpredictable sunny/rainy/hazy Malaysian weather.
Pop's Eatery prides itself in offering some quality items, tried and tested with local flair. Western delights may be a great break from the usual Malaysian street foods, but nothing beats the hint of spice anywhere!
We'll recommend starting off with Pop's House Salad, a refreshing mix of baby spinach, iceberg lettuce, red cabbage, onions, corn, and dill pickled cucumbers; all topped with roasted Peanuts & parmesan cheese dressed in lemon & garlic infused olive oil. Lightweight and vegetarian-friendly, this heaping plate can be eaten all on its own, or paired with other plates.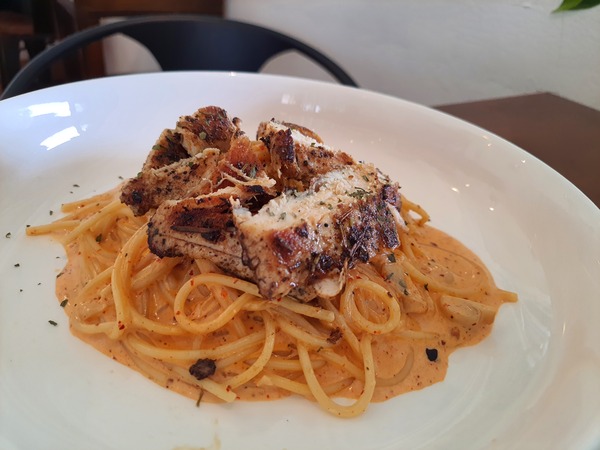 Rich and spiced like a gentle punch, the Spicy Cream Cheese Pasta W/ Grilled Herb Chicken is perfect for the in-between spice lover, and possibly adventurous kids looking to take their palette to the next step.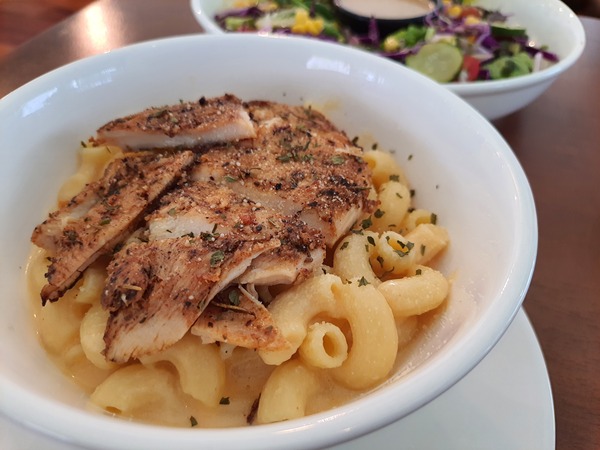 A personal favourite, also featuring a generously-seasoned fillet of grilled chicken aiding in keeping the full bodied cheesy sauce good for an extra bite, is the Creamy Mac N Cheese W/ Chicken. We promise we're not that biased given that we're one of the offices nearby the restaurant (keeping this comfort meal within reach)!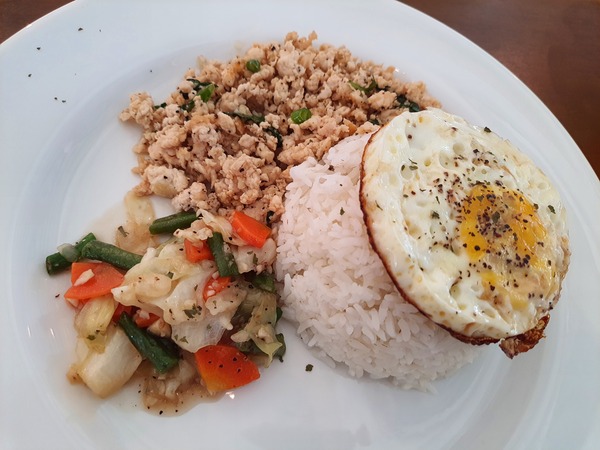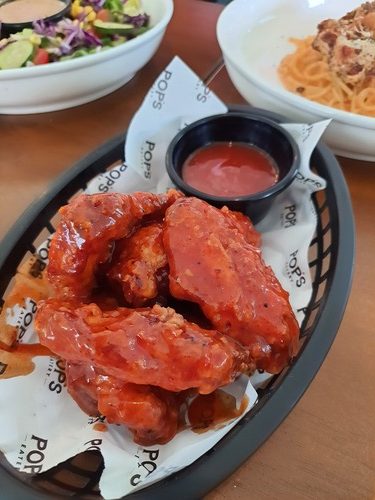 Those looking for a little more Asian variety will be glad to know that the Gai Pad Krapow (Thai Basil Chicken) holds up, albeit simple in presentation. After all, nothing beats a hearty plate of rice. To add to the fullness, why not get the Hot Saus Wings to boot and up the meaty spicy level?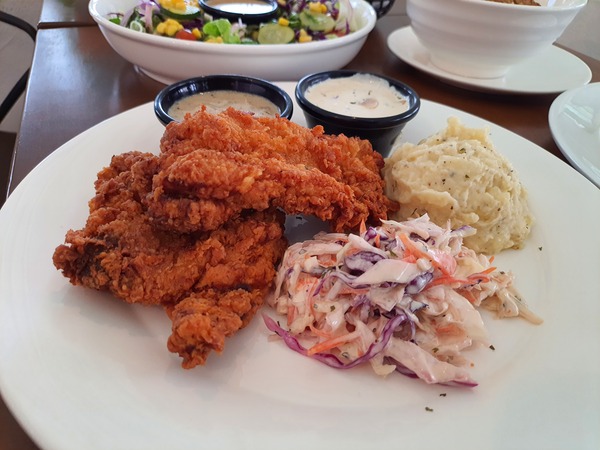 And for those looking for an affordable chicken platter-style treat, Pop's Country Fried Chicken hits the spot. We're truly spoilt as the chicken thigh served isn't just boneless, but also marinated in buttermilk and fried with a batter—comfort food supreme!—with creamy mashed potato and Louisiana coleslaw as sides; drizzled with mushroom and black pepper sauce.
Some might be thinking, sure, other places serve basically the same offerings of Western fusion combos, but what if we told you nothing mentioned above hit the RM25 mark? And lunch set meals are available too? Should you not feel like going on a little treasure hunt however, Pop's Eatery is available on Beepit and Grab. Visit their Facebook or Instagram @popseatery for more items and newest updates.
Location and Details
Address: Syed Kechik Foundation, Jalan Kapas, Bangsar, 59100 Kuala Lumpur
Tel: 03-2201 2000
Opening hours: Daily (11am – 9pm)
*This article was first published in The Expat (Dec 2021) edition. To view more, subscribe here.