Father's Day special omakase menu at Nobu KL: Restaurant review
From 17th to 19th June, Nobu KL will be serving a limited-time Omakase menu in conjunction with Father's Day. Created by Chef Philip Leong and the Nobu KL team, the seven-course Omakase meal offers an array of fresh seafood, such as oysters, sushi, and kanpachi, as well as a hearty Grilled Tenderloin Beef as the main course. We were invited to preview the menu, and offer our review here.
If you haven't been to Nobu KL, on the 56th floor of Petronas Tower 3, it's well worth a visit. This branch of the world-famous Japanese restaurant chain, which has outlets on five continents, was opened as the first in Southeast Asia last year. It draws diners from near and far to sample fresh, innovative Japanese cuisine in one of the city's most scenic perches.
The chef's multi-course Omakase – a word which means "I'll leave it up to you" and is derived from the Japanese word makesuru, or "to entrust" – is a meal consisting of dishes selected by the chef and is a mainstay concept of Nobu restaurants.
For Father's Day this year, Chef Philip Leong and his team have put together an impressive and elegant "surf and turf" procession that features not only Nobu's signature fresh seafood, but also a grilled tenderloin main course that had us drooling with anticipation from the moment we saw the menu.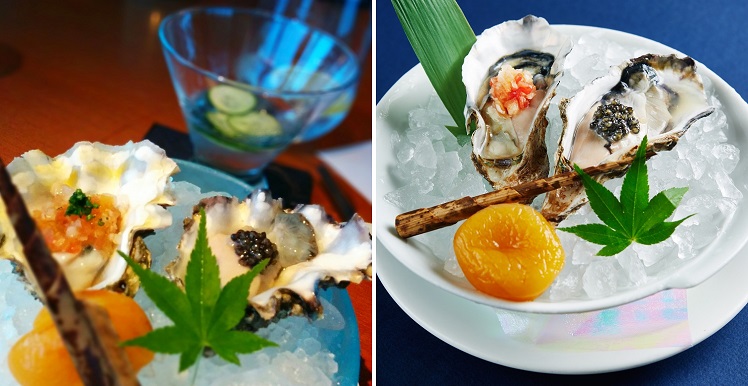 We won't touch on every facet of the seven-course meal – after all, something should be held back to allow for moments of discovery for diners – but we'll share some of the high points and give our overall opinion of the meal.
The menu started out with some of the best oysters we've ever tasted in Malaysia. Outrageously fresh and pleasingly firm, the two chilled oysters were served on the half shell, beautifully presented on a bed of ice. One was topped with caviar, a very nice treat as the punchy, piquant saltiness of the caviar harmonized with the oyster's own salinity.
The other was topped with a marvellous Maui onion salsa that, rather than underscoring the oyster's saltwater origins, contrasted with it perfectly. It was a revelation, and we could not imagine a better beginning to the meal. It's probably safe to say that even those who aren't especially keen on oysters would find these very much to their liking.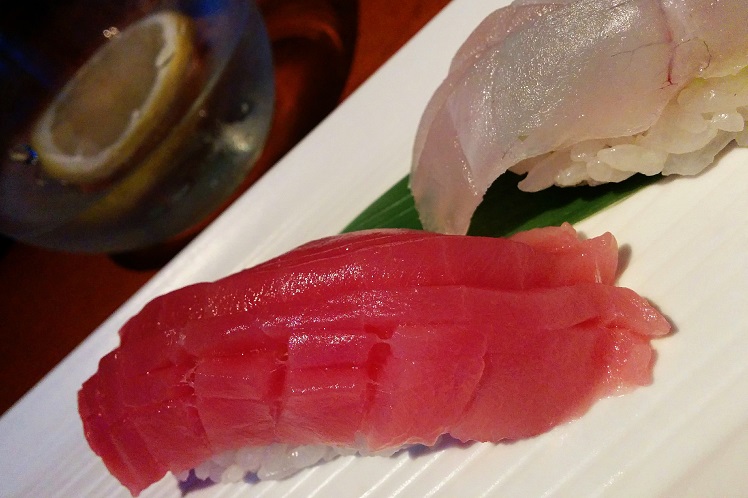 Also from the sea, an excellent chef's selection of nigiri sushi was featured. Once again, the freshness of the seafood we were served is impossible to overstate. Nothing fancy here: just scrupulously fresh, quality raw fish, masterfully sliced and served. You would expect a restaurant like Nobu to get its sushi absolutely right, and we weren't disappointed in the slightest. A flawless dish in every respect.
So while fresh, quality sushi really isn't a big surprise at Nobu – it's one of their signature offerings worldwide, after all – one course that really did surprise us was a simple cabbage dish. We were blown away by this one. Served midway through the meal, the Brick Oven Roasted Cabbage with Shrimp was served in a shallow pool of Tosazu Truffle broth. Not only is this a visually appealing dish, the flavour was outstanding.
Simplicity is a hallmark of Nobu restaurants around the world – you'll never find a dish with a large number of competing elements here – and this cabbage dish was a sublime example. The broth is light, delicate, and soy-based, with tosazu vinegar and lemon providing a deliciously acidic base, punctuated with the smooth, earthy flavour of truffles, which worked stunningly well with the roasted folds of tender cabbage. The shrimp were of course succulent and delectable, but even without them, we would have eagerly devoured the cabbage.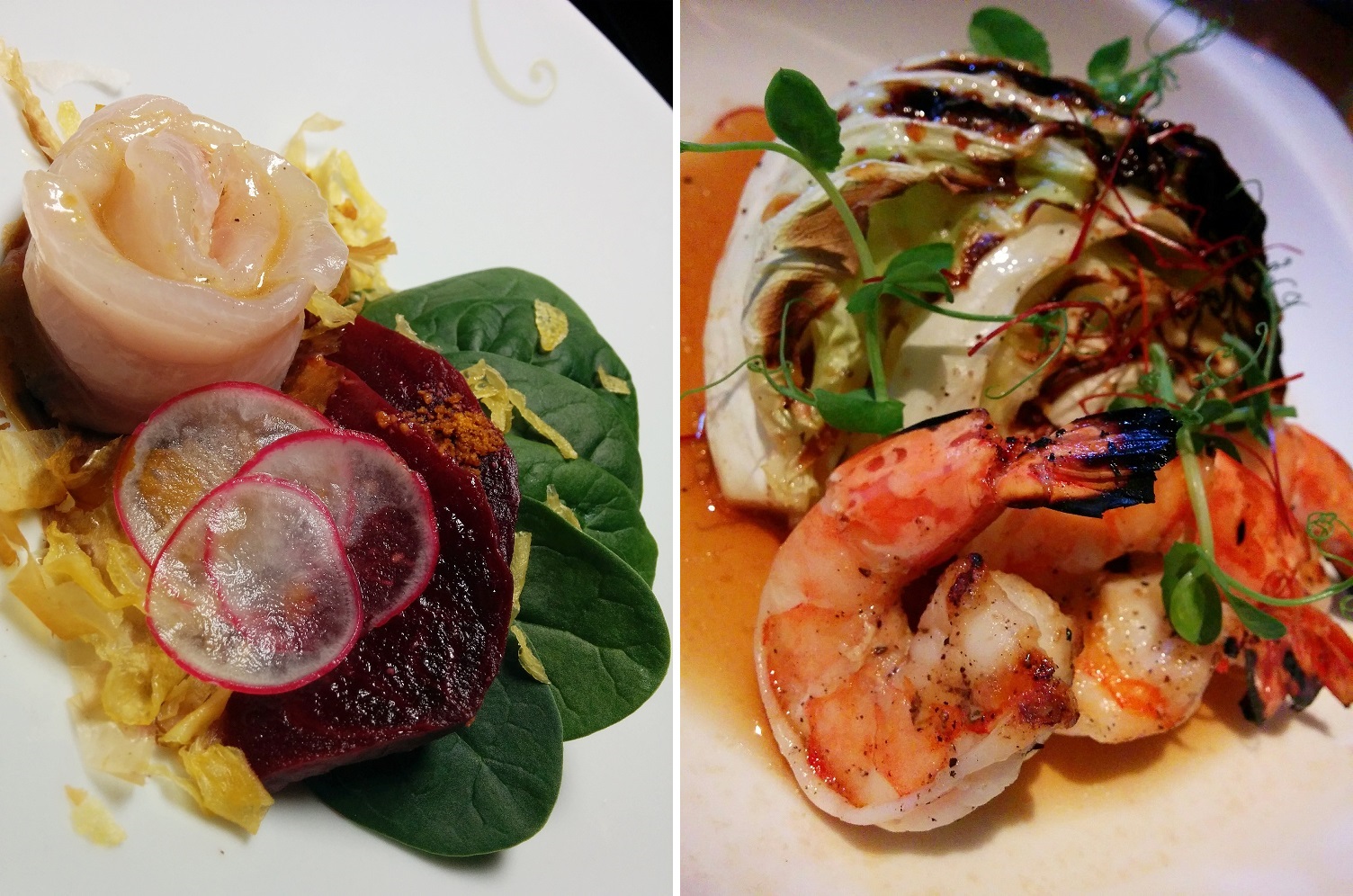 Another highlight of the Father's Day Omakase menu is Nobu's Grilled Tenderloin Beef. Though announced as medium-rare, the beautiful tenderloin dishes we were served were actually a bit more towards the rare side. Nevertheless, the meat lived up to its name – blissfully tender.
Complemented by just a few drops of a subtle Goma Peanut Sauce and served with nibbles of grilled asparagus spears and baby carrots, the tenderloin dish was a masterclass in perfectly understated steak preparation and presentation.
The quality cut of beef took centre stage, just as it should, accentuated minimally by a delicate sauce and a thoughtful array of accompaniments. Nothing detracted, nothing overwhelmed, and nothing was left on the plate at the end of this course!
There are other entries in the Omakase procession, including a salad course, a soup course, and a nicely low-key dessert that – as it's not too sweet or complex – provides an elegant and suitably Japanese ending to a lovely offering of well-prepared dishes.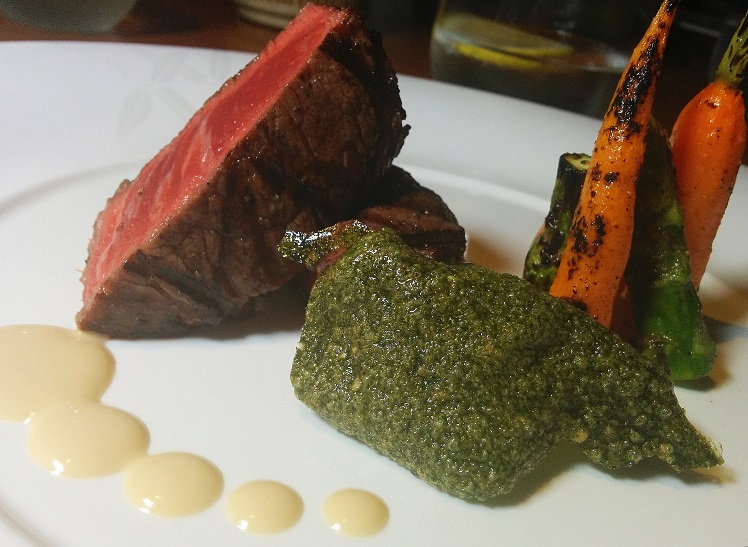 All in all, the seven-course Father's Day Omakase is a strong menu, providing a delightful range of dishes and an enjoyable contrast between food from the sea and food from the land. Every bite of every dish communicated freshness and quality, and we were very pleased with the friendly and knowledgeable service, too.
The stunning 56th-floor view, which progressed from evening to night beyond our tableside floor-to-ceiling windows needs hardly be mentioned. It beautifully completed the trifecta of memorable dining: good food, good service, and good ambiance.
Of course, Nobu KL offers a wide range of sake, wine, and quite a few rather innovative cocktails. Some of these are sake-based, such as their Signature Matsuhisa Martini. A straightforward blend of Hokusetse sake, Ketel One vodka, and ginger, garnished with sliced Japanese cucumber, this is a cocktail that will delight sake fans.
Other drinks with liquor bases – such as gin or whisky – are also offered, each masterfully blended, shaken, and presented. Even if you miss the special Father's Day menu, Nobu KL is a fine place to enjoy a cocktail with a superb view of the city.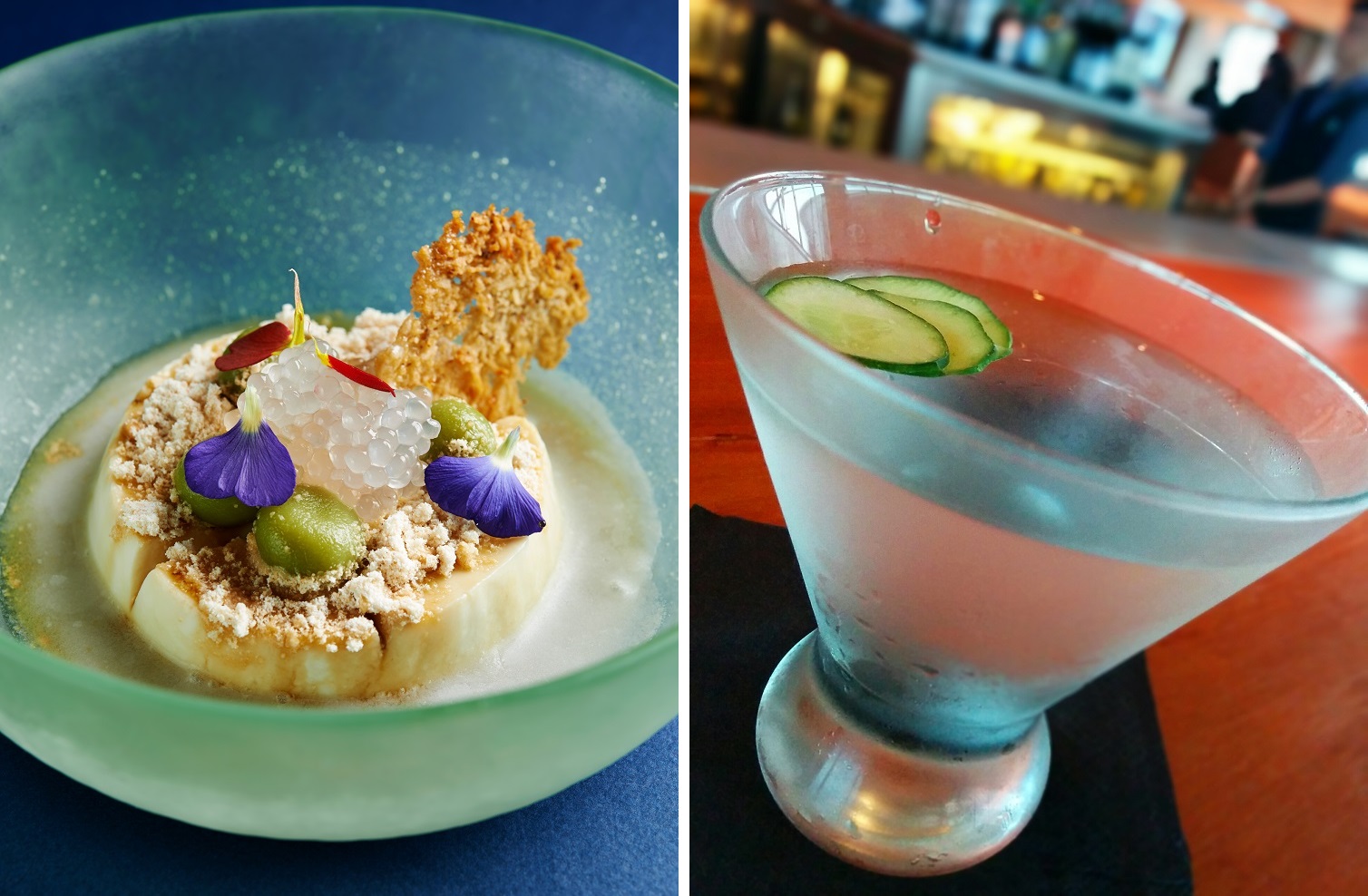 The Father's Day Omakase is available exclusively for dinner from 17th to 19th June (Friday – Sunday) and is priced at RM398++ per person.
Location & Details
Nobu Kuala Lumpur
Level 56, Menara 3 Petronas, KLCC
Lunch from Mondays to Fridays (12:00pm to 2:00pm), dinner Mondays to Sundays (6.00pm to 10.30pm)
Tel: 03.2164.5084.
Find: View Nobu's directory here.