Two Hands Restaurant at Damansara Perdana: Restaurant Review
This review is brought to you in part by Two Hands'.
Two Hands is meant to forge a fresh connection between a talented chef and his customers – imagine the head of the kitchen, with outstretched arms, proudly and personally presenting the fruits of his labour to his enthusiastic guests. After nearly a decade of honing his craft at respected restaurants, Malaysian chef Vic finally has a venue of his own to express the full range of his culinary philosophies, working with choice produce in a thoughtfully sensitive style.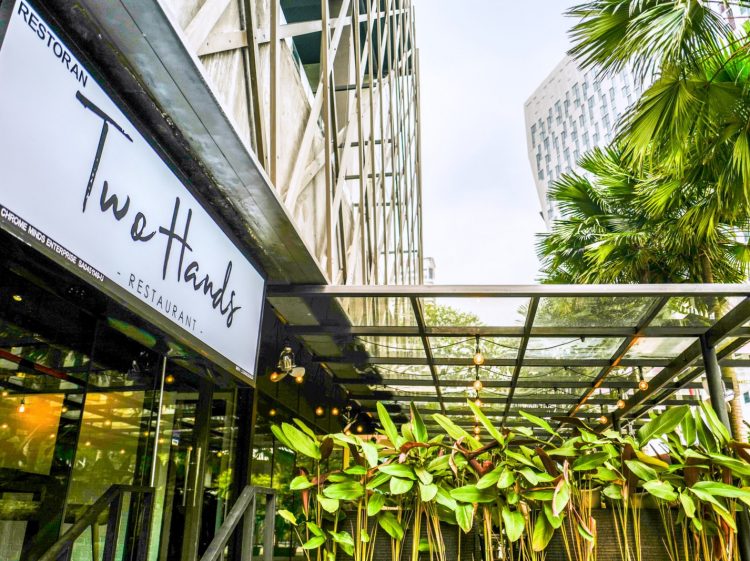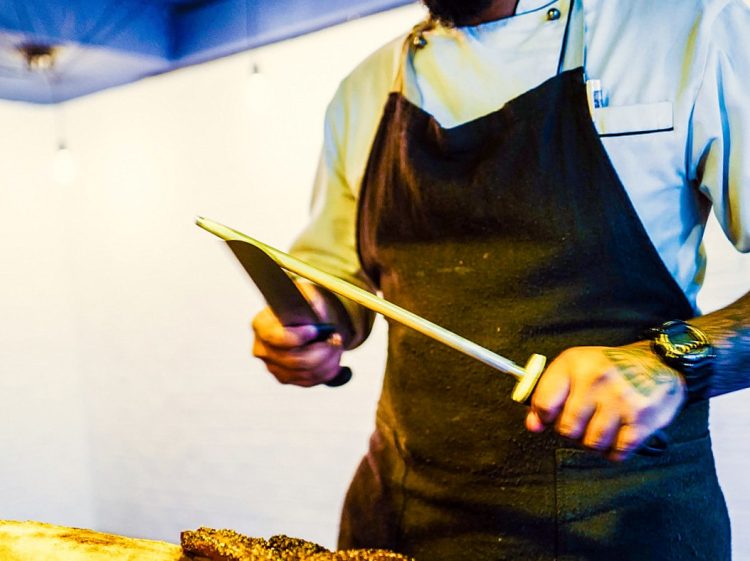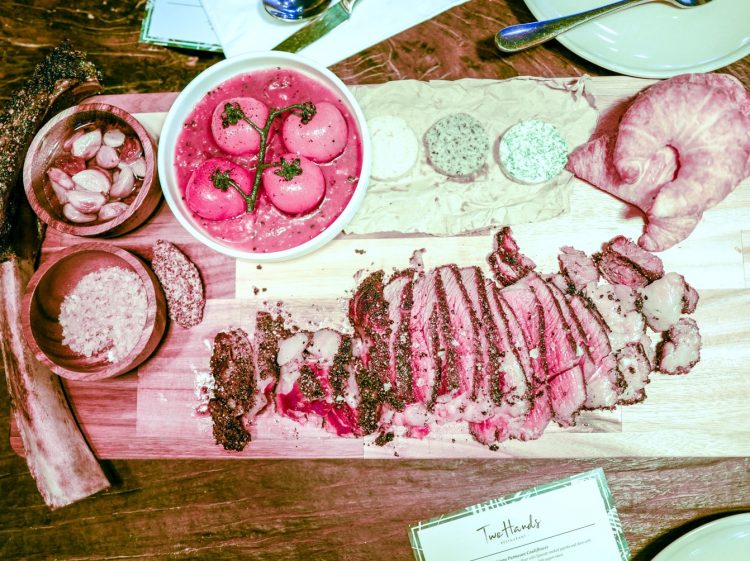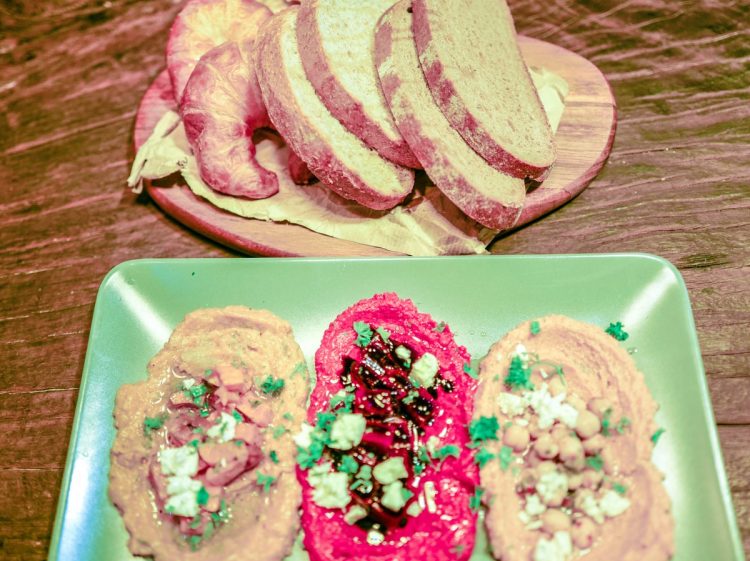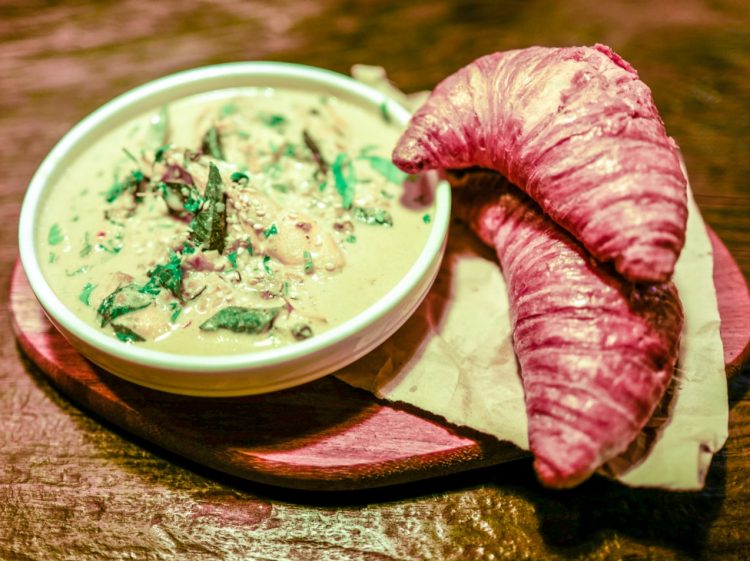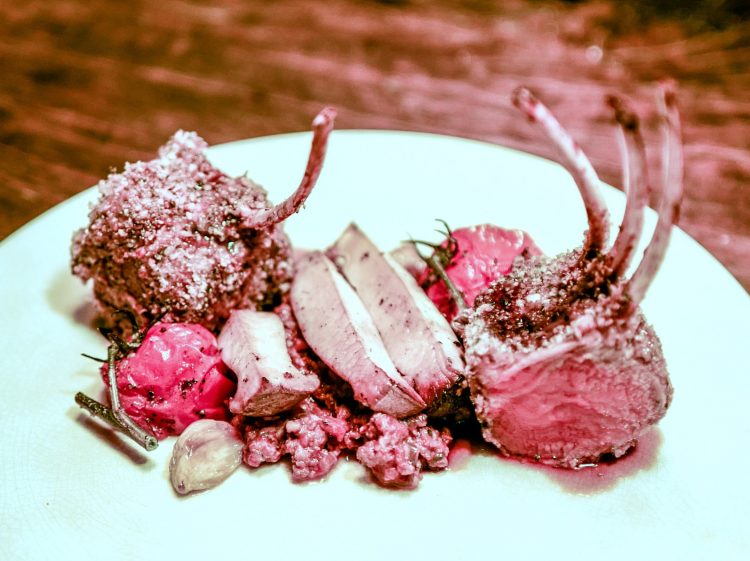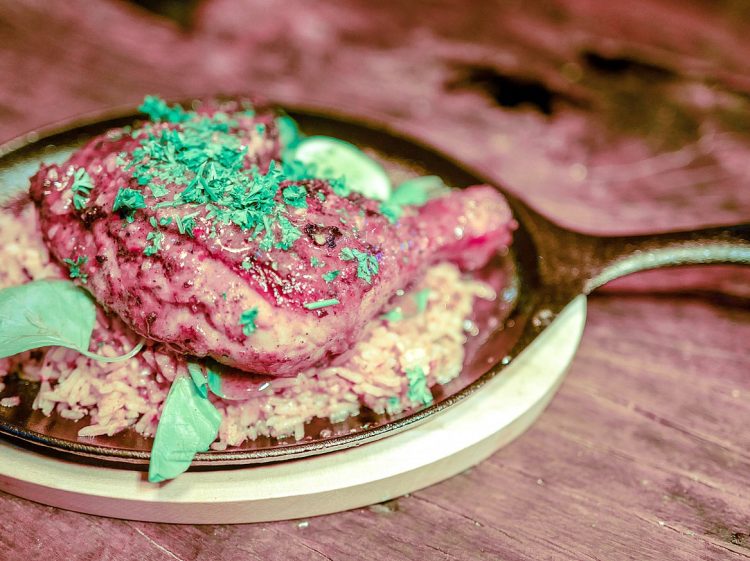 Chic Interior
The restaurant makes savvy use of its intimate space – customers can choose to dine and drink in a comfortable alfresco section, with leaves providing a measure of privacy from the streets of Damansara Perdana; or take a table in a stark, industrial-chic passageway, where they can watch the Two Hands team prepare their food in the wide-open kitchen …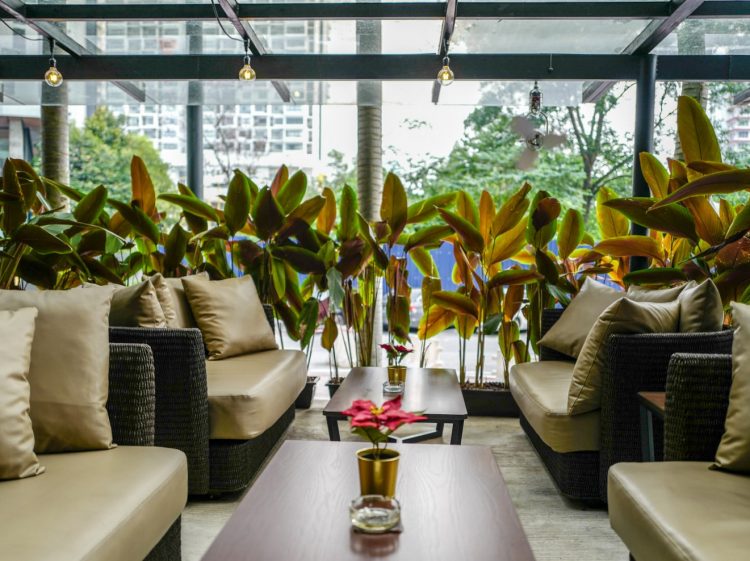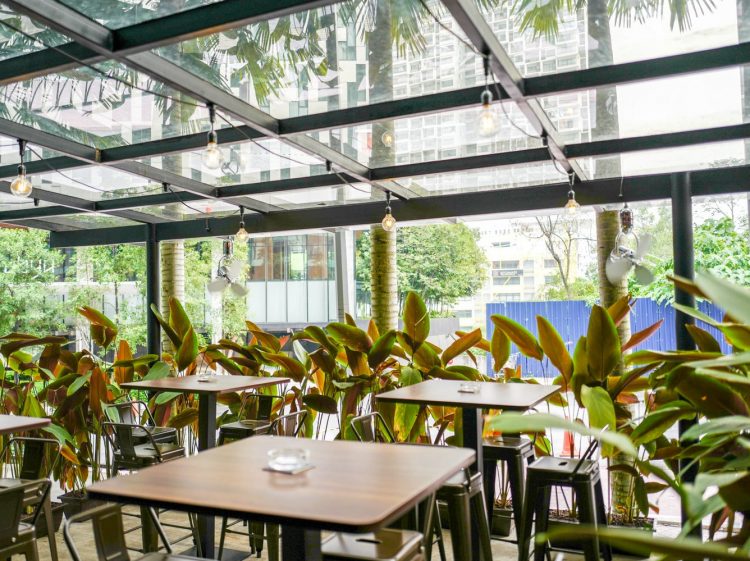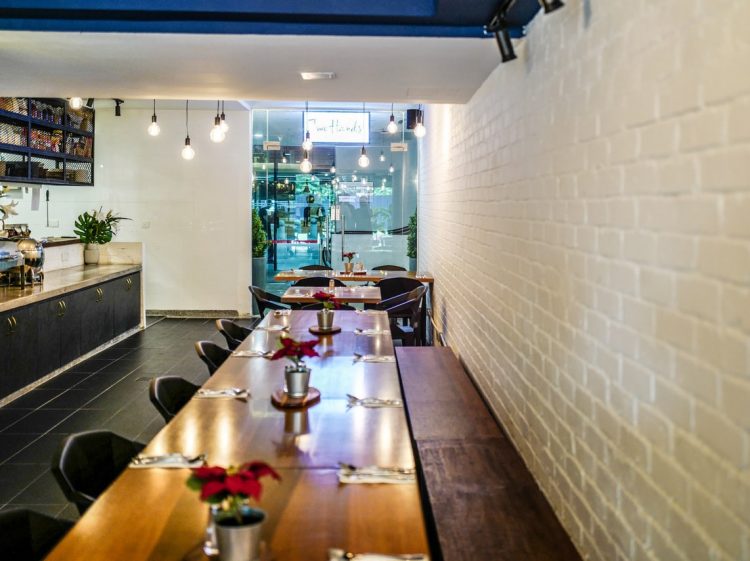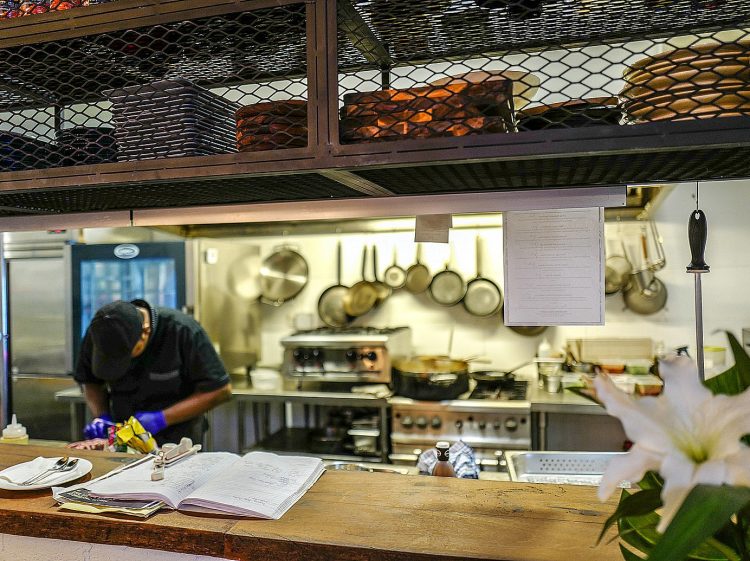 … or sit near the bar in a refined stretch where the centrepiece is a beautiful repurposed timber table with plenty of character.
Quality Meats
Speaking of centrepieces, let's kick off with one of the top temptations on Two Hands' menu – caveman-worthy tomahawk steaks are increasingly trending in KL, and here's where you can find a satisfying rendition that balances excellent quality with exceptional value. Chef Vic dry-ages the Black Angus beef for a potent concentration of flavour and smooth richness of texture; a single bite of this confidently executed meat takes you a long way, furnishing more complexity and intensity than a typical steak. It's a clear highlight of a Two Hands meal, from the meticulous slicing of the thick, bone-in meat at the table to the first tender bite that reveals a nuanced depth on your palate.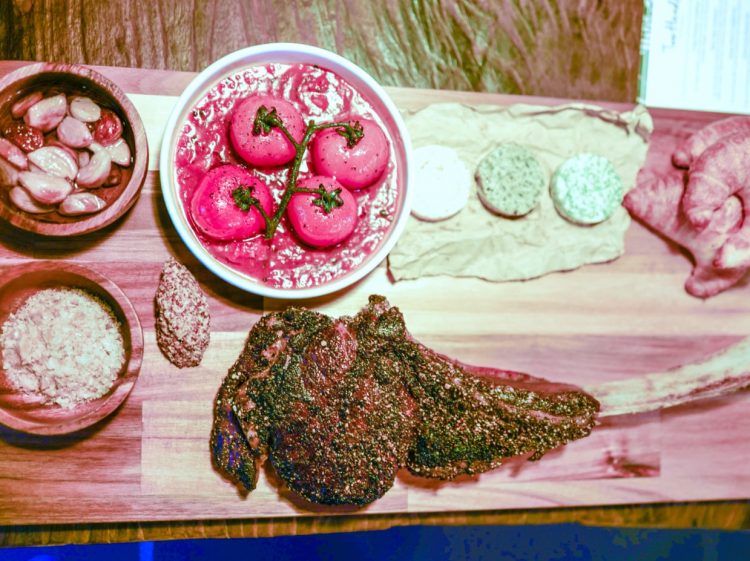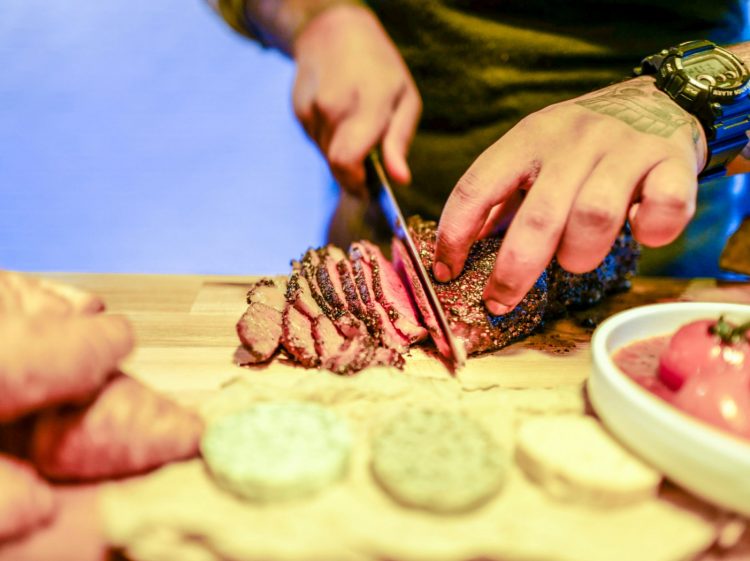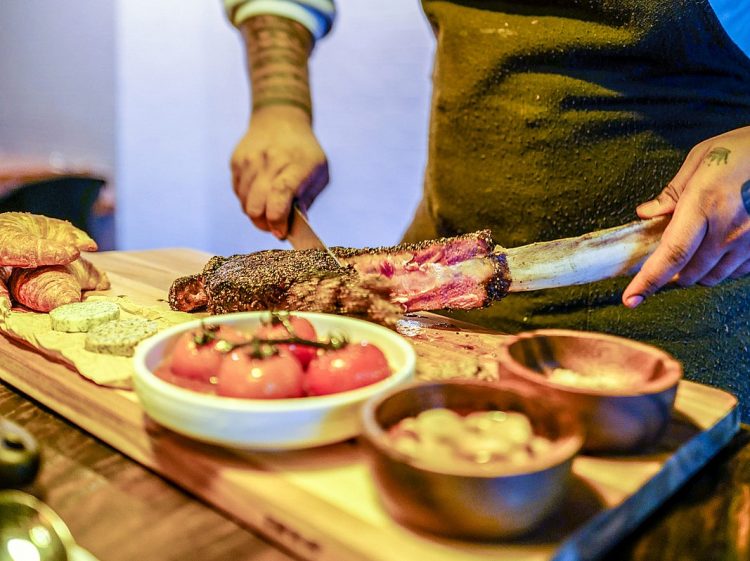 The tomahawk, crusted with freshly cracked black pepper for an uplift of zing, emerges with plenty of supplements, including cherry tomatoes on the vine, braised in a natural-tasting tomato sauce; house-baked croissants; roasted garlic; wholegrain mustard; and a trio of butters (orange-balsamic, truffle and herb), It's a princely platter for sure – our hearty portion comprised some 640 grams of the steak alone, easily sufficient for two to four people to share at RM370; we gobbled up every ounce of this in its triumphantly medium-rare glory, ravishingly fleshy. Available daily from lunchtime through late.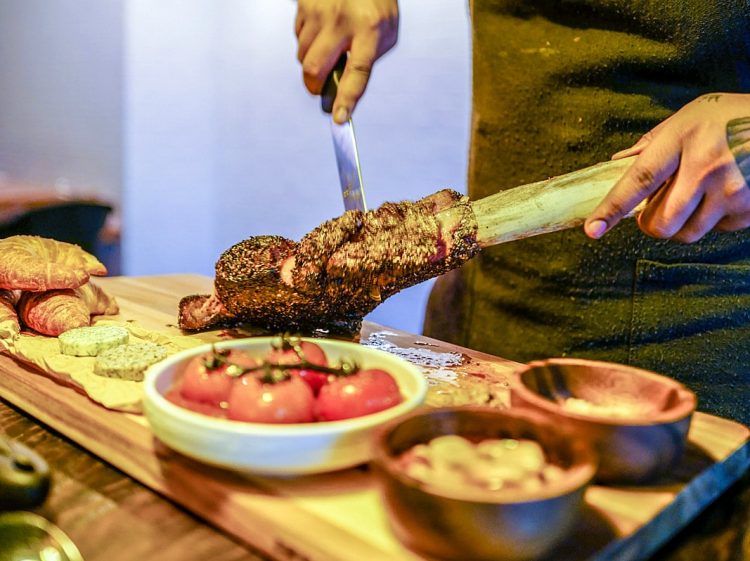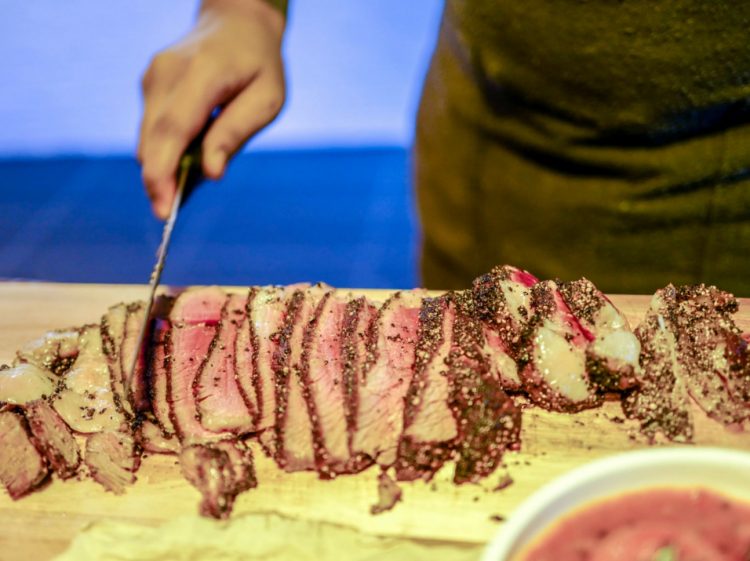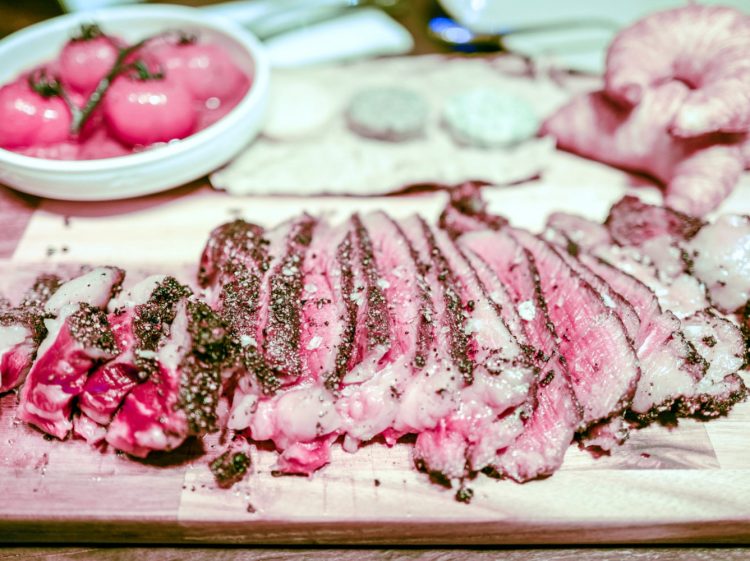 Other Complementing Dishes
Chef Vic's forte rests in translating his talent, skill and experience into tasty results, combining a comforting sense of familiarity with an intimate level of innovation. The Hummus Three Ways is a visually striking illustration of that – the traditional hummus with nutty tahini is spotlighted alongside two creative companions, one with beetroot and another with roasted pumpkin, for three distinctively different profiles that help expand the horizons of enjoying hummus (RM28; served with a variety of bread).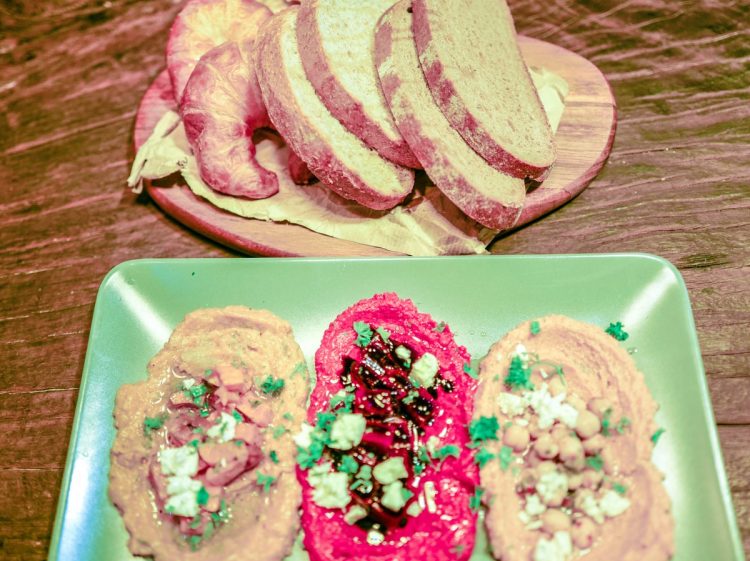 Two Hands also believes in enabling a multitude of ingredients to shine in a wholesome way, encapsulated in offerings like the local organic cauliflower coated in a supremely light batter of gluten-free flour, buoyed by Spanish smoked paprika, dusted with Parmesan cheese and coupled with dill yogurt sauce. A fun way of making cauliflower delicious for all. RM22.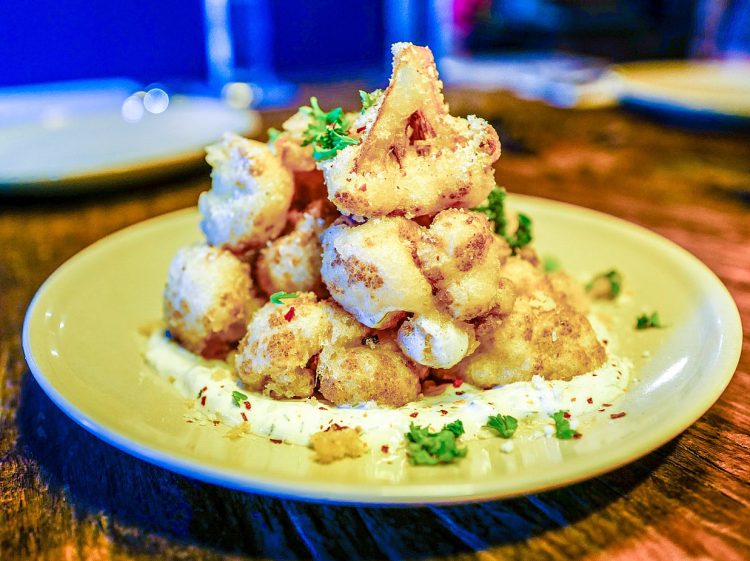 Two Hands' repertoire is diverse enough that it's impossible to define it by any one genre of gastronomy: For gravy goodness, the menu spans the Spanish-inflected albondigas of rustic, hand-rolled minced lamb meatballs braised in blistered tomato sauce (RM31; savoury fare paired with sweet cinnamon rolls for an intriguing partnership) to the Asian-inspired sustainable sea white prawns in a salted egg sauce that supplies hot, creamy comfort (RM28; with buttery croissants for dipping).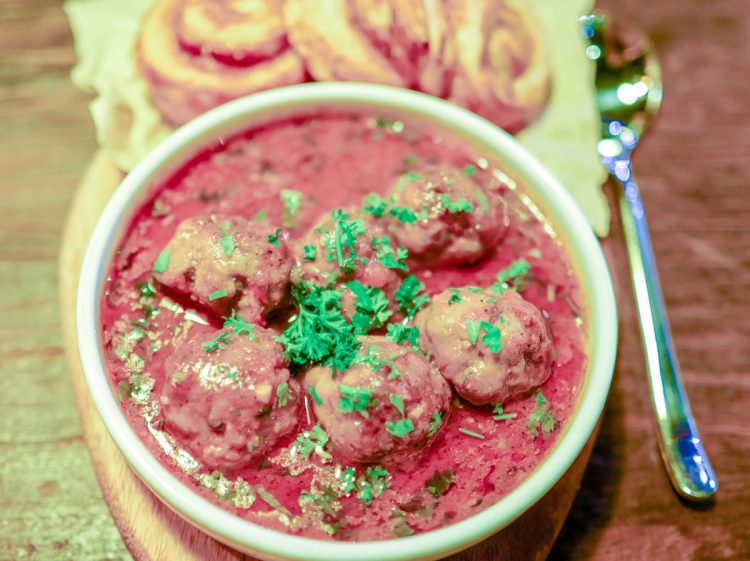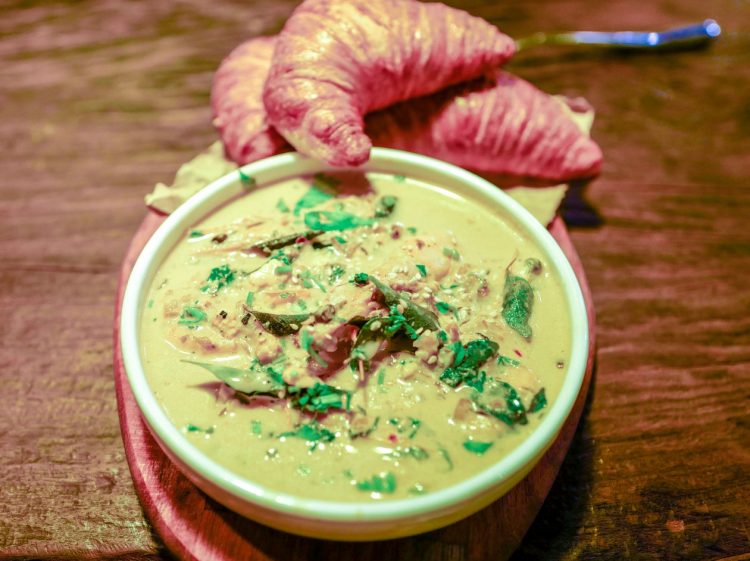 There's no doubting the kitchen's panache in tackling a variety of painstakingly sourced protein, from fish dishes like the pan-seared grouper fillet with umami-rich lumpfish roe, beetroot-brightened hummus, sauteed green peas and asparagus (RM77) to poultry like the lip-smackingly juicy Portuguese-style grilled chicken, relying on chunky local free-range fowl that's marinated overnight, cooked with toasted cumin and organic coconut milk, served on a bed of 'dirty rice' that's aromatically baked with freshly minced chicken, tomato chunks and bay leaves (RM58; can be shared by two) …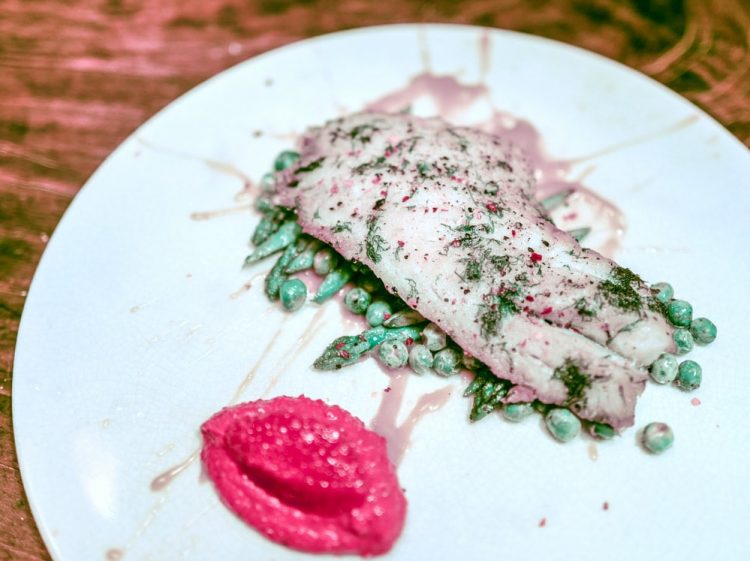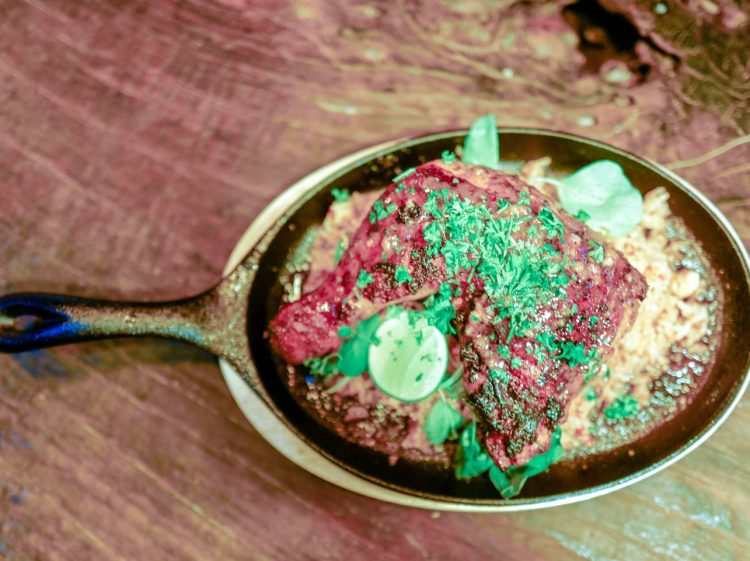 … to carnivore-friendly red-meat recipes such as the chilled NZ rack of lamb, a powerhouse of succulent robustness, crusted with cashews and herbs, well-complemented by a lamb ragout and king oyster mushrooms (RM98), and the beef short rib sliders, layered with organic pumpkin mash in mini focaccia buns (RM28). It's more than obvious that Vic and his team are chefs worth eating for, who pour plenty of passion into their efforts.
Desserts and Drinks
House-made desserts merit a mention too – the strawberry jelly cheesecake (RM14) might look humble, but it's a baker's delight, providing sheer pleasure to warrant the calories.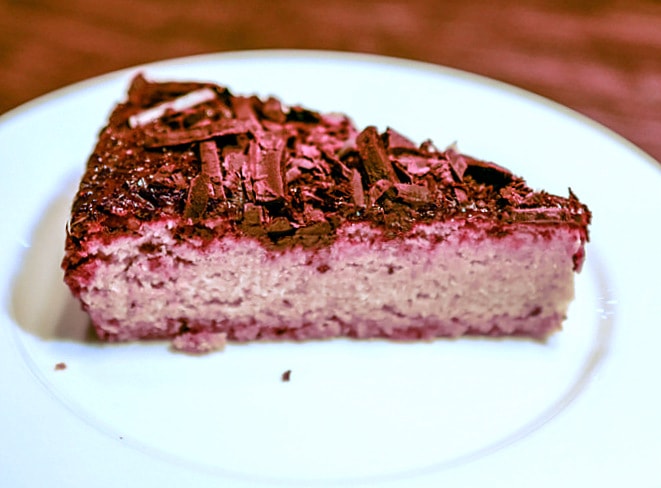 Come for cocktails too – Vic's capabilities extend to the art of mixology, and he's devised a quartet of witty concoctions that easily prove the equal of full-fledged cocktail bars. Our personal favourite might be the sprightly Cucumber Chloe (RM37; dry gin, Russian vodka, elderflower liqueur, cucumber juice, cured cucumber, thyme), but the Coconut Coach (RM32; Malibu coconut rum, vodka, organic coconut oil, pineapple juice) and nangka-adoring Jack Jean Paul (RM44; London dry gin, Russian vodka, jackfruit puree, hazelnut liqueur, fresh mint leaves) are both surprisingly impressive as well in their soothing blend of components. For the final pleasurable perk-me-up before leaving, have the Coffee Chanel (RM31; kahlua, frangelico, vodka, caramel, freshly brewed espresso).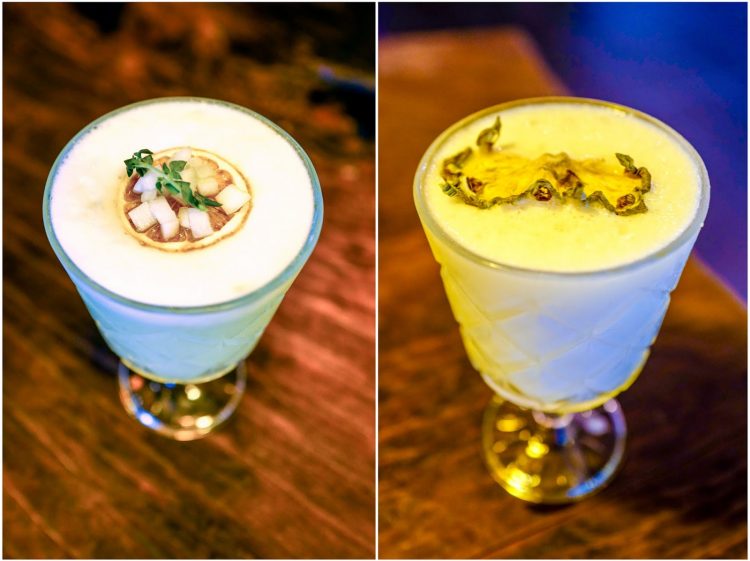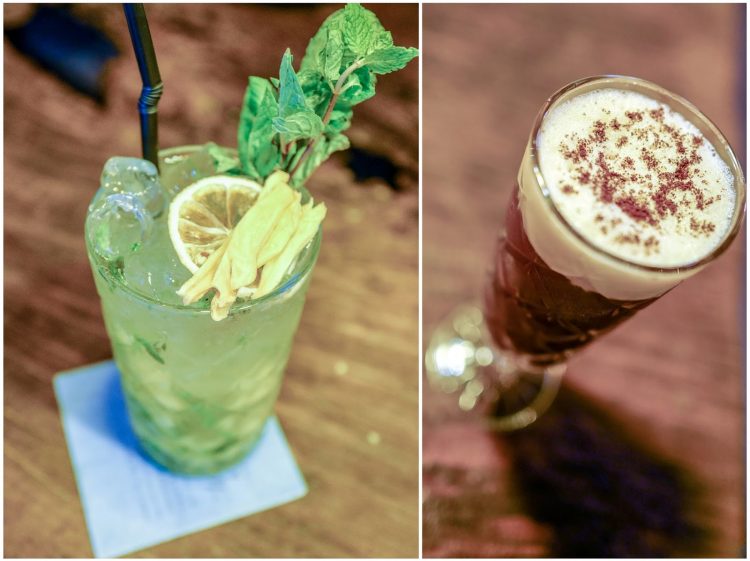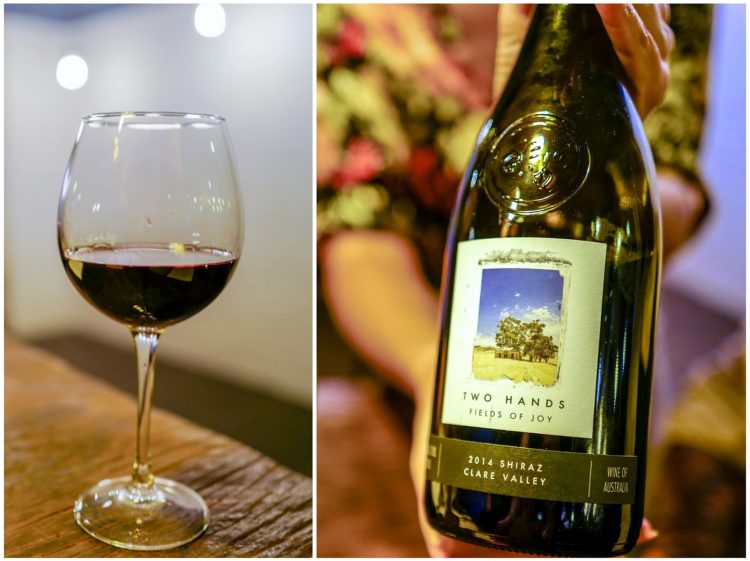 Many thanks to Two Hands' warm and welcoming team for having us.
Location & Details
Address: Unit No A-LG-05, Qliq Damansara, Jalan PJU 8/8A, 47820 Petaling Jaya, Selangor
Hours: Open daily, 7am-1130pm
Tel: +6012-424-1194
Find: View directory for Two Hands here