Think Blended Scotch is Inferior? A Near-RM140k Bottle Sold in KL Says Otherwise.
The rising popularity of single malt Scotch whisky, which is made only from malted barley produced at one single distillery, has led many people to think that it's somehow inherently superior to blended Scotch whisky, which comprises both malt and grain whiskies from different distilleries. In all honesty, sometimes it is. But it is by no means a given. There are uninspired single malts and there are exquisite blends, and it's not accurate to say that one entire category is, as a whole, better than another.
Blends actually account for the vast majority of Scotch whisky production and sales; in fact, all of the 10 top-selling Scotch whiskies in the world are blends. And while there are admittedly quite a few mediocre (and even unimpressive) brands in this category, rest assured that in the upper echelon of blended Scotch, some genuinely sublime, magnificent whiskies can be found. Among them is Royal Salute, a brand whose whiskies "begin where others end" in that the minimum age on any bottle of Royal Salute will be 21 years! Blending Scotch whisky and doing it well is a true art, too, a talent that for most Master Blenders, is one that's learned, honed, and practised over many, many years.
Royal Salute is an exceptionally crafted and aged Scotch whisky that was created to mark the coronation of Queen Elizabeth II and the 21-gun salute that honoured her, giving rise to the brand's minimum age of 21 years. Royal Salute is steeped in tradition and no doubt takes pride in its royal lineage, but today, maintains its character by constantly pushing the art of blending into new, creative, and ambitious forms.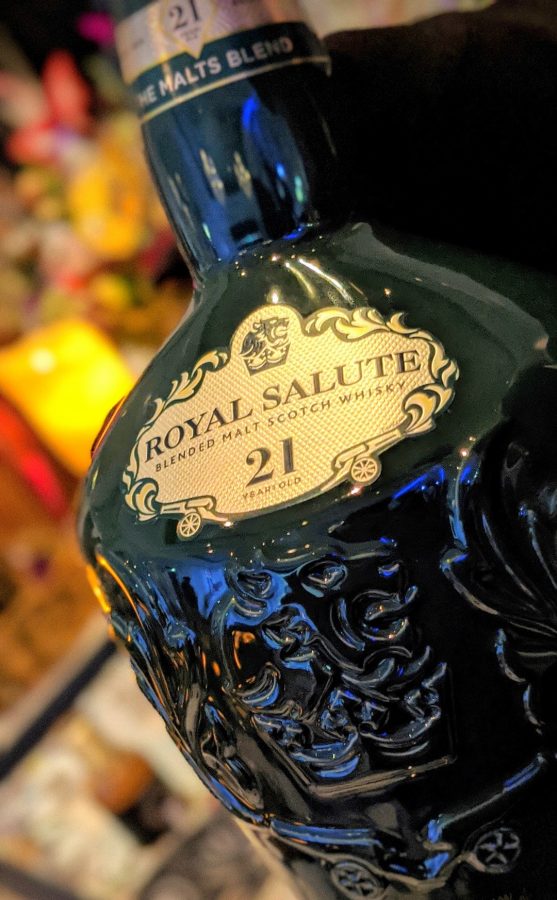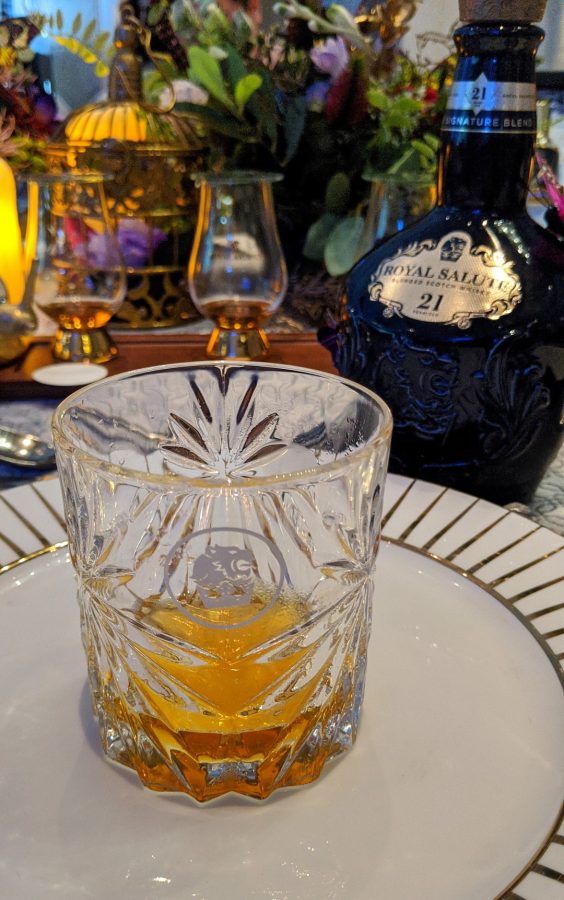 Keep in mind that while 21 years of age is only the bare minimum for Royal Salute, some of their bottles are far older. (I can report that their 38 year old expression is particularly stupendous.) Recently, in honour of the preciousness of time and the release of the 'King of Whisky's' ultra-rare, limited edition expression, The Time Series 52-Year-Old Single Cask Finish Scotch, Royal Salute hosted its unique Olfactory Studio. The unique session, held at St. Regis Kuala Lumpur, was the first in a series of multi-sensorial experiences inviting guests to discover new ways of tasting whisky and the parallels with the world of perfumery, which gave guests a sensorial take on Royal Salute's precious and rare whiskies. Led by Scotch Whisky Ambassador Jasper Epsom, The Olfactory Studio series is being hosted in hotels and restaurants in Kuala Lumpur.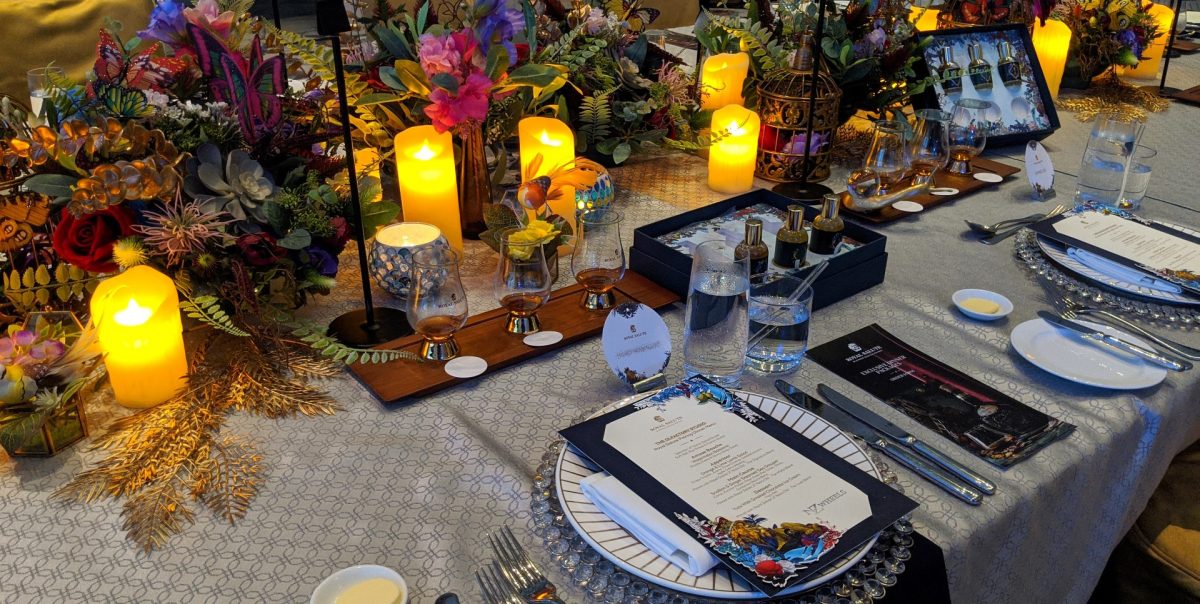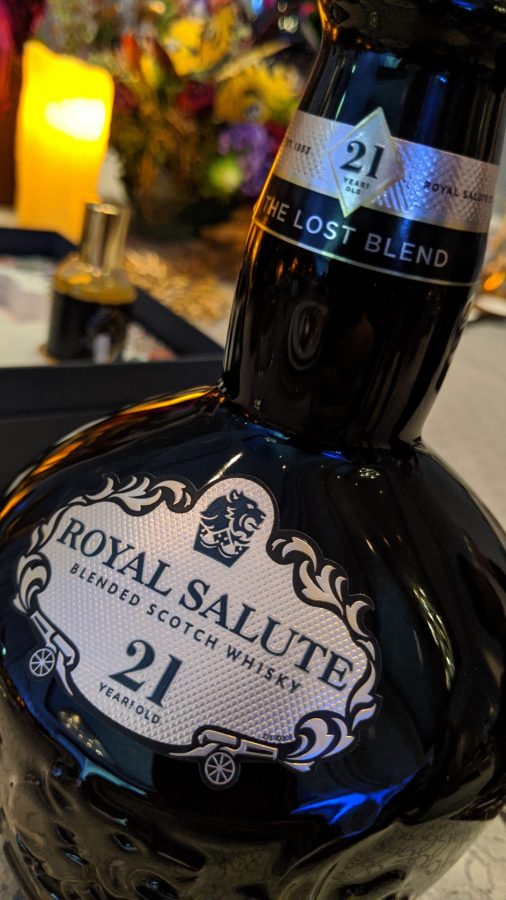 The Malaysian debut of the Olfactory Studio experience featured three expressions of Royal Salute, complemented by an outstanding menu from St. Regis. Of course, the star was the Time Series 52-Year-Old Single Cask Finish. With only 106 bottles available worldwide, at an eye-popping price tag of RM138,888 (US$30,000) a bottle, this luxury Scotch has been expertly crafted by Royal Salute Master Blender Sandy Hyslop using some of the oldest and most valuable whiskies in the entire Royal Salute collection. Only two bottles, flagons numbered 37 and 38, were allocated to the Malaysian market, both of which were quickly snapped up by eager, lucky private collectors.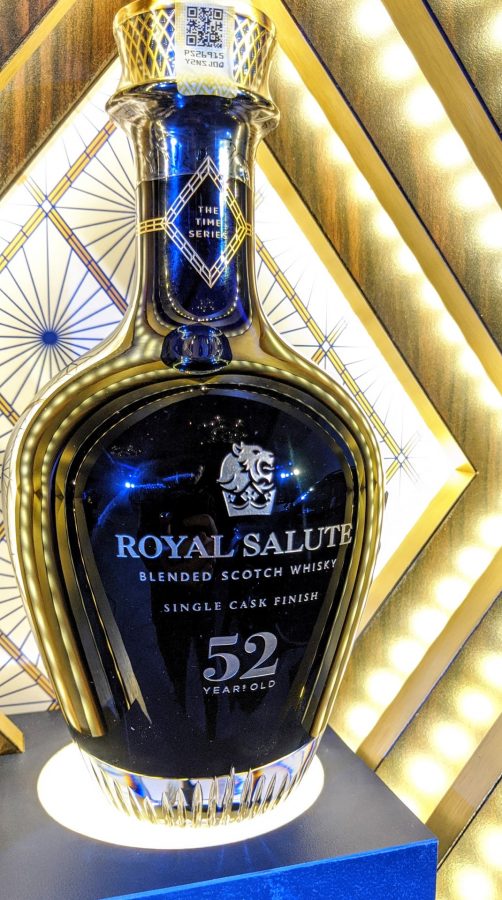 A true collector's item, the exquisite expression is housed in a hand-blown Dartington Crystal decanter engraved with a unique number, sitting in a stunning box featuring five layers of wood, each representing a decade of the incredible blend inside.
Given the price tag of The Time Series bottling, guests were understandably not given any samples – even a small 15-mL tasting would cost about RM6,000! – but the tasting notes we were given certainly stimulated our imaginations! The Time Series 52-Year-Old is a single cask finish blend with a remarkable character that's flawlessly balanced with a creamy sweet finish. The liquid is intensely fruity on the nose, with notes of ripe plum, toffee red apples, and dark chocolate covered hazelnuts. The taste is enhanced with flavours of sweet orange marmalade with a hint of ginger and scented cloves intermingled with soft ripe pears in syrup and a tantalising touch of liquorice. Out of the 52 years of slow and patient maturation, the last 14 were spent in a single cask, which gave the whisky a soft and creamy texture.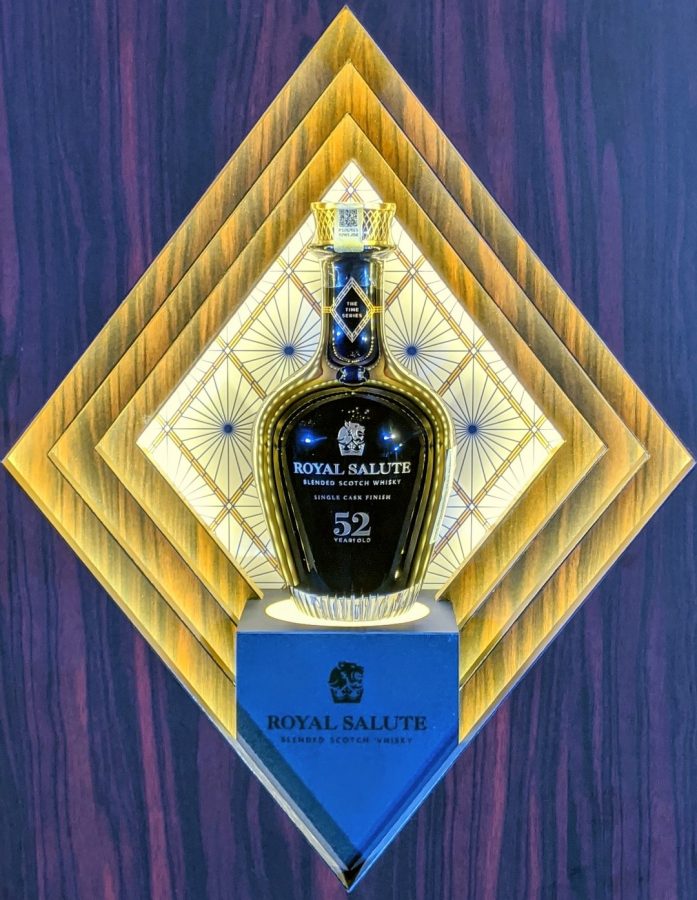 Fortunately, guests' palates were far from unhappy, as everyone still got to enjoy Royal Salute's excellence in a trio of expressions, all of which were 21 years old: The Signature Blend, The Malts Blend, and The Lost Blend. Each whisky was nosed, tasted, and savoured alongside a custom-curated perfume, designed by a noted French perfumery specifically to heighten the sensorial enjoyment of each whisky's bouquet, flavour, and complexity.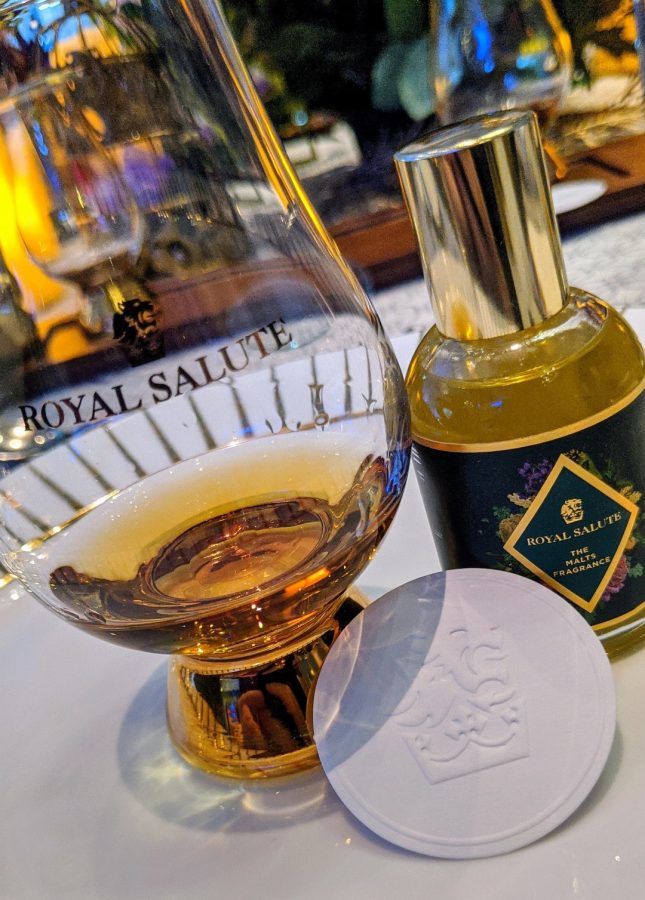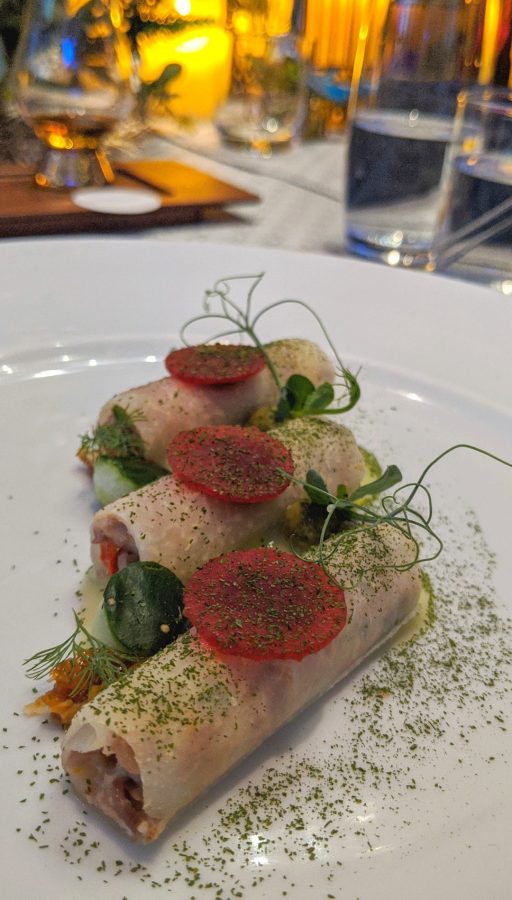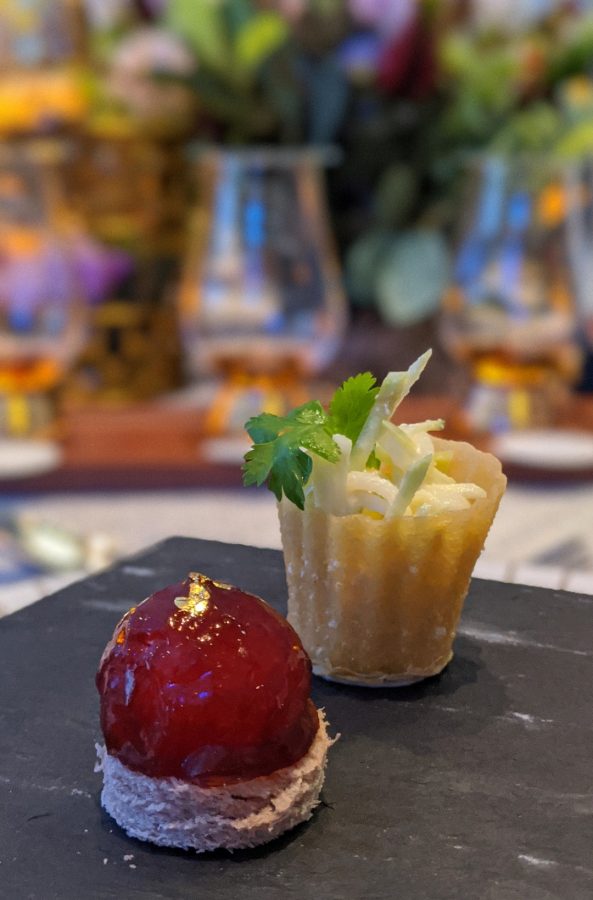 The next Olfactory Studio event will take place on January 15, 2021 at Mandarin Oriental Kuala Lumpur. Royal Salute whisky is available wherever fine whiskies are sold, or you can visit www.diineout.com to shop online!