Bangsar Folks, These Foods Come to You!
With the Movement Control Order (MCO) or Movement Restriction Order (MRO) coming into its first full week since Wednesday the 18th of March 2020, many are still left confused as to what the proper guidelines are for shopping for essentials and continuing work.
Many have took to panic buying, or simply getting the bits and ends of a proper pantry to prepare for social distancing in attempts to flatten the curve of COVID-19 contraction.
But, home-cooked food can often be a heavy process, especially to people who spend more time eating out than in. We at EatDrink recognise this difficulty and would like to offer a list of suggested places to get a nice meal from without the fuss and worry of cutting into your pantry stock and rusty cooking skills. We would also like to extend a helping hand to the F&B industry during this tough period, and wish everyone a safe period of controlled isolation.
Frediani's Market and Deli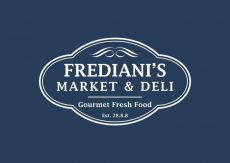 This Anglo/Italian deli and restaurant specialises in house-made dishes, pies, and a gourmet a la carte menu. Catering to people with large families, check out their webpage here for a full menu and a link to their app for all your ordering conveniences.
Delivery/Takeaway deals:
– Roast beef (AUS) – RM235/kg
– Roast beef (NZ) – RM190/kg
– Roast chicken – RM120/bird
– Roast pork loin – RM130/kg
– Yorkshire puddings – RM1 each
Each order comes with Roasted Potatoes, Roasted Veggies, Gravy and Yorkshire Puddings.
F.Y.I: A 1kg portion can feed at least 4 pax.
Preorders must be made before 12pm Friday for Saturday and Sunday delivery. Please specify what meat, how many kilos in your order, and delivery time.
Delivery range: Free delivery within 20km from store at 26, Jalan Telawi 5, Bangsar, 59100 Kuala Lumpur
Delivery/Takeaway hours: Starts from 12pm, Saturday and Sunday
Contact: +603 2201 0337 or Whatsapp +6012 5666 135 // 705 // +6012 229 8229
The Daily Grind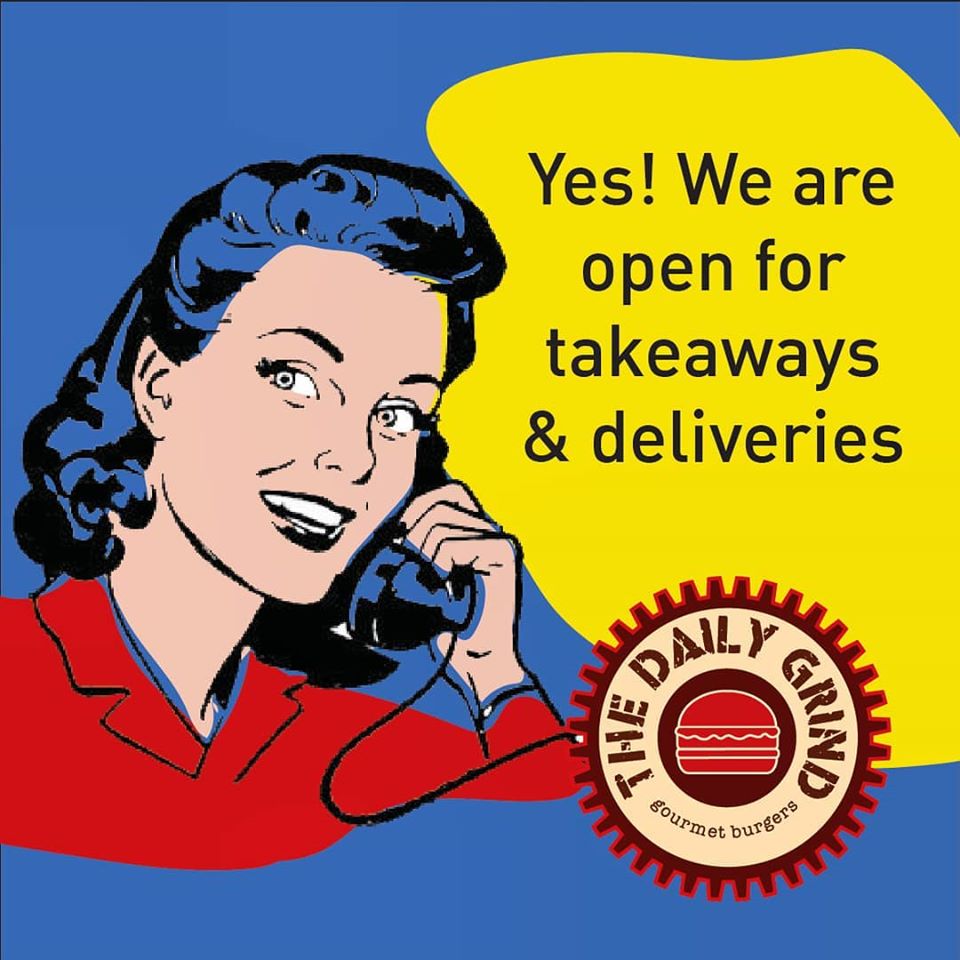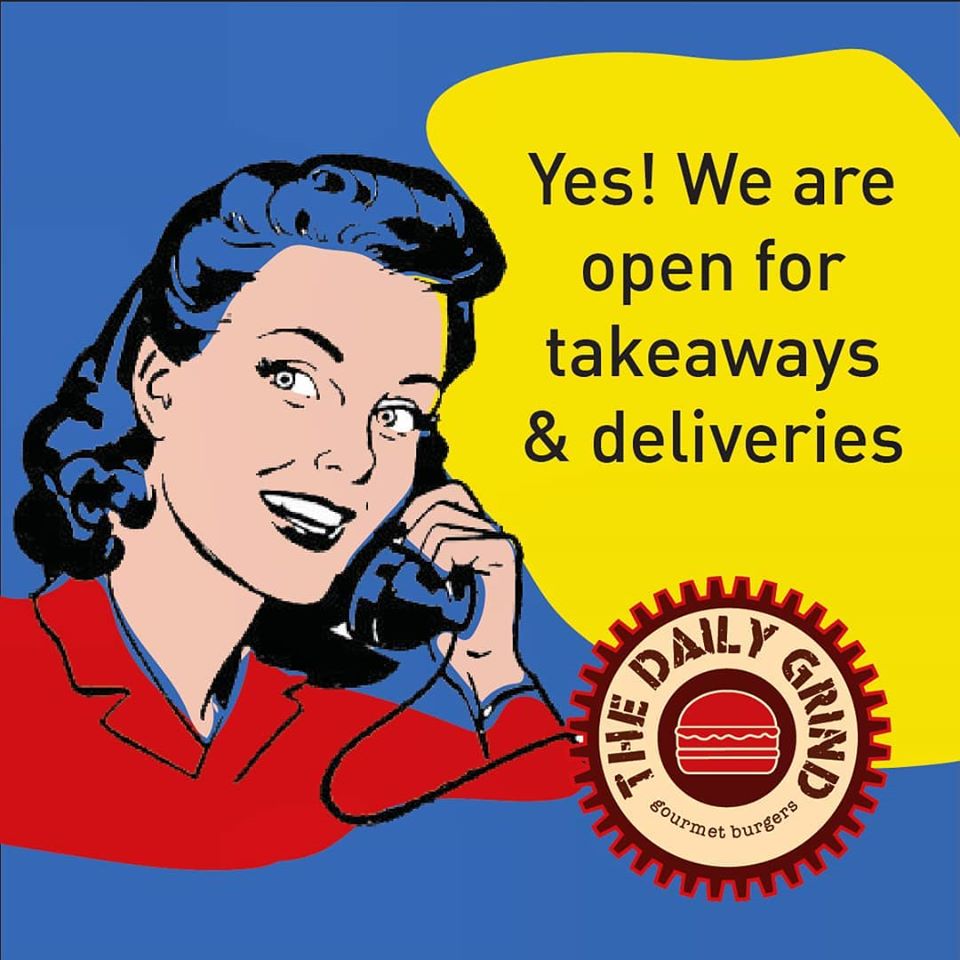 Located in the hub that is Bangsar Village, this gourmet burger restaurant provides scrumptiously juicy burgers as well as perennial staples and reinventions of forgotten favourites. A secondary location on Persiaran Ampang is also available.
Delivery/Takeaway deals:
– Order 1 takeaway Pulled Beef Burger at RM35 and get the second one at 50% off!
Delivery range: Available on Foodpanda, Grabfood, and Delivereats. Direct phoning for takeaway also available. Delivery from counter to car also available.
Delivery/Takeaway hours: Stores open from 11am – 9.30pm.
Contact: 
– Bangsar outlet: Sagha (+6012 193 442), Virgie (+603 2876 6708), +603 44265 7600
– Ampang outlet: Gian (+6011 1566 4711), Zara (+6011 6184 4650), +603 4265 7600
Lubuk Bangku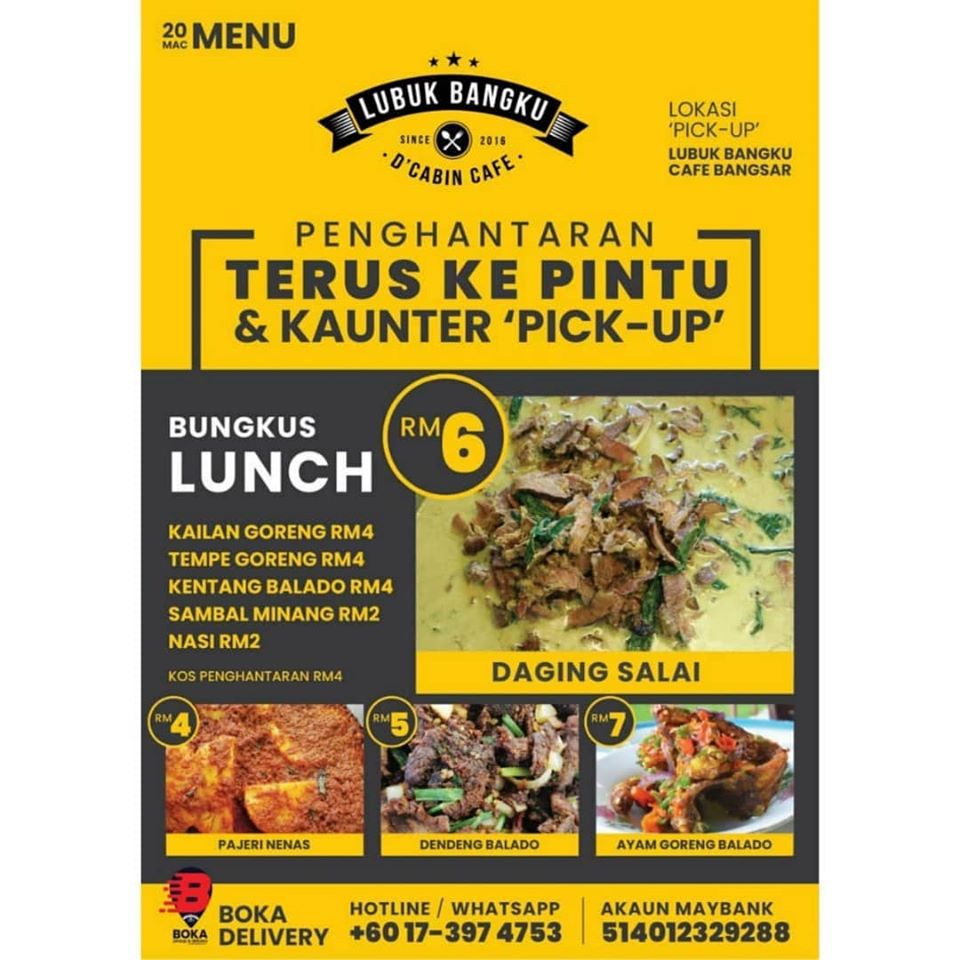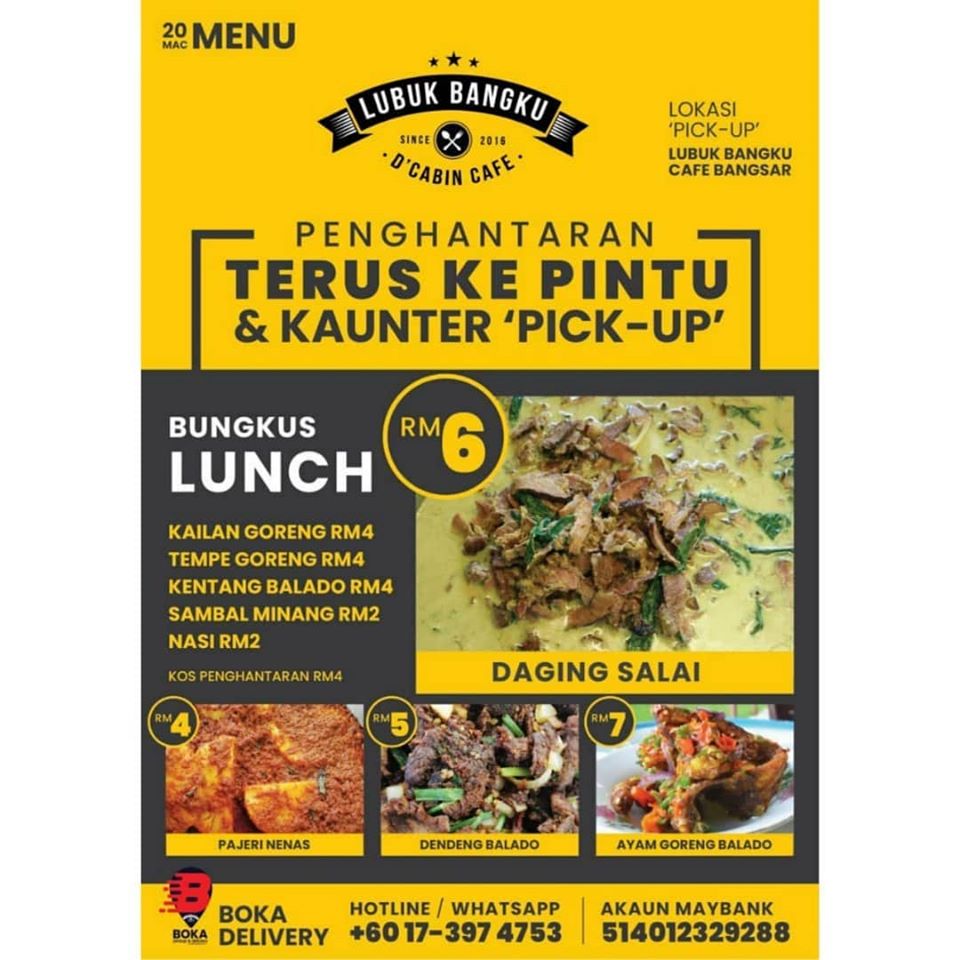 Bringing to the city some of Negeri Sembilan's beloved roast meats and other dishes, Lubuk Bangku is wholesomely local, affordable, and guaranteed to bring some delicious Malaysian spice into your life.
Delivery/Takeaway deals: Bungkus Lunch
– Kailan Goreng (Fried Kai Lan vege) RM4
– Tempe Goreng (Fried Tempe) RM4
– Kentang Balado (Balado Potatoes) RM4
– Sambal Minang RM2
– Daging Salai (Roast Beef) RM6
– Pajeri Nenas (Pineapple Pajeri) RM4
– Dendeng Balado (Balado Jerky) RM5
– Ayam Goreng Balado (Balado Fried Chicken) RM7
– Rice RM2
Menu is subject to change daily.
Pre-orders must be made the day before from 5pm to 1am via Whatsapp. Self-pickup applies to those out of delivery range. Orders will only be prepared after payment is made and receipt is included.
Payment must be made to:
MAYBANK
514012329288
Amir Aziq bin Azhar
Delivery range: By BOKA Delivery (*RM4 delivery charge)
– Route 1: Bangsar, Bangsar South, KL Sentral, Brickfields
– Route 2: Kampung Baru, KLCC, Maybank Tun Perak, Bank Mualmalat
– Self-pickup for those out of delivery range.
Delivery/Takeaway hours: 11am onwards for Route 1, 12pm onwards for Route 2
Contact: +6017 397 4753
 The Bangkung Row
Consisting of a group of notable restaurants all lining Jalan Bangkung, Bangsar, this gastro-venture destination offers a beautiful variety of cuisines to keep your adventurous eating satisfied.
The Bangkung Row unfortunately do not provide delivery services, instead offering a Curbside Pick-Up option, letting you get that little time away from your house. For your safety, staff will bring your order to your car.
Each restaurant accepts cash, credit/debit (Wave) or an instant transfer to Maxim – Image Sdn Bhd. Bank details: CIMB 8001511866. Send proof of payment to the restaurant!
Takeaway deals: A special COVID-19 discount of 19% off all featured menu items below. A bottle of wine is also available for purchase at 19% off.
Delivery range: N/A, only Curbside Pick-Up
Takeaway hours: 12pm – 9pm daily
Offering a glimpse into the realm of Spanish cuisine, a special takeaway menu with discounted prices is available.
Contact: +602 093 66 337 // +6017 356 0133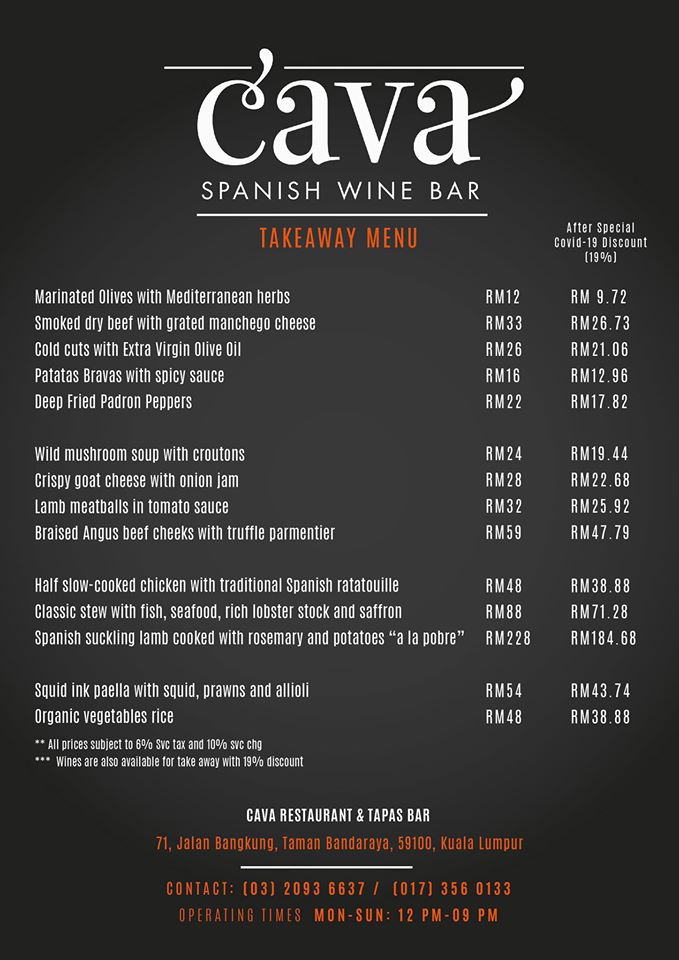 Presenting familiar favourites off the Italian cuisine menu, put together a full 5 course meal yourself for a special treat!
Contact: +603 2092 4288 // +6017 532 2096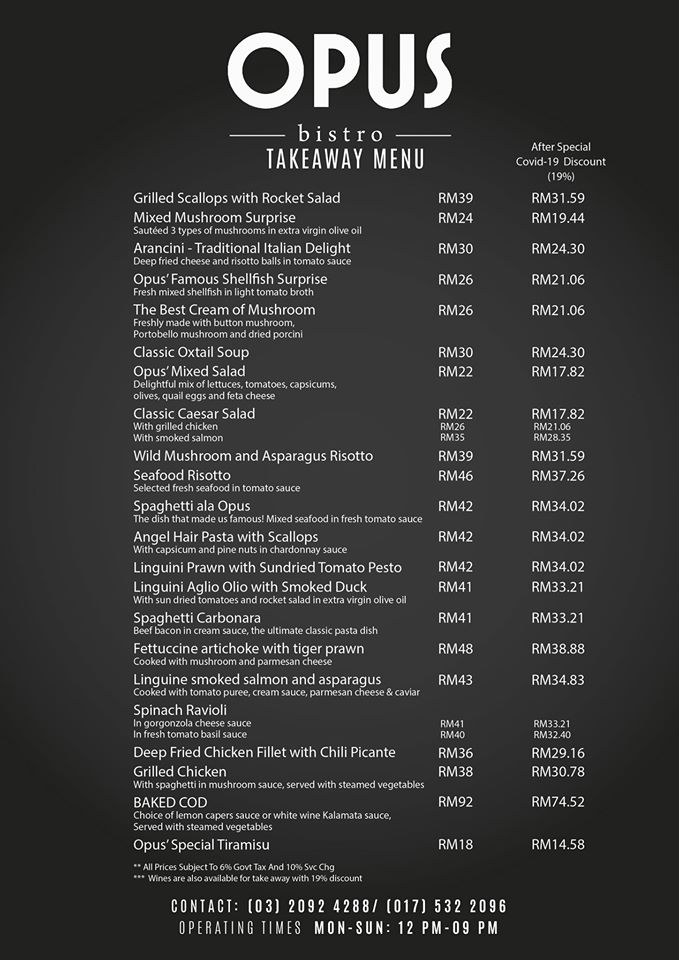 Famed for the massive Tomohawk Steak, get this and more Asian fusion dishes to eat alone or to share!
Contact: +603 2092 1222 // +6012 202 8851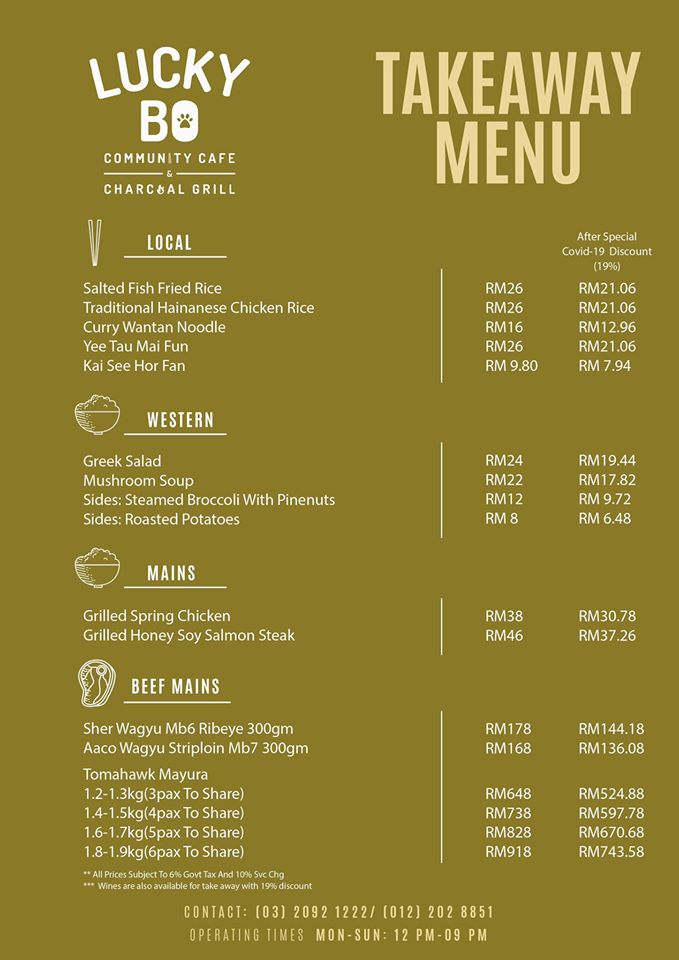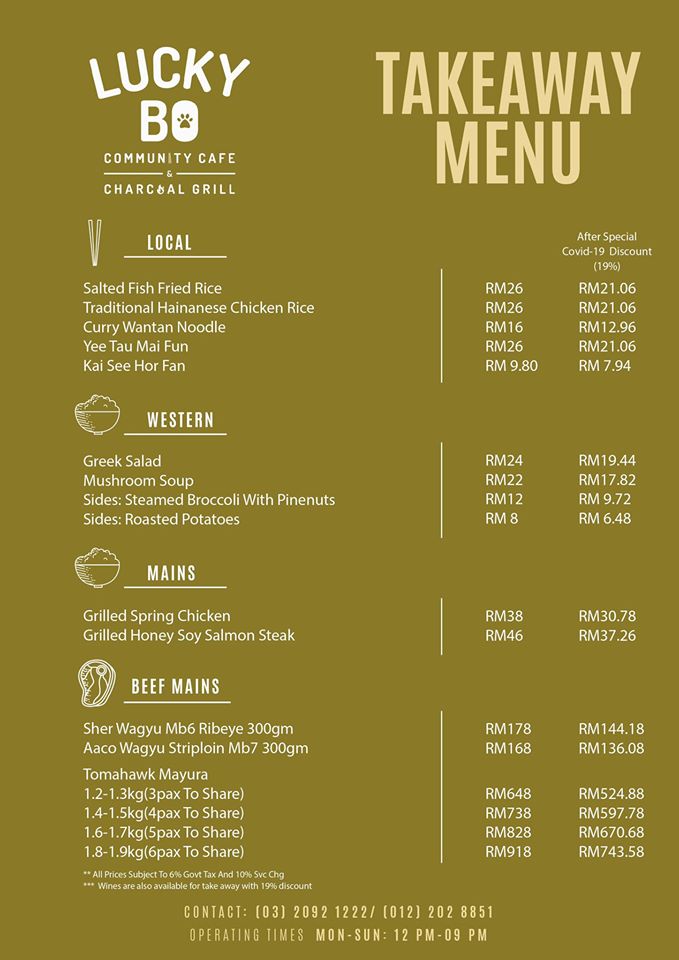 While the dining room and piano lounge is sadly out of commission for the time being, tasty local fusions such as Fettucine Rendang Tok and Wagyu Beef Hokkien Mee are still available for you to dine on.
Contact: +603 2092 5002 // +6012 753 8367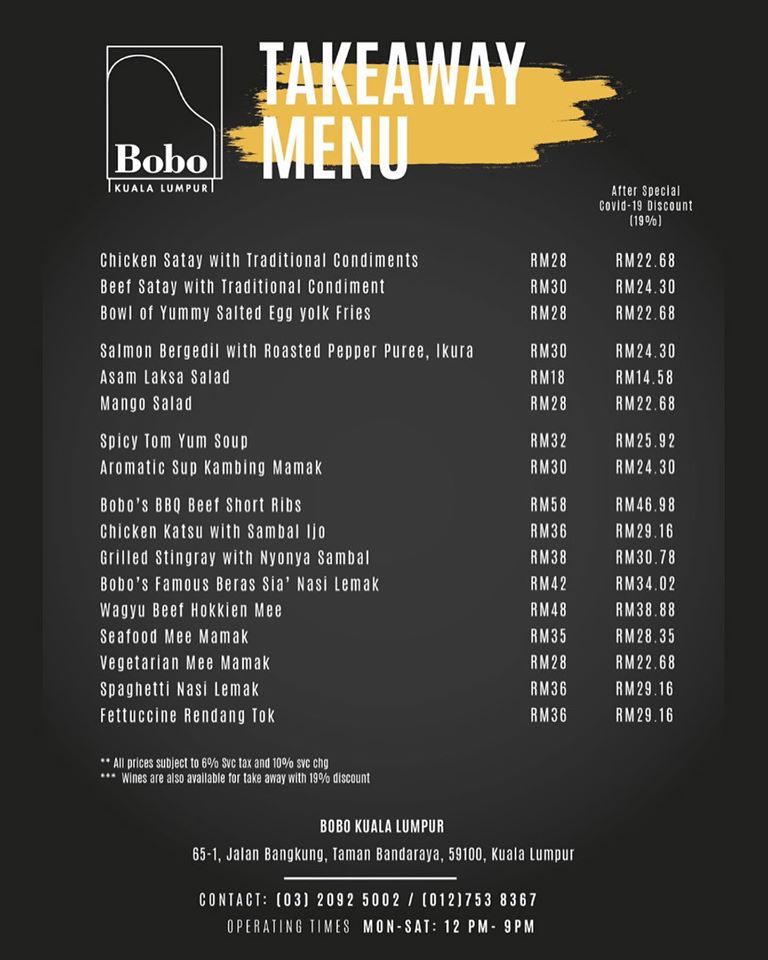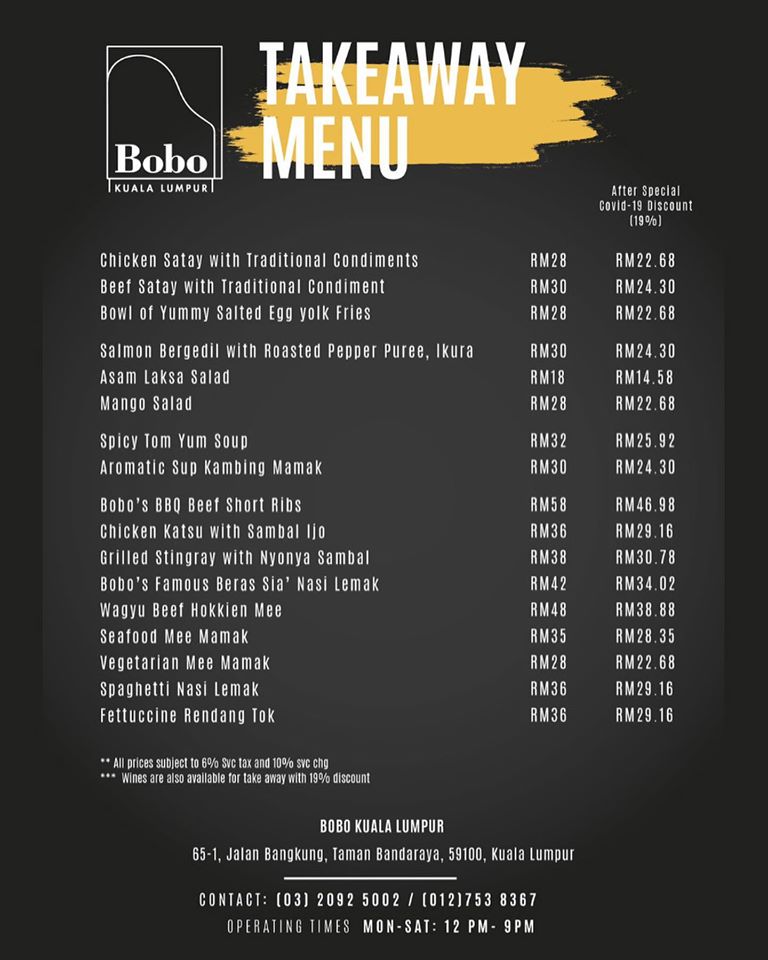 Simple yet fascinating, we would love to hear your experience trying out Leo's Famous Kentucky Fried Frog! Not to worry for the non-'exotic' meat eaters, other great pork-based items are also up for selection.
Contact: +603 2096 2226 // +6017 265 0133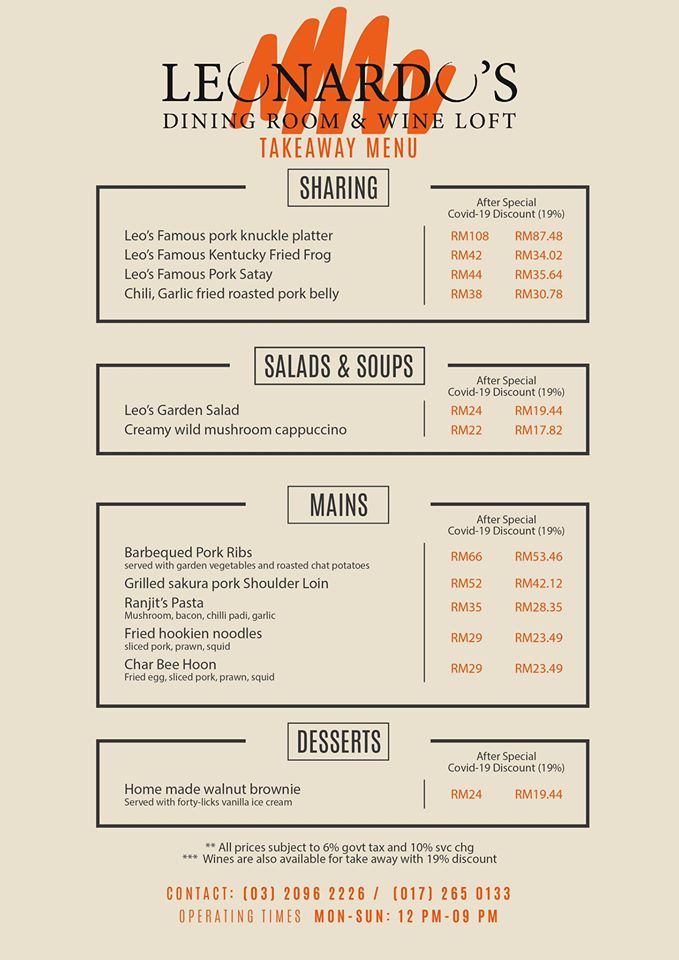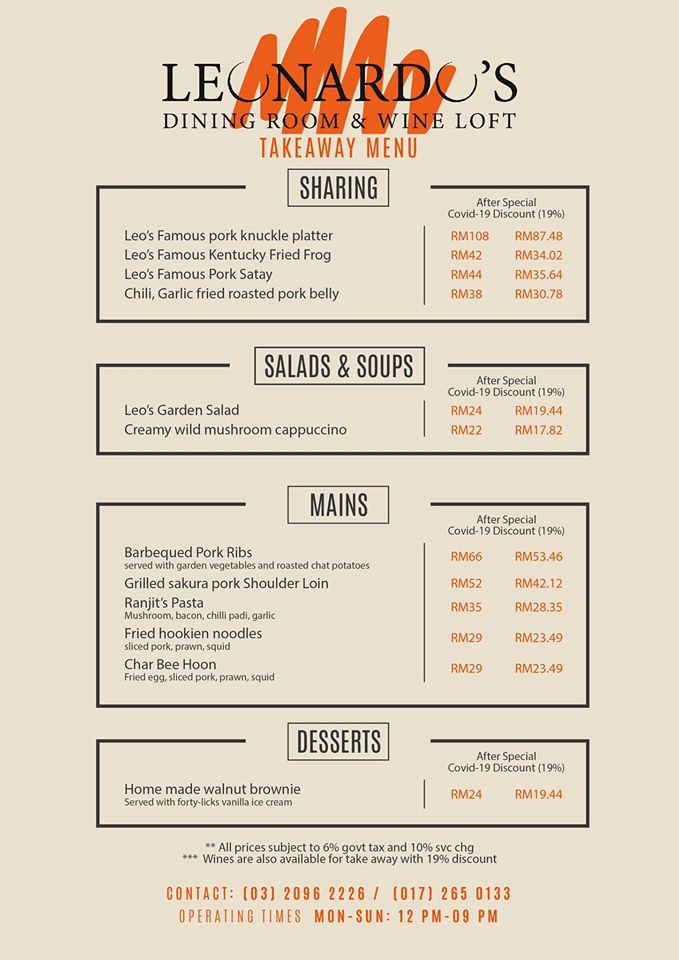 For more food and delivery options, stay tuned for a list of restaurants and services in the Kuala Lumpur area as well as TTDI, Mont Kiara and Damansara area.