RATA Subang's Always Ready to Roll Out
Coming across good food on the internet is arguably one of the best points of social media nowadays. Sure, a cousin's daughter might have had a piano recital, or a friend got a cute new pet, but nothing beats chancing upon absolute deliciousness you need to go beyond the screen for! Discovering RATA Subang was such an experience, as their delectable (limited) mutton masala pizza captivated us so much that we just had to get in contact.
Founded in 2018, RATA Subang takes its name in honour of Tanah Rata, Cameron Highlands; where from the restaurant also receives most of its weekly vegetable and fruit supply from. RATA was established on the premise of emphasising local produce, an effort much needed in today's economy.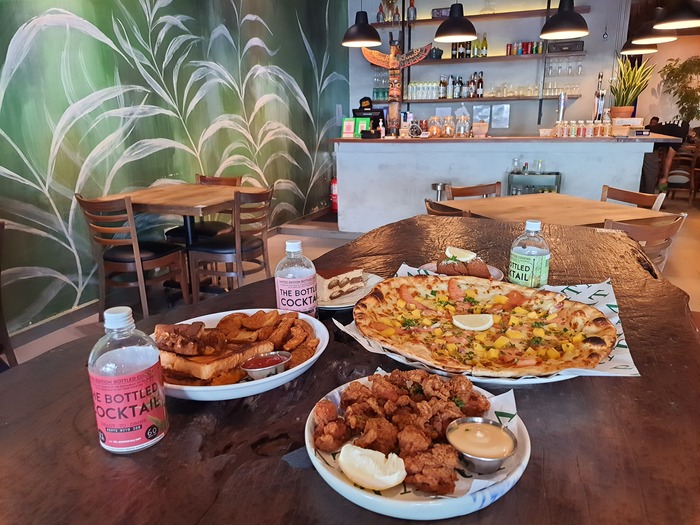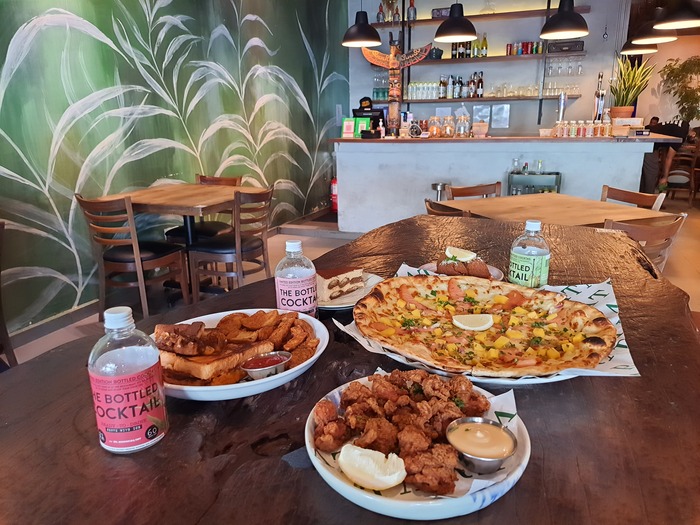 Speaking to Chef Vic, proprietor and head menu curator of RATA, we asked what establishing a new restaurant in the already populated and identified food haven was like. He confesses that it was tough, and that the initial concept of RATA was completely different from what it is today. Interested in tapping into the fine dining atmosphere of Subang, Vic thought of kicking off his own restaurant of refined plated foods. He soon found out that running a restaurant of that caliber was more of a struggle than intended, and the crowd here assimilated a more 'neighbourhood' vibe.
Surveying and speaking to regulars as well as friends who live in Subang helped Vic and team shape RATA to its current incarnation, switching from its upmarket beginnings to a cosy hangout spot. With three to four cycles of menu testing, RATA only took one and a half years to become one of Subang's favourite hangouts. The challenges didn't stop however, and the continuous pandemic lockdowns presented obstacles across all of the F&B industry, even for the most popular.
Moving to a delivery model in the midst of reinventing, RATA's team and Chef Vic were quick to realise that rolling with their existing menu wouldn't cut it, and so they came up with more creative, new items that are value-for-money, takeaway, and delivery-friendly, as well as shareable with the whole family. Not only that, Vic notes having a strong social media presence helped keep things afloat, attracting customers via digital marketing in addition to keeping things interesting by having near weekly new specials, box deals, and Covid-period themed items as well. Needless to say, it worked!
RATA Subang definitely rolled out the pleasantries, serving up their Smoked Salmon Mango Salsa Pizza (here pictured at 14-inch) to start with. This exciting for-sharing invitation packed a light yet refreshing bite of sweet mango chunks and smoky salmon beautifully paired with the slight tang of cheese, waking up the appetites of the whole table after a long day of rushing and working.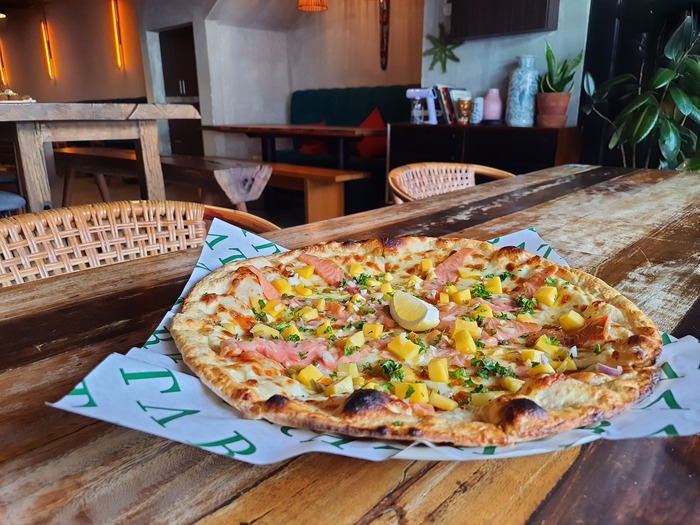 Fitting in with Chef Vic's well-travelled tastes, the quintessential arancini, an Italian delicacy of breaded rice balls, was given a spicy spin of tender lamb meat seasoned the way Malaysian tastes would appreciate, and served on a splash of harissa sauce—bumping up the flavour with Tunisian hotness.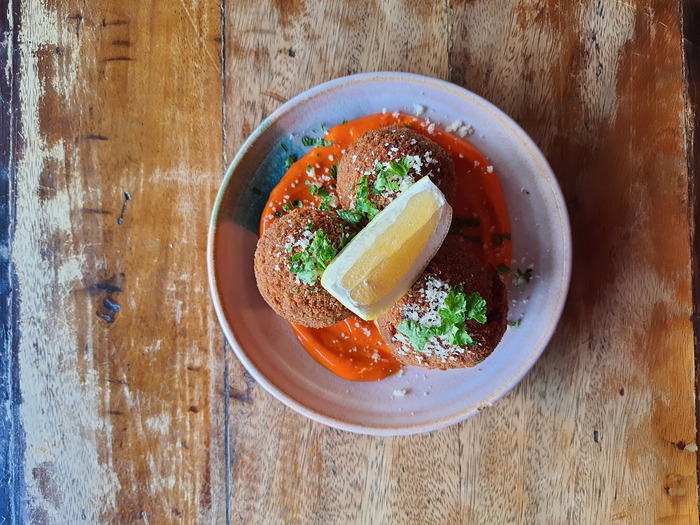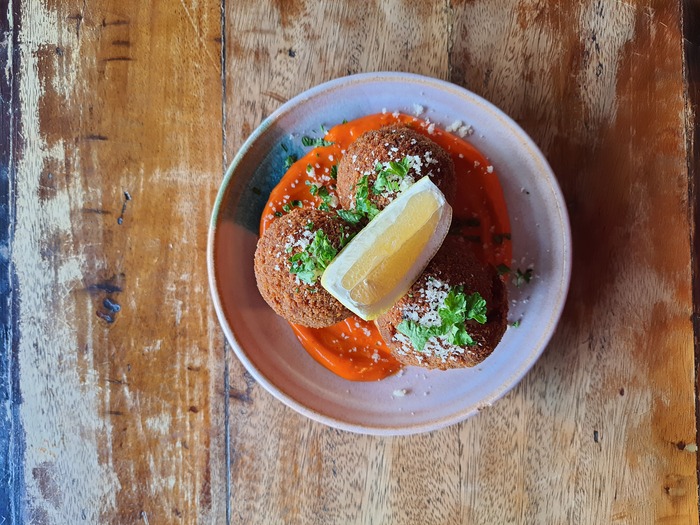 As of initial publication*, RATA's menu welcomed new additions of a beautifully crispy classic chicken karaage (Japanese fried chicken) with a versatile teriyaki mayo to their appetizers line up; and a hearty innovation of the pulled beef cheese toastie with a side of wedges for the special dine-out box sets.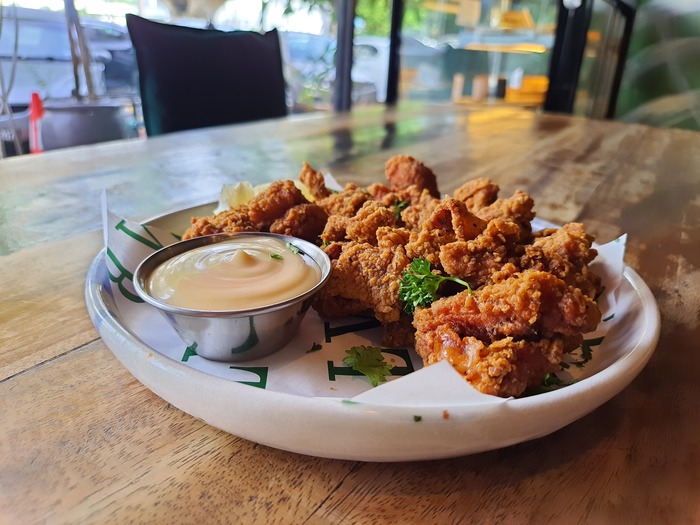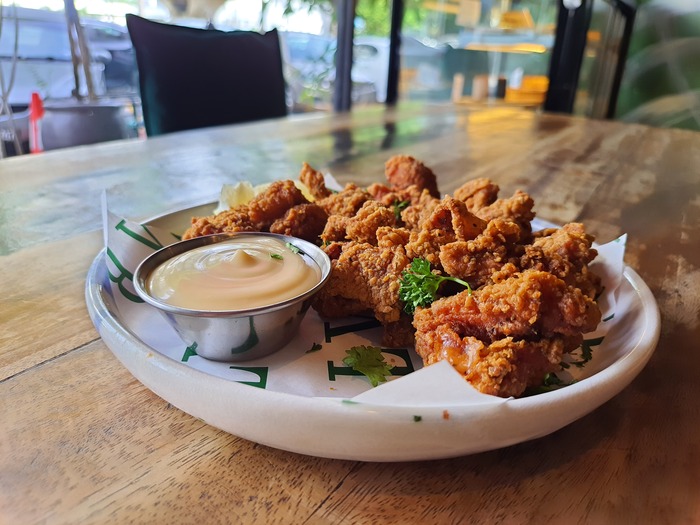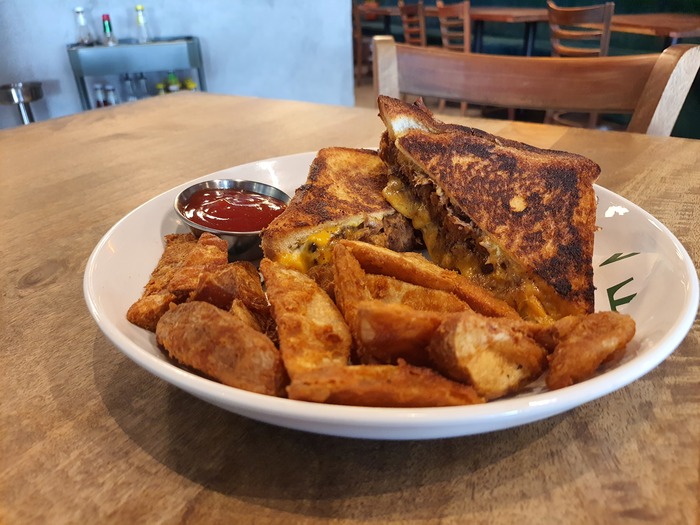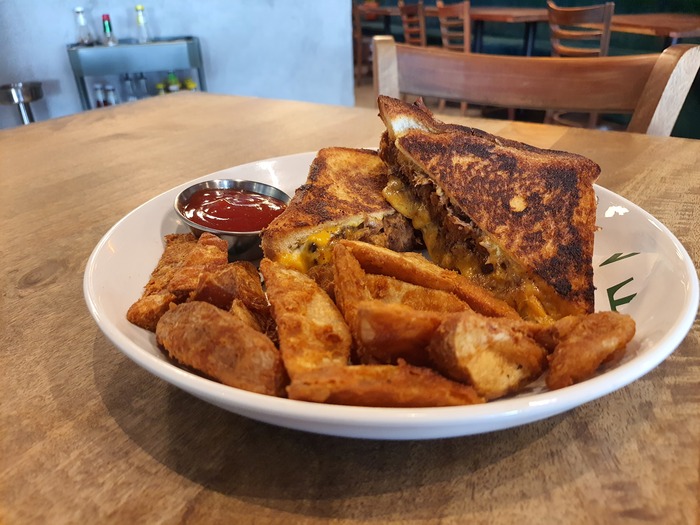 RATA's latest menu follows the changing of the times, as the crowd wants more drinks-and-social friendly foods over full individual meals. We can confirm, the meal above fed a family of four adults with leftovers to spare, as each made a hearty, filling portion even when divided up! 
To newcomers and those who have yet to visit this trendy location as dine-ins continue to open up across the Klang Valley, RATA is your place to go for chill, picturesque, value-for-money food, desserts, and strong cocktails.
Location and Details
Address: RATA Subang, 25, Jalan SS15/5a, SS15, 47500 Subang Jaya, Selangor
Tel: 012-424 1194
Website: @rata_subang (Instagram), @RATASubangJaya (Facebook), ratarestaurant.beepit.com
*A version of this article was first published in The EXPAT (Nov 2021 edition). For more articles like this, subscribe here.