The Resort Café's "Jemput Makan" Brings the Kampung to You
Bringing the nostalgia of kampung vibes to those who are still under the interstate travel restriction, savour this year's Ramadan's seasonal offerings at The Resort Café's Jemput Makan di Kampung buffet sojourn!
No Hari Raya Adilfitri would ever be complete without the atmosphere of community mirth surrounded by friends and family over the commencement of breaking fast. Taking from the local complimentary invitation greeting 'jemput makan', diners are welcomed to be absorbed in the vibrant festive atmosphere of The Resort Café.
Insta-worthy moments are waiting to be captured in a kampung-style backdrop setting, complete with woven ketupats and paper Raya decorations, and of course, culinary delights of the Malaysian persuasion.
A brigade of chefs helmed by Chef Mohamad Yatin Supaat and Sous Chef Tournant is set to tantalise palates over thirty (30) days of nostalgia and togetherness. As popular with the season, eight live-action stalls will be featured alongside an extensive buffet spread.
Having the pleasure to have sampled a few treats from the preview, here's what we're excited to have you taste for yourself! Kicking off with a classic, a fantastic serving of Sup Kambing, full of belly-warming spices and that will awaken your appetite for a night of feasting!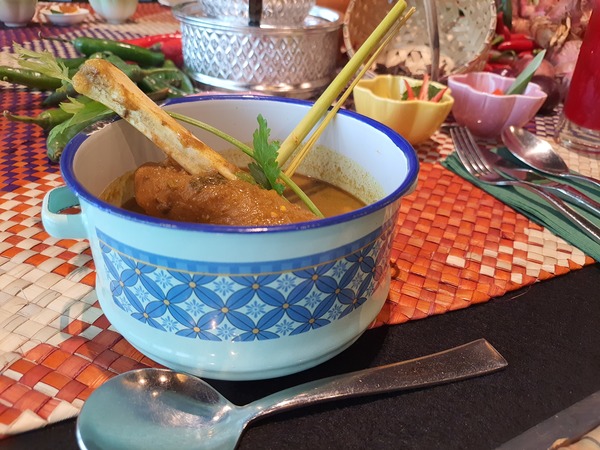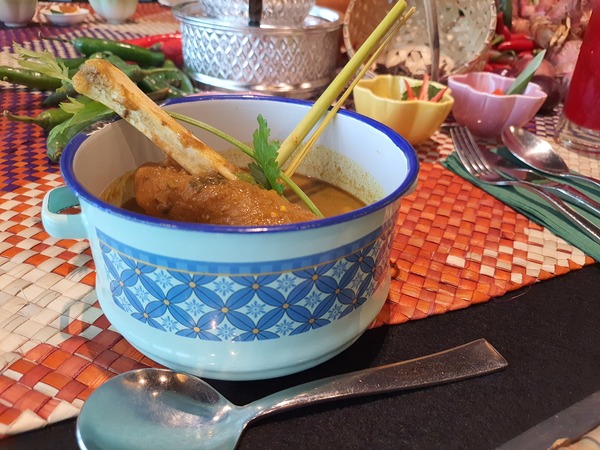 The Tempoyak Patin is also not to be missed, featuring a fragrant durian assam-like stew with the most tender pieces of fish waiting to melt in your mouth.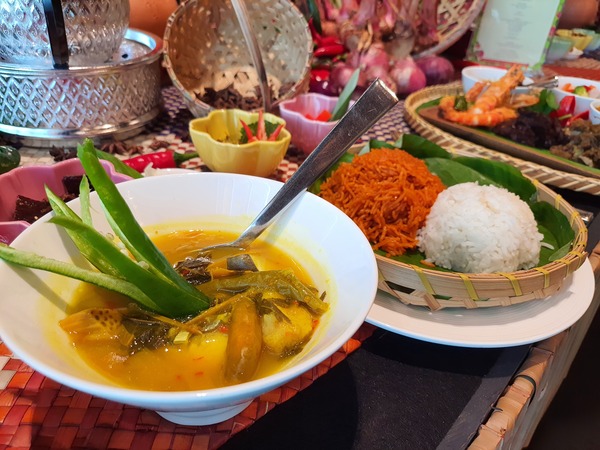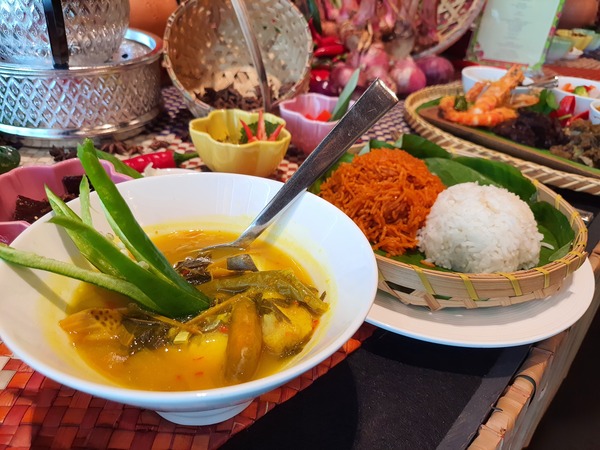 The main delights of Rendang Itik Salai, Spicy Beef Dendeng, and Gulai Kambing make for a terrific combination to drizzle over Tomato and Steamed Jasmine Rice, with Ayam Masak Kapitan, Tiger Prawn with Salted Egg, and Sautéed Vegetables with Chili & Salted Fish providing a balanced spread of both sea and field harvests.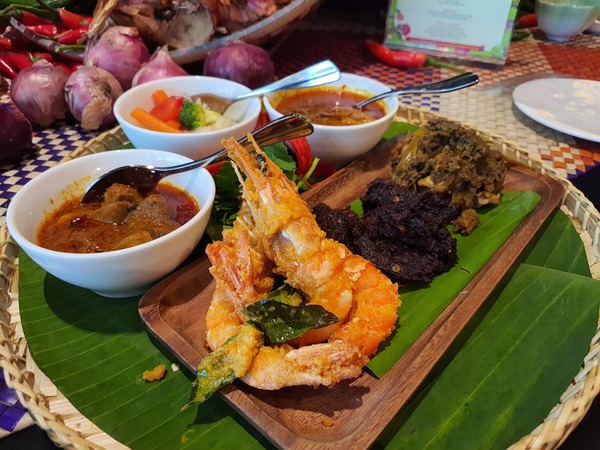 All these delights and more include the seasonal signature Daging Panggang, a special beef carving marinated for 24 hours in spices, steamed and roasted before being sliced directly onto your plate; and Kambing Golek, a succulent whole roasted lamb hailing back to real kampung times of sharing with the whole village.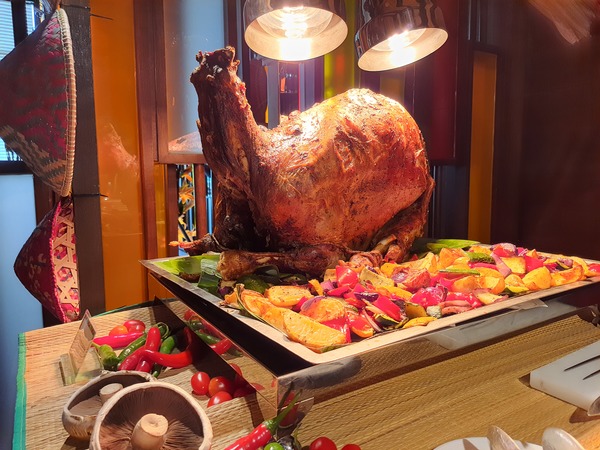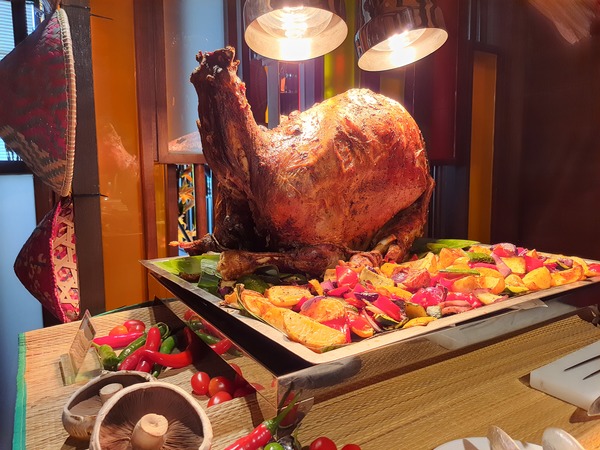 Smaller eaters might find delight in the Warung Fusion offerings of cross-border flavours; including traditional favourites such as Petai Sambal Belacan Mee Goreng, Tempeh with Peanut Sauce and Sambal on pillow-soft Mantou Buns, and more from all the primary cultures of Malaysia.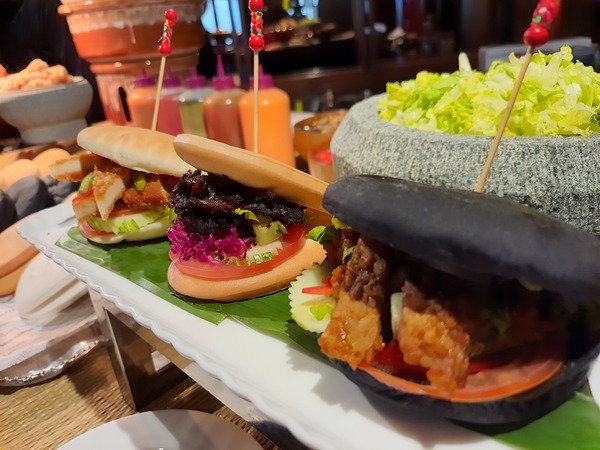 To close off this absolutely scrumptious feast, a dessert of Coconut Pudding & Bunga Telang Jelly served with Gula Melaka Syrup highlights the best of Malay cuisine; rich, creamy, packed with sweetness with the tinge of floral exquisiteness! Or head on over to the Dessert Corner for the best collection of kampung treats such as kuih-muih, Raya cookies, ais kacang, and Durian Dodol (that we can attest to is simply to die for!)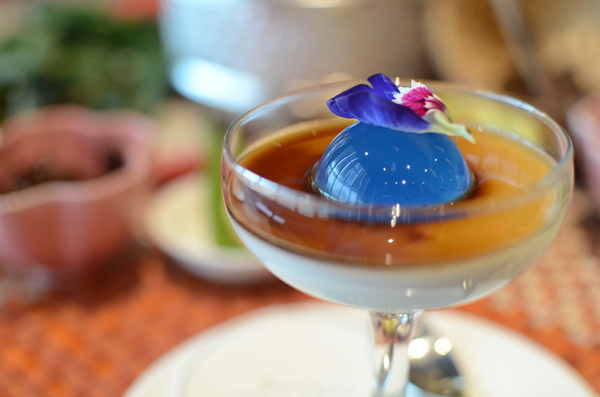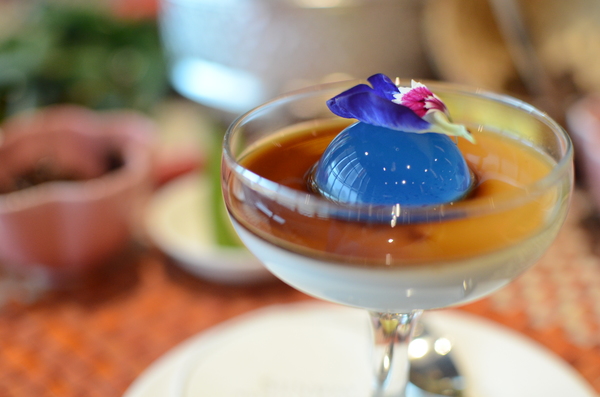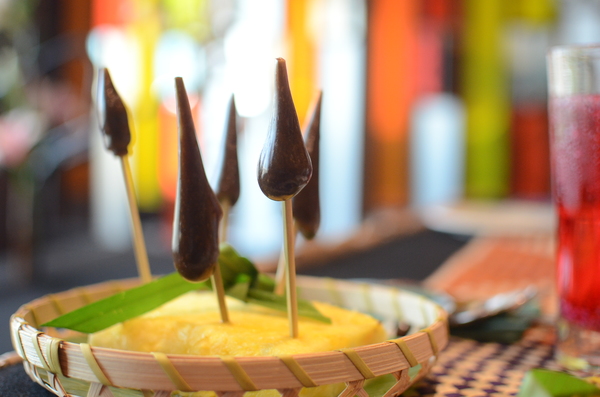 The Resort Café offers seats priced at RM168 nett per adult and RM78 nett per child (aged 6-12 years) and will commence on 13th April to 12th May 2021 at 6pm – 10.30pm.
For the convenience of Muslim guests, Sunway Resort offers separate male and female prayer rooms with ablution facilities adhering to full SOPs in place, allowing guests to comfortably perform religious duties prior to breaking fast.
Location and Details
Address: Lobby Level, 1, Persiaran Lagoon, Bandar Sunway, 47500 Petaling Jaya, Selangor
Opening hours: 6pm – 10.30pm
Reservations: Call +603 7495 2009 / +603 7492 8000 or email [email protected]. Advanced reservations are encouraged. Visit www.sunwayhotels.com/sunway-resort/offers/dining-offers to find out more!