'Fun Dining' at Babe, Damansara Heights
This article was brought to you in part by Babe and written by Nick Atkinson. 
When it comes to food, I am rarely surprised. So my initial thought on being invited to eat at Babe restaurant was 'intrigue', to say the least, having spent two years living in Japan and 'curiosity' as to what Chef Jeff Ramsey would create.
Babe is an amalgamation of Ramsey's artful finesse for progressive modernist cuisine with elements of gastronomy, and the BE Group's signature boutique sophistication. With marvellous views of the city skyline from its perch on the 11th floor of a building in Damansara Heights, it offers a dining experience like no other with an extensive a la carte menu.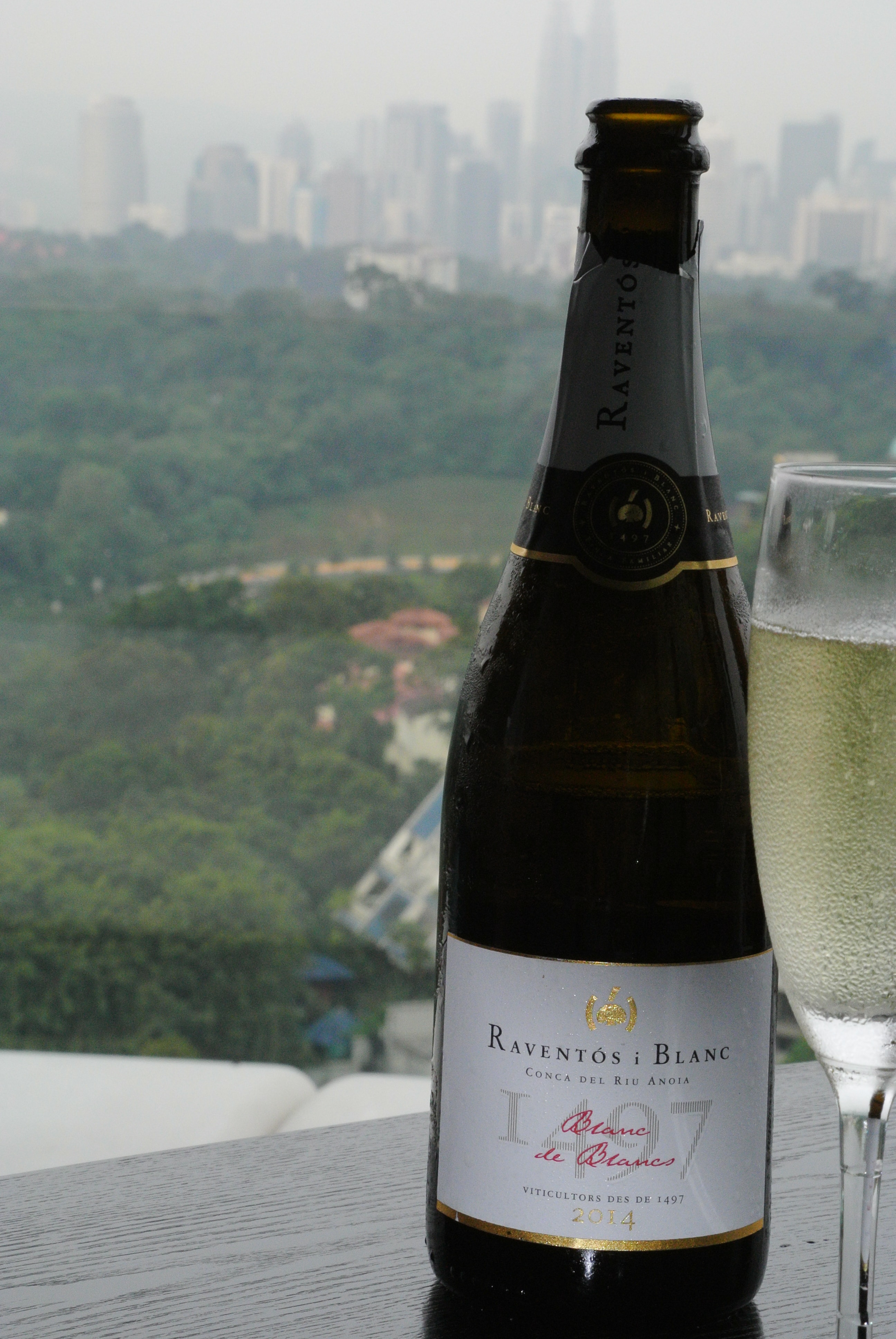 I had read the introduction and the thought of Japanese-accented tapas, or 'Japas' as Ramsey has coined, and Babe's focus on a unique 'fun dining' experience as opposed to the structured world of 'fine dining' was definitely my idea of what dinner should be.
Our host was one of the team behind the concept, Ms Celina Wu, and on arrival we were introduced to Chef Jeff who is half American and half Japanese (including fluency in the language). Not exactly who I expected, I have to say, as the seemingly young man before us exuded plenty of confidence and the concept of an evocative and multi-sensory approach to modernist cuisine started to ring true.
After introductions were over, we sat down and awaited an exquisite mix of flavors, textures, and temperatures for an unparalleled multi-sensory assault that is termed 'a dining experience'. Needless to say, I was definitely in for a surprise that I didn't see coming, but was most welcomed.
We started off with a lovely glass of Cava which neatly set the mood for the evening ahead. I had also selected the 'sake' flight to accompany my meal.
First up were two dishes that immediately set the taste buds on edge, a Caesar Salad Capsule and the Chicken Char Siu. Imagine a delicate ball with parmesan cheese and croutons containing a semi-frozen caesar salad capsule, caesar dressing, and coconut bacon. As it rests on the tongue, it literally melts in your mouth.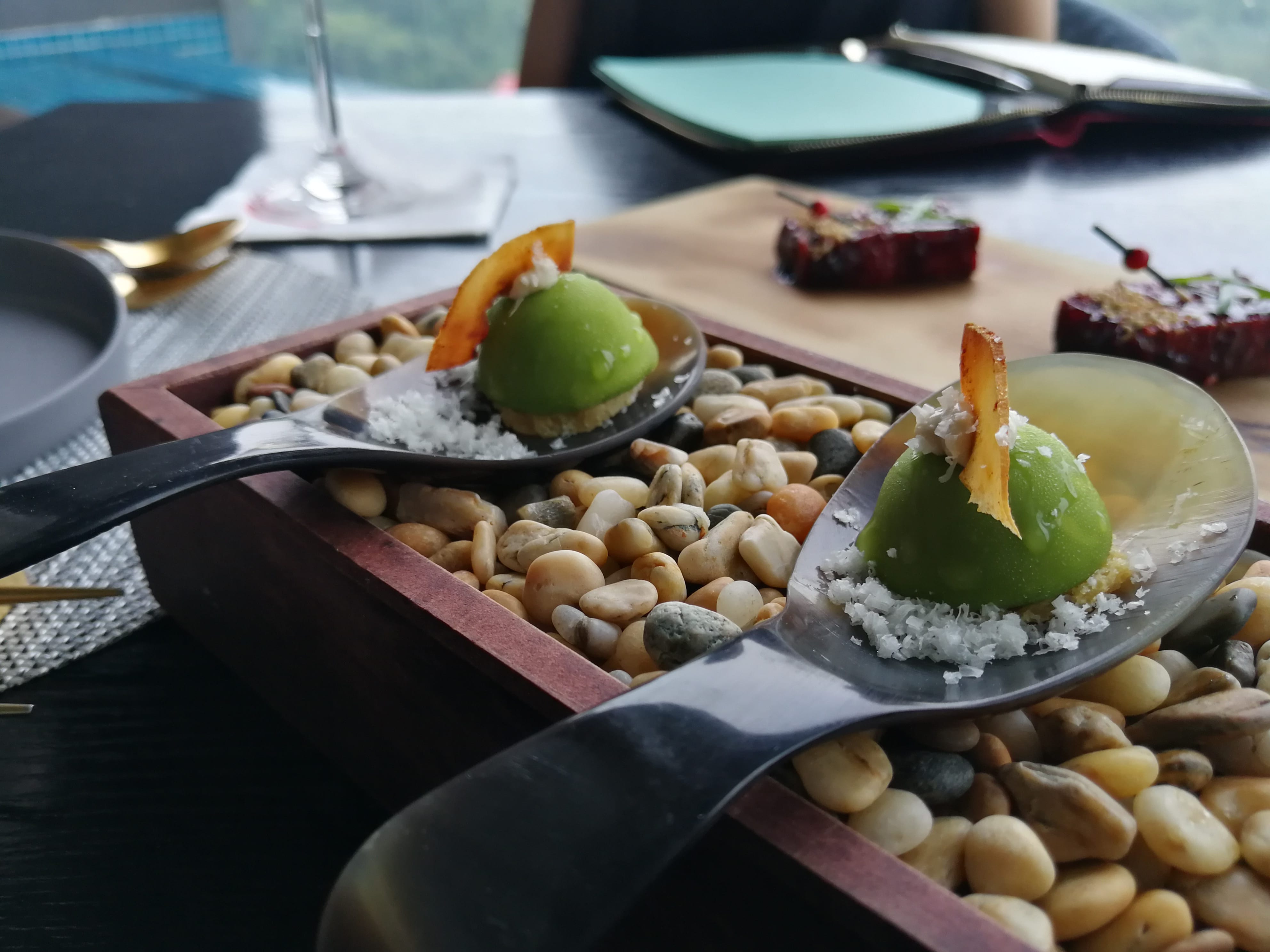 I do love char siu at any time but this was an experience like no other. Forty plus layers of it as a terrine, cooked for 12 hours till it becomes collagen with char siu sauce…do I need to say more? It was simply marvellous!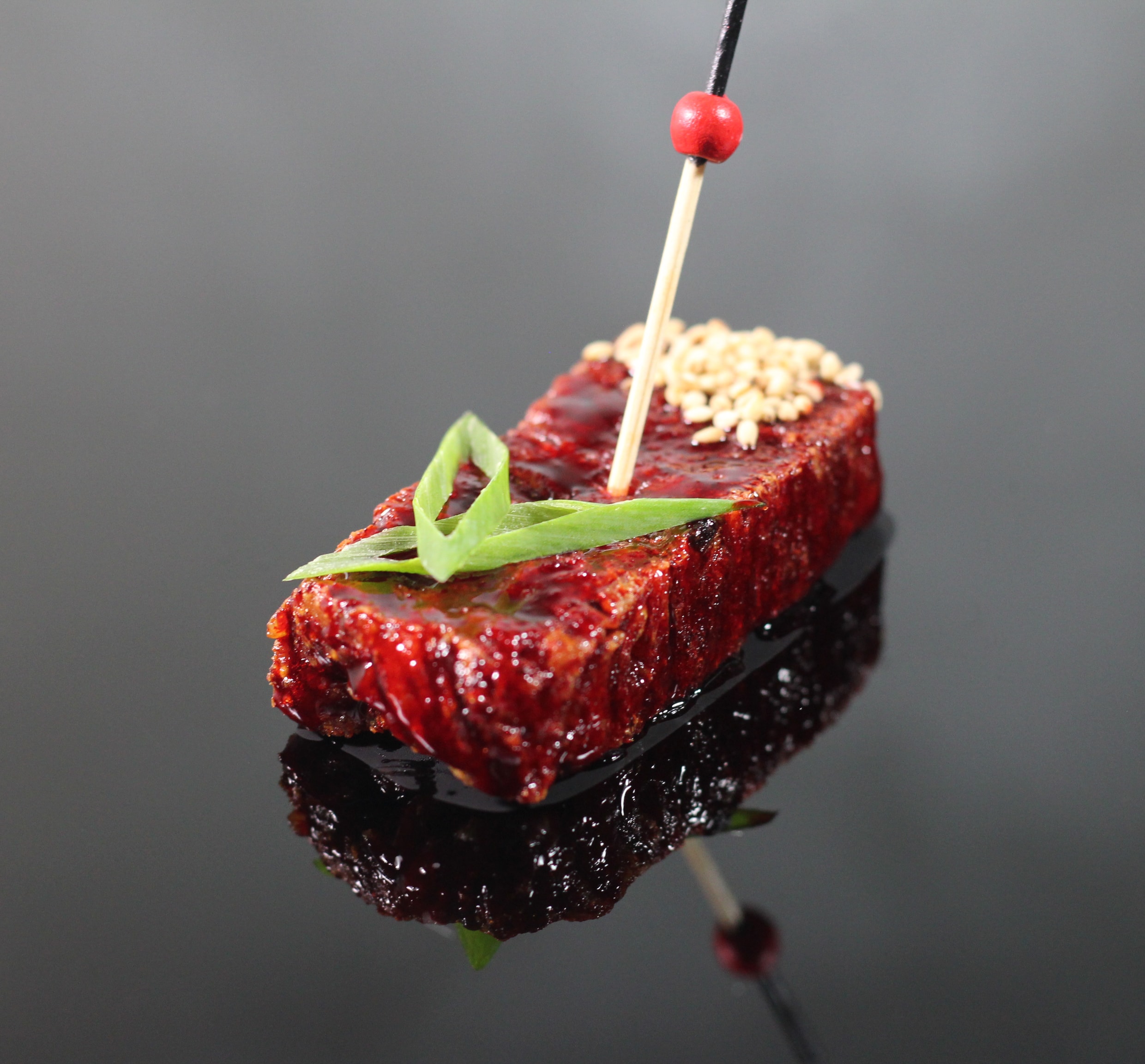 Having lived in Japan, I am a true sushi lover, so our next delight, the Sushi Taco Uni was the perfect accompaniment to the glass of chilled sake I had in front of me. It was a seaweed taco filled with sushi rice, fresh sea urchin with dashi jelly, and oishi. The next arrival at the table was something different, a neatly packaged BabeNDazs. A play on the name of the popular ice-cream brand, of course, it was a lovely homemade ice cream sandwich. Not the palate cleanser I thought it may be, it was actually savoury with a filling flavoured with Foie Gras, VSOP Brandy, and mirin.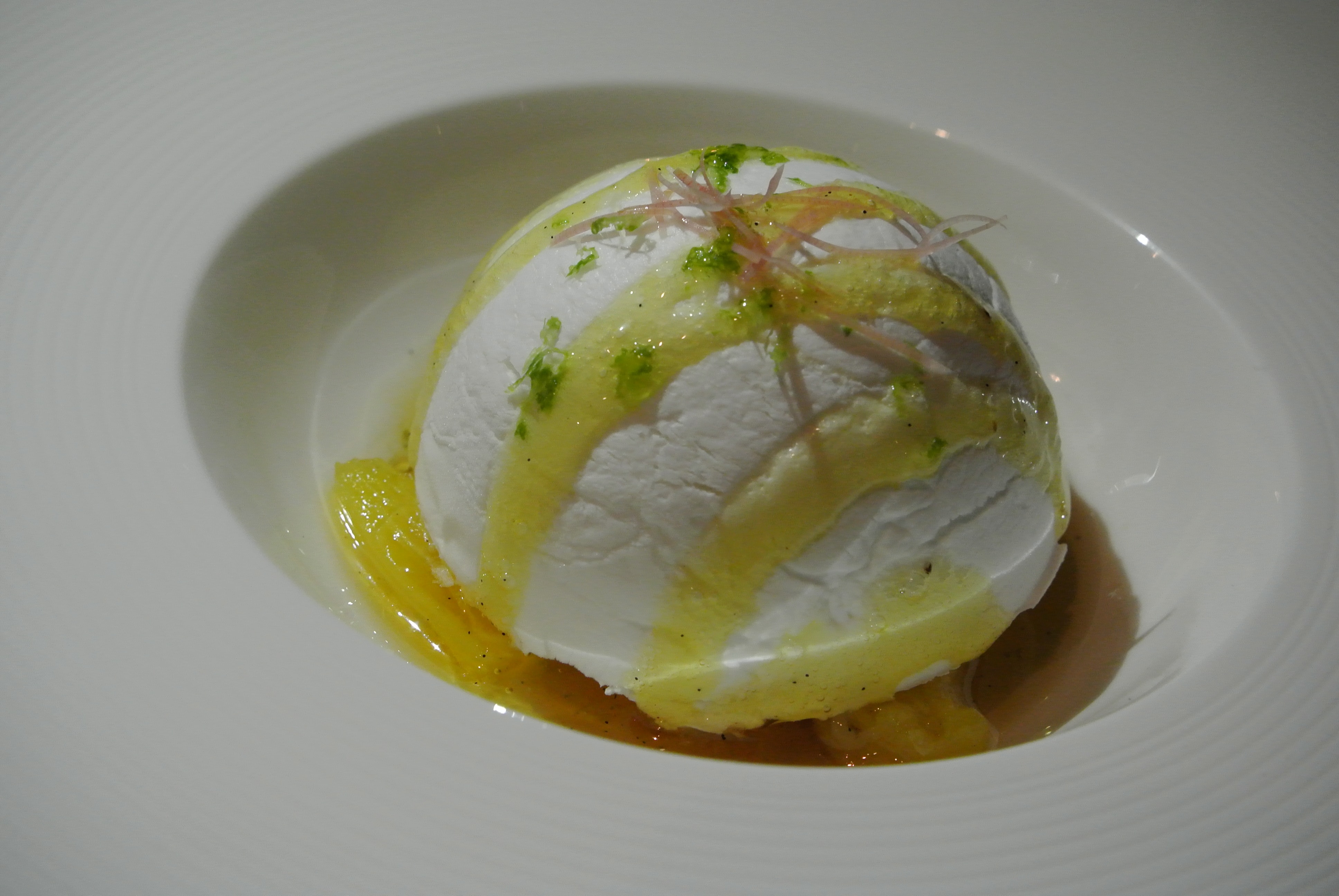 The next course to arrive at the table was one of my preferred seafood items, scallops. Not just any scallop though, Grilled Scallops, fresh from hokkaido and presented with sake, marinated radish, and topped with fresh sea urchin.I am also a big fan of Wagyu so when I was next presented with Wagyu Nigiri, an MB 9+ Australian Wagyu, semi-seared with umami and sansho tsukidani, my broad smile gave way to a greed-infused lick of the lips. All I can say is, it was really good.
Although it was hard to pick from all the delightful food served that evening, my favourite dish of the evening was the Grilled Hamachi Collar. The different textures and the most amazing seven-herb mix containing Oba/Shiso Leaf, Myoga, White Sesame, Kaiware, Spring Onion, Grated Ginger, and Shiokombu left a savoury tingle of 'give me more of this'. Along with the pickled and grated Daikon and the excavation of every last morsel of the semi-cooked Hamachi, it was sensational.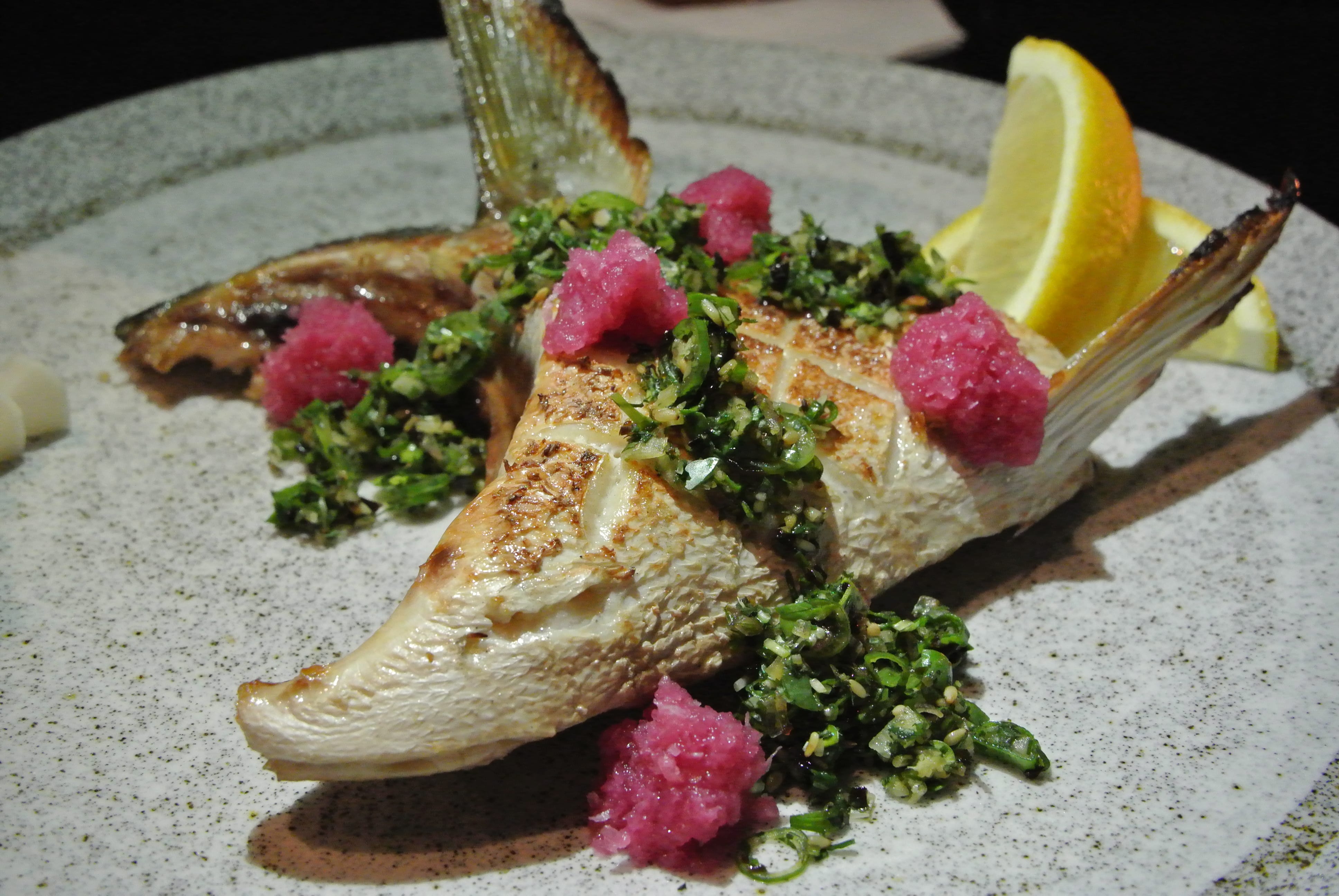 Well, how do you follow that? Chef Jeff had the perfect answer with his Kurozato Beef Shortribs. Braised for 12 hours, served with purple potato, drizzled with a sauce of Japanese Black Sugar similar to gula melaka called Kurozato, Pickled Mustard Seed, and Local Greens was another welcome battering of the senses and a truly wonderful one.
The dessert then arrived which was a definite surprise, a Pina Colada. Obviously, Chef Jeff had taken this to an unexpected level with a caramelised banana and pineapple compote, topped with a coconut milk cone made with liquid nitrogen, a drizzle of vanilla syrup, lime zest, and torched ginger-flower. A truly unexpected and fantastic end to the meal.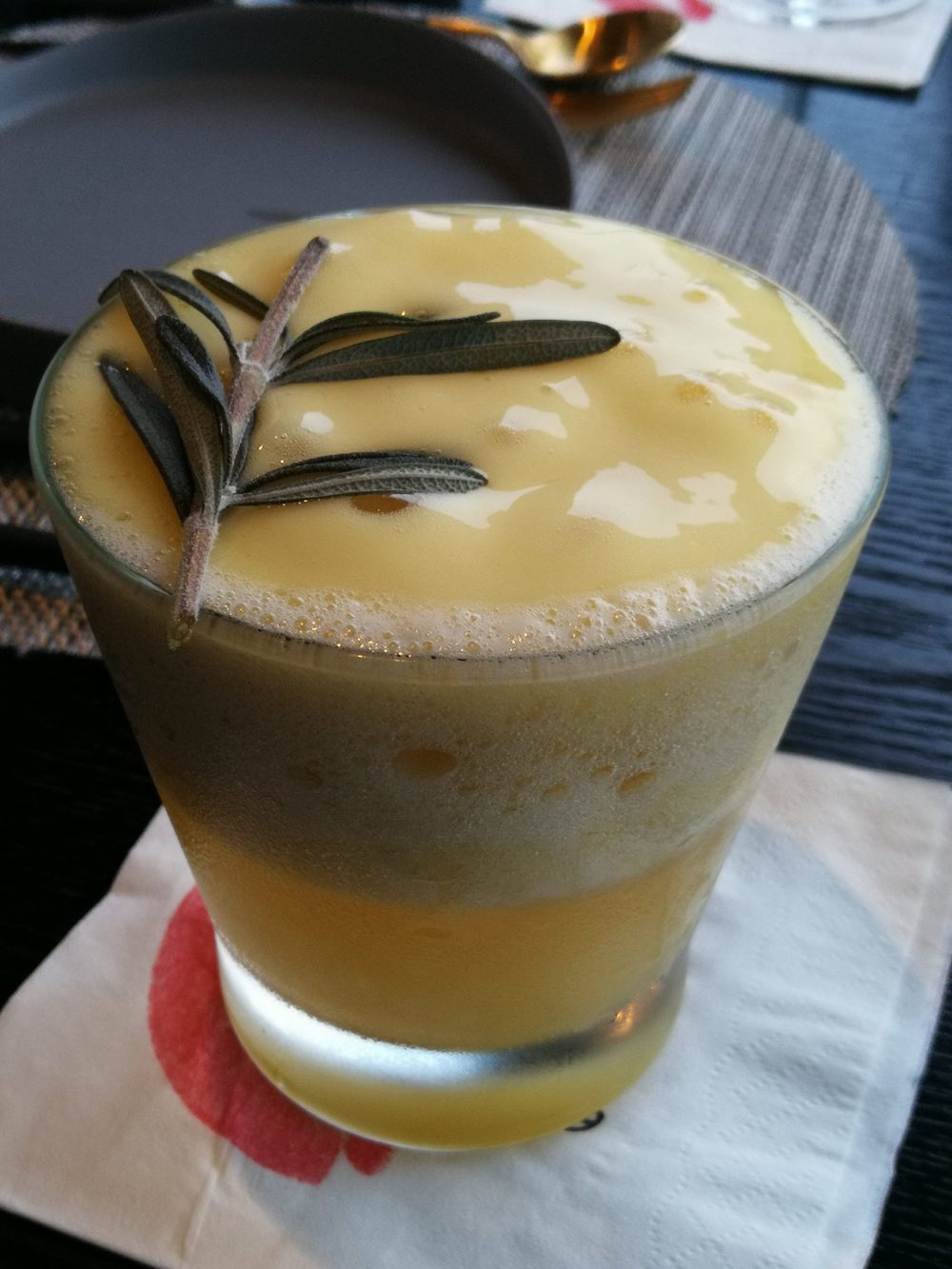 As I enjoyed the rest of my sake and looked out over the beautiful KL skyline, a deep, satisfied, and relaxed breath was all I could muster after such a tantalizing meal. I was very pleasantly surprised and wonderfully fed,  and I left knowing for sure that I will be returning to Babe.
Location & Details
Address: 11th Floor, [email protected], Jalan Changkat Semantan, Damansara Heights, 50490 Kuala Lumpur
Tel: +603-2095 8599
Hours: Tuesday – Sunday, 6pm to 10.30pm