Kayra Kerala Cuisine at Taman Tun Dr Ismail: Restaurant review
The vividly distinctive flavours of Kerala, the coastal state of south-west India, come alive at Kayra, run with a sense of joy and authoritativeness by Meriam Alfonso, a Malaysian whose family has roots in Kerala. Meriam's grandfather opened a Keralite restaurant in Johor Baru in 1949, and she's now bringing the time-honoured, treasured recipes of her heritage to this lovely new venue, bedecked with black-and-white photographs of Kerala.
Expect an emphasis on grated and roasted coconuts as a key component (Kayra's name comes from the Malayalam-language equivalent of the swaying coconut palms that abound on Kerala's shores), plus a unique balance of spices (brought in from Kerala, a region with a rich history of spice trading) that sets the delicately nuanced cooking here apart from much of the southern and northern Indian fare we're accustomed to in KL.
Starters
Lunches are currently limited to thali-style rice platter meals, so it's wiser to visit in the evening, when a complete a la carte menu is unveiled, with an encyclopaedic spectrum of intriguing offerings. We enjoyed the Koddapan (RM12), banana flower and runner beans cooked with grated coconut, curry leaves and mustard seeds, with its gentle dimensions of flavour.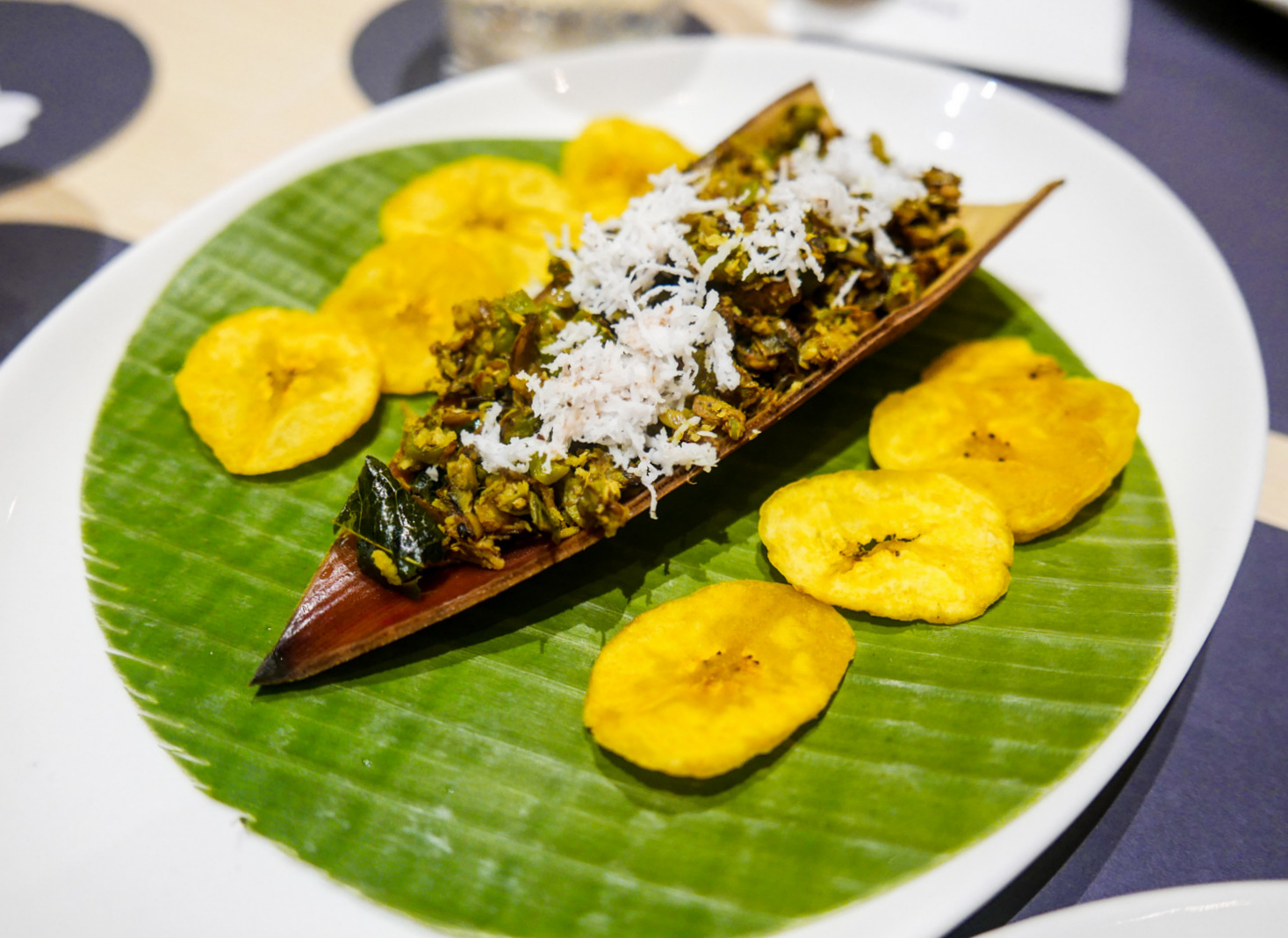 The Appo (RM12), mini rice cakes topped with spice powder and coconut chutney, makes for a fun snack, while the Kurumulagu Konju (RM18) features commandingly fresh marinated tiger prawns, deliciously steamed in a banana leaf pouch and garnished with beetroot emulsion. Each dish spotlights an ensemble of well-prepared ingredients that showcase diverse shades and subtleties.
Soups and salads
The Cochin fish soup (RM12) is lightly flavoured with pumpkin, tapioca and raw bananas, though its mildness means it's not the ideal choice for customers who prefer robust recipes; the Caravela (RM10)  – chickpea puree with aromatic herbs – proves more resonant and unusual-tasting.
If you're a beetroot worshipper, try the Thoran (RM10), comprising succulent, earthy-sweet chopped beetroot with coarse, crushed coconut, chillies and ginger.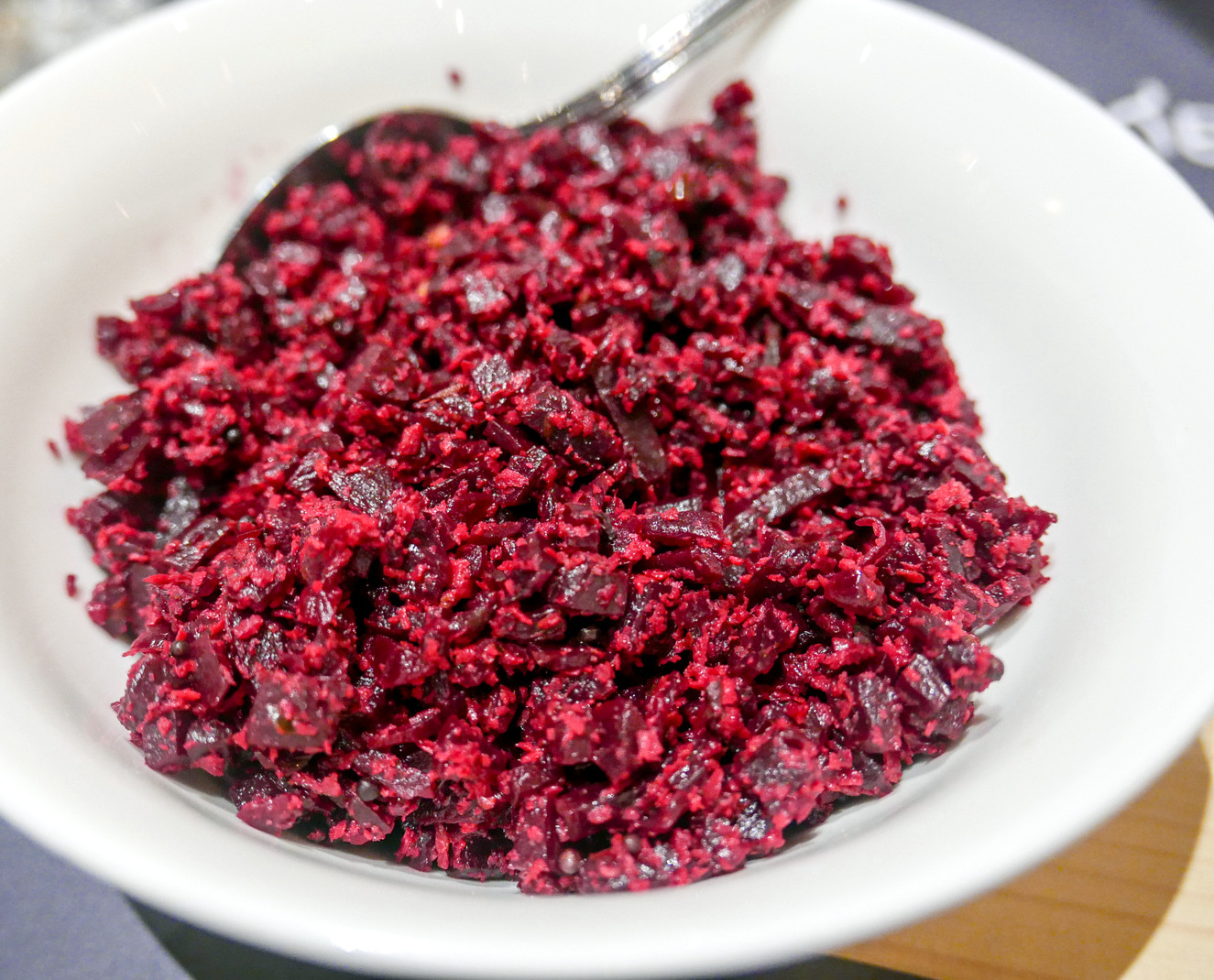 Curries
The Chemeen Mangga Curry (RM29) is a mellowly piquant prawn curry, simmered in coconut paste and tantalisingly textured with sliced raw mangoes, while Delia's Stew (RM22), creamy-savoury chicken curry, is equally competent, with punchy dynamics – thankfully, neither's too fiery, enabling us to relish the flavours more effectively.
Wipe the curries clean with pathiri soft rice pancakes (RM5). If you're seeking a single-plate meal, possibilities include the Kappa and Meen (RM30), rice with curry leaves-seasoned tapioca and thick, smooth & deep-flavoured classic fish curry cooked with cocum.
Desserts
Wrap up with Vattalapam custard (RM10), made with brown palm sugar, coconut milk and cardamom, partnered with honey-dipped grilled pineapple, and Payasam warm sweet rice pudding (RM10), accompanied by pappadam and bananas, concluding a meal that began with ginger-lime complimentary welcome refreshments.
There's still much more to try at Kayra, from squid with onion relish to roasted mutton with gravy, crabs cooked with house-made masala to eggplant with coriander and yoghurt; expect to hear more about Kayra in the months ahead.
Location & Details
Kayra Kerala Cuisine TTDI
46 Jalan Tun Mohd Fuad 1, Taman Tun Dr Ismail, Kuala Lumpur.
Currently open for lunch & dinner, closed on Mondays.