NEW! Bagels and Sandwiches Now Featured at Cata
Originally credited to Poland, bagels are nevertheless inextricably linked with New York City. Polish immigrants brought the bagel to America, and shops were set up in those communities throughout New York's neighbourhoods. For a long time, bagels weren't really widely known outside those communities, but nothing as addictive as a really good bagel, warm from the oven, was ever going to stay secret for long. The ideal bagel should have a very slightly crispy crust, a distinct 'pull' when you try to pinch off a piece, and a dense, chewy interior that comes from the dough being boiled before baking! There really is nothing like a great bagel. And sure enough, it didn't take much time before bagel love spread like wildfire through the United States. Cream cheese, the bagel's best friend, was invented in New York in the 1870s, and before long, it seemed no depiction of New York was complete without the humble bagel being slipped in there somehow. It's as much a part of the city as Broadway, hot dog carts, and yellow taxicabs.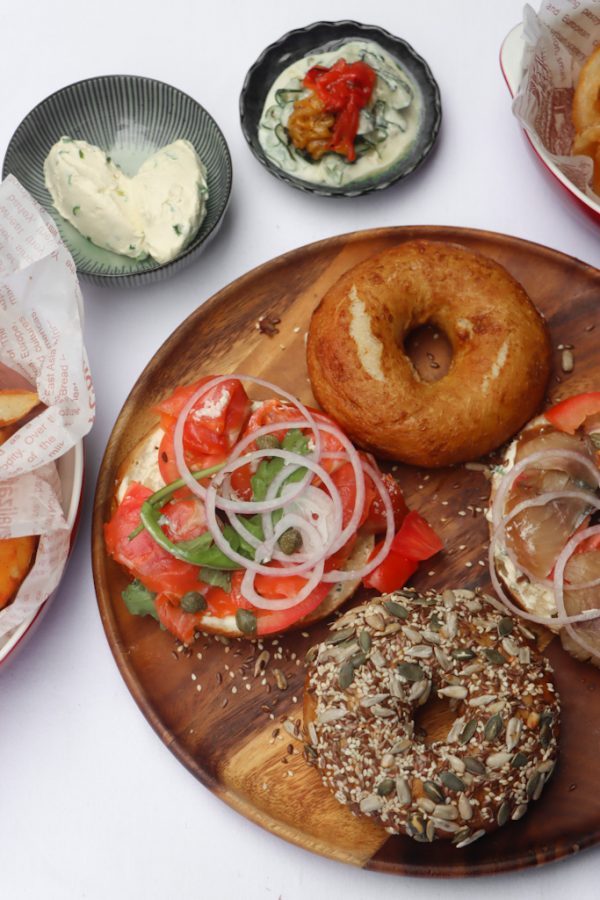 It's not a New York City deli, but we certainly give a lot of points to Cata, a great pizza and tapas eatery in Damansara Heights, for bringing a taste of the Big Apple to Kuala Lumpur. Like many restaurants crushed by the government's insistence that dining in poses a mortal threat to the country, Cata is turning to fresh ideas and new ways of bringing their great food directly to customers. And Cata's latest launch is a new menu of bagels and sandwiches, something we are happy to see grace the dining (or, um… take-out and food delivery) scene in KL!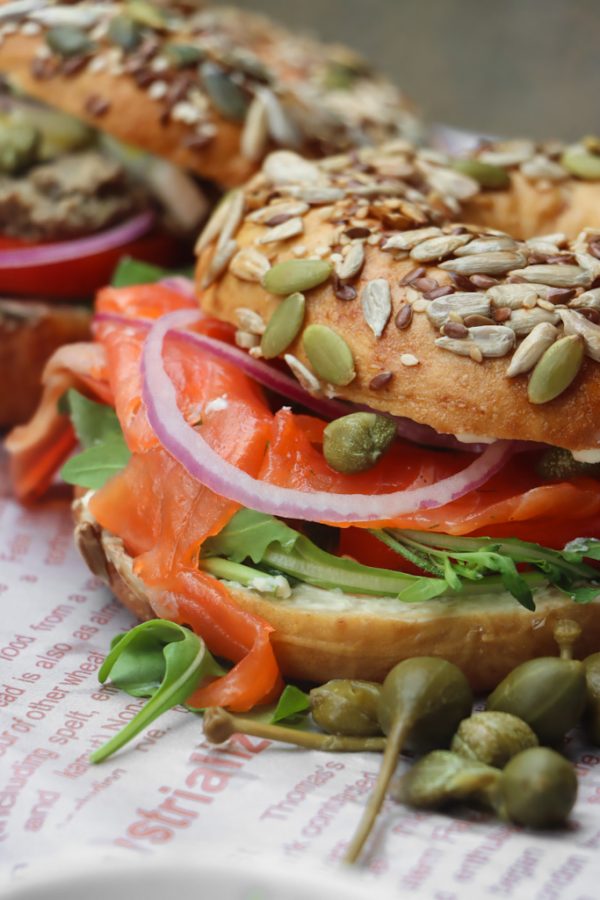 We couldn't possibly try everything on this comprehensive menu, but we gave a number of items a try, and here's our hot take on what you need to know:
First, the bagels are nearly New York-sized. These are no tiny bagels: have one in the morning and you'll be in great shape right through to lunch – maybe even a late lunch. New Yorkers would be dismayed at the slim choice – you can get either plain or multigrain – but we think that for KL, that's probably just fine. Bagels aren't a well-known commodity here, so it'll take time, and the sheer variety of bagels offered in a typical Manhattan bagel shop (poppy! onion! garlic! sea salt! sesame! pumpernickel! whole wheat! cinnamon raisin!) would be pretty overwhelming here. Also, we could pick up just a little sweetness in the bagel, too, which is also probably a good thing for locals. They're not SWEET, mind you, but you'll be able to detect a hint of sugar, something you wouldn't get in a typical New York bagel, but would be more likely to find in its Montreal counterpart. The texture is great, just the hearty chewiness we'd expect from a bagel. We sliced them in half (careful!), popped them in the oven and gave them a quick toast, and then it was time for the good stuff!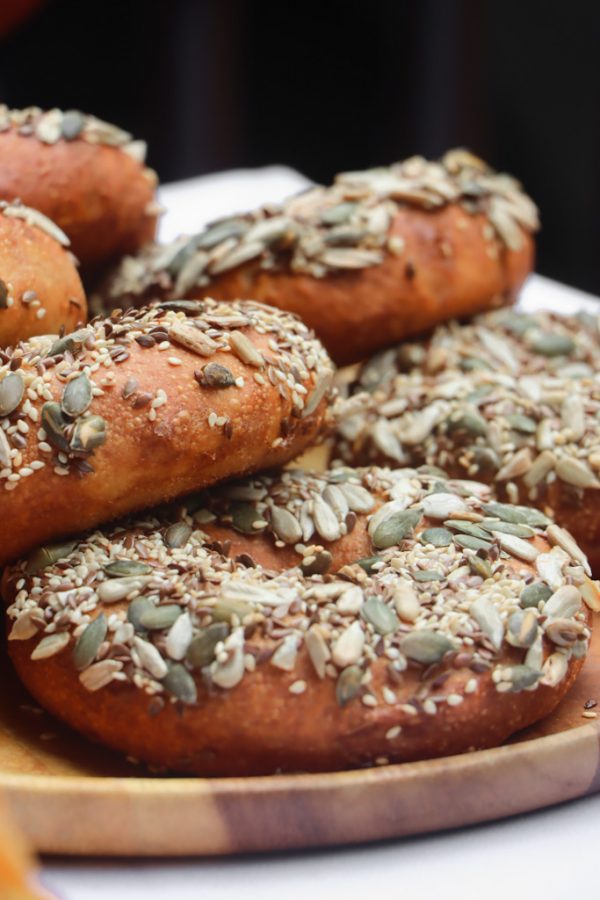 BEHOLD THE MIGHTY SCHMEAR
If you're not familiar with what a "schmear" is, we're here to help. No New York City bagel is quite complete without it – a generous dollop of yummy cream cheese slathered thickly over the open-sliced bagel, preferably just toasted. Not spread finely like a thin sheen of butter, mind you, but a hearty, sloppy schmear! Outstanding. Cata's cream cheese comes with scallions (chopped spring onions) mixed in, and it adds such a nice freshness. As with the bagels, your choice of cream cheese is limited to, well, just this one. (One shop in Manhattan's Lower East Side that we know has 18 different variants of cream cheese!) We definitely recommend going for Cata's multigrain bagel, which is topped with a whole lotta seeds and grains, with scallion cream cheese (RM12). Or if you have your own goodies on hand, the big bagel on its own – plain or multigrain – is RM6. We also liked their Japanese cucumber dip (RM16), which seemed to be a yoghurt-based dip with very thinly shaved rounds of Japanese cucumber and dill. This was terrific with the plain bagel, and we even tried slicing one into "bagel chips" which we then lightly toasted and served with the dip, and wow, that was awesome.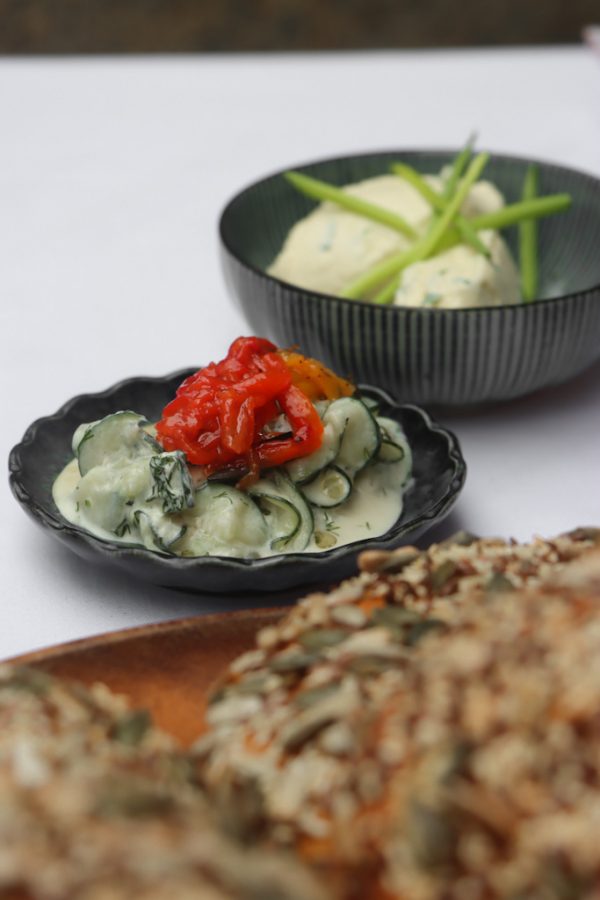 Cata also serves up some delicious bagel sandwiches with classic offerings like gravlax (cured salmon) and all the toppings (RM25) and smoked mackerel (RM24), but also some nice twists like chopped chicken liver – think a bit chunkier than a proper pâté – on a multigrain bagel (RM16), as well as a breaded chicken schnitzel bagel with a tasty remoulade sauce (RM18).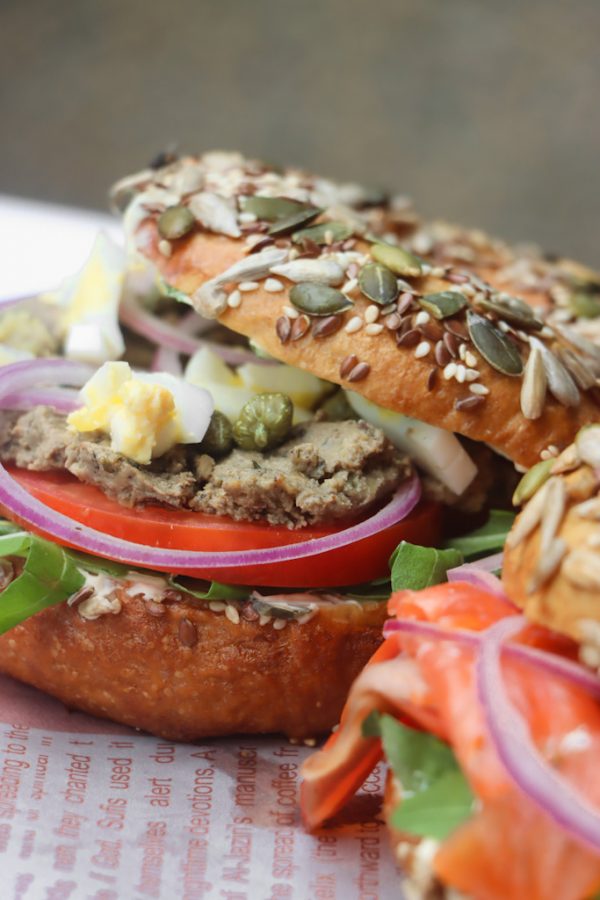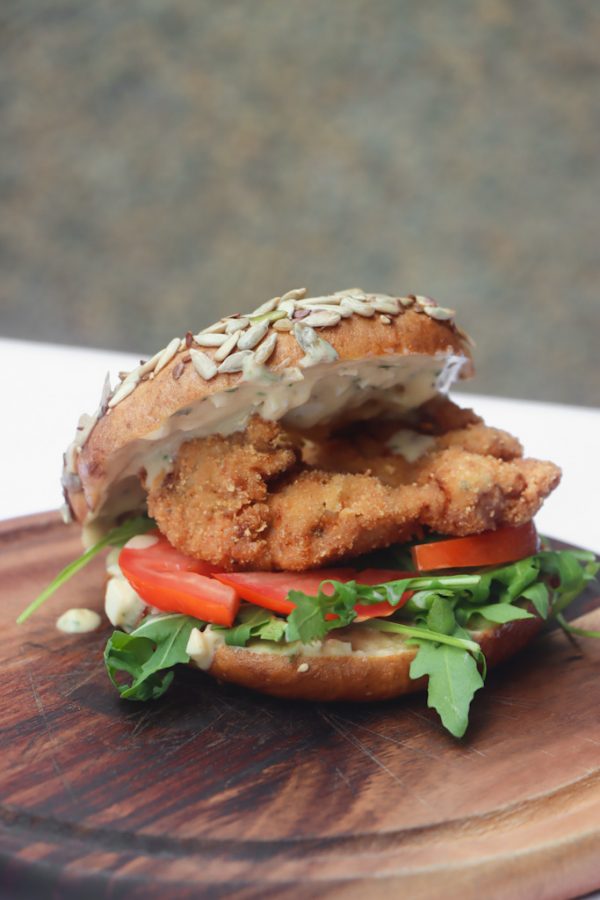 They're also doing some other sandwiches that are quite impressive, including chicken salad on baguette (RM12), baby shrimp salad on croissant (RM18), and the classic egg salad on croissant (RM12). We also loved their fried Spanish onion rings (RM11) with their light buttermilk batter and tangy dipping sauce, and you can never go wrong with tasty fried potato wedges (RM10), either.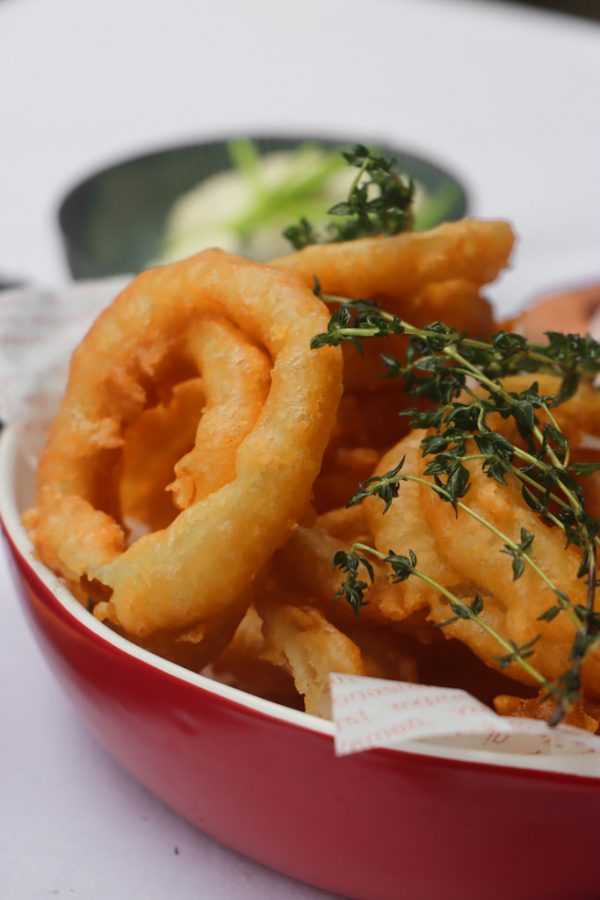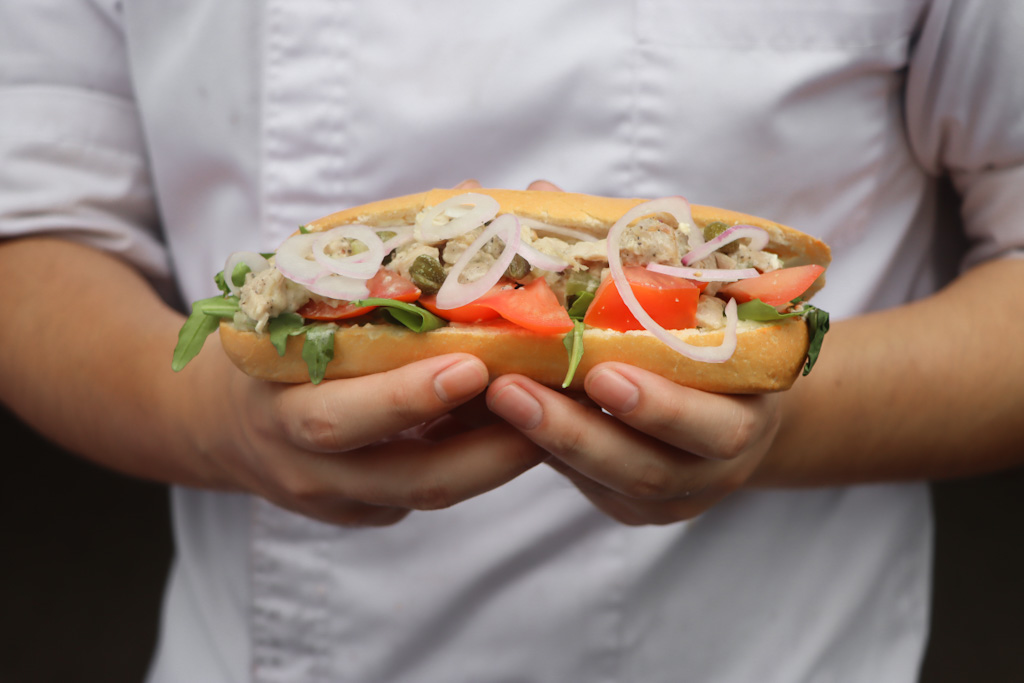 Cata is open for take-away and delivery (currently) Tuesday through Sunday from 10am to 7pm (closed on Mondays). Check them out on Facebook (catamsia) or visit Otomate to easily place your order: www.otomate.co/oto-order/cata.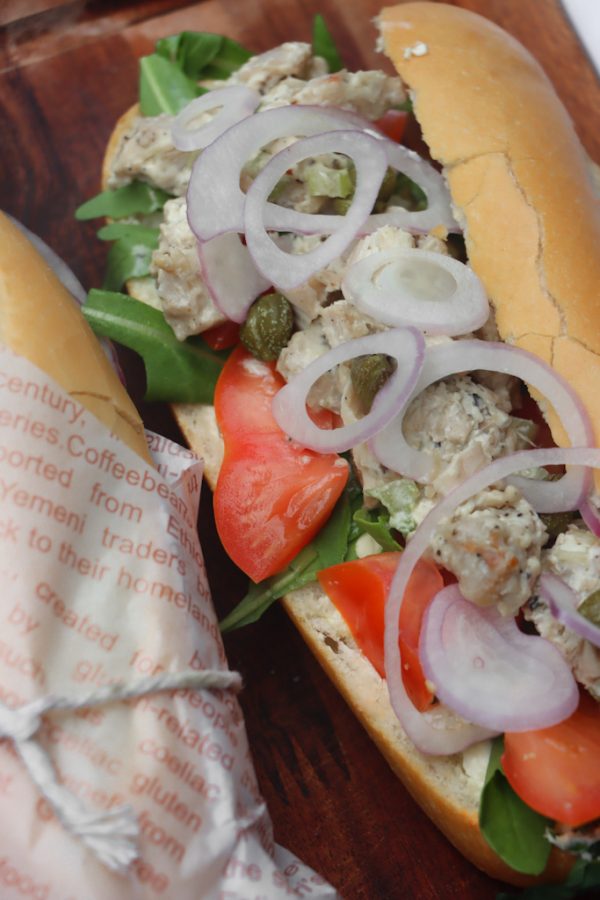 Location & Details
Cata Pizza • Tapas • Vino
50-G Plaza Damansara
Jalan Medan Setia 2
Bukit Damansara
50490 Kuala Lumpur