Ploy at Publika: Restaurant review
The restaurant's blown-up sized menu displayed outside its entrance announces "Ploy is all about Japa-Thai cuisine". My adventurous taste buds nudge me in, and I step into a cozy room filled with tables sans cloth and platinum-coloured chairs. One wall displays the restaurant's name under recessed lighting, and the tiled floor is of matching colour as the chairs. An adjoining section houses a dimly-lit bar displaying rows of liquour and stemmed glasses turned upside down .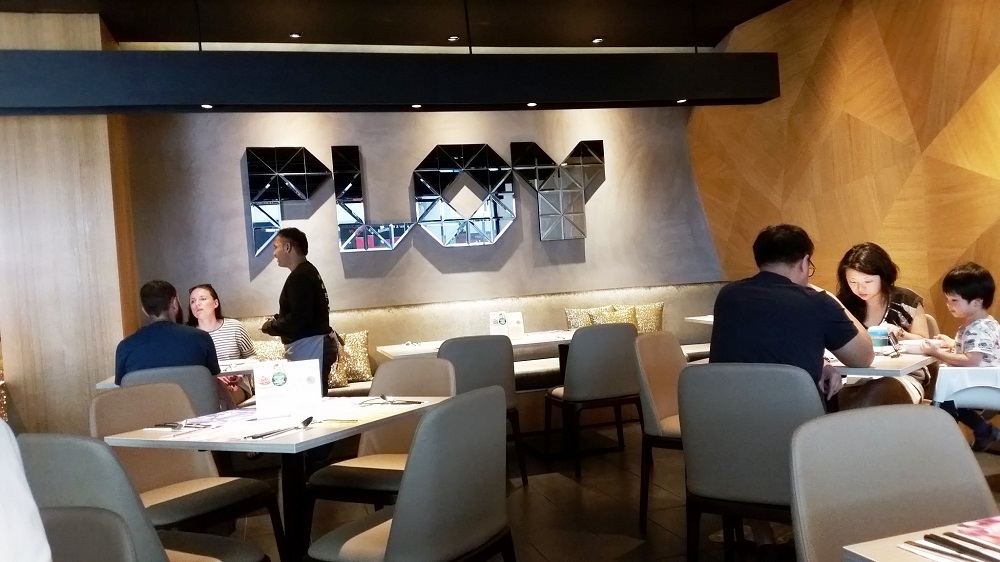 The 80 over items on the picture-less menu fall under sides, snacks, mains, sushi, pizza, pasta rice, noodles and dessert. There are also set lunches offering five different options from Monday to Friday. I am not disappointed in my expectation of unusual dishes. For example, there are sambal miso edamame; Asian pear and caramelized walnut, iceberg lettuce and romaine in white wine dressing; spicy salmon and mushroom pizza; and liquid nitrogen ice-cream. The sushi section, in particular, impresses me, as all eight items are unique. When I am ready to order, no one is around and a short wait is necessary.
Starter
My crab cakes (RM25.90) are two perfect pucks served with a salad of cucumber, baby tomatoes and romaine lettuce. Smaller than the size of a Big Mac patty, each crab cake is topped with streaks of remoulade sauce. Expecting the oceans to explode in my mouth on first chomp, I am disappointed that the strong smokey-spiciness of the remoulade sauce overwhelms all crab flavours. Furthermore, a coarse mouth-feel indicates too much breading or whatever binder that was used.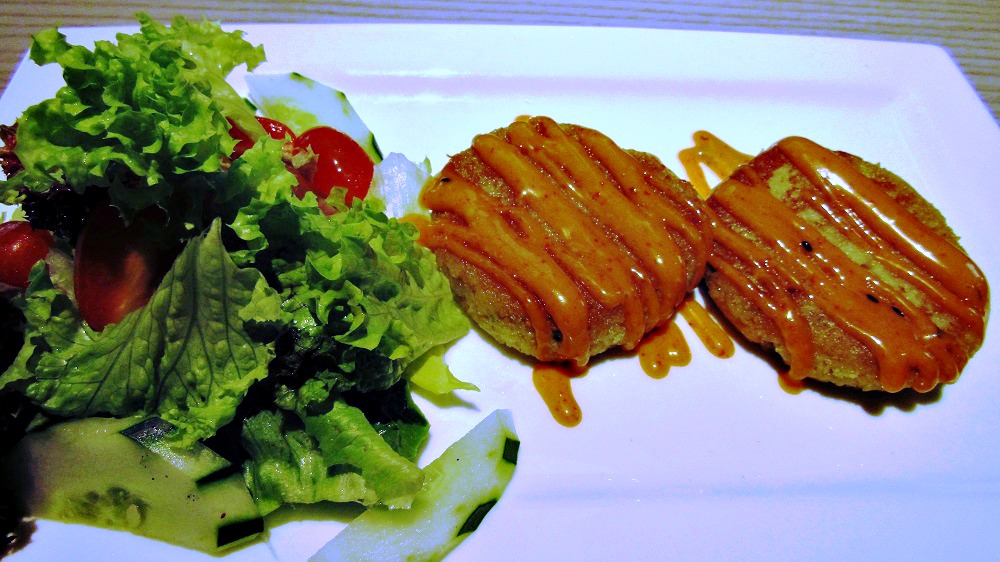 Mains
Black fried rice (RM30.50) comes with a raw egg in its shell perched on top. Squid ink has been used to cook the rice, rendering it black, and the inclusion of basil leaves give it a touch of Thai. My taste buds greet the saltish-oeanic flavours of the squid ink in a loving embrace but are lukewarm to the accompanying sweet peppery flavours of the basil. The raw egg only gives a slippery feel to the rice, and does not add much flavour.
Emperor Burger (RM27.50) comprises sirloin patty sandwiched between Chinese style buns. Shiso leaves and Japanese tiugan sauce – the chef's creation — complete the package. A member of the mint family, shiso is called perilla in English. The grassy bitterish-sweetish sharpness of the shiso cuts through the rich flavours of the juicy sirloin while the tiugan sauce melds marvelously with the bland crispy bun. Emperor Burger has changed the burger landscape in town.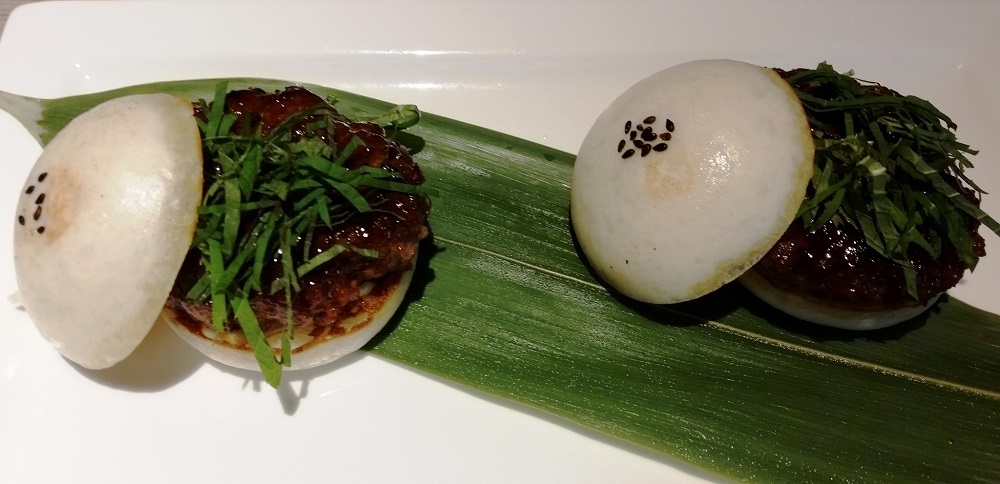 Dessert and drinks
The curtain closes with durian panna cotta (RM12.50). Used to eating panna cotta bought from supermarkets, I am pleasantly pleased the durian panacotta is in a class of its own. It delivers a smooth mouth-feel and a melt-in-your-mouth texture similar to the real fruit.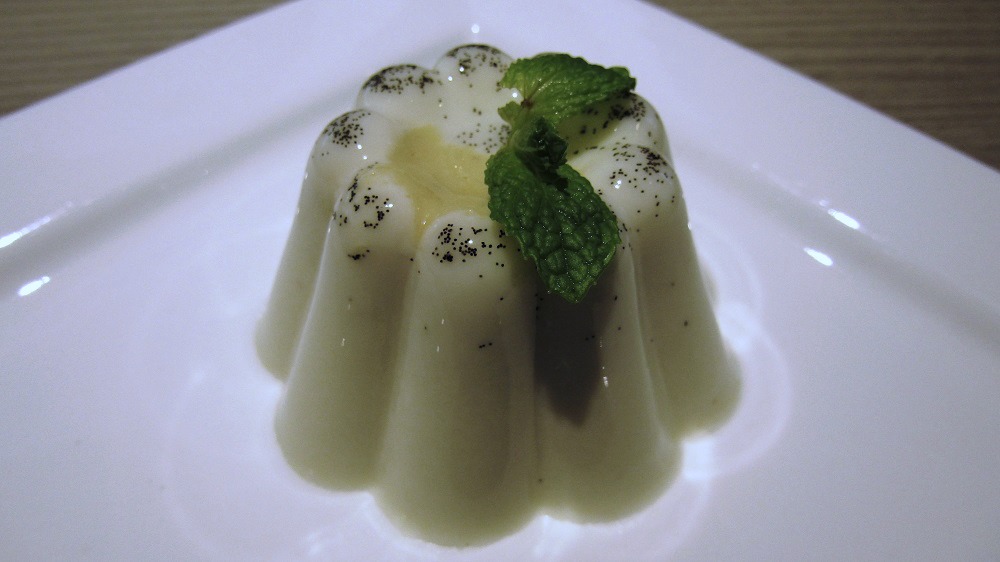 My peppermint tea (RM8.00) has been perfect to give my taste buds a fresh slate after every dish. Nevertheless, the restaurant has sufficient varieties of cocktails, wines, spirits, and beers to rival those of a true-blue bar. There are also interesting creations such as sour plum ice cubes in Sprite, virgin mojito with Thai basil and cosmo cocktail with ginger, to mention but a few.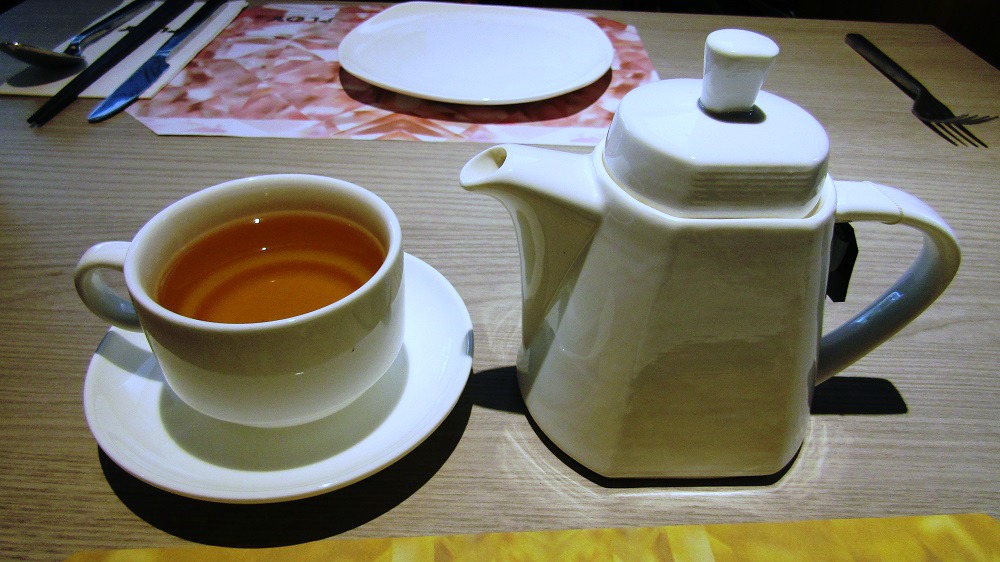 Verdict: Ploy is not for gourmands with traditionalist tastes but for taste buds that enjoy Asian spices in non-Asian dishes.
Location and Details
Ploy
Lot 28 & 29, Level G3, Block C4, Publika Shopping Gallery, Jalan Dutamas 1, Kuala Lumpur
Opens daily from 12 pm to 12am
Tel: +603-6201 9899