CDLC Breaks New Ice with Illumination's Minions and NFT Art
Yet again tying in all-natural artisanal ice creams and Petits Gâteaux with unexpected concepts, Crème De La Crème (CDLC) invites dessert lovers for another fun gastronomical adventure, this time at two new locations!
CDLC and Illumination Presents Minions: The Rise of Gru
A momentous collaboration with the biggest global animated franchise in history, all CDLC outlets have been transformed into an immersive yellow world featuring the beloved Minions – Kevin, Bob, Stuart, and Otto.
In conjunction with the release of feature film Minions: The Rise of Gru in theatres 30 June 2022, CDLC ups the ante on what they do best and presents petits gâteaux, celebration ice cream cakes, and even special merchandise of cooler bags and a collectible sticker set in celebration of these larger-than-life beloved characters.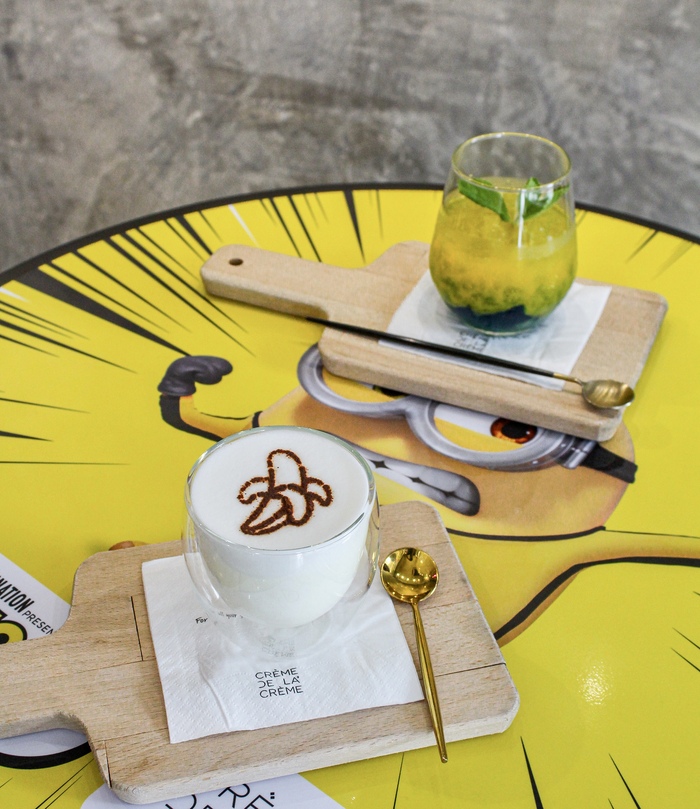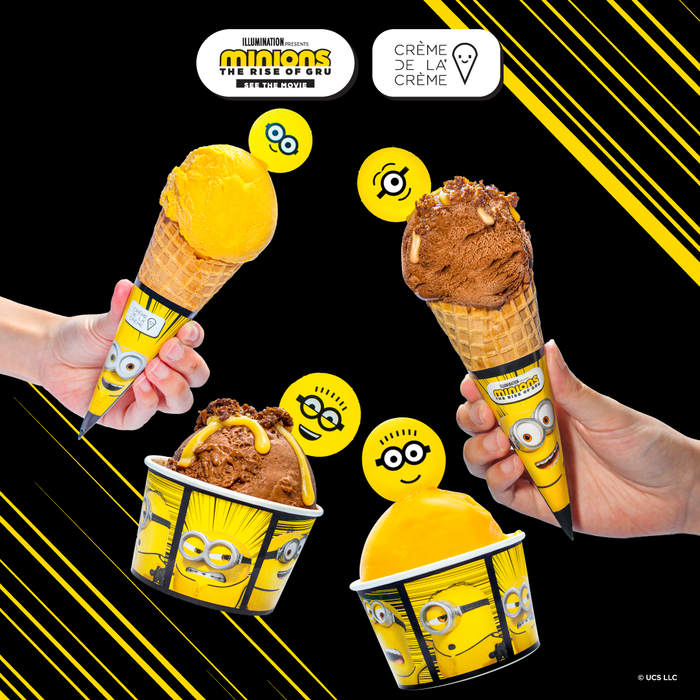 Artisanal Ice Creams
Ba-ba-ba-ba-ba-nana: French dark chocolate ice cream swirled with caramelised bananas, butterscotch, and chocolate crumble.
BEE DO BEE DO BEE DO: A sorbet of juicily sweet mangoes, pineapples, and papayas for a sure fire way to put out any heat!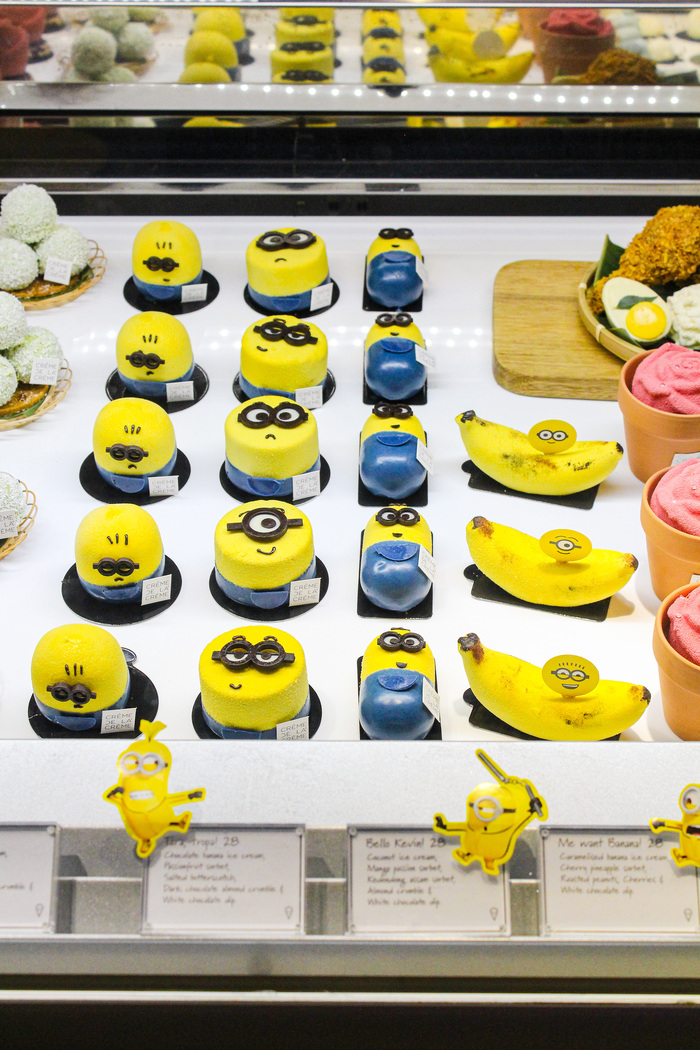 Petits Gâteaux
Bello Kevin! : A clever combination of coconut ice cream, mango passion sorbet, kedondong assam sorbet, almond crumble, and white chocolate dip.
Bello Otto! : The delicious flavour profile of brown butter ice cream, pandan ice cream, coffee ice cream, banana brownie, spice crumble, and white chocolate dip combination made to look as irresistibly adobrable as Otto!
Tara, tropa! : Scrumptious chocolate banana ice cream, passionfruit sorbet, salted butterscotch, dark chocolate, and almond crumble in the form of eight different versions of Bob, Stuart, and Jerry's faces will leave you spoilt for choice.
Me Want Banana!: Indulge in a hyper-realistic looking "banana" made from caramelised banana ice cream, cherry pineapple sorbet, roasted peanuts, cherries, and white chocolate dip.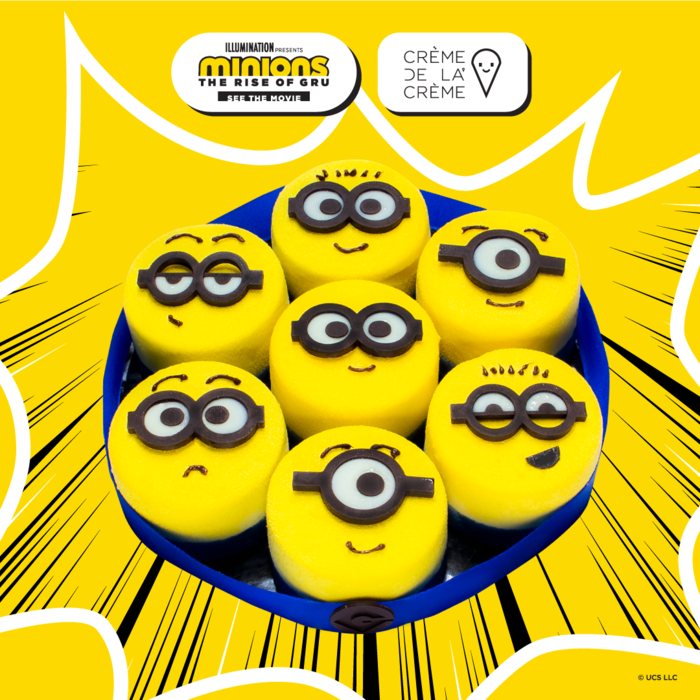 Celebration Cake
Tualaliloo Ti Amo
An ultra-cute collection of seven different Minions, deliciously hand-crafted from chocolate banana ice cream swirled with salted butterscotch, home-baked French dark chocolate almond crumble, perfectly balanced with a dash of passionfruit sorbet will leave any birthday or celebration unforgettable!
This collaboration will run until 31 August 2022.
Malaysia's First NFT-themed Ice Cream Parlour
Like the Lourve is for traditional art, CDLC's newest outlet in Sunway Pyramid brings the world of blue-chipped Non-Fungible Token arts to the physical, public world. Enjoy NFT-themed desserts featuring popular presences of the crypto culture, as well as displays of a curated collection of NFTs worth over USD1million.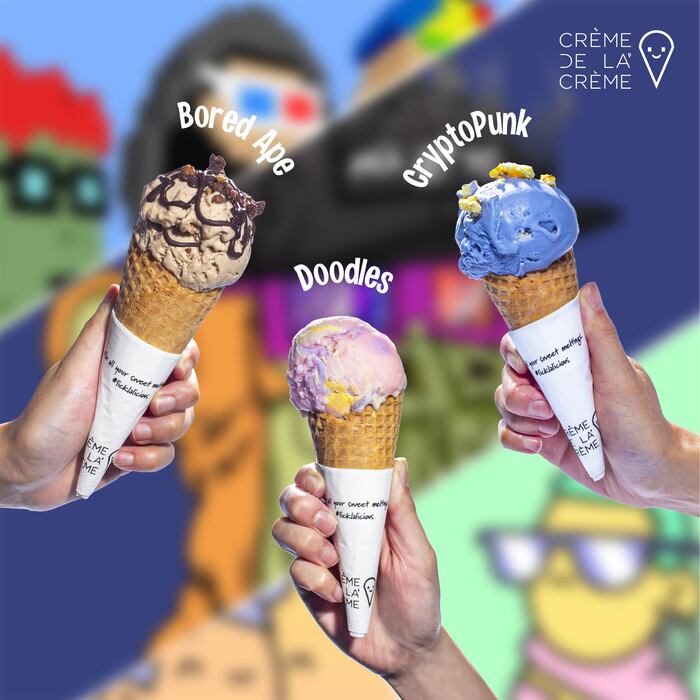 Artisanal Ice Creams
Bored Ape: French milk chocolate ice cream swirled with caramelised bananas and freshly-baked chocolate crumble, inspired by the Bored Ape Yacht Club.
CryptoPunk: Australian cream cheese ice cream swirled with Butterfly Pea Flower ice cream decadently decked with burnt cheesecake chunks, inspired by the Alien-skin of CryptoPunk #5822 (which sold for a record-breaking USD23.7 million).
Doodles: Butterfly Pea Flower, lychee sorbet, peach sorbet, and Madagascar vanilla ice cream combines to create the fantasy colour palette of Doodles, and tastes like a dream too!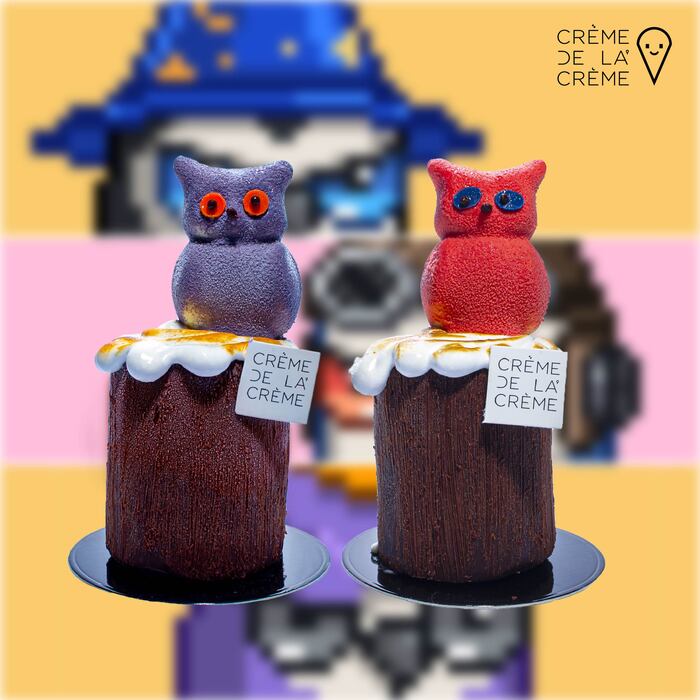 Petite Gâteau
Moonbirds: Premium ultra-grade Kyoto matcha ice cream, coffee ice cream, mascarpone ice cream, and homemade coffee spice crumble make up this caffeine-packed creation encourages keeping you up at night, and leaving you wanting more!
"If you are like me and are obsessed with NFTs, we have created the perfect haven for you! The CDLC Sunway NFT ice-cream parlour was a budding concept when NFTs were just gaining traction a year ago. It is conceptualised with the NFT enthusiasts in mind where they can chill, hold meetups, and share their love for NFTs with like-minded members of the community. We took our time to curate the best locale for this ambitious endeavour for our NFT-loving clientele, and we have gotten it right with CDLC Sunway," says founder of Crème De La Crème, Lio Lim, an art lover and collector herself.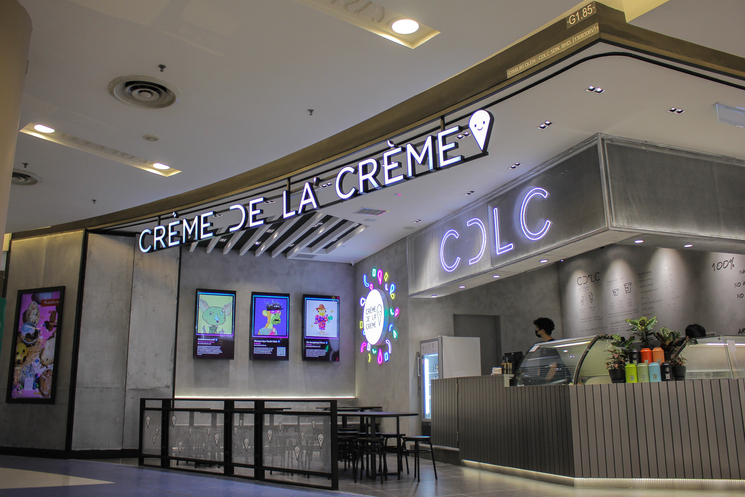 Patrons with their own invested interest in NFTs are welcome to display their own on five dedicated LED-display screens via registering interest with CDLC. In the coming future, CDLC also plans to organise NFT meet-ups and events with various NFT thought leaders and fan communities to encourage a symbiotic community, and even become an even bigger active player in the NFT/crypto space.
"Since day one, be it our store concepts, ice cream flavours or petits gâteaux designs, we have always challenged ourselves to innovate and constantly evolve to pioneer the next big change. With the launch of CDLC Sunway, we are proud to lead the way in the ice cream industry to promote and integrate digital assets against an F&B backdrop. CDLC Sunway serves as our launchpad that will future-proof us for the dawn of the metaverse!" muses Lio Lim on a hopeful future of CDLC with NFTs.
*ABOUT NFTs
NFTs are non-fungible tokens linked to digital assets such as images or videos. They can be minted as collectable items, avatars in games or certificates to prove ownership of property and objects in the burgeoning virtual world of the metaverse.
Location and Details
G1.85, Sunway Pyramid Shopping Mall
3,Jalan PJS11/15, Bandar Sunway, 46150 Petaling Jaya
Every day: 10am – 10pm
012-3250 735
Uptown Damansara (Flagship)
Sun – Thurs: 12pm – 10pm
Fri & Sat: 12pm – 11pm
CDLC.beepit.com
GrabFood, Foodpanda & AirAsia
017-394 0735
Taipan USJ
Sun – Thurs: 1130am – 10.30pm
Fri & Sat: 1130am – 1130pm
012-3280 735
Setia City Mall
Daily: 10am – 10pm
CDLC.beepit.com
011-6084 9334
George Town, Penang
Daily: 12pm – 10pm
GrabFood & Foodpanda
017-389 8865
TikTok/Facebook/Instagram – @mycdlc
*All images courtesy of CDLC.