Check out the Better Beer Festival 2016
The fifth edition of the Better Beer Festival will bring craft beer, live music, and beer-inspired food together in Publika. The two-day festival will showcase craft beers from around the world – Australia, Japan, Scotland, Indonesia, Vietnam and more.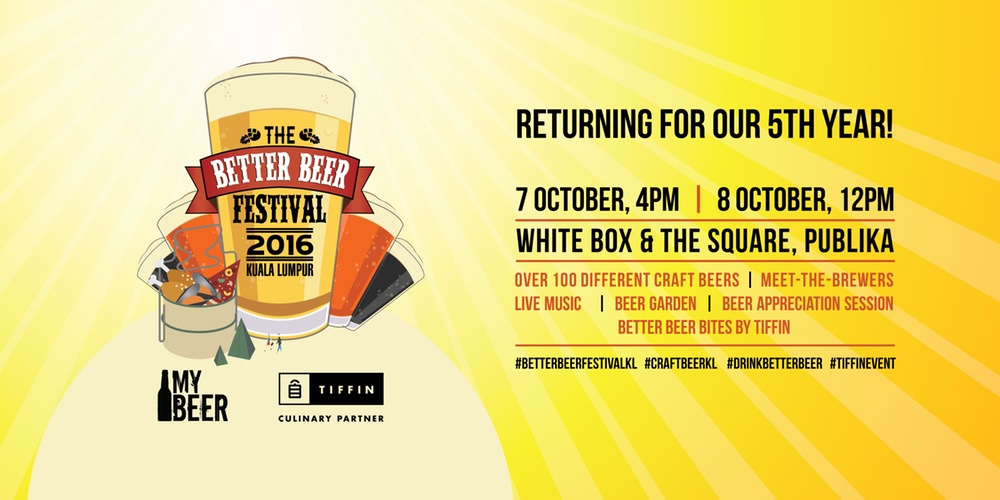 A food-pairing session, Chowdown, will include beer-infused snacks like The Ice Cream Bar's beer sorbet, ale fondue by Cantina Moderna, rum and butterscotch popcorn with bacon bits by Bacon It, and so much more. The festival will also showcase a beer appreciation session and a 'Meet the Brewers' session.
Better Beer Festival 2016 – Details
Date: 7th October, 4pm – 8th October, 11.30pm
Venue: White Box and The Square, Publika, Solaris Dutamas
Tickets: RM70 | www.eventbrite.com
Website: www.facebook.com
Better Beer Festival 2016 – The brewers
The Kiuchi Brewery was established in 1823, by Kiuchi Gihei, the headman of Kounosu village. Currently located in Naka (Ibaraki Prefecture, Japan), the brewery started off as a sake and shoshu producer. In 1996, Hitachino Nest Beer was born and has since won multiple awards for their beer which combines European beer-making technology and traditional Japanese brewing techniques. The brewery passed down through 3 generations and is now operated by brothers Youichi Kiuchi and Toshiyuki Kiuchi.
Located in the heart of Saigon, Vietnam, Pasteur Street Brewing Company was established by John Reid in 2015. Highlighting a combination of international malts and hops together with local specialty ingredients, the American founders strive to not only bring craft culture to Vietnam but also to produce beers with a distinct Southeast Asian character for the global market. In the recent Singapore Craft Beer Week 2016, Pasteur Street Brewing Company was awarded 3 golds for their Spice Island Saison, Double IPA, and Passion Fruit Wheat Ale. And at the most recent World Beer Cup the Cycle Imperial Chocolate Stout took home gold as the world's best chocolate beer.