Where to Get Your Cake Fix in Georgetown
One can never deny that Georgetown is a hotspot for cafe hopping. But if you see yourself more as a cake enthusiast, you're in safe hands too. From cakes that bind local fruits, to in-trend cheesecakes, Nyonya-inspired creations and many more, imagine a cake feast like never before. Yukeshwaran Devadas explores Penang's hidden and popular cake bars and cafes.
1. China House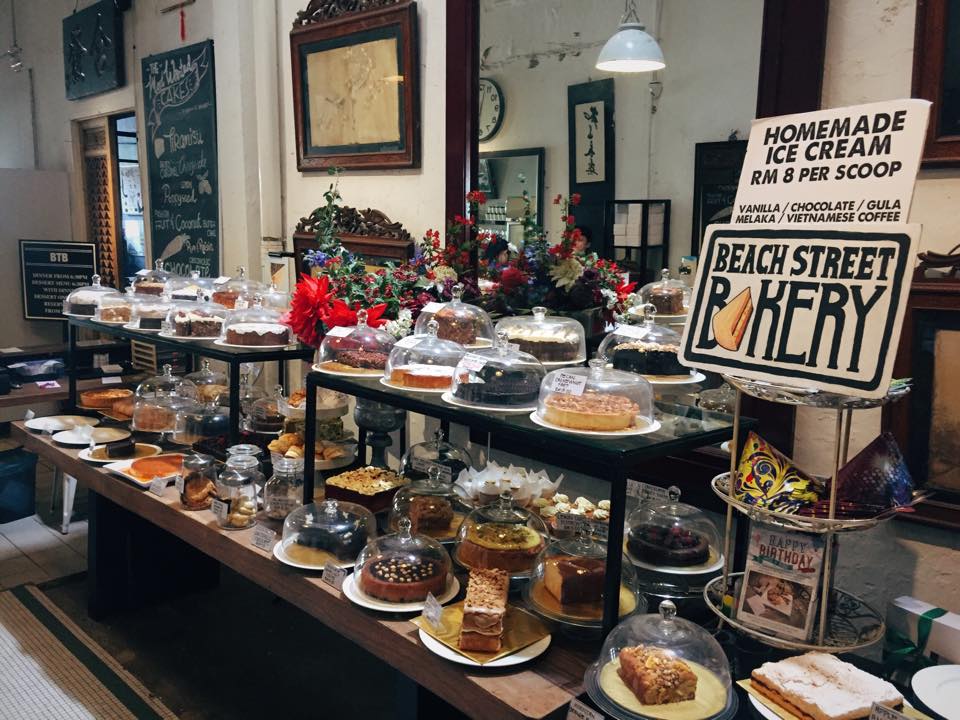 When it comes to cakes, there's never too much of a good thing, and you'll agree once you lay your eyes on the variety that's available in this sprawling cafe. If in doubt, reach for the classics such as tiramisu and carrot cake which are revered by patrons as the best in town, but don't discount just about anything that comes out of their ovens. To name a few: Brandy-infused Fruit Cake, Caramel Cheesecake, Chocolate Chip Coffee Frosting and the bitter-sweet favourite, Walnut Espresso. Even better, crown the cakes with their homemade ice cream and wash it all down with freshly brewed coffee.
2. Moody Cow
If you love cakes and tropical fruits, this is the place to be. Come in with a big appetite and order their Cempedak Madness and Durian Madness cakes. The former sports a two-layer chocolate cake topped with a generous amount of cempedak fruit and cream cheese, while the latter is a cheesecake swelled with Musang King durian pieces. The team has clearly thrown the rule book out of the window, as you'll also be amazed by renditions such as Century Egg Cheesecake, Matcha Cheesecake with Mango and Cranberry, and more. A jaw-dropping cake experience with price tags to prove.
3. Komichi Tea House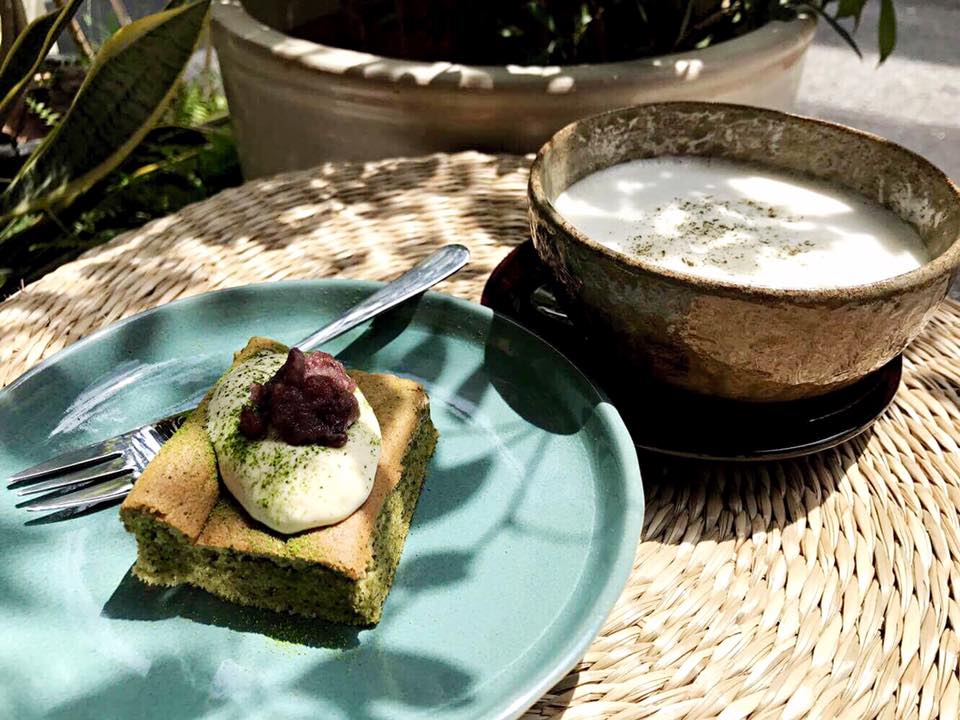 If you think the much-imitated matcha desserts cannot be improved on, this little tea house would prove you wrong. The menu boasts a decent selection of matcha goodness and cake lovers are bound to be satisfied with their Matcha Cheesecake, Matcha Swissroll and Matcha Chiffon Cake. The pleasant flavours in every bite are a result of quality ingredients and adroit techniques. The aromatic teas and the calming ambience will encourage you to linger longer, perhaps for another slice.
4. Roots Dessert Bar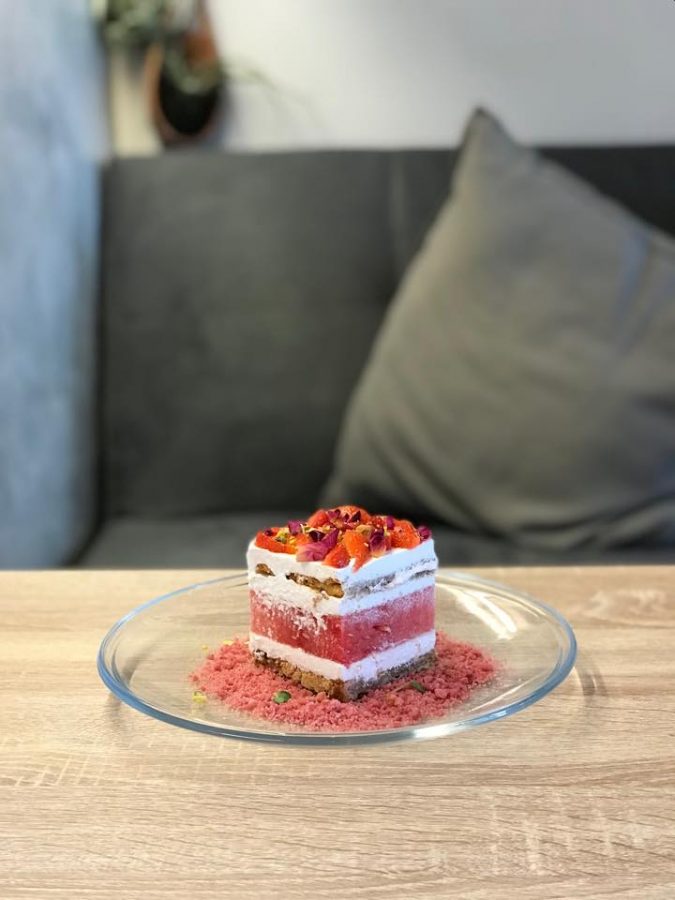 When Roots Dessert Bar opened its doors back in March 2017, it seemed that just about everyone was gawking over Instagram photos of their watermelon cake. The cake layers comprise of juicy watermelon, cream and almonds, capped with sliced strawberries and pistachio nuts and is moated with beetroot crumbles. As delicious as it sounds, the interesting interplay of texture and flavour is definitely a deal-maker. Another perennial hit is their Tofu Cheesecake, made from yoghurt and cream cheese and paired with honeycomb, lime jelly, and aromatic gula Melaka.
5. Wells Cafe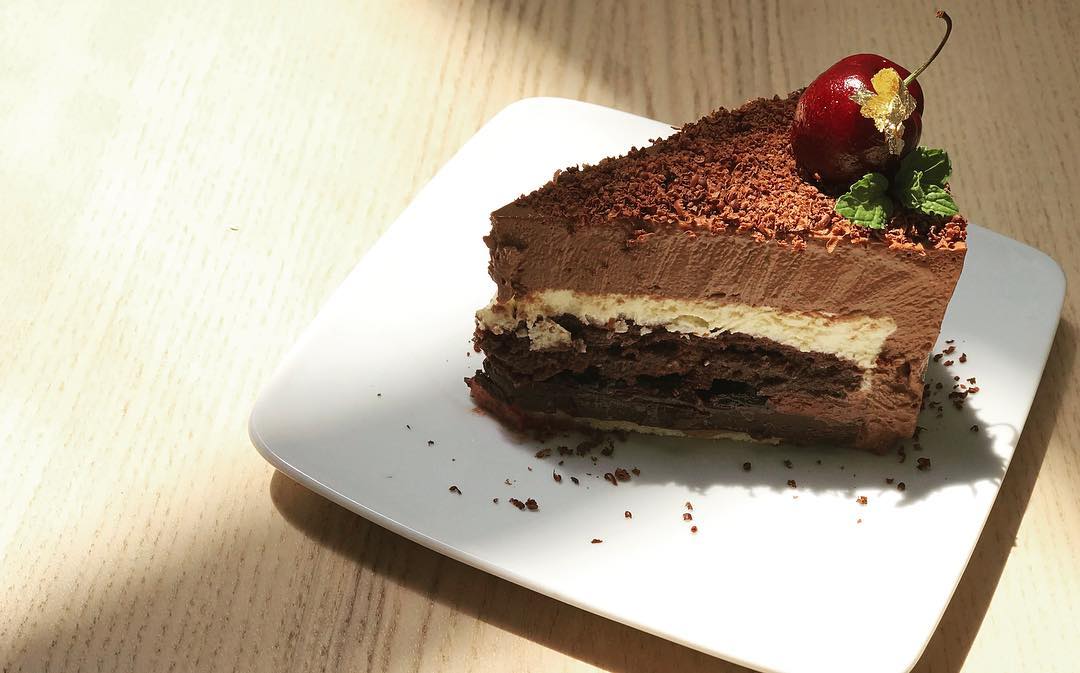 Claiming to serve the best Liege-style waffles in town, this charming cafe also offers delightful cakes. The team rotates the cake menu regularly since they are a stickler for fresh and quality ingredients, which are further enhanced with their creativity.  Give their cheesecakes a try, as they have unusual flavours such as Bailey's Chocolate, Honey and Lime, and one of their best sellers, Avocado Cheesecake. Classics are given equal attention too as their Blackforest Cake is infused with homemade berry jam while the tiramisu is incorporated with mascarpone cheese that is fermented in-house. If you double up as a coffee junkie, their single origin filter coffee is not to be missed.
6. Passion Heart Cafe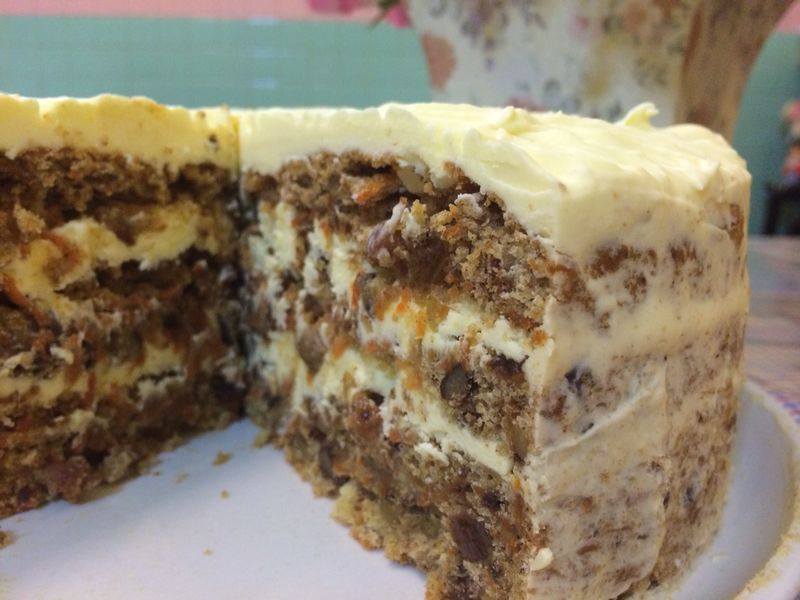 Regardless of what your personal cake preferences are, you'll find something you love at this cosy cafe. Think rum-infused Tiramisu, Poppyseed Lemon Cake, Coconut Cake with crunchy coconut flakes, Blackforest with red wine, Banana Crumble, Coffee Meringue Cake, Pomelo Cheesecake and their best seller, Cempedak Cake. And once you've tasted any of the slices, you'll agree that the cafe is aptly named. The comfortable setting, good coffee, and warm service gives them extra brownie points.
7. KOTA Dine & Coffee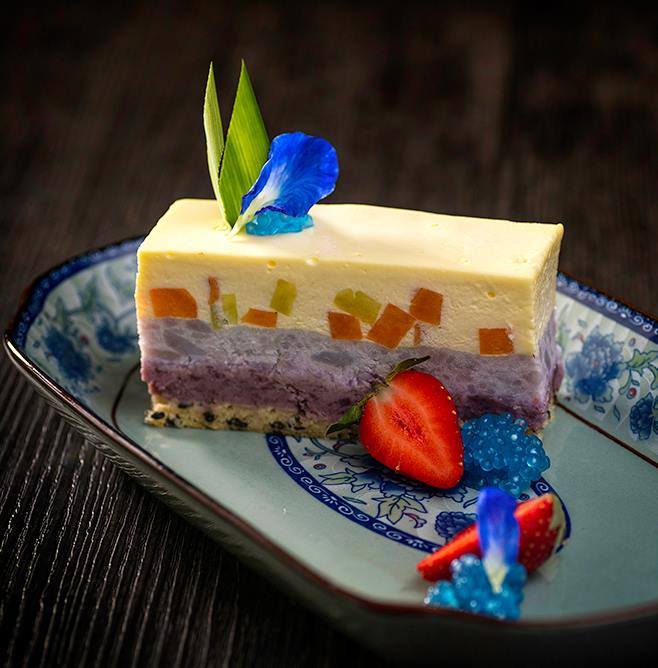 What would you think about a Bubur Cha Cha Cake? You've probably not heard of one yet. For a one-of-a-kind cake encounter, head to this classy restaurant at the heart of Esplanade. The kitchen is well-known for their unique twist on traditional dishes and the cake department follows suit. The Bubur Cha Cha Cake embodies a celebrated Nyonya dessert as an eye-catching three-tiered cake. The top layer comprises of creamy coconut mousse filled with little chunks of sweet potato, followed by purple yam and a soft sesame cake. Yum! If you still have room for another slice, also check out their Nasi Lemak Cake!
8. Narrow Marrow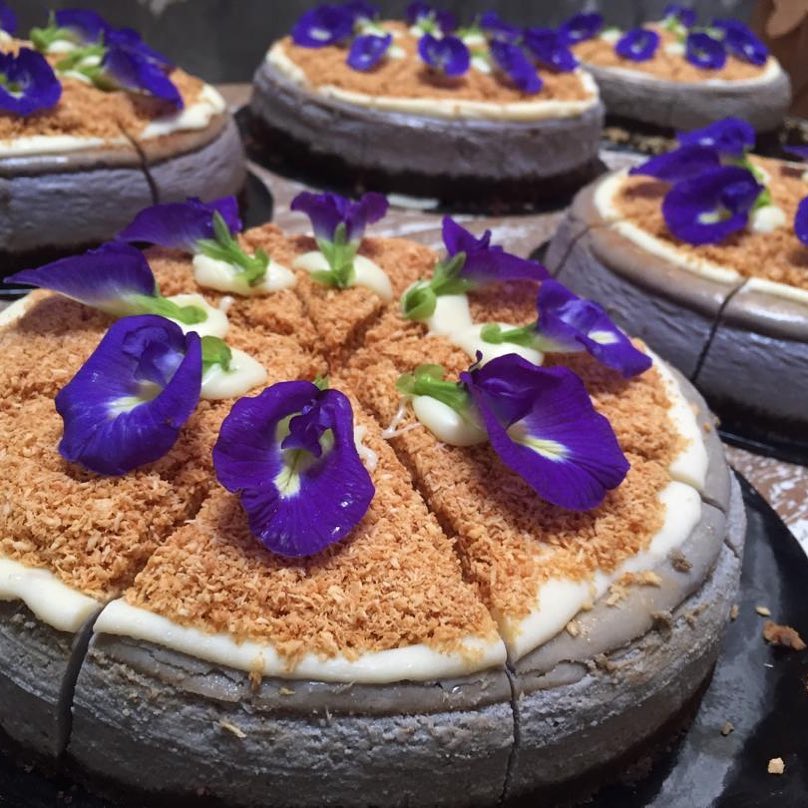 Picture a New York-style baked cheesecake with pea-flower topped with white chocolate and desiccated coconut. That sums up the Coconut Peaflower Cheesecake at Narrow Marrow. Not a combination you often hear, but the flavours will leave you wanting more. This cheesecake may be the crowd favourite, but other offerings such as Salted Gula Melaka Cheesecake, Strawberry Matcha Tiramisu, Espresso Kahlua Tiramisu, and Matcha Rum are vying for the top spot too. Pair your preferred slice with their Lemon Grab Espresso for an out-of-the-box cake and coffee fix.
9. Continental Bakery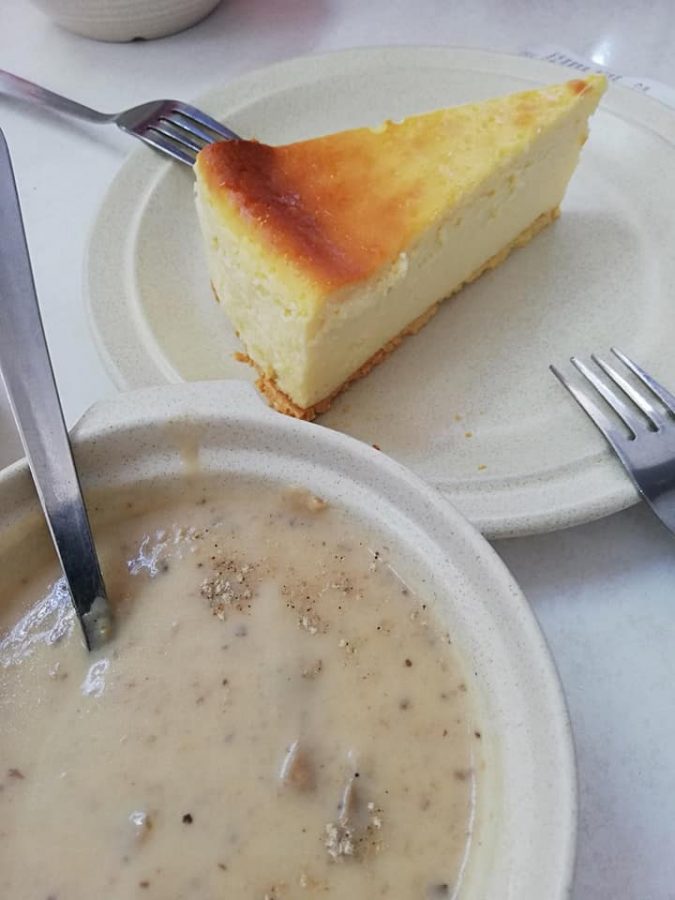 Continental Bakery is the stuff of childhood dreams. No flamboyance of a modern-day bakery, instead it has soul-warming aromas of freshly baked goods and unpretentious flavours. Their lemon cheesecake, wholewheat English muffins and chocolate chip muffins are more traditional, though no less delicious. Sit down with a hot coffee or step out with bags of baked goods. Everything may appear surprisingly simple but unsurprisingly irresistible.
10. Mon Délice Patisserie
This patisserie's customised birthday cakes are, allegedly, one of the most popular baked creations across social media. Impressive as they may be, there's more to this dessert joint. Many have revered that their Mango Charlotte is an all-consuming, mango and vanilla flavoured mousse sitting over a genoise sponge and topped with fresh mango cubes. Another common pick is their Noix de Coco – a fragrant coconut mousse with Gula Melaka cremeux sandwiched between a crunchy caramelised feuilletine (crushed crepe) cashew base and coconut dacquoise, finished with white chocolate coating and dainty chocolate. Even those "Oh, no dessert for me" types would find it hard to contain their excitement with these cakes.