Malaysian Food Reinvented: A Degustation Menu at SPG by Bijan
When I was first introduced to SPG by Bijan, it was during one of The Expat's monthly wine dinners. I was already stalking their Instagram account, secretly lusting after their curious looking cocktails with "punny" names alluding to all manner of hedonistic shenanigans our baby boomer generation was quite well known for. Interesting drinks aside, beautiful images of dishes from their menu kept showing up on my timeline giving me all kinds of strange cravings for food I haven't even tried yet.
I'm excited to report, I was NOT disappointed in the least when I finally got to dine there. I'm sure many would attest to how frequently disappointments tend to occur in our food-obsessed culture forever scrolling through our phones, hungry for something not just appealing to the eye, but to the taste buds too. Let me tell you, SPG by Bijan truly exceeded my already inflamed expectations.
It was a few months after that wine dinner when I got another chance to go back when the restaurant launched new menu items. I don't know how they did it, but I ended up having an even better time than the last, which was already an exhilarating experience etched firmly in my memory bank.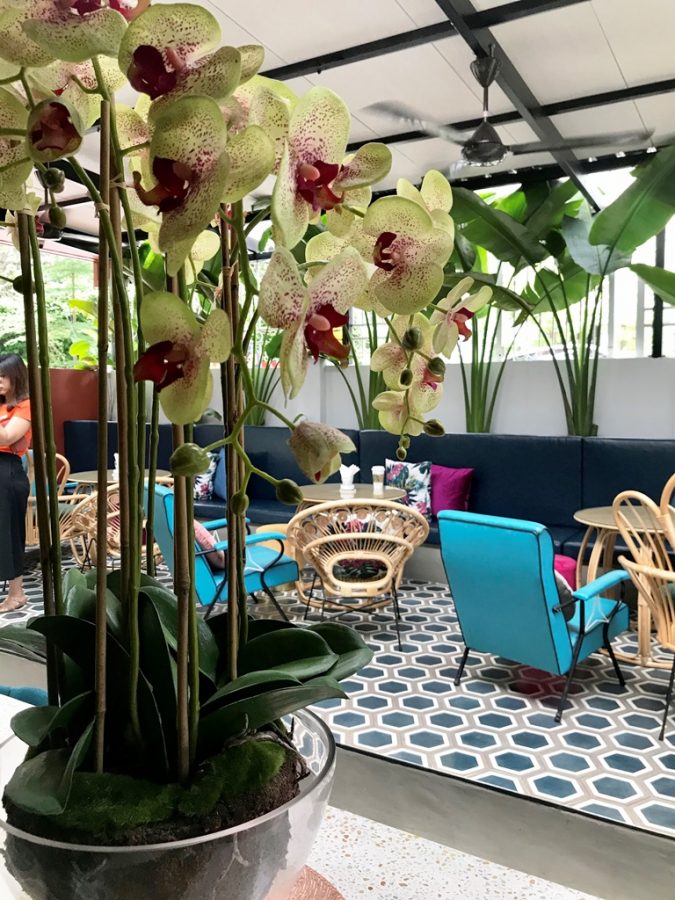 Located in an attached bungalow right next to their sister restaurant Bijan, walking into the outer courtyard of SPG is a tropical vision of a terrace lounge ablaze with colours, retro rattan furniture, and a hand-printed tiled bar with a Chinese-brush watercolour painting of an old school seductress.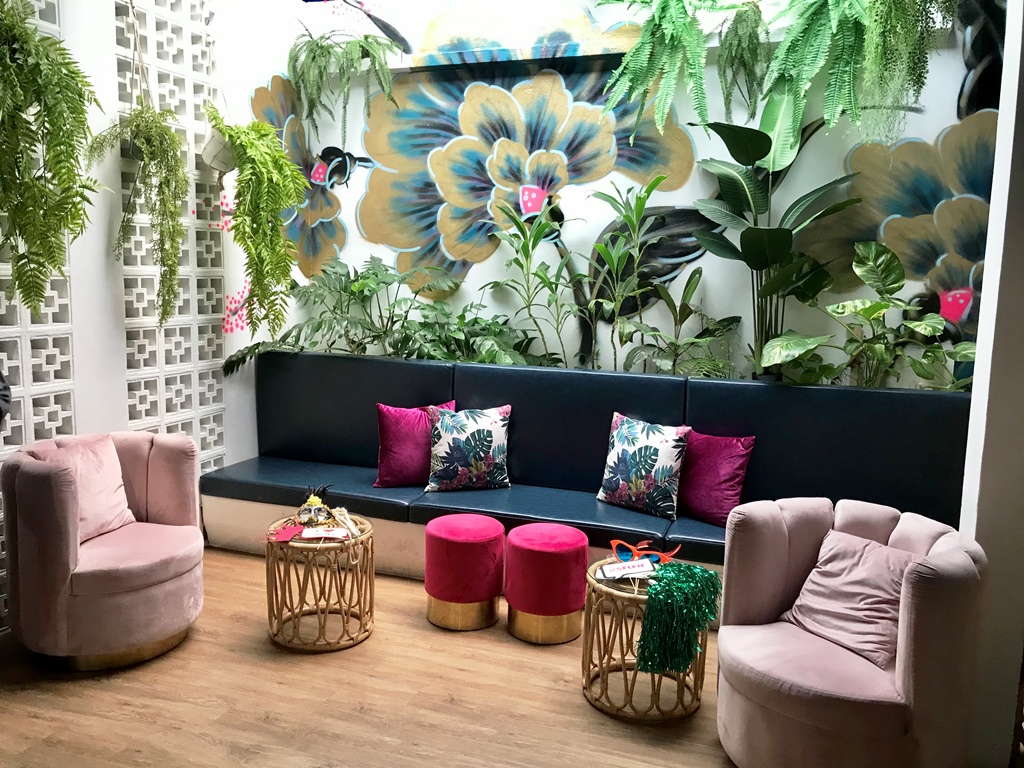 Adding to the sensual element of the restaurant are hand painted batik graffiti on the walls that stand out brilliantly, turning the space into an Instagram-able backdrop at every turn. Created by artist Noemy Zainal, her choice of violet, fuschia, indigo, and teal colours blend effortlessly with the equally bright and glamorous jewel tones of the decor and table settings.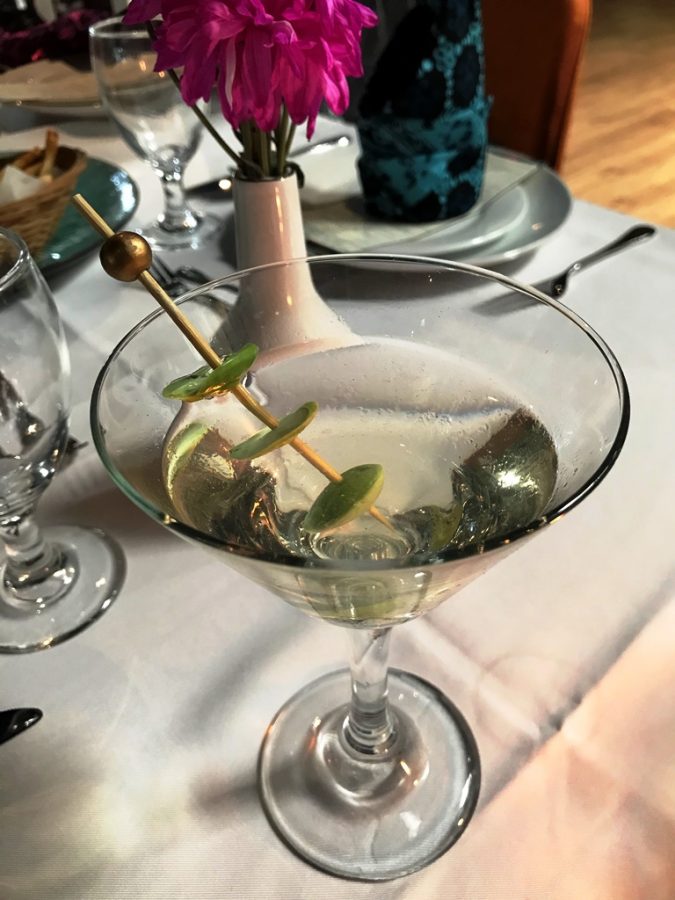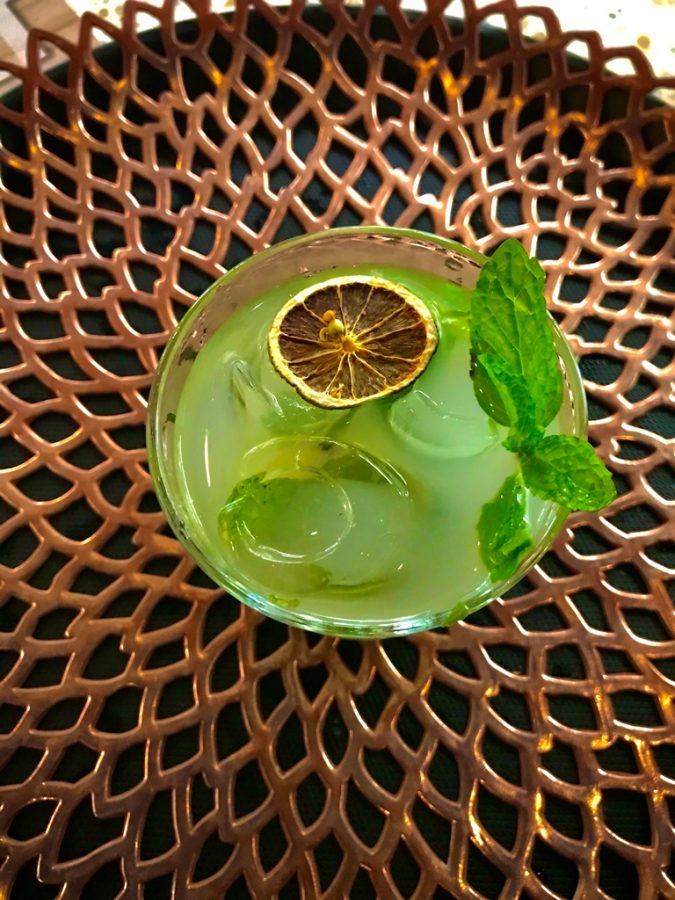 Starting with sprightly welcome drinks, we sipped on a quirky and olfactory-tickling Stinkini, and Bluepea Tonic. The Stinkini of course is a take on the classic martini with gin, vermouth, with the addition of pickled petai, and the Bluepea Tonic is a very refreshing mocktail made with honey, lemon, and blue pea flower for that shock of colour. If you're wondering, yes the Stinkini is perhaps suited to those who enjoy the pungent aroma and flavour of petai. We also tried the Cocojito, a yummy white rum cocktail with lime, coconut water, and mint leaves.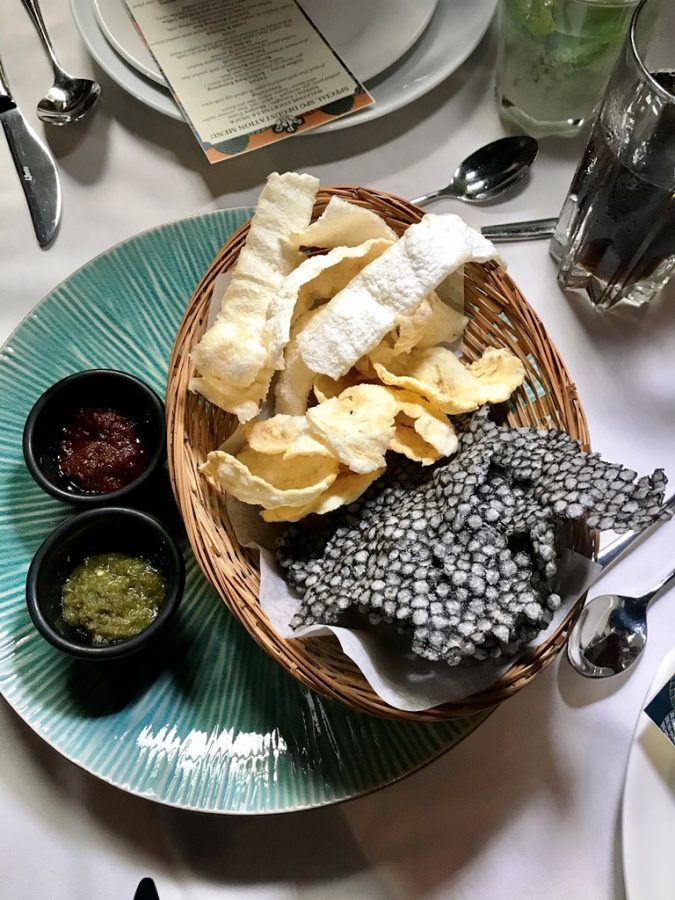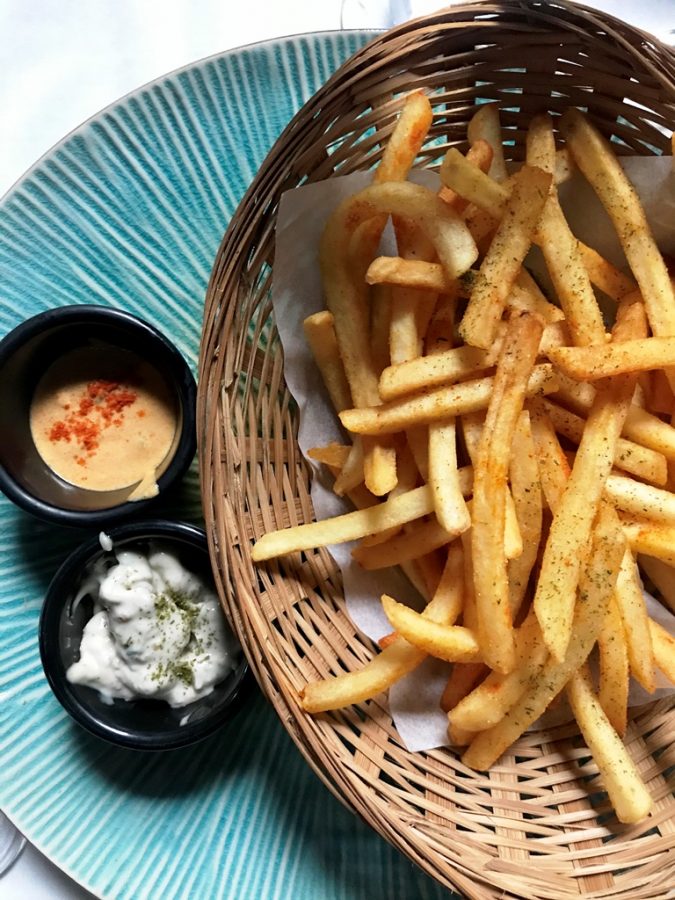 Starters here are very addictive, and if you're like me, throwing caution to the wind, it's pretty easy to fill up on the Keropok-kerepek, an assortment of homemade crackers served with sambal dips, and the Fries Celup paired with anchovy mayo, and salted egg yolk sauce. My favourite is the sago and squid ink keropok dipped in their red sambal!
Appetizers of Pais Barramundi and Ah Ran Sini are a prominent conversation starter with diners here. The Pais Barramundi being barramundi fish cooked in turmeric, spices, and coconut, wrapped as little parcels in banana leather is clever reinterpretation of our traditional otak-otak. With delicate threads of caramelised shallots, the balance of flavours is thoroughly pleasing, making this dish a definite crowd favourite.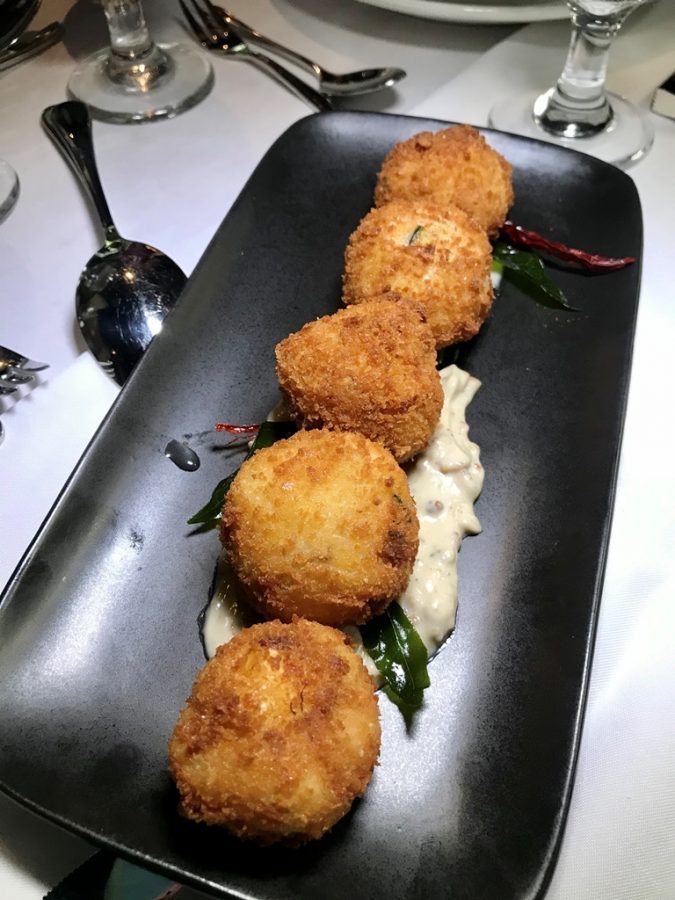 The Ah Ran Sini screams Italian and Malaysian fusion that substitutes risotto rice instead with coconut rice shaped into balls stuffed with a quails egg, battered, deep-fried, and served with anchovy mayo. You guessed it, it's nasi lemak in one bite!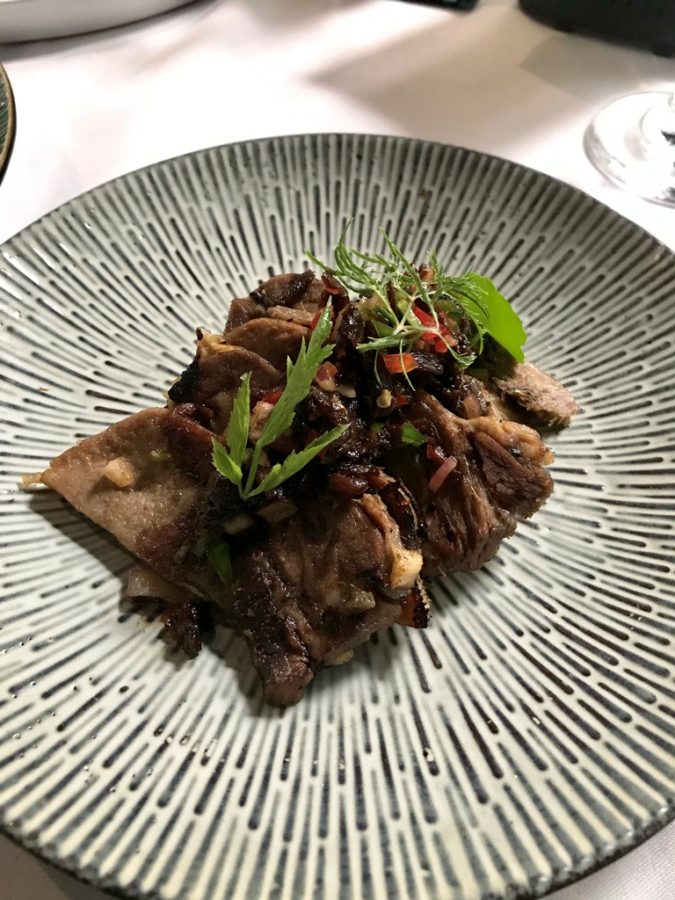 From all the tapas plates, the one dish that stood out for me at the first time, and still holds the top spot for me is the Lidah and Sambal. Tender braised ox tongue that's pan-seared and topped with sambal hitam is a dish that had me mesmerized a second time round. I had never tried ox tongue nor sambal hitam before, and found out that it's a Pahang specialty. I'm positively giddy with joy that such a humble and unknown delicacy is having it's time in the sun now, and kudos to SPG by Bijan for executing it flawlessly.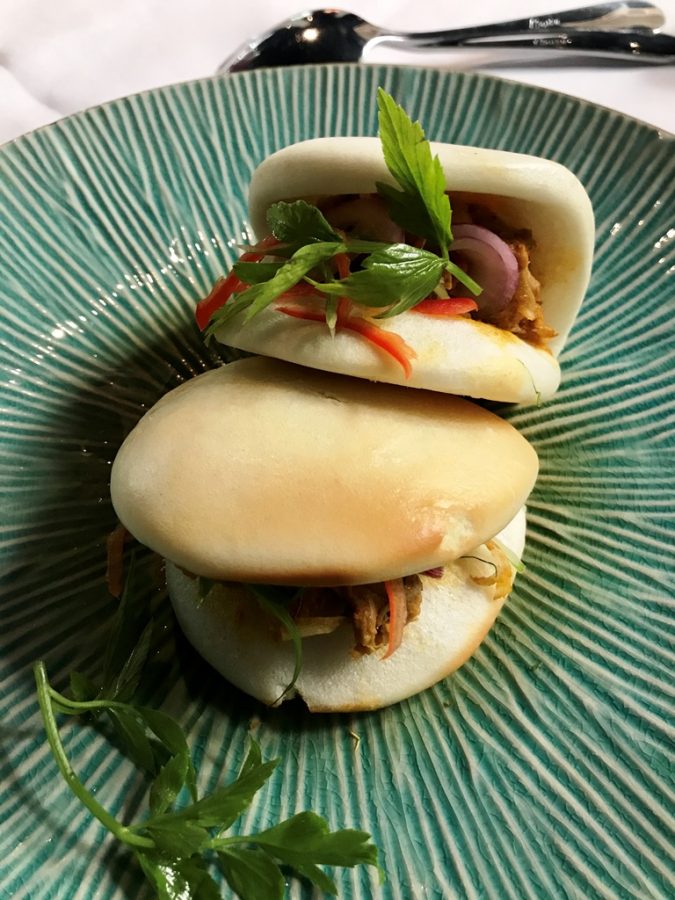 As someone who has never bothered with any type of vegetarian rendang before (because what's the point), I was eating my own words as I munched on the Jackfruit Rendang Bao with a dumbfounded expression on my face. For the life of me, I couldn't understand how utterly good it was. I was thrown out of sync with everything, and I had to gulp down more Stinkini to calm my shaken nerves. Looks like SPG dabbles in culinary sorcery too!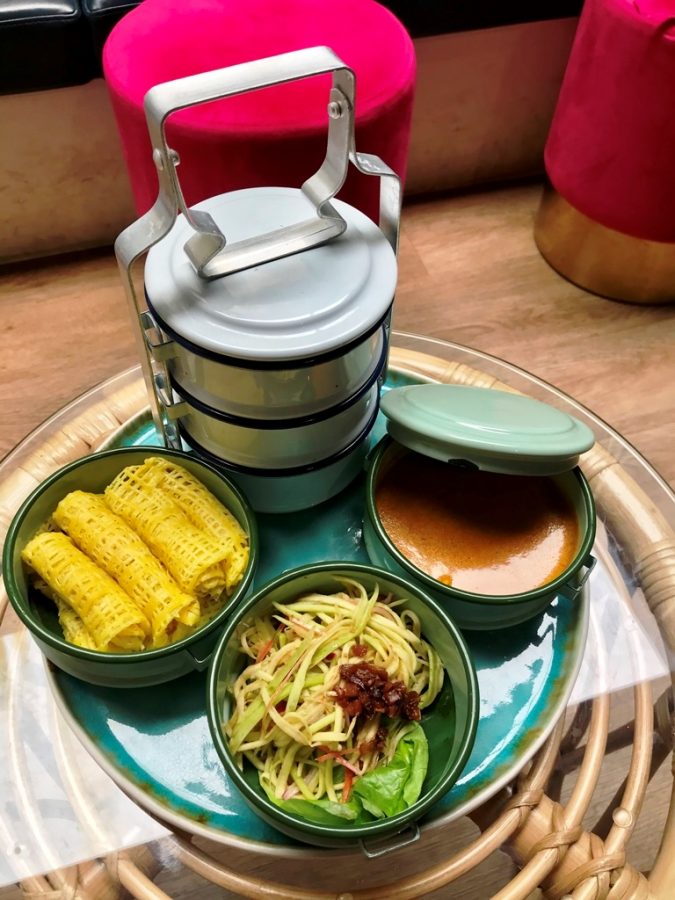 Next came the Roti Jala Tiffin that's such a delightful and nostalgic dish here, it's impossible not to love. Lovely roti jala pancakes served in a tiffin carrier with kafir lime leaf chicken curry, and a shredded raw mango salad with salt fish bits is something one wouldn't think could pass off as an elevated dish, but here it was with no compromise on tastiness at all.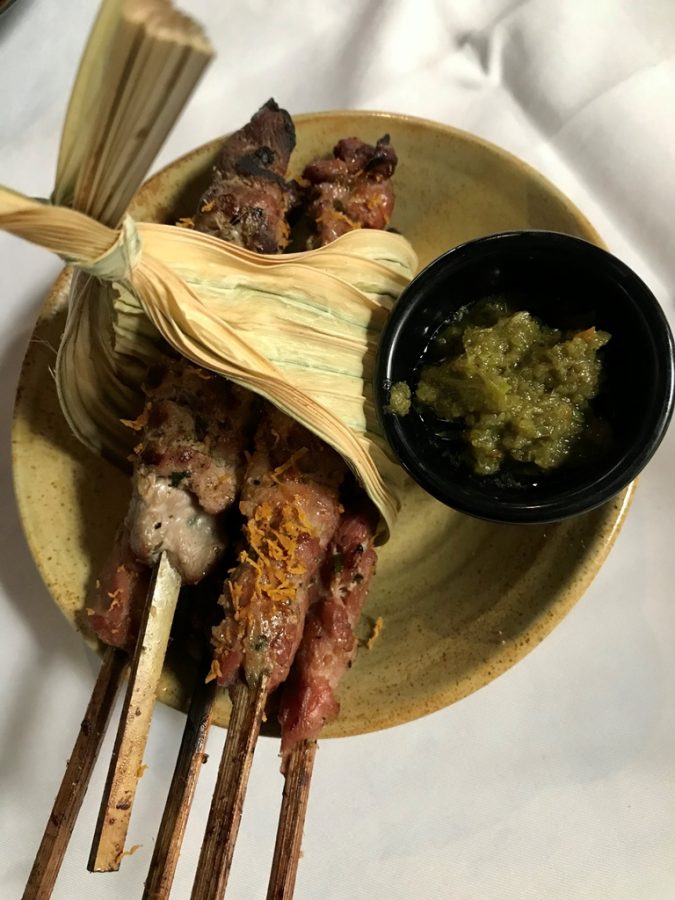 SPG's new dish, Chicken Kicap Skewers that's marinated in a ginger soy sauce is a pretty good addition to the menu alongside the Duck Skewers which I positively adore. I LOVE that they do not hold back on the spice here nor water down robust flavours. The sambal hijau served with the chicken and duck skewers packs such a delicious punch, it's worth your mouth burning a little.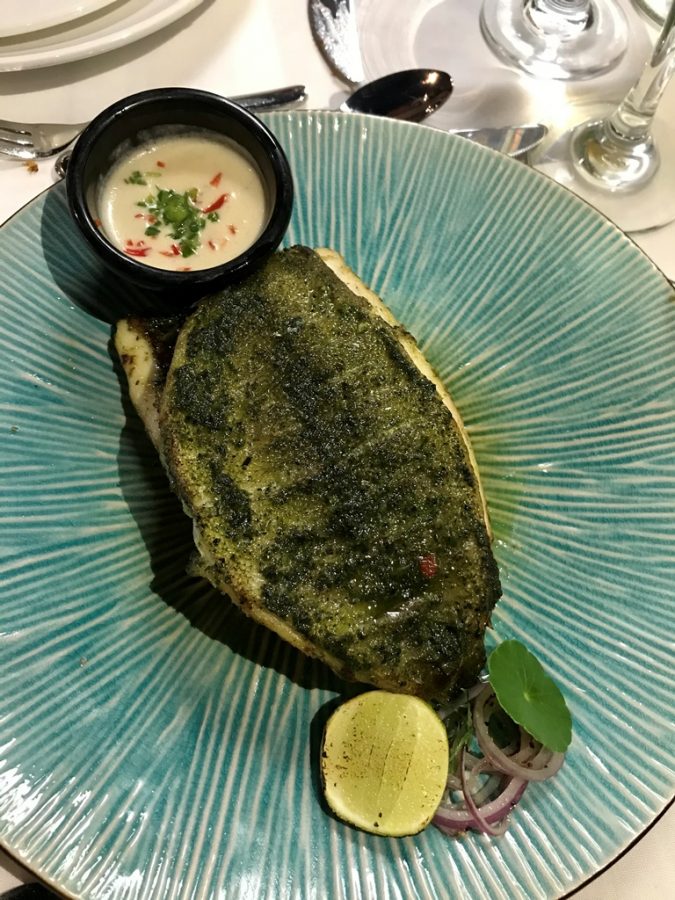 If meat is something you're averse to for dietary reasons, do the fish dishes here. The pan-seared Black Pomfret is a generous and thick fillet that's cooked perfectly, and served with a coconut and galangal sauce. This is great to share just so you have space for all the other enticing menu items.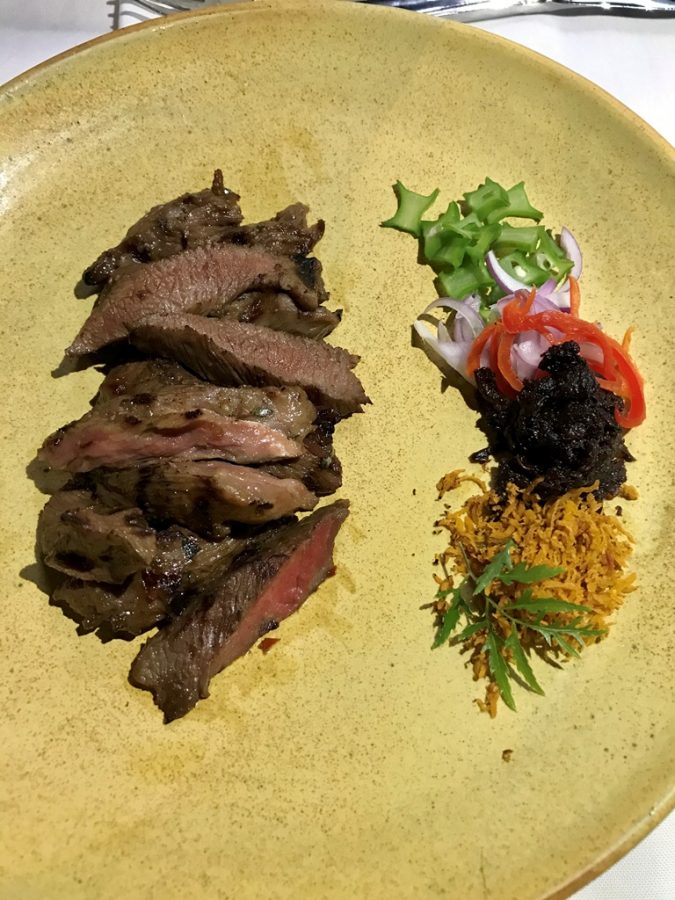 Meat lovers, rejoice in their exquisitely tender Angus Oyster Blade that also comes with sambal hitam, hijau, and merah making this dish a total party of flavours. Do yourself a favour and order the Grilled Calamari too. Why turn back now, you've already come this far. Just embrace the food coma that awaits.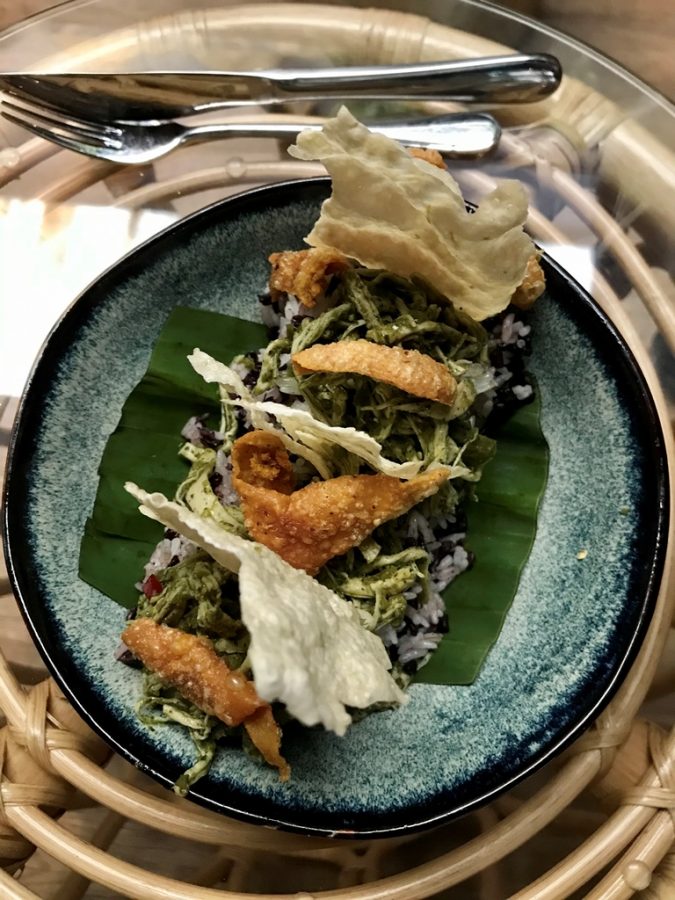 But wait, is it even a proper meal if you've left out your rice? Don't even think about skipping our fundamental staple here and indulge in the wonder that is SPG's Nasi Sekinchan. Tricolour rice and quinoa with pulled chicken pesto that will blow your mind, topped with keropok and crispy chicken skin. Believe me when I tell you, you will want more of that crispy chicken skin, then wonder to yourself, how are you even putting away this much food. But miracles happen.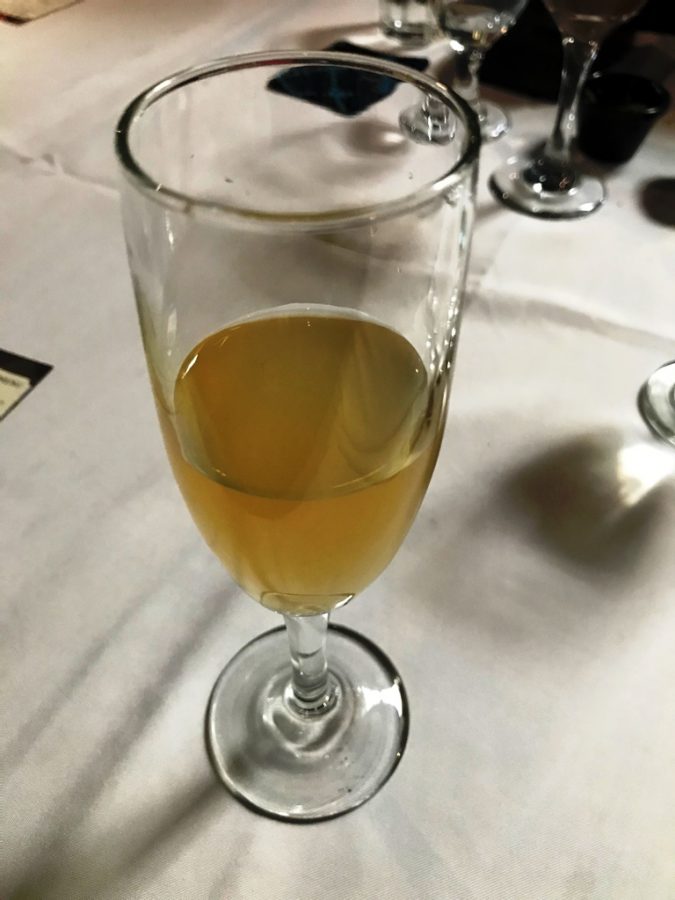 When you think you can't stomach even a breath of air, give yourself a few minutes to compose, and send your final order in because you cannot leave without at least sharing a plate of Bananas over Bananas. Homemade banana ice cream with smoky caramelized banana, and a dehydrated banana cone. Need I say more? Well, chase it with a chilled glass of tuak, and call it a day.
Location and details
Address: SPG by Bijan
No 3 Jalan Ceylon,
50200 Kuala Lumpur
Tel: +603 2022 3575
Opening hours: Daily from 12pm to 12am