EatDrink with Anis: Quinoa "Nasi" Kerabu with Ayam Percik
Substituting rice with quinoa, Chef Anis Nabilah's "Nasi" Kerabu with Ayam Percik is a guilt-free indulgence that does not compromise on flavour! Making everything from scratch, find Chef Anis' easy to follow recipe to replicate this delicious meal, and impress your family and friends.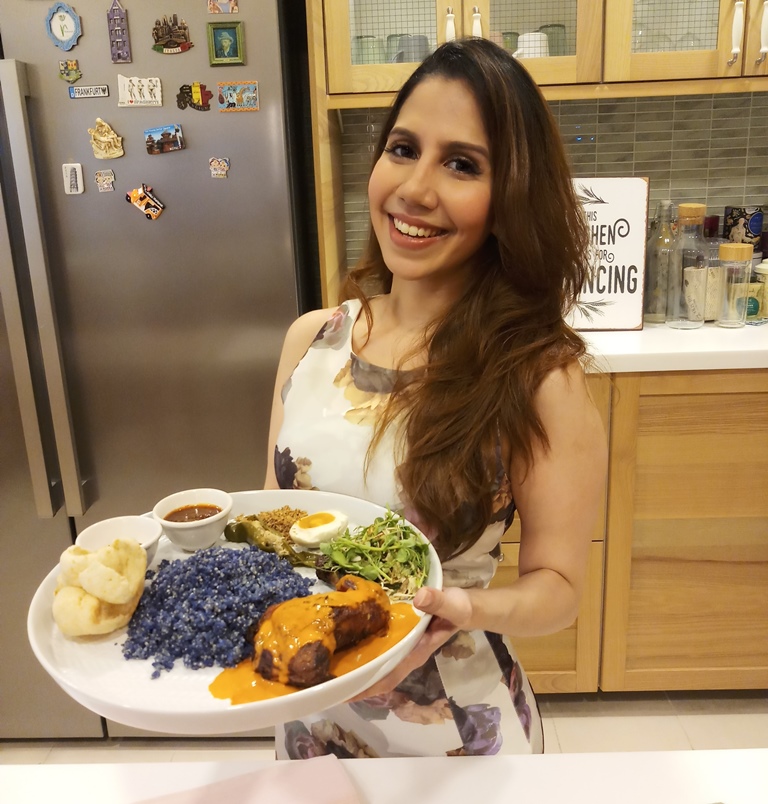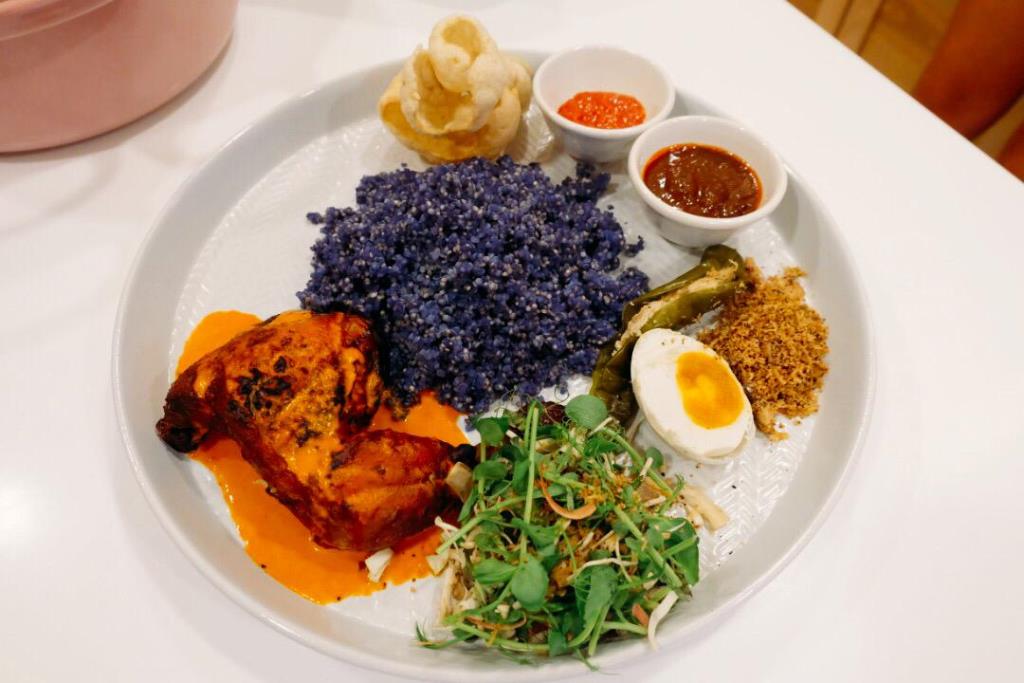 Ingredients:
200gm quinoa
600ml of water
10 dried or fresh butterfly pea flower (bunga telang) (soaked in ½ a cup of water)
2 pandan leaves
1 lemon grass (bruised)
½ inch ginger, peeled and bruised
Salt (to taste)
Kuah Sambal Tumis:
4 tablespoon of dried chilli paste
3 shallots, blended
1 onion, blended
6 cloves of garlic (blended)
1/2 inch ginger (blended)
200ml coconut milk
3 stalks lemongrass (bruised)
2 pieces asam keping (dried tamarind)
1 ½ tablespoons sugar
Salt to taste
2 tablespoons of budu (fermented fish sauce)
Sambal Kelapa Ikan (Coconut fish sambal):
1 whole coconut, freshly grated, toasted till golden brown and pounded
350gm fresh mackerel- boiled, deboned and pounded (the flesh only)
5 shallots
5 stalks lemongrass
4 bird's eye chillies
2 1/2 tablespoons sugar
2 1/2 teaspoons salt
Sambal Cili:
500gm red chillies
Salt to taste
Sugar to taste
1 ½ teaspoon belacan shrimp paste (toasted)
3 tablespoons of tamarind juice
1 -2 lime, juiced
Ulam ulaman (Herb salad)
100gm cabbage, chopped
1 cucumber, seeds removed, diced
70gm long beans, sliced thinly
A small bunch Vietnamese mint, chopped
1 ½ torch ginger flower, thinly sliced
30gm pea tendrils
Solok Lada (Stuffed chillies)
10 green chillies (cut one side of the chilli and gently and remove seeds)
½ coconut, freshly grated
5 shallots
½ inch ginger
60gm mackerel, skin and bones removed
Salt to taste
1/3 cup coconut milk
1 teaspoon freshly ground black pepper
1 ½ teaspoon dried coconut paste (kerisik)
1 turmeric leaf- finely chopped
Other Condiments:
Boiled Salted eggs
Deep fried fish crackers
Method:
For the Quinoa: Wash quinoa and strain for 5 minutes. Bring to boil the measured water and all ingredients together in a pot. Once water starts boiling, add quinoa and continue boiling until quinoa absorbs the liquid completely. Fluff quinoa using a fork and set aside.
For kuah sambal tumis: Heat some oil in a wok and sauté chilli paste with shallots and ginger. Cook until the oil splits from the paste. Add in 1 ½ cup of water and coconut milk. Keep stirring to avoid the coconut milk from splitting. Add in lemongrass and asam keping. Leave it to a boil then, add budu and sugar, and then season with salt. Keep stirring until oil separates and the sauce thickens.
For sambal kelapa ikan: Pound lemongrass and shallots until you get a thick paste texture. Lightly fry before adding in salt and sugar, stir well. Add mackerel and coconut and stir to combine. Remove from heat.
For sambal cili: Blend all ingredients together.
For ulam: Thinly slice all the ingredients except for the pea tendrils, toss sliced vegetables together and keep in refrigerator until before serving.
For solok lada: Pound together shallots and ginger until a fine paste then combine it with the rest of the ingredients except for the green chillies, mix it well. Take a bit of the mixture and stuff it inside the chillies. Lay stuffed chilles in a steamer, and steam until it's cooked thoroughly.
Ayam Percik
For chicken marinade:
4 chicken legs
5 shallots, blended
3 cloves of garlic, blended
1 inch ginger, blended
Salt to taste
For Percik sauce:
500ml thick coconut milk
10 shallots
1 inch ginger
6 cloves of garlic
3 stalks of lemon grass (remove thick layers, just use the white centre parts)
2 fresh red chillies (seeds removed)
4 tablespoon dried chilli paste
3 candlenuts
1 asam keping (dried tamarind)
Sugar and salt to taste
Fresh coriander for garnishing
Method:
Marinate chicken with the blended spices for 3 hours and grill chicken until its half cooked.
Prepare spice for sauce by blending shallots, ginger, garlic, lemon grass, red chillies, dried chilli paste and candlenuts together until fine.
In a medium sized pot, add coconut milk, blended spices and asam keping. Bring to boil while stirring every 1 minute. Once gravy thickens, add sugar and salt to taste. Add the grilled chicken in the sauce and let it simmer for 15-20 minutes or until the gravy seeps into chicken. Grill chicken again to caramelize the sauce and to get a nice char. Pour remaining sauce on chicken before serving. Garnish with fresh coriander. Serve chicken with quinoa nasi kerabu and all the other condiments.