Beyond the Basic: Craft Beer Appreciation Grows in Malaysia
Craft beer was first introduced to the Malaysian market over a decade ago. Back then, there were just a small handful of outlets where you could enjoy a limited variety of craft beers.
Fast forward to 2021, however, and it's plain to see that the craft beer market here has changed tremendously, with increasingly discerning consumers looking for higher quality and more interesting tasting beers. With the growth of this trend and evolution of taste palate, craft beers are entering into the mainstream market and are now readily available, not only at specialty craft beer outlets, but also at various restaurants, bars, cafés, supermarkets, and online shops across the country.
But what is a 'craft beer'?
At its core, the term generally refers to beers produced by small (and oftentimes independent) breweries with an increased focus on specific ingredients, higher quality, and more distinctive flavours. However, there is no legal definition nor any specific cut-off in production numbers to keep beers in the 'craft' category, so in some markets, this has led to what are clearly mass-produced brands (though admittedly good ones) being touted as 'craft beers' despite millions of barrels being churned out every year. Deceptive? Not legally. Creative marketing? Absolutely.
While big-brand beers are brewed to appeal to the masses – and don't get us wrong, some of those brands are quite tasty! – craft beers tend to be geared more towards niche markets and more 'seasoned' consumers. These beers frequently boast more pronounced flavour profiles and higher alcohol levels when compared to the more mainstream labels, which tend to cluster around 4% to 5% ABV (alcohol by volume). While some craft beers may have similar ABVs, many clock in higher, sometimes significantly so.
One of our favourite go-to craft beer brands is Beerfarm, which offers Malaysians a range of different labels with very different flavours and characteristics. Beerfarm is based in the Margaret River region of Western Australia, and, befitting its craft beer bona fides, is an independently owned Australian brand.
We like that Beerfarm works with both the ingredients and the land that produces those ingredients in a sustainable fashion to create quality beers for every occasion. Beerfarm is already considered an old friend to the craft beer scene in Malaysia, but on a wider scale, the brand has won numerous awards with the latest haul of 13 awards at the 2021 Australian International Beer Awards.
Beerfarm is the anchor brand of local craft beer purveyor The Drinks Buddy, which was formed by a small group of craft beer lovers who have a passion for finding great, high-quality beers, and introducing those brands to thirsty Malaysians!
Along with Beerfarm, The Drinks Buddy has just introduced a pair of new brands to the craft beer scene in Malaysia – Akasha and Running With Thieves – and we were invited recently to try some of their latest offerings (along with some new seasonal brews from Beerfarm).
Akasha Brewing Company, based out of Five Docks in Sydney, lives by the statement that 'Great beer is our everything', and surely enjoys their status as one of Australia's most popular independent breweries. Under Akasha, we sampled four brews from their core range: Canada Bay XPA, Freshwater Pale Ale, Mosaic IPA, and Hopsmith IPA. The first two beers in the line-up are relatively tame as far as ABV goes (4.2% and 5.0%, respectively) and are balanced, not too hops-dominant, and easy to drink. The Canada Bay XPA delivers a remarkably fruity nose that doesn't fully translate to the palate, but makes it a real delight for the senses overall. The Mosaic IPA (6.8%) earned rave reviews from most of the folks assembled, with its core of fruit flavours balanced by a rich maltiness and punctuated beautifully with a moderate hops-forward bitterness. The Hopsmith IPA (also 6.8%) bore similar characteristics, but uses different strains of hops, and features an interesting palate of pine and citrus.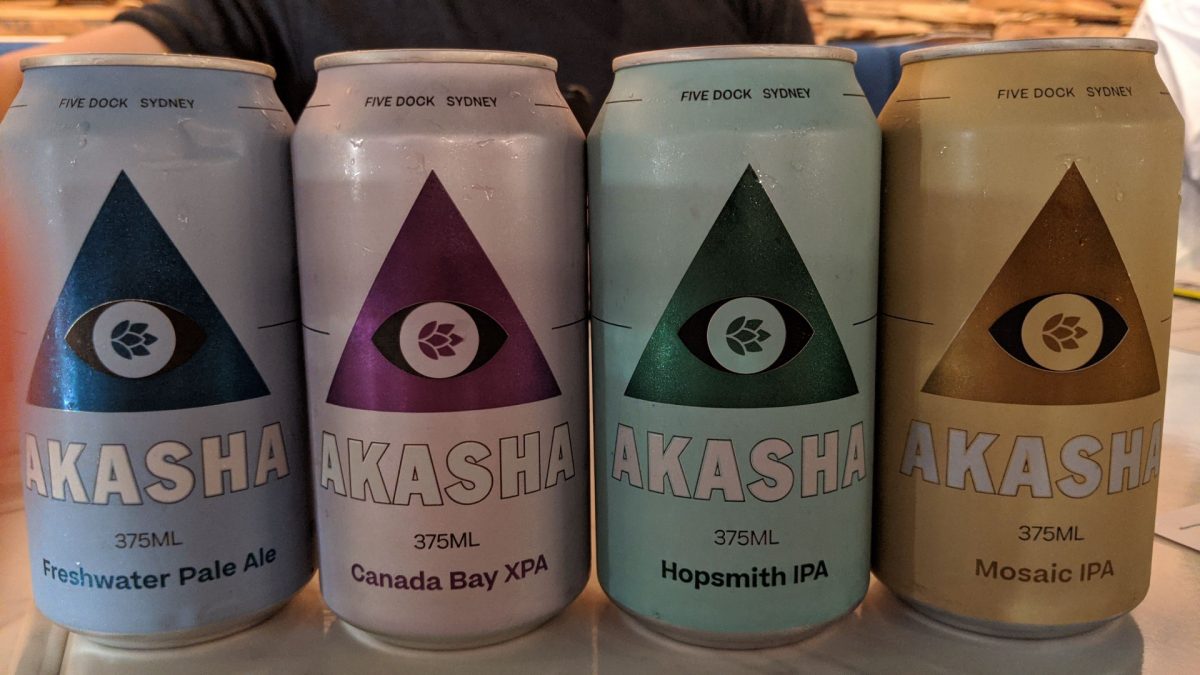 Running With Thieves, meanwhile, is the little rebel located out of South Fremantle, Western Australia. The name might give it away, but they're an independent, counterculture, employee-owned business. These guys thrive on trying new things and lean on creative who people passionate about their craft. Unsurprisingly, they tend to create and produce what they like, not what's merely trending in the market. From the Thieves, we tasted their clean and crisp Fremantle Pilsner, a bold West Coast IPA, their strong Stout, and a tasty Ginger Beer that offered a real kick.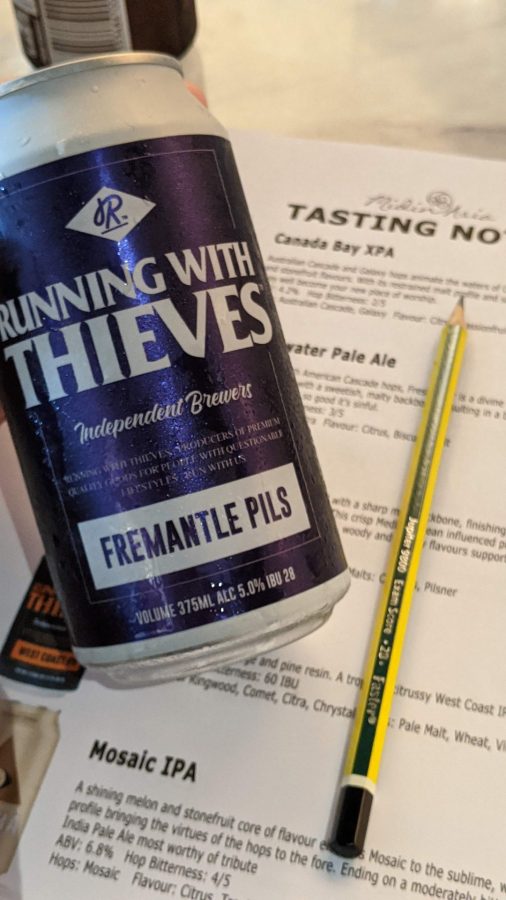 Their Fremantle Pils (5.0%) appeals to lovers of full-flavoured pilseners, with a refined earthiness and well-balanced flavour profile of hops, sharp malt, and hints of subtle citrus. A more zesty and 'hoppy' experience can be found with the West Coast IPA (6.2%), that has some tropical undertones, with a bitter finish that we found slightly unbalanced, yet not necessarily displeasing. We found great favour with their Stout (6.3%), bursting with roasted coffee and dark chocolate notes. Smooth, rich, and oh-so-easy to drink, stout aficionados will definitely enjoy this one. The Ginger Beer (4.0%) is sharp, crisp, and offers plenty of ginger bite offset by just the right amount of sweetness. Great on its own or in a cocktail, if you like the spicy kick of ginger, you'll love this one.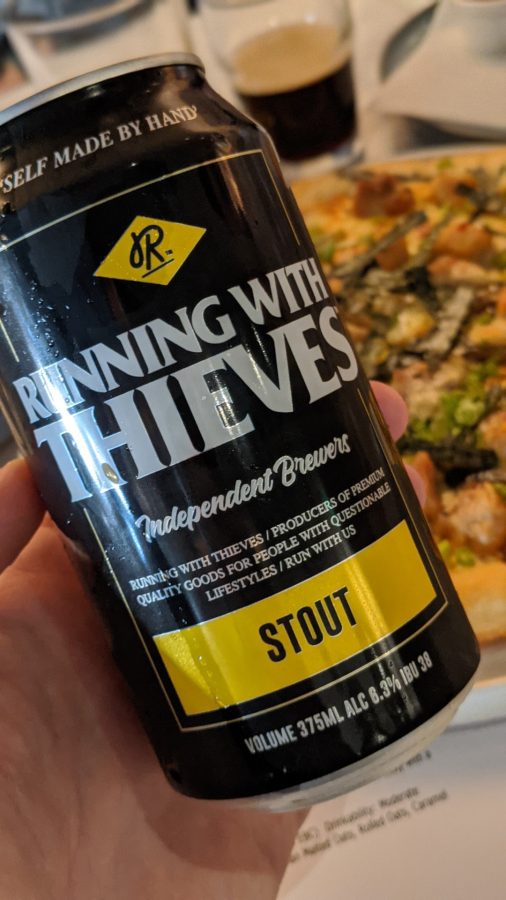 One of the stars of the tasting, however, was a real standout from the chaps at Beerfarm, their Big Hazy Double IPA, at a whopping 7.8%. This one really brings a tropical punch, with mango, pineapple, and juicy papaya flavours all swirling with a well-balanced moderate bitterness from the trio of hops varieties used. Malty, flavourful, and eminently quaffable, if you're big on IPAs, chances are good you'll really enjoy the Big Hazy.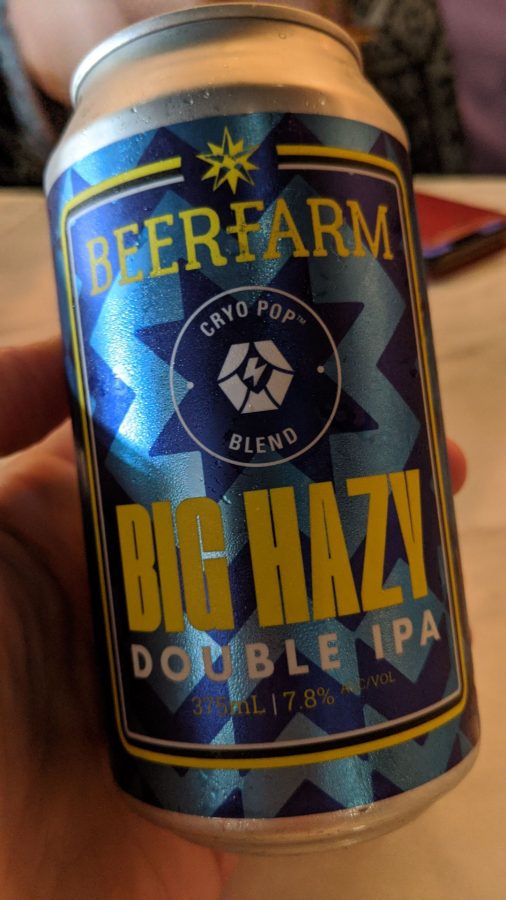 And there you have it! One of the best things about craft beers is how well they complement good food, too. The complex, full flavours of these beers lend themselves very well to a great session of noshing and sipping, enjoying the company of good friends. You might need to pony up a few extra ringgit to 'upgrade' from the basic beers, but it's a small investment that pay delicious dividends. And if you're buying by the can and comparison shopping, take note that craft beers typically don't hold to the 330mL can size (or worse, the sneaky trend of some brands 'shrinking' their cans to 325 or even 320mL). At 375mL, you're getting 15% more beer over a 330mL can – and way higher than 15% more flavour!
Look for these and other craft beers at your favourite watering hole if they're tapping the good stuff, or check out Ales & Lager, Beer Bank KL, Gavel Coffee Kitchen Craft Beers, Mizu Bistro Bangsar, and Well Craft KL, all of which carry these fine brands. As we like to say, drink responsibly… but drink well!