Torii, TTDI: Japanese tradition, European fusion, all paired with a glass of Kirin
This review is brought to you in collaboration with Kirin Ichiban, part of Guinness Anchor Berhad (GAB).
Torii's interior design is a reflection of its approach to food; traditional Japanese culture mingles with modern convenience and indulgence. Upon arrival, we were greeted by three gold images of samurai warriors, chiefs of the country's historic safety, and as we walked to our table, I noticed the contemporary furniture and minimalist, slick decor.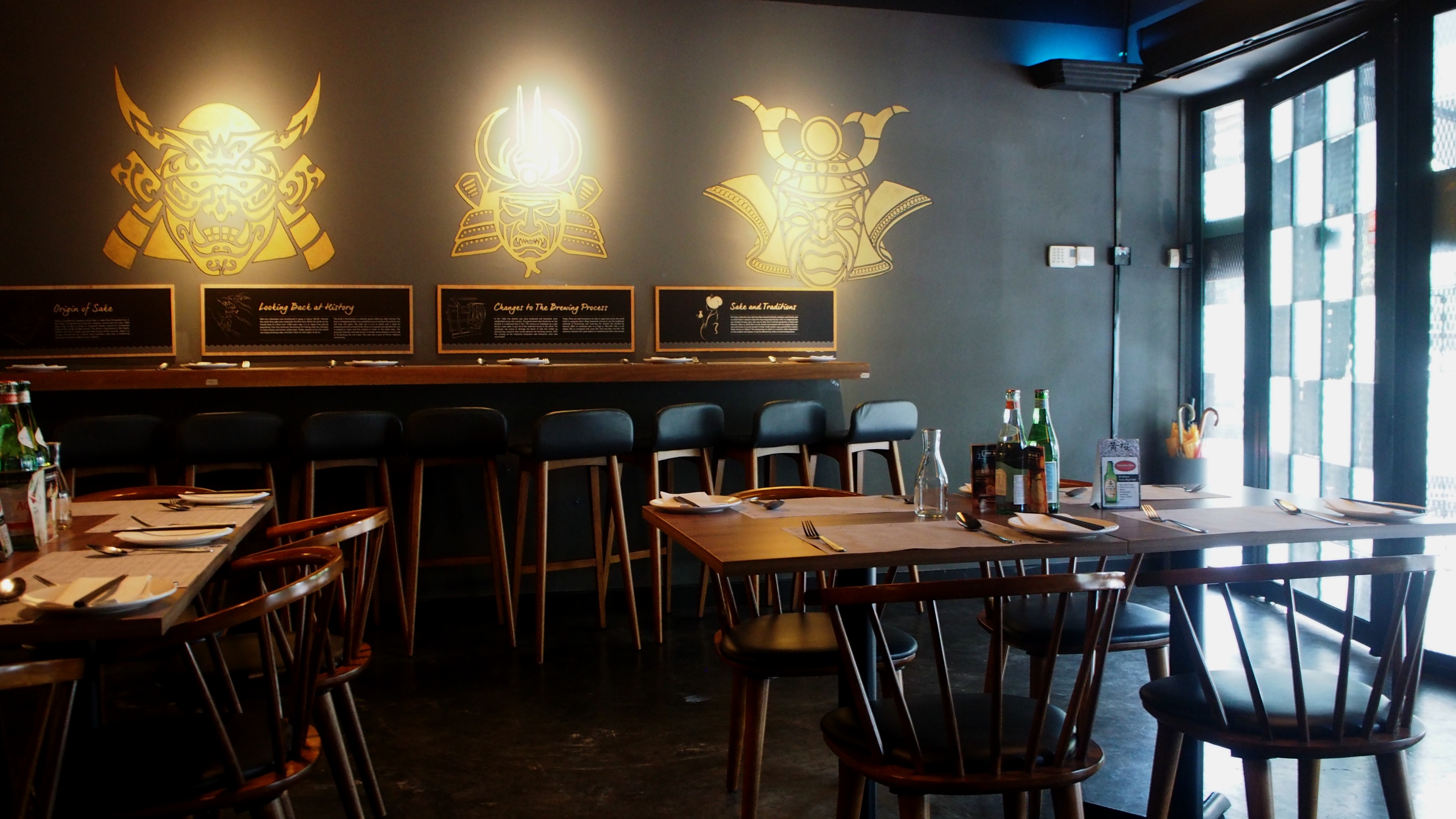 Numerous bottles of whiskey and sake, plus posters advertising the same, adorned the walls, tipping a hat to the more modern side of Japan's culture – one of a global presence in the world of alcohol beverage production.
One of the driving factors of the country's explosive growth in this industry is Kirin Ichiban, the 100% malt beer made with a 'first press' brewing method. This technique is known as 'Ichiban Shibori' in its home country, where the beer gets its name.
My colleague and I were here to enjoy the crisp beer and to sample a few of the dishes – all of them combining traditional Japanese and western cuisine – which turned out to pair very pleasantly with the drink.
Broths and delicacies
Up first was broiled lobster chowder and crab croutons (RM18.90), served with porcini mushrooms. It tasted very similar to an 'old school chicken and sweetcorn soup' as seen on all menus in Chinese resturants across the UK, except it was easy to tell that this was more high end than that.
Huge chunks of chewy crabmeat lined the bottom of the bowl and crispy crab croutons floated on the top of the dense, tasty, shallot-filled liquid.
The kampachi uni jalapeno (RM34.90) came next and arrived at our table served cutely on a ring of five spoons. The dish offered something fresh to contrast the unctuous soup; the salty, sharp and sweet citrus ponzu sauce and black truffle salt balanced nicely with the meaty, flavoursome fish.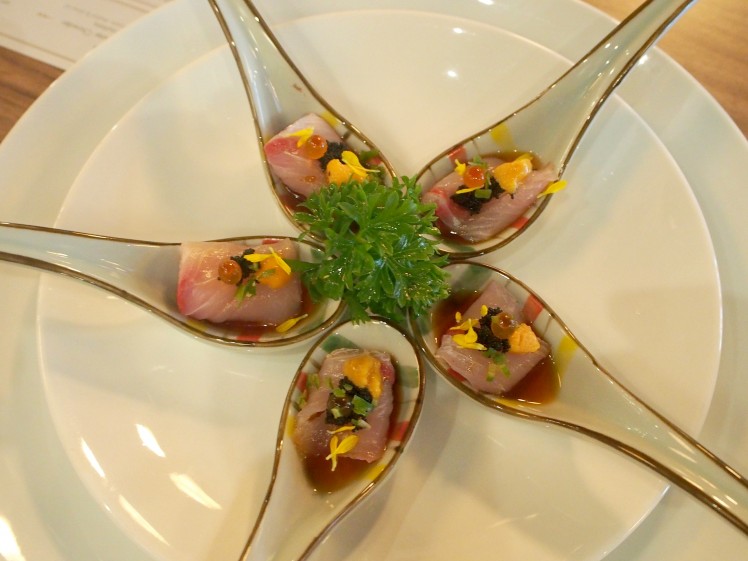 Something a little different arrived next, in the avocado de la mer (RM19.90), a heavier, hot dish with baked seafood and mushrooms and piquant miso and cheese. The dense cubes of avocado, still just unripe enough to have a good bite, were covered in creamy cheese and finished well with crispy shredded seaweed.
As a great example of traditional Japanese meets European high-end cuisine, the bonded unagi (RM29.90) contained the typical grilled river eel, served on a skewer and served in a dim sum style bamboo casket. However it was combined with pan-seared foie gras for a new, rich, thick dimension. The crispness of the Kirin was definitely helping to cut through the richness of the food, so we both ordered another.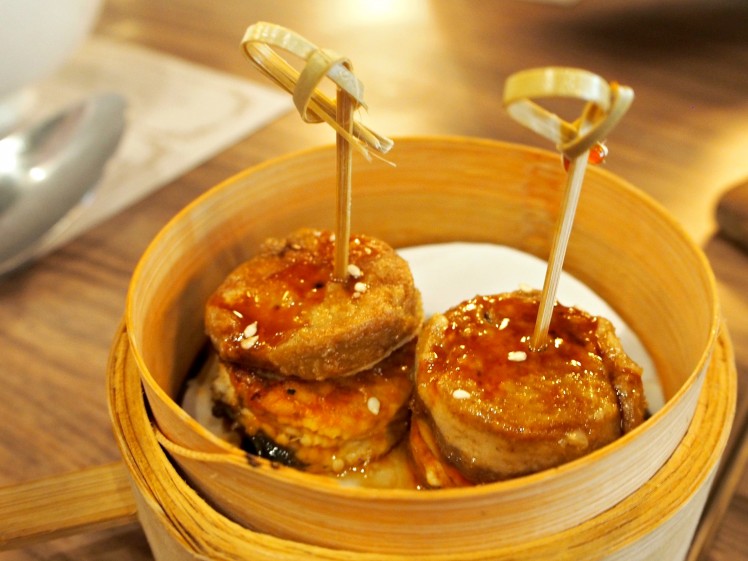 Continuing the east meets west theme, the wagyu sliders (RM25.90) contained one of Japan's most famous ingredients, the delicately marbled beef, accompanied with sweet caramelised onions, but served in way that definitely reminded me of home-cooking in the UK. The homemade scones tasted exactly like a suet dumpling from mum's casseroles from 10 years ago – in a very good way.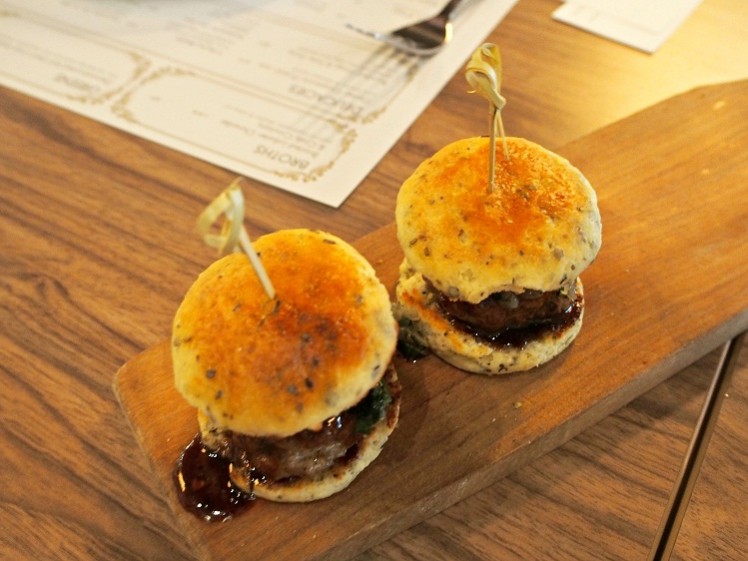 Wheats and grains
Bringing me back to modern-day Asia, the Torii donburi (RM34.90) came with sashimi toro, uni (sea urchin) and rice. The salty orange bubbles of the ikura (salmon eggs) punctuated the fluffy rice and helped to cut through the tasty, healthy-sized chunks of fish.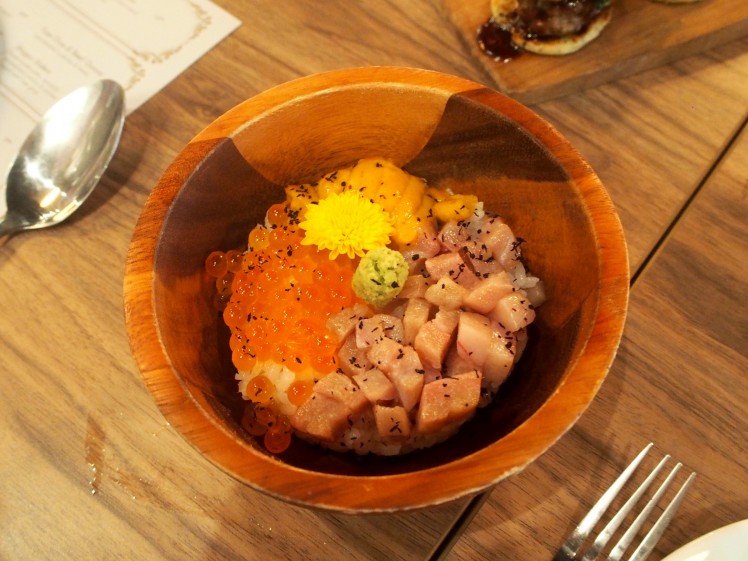 The autumn risotto (RM27.90) was elegantly presented with two white crab claws adorning the dish and an uncooked egg yolk balanced on the top. The almost porridge-like consistency of the risotto rice was interspersed with still-firm asparagus, and the crab claws had beautifully succulent meat still inside.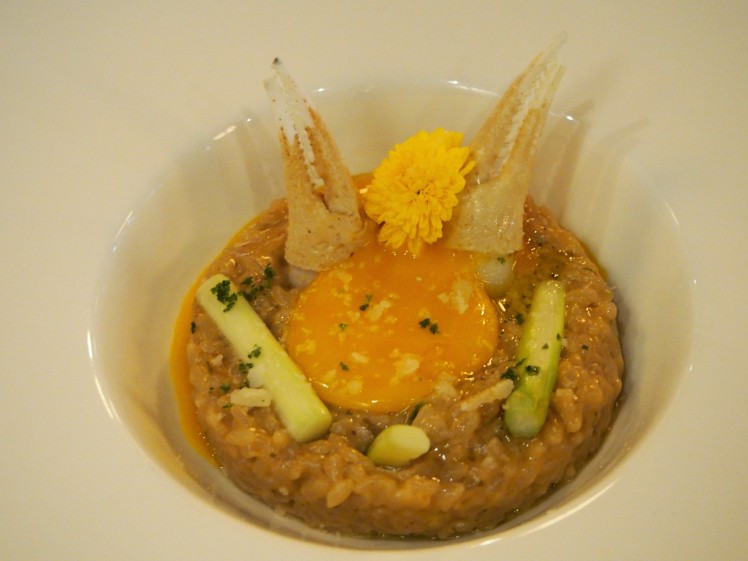 Skewers
The sirloin skewer (RM15.90) was beautifully cooked with a little bit of bite and well-seasoned with a peppery finish, and the chewy, satisfying veal chunk (RM15.90) came in a luxuriously creamy sauce.
The squid tentacles (RM10.90) were chewy without being inedible, and they came drenched in delicious smoky rich tomato-based barbecue sauce.
The chicken wings (RM8.90) were super salty and crispy, with a pretty, charred finish.
Finally, the sweet potato wedges (RM5.90), also served on a skewer, had a deep, almost creamy, buttery taste – and were almost too rich for the final dish of the main course!
Fortunately, by this point we had another glass of Kirin on hand, to help wash it all down.
Dessert
To finish, our chef again harked back to traditional Japanese food as well as harnessing new European styles to create a decadent Nutella gyoza (RM24.90).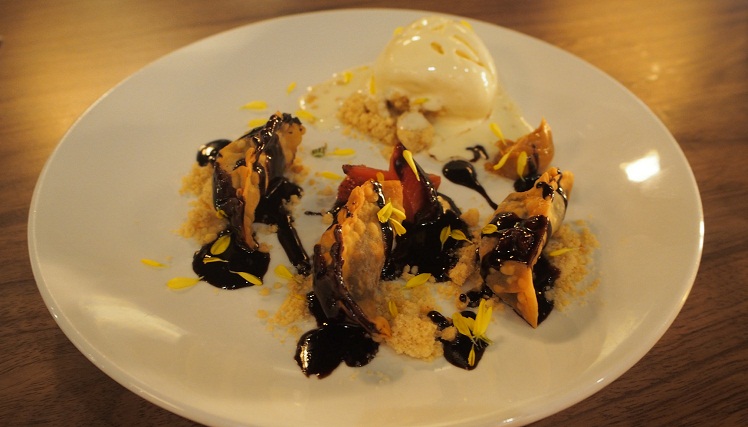 The explosively crunchy pockets, with familiarly tasty chocolate filling, came lavishly smothered in whiskey and raisin ice cream, and rounded off the meal nicely.
Although secretly tempted to sink a few shots of sake – when in Rome, as they say – I decided it was wise not to and walked out of the restaurant, nodding my thanks to three golden samurai on the wall. Japan: great culture, great food – and great beer.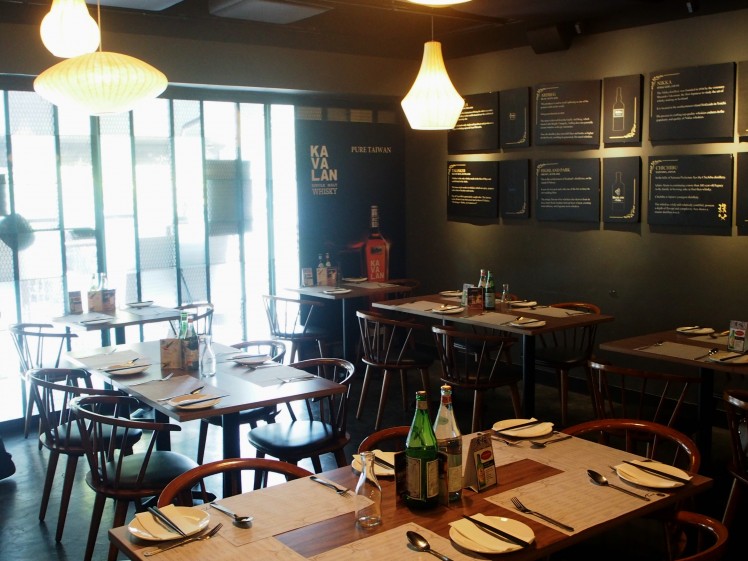 Location & Details
Torii
18, Lorong Datuk Sulaiman 1, Taman Tun Dr Ismail
Tel: +603 7733 9309