Every town has its stories to tell. TEG Media's CEO, Andy Davison, who has worked in and around Bangsar for over 20 years, reflects on both the town's history and his own experiences.
When I decided to give up the corporate life and start my own business, I opened an office in Bangsar Baru. That was back in the late 1990s and the area was undergoing a transformation, moving from what was essentially a group of retail shops to a more upscale dining area. Ronnie Quays was one of the first places to open a Western-style 'English pub' and was creating a lot of interest. I took a second floor in one of the shoplots, and on discovering the ground floor was available for rent, I decided to open a bar cum restaurant.
I named it The White Rajah after the famous English explorer who settled and eventually ruled Sarawak in the 18th century, and chose to serve popular Western and Asian dishes. Over time, The White Rajah became quite well-known for its Sarawak laksa (the paste was flown in from Kuching) and even won an award from a local radio station as the best laksa in KL. It was a non-halal restaurant, and the pork ribs also received much acclaim.
It was hard to believe that only 50 years earlier, the whole area was a rubber plantation. It was the British-owned company, Kuala Lumpur Rubber Co Ltd, that saw an opportunity and decided to plant rubber trees to capitalise on the rapidly growing demand for rubber. This was spurred by the rapid growth in the number of motor vehicles in Malaysia and the rubber needed for tyres, hoses, and seals. Rubber plants are not native to Malaysia and were brought to Malaya, as it was then known, as seedlings from Brazil. Some say they were stolen, others that they were acquired legally, but either way, the plant took well to the climate and rubber plantations sprung up all over the country. The rubber estate where Bangsar is now located was named after two of KL Rubber Company's board members, a Mr Edouard Bunge and a Mr Alfred Grisar. Their names were linked and the estate became known as the Bunge-Grisar rubber estate, often contracted to Bungsar estate, eventually becoming today's well-known Bangsar.
The plantation was eventually taken over by Socfin, the Belgian rubber and palm oil company. The rubber factory itself was located where the new Pavilion development is being constructed in Damansara City. The rubber plantations were sold in 1962, for around RM5,000 per acre, to two property companies, Bandaraya Development and Bangsar Hill Developments, who started building residential properties.

European Hospital in Bangsar early 1900s
The European Hospital was one of the first buildings erected in Bangsar in the early 1900s. It was located where the National Institute of Health now stands off Jalan Bangsar. The plantation owners built a guest house on the top of Bangsar Hill for the use of the Managing Director when he visited, and it commanded a panoramic view over the estate. This piece of land was sold to Tan Sri Syed Kechik in 1973 for RM3.80 per square foot. He built the Syed Kechik Foundation building, which still stands at the end of Jalan Kapas. For quite some time, it was the only building on the hill at the end of the road, but in the following years, quite a few apartment buildings were erected and continue to be built, making it an increasingly densely populated area.
Linked (terraced) houses were built all over Bangsar in the 1960s, and new ones sold for around RM18,000 each. During the 13 May Riots in 1969, a number of the shops and cars owned by local Chinese in Bangsar were burned. Following that, however, the area grew in popularity and became more and more desirable. Today, some of those same houses are selling for RM2 million or more!
The various Telawi streets of what is today called Bangsar Baru were developed as a neighbourhood shopping area. In the 1990s, there was an explosion of more upmarket dining outlets outside of the major hotels and Bangsar Baru saw many new F&B outlets opening. This caused some consternation among the local residents, who were concerned about the prospect of late-night drunks disturbing the neighbourhood. Kuala Lumpur City Hall was also concerned about this and started having regular raids on places staying open late or having outdoor seating. In some cases, they confiscated the tables and chairs that were placed outside the premises in the five-foot 'sidewalk' zone. Officials were clearly not keen on al fresco dining, particularly if it involved the consumption of alcoholic beverages in public view.
As other entertainment areas sprung up around KL in the early 2000s, Bangsar lost some of its appeal, and many of the F&B outlets closed, quite a few being taken over by retail shops. Only a few places like La Bodega, Alexis, and Social managed to survive the downturn. The construction of the two boutique shopping malls, Bangsar Village 1 and 2, helped to put Bangsar Baru back on the map by offering more upmarket retail outlets.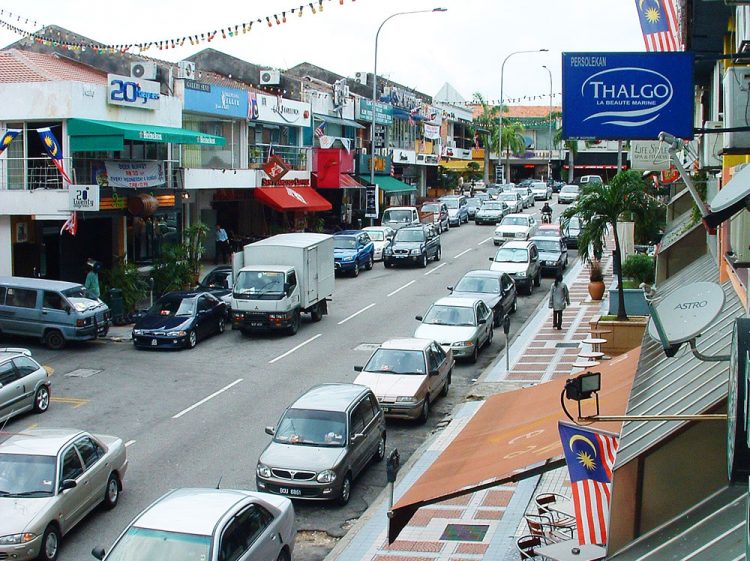 More recently, however, there has been an impressive resurgence of F&B outlets in the area and the selection is now very impressive as a search of the database of this Bangsar Guide online directory will confirm. Dozens of F&B outlets are available with just a short walk from anywhere in the area.
Lucky Garden, which is across the street (Jalan Ara) from Bangsar Baru has many eating places, but they mostly serve the local neighbourhood community, and the area has not attracted the same audience as Bangsar Baru. One exception is Portofino Restaurant, which has received excellent reviews and has asked to be included.
Another enclave in Bangsar, but a short distance by taxi from Bangsar Baru, is Lorong Kurau. It's somewhat off the beaten track, but has become a small haven for a handful of excellent dining options. We have included some of their better outlets in this guide.
As for The White Rajah, I was forced to close it in 2002, when Bangsar Baru started to lose its appeal as a dining and entertainment area. Now that I realise how hard it is to run a successful restaurant and bar, I am not keen to open one again, although I am pleased that the area is once again drawing a wide variety of customers who are attracted by its expansive and varied array of F&B offerings.

Bangsar Living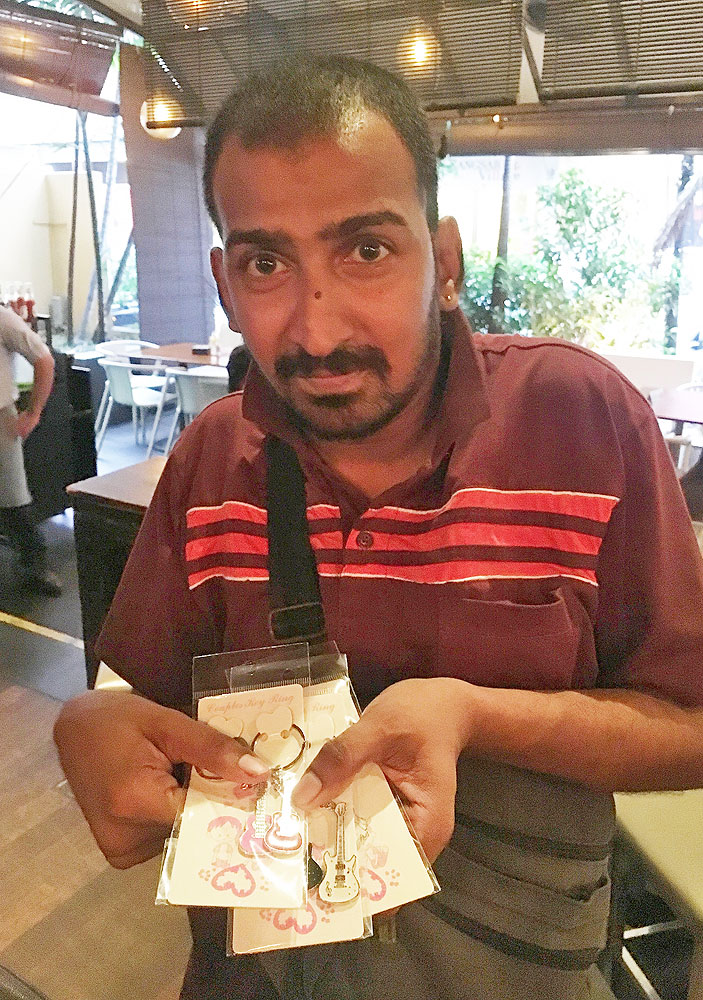 Andy Davison shows appreciation for one man trying hard to make a living If you eat or drink in the Bangsar Baru area, you will periodically see people either begging or trying to sell you something you don't want. Sometimes it can be annoying, and, even if you're sympathetic, you may worry that they are part of a gang and will not even end up with the money you give them. For this reason, many expats ignore them.
I have been visiting Bangsar Baru for many years and once owned a restaurant there. Over the years, one man has been a regular in this area walking from outlet to outlet looking for people to buy his products, which usually sell for around RM10 each.His name is Bala, and he has cerebral palsy, which makes walking and talking quite challenging for him. However, he carries his disability with a positive outlook and is not looking for hand-outs. He would like you to buy his goods because that's the only way he can survive, and I think it's fair to say not many companies would offer him full-time employment, so this is one of his limited options to make a living.
We featured Bala in one of our issues over three years ago, and he's still there, working to earn an daily income in the best way he knows how. My reason for writing this is quite simply because he asked me if I would, and I feel he is kind, genuine, and deserving of support. If you feel so inclined, please consider buying from him. You will have the satisfaction of knowing you are helping an individual who, despite his disabilities, bravely struggles on with both determination and good humour.