Pan & Wine: Affordable Western Comfort Food
This post was written by EatDrink Brand Ambassador Sabrina Khor.
Pan & Wine, a well-known and popular eatery among the locals of Setia Alam, will never fail to satisfy your cravings for scrumptious and reasonably priced Western meals. Other than that, they also serve a diverse range of wine that not only is affordable, they pair excellently with the food that's made here.
Over the years, my family and I have visited this place numerous times to find that the quality of food has always been consistent, and their top-notch service is something to look forward to as soon as you step into the charming restaurant. We especially enjoy the interior of this restaurant as it radiates a cozy yet elegant ambiance.
Fried to perfection, the Bacon Wrapped Sausage (RM15) is a dish that you should definitely order. These stubby, yummy, meaty bites comes with Sriracha sauce dip that gives the sausage a great spicy kick. It's also a rather generous portion if you care to share, being a perfect snacky indulgence.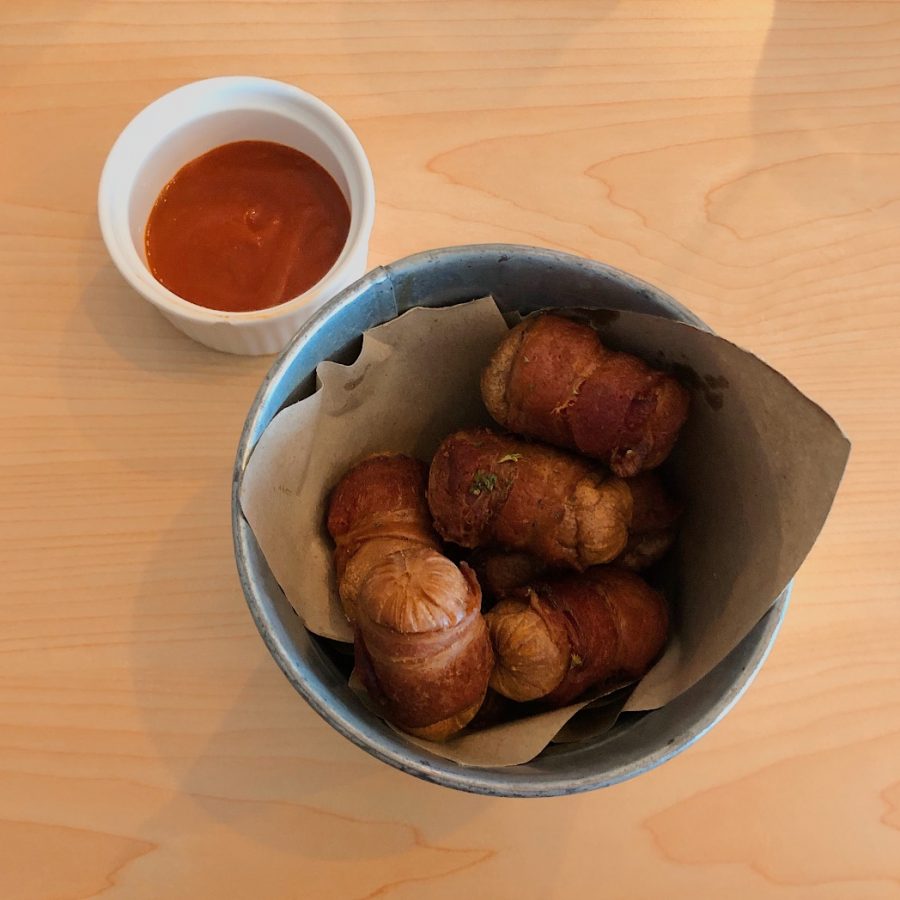 A variety of pasta dishes are offered here and usually, we opt for the Pork Bacon Carbonara (RM20) and Seafood Aglio Olio with Squid Ink Pasta (RM23). Normally, I do not enjoy carbonara as much as it leaves quite an undesired aftertaste in my mouth, but the poached egg that topped the pasta somehow balanced the creaminess of the dish, creating a pleasant symphony of tastes. Seafood Aglio Olio with Squid Ink Pasta (RM23) is a dish that nicely highlights the freshness of the seafood through the aromatic use of olive oil and garlic. Definitely a dish that holds a special place in my heart.
My favourite dish of the night, the Pan Roasted Pork Chop (RM21), had a very dynamic taste to it as the juicy pork chop tasted heavenly combined with a pineapple compote. I loved how the pork was not overcooked making it succulent with just the right texture.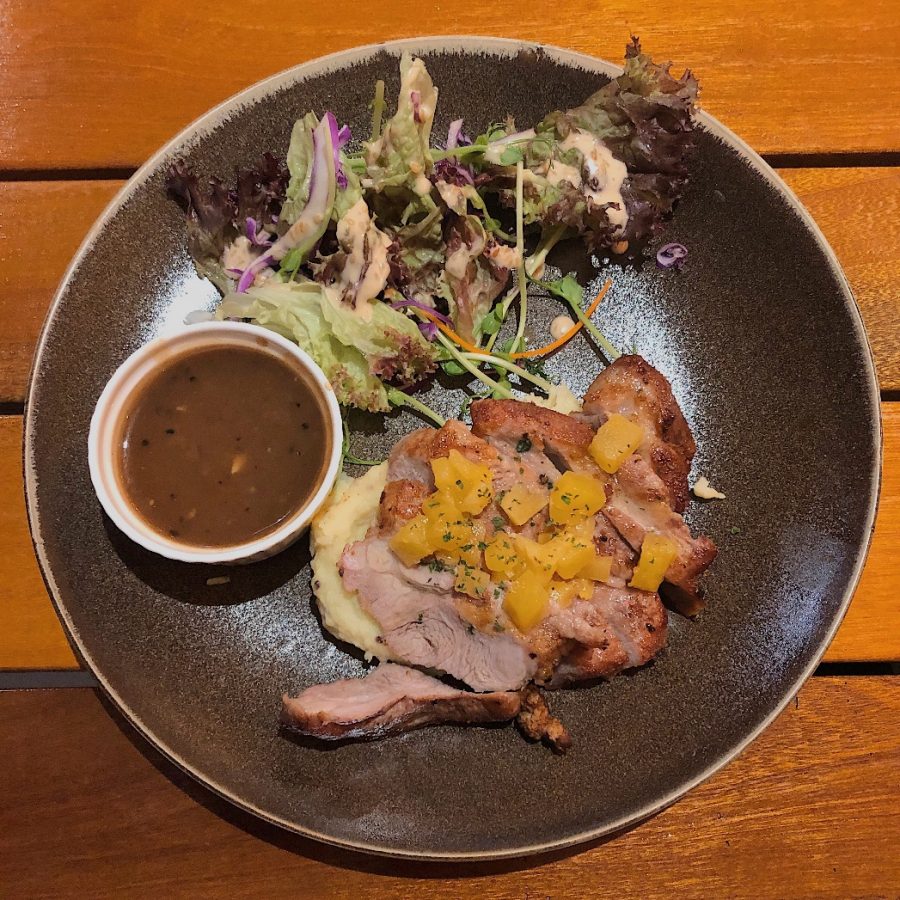 Generous and scrumptious are the two words that pop into my mind when I think about the Italian Breaded Chicken (RM19) served here! Not only was the portion generous as it has two pieces of perfectly fried chicken breast battered with Italian bread crumbs and a load of fries on the side, the dish was appetizing when paired with the chef's special black pepper sauce. However, I would have preferred it if the sauce was  a little more warmer which would probably make the dish better.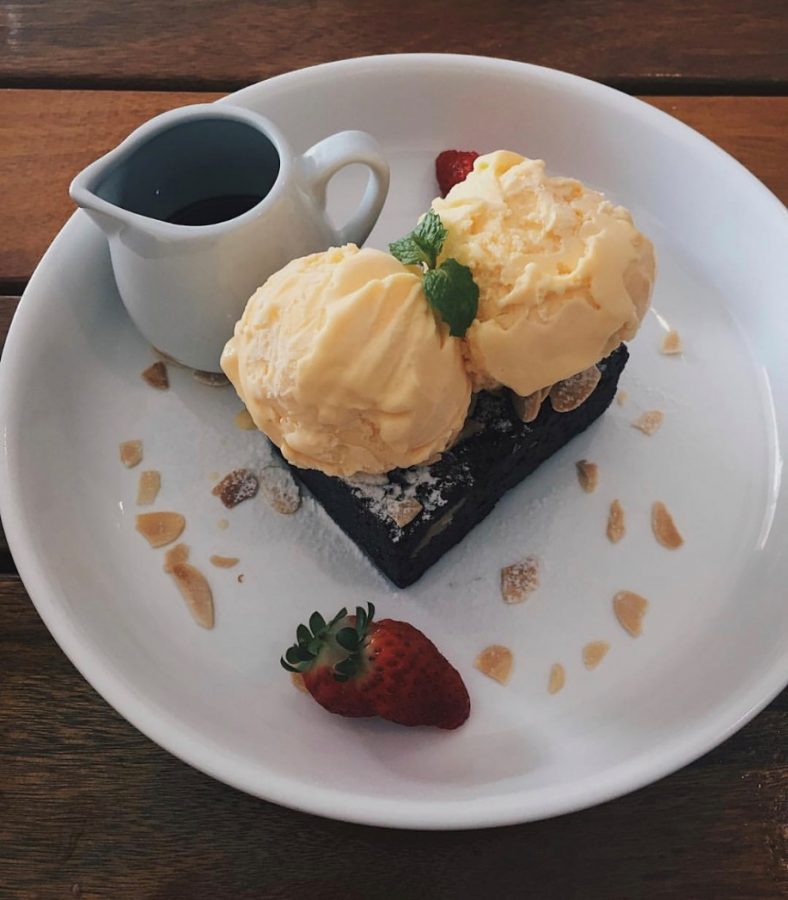 I love, love, love the Signature Homemade Brownies (RM15) that is an absolute must on a sunny Malaysian day. It comes with two scoops of vanilla ice-cream right on top of warm chocolate brownies that will not only melt in your mouth, but also melt your heart! The perfect ending to a delightful meal here.
Location and details
Address: Pan & Wine
6-1-1, Jalan Setia Prima L U13/L,
Setia Alam,
40170 Shah Alam,
Selangor
Tel: +603 5891 1242
Opening hours: 12pm-11pm (Closed on Wednesdays)