Marriott Hotels Unveil Eclectic 2020 Mooncake Collections
With mid-autumn festivities approaching, the season's most anticipated collections are here to impress! Read on to find out what the Mariott chain of hotels have in store for you!
The St. Regis Kuala Lumpur's Celestial Mooncake Trunks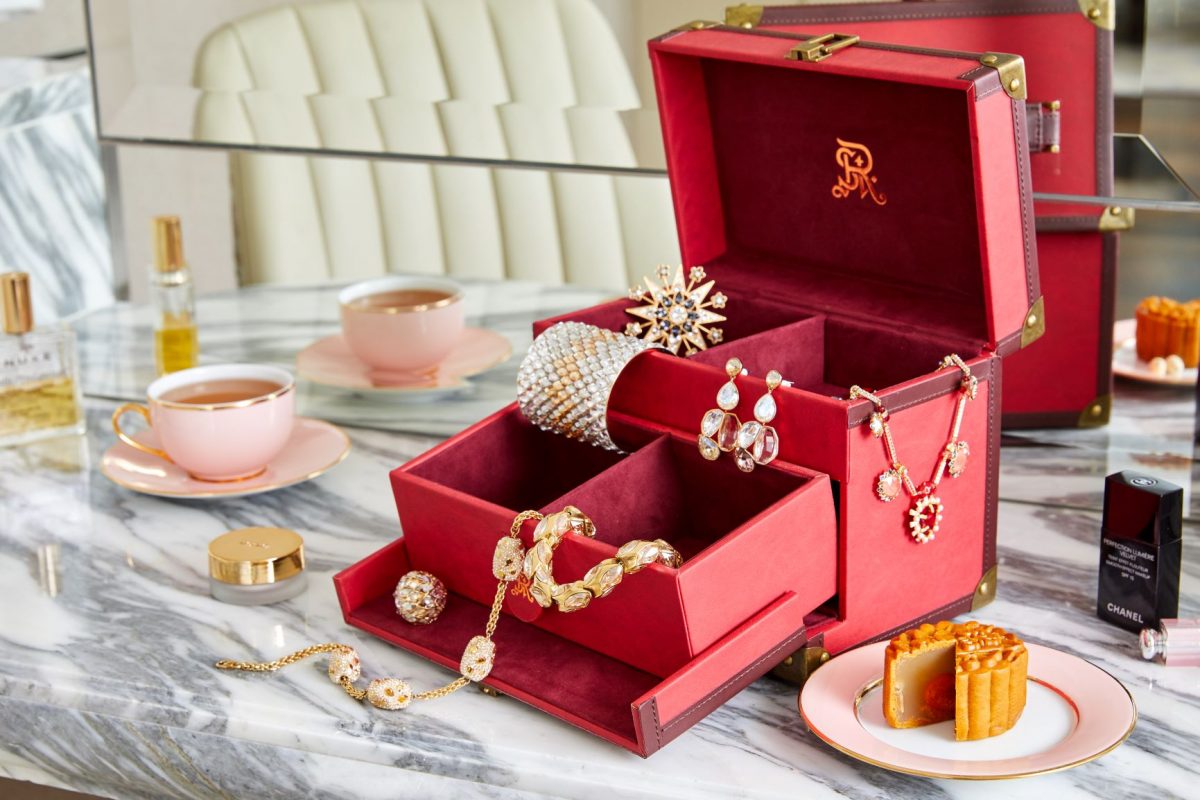 The St. Regis Kuala Lumpur's celebrates this celestial season with traditional mooncakes available in classic flavors – white lotus seed paste with single yolk and their signature 6.5-inch super mooncake with 8 yolks – made only with the finest ingredients.
Observed in the 8th month of the lunar calendar, The St. Regis Kuala Lumpur's mooncake trunks will be available in two designs – Classic Trunk of four and the Super Mooncake Trunk. A symbol of the Astor's love for travel, each trunk is elegantly designed in red faux-leather ornamented with vintage brass studs and a clasp, making each piece the perfect gift this Mid-Autumn Festival. Designed with versatility in mind, our trunks also serve as a great place to store your treasured jewelry, toiletries, stationary and more. Each mooncake box is presented with a message card for personalized gifting whereas for corporate purchases, a personalized branded message card is available.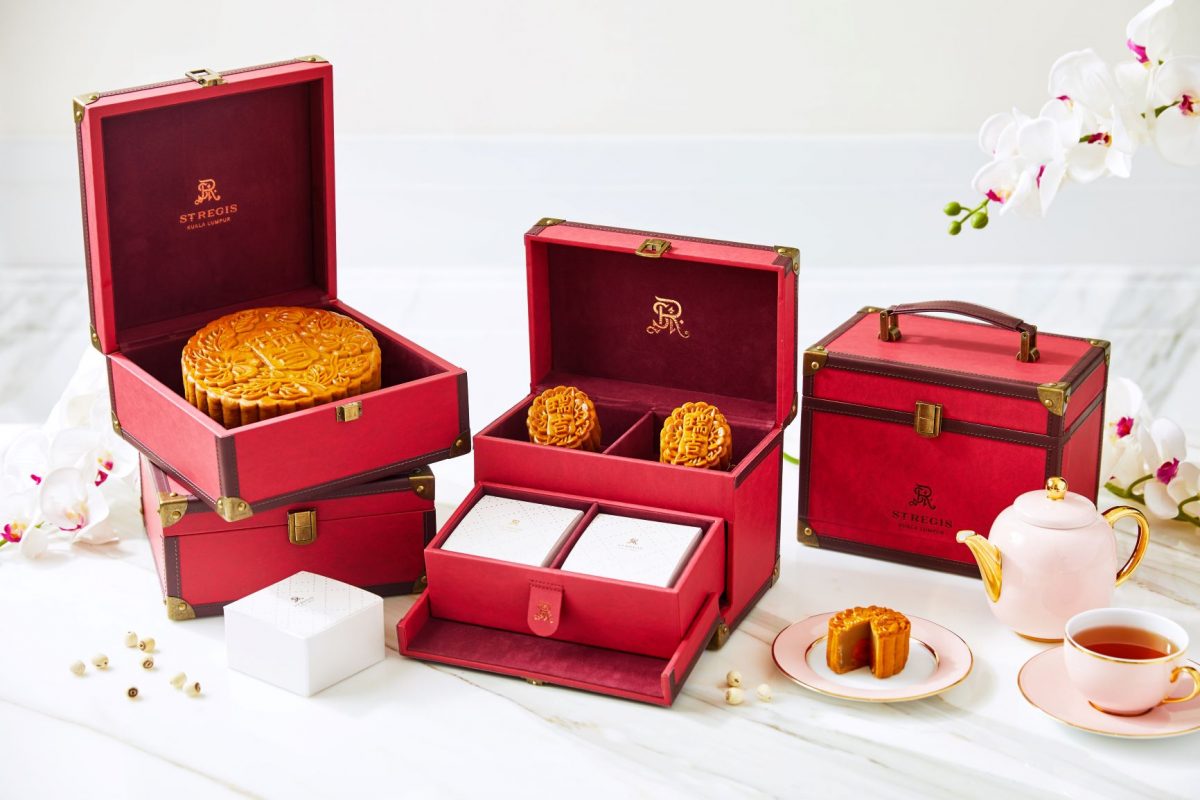 The St. Regis Kuala Lumpur mooncakes are available for orders from 3rd August – 1st October 2020. The Classic Trunk with four (4) Lotus Seed Paste Single Yolk retails for MYR180.00+ while the Super Mooncake Trunk with a 6.5" Prosperity Mooncake with Eight Yolks is priced at MYR200.00+
For more information or to place an order, contact +6012 2801 303 or email [email protected].
A Heavenly Medley of Handcrafted Mid-Autumn Delights at Le Méridien Kuala Lumpur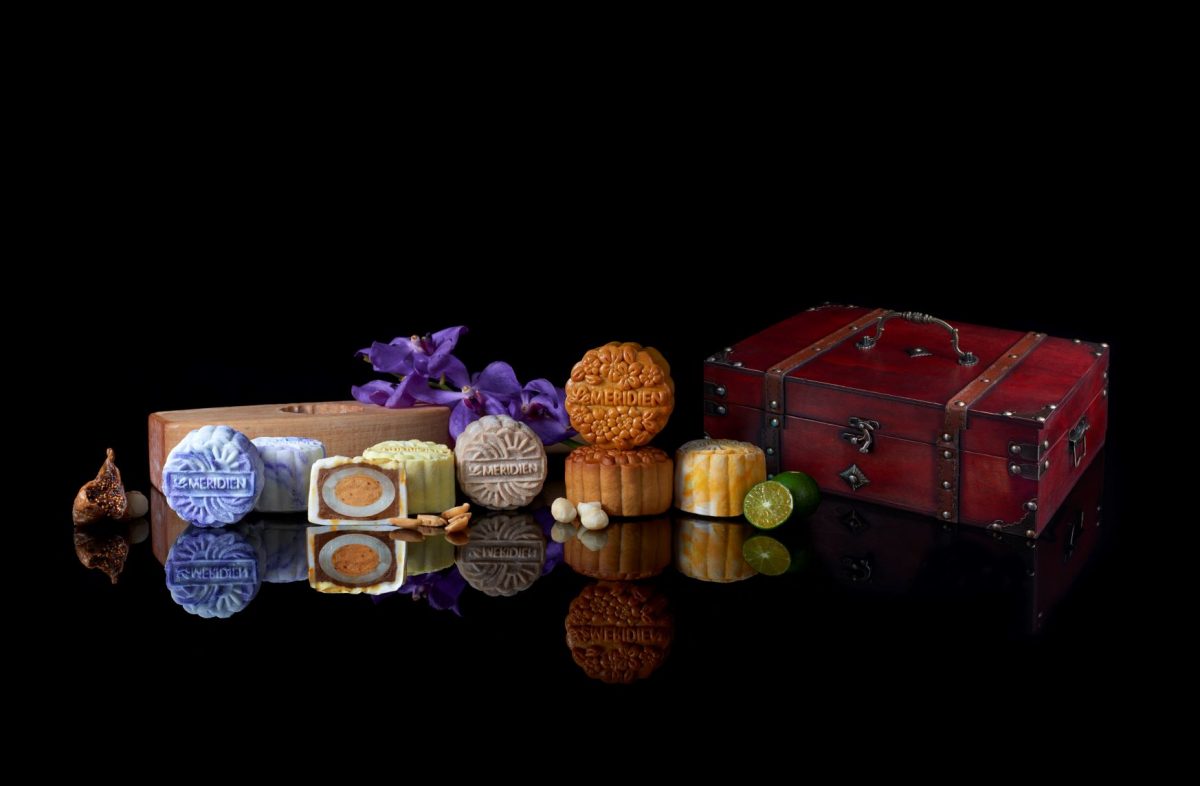 Le Méridien Kuala Lumpur returns with an enthralling ensemble of luxuriously flavored bite-size pieces of gastronomic heaven this Mid-Autumn Festival. Take delight in the bold, indulgent flavors of traditionally baked mooncakes and alluring exquisite snow skin varieties with innovative fillings, encased in a lavish, deep red chest inspired by the mid-century vintage travelling trunks of yesteryear. The traditional classics featuring the all-time baked hits include Pure White Lotus Paste with Single Yolk and Golden Pandan Paste with Single Yolk, with exciting new flavors such as Assorted Fruits and Nuts (a tasteful delight of almonds, walnuts, white sesame, redcurrants, melon seeds and zesty tangerine peel); Hojicha Green Tea Lotus Paste; Red Bean Lotus Paste; Pandan Lotus Mung Bean. The traditional ensemble is available at RM 178 per box.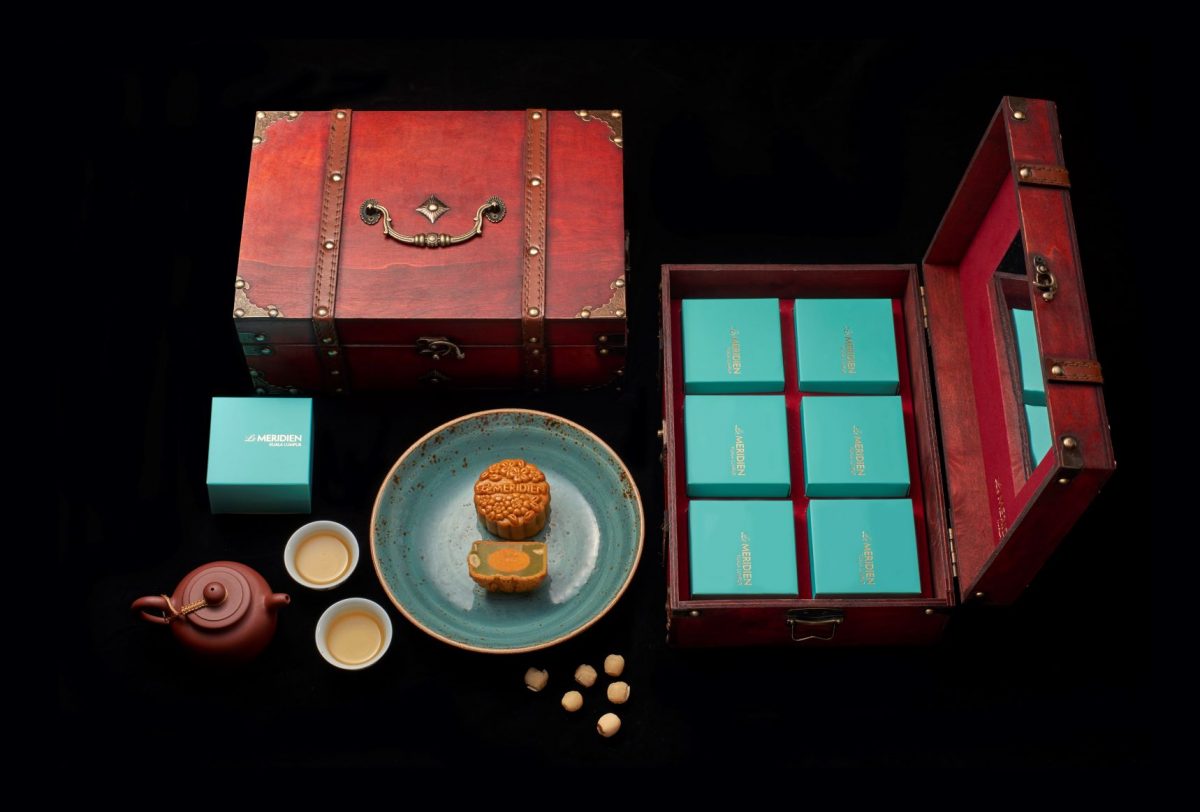 Alternatively, those with an adventurous palate may indulge in the perennial snow skin favorites such as Yuzu Calamansi with Confit Orange Peel and Rainforest Tualang Honey and Figs, and the signature crowd favorite  coffee-infused snow skin mooncakes, a recognition towards Le Méridien's global brand partnership with Italian brand, illycaffe. With an innovative twist this year, guests may now choose between two new renditions: the Signature illy Coffee Snow Skin Mooncakes with Macadamia Nuts and the Signature illy Coffee Snow Skin Mooncakes with Soft Peanut Mochi Heart.
The luxurious Chivas Whisky with Golden Raisins is an exquisite snow skin mooncake encases whisky-infused golden raisins (the golden raisins are soaked in Chivas whisky for a total of 48 hours). A minimum 3-day advance notice is required for all orders of Chivas Whisky with Golden Raisins Snow Skin mooncakes.
Both Le Méridien Kuala Lumpur's traditional baked and snow skin mooncakes are priced at RM 30 per piece (except for the Red Bean Lotus Paste which is priced at RM 28 per piece, and Chivas Whisky with Golden Raisins which is priced at RM 45 per piece). These dainty creations are sold at Latitude 03, lobby level of Le Méridien Kuala Lumpur and are available from 24 August to 1 October 2020.
To purchase, please call Latitude 03 at +60 3 2263 7434 or email [email protected]. Orders can be collected daily from Latitude 03 between 11.30am to 9pm.
Mid-Autumn Bliss Mooncakes by The Westin Kuala Lumpur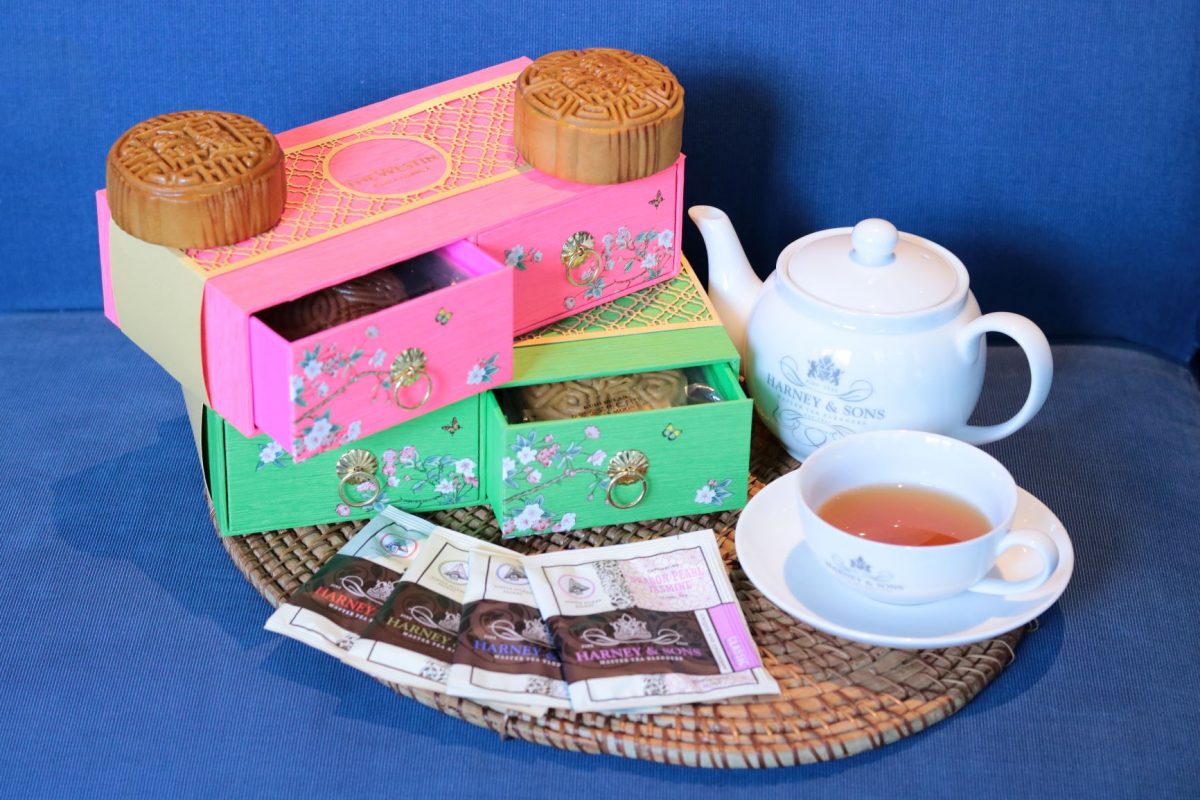 The Westin Kuala Lumpur introduces Mid-Autumn with a special twist this year – a tea pairing by Harney & Sons; an artisanal premium tea brand that has been producing Artisan Fine Teas for 35 years, always evolving in with a perfect blend of modernism and tradition in their teas.
All mooncakes by The Westin Kuala Lumpur are halal certified and is priced at RM88 for one box of mooncakes with a choice of two mooncakes and two silken tea sachets or RM138 for two boxes of mooncakes with a choice of four mooncakes and four silken tea sachets.
This year's mooncake flavors include Osmanthus Lotus Single Yolk mooncake; Lotus Paste mooncake; White Lotus mooncake; Pandan Lotus mooncake; Red Bean Paste; Mixed Nuts mooncake. To complement the mooncakes, Harney &Sons Tea flavors include Paris; Japanese Sencha; Dragon Pearl Jasmine; Rooibos Chai.
For more information and details, please contact Westin Dining at 03 2773 8495, WhatsApp +601 2305 1715 or email [email protected].
Go Over The Moon This Mid-Autumn Festival with W Kuala Lumpur
W Kuala Lumpur has once again designed a mooncake set that is functional, trendy, and tasty all at once. The mooncake set includes 4 mooncakes of your choice encased in a reversible sequined bedazzled box that you can carry around in style in a bright tangerine or sky blue tote bag. A recent collaboration between gallery curator Edith Ho and artists Jonny Zerox and Lim Kok Hong, dubbed the Gung HO collective, sees the mooncakes packaged in trendy individual boxes depicting whimsical, bold, and somewhat outrageous portraits with vibrant Asian influences.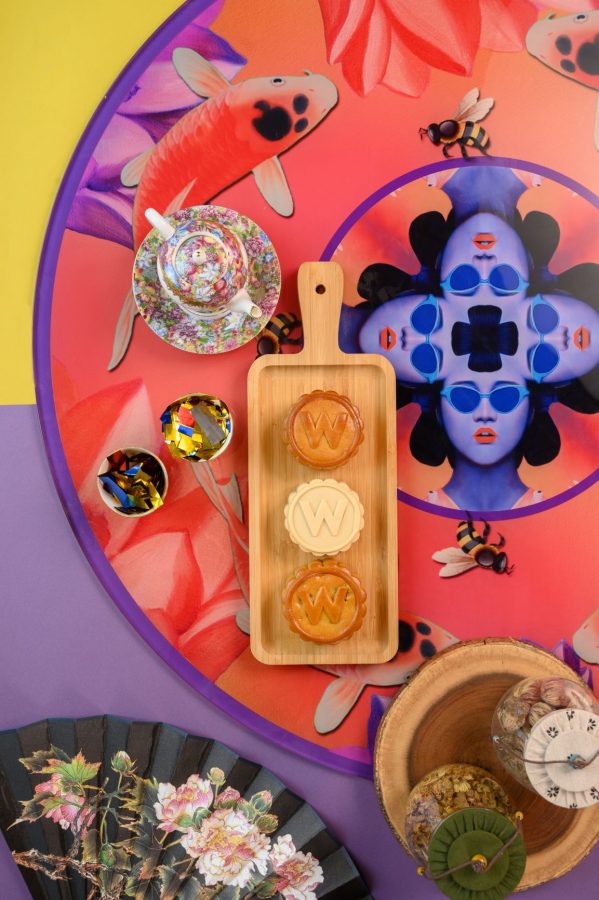 The mooncakes are perfectly crafted by the culinary team at YEN, W Kuala Lumpur's contemporary Cantonese restaurant, and can be purchased in a set or individually. W keeps it classic this year with old-school favorites such as Red Bean Paste with Tangerine and Almond Skin (RM41 nett); Yellow Lotus Single Yolk (RM41 nett); White Lotus Seed Paste with Melon Seed (RM43 nett); Pandan with Single Yolk (RM43 nett); Traditional Five Nuts (RM43 nett); White Lotus Seed Paste Double Yolk (RM46 nett).
A box of 4 which includes a Limited-Edition W Kuala Lumpur Mid-Autumn Festival reusable tote bag is priced at RM168 nett. Mooncakes will be available for sale from 15 August till 1 October 2020 at W Kuala Lumpur. Customers will receive a RM50 YEN rebate voucher with every purchase of a mooncake box.
For enquiries or to purchase, please drop by W Kuala Lumpur, email [email protected] or contact +6012 347 9088.
Vibrant Mid-Autumn with Sheraton Petaling Jaya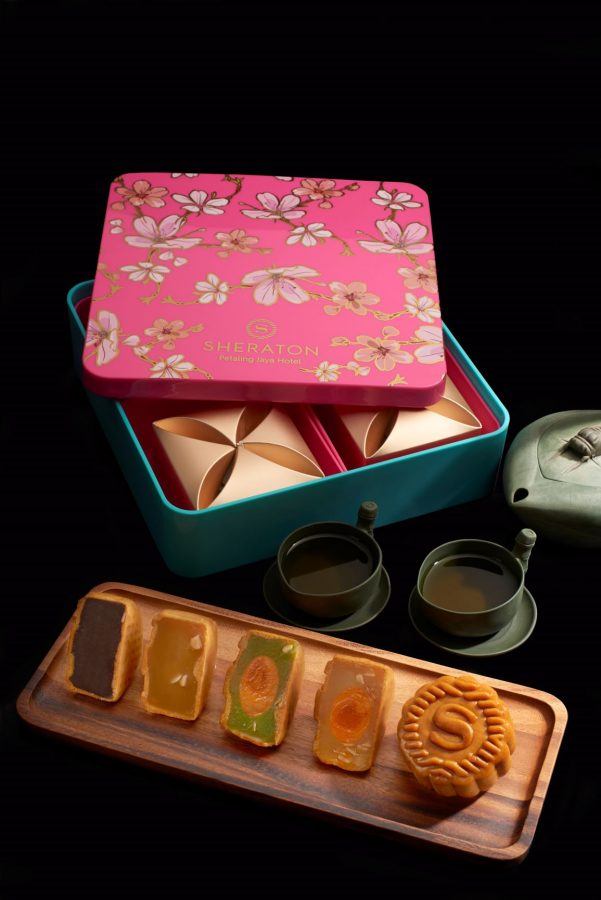 This year, Sheraton Petaling Jaya have put together series of collections of its mooncake boxes that has the combination of vibrant Fuchsia and refreshing Tiffany Blue. Comprises of 3 series – Peony, Plum Blossom and Tiffany Blossom, the boxes – especially designed for that special occasion – come with 4 traditionally baked mooncakes: Pure Lotus Paste, White Lotus Paste with Single Yolk, Baked Pandan Paste with Single Yolk and Baked Red Bean Paste.
Each of these set are sold at RM138 with discount offered at 20% for a single purchase and up to 30% when you purchase 2 boxes and more. The mooncake boxes are available for sale from now until 1 October 2020. To purchase mooncake boxes, reservation lines are ready at +603-7622 8888 or WhatsApp directly to +6017-228 6098 or email at [email protected].