Osteria Gamberoni: Snapshot
In conjunction with the recent Easter Holidays, The Italian Trade Agency (ITA) alongside the Italian Embassy in Kuala Lumpur joined hands with the Italy-Malaysia Business Association  (IMBA) to launch the first edition of 'Italian Cuisine Experience 2021'  which took place from 2 to 11 April. This synergistic partnership was created to support Italian chefs across Malaysia in amplifying authentic Italian cuisine with established restaurants, creating awareness on the health benefits of the Mediterranean diet and Italian ingredients as well as introducing the delightful simplicity the culture offers through taste.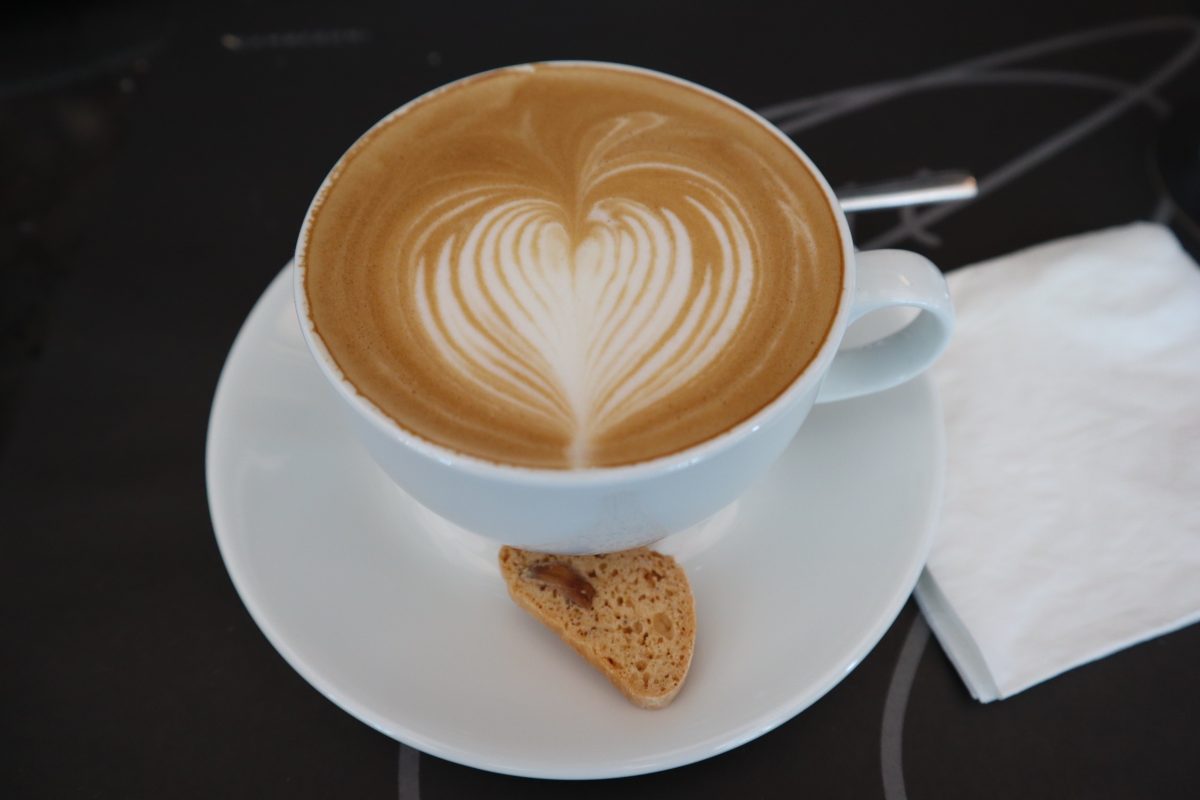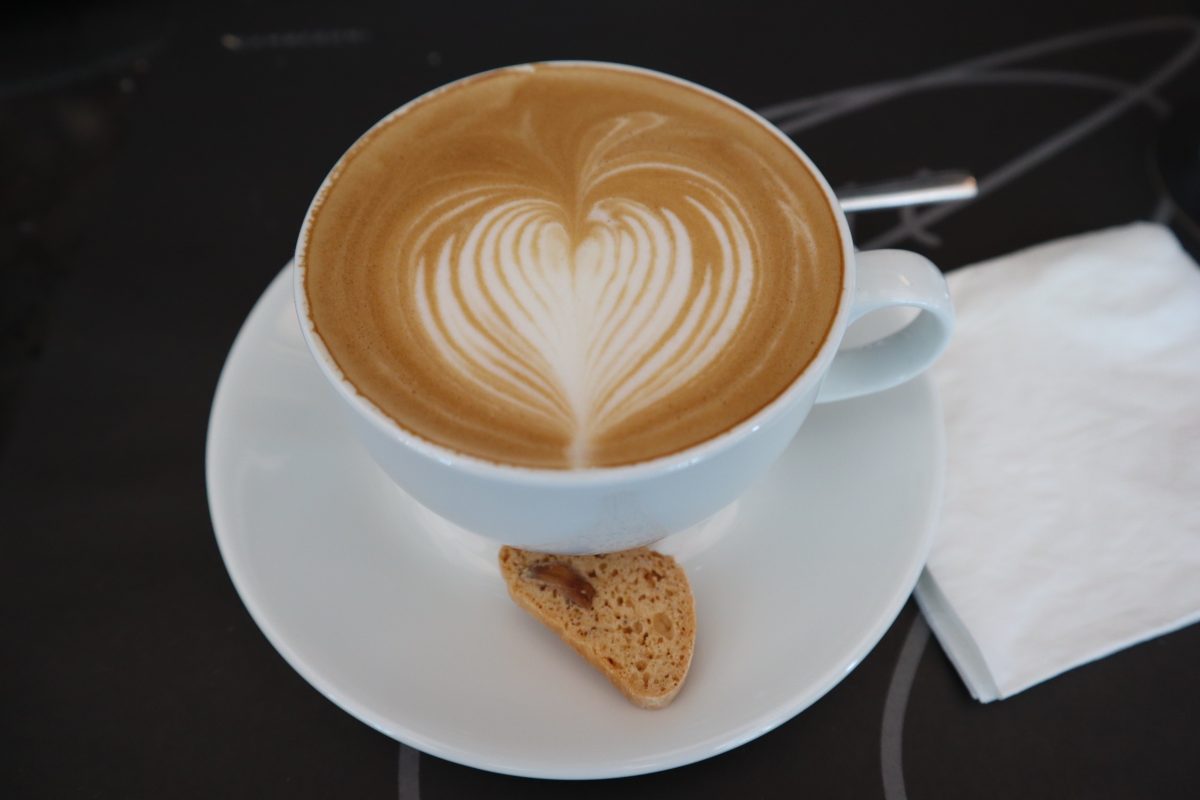 The participating Italian restaurants differ in style, but all operating with the motive to provide consumers with a variety of delectable tastes. The Italian Trade Agency selected eight restaurants for the campaign namely, Il Bácaro, Mandarin Grill and Bar, Heritage Pizza, Osteria Gamberoni, Luretta D.O.P, Sapore, Monnalisa Ristorante Italiano and Sassorosso which are located in Selangor, Penang, and Kuala Lumpur.
We got to get involved with the campaign just before Easter ended at one of KL's newest, progressive, participating Italian restaurant — Osteria Gamberoni at Jalan Yap Ah Shak. Situated right across from Jalan Doraisamy's The Row, it's where KL's hip and trendy flock to for coffee, cocktails, and a great selection of gourmet restaurants. Having opened just before 2020 ended, Osteria Gamberoni is already making a name for itself under the helm of Executive Chef Daniele Ponzani.
Bringing a certain edge to his kitchen and his menu, the Roman chef is making us fall in love with a whole different side of Italian cooking, and he nails it while taking into consideration the Southeast Asian palate. With fresh Italian ingredients flown in to make his dishes shine, all that's left is for us to enjoy Italian food in a brilliant new way.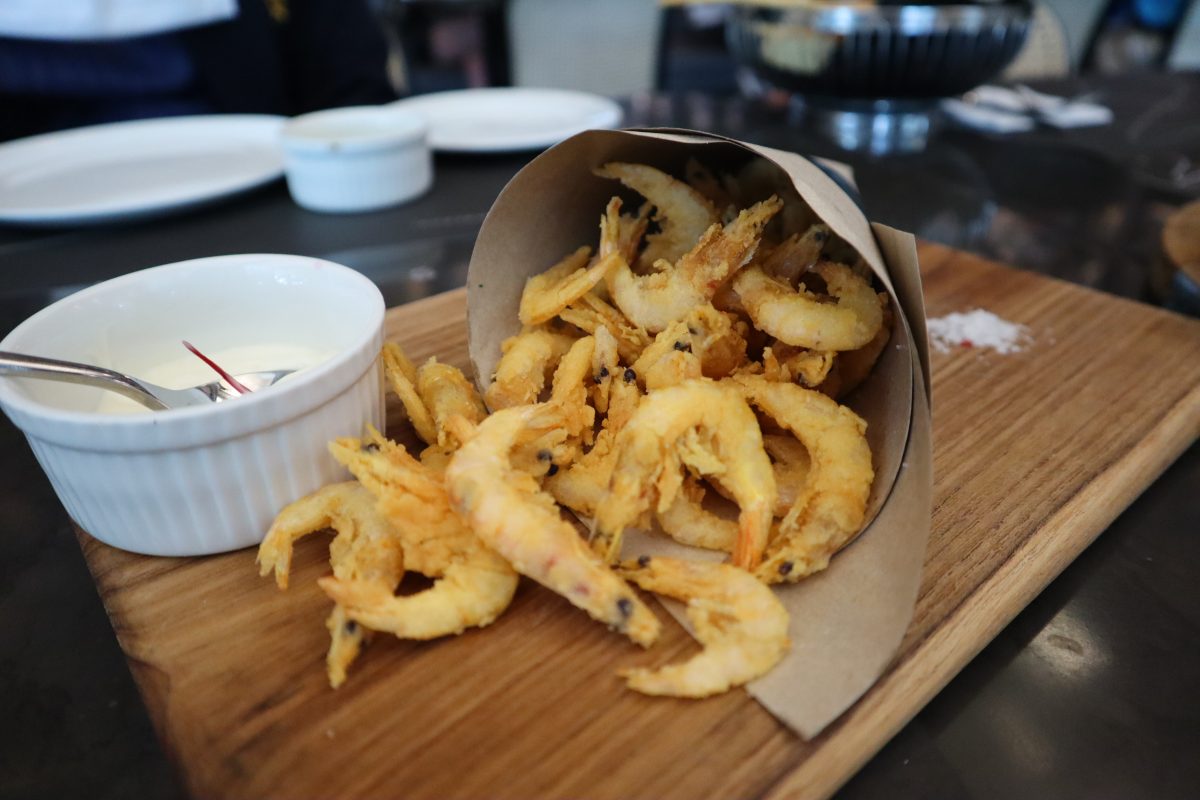 We started our meal with a Gamberi Fritti — super crispy and crunchy deep-fried shrimp with a lovely aioli and a side of sea salt. The restaurant is careful never to oversalt their dishes, but thoughtfully provides a side of flaky sea salt for their antipasti and insalata dishes. The shrimp was a crowd favourite, proving to be tasty time pass to relish and munch on with a side of wine or ice cold beer.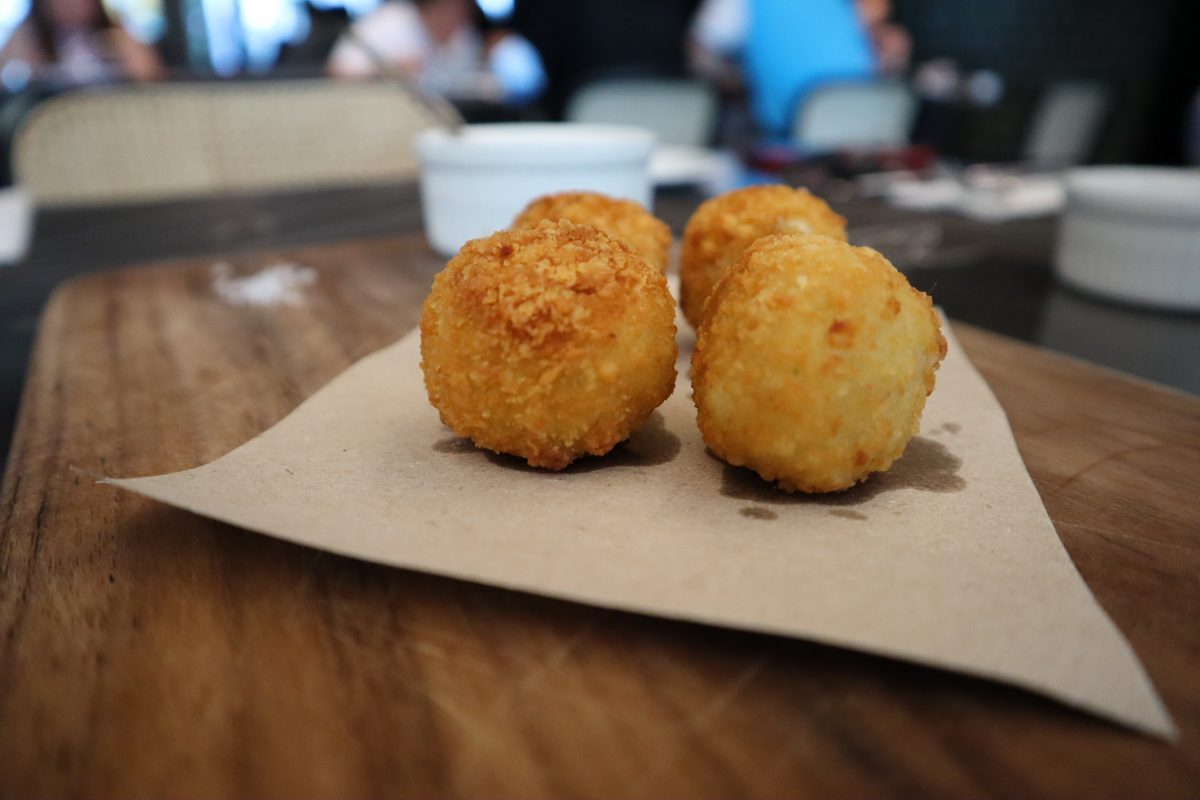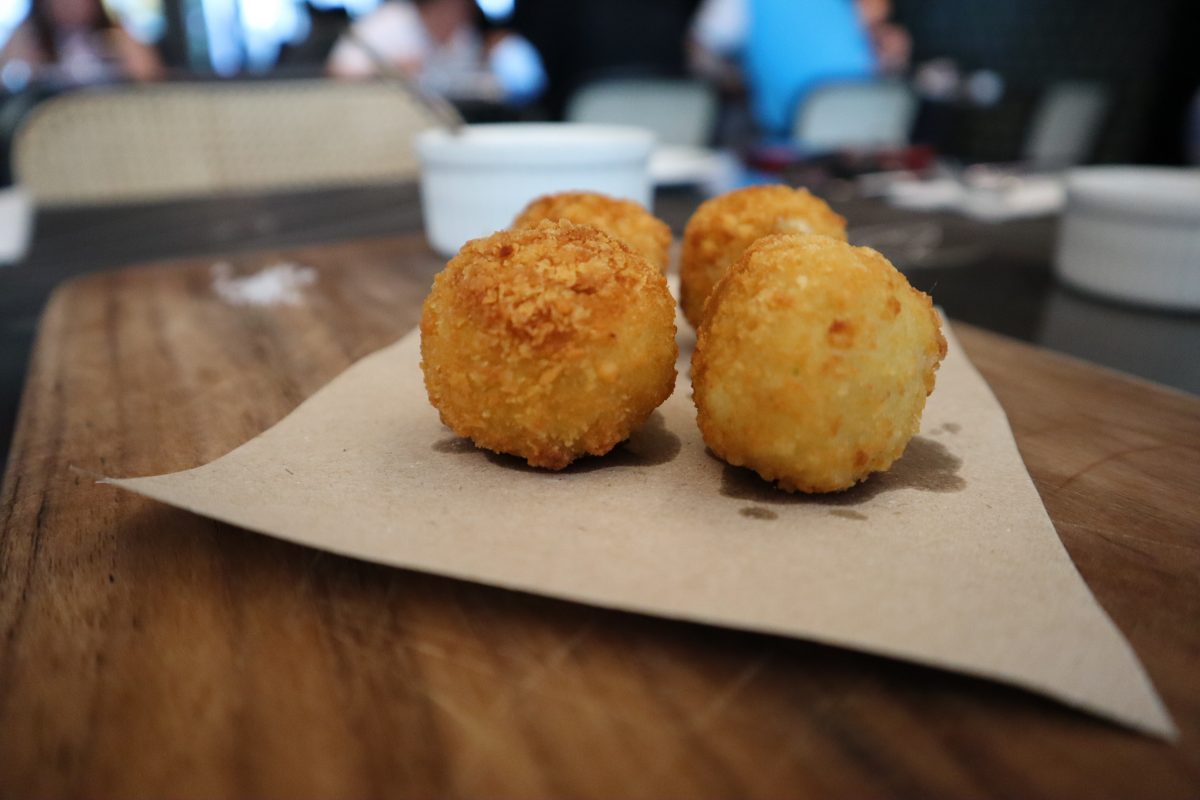 Our second starter were lovely little arancini balls with a special secret: they had fish paste in them! Gazing through the menu you will notice that Chef Daniele's menu is heavily coastal, with strong Mediterranean influences. So if you love seafood and fresh Italian flavours, this is the place to be.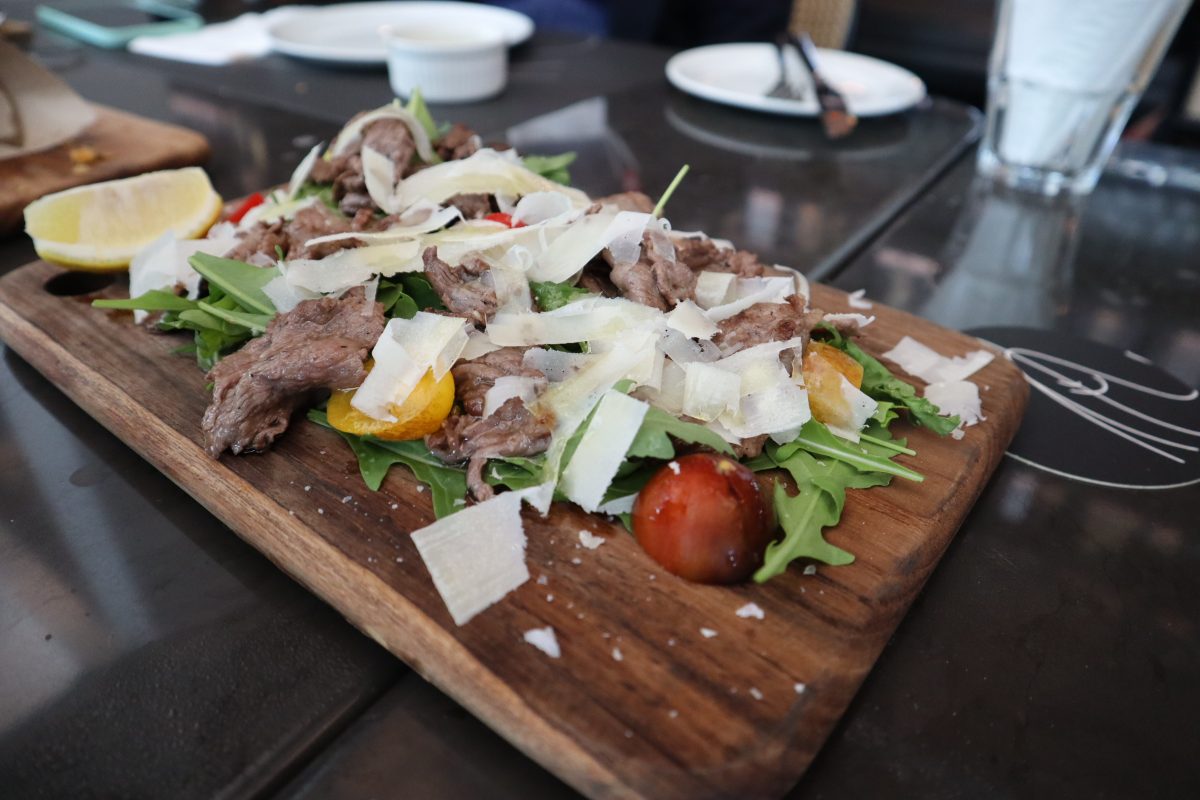 For our insalata, Chef Daniele treated us to an off-the-menu dish that was quickly becoming a restaurant favourite: peppery, fresh arugula with lovely heirloom tomatoes, tender, lightly-grilled skirt steak with lashings of fresh parmesan. It was sublime and something we would definitely order again.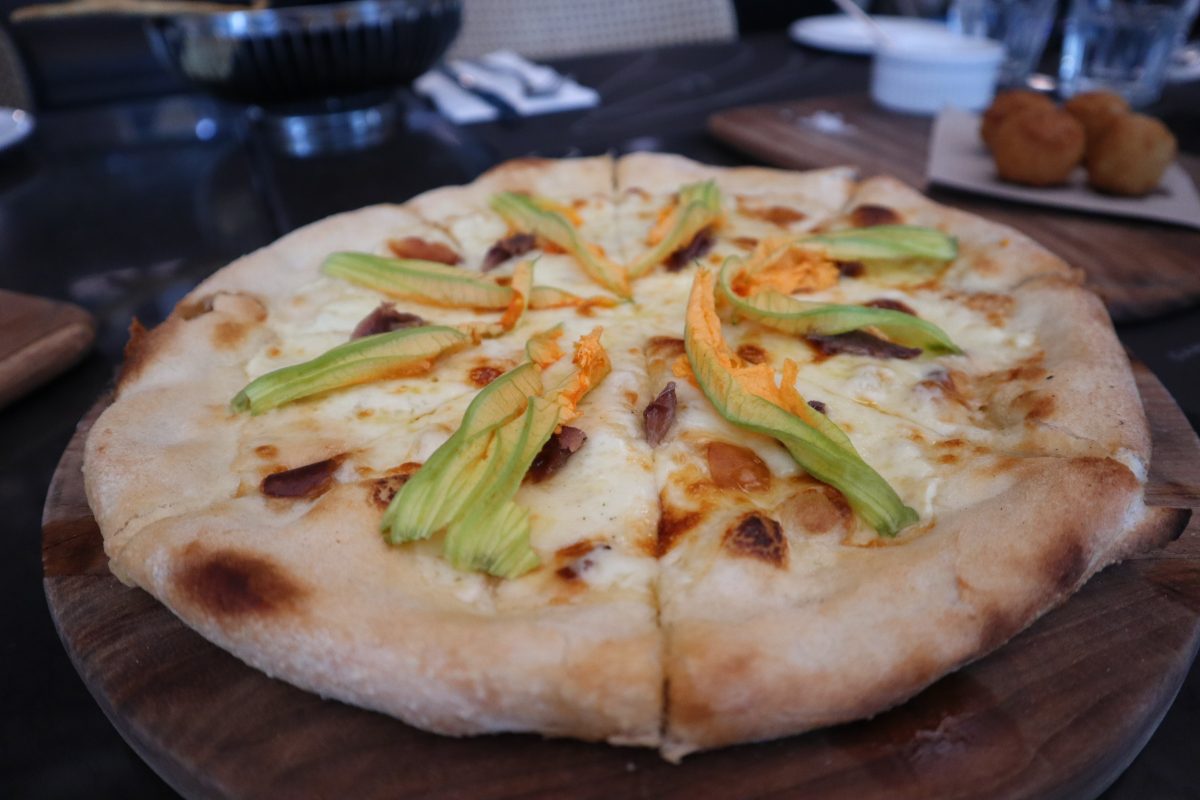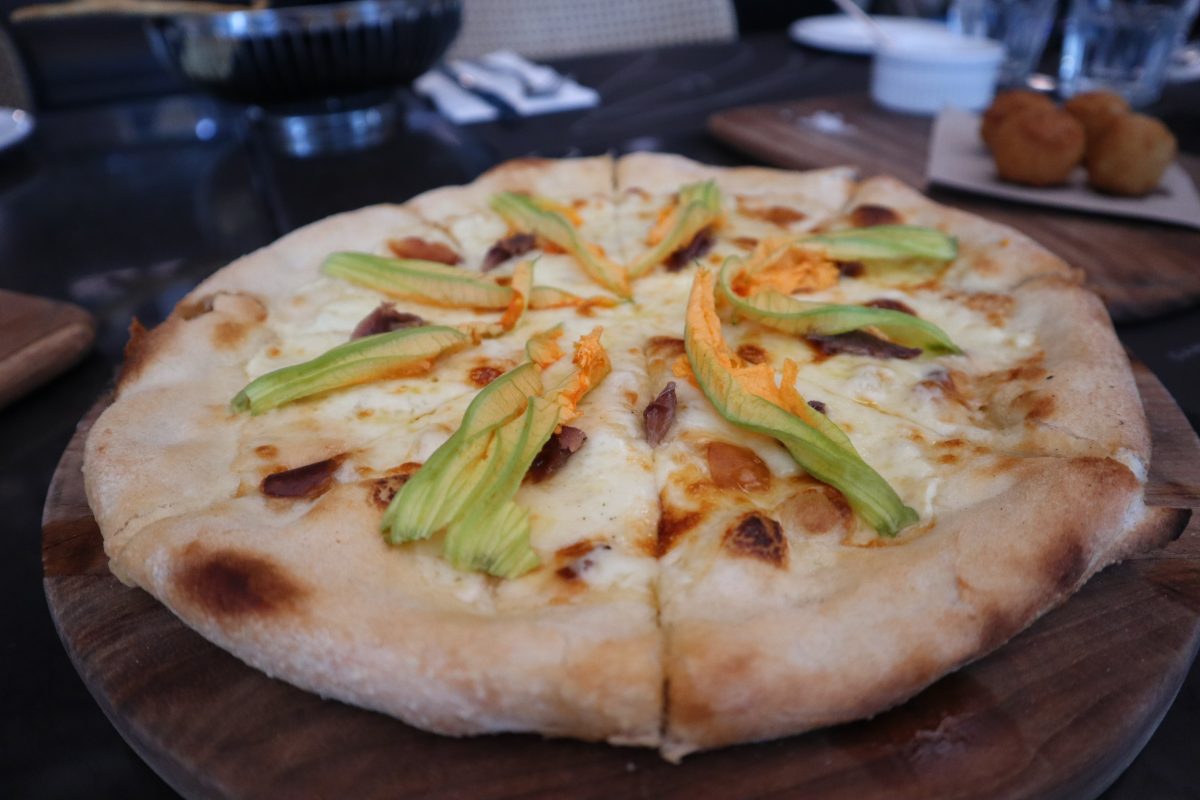 We were really excited to try Chef Daniele's artisanal pizzas having seen them pop up on social media, and was rewarded with a beautiful Fiori di Zucca e Alici; a white pizza with mozzarella, anchovy, and zucchini flower. It was impeccable and delightful. The zucchini flowers are flown in fresh, and made for an interesting but thoroughly enjoyable pizza topping; the addition of umami-packed anchovy provided a punch of saltiness that somehow didn't overpower the zucchini flower, but elevated the delicate flavour instead.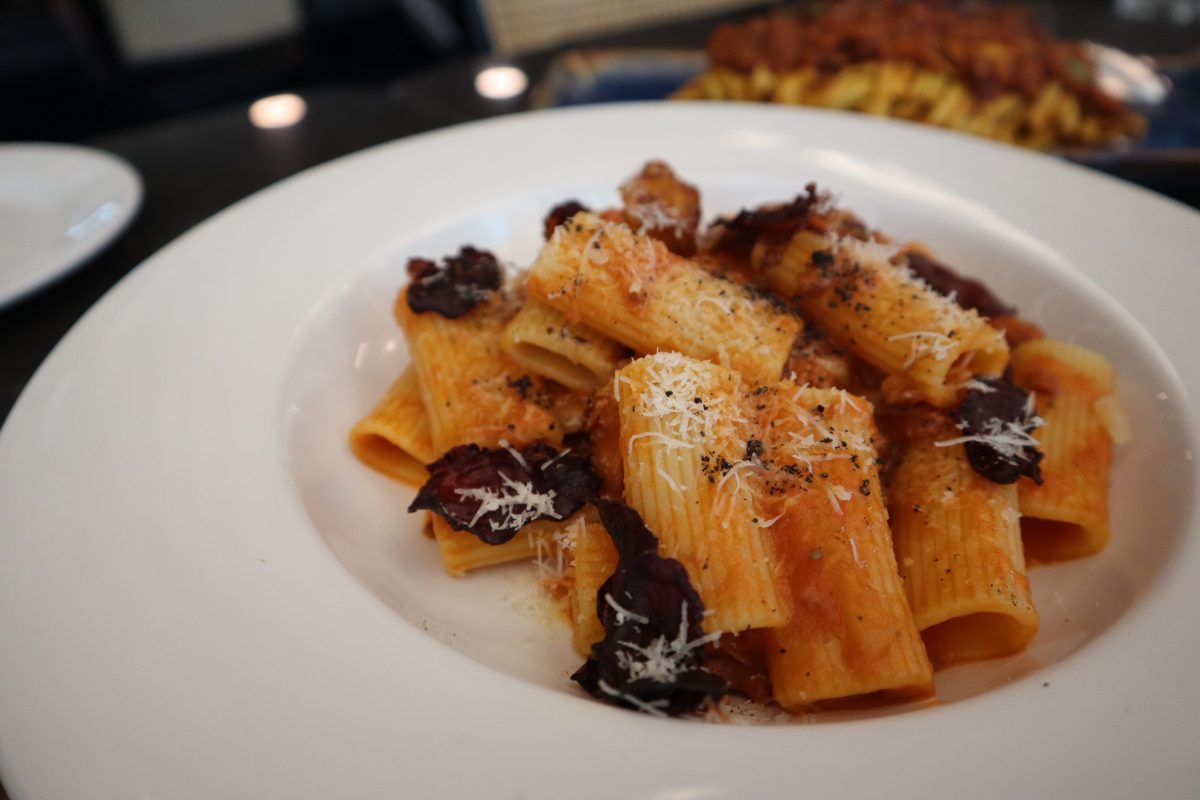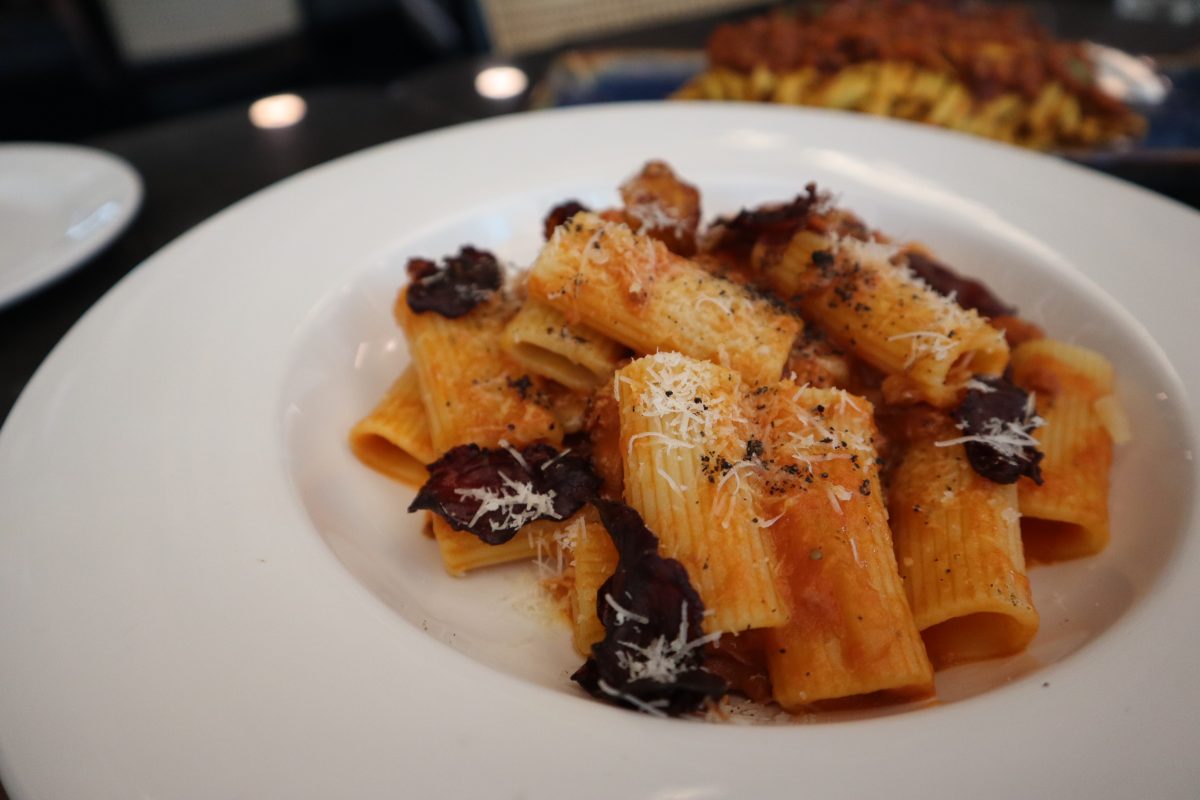 Our pasta course started with a Rigatoni all'Amatriciana: rigatoni, tomato, onion, duck bacon, pecorino, chilli.  A fabulous dish, this isn't for sharing, it's that good! All of Osteria Gamberoni's pastas are done in-house for authenticity and preservation of flavours.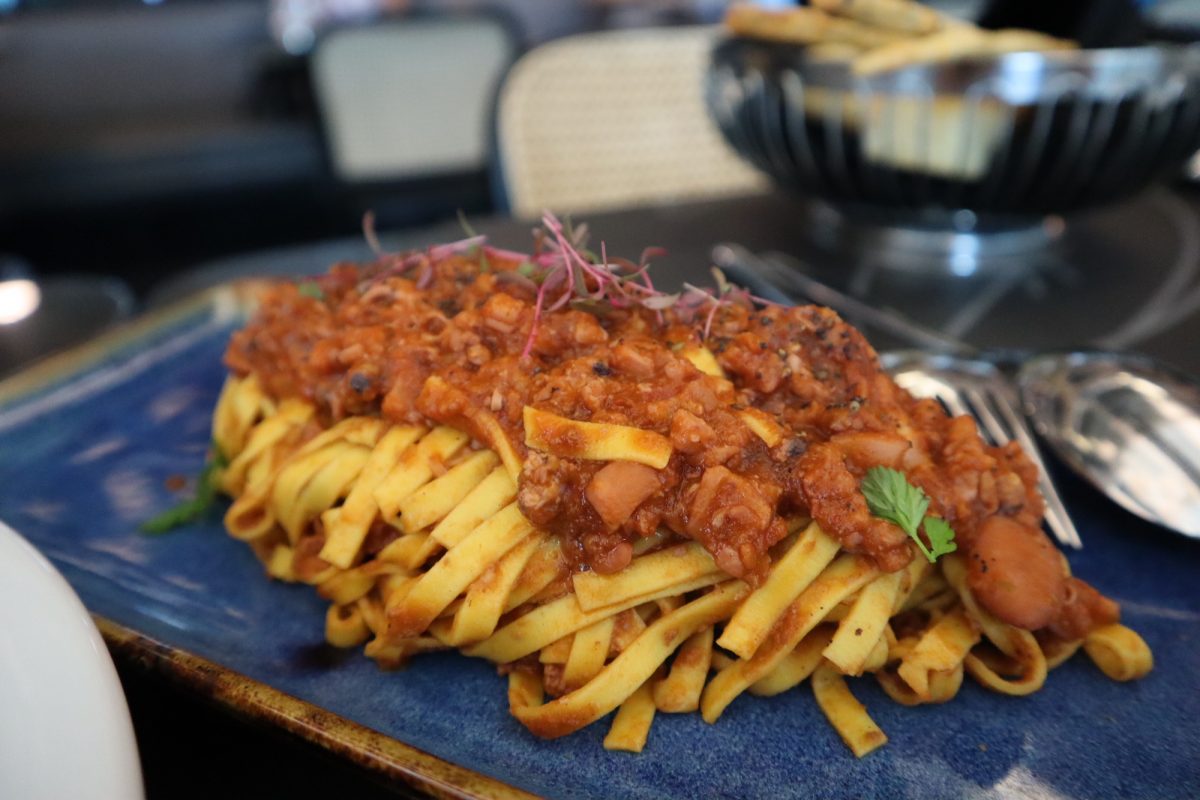 The rigatoni was followed by another show stopper, the Trenette Ragu di Seppia — a baby cuttlefish ragout, with fresh trenette in a robust tomato sauce. This dish carried with it a pungency from the ocean itself, with flavours to be reckoned with, and to finally allow oneself to be lost in.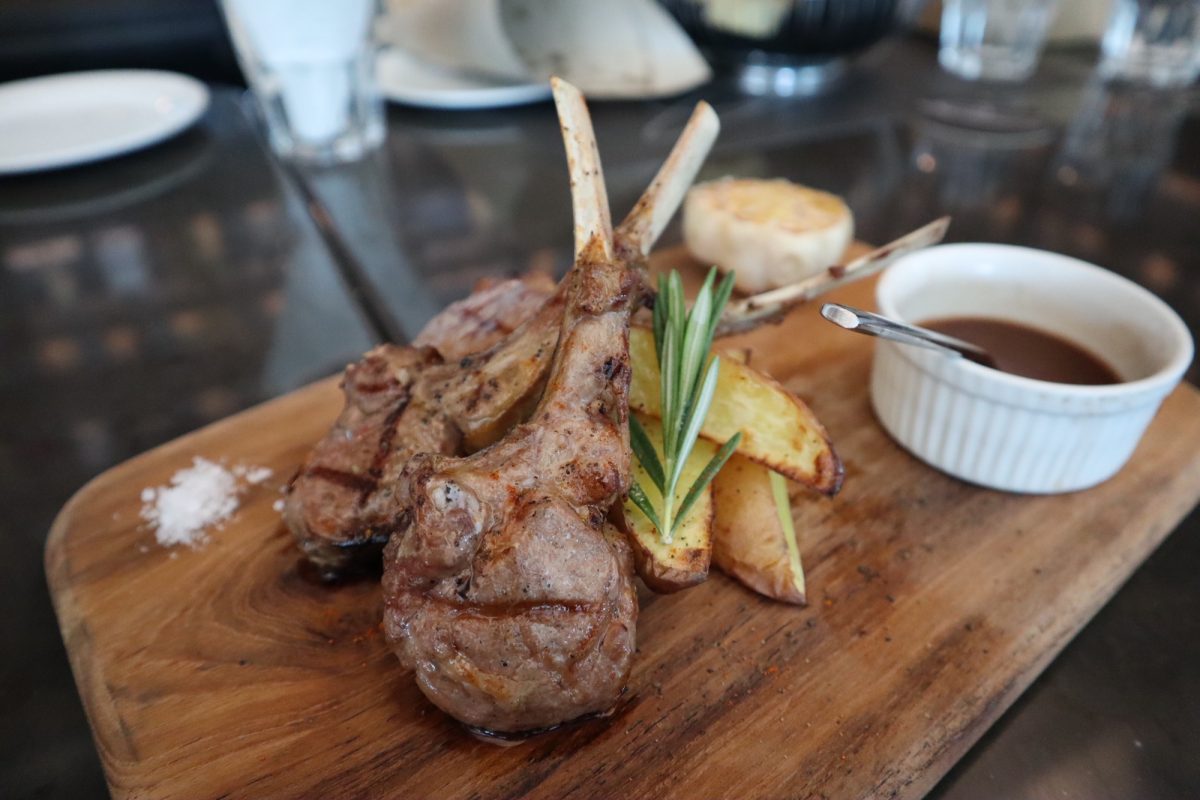 Osteria Gamberoni's Easter special was an immaculate Costolette di Agnello: tender, juicy lamb chops with rosemary and a delicious homemade gravy. Succulent pieces of lamb of the bone, done medium, oozing juices and bursting with flavour with a light sprinkling of that sea salt. Masterful and unforgettable.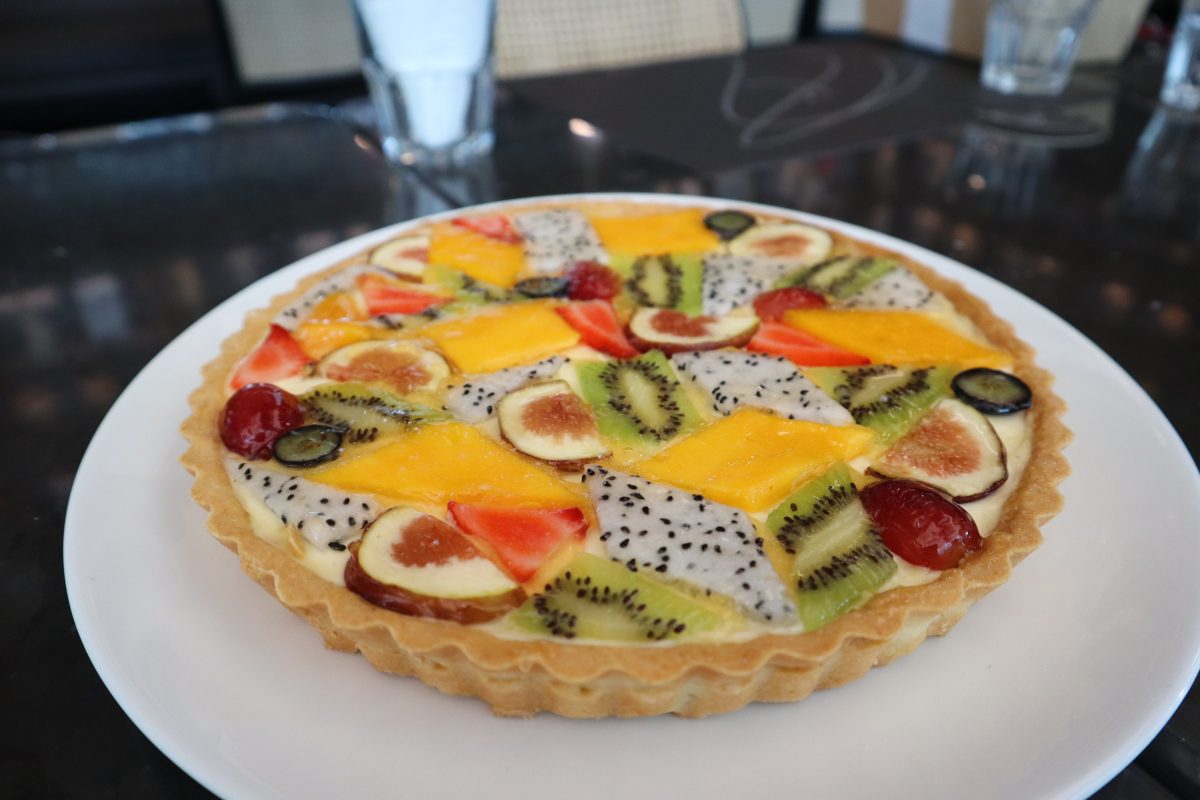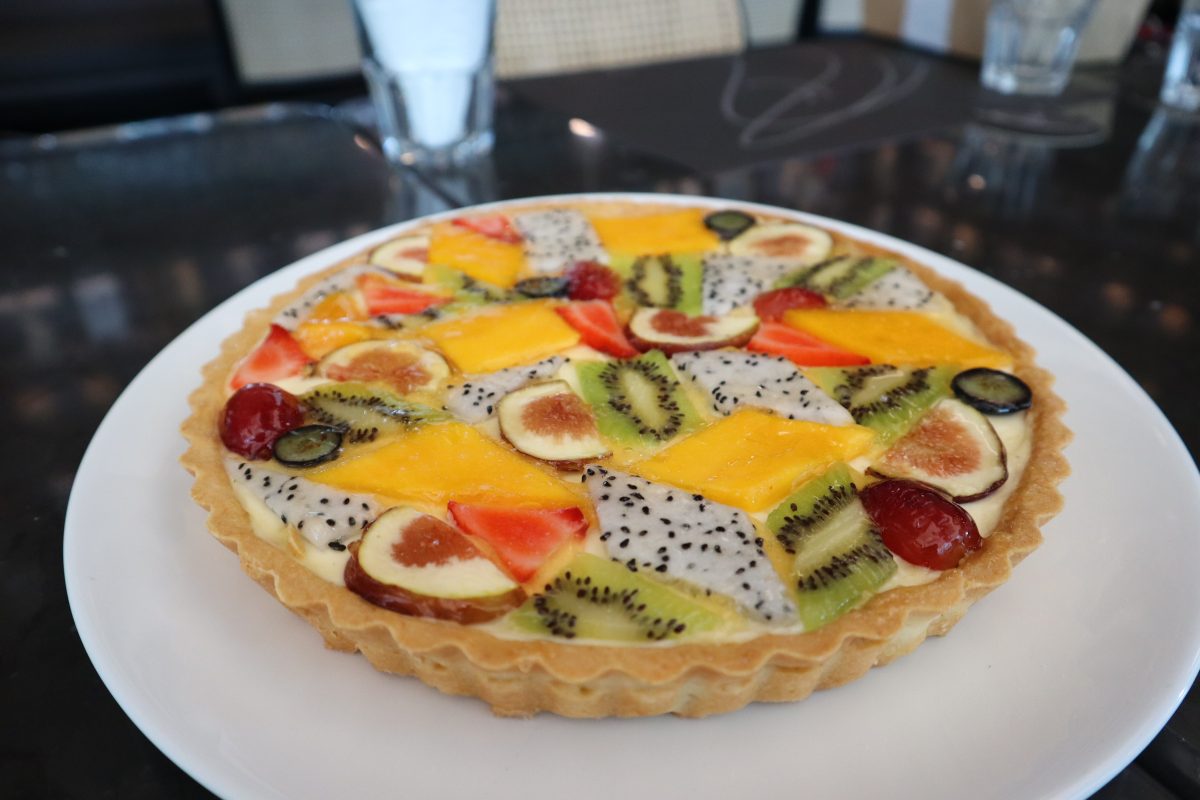 Our meal ended on a very high note when dessert was brought out; an 8″ custard fruit tart of our dreams! With figs, mangoes, kiwis, grapes, blueberries, strawberries, and dragon fruit, the tart can be ordered for takeaway or delivery for only RM150 via Beepit on the restaurant's
site
.
We were absolutely delighted to have tasted Osteria Gamberoni's amazing offerings for Malaysia's first edition of 'Italian Cuisine Experience 2021.'
Location and details
Address: Osteria Gamberoni
Yap Ah Shak House,
17 Jalan Yap Ah Shak,
Off Dan Wangi,
Kuala Lumpur
Hours: 11am- 8pm, closed on Tuesdays
Tel: +603 2602972
Website: Osteria Gamberoni, Facebook: osteriagamberoni, Instagram: osteriagamberoni