An Epicurean Delight with Catena Zapata Wines at PRIME, Le Meridien Kuala Lumpur
Wine lovers rejoice! The legendary Catena Zapata, family-owned and run since 1902, is paring its famous Argentinian wines with PRIME's own special 4-course menu for one night only.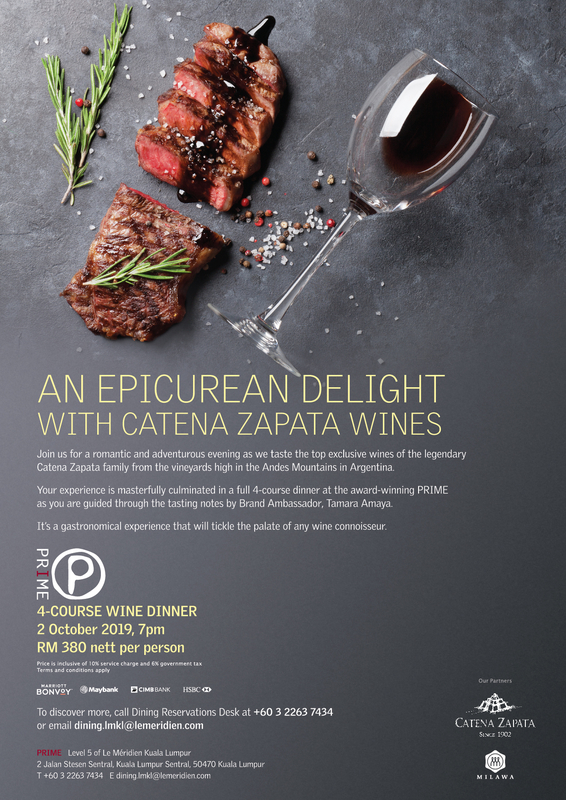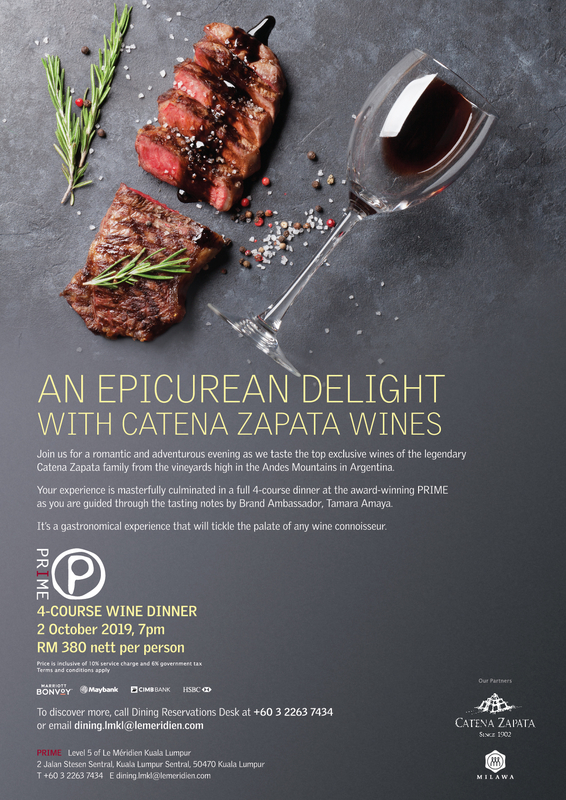 In-house Chef de Cuisine Ramiro Moya brings his invaluable experience of a culinary career having cooked alongside world-renowned chefs like Chef Gordon Ramsey, Chef Pablo Massy and Chef Fernando Trocca to compliment his motherland's taste in wine, and Brand Ambassador Tamara Amaya will guide you in the intricate methods in tasting the two together.
2 October 2019, Wednesday, 7pm
The exclusive 4-course dinner is priced at RM 380 nett per person. Menu is as follows:
MENU
PASS AROUND
Mini Empanadas of Tenderloin, Caramelised Onions, Olives and Jus Sesame Tuna Tataki on Brioche
ENTREES
Pulpo Octopus Tentacles, Olive Caviar, Green Garlic Purée and Cilantro Foam Catena Zapata 'Alamos' Torrontes
IN BETWEEN
Kingfish Tiradito Fresh Kingfish Carpaccio Style, Confit Mushrooms Dill Crème Fraiche finished with Radish Microgreens Catena Zapata Chardonnay
MAIN COURSE
Entrana Y Mollejas Wagyu Skirt, Catena Zapata Malbec Sauce Sweetbread with Champagne and Champignons, Orange-Glazed Baby Carrots Catena Zapata Malbec
SWEET ENDING
Panqueque Con Dulce De Leche Homemade Dulce de Leche, Burnt Sugar, Lime and Mint Granite with Forest Berries Mini Tart Catena Zapata 'Alta' Malbec
illy Coffee or Selection of Harney & Sons Teas PRIME Cookies
To discover more or for bookings, call Dining Reservations at +603 2263 7434, e-mail [email protected] or visit www.lemeridienkualalumpur.com.