The Extraordinary Italian Taste at Cicchetti di Zenzero
This post is brought to you by the Italian Trade Commission.
The Italian Trade Commission proudly presents 'The Extraordinary Italian Taste: Mediterranean Diet' from 24 to 29 November 2018. It is a week-long series of events held at three handpicked restaurants in Kuala Lumpur that will showcase the distinct flavours of the Mediterranean. True to Italian culture, a selection of fine wines will be available for meal pairing options to create a true gourmet experience.
Award-winning Michelin Chef Daniele Repetti has designed dishes that are innovative and creative, yet simple in its core. Each creation is meticulously designed and prepared with the freshest, most authentic ingredients to enable an explosion of flavours. These exciting dishes will be available only throughout the week. Guests will also have the opportunity to gain some health tips from world-renowned nutritionist, Dr. Rolando Bolognino, who will be giving an insightful talk. Check out one of the exclusive dinners happening at Cicchetti di Zenzero below.
Sharing Experience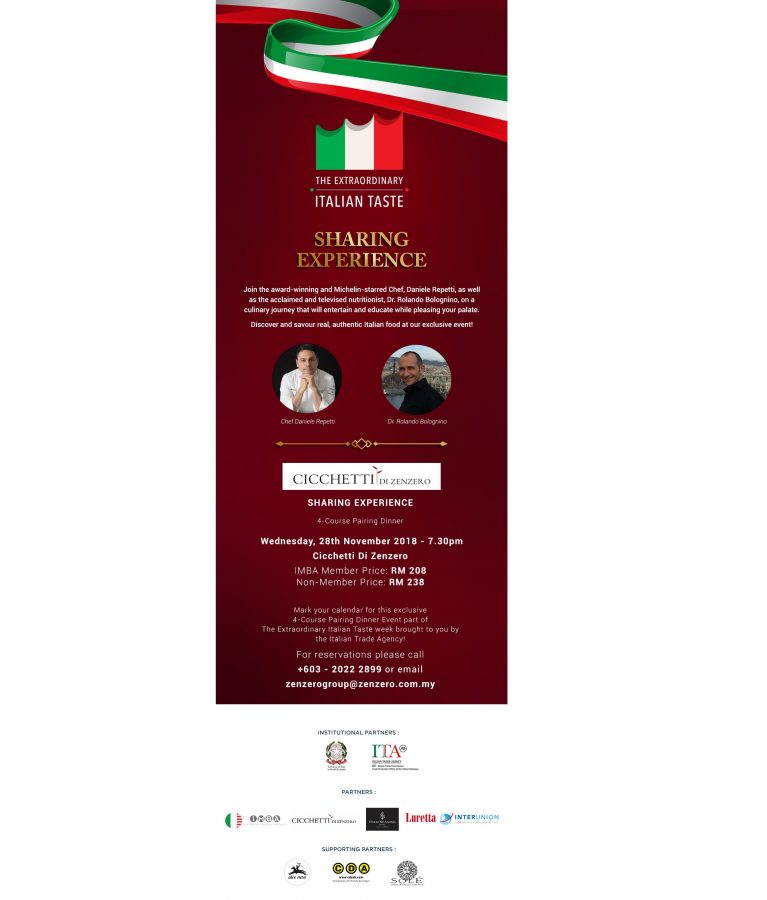 Date: 28 November 2018
Time: 7.30pm
Venue: Cicchetti di Zenzero
Contact: +603 2022 2899 or email [email protected]