Thai U Up at Sri Petaling: Restaurant review
The decor here gives off a hipster café vibe, while managing to highlight the essence of Thailand, with cute animals weaved out of leaves and music that oscillates between oldies, pop, and traditional Thai tunes. The food is spicy and punchy, the way Thai food is expected to be, while retaining a Malaysian feel to the palate.
A selection of Thai dishes
For our meal, we decided to order rice and several dishes to share. We had water spinach (kangkung) cooked Thai style (RM10.90), which was mostly just spicy, and crispy omelette (RM9.90) which was crunchy and a little oily, but delicious when eaten with the home-made chili sauce that was reminiscent of belacan. We also tried the papaya salad with prawns (RM12.90), but it was a little too spicy for my taste.
The tom yam (RM29.90) – obviously there was tom yam – was a creamy coconut based tom yam that was just spicy enough to be palatable and had a hint of sourness which went well with the succulent seafood, including crabs, prawns, and squid, which dominated the broth. The menu also offers clear tom yam for those who'd prefer a less spicy soup.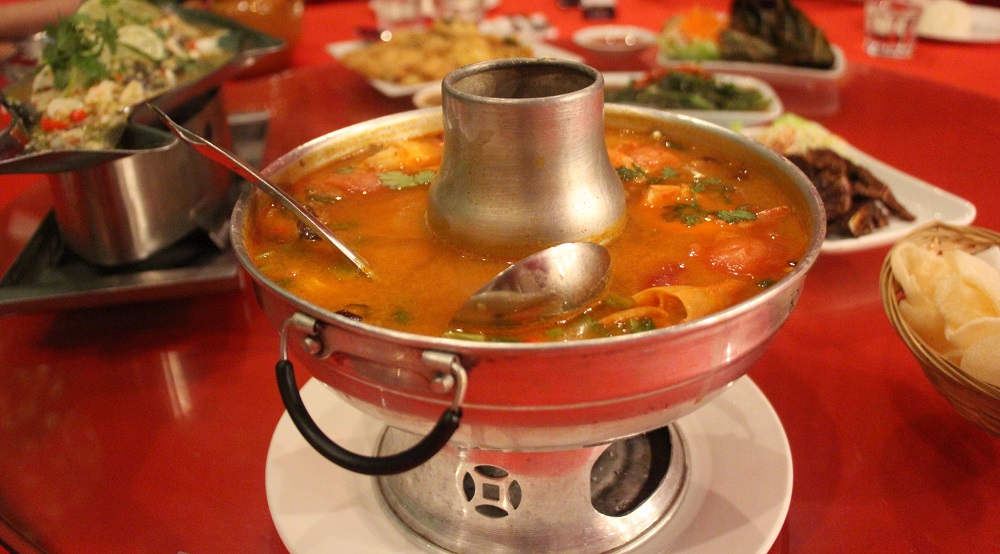 The steamed seabass with lemon and chilli (RM48.80) was beautifully served and the fish was fresh, straight out the aquarium in the kitchen. It was perfectly cooked and the dressing of lemon and chilli balanced the dish out well.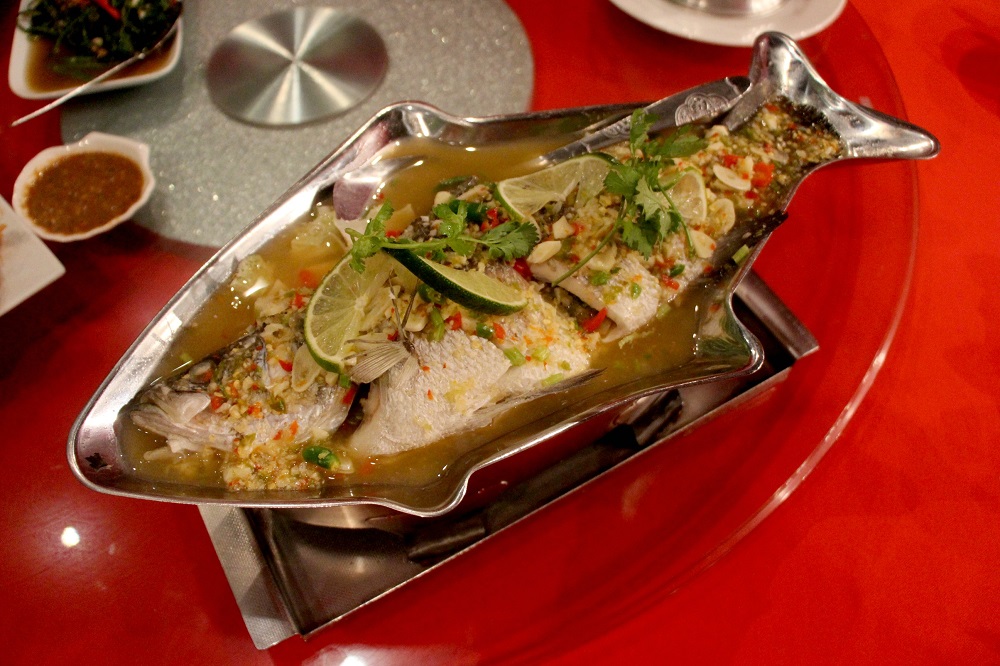 The highlight for me, though, was the hor mok thalay (RM23.90) which is otak-otak served in a young coconut shell. The otak-otak inside was cooked with clams and each bite was light and packed with the flavours of otak-otak and chilli and a hint of coconut. I could eat this every day!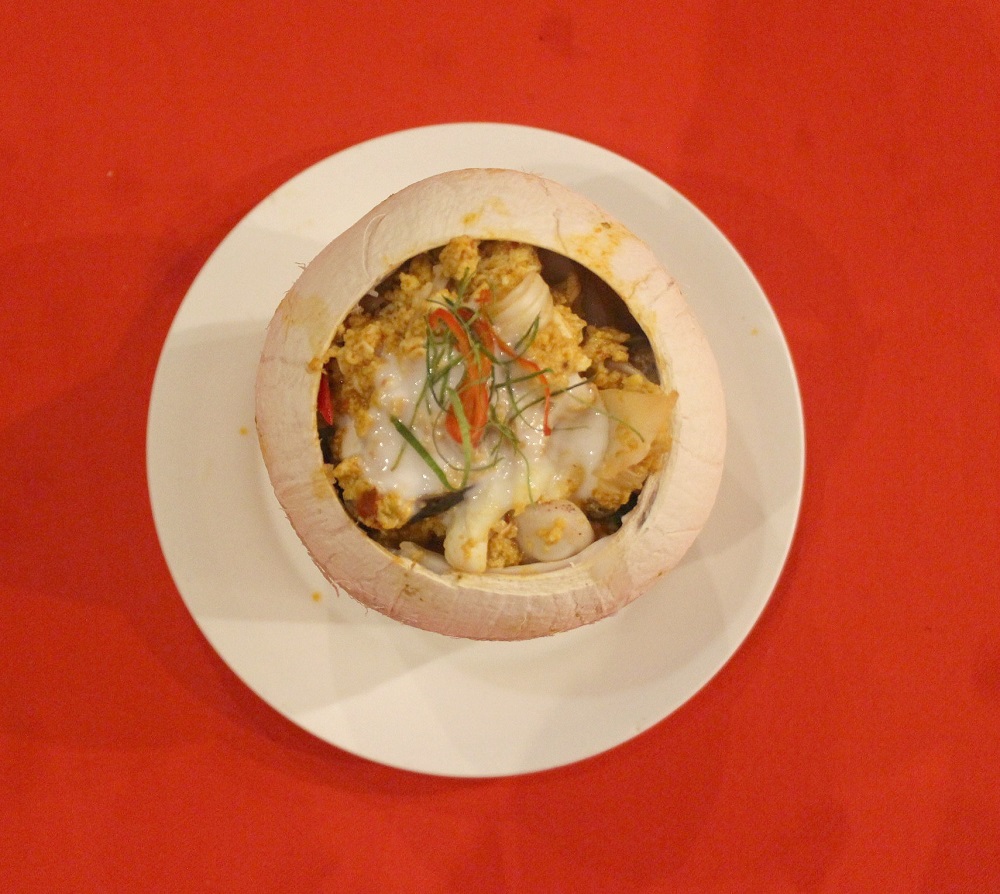 As a non-seafood addition, we also ordered pandan chicken (RM16.90). The serving size was good and the chicken was tender and fragrant. This was a gallant effort at the classic Thai dish, which was decently prepared and presented.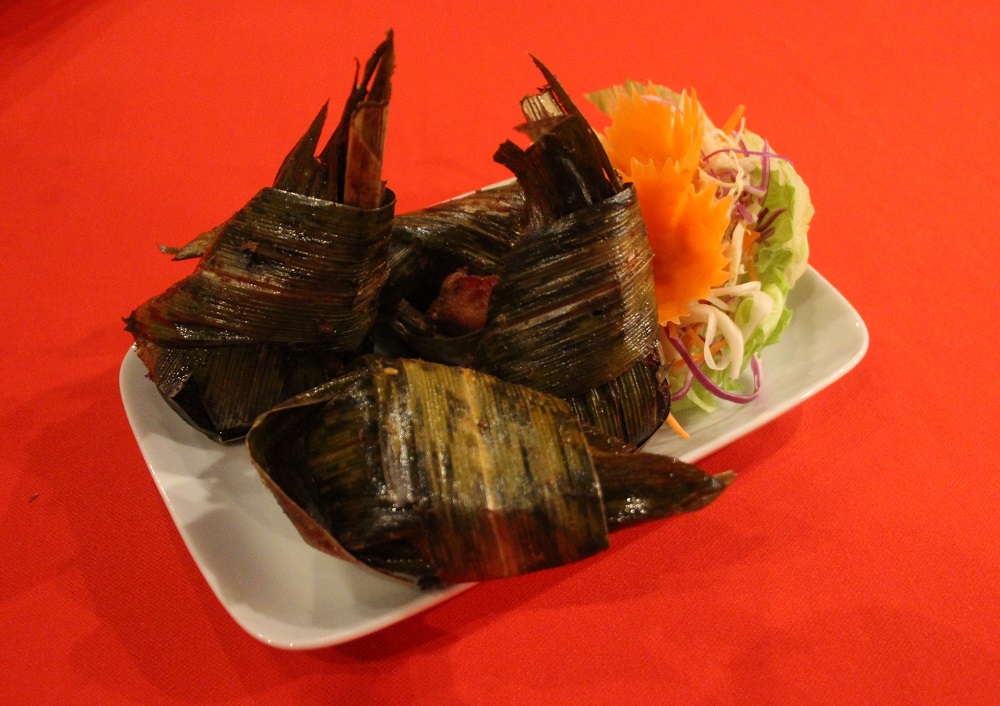 Barbecued lamb and oysters
Apart from the standard menu, Thai U Up also has a special barbecue menu which includes a variety of meats cooked to your liking and even a barbecued salt-crusted tilapia fish. Since we'd already had fish, we opted for the barbecued lamb (RM20) instead, which was tender and flavourful with a hint of smokiness from the grill that went beautifully with a homemade green chilli sauce.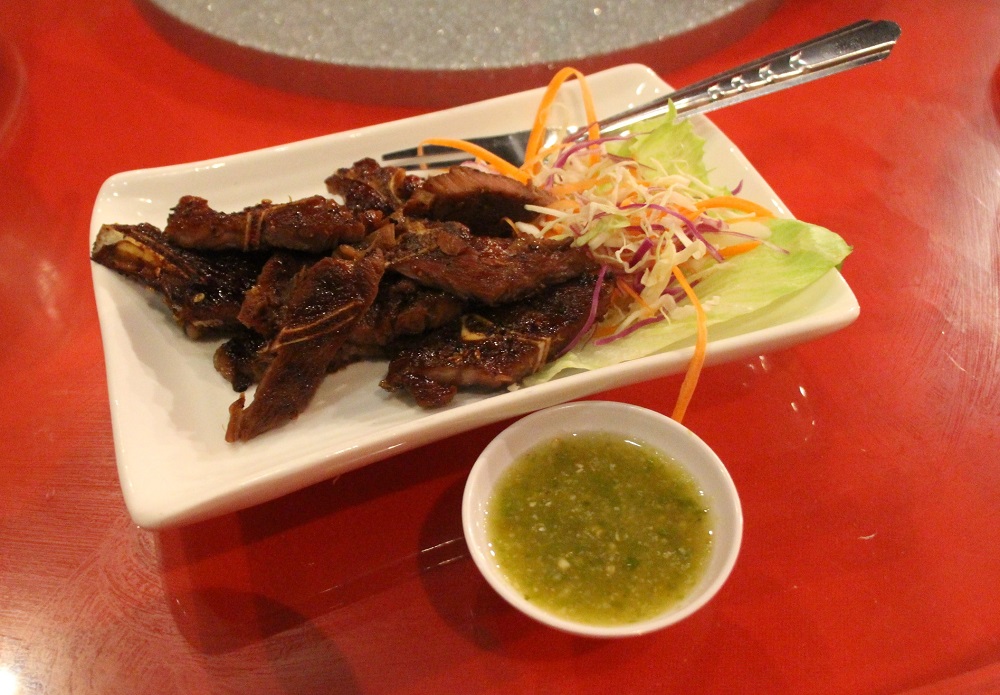 Also, we indulged in oysters (RM10 per piece) that were barbecued till half-cooked and served with two sauces – chilli and a sweet-sour sticky variety. The oysters were soft and a little bit chewy which was quite enjoyable and a pleasant departure from the more common way of enjoying oysters either raw or baked. The only downside to this was trying to get the oyster meat free of its shell without flinging it across the room. That was the most stressful 2 minutes of my life.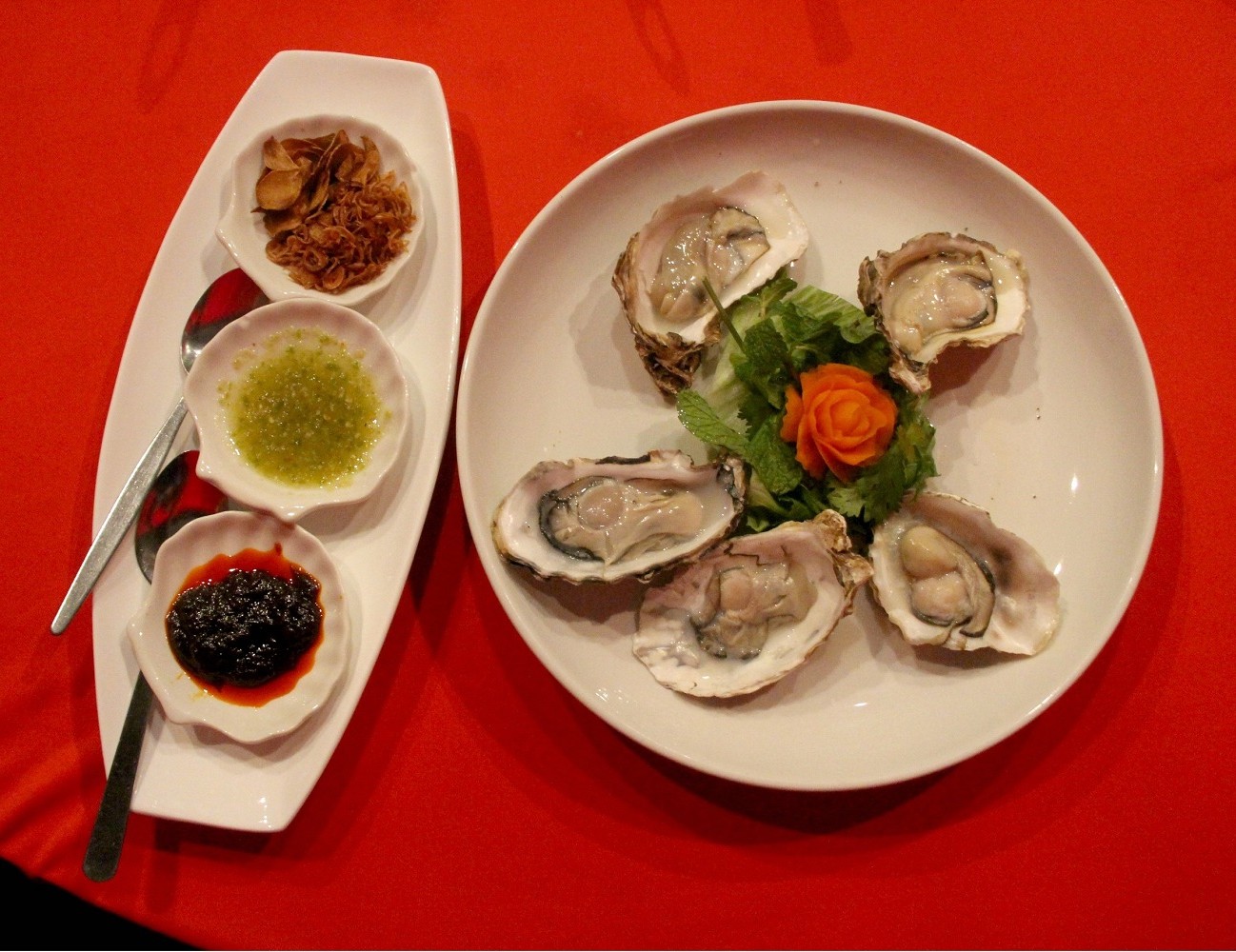 Meang Kam
The last savoury dish we had before moving on to desserts was the meang kam (RM15.90) which is chopped onions, small prawns, crushed peanuts, lime, chilli, and a sour sticky sauce served in betel leaves.
I was excited for this as I've tried it a couple of times in different restaurants and it's usually a hit at the table. Here, the dish came to us deconstructed on a platter so we could add as much or little filling onto our betel leaf as we wanted, which was fun. Overall, the flavours were decent but the chunks of lime with skin were difficult to chew on, which detracted from the experience.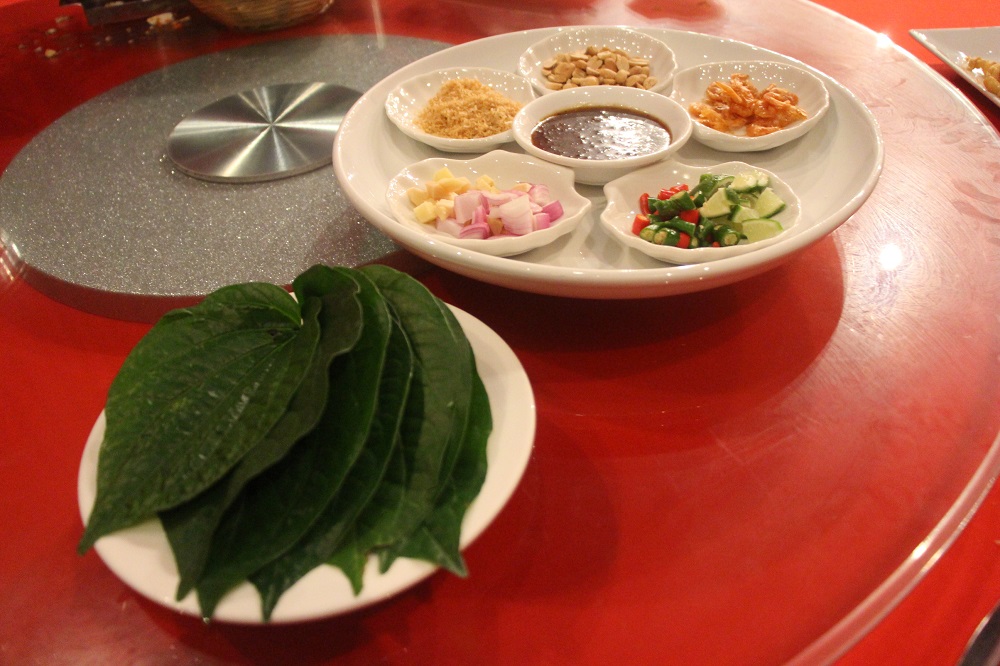 Desserts
For desserts we had tab tim krob (RM13.80), or 'Red Ruby', which was served with slices of jackfruit on top and red rubies of water chestnut buried underneath a compact ball of ice drenched in coconut milk. The ice was tough to break through but once you got past that, every spoonful of red ruby, coconut flavoured ice and jackfruit is a treat. However, it did get a little too sweet halfway through, probably from the sweetened coconut milk.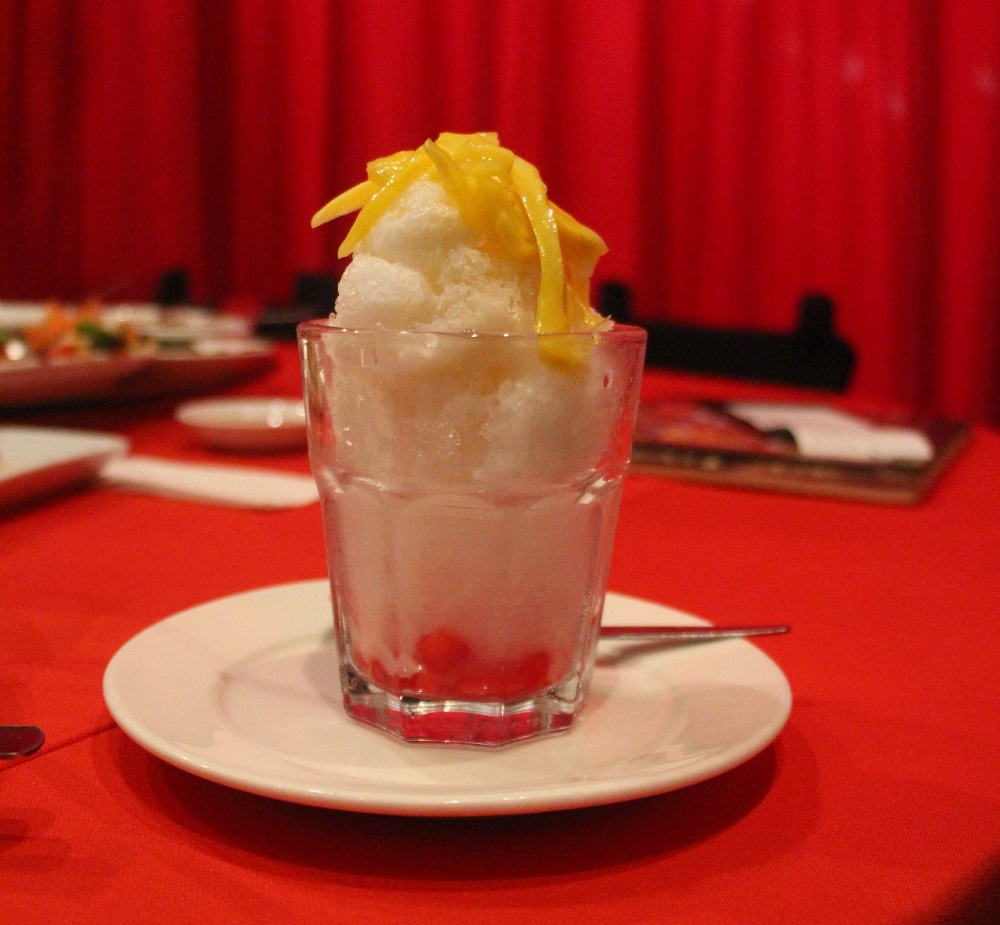 The mango sticky rice (RM8.90) fared a lot better. The glutinous rice was soft and the warm coconut milk was poured over the chilled and slightly sour mango. Everything about that dish was brilliant, even the peculiar use of fenugreek in the coconut milk, which I had never seen before.
As thirst quenchers, we had a nice glass of lemongrass drinks. The restaurant also serves Singha and Chang beers. They don't serve other alcoholic beverages, but you can bring your own, and there's no corkage fee.
Location & Details
Thai U Up
76, Jalan Radin Anum 1, Sri Petaling, 57000 Kuala Lumpur
Opens at 12 pm-3 pm & 5pm -12am, closed on Tuesdays
Tel:  +603-9054 6742