Feast on Feast's Seafood Buffet Dinner at Sheraton PJ
Come have the best of the sea at Feast, Sheraton PJ for eight weeks long!
Highlights of this scrumptious dinner buffet from the 24th of June to the 15th of August include assortments of Marinated Octopus Salad and Jelly Fish Salad.
Specialty seafood on ice will see delectable treats such as Rock Oyster, Alaskan King Crab Legs, Spanner Crabs, Scallops, Green Mussels, Prawns, Slipper Lobsters, and Yabbies, all up for sampling!
For those wanting their fish cooked, options of Seafood Fried Rice with XO Sauce, Butter Prawns, La La (Clams) in Superior Soup, and Steamed Fish with Golden Mushrooms will be served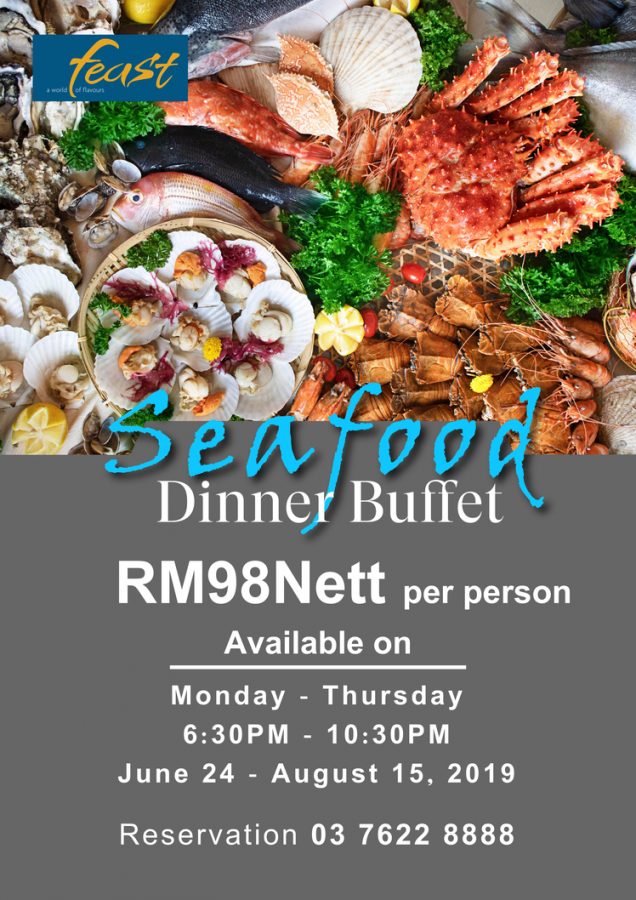 Ticket prices are as follows:
Adult: RM98
Children: RM49 (Ages 5-12)
The Seafood Buffet Dinner at Feast Restaurant, Sheraton PJ is only available on Mondays to Thursdays. Please do contact (+60)3 7622 8888, or email [email protected]