D'Caveau: A Bottle of Wine with a Side of Steak
When most of us think of wine pairing, we think of looking at the food first and then deciding – or being told – what wine we should pair with it. And that usually makes sense.
But what if you turned the whole equation around? At a cosy new restaurant in Desa Sri Hartamas, that's exactly what you're invited to do. The name of the place gives away the game right from the start: D'Caveau. We confess 'de-kah-VOO' doesn't roll off the tongue with much grace (unless you're French), but it communicates two things to those in the know: Wine (historically kept in caves or underground cellars), and Old World wine (given the French twist) at that.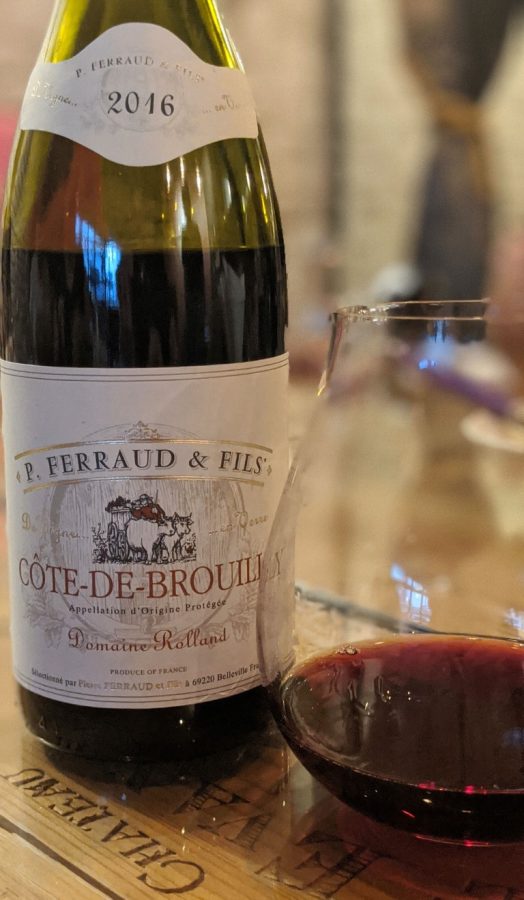 And that's what guests will find as they enter. Everything is wine-themed. Oh sure, there's a menu – and it's a winner, so more on that later – but at D'Caveau, the real star is the wine. There's a fairly small wine room (probably no more than two or three people at a time) for guests to peruse the bottles, each of which has its price clearly marked. Fortunately, the prices are more akin to retail than restaurant, so whether your bottle budget is RM100 or RM1,000, there's going to be a wine for you.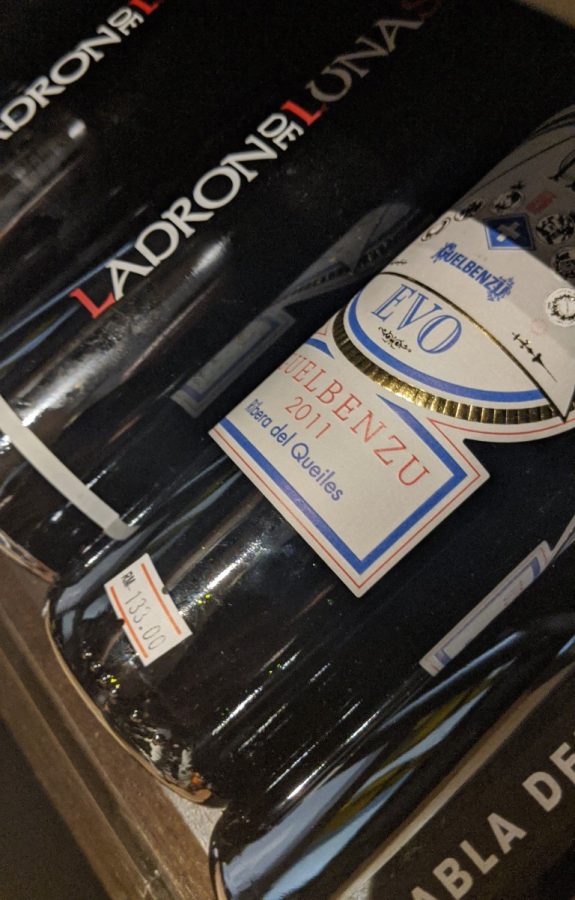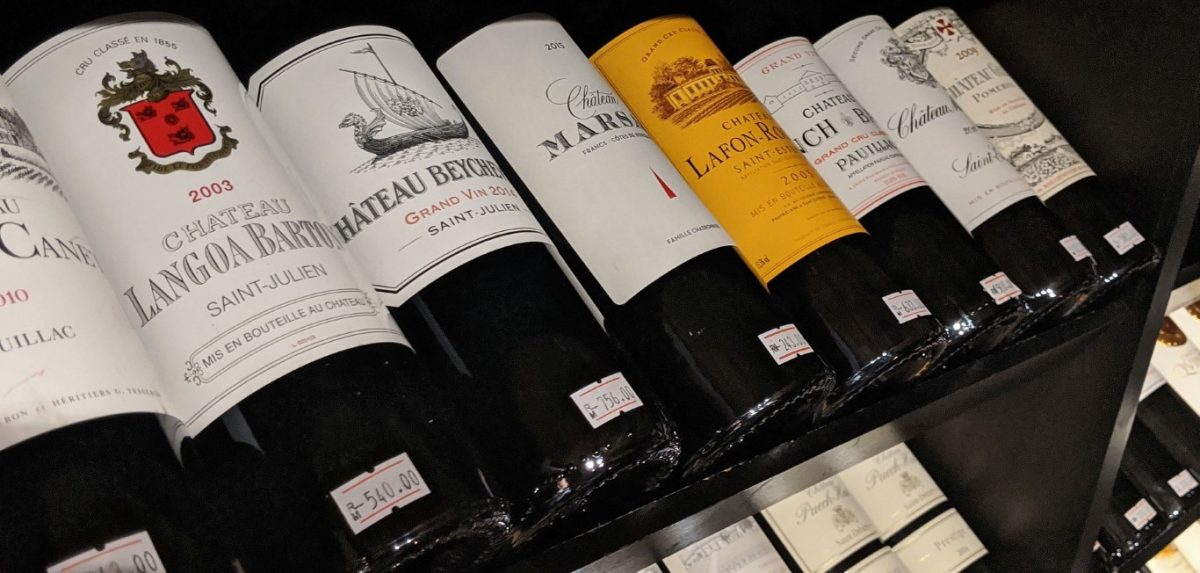 And lest you think there's just one lonely bottle priced around RM100 with everything else costing much more, we're happy to report that's not at all the case, with a number of bottles coming in at or below RM150. And these are good wines, too, all personally selected by the owner, who does double duty as the importer. This is just one reason the wines are priced so reasonably. Another, quite simply put, is to encourage the exploration of wine and how it can elevate not just a dining experience, but time spent with friends.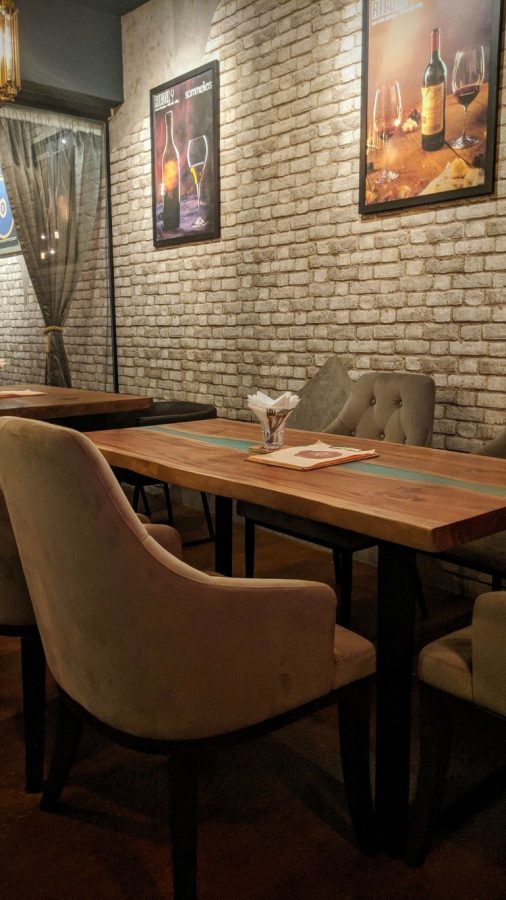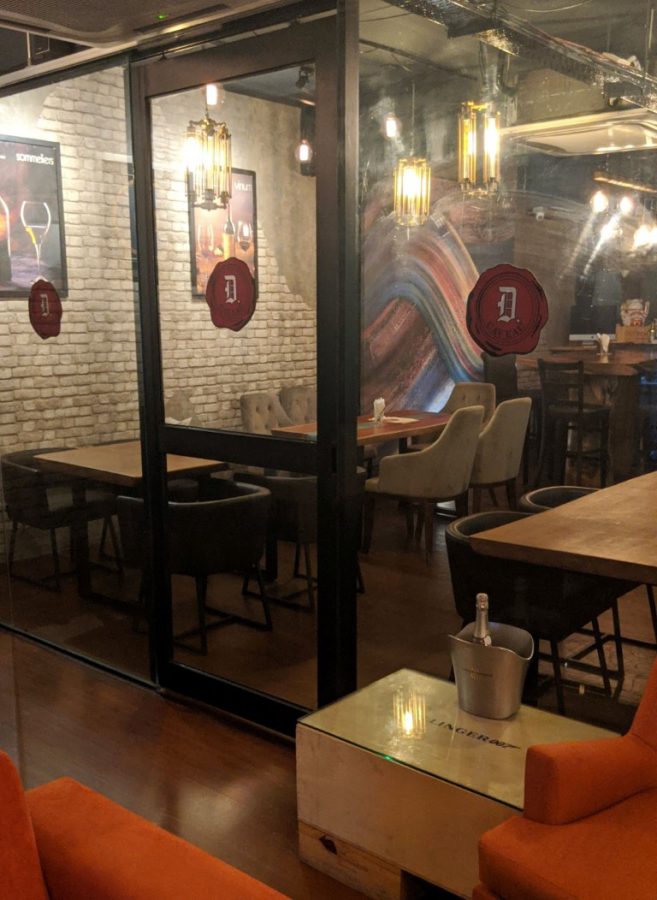 THE WINES
Old World wines – at least those which are typically available in Malaysia – are centred around France, Italy, Spain, and Germany. Wine aficionados will add another small handful of traditional winemaking countries to that list, such as Georgia, Armenia, Bulgaria, and others, but it's safe to say those are the big four. Basically, wines produced in the regions of Europe, northern Africa, or the western half of the Middle East (considered the cradle of winemaking) conform to Old World standards; the vines have usually been around for many, many generations, and with only a few exceptions, tend to follow traditional classification guidelines, more often attached to the region in which they were produced rather than to the specific grape varietal.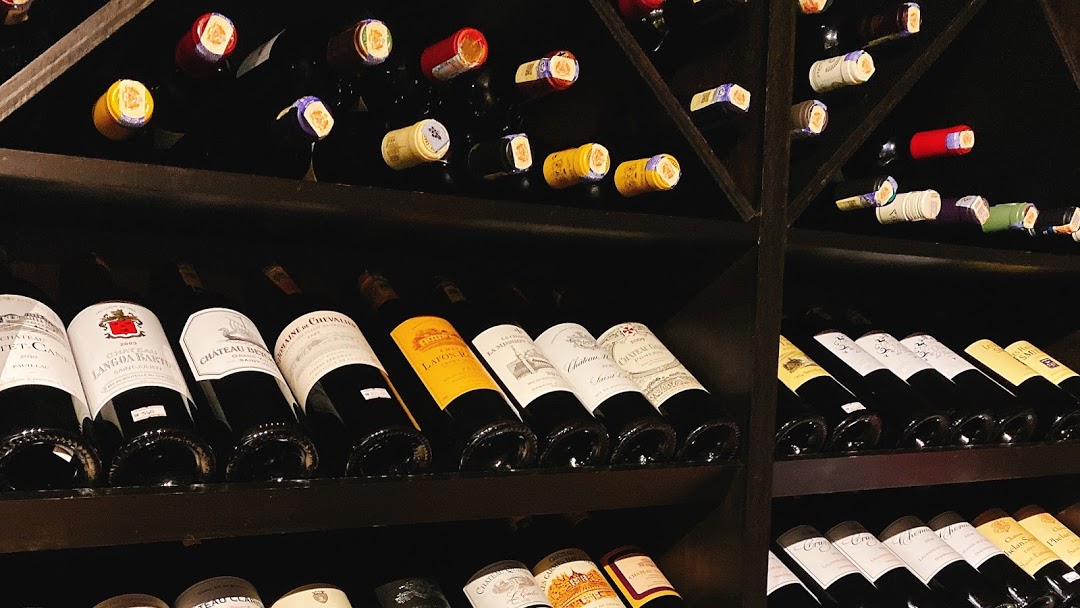 New World wines, on the other hand, fall outside of this area. So those popular wines from Chile, Australia, New Zealand, Argentina, South Africa, and the US are all considered New World. Most New World wineries will classify their wines according to the grape varietal (e.g., a Malbec from Mendoza, Argentina, or a Sauvignon Blanc from Marlborough, New Zealand). Again, there are exceptions here, notably some wines from Stellenbosch, South Africa, which lean more towards Old World-style classification.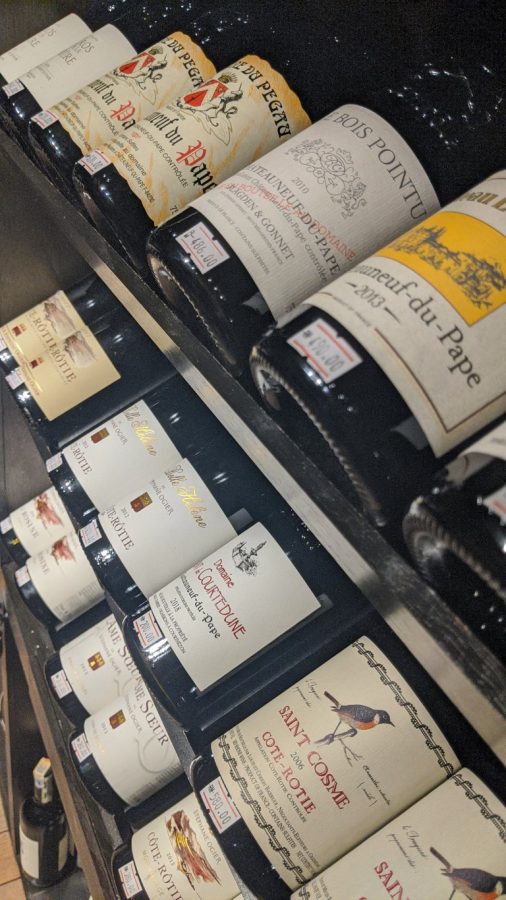 At D'Caveau, the strong focus is on Old World wines, and you'll find bottles from France, Italy, and Spain particularly well-represented. So nip into the wine room and explore the selection and select your bottle. We're also happy to report that our phone's 'line' was plenty strong, so we were able to quickly research the labels that weren't familiar to us. (We recommend the free wine app Vivino for fast and easy wine knowledge delivery!) Of course, staff are on hand to answer questions or make recommendations, as well.
As a wine-focused restaurant, you can be assured of outstanding Riedel stemware to properly enjoy your wine, and of course, decanters are available should you wish to use them. So with our bottle selected, we returned to our table and only then started looking at the menu!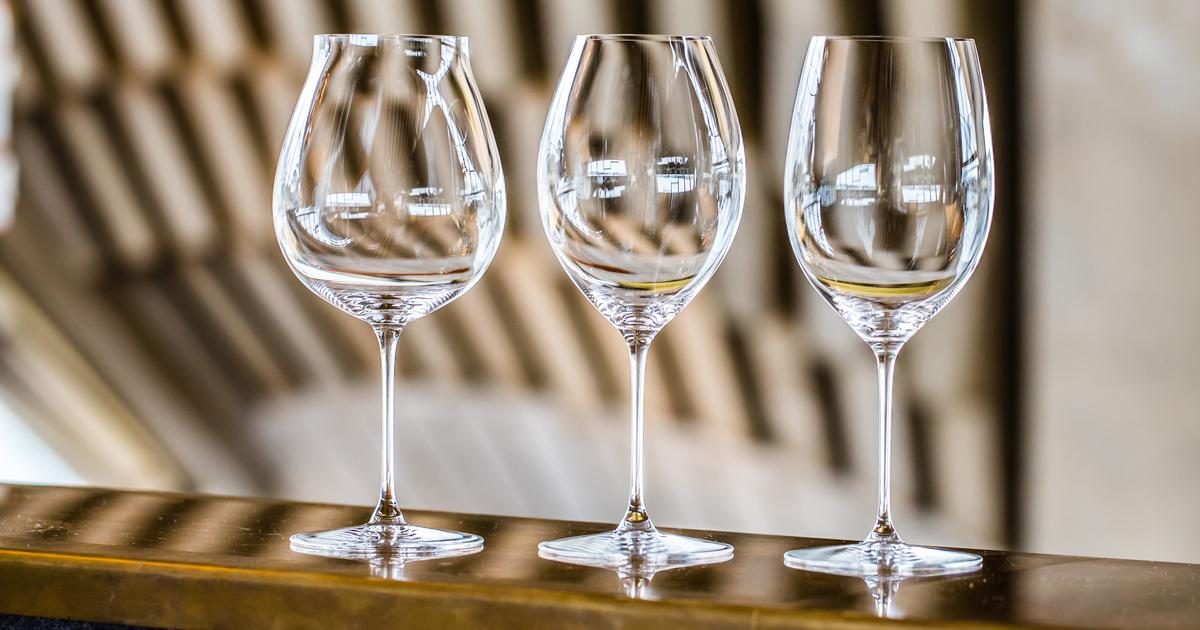 THE FOOD
The menu here is neither extensive nor expensive, and we love that. It's a no-fuss menu that's conveniently presented with tapas, sampling platters, and mains. There are local flavours on offer, along with some Thai-influenced dishes, and a smattering of Western fare, as well. We found plenty of favour with nearly every dish we tried, and we'll highlight a few here.
Without a doubt, you'll never go wrong starting with the Penang basket (RM18), calamari fritters (RM16), escargot (RM18 for six), or chicken liver pâté (RM16). But the breakaway tapas star has to be the moo ping, or pork skewers (RM18 for three large). Juicy, succulent, and flavour-packed, these are a satisfying accompaniment to a number of different wines, whether a medium-bodied red, a full-bodied red, or even a punchy white. The mussels in garlic white wine (RM26) work very well, of course, with any white wine which boasts a relatively firm acidity. There's also a grilled octopus dish (RM45) which is very nicely prepared and presented.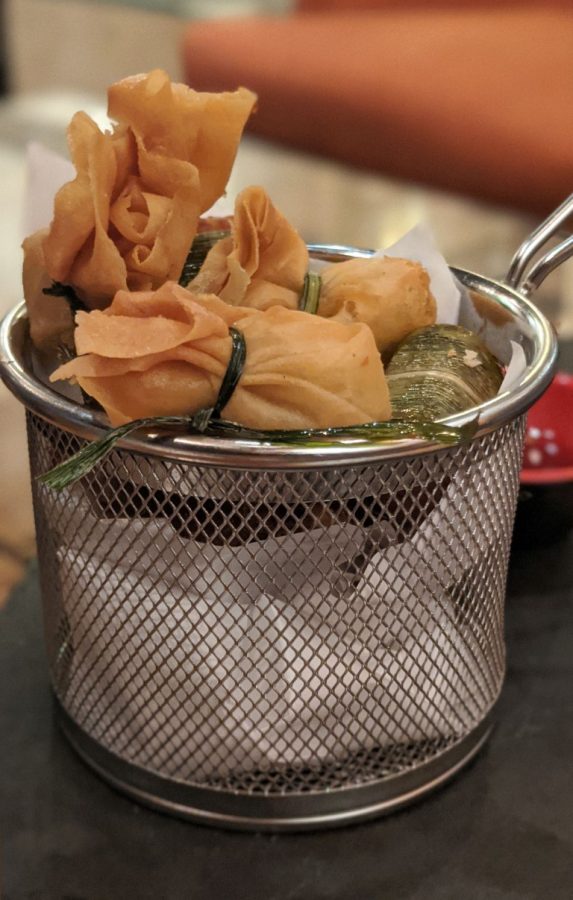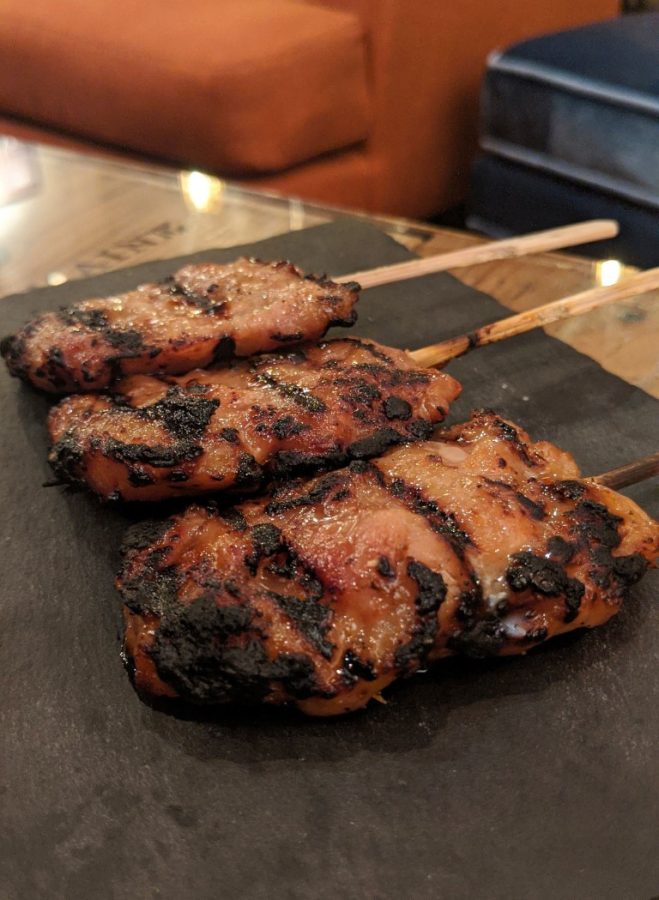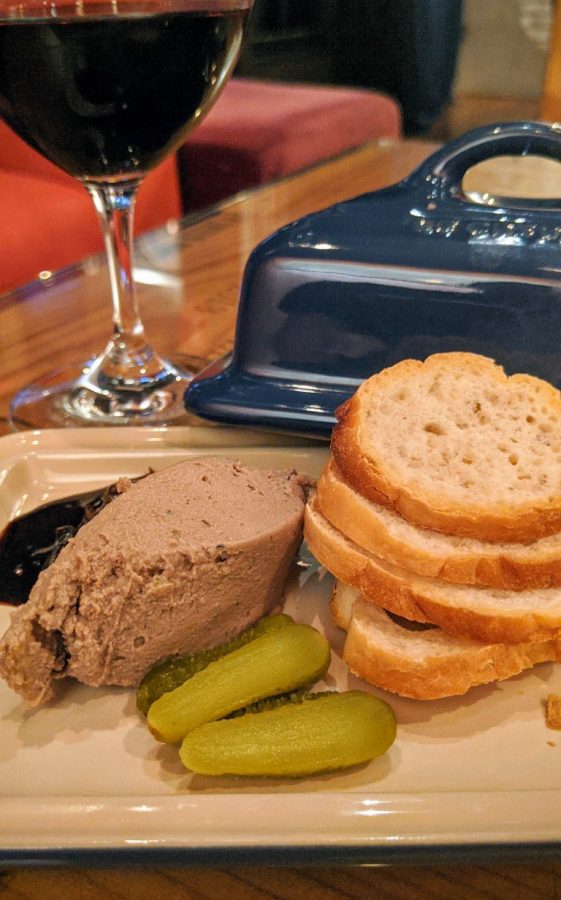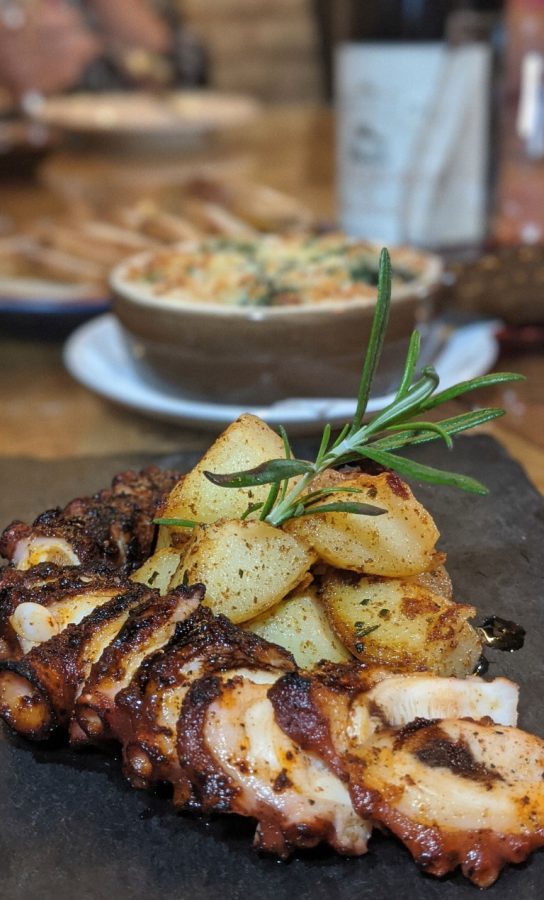 For a relaxed experience with a focus on the company you're with and the good time you're having, select a bottle and order the cold cut and cheese combo sampling platter. It's tasty, generous, and no-nonsense, allowing your attention to be kept on the time spent with friends. We always love a good cheese board or platter of cold cuts, and D'Caveau offers both at RM68 each, or a size-adjusted combo at RM78.
If you're in the mood for a proper meal, opt for the pizzas, pastas, or other mains. A favourite must be the pork belly pizza (RM26), though the quattro formaggi pie (RM30) is topped with four nice cheeses for a piquant pizza. You can also have a proper pasta carbonara (RM28) with Italian guanciale and egg yolk, a tasty burger (RM28) with all the good stuff (cheese, caramelised onions, and veggies), or a nice chicken roulade (RM30) with ham, jalapeños, and remoulade sauce. A generous seafood paella (RM68) sufficient for three or maybe even four people is also available.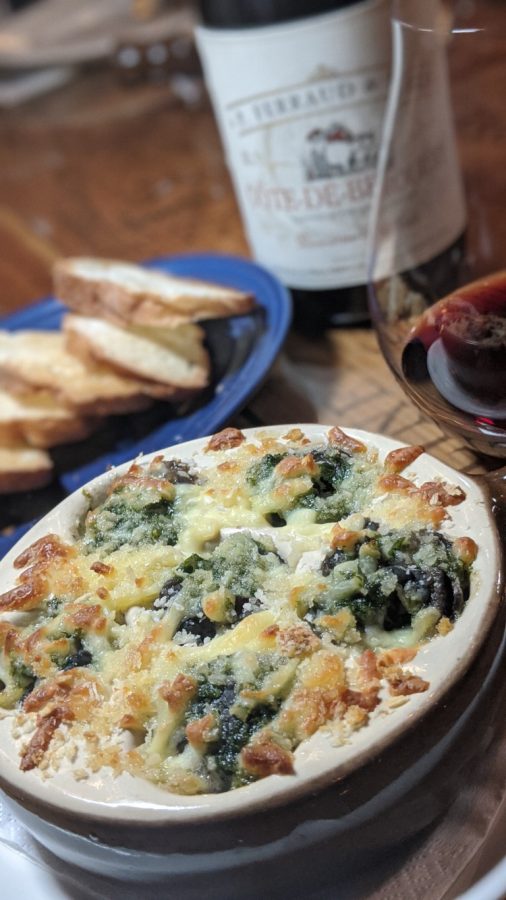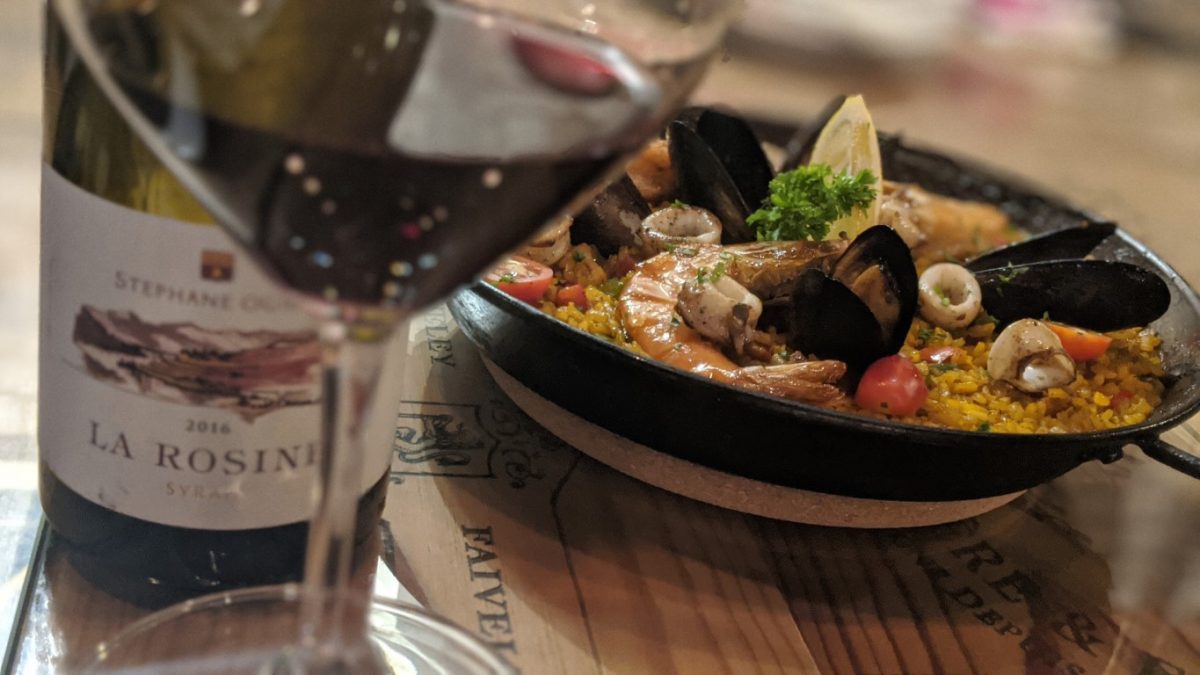 Suffice it to say that putting the focus on wine doesn't mean D'Caveau offers a dull menu. Quite the opposite, in fact!
A standout dish for us, though, was the gorgeous Argentinean rib eye steak (RM40 per 100 g), perfectly cooked and served with a house salad. There are a number of optional side dishes (RM12 each; we were partial to the roasted cauliflower), but whether or not you add some sides, take it from us and ask for a bit of Chef Amy's special dipping sauce. Made in-house by the talented Thai chef, this sauce hits all the right flavour notes, and we couldn't get enough. That said, the steak is legitimately good enough to eat on its own, with a tiny touch of salt all that's really needed to bring out its incredible flavour.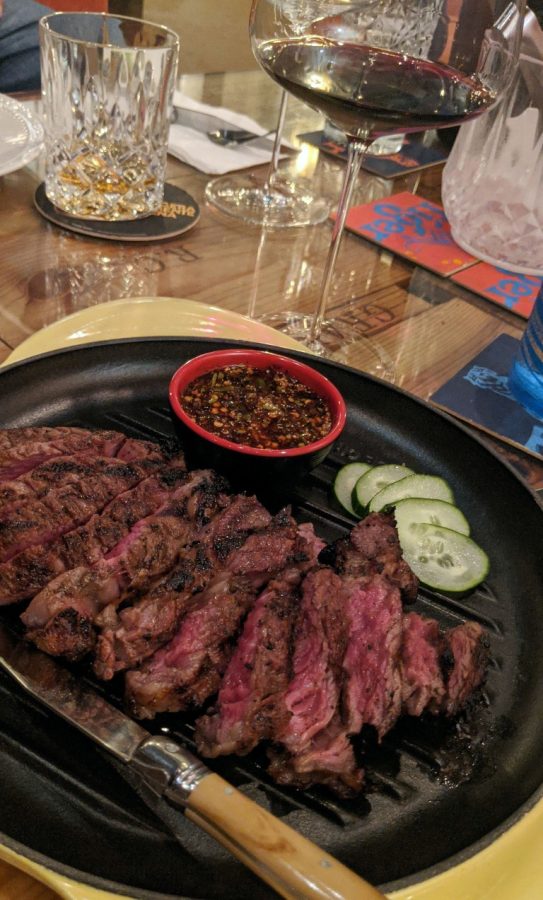 D'Caveau is a pretty small outlet, so we advise calling ahead to book your table, particularly during busy times. To find it, just look for Tori Doki in Desa Sri Hartamas, and you'll see their large red 'D' logo on a sign that looks like a wine bottle capsule! The restaurant is just upstairs on the first floor. It's a casual outlet with a charming, laid-back ambiance. Of course, all the expected safety and health precautions are in place.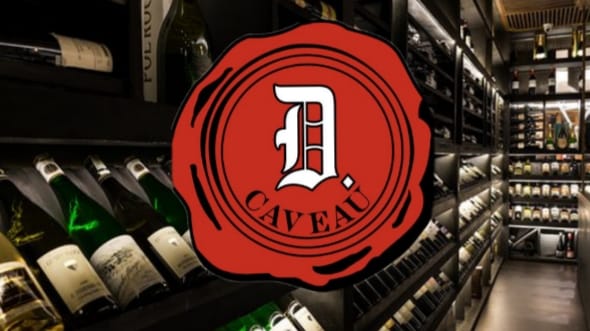 We highly recommend an outing here. D'Caveau serves up one of those rare dining experiences that feels upscale and indulgent but doesn't drain your wallet and isn't at all pretentious. You can enjoy a bottle of wine with plenty of great food here for a very affordable price, hitting that welcome sweet spot of good quality and good price!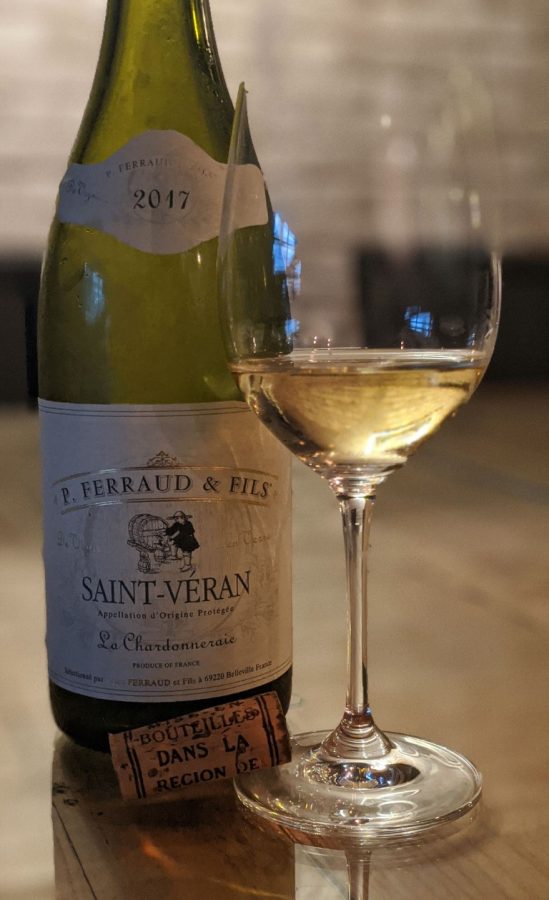 Location & Details
D'Caveau Restaurant & Wine Bar
38-1, Jalan 24/70a
Desa Sri Hartamas
50480 Kuala Lumpur
T: +6017.899 4833
W: D'Caveau
Facebook: https://www.facebook.com/dcaveaukl/