Congkak Breathes New Life into Nusantara Cuisine: Snapshot
We couldn't rave about Congkak enough. The advent of this new restaurant brings the best of Malaysian and Indonesian gastronomy together under the umbrella term Nusantara cuisine, making all our food-centric dreams come true with dishes that taste and look like they were brought out of our grandmother's kitchen. In fact, we would not be surprised at all if we found out that their food was being made by a formidable team of grandmothers who are intent of feeding their guests everything that is wholesome, flavourful, and rich with culinary history.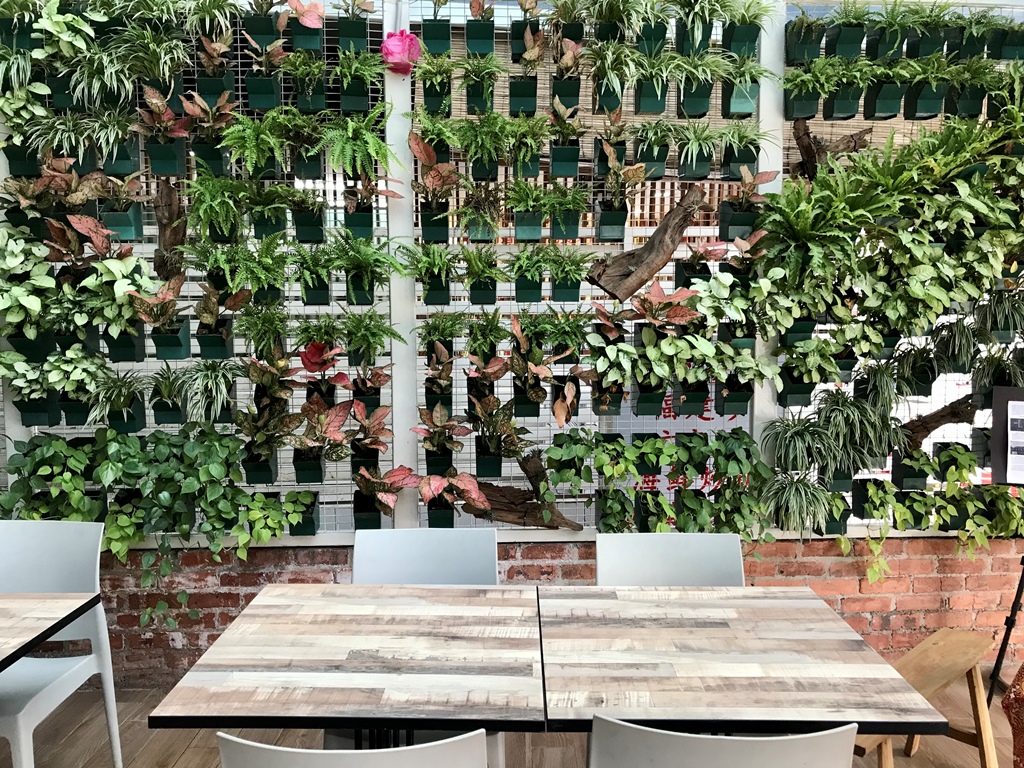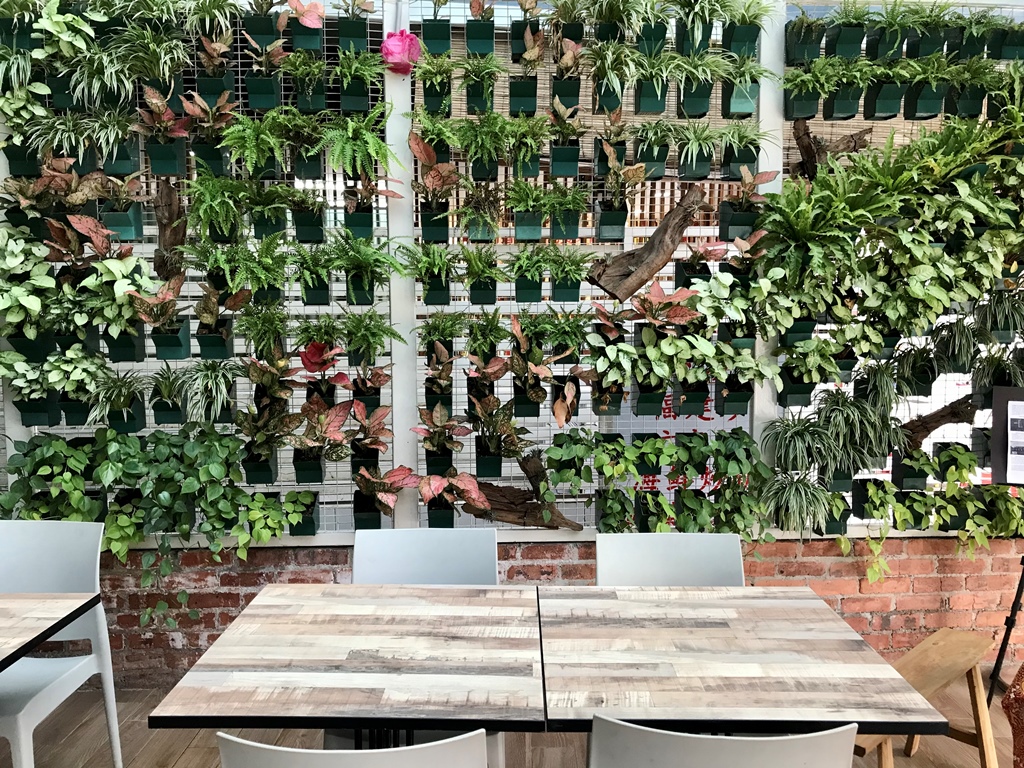 In all honesty, the individual responsible for serving such faultless and awe-inspiring food is Congkak's Chef de Cuisine Firdaus Daud, who has over 15 years of culinary experience in various established hotels and restaurants around Malaysia. Capturing the essence of generational recipes, the flavours that abound in his dishes speaks of a deeper connection to culture and history, as each dish tells a collective story of how we celebrate food.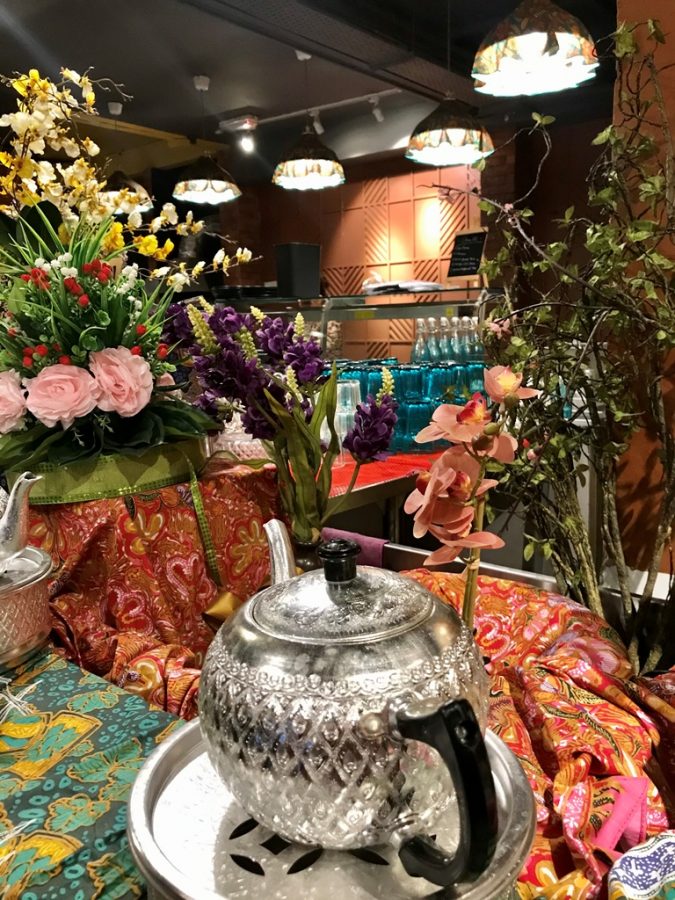 Although barely a few months old, Congkak's popularity is spreading rapidly through word of mouth. Luckily, we recently had the opportunity to dine here for lunch one afternoon, and the experience left such an unexpectedly delightful impression on us.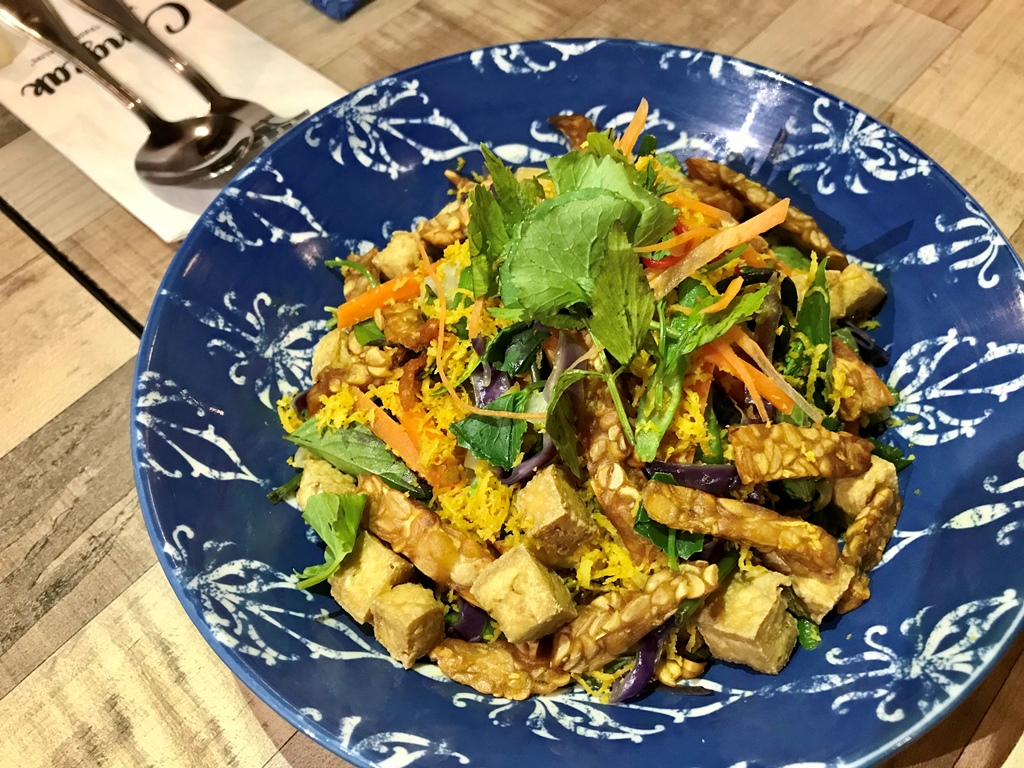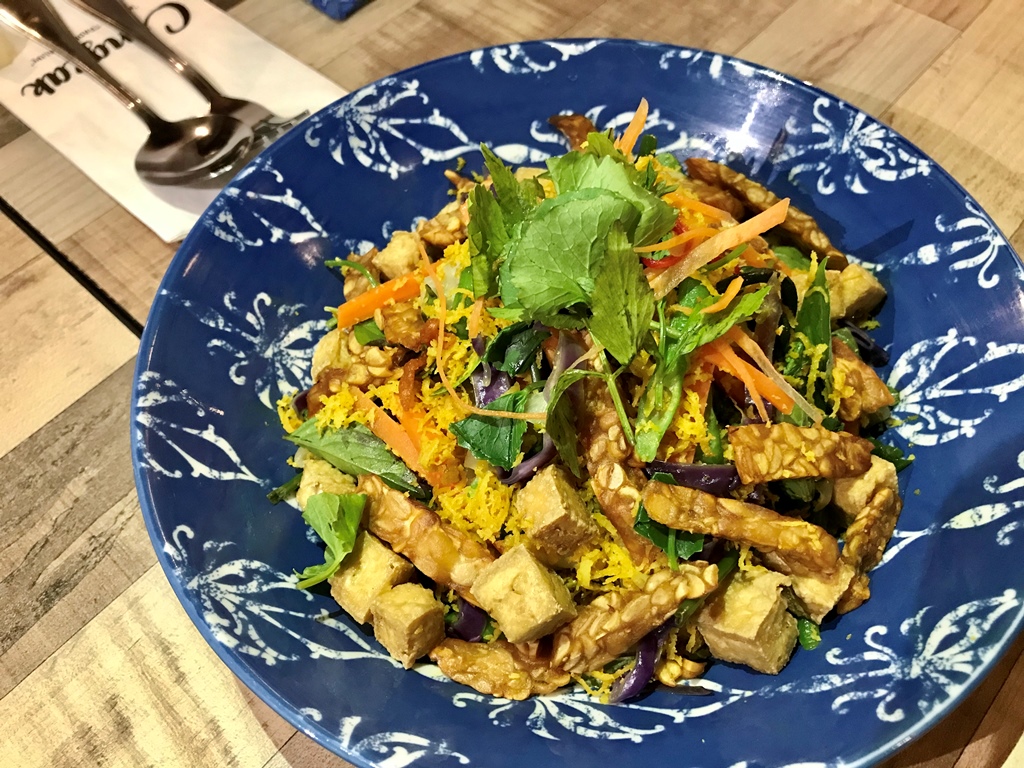 Alluding to its name, the restaurant is a happy affront of childhood memories for a lot of people who enter the establishment. With old fashioned sketches and beautiful artsy pieces on the walls, the interior serves as a shrine to Malaysia in the era of the 50's and 60's. They even have P. Ramlee movies on wall-mounted screens giving customers that extra ounce of happy nostalgia while they enjoy their food.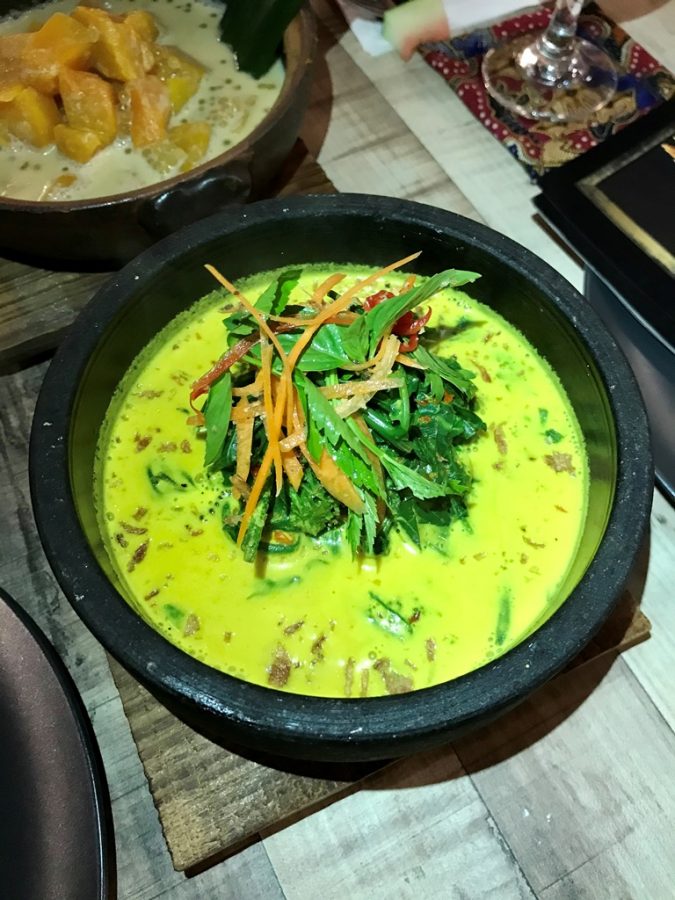 As soon as we finished ordering, it didn't take long at all before our food starting arriving hot from the kitchen. The presentation were a real feast for the eyes, and the aromas were completely appetite-inducing. We also noticed that it wasn't just our table who had such deliriously excited anticipation on our faces as the food was placed in front of us.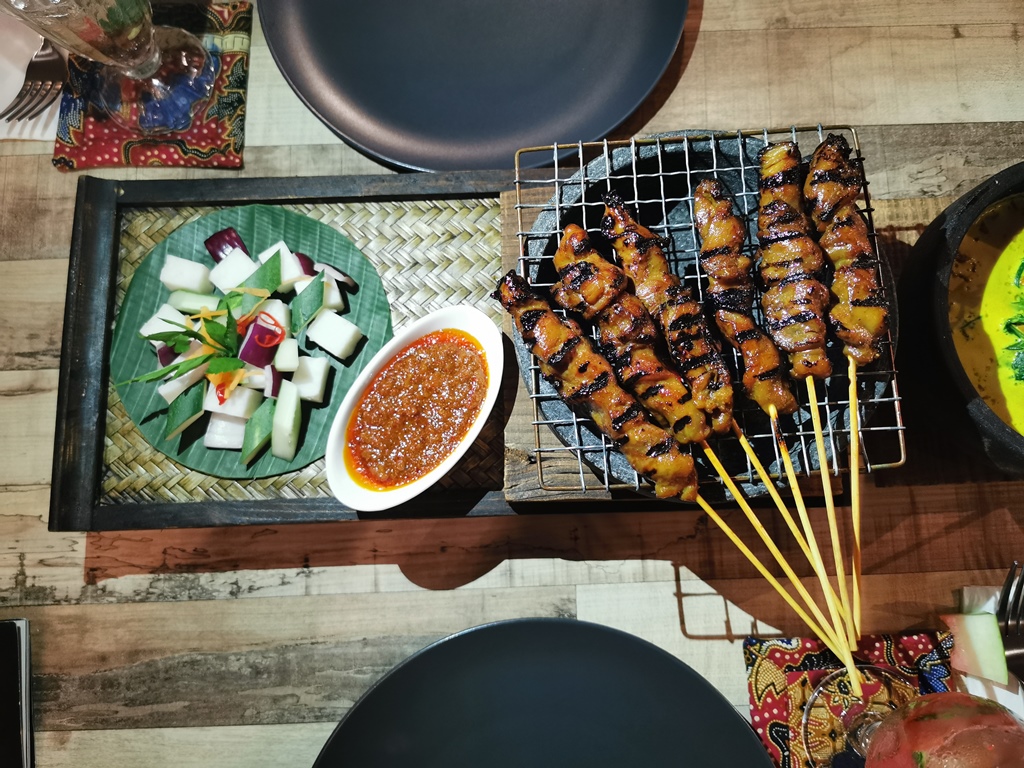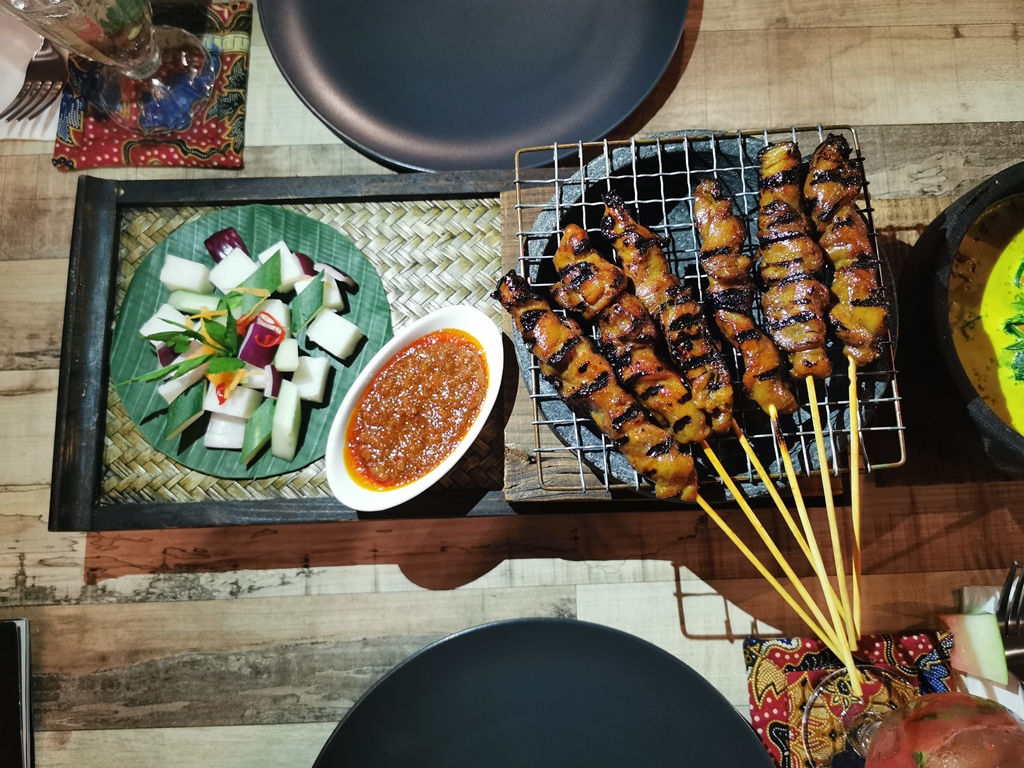 Urap Campur, and Gulai Pucuk Paku were brought out with a basket of fluffy white rice that emitted clouds of steam, and both dishes are delicious vegetarian options that use local herbs and spices. Urap Campur had young cassava leaves, water spinach, bean sprouts, cabbage and turnip combined with shredded ground coconut, shallots and house chilli paste. Gulai Pucuk Paku was a flavour-packed vegetarian curry made with young jungle fern shoots cooked with coconut milk, lemongrass, and spices.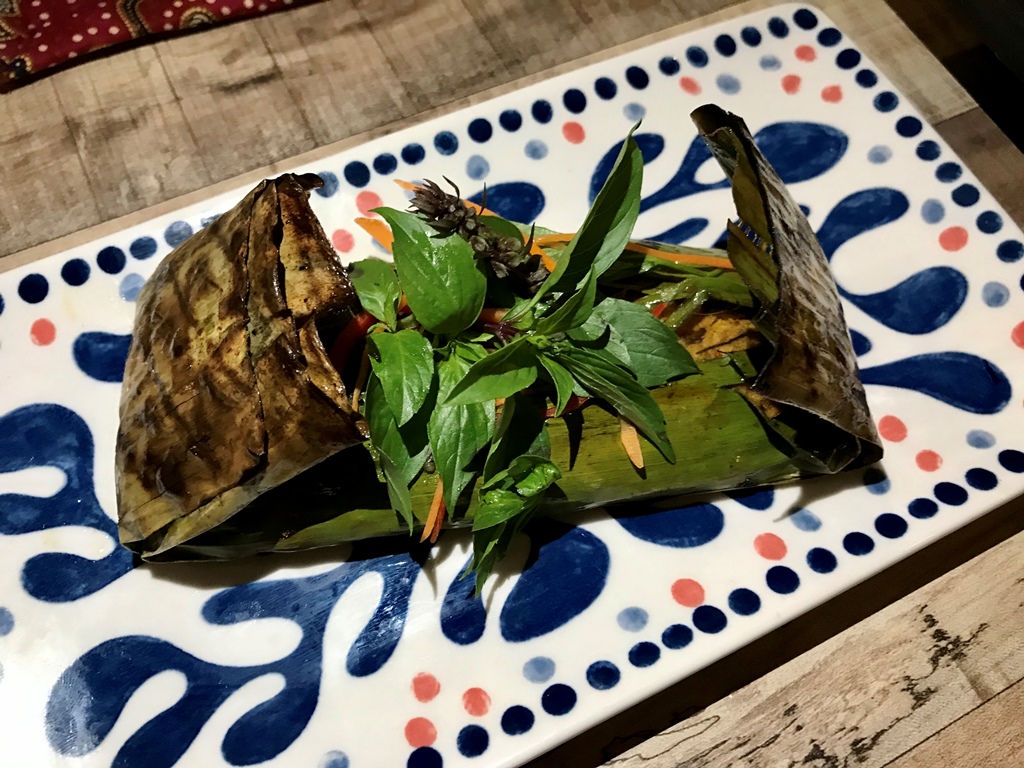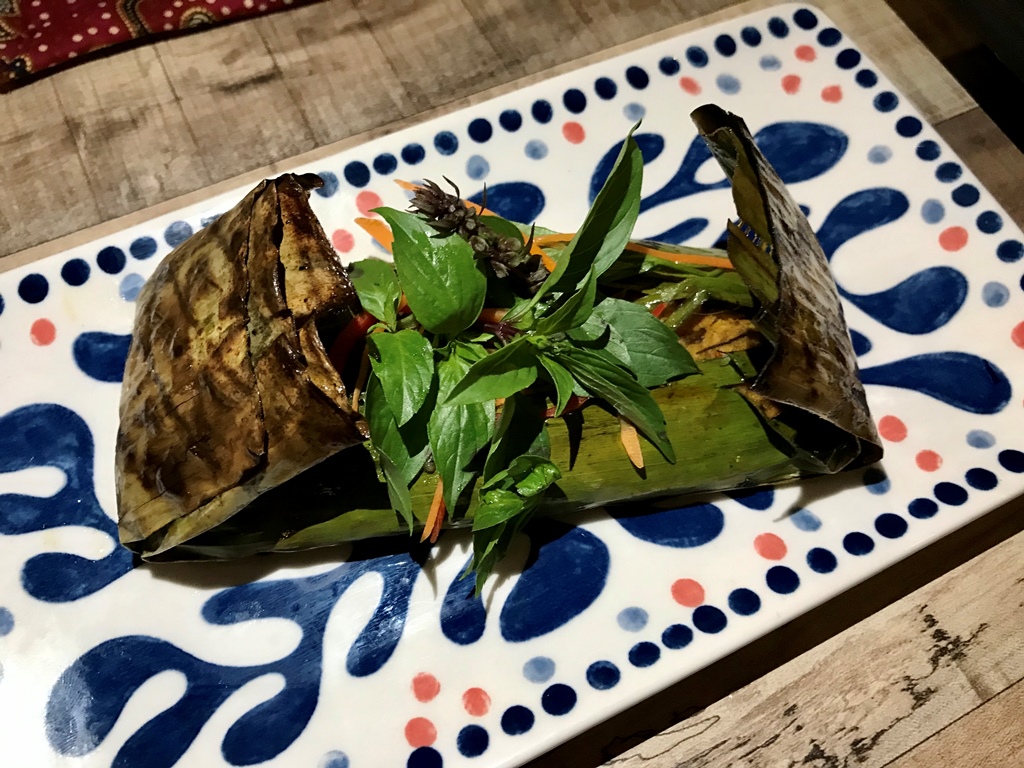 Next came the Satay course that was chicken satay that's been skewered and charcoal-grilled after being marinated in a secret blend of herbs and spices, with a traditional peanut sauce dip, and accompaniments of onion and cucumber. We appreciated the impressive presentation of the satay that came on a mesh grill emanating wafts of delicious meaty smoke into the atmosphere.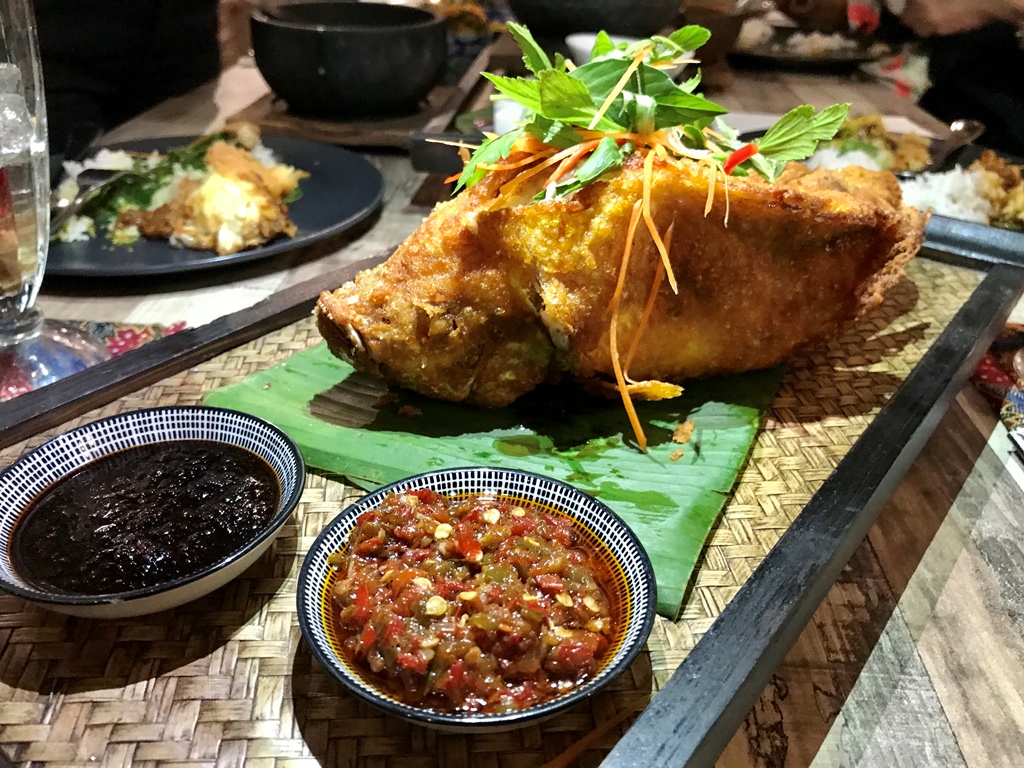 One of the two fish dishes that we had was the Pepes Ikan, which was flaky Tenggiri (Narrow-barred Spanish mackerel) fish fillet marinated with salam leaves, basil, and candle-nut before being wrapped in banana leaf then grilled. The second was a flamboyant serving of Ikan Wayang, also known as The Dancing Fish for the way it's presented: deep-fried and served with home-made sambal tirasi and sambal kicap.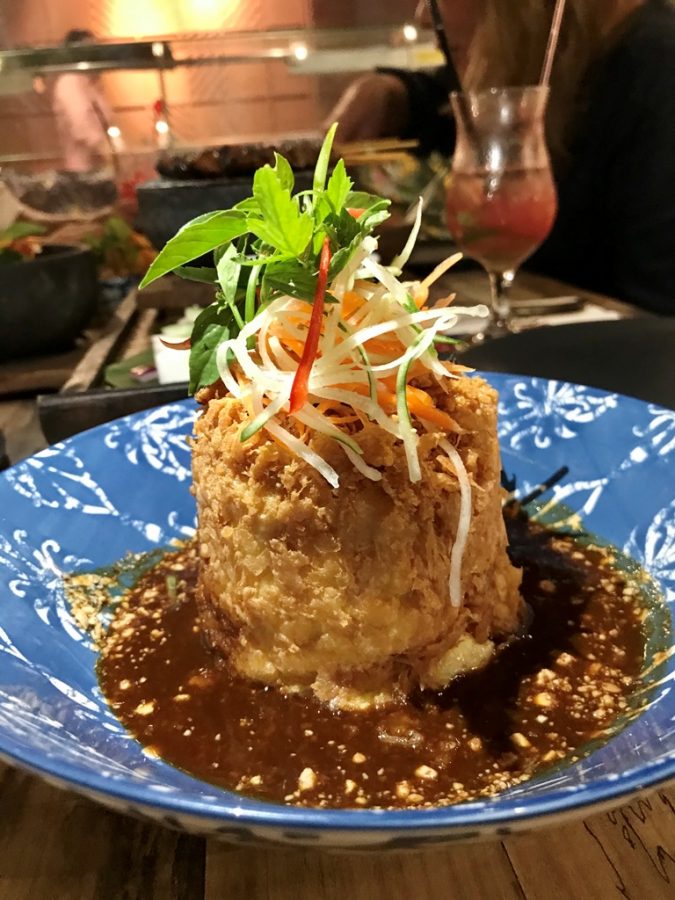 A crowd-favourite that has to be ordered here is the Tauhu Telor–a Congkak Signature dish. A vertical tower of deep-fried silken egg tofu topped with beansprouts, peanuts, and sweet and sour peanut sauce, Tauhu Telur finds its roots as a beloved East Java street snack before being popularized in Malaysia. No meal here at Congkak would be complete without its presence.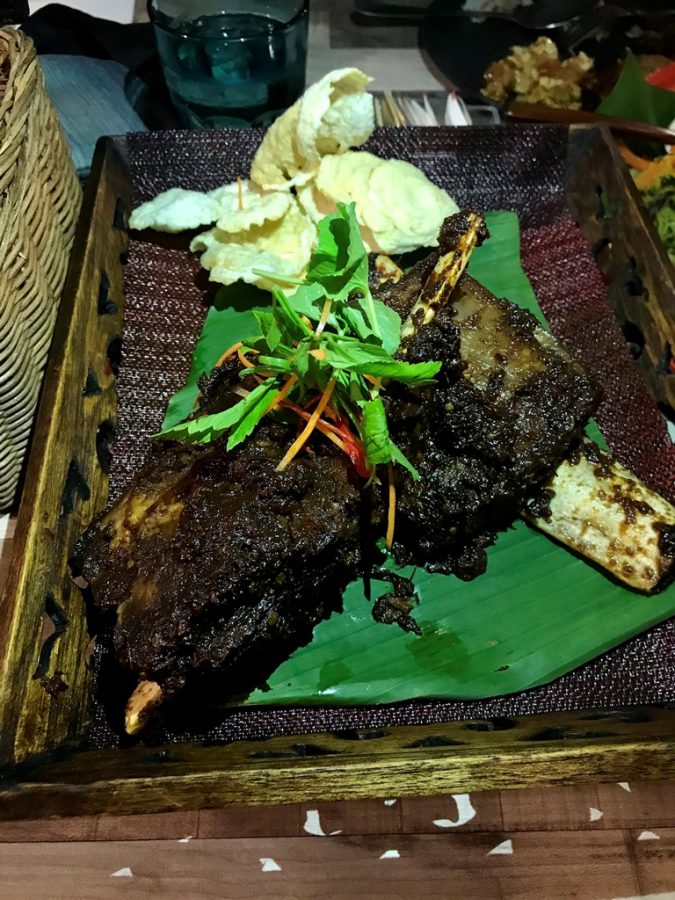 Fellow carnivores, rejoice, for here you will find a dish that will make all your meat-loving dreams come true. Feast your eyes, (and hopefully your bellies) on the Rusuk Panggang Masak Hitam–Australian beef short ribs marinated in a plethora of spices, glazed with caramelised dark soy sauce and chilli powder, then charcoal-grilled till the meat practically falls of the bone. Stunning, stellar, and undeniably fabulous, this is a dish that's worthy of a special celebration.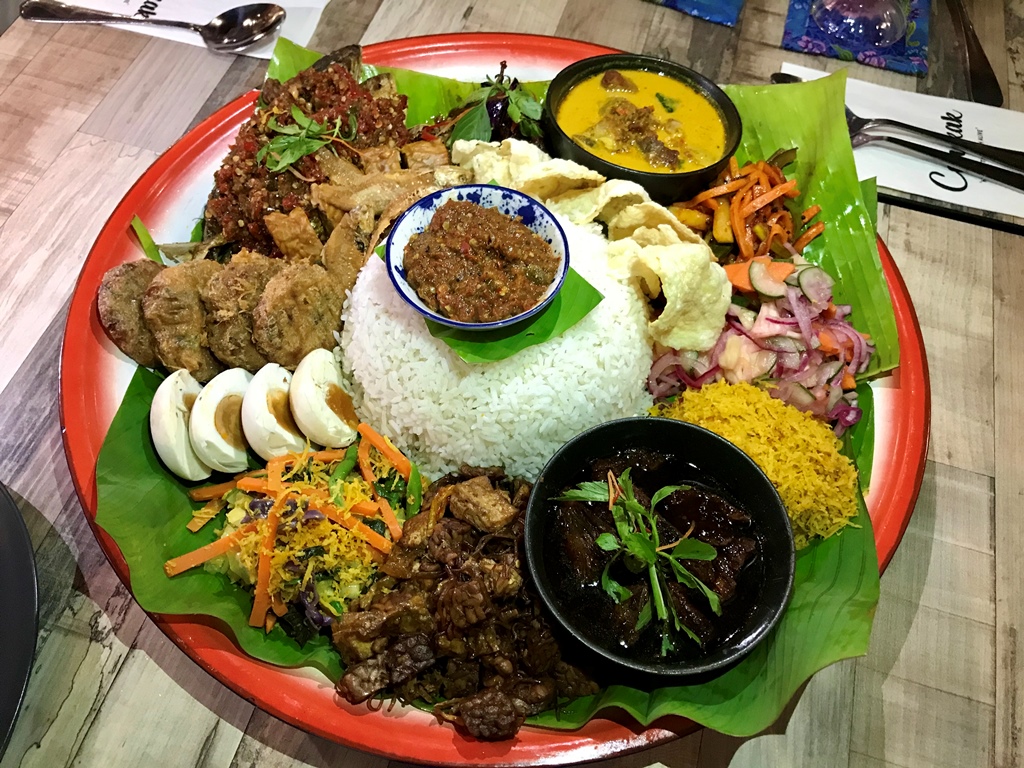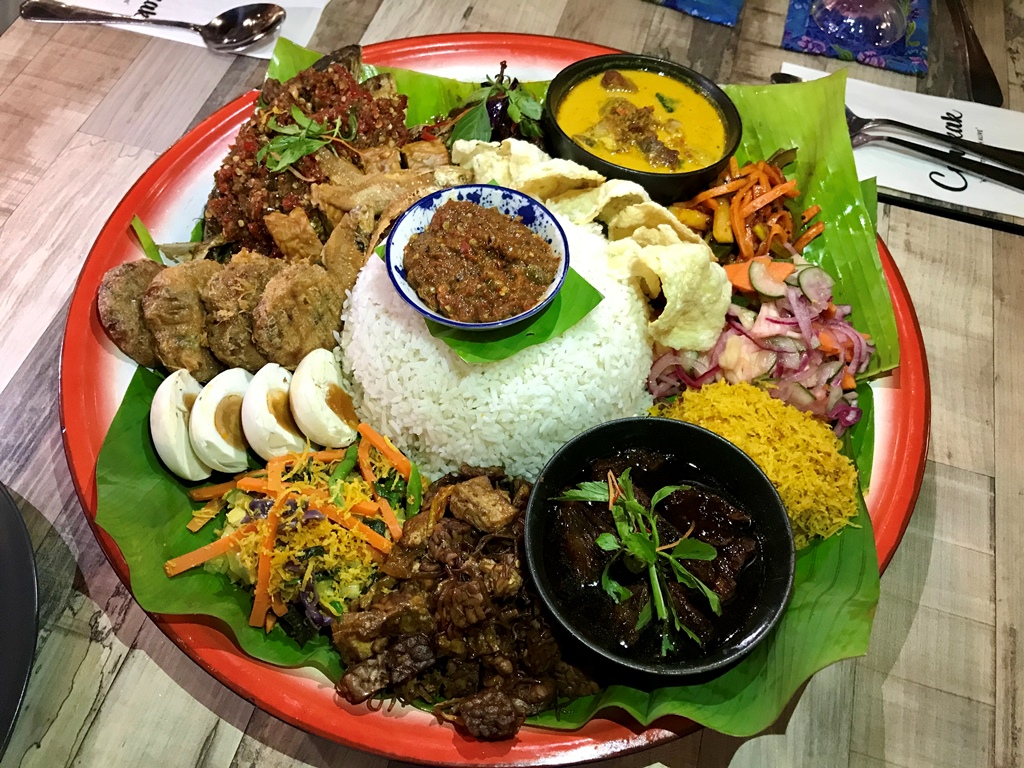 Now, the pièce de résistance, and main event of our already abundant lunch, was what Congkak is being made well-known for: its Nasi Ambeng. A Javanese family-style platter of rice and side dishes, Congkak's Nasi Ambeng can be tailored for portions serving 2 people, up to 12! Imagine a platter of that magnitude! Ours was the family portion serving between 4-5 people, and even that was significantly generous.  A large mound of steamed white rice encircled by numbers of deep-fried fish slathered in homemade sambal, bergedil (fried egg-battered mashed potato patties), telur masin (hard-boiled salted egg), acar rampai (cooked Malay vegetables), perfectly cooked tempeh,, serunding kelapa (savoury shredded coconut), ikan masin deep-fried salted fish), sambal belacan, sambal Jawa, kerabu sayur, terung sambal, keropok Belindo, and two choices of ayam masak kicap (soy sauce chicken) or gulai ayam (chicken curry). The textures, the variety, the flavours! It's a carnival on a platter, and it is unbelievably amazing.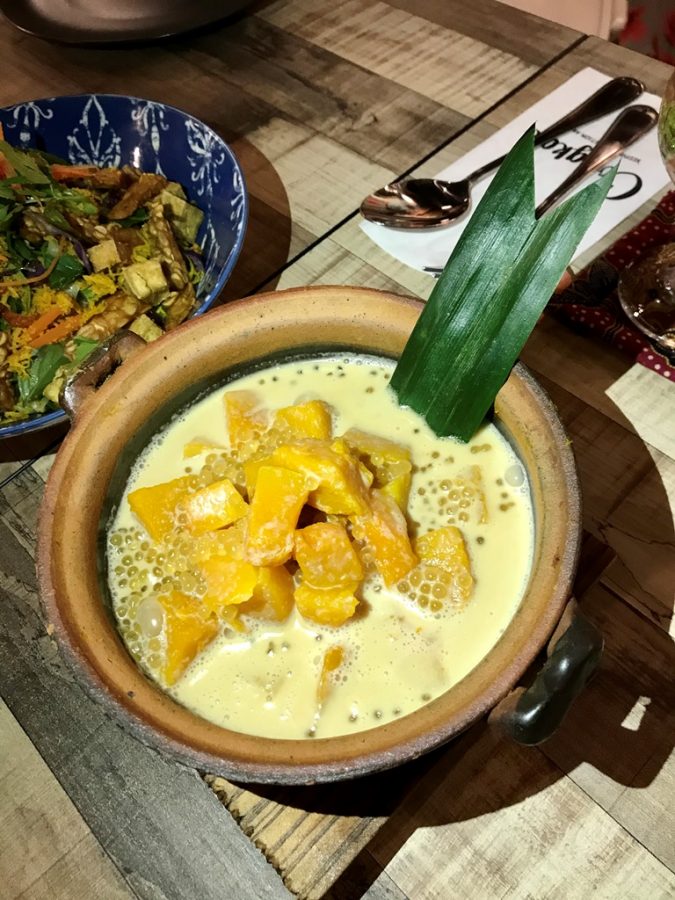 We finished our elaborate meal with something sweet, familial, and oh-so-comforting: Labu Masak Lemak which is stewed pumpkin in a rich and creamy coconut gravy with sago pearls. Congkak is a celebration of our nations proud history of traditional cuisine. These recipes of old made accessible, renews our appreciation of our roots, while we bond over food that's been made and enjoyed for many generations.
Location and details
Address: Congkak KL
24, Jalan Beremi,
Off Jalan Sultan Ismail,
Bukit Bintang,
50200 Kuala Lumpur
Tel: +603 2110 6005
Opening hours: 12pm to 10pm daily