Where to Get the Best Afternoon Tea Experiences in Penang
What first started as a British tradition in the 1840s, today is a mainstay in restaurants. The idea began when the seventh Duchess of Bedford got hungry in the late afternoon and had bread, butter and tea. Days after, her friends and family joined in, creating a convivial atmosphere. Little did she know that 40 years later, afternoon tea became a fashionable social event
This pause between lunch and dinner is now part of our daily routine. With an abiding colonial history that defines chapters of Penang, it is familiar to find historical places sticking to the tea custom. While newcomers have added their own flair to the midday menu, also earning themselves a place on a list of best afternoon tea experiences in Penang.
Palm Court – Eastern & Oriental Hotel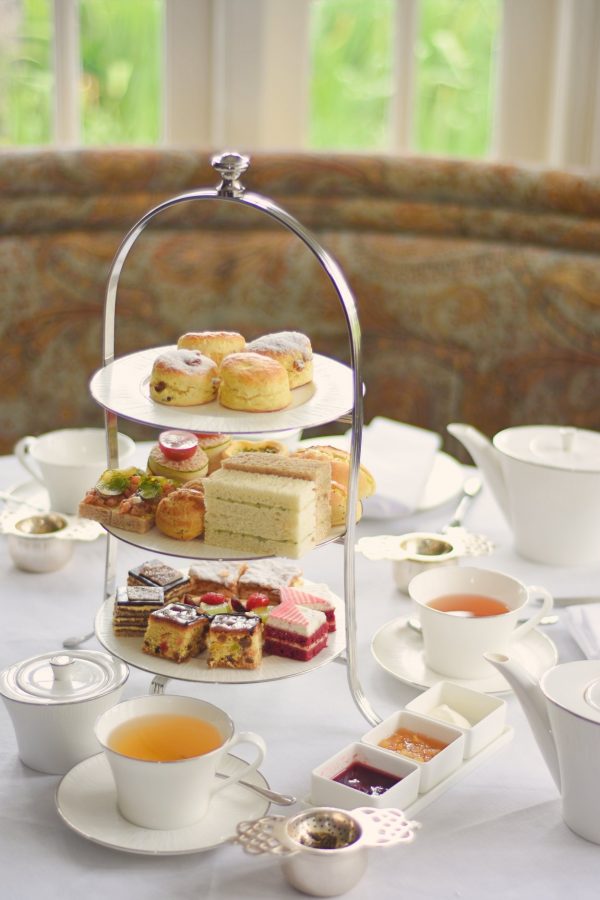 One of the grand dames of Penang's colonial charm, this 137-year-old hotel offers an English Afternoon Tea that one shouldn't miss. From the moment you are greeted by the khaki-cladded doormen, to the storied traces of past and whitewashed backdrop, each element sets the tone for the classic spread. Served at Palm Court, a deluxe dining space with garden views, the three-tiered stand comes with sweet and savoury treats. The clotted cream and jams are made in-house, while the strawberry and pineapple jam that couples the scones are cooked for 8 hours. If you have the most discerning palate, then it's a double joy.
Suffolk House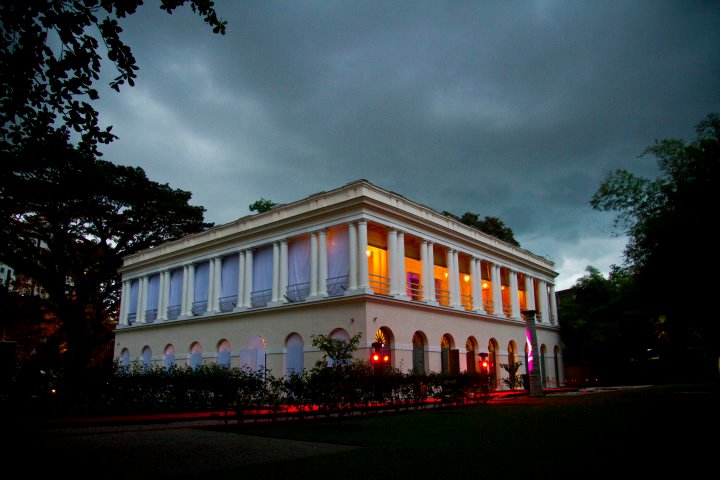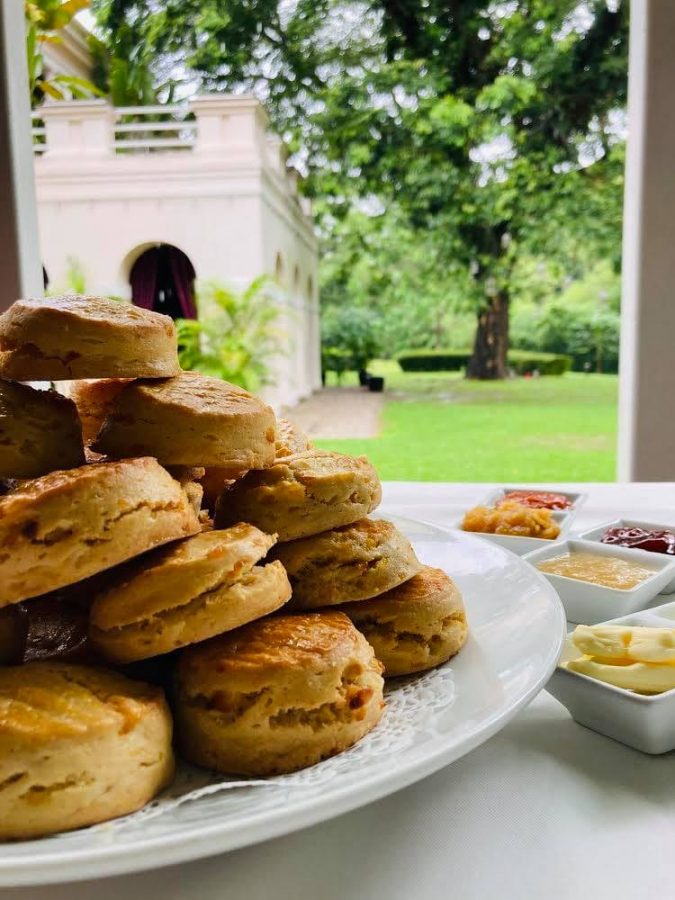 For many Penangites, they haven't tracked down a better afternoon tea session than at this only surviving Georgian Mansion in Malaysia. Done taking in the beauty of the historical architectures and natural surroundings, be seated with a big appetite at the veranda. Expect freshly baked English scones with assorted jams, their signature Chicken and Mushroom Pie, beetroot tart, sandwiches, cakes and cookies, and tea of your choice. If a date is on your mind, this is a foolproof formula.
The Blue Mansion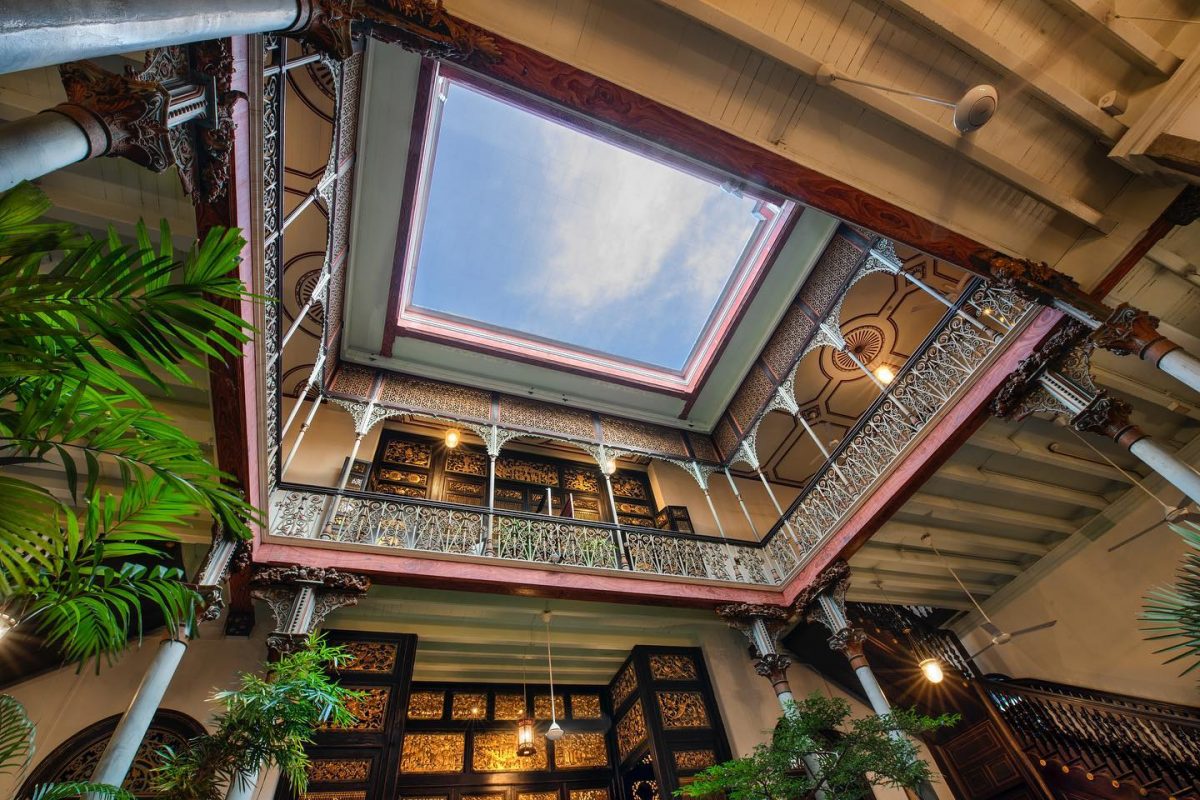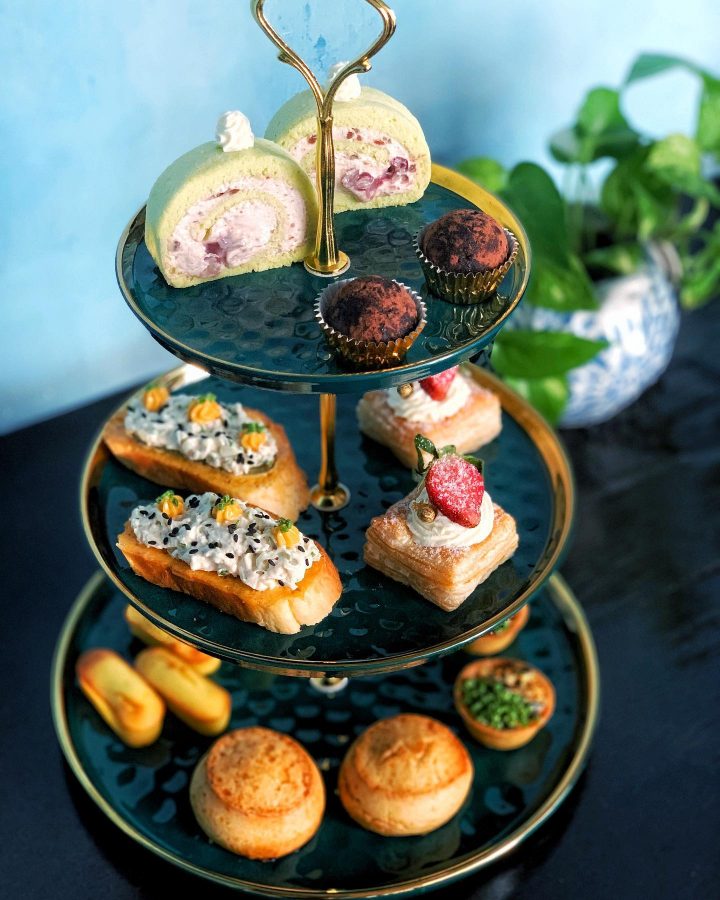 The Blue Mansion, built in the 19th-century with meticulous Feng Shui and artistic visions, has numerous international awards and recognitions up its sleeve. Few things recall the cultural elegance of the mansion like the high tea at The Courtyard. Gracefully placed on tiered afternoon tea stands, you get the finest savoury and sweet bites, which changes according to seasons. Each bite affirms that eyes for detail and excellence did not stop with the interior. The first owner, Cheong Fatt Tze believes the strongest Chi energy flows at the courtyard, being his favourite place to dine as well. Embrace the step back in time while sipping hot tea like the successful industrialist and philanthropist.
David Brown's Restaurant & Tea Terrace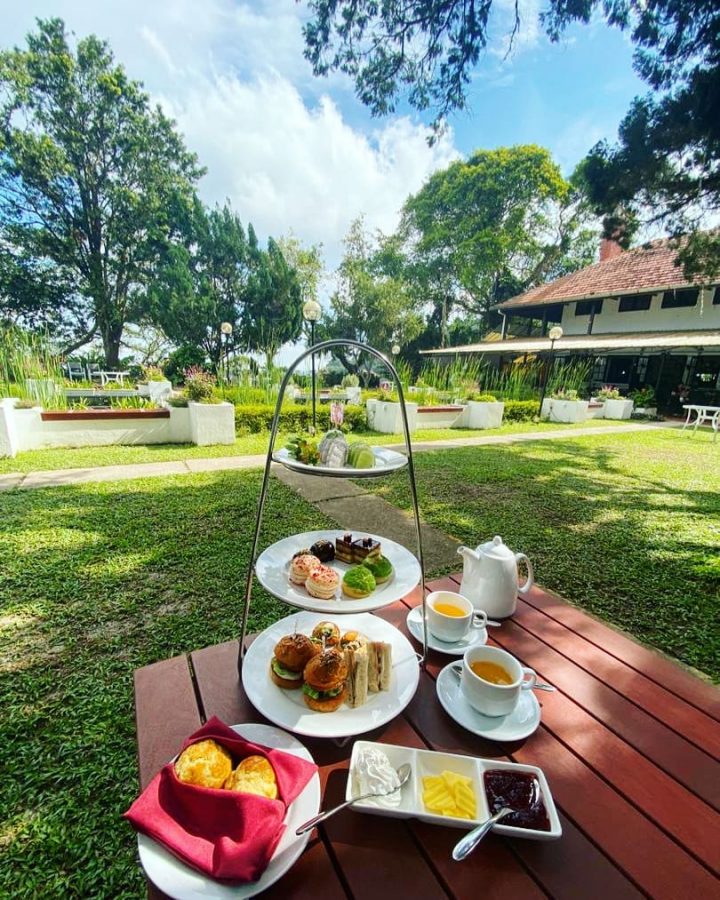 A century-old colonial restaurant and tea terrace that sits on a verdant hill. Cool breeze brushing through your hair as you stroll a well-manicured lawn with a pond and lilies leading to an al-fresco space. Gentle sway of trees filtering the sunlight for that perfect capture of tea-time treats. The views extend beyond a serene hill to the point where the island meets the ocean. Enjoy freshly baked scones, pastries and canapes with warm sips of tea in between. If this sounds like a scene you often imagine yourself, it's time to realise your dreams with an afternoon tea at David Brown's Restaurant.
The Glasshouse – The Prestige Hotel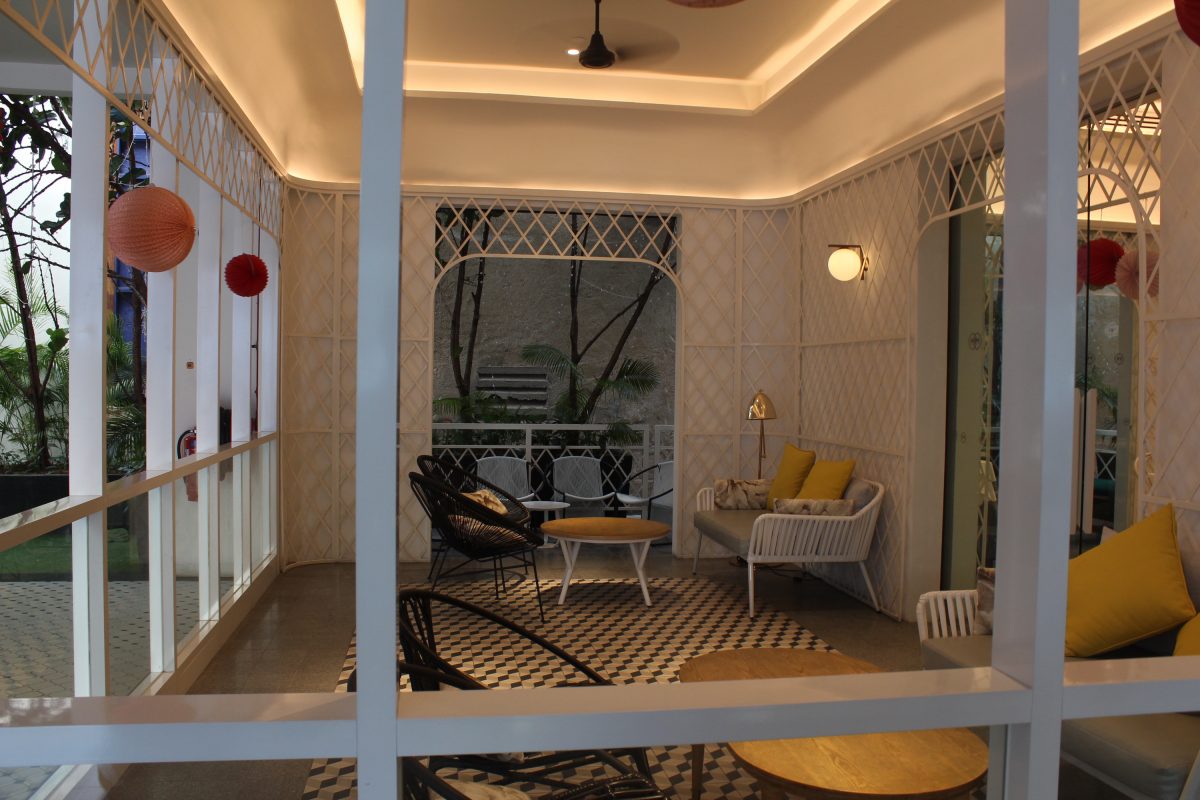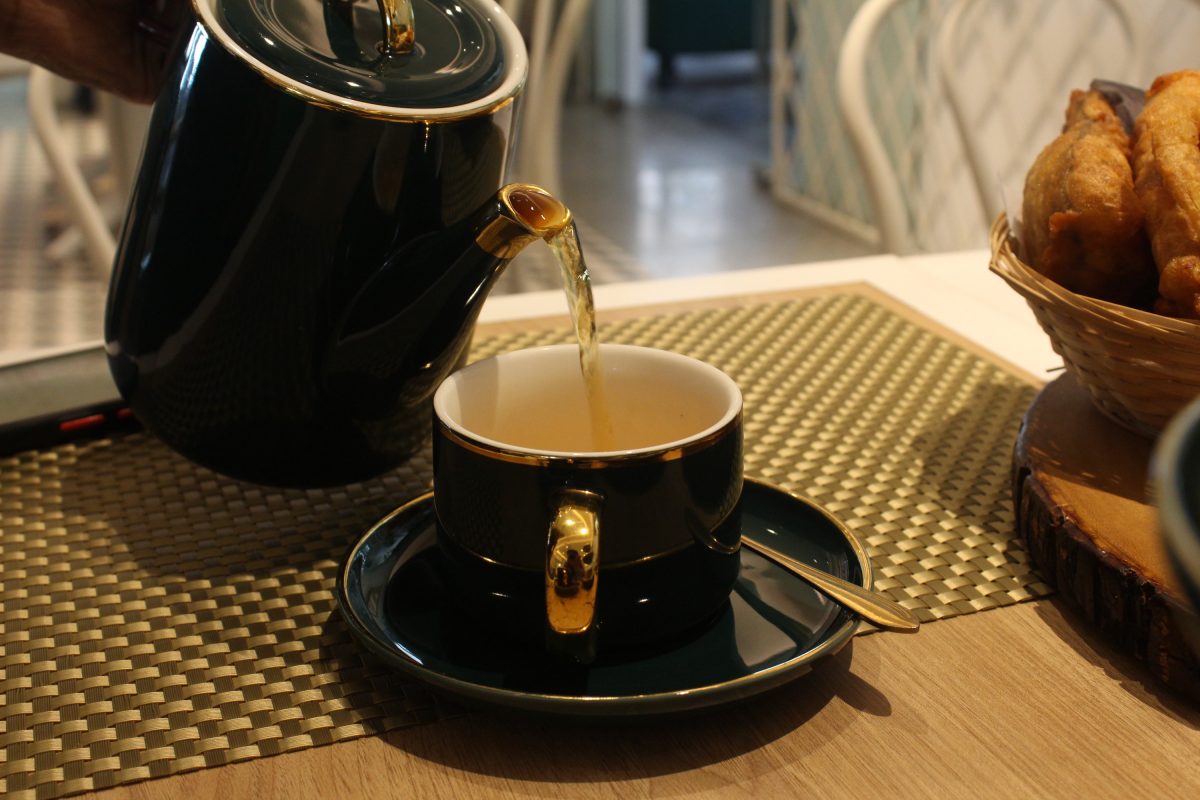 Get your camera ready when you arrive at The Prestige Hotel and its in-house restaurant, The Glasshouse. Aptly named, glasses with lattice-designed white frames elevate the space, anchored by a calming palette of soft pink, brown and tropical green. Keep the lens on standby because their Afternoon Affair, a lofty platter of little bites is as good as it looks. Sweeten your day with Cake Pops and Tiramisu Crunch and hit the savour notes with Sambal Sandwiches and Smoked Salmon Wrap. To heighten the experience comes the prestigious TWG Tea.
Musion Mansion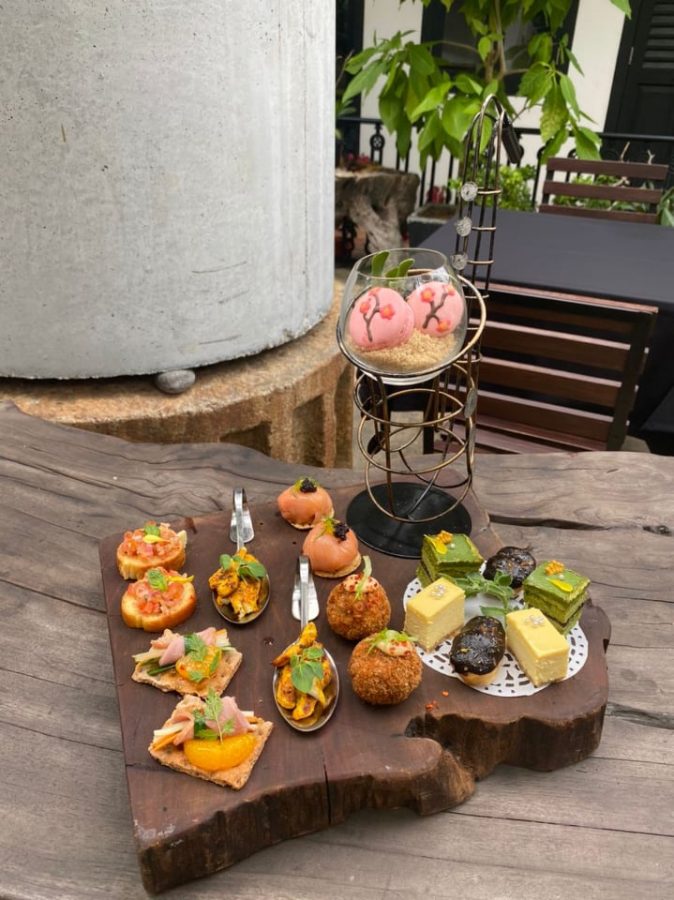 Once a formal affair of white tablecloths and classic presentation, Penang's afternoon tea scene has been letting its hair down and adding creativity to the mix. And this hidden gem is proving the point. How about luscious bites such as Smoked Duck Roll with Chilli Plum Orange, Smoked Salmon with Dill & Caviar and Fried Shrimp & Chicken Cheese Dumpling contrasting sweet contenders like Matcha Opera and Sakura Macaron? Tea or wine? Depending on the mood or occasion. Wooden shutters, intricate floor tiling and old-school ornaments add to the atmospheric appeal.
Orinea Sky Dining & Bar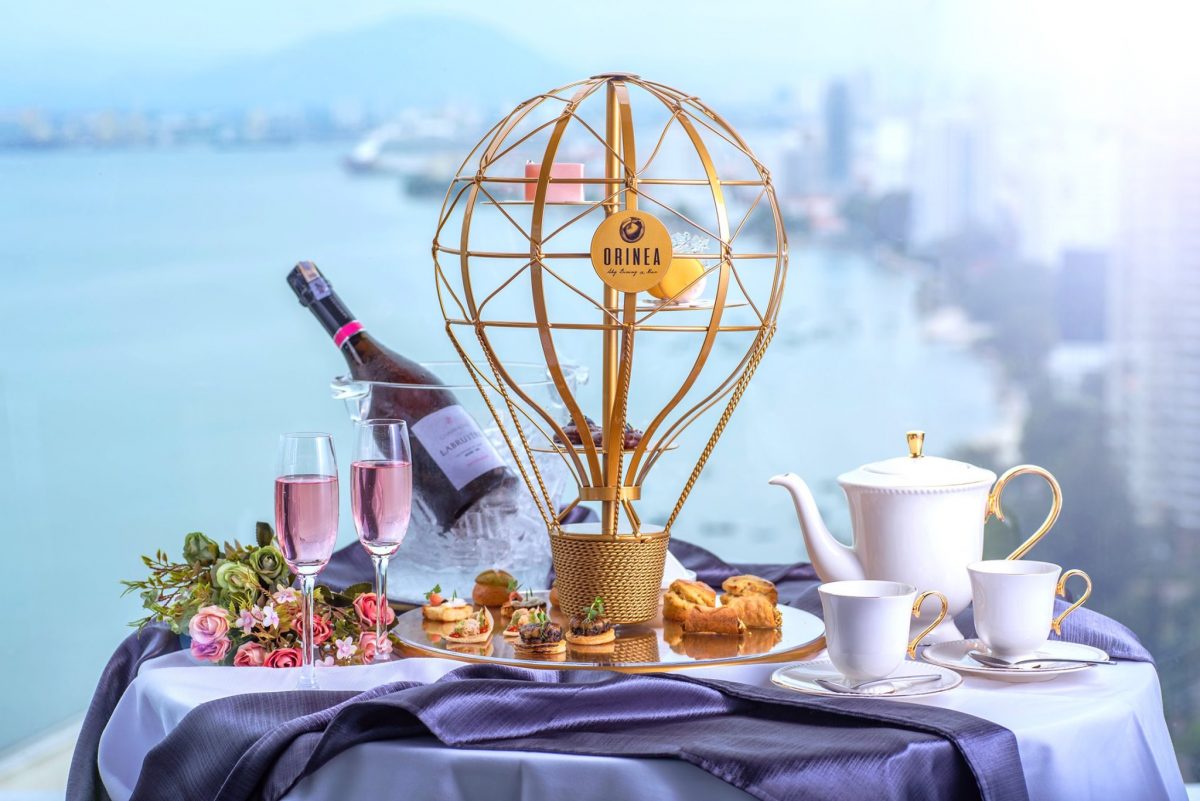 It's hard to decipher which is better at Orinea – the stunning views of Gurney Drive Bay or their Grand High Tea? Perched on the 18th floor of Sunrise Tower, the restaurant feels like an oasis away from the bustling city life. Aesthetically served in a golden Cappadocia hot air balloon, British tradition meets gastronomical excellence. Among the highlights are Duck Confit, Seafood Kataifi Roll with Japanese Mayo and delicate fruit-centric tarts. While watching the world go by, be lulled away over Ronnefeldt tea or a toss of wine with your partner.
Crumbles & Cream at Iconic Hotel Penang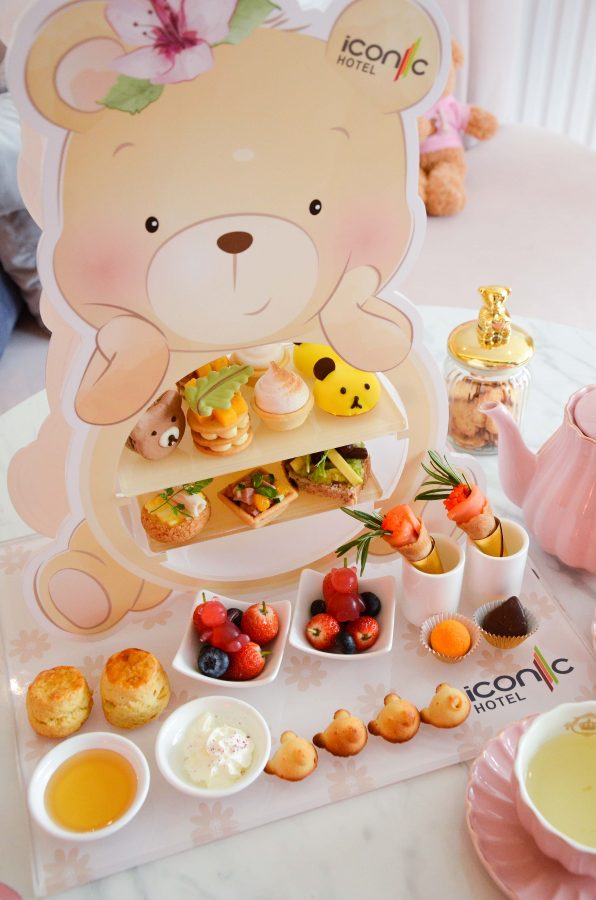 Veering away from standard afternoon tea fare, creative themes take precedence at Crumbles and Cream, and no one is complaining. Until the end of April, it would be a Happy Bear concept. Not only do the customised trays appear like panda and bear, but you also get bear-like macarons and cheesecakes. Adding to that are Mille-Feuille with Mango & Honey Custard, Truffle Egg Salad and freshly baked scones. The marble tabletops, plush chairs and rose-gold ceiling lights tone up the culmination of good moments. You leave with a happy tummy and a curiosity about the upcoming themes.
Platform 9&3 Quarter Fine Dining and Cellar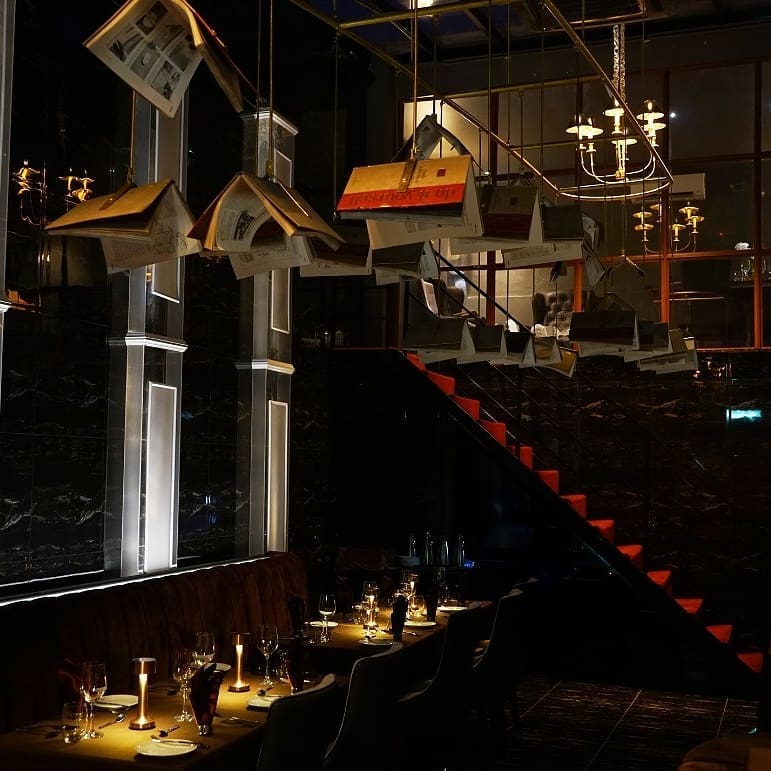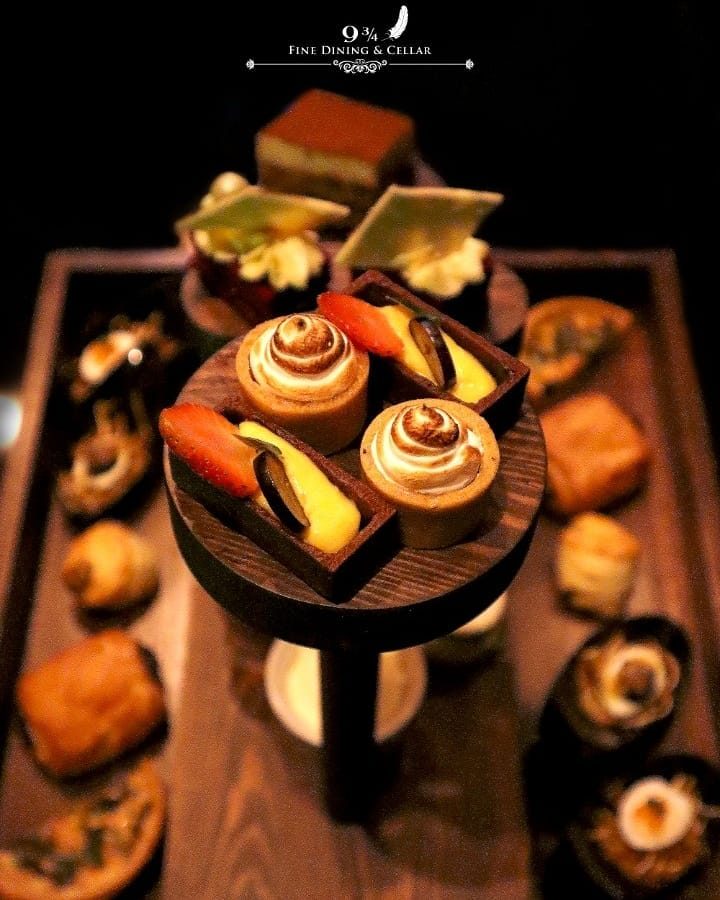 An interesting interior makes a dining experience a lot better. If you are nodding in agreement, this fine dining restaurant is the place to be. It feels like a time-warp, cocooned in a Harry Potter world with books and wizard-themed ornaments. The High Tea Menu will deliciously enchant you with a luxurious line-up of – Seared Hokkaido Scallop with Carrot Chutney, Smoked Salmon Scone, Breaded Mozzarella, Lime Ravioli Skin and assorted madeleines. Coffee, made with beans originating from Brazil and Ethiopia, compete for attention with aromatic teas.
Auction Rooms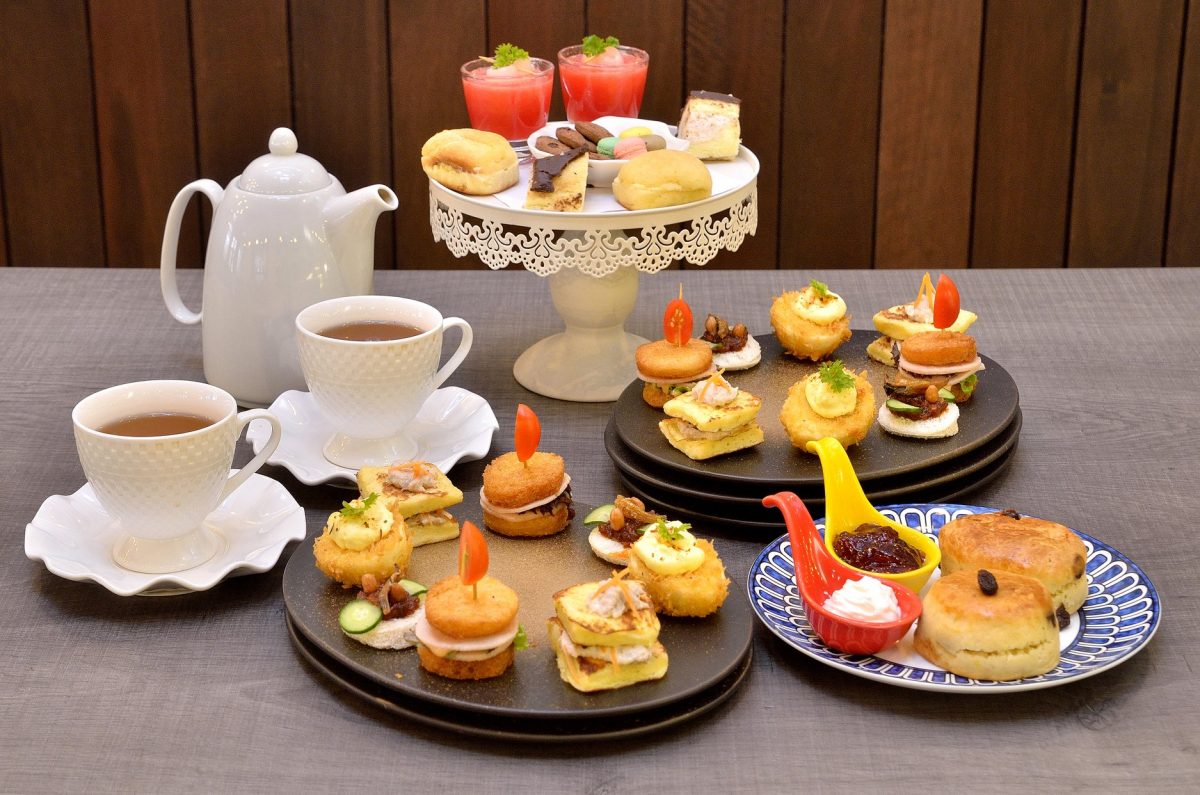 Tucked within Kimberley Hotel, Auction Rooms is gaining the attention of foodies with its hearty Western fares and classic English interior with industrial vibes. When the clock hits 2 pm, their Afternoon Tea Set – Pandora Box – is what you need to order. The menu refreshes regularly but do expect a lavish spread ranging from Salmon Tartar in baguette, Watermelon Gazpacho, Chicken Pie, and Chocolate Brownies.