Arriving in Malaysia from Cartagena, Colombia is a new range of outstanding rums from Dictador that comes highly recommended from your "spirit animals" here at EatDrink.
The rums are offered to the Malaysian market exclusively through Single Malt Sdn Bhd, and comprise four expressions from the Colombian distillery. If you're a rum connoisseur, you owe it to yourself to give Dictador a try, because in the vast world of rums, these really do stand out as distinct from the pack.
What sets these rums apart is their rather unique use of fermented sugar cane honey as the base ingredient. Most rums use molasses, while the closely related agricoles use sugar cane juice. Dictador's sugar cane honey starts as the juice, but after a period of partial evaporation, becomes thicker, more concentrated, and… well, honey-like.
Furthermore, some rum brands add more sugar after the distillation process. This isn't necessarily a bad thing – and indeed, some of the most celebrated rums on the market in recent years have some added sugar – but Dictador's rums have no additional sugar added, so the unique, multifaceted flavours you get from their rums are 100% derived from the base ingredient and distillation process – and of course the ageing process, too!
On that note, the expressions available in Malaysia include the 12 year old and 20 year old, along with the extra-aged XO Insolent and XO Perpetual. We tasted the remarkable entry-level 12 year old, and have savoured the XO Insolent in the past (though not in Malaysia), and offer our tasting notes specifically on the 12 year old expression here.
The Dictador Aged 12 Years Colombian Rum – as it is officially named – is the youngest, most inexpensive rum in the range, but you'd never know it from a blind test. There is a very good reason this rum is one of the world's most-awarded: It's absolutely delicious and carries some unique-to-Dictador characteristics that really make this a memorable rum.
As noted, it's produced from the virgin honey of sugar cane which is distilled at least partly in a copper alembic, a somewhat archaic style of still that has a specific shape (much like a gourd) and a cap with a long, often thin tube through which the distilled spirit is delivered. Few distilleries use the alembic these days, but having tasted the rums from Dictador, we're glad to see it hasn't completely disappeared. The balance of the sugar cane honey is distilled in a stainless steel continuous column still.
The resultant spirit is combined, and then aged in oak barrels using Dictador's somewhat odd solera system. Theirs is a cascading type of ageing system whereby the younger rums are aged in oak and then blended with older rums, which then get placed into oak barrels on different 'levels' of the solera, with the oldest blended rums on the lowest levels and the younger rums on the higher levels. For bottling, the rums are pulled from the bottom level barrels, which are never emptied. As they get to about half-empty, they're topped up using rums from the level above, and so on and so forth. This has the added benefit of keeping more of the rum in contact with the wood. In the warm climate of Colombia, it also helps to inhibit runaway evaporation. It's admittedly a rather complicated system – as are most solera systems – but it's difficult to argue with the results.
We preferred the older matte black style bottle for its understated classiness, but the newer, glossy-style bottle has its own appeal, too. As this expression carries an age statement of 12 years, we know that the rums drawn from the Dictador solera were of the level at which they were at least 12 years old. It's quite likely that some older spirit is included, as well, but it's important to point out that with their system, the solera age statement trends more closely to a Scotch whisky age statement (in that it represents a minimum age of the blend) than some solera systems do. Score a big point here for Dictador.
With all that said, let's get on to our nosing and tasting experience for the Dictador Aged 12 Years Colombian rum, shall we?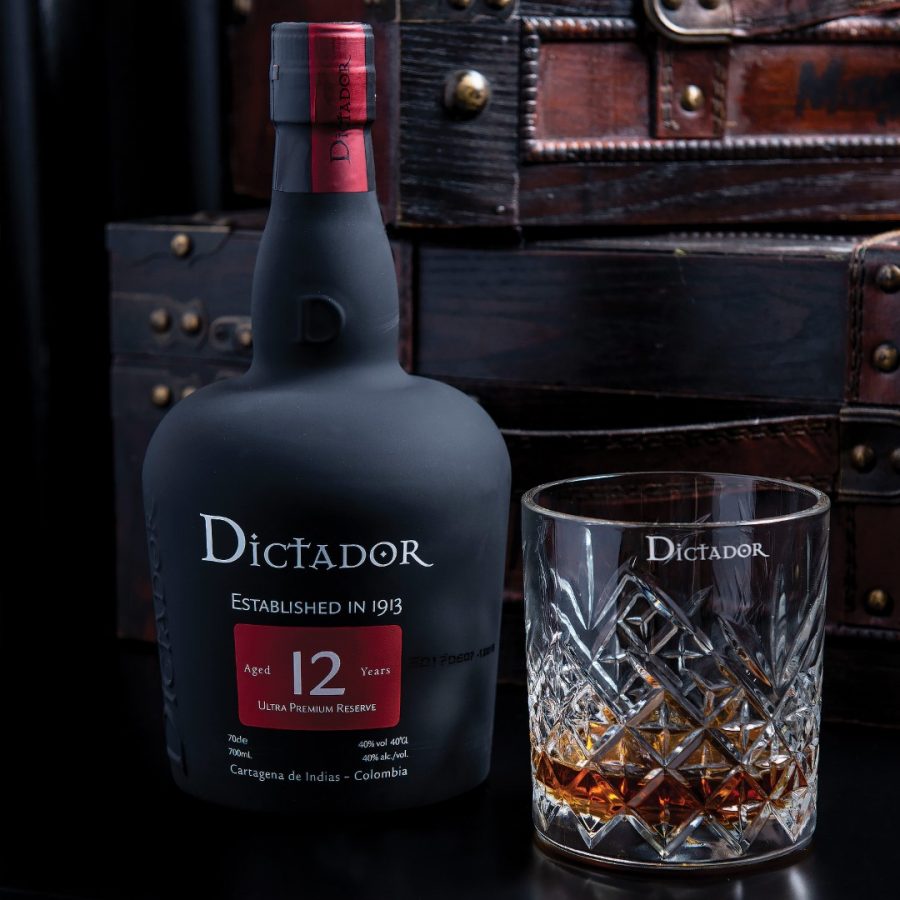 The rum exudes a lovely, coppery colour in the glass, and on the nose presents aromas of toffee and brown sugar, charred marshmallows, and a hint of coffee. If most of what you discern with your nose is evident on the tongue, this rum will be a treat indeed. That's not always the case with spirits, as at times, the gorgeous nose excites you for what just isn't there on the palate.
In this case, however, what the Dictador offers the palate is considerably more of a hit than a miss, fortunately, and a lot of what you pick up with your nose translates to your taste buds, too. This is a layered, balanced rum worth pondering. Those vague coffee notes on the nose come through beautifully on the palate and may remind you of the popular 'Kopiko' coffee candies!
All the expected flavours are there, of course, caramel, toffee, a wonderful oakiness… but there's more, and the Dictador stands out because of these less-prominent notes. Treacle, black cherry, baking spices, and dark cocoa. There's even a hint of sherried yumminess in here that evokes sherry cask-aged single malt whiskies – the sweet spiciness, slight astringency, and fleeting notes of candied orange peel. If you fancy typically sherry-aged Scotch whiskies, such as those from Macallan, Glenfarclas, or GlenDronach, it's quite likely you'll enjoy Dictador's rums, too.
When a spirit is this good and relatively complex, it eagerly invites you to go back for more, and we found this rum to be an excellent sipper, though it would certainly find favour in some well-curated cocktails as well.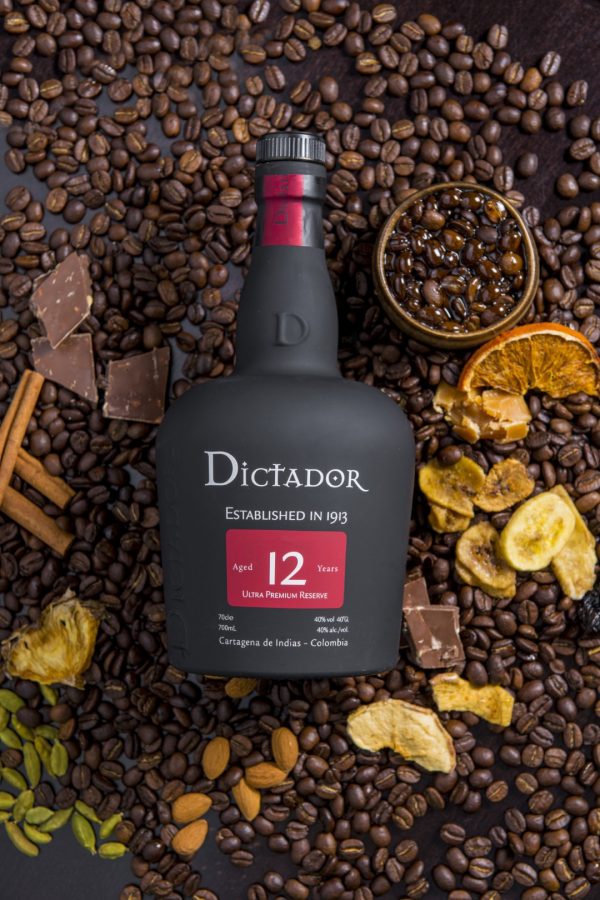 The finish on the Dictador 12 year old is medium in length, but has a nice touch of oak that's easiest to discern in the tannic dryness and ever-so-slight bitterness that nicely punctuates the rum's inherent sweetness. This is a marvellous spirit, and it's definitely one that should be on your list if you're a rum aficionado. Dictador rums pair very nicely with a mild- to medium-strength cigar, as well, if that's your pleasure. Cuban and Dominican cigars, on the whole, work notably well with the complexities of these rums.
Dictador also produces a small range of craft gins, but we were not privileged enough to taste those, so cannot personally report on their quality. The rum, however, comes highly recommended! To check out the whole line-up, visit Single and Available's e-store HERE.