Spring into Prosperity for Chinese New Year: Enjoy these food and drink promotions at The Mines
This post is brought to you in part by CapitaLand Malaysia Mall Trust – The Mines Shopping Mall.
Where best to spend Chinese New Year than surrounded by friends and family, and sitting down in front of a delicious meal? But where to eat is another question. Fortunately, The Mines shopping mall in Seri Kembangan has a number of dining options for a prosperous CNY celebration:
1. Esquire Kitchen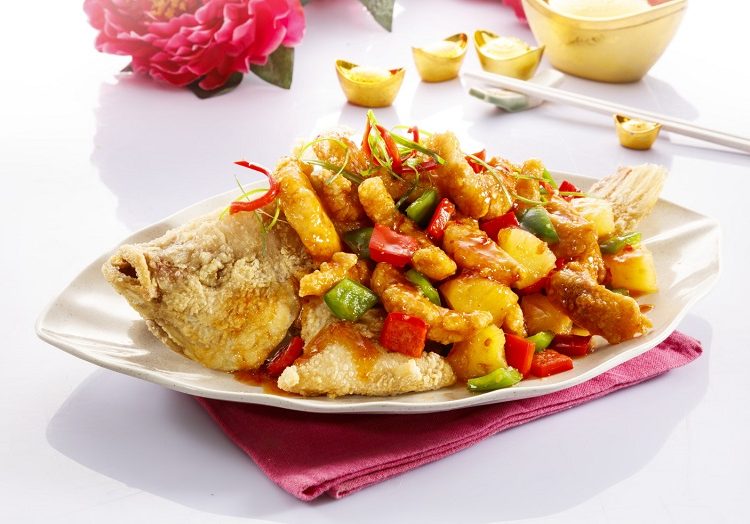 Esquire Kitchen has specially prepared a CNY menu for all to enjoy. It contains a dish called 'Ong Lai', which means 'Luck comes'; a positive and welcoming phrase for the Lunar New Year. But another translation for 'Ong Lai' is pineapple and this is reflected in the fish dish: the sweet citrus sauce (yin) complements the crispy fried fish (yang).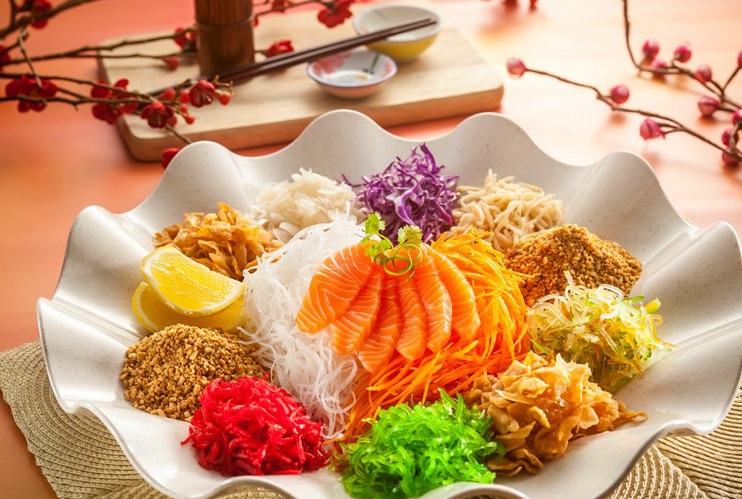 There are two choices from the Prosperous New Year Menu, suitable for groups: RM268++ (all 6 dishes) and RM168++ (4 selected dishes). The meal contains Fortune Pork Ribs, Ong Lai Fish, Happy Honey Prawns, Good Health Herbal Chicken, Prosperity Vegetarian Abalone with Mushroom and Harmony Vegetables.
There's also a joint promotion with the Public Bank credit card: receive a 30% discount off one large Yee Sang with minimum order worth RM268 before GST and service charge. Terms and conditions apply. Visit Esquire Kitchen at Level 1, [L1-48/49].
2. Sushi King
For an auspicious start to the Lunar New Year, toss to all things good with Sushi King's Prosperity Yee Sang. Made with choice ingredients, savour the freshness of Norwegian Salmon with family and friends.
Serving from 1 January till 28 February 2017, the Prosperity Yee Sang is available for RM45.88 only at Sushi King.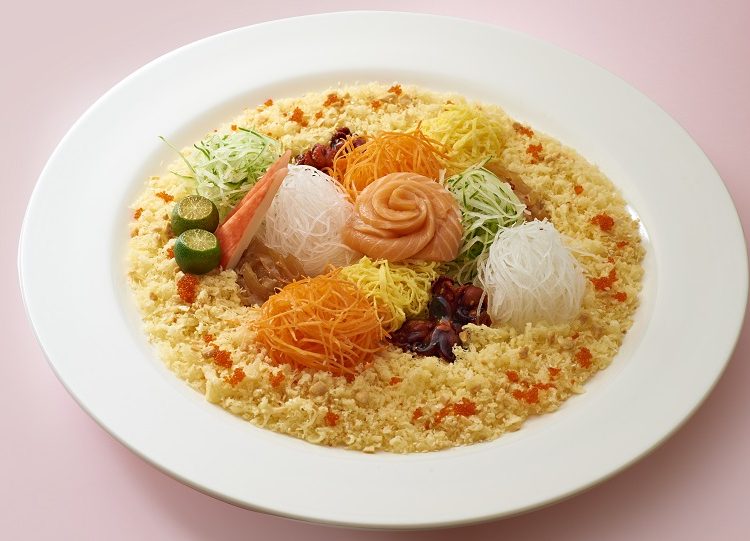 In addition, collect exclusive Daruma ang pows for every RM68 spent in a single receipt and be in the running to win an all-expense paid trip to Tokyo! Visit Sushi King at Level 1, [L1-FM1]
3. Bar B Q Plaza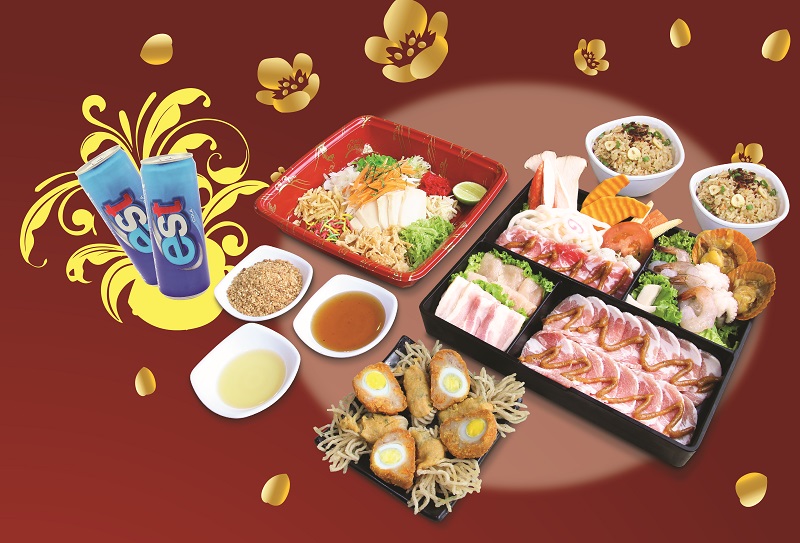 The Chinese New Year will be celebrated at Bar B Q Plaza with special group dishes, both available from 18 January to 11 February 2017.
The Lucky Gold Supreme Combo for two people contains Happiness Supreme Pork Set, Fried Combination Platter, Prosperity Sliced Abalone Yu Sang, two Golden Garlic Fried Rice and two cans of EST Cola.
The Abundance Fortune Family Combo for four people features Prosperity Family Pork Set, Fried Combination Platter, Prosperity Sliced Abalone Yu Sang, four Golden Garlic Fried Rice and one 1.5L bottle of EST Cola. Visit Bar B Q Plaza at Level 3, [L3-20(p)]
4. Baskin-Robbins
During this auspicious Chinese New Year, treat your loved ones to Baskin-Robbins' latest cake, Make A Wish, with a choice of either Cookies N' Cream, Very Berry Strawberry or World Class Chocolate. There are a variety of other cakes to choose from,  such as Sunny Day, Honeymoon and Scoop It.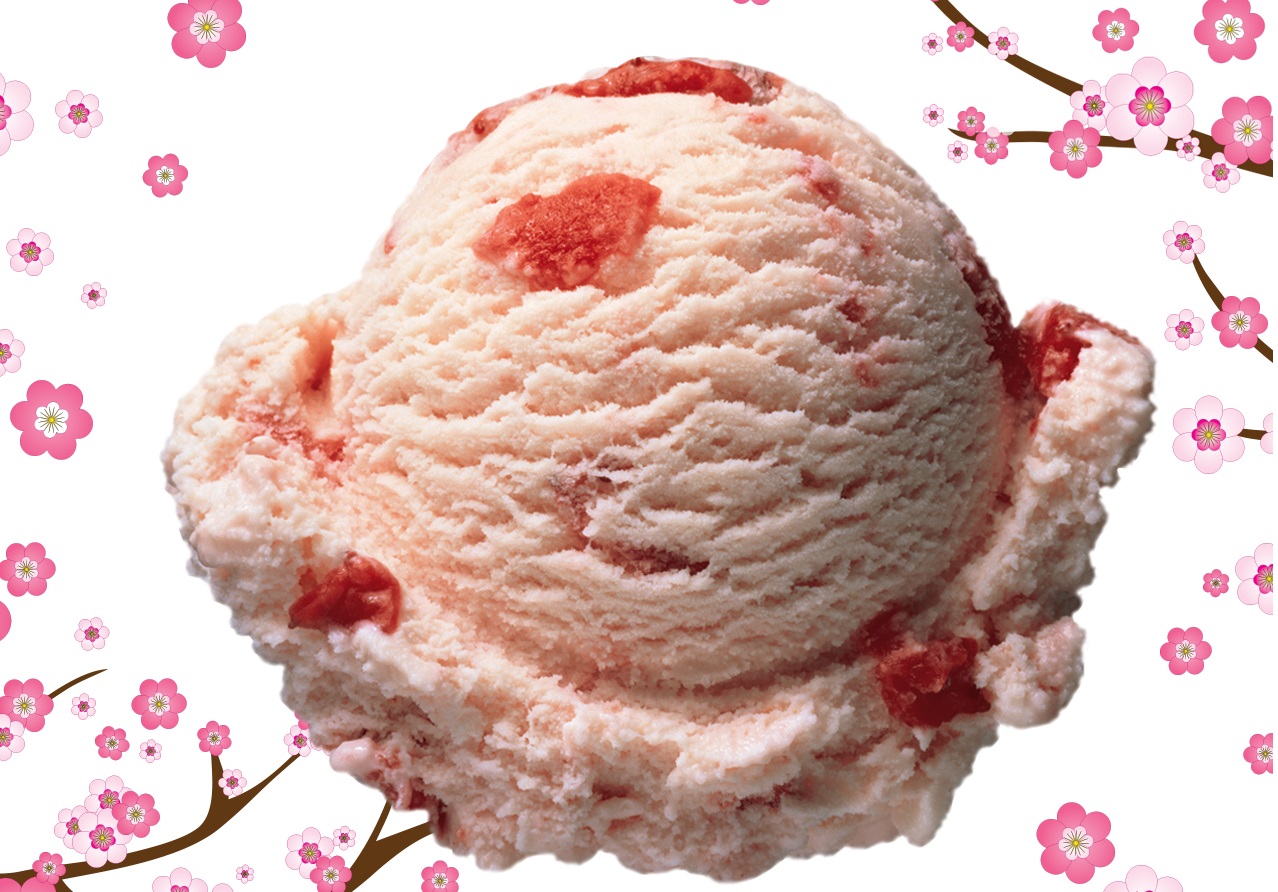 Also, grab any of the Baskin-Robbins ice cream in scoop or sundae and add-on an additional Junior scoop for RM3 only! Celebrate this Chinese New Year with the new Gold Lucky promotion, until 12 February only. Terms and conditions apply. Visit Baskin-Robbins at Level3, [L3-77(1)(p)]
5. Soon Thye Hang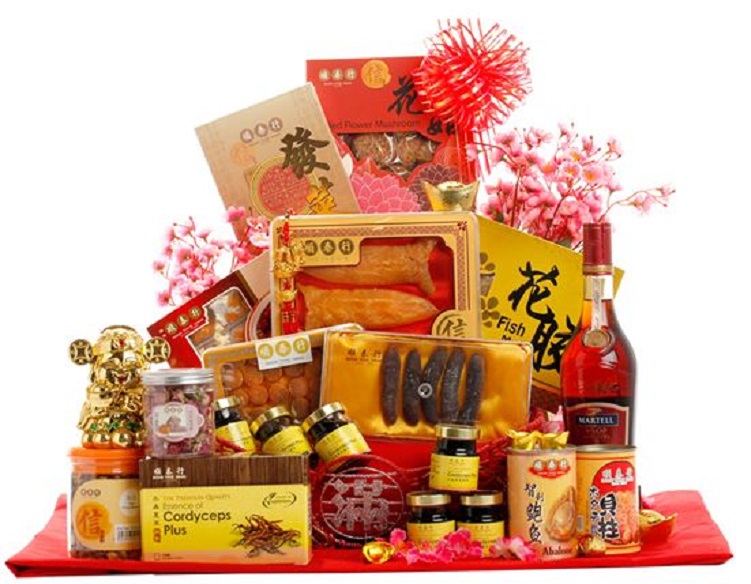 For Chinese New Year hampers, check out Soon Thye Hang's range of options. For example, the Everlasting Wealth Hamper includes : 425gm 6's Chile Abalone; 20gm Black Moss; 280gm Dried Scallop Floss; 70mlx6 Cordyceps Plus; 100gm 50's Australia Sea Cucumber; 150gm Dried Flower Mushroom; Martel VSOP 70cl; 60gm 17's Fish Maw Tong; 200gm Japan Scallop (S); 25gm Globe Amaranthtea; 10gm Snow Jelly; 80gm Fish Maw; and 70gm Chrysanthemum.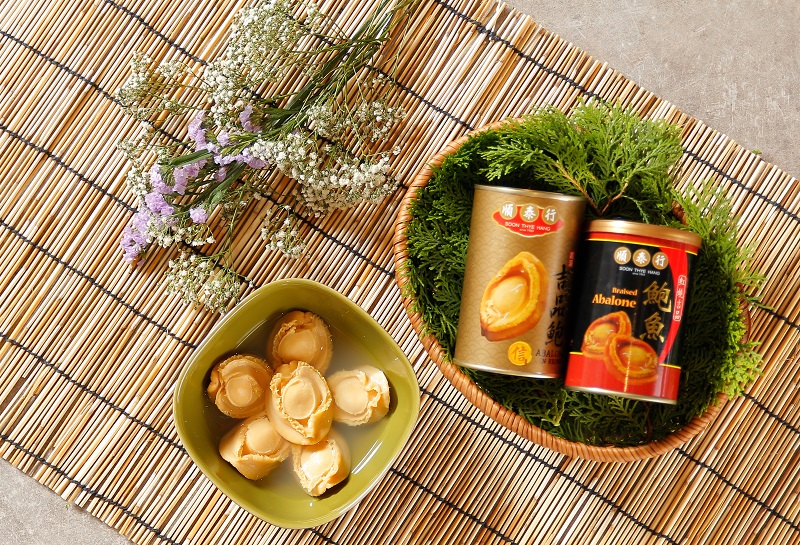 Also available is canned abalone from as low as RM64 per can. Other hampers are available, ranging in price from RM128 to RM 9,999. There's free delivery for purchases of RM168 and above in West Malaysia only. Visit Soon Thye Hang at Level 1, [L1-53]
6. Edibee
Edibee has also announced a series of  CNY hampers, all on special offer: Purchase RM298 Free RM198 (so buy the RM298 hamper and receive RM198 worth of extra goodies for free); Purchase RM198 Free RM98; or Purchase RM98 Free RM78.
The RM78 hamper includes Black Tea, Soy Bean Biscuits, Nut Cookies, Mochi and Jasmine Tea, while the RM98 option contains Ginseng Tea, Sesame Biscuits, Candies, Mochi and Soy Bean Biscuits.
The RM198 option features Fruit Jelly, Champagne, Long Thread Moss, Seaweed Biscuits, Candies, Puer Tea, Abalone Pastry Puff, Soy Bean Biscuits and Decorations, and the RM298 hamper has Pineapple Shortcake, Soy Bean Biscuits, Seaweed Biscuits, Long Thread Moss, Candies, Marshmallows, Oolong Tea, Tie Guan Yin, Ginseng, Champagne and Decorations. Visit Edibee at Level 1, [L1-95]
7. Ah Yip Herbal Soup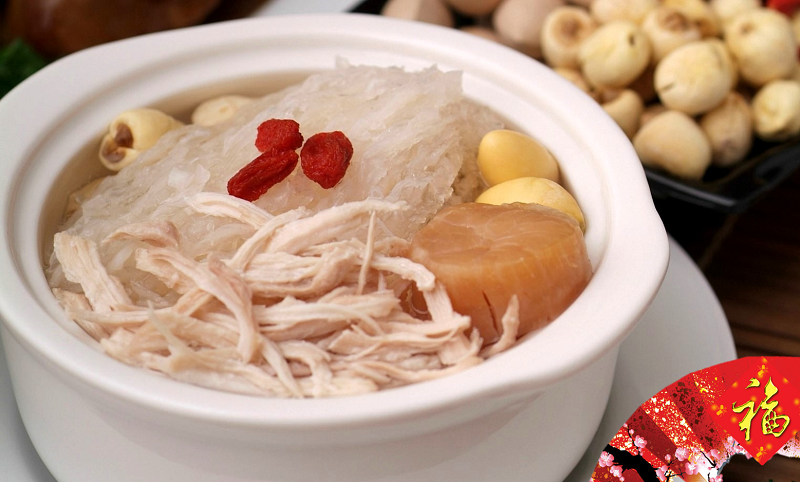 After a long day of CNY shopping, try a bowl of Scallop Bird's Nest Soup from Ah Yip Herbal Soup. This is a special stewed soup with scallops, chicken, wolfberry and other herbs to create a delicious, slightly sweet broth.
It said to act as a tonic for the lungs and have nourishing and youth-giving qualities, so it's suitable for both young and old. Visit Ah Yip Herbal Soup at Level 2, [L2-61]
CNY exclusive redemptions
Also happening at The Mines this festive season are a number of events and activities:
Red Packets & Red Packet Purses
Taking place from 6 January – 12 February 2017, 10am – 10pm @ Level 3, Information Counter, receive a Red Packet when you spend a minimum of RM88 (in a maximum of 2 combined same-date receipts).
Or receive a Red Packet Purse when you spend a minimum of RM288 (in maximum of 3 combined same-date receipts).
Only one redemption per shopper per day and while stocks last basis.
CNY Bazaar
Happening from 6 – 27 January 2017, 10am – 10pm @ Level 3, Centre Court, be spoilt for variety of festive goodies selection featuring Jin Ye Ye, Bee Cheng Hiang, Yin Onn, Sakae Sushi, Coca-Cola, Ecomatt and more.
Chinese Calligraphy
Get a free personal auspicious calligraphy set when you sign up as CAPITASTAR member, while existing CAPITASTAR members can receive this offer with a minimum spend of RM30 in single receipt.
Join the team on 21 January & 4, 5 & 11 February 2017 from 3pm – 6pm @ Level 3, Centre Court.
Get One Limited Edition Share A Coke
Exclusively for CAPITASTAR members, with a minimum purchase of RM188 made at The Mines from 13th January 2017 onwards, members can combine up to 3 receipts per redemption of which one receipt must consist of any purchase of The Coca-Cola Company products within The Mines.
Valid for Coke, Sprite, Minute Maid, Vit Water, Heaven and Earth and A&W, on the same day of purchases made and each member is allowed for one redemption per day only, while stocks last.
Events calendar and other offers
Visitors to The Mines can also be mesmerised by CNY performances such as:
Event

Date

Time

Location

Chinese Musical Performance

 21 & 22 Jan'17;
4, 5, 11 & 12 Feb'17 (Sat & Sun)

2pm -3pm

Level 1, West Court, Canal Bridge

Chinese Traditional Dance Performance

21 Jan'17;
5, 11 & 12 Feb'17 (Sat & Sun)

3pm – 3.30pm

Level 3, Centre Court

Lion Dance Performance

28 & 29 Jan'17 (Sat & Sun)

3pm – 3.30pm

Level 3, Main Entrance & Centre Court
All these events take place in The Mines Chinese Spring Garden that exudes the spirit of prosperity and happiness, bringing you back to the days of yesteryear. With unique architecture of traditional Chinese Garden complete with classic Chinese huts surrounded by the tranquillity of the garden pond and flowers filled with koi carp, it's a scenic sight to capture memorable photos with your loved ones, friends and family.
CAPITASTAR Members will also be rewarded 3X STAR$ and 3,000** Petronas Mesra Points when they shop at the fashion and sport stores.
Where to go to enjoy these CNY festive feasts
All of the restaurants and many more can all be found at The Mines Shopping Mall, in Seri Kembangan.
See their website for more details the-mines.com.my and check out fb.com/theminesshoppingmall and instagram.com/the_mines_shoppingmall to stay updated.