Sou Omakase Dining at The Gardens Mall, Mid Valley: Restaurant review
This new restaurant specialises exclusively in the art of omakase – there's no a la carte menu, so patrons leave it entirely to Yokohama-born executive chef Fukuchi and his team to prepare set lunches & dinners that represent a complete journey through Japanese cooking. Lunch starts from RM88+ for a five-course meal, while dinner can breach RM320+ for 10 courses.
Amuse bouche
As with any omakase, the selection will evolve according to what's fresh and seasonal, with twists that illustrate innovative surprises. For these opening weeks, the amuse bouche supplies a strong start – savoury-creamy scallop mousse layered with plum jelly, prawn sashimi and kelp.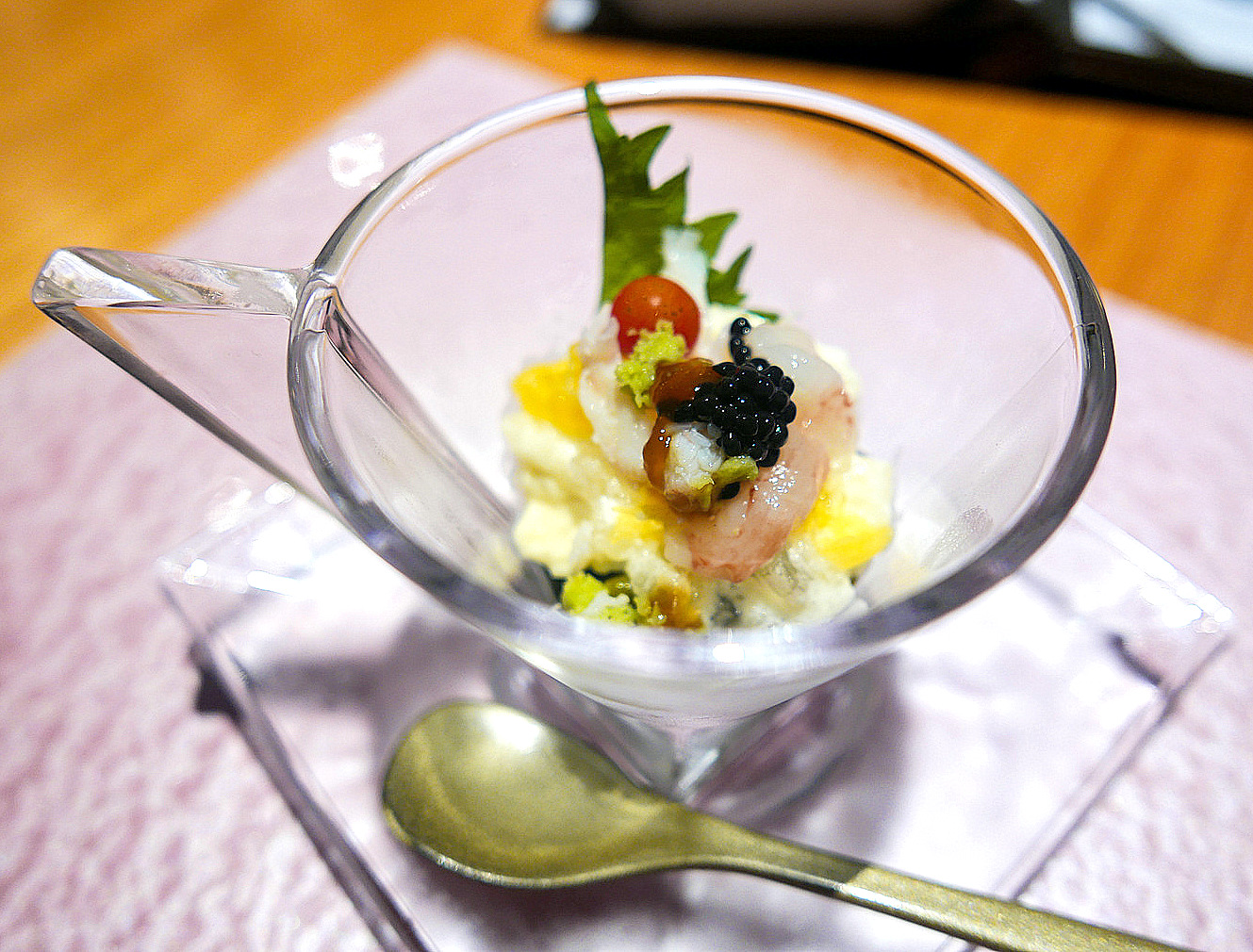 We also like the foie gras chawanmushi with its substantial slice of liver and the salmon trout mille-feuille on ice with a centre of jellied cabbage, topped with roe and asparagus. All pretty and pleasing, elaborate and nuanced.
Sashimi
Sashimi proves satisfactory – each fish is presented in its own unique vessel, with intriguing solid and liquid condiments of umami-rich dark soy mousse and citrus-tinged white soy sauce. For sushi, the star is the chutoro – luscious, medium-fatty tuna. Perhaps in the future, it'd be encouraging to see other cuts of seafood beyond the tried-and-tested basics of salmon and snapper.
More seafood
Cod fish is a can't-fail as usual, boasting buttery flesh and crisp skin in a light teriyaki sauce, paired with an equally tasty bowl of soaked seaweed and mountain yam. Tuna collar is a treat too, terrifically moist and delicate in flavour. Grilled abalone provides a firm bite, matched with cheese sauce in a strange coupling, accompanied more effectively by crunchy-sweet bamboo shoots.
Lamb or beef? We vote for the former, with its lip-smacking and finger-licking succulence; the bubbling beef would be compelling comfort food if only the meat weren't so gamy. So-so miso soup and a less-than-imaginative dessert platter of cheesecake, fruit jelly and chocolate ice cream end the proceedings with a whimper.
Still, there are enough highlights in the overall meal to make this venue worth considering (trivia: Sou is part of KL's Yuzu family of mall-based restaurants). Service is fast-paced and cordial.
Location & Details
Sou Omakase Dining
G247, Ground Floor, The Gardens Mall, Mid Valley City, Kuala Lumpur. (Take the Riverview centre exit out of the mall, walk to your left toward Gardens Residences/South Tower).
Daily, 1130am-3pm, 6pm-10pm.
Tel: 03-2202-1133