RAGE2.0 Upgrades the Local Coffee Experience: Snapshot
While many would consider themselves coffee lovers, the daily grind does tend to affect our sense of appreciation for a good brew as we grit through our morning commutes to work. That little pep up to help us kick start our day unfortunately can often cost up to RM15 a cuppa (depending on outlet), and the quality of bean selection sometimes just doesn't cut it.
In comes RAGE, blazing their way through the local coffee scene in the Klang Valley! With a completely new style of F&B offerings which include vegetarian and vegan-friendly options, and most importantly, affordable–this is more than just any urban coffee place.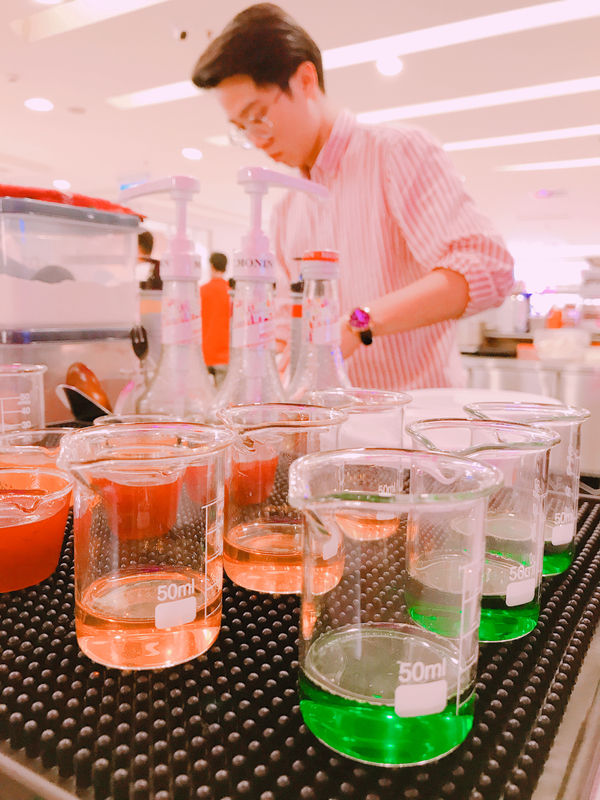 The 10th and newest outlet of RAGE2.0 in Mid Valley Megamall brings the RAGE brand to new heights, with a whole new menu dedicated to supplying you with a whole day's worth of delectable food accompanied by innovative beverages.
The huge pink neon sign was hard-to-miss, even in a place as glitzy Mid Valley. We were immediately greeted by friendly RAGE crew, who went above and beyond to accommodate us into the crowd of modern media personalities here for the big launch.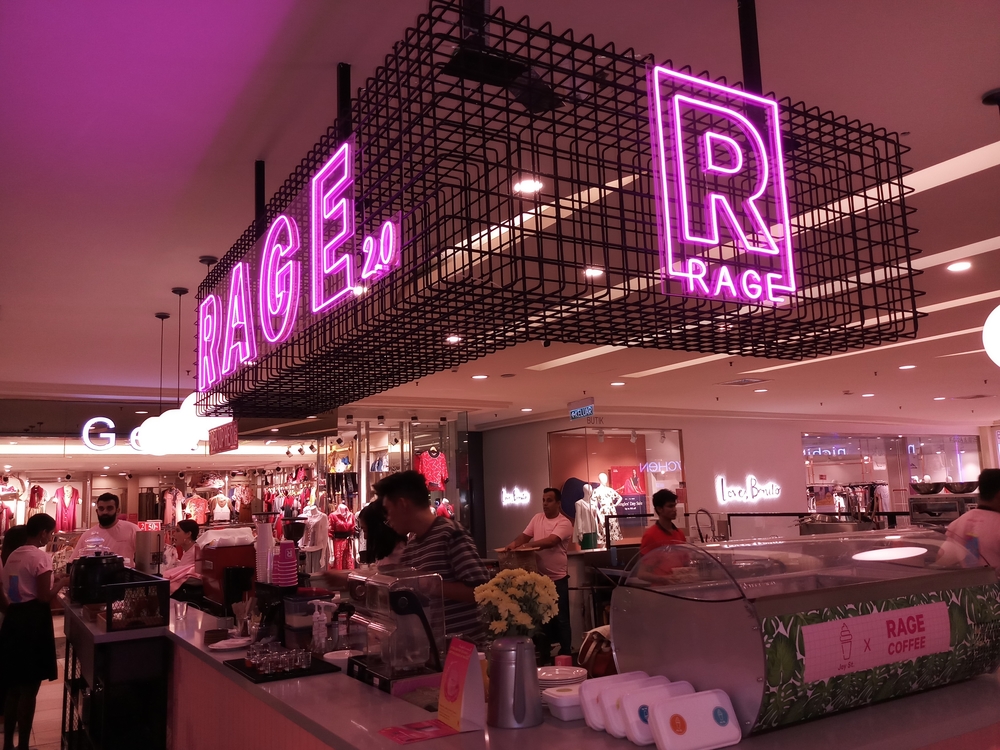 Being suckers for spice in our drinks, we opted for the Dirty Chai Latte and a hot Mocha /w. Cinnamon. Our hot beverages hit us in all the right spots not just because it was a cold, rainy day, we loved that they came with a suggestively naughty napkin!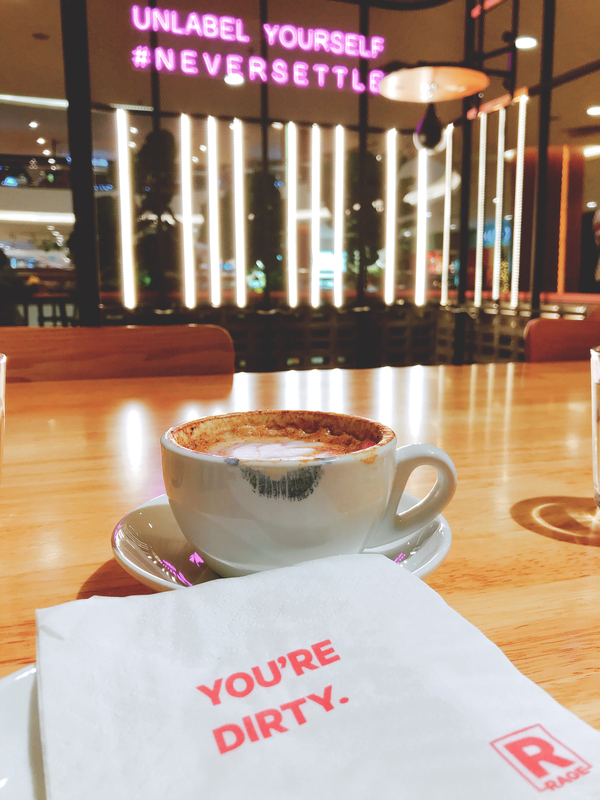 CEO and Co-Founder of RAGE, Mr Jevin Singh, personally showcased RAGE2.0's newest creation of the Clarified Pineapple Coconut Cream Tea, a wholly unique vegan-friendly drink showcasing local flavours, and the best of all Malaysian ingredients: santan (coconut milk). With hints of Thai tea spice and a buttery texture derived from santan, we were excitedly encouraged to smell the drink first before tasting it to enhance the flavours we taste. Spruce it up with a splash of pandan syrup, and this is one dessert drink you definitely can't find anywhere else.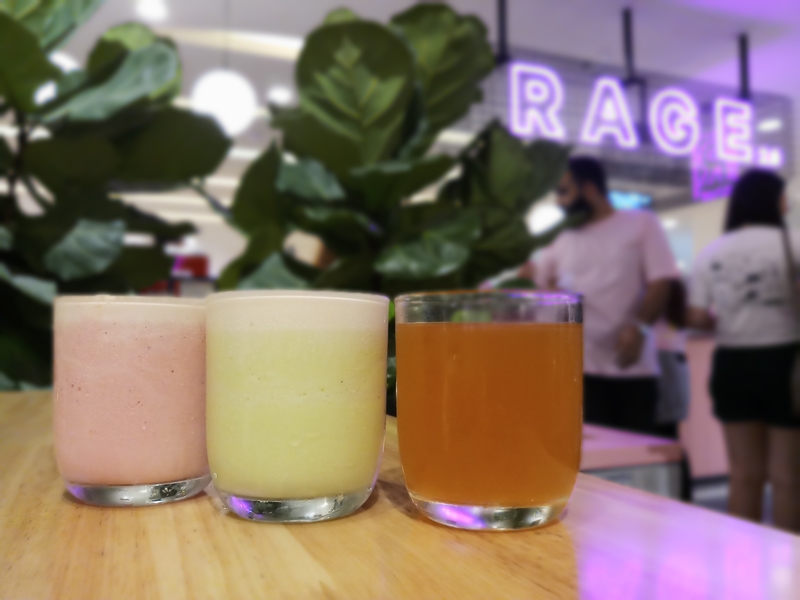 Newly introduced Strawberry Milk Frappe and Pandan Gula Melaka Frappe  can be now found among other RAGE specialties such as Matcha Gula Melaka (with matcha sourced from Niko Neko), and the Espresso Cado Shake (avocado with double shot of espresso, milk, and hazelnut syrup). Going for RM12 a pop, they're one of the more affordable range of cafe style drinks on the market.
The new food items on the RAGE2.0 menu were also to rave for. The meat specials featured a new sustainable upcycling of RAGE's own coffee grinds that are turned into an unbelievably tasty meat rub by collaborators Beard Brothers' BBQ, who have produced RAGE2.0 only dishes such as the Smoked Lamb Wrap and the Beef Tenderloin Rice Bowl– two types of nosh that we really implore you to try. They're that good!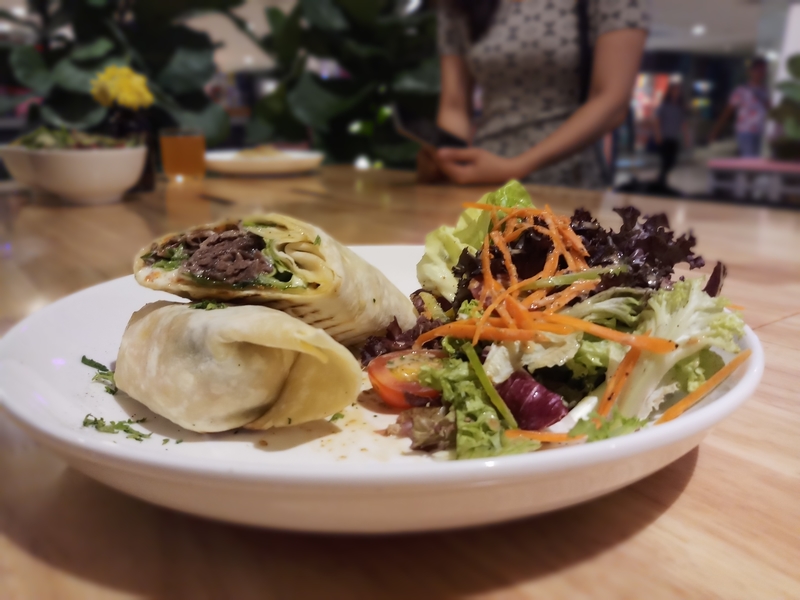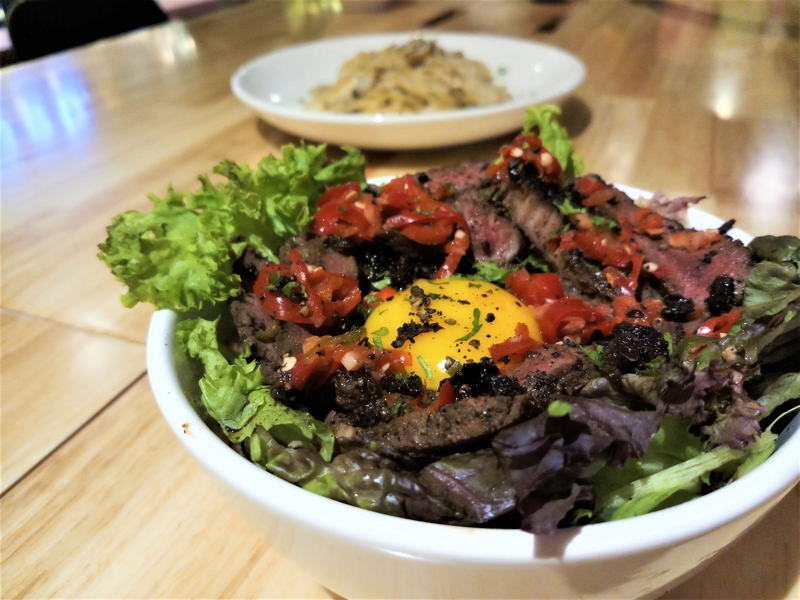 Spice lovers like us had a field day over the Beef Dendeng Bowl and Tempeh Bowl that brought all the right levels of hot, while those who prefer milder tastes will appreciate the creamy Pasta Carbonara with mushrooms alongside a cuppa RAGE.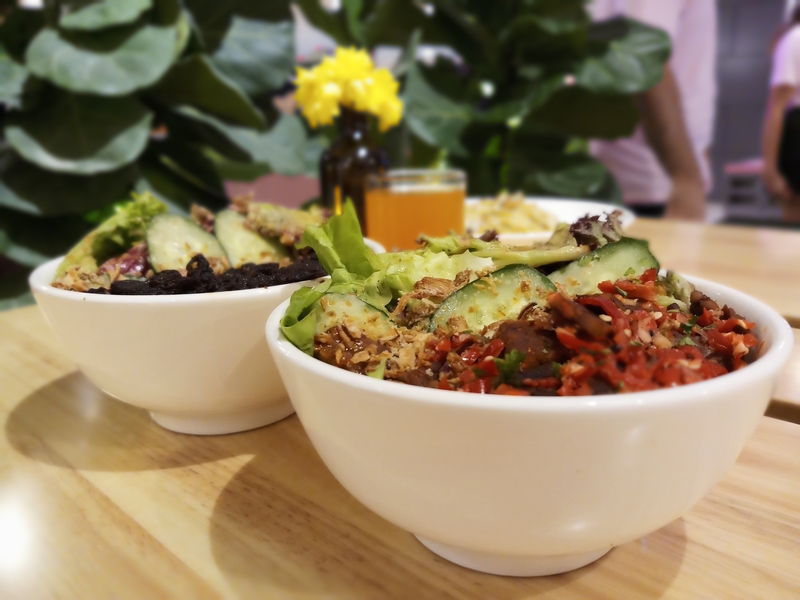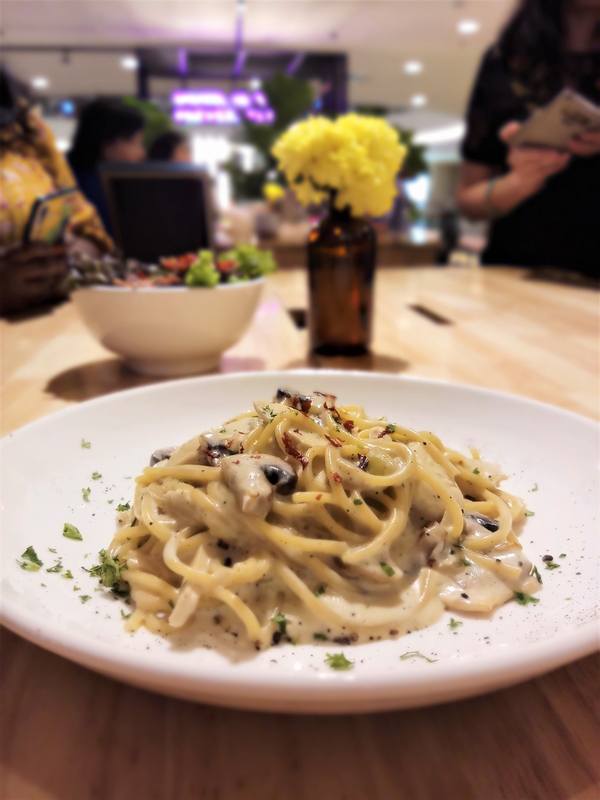 For those inclined towards a more plant-based diet, the Tempeh and Veg bowl presented a satisfying serving of this beloved Indonesian protein. Tempeh that's pan-fried just right with a powerful sambal on fluffy rice with salad is the perfect answer to those days when you want to cut calories.
The beverage menu provided all the necessary items anyone might need throughout the whole day in addition to the treat-yourself frappe range, but lactose-intolerant and vegan customers will be delighted to know that non-dairy plant-based milk alternatives are readily available here. Think soy, oat and coconut!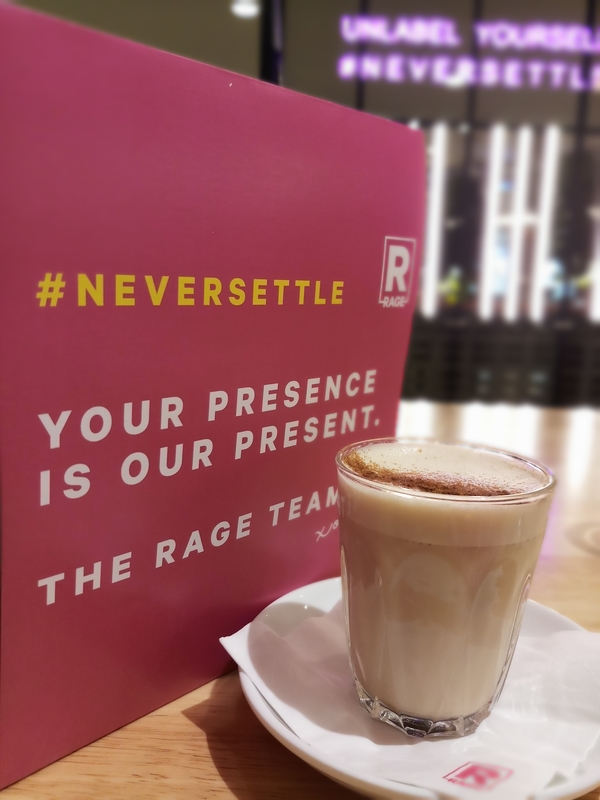 The milk substitutes are available for all the drink items on the menu, and the frappes have the added option of including a shot of espresso on request.
And true to RAGE2.0's vision of being more than just your average cafe, they've provided a space for customers to truly unwind and release the stresses of the day by hammering their punching bag! With the motto to Unlabel Yourself and #NeverSettle, the recognised need for a safe outlet to release daily frustrations modern work life is now presented in a more accessible sphere, and might even grant you a discount on drinks!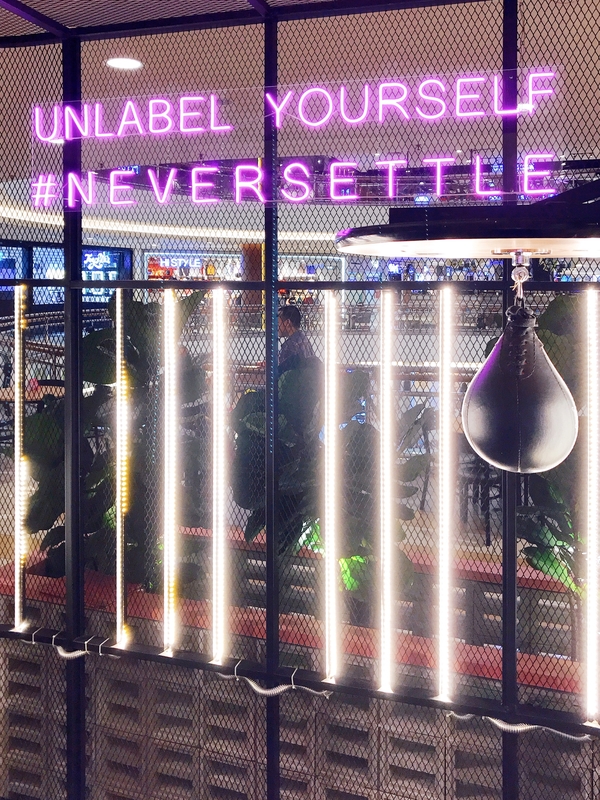 Be sure to download the DrinkRage app prior to visiting, for lots of special meal deals and discounts will be offered to identified RAGERS. And if you should find yourself a little too busy in the day to be physically present, the DrinkRage app will also function as a delivery system, and a fresh brew will be sent right to your location in the radius of the nearest RAGE outlet in the Kuala Lumpur area.
Check out our business breakdown of RAGE on our ExpatGo site here!
Location and Details
Address: RAGE2.0, Level 1(F), South Court, Mid Valley Megamall, Mid Valley City, 58000 Kuala Lumpur, Federal Territory of Kuala Lumpur
Tel: 012-527 5451
Opening hours: 10am – 10pm daily