Quartet at NU Sentral Mall: Restuarant review
This review is brought to you in part by Quartet.
NU Sentral has a new hub for tasty food and beverages, from sandwiches that showcase unique fillings to cakes, coffee and milkshakes that'll make your day. Helmed by the team behind Taman Tun Dr Ismail's popular Quartet cafe, this smaller outpost is a grab-and-go spin-off that mainly targets office workers and commuters in KL Sentral who crave a convenient but satisfying bite.
House baked ciabatta sandwiches
For a fresh meal at any time of the day, check out Quartet's thick, house-baked ciabatta sandwiches, with imaginatively wide-ranging influences that span both East and West.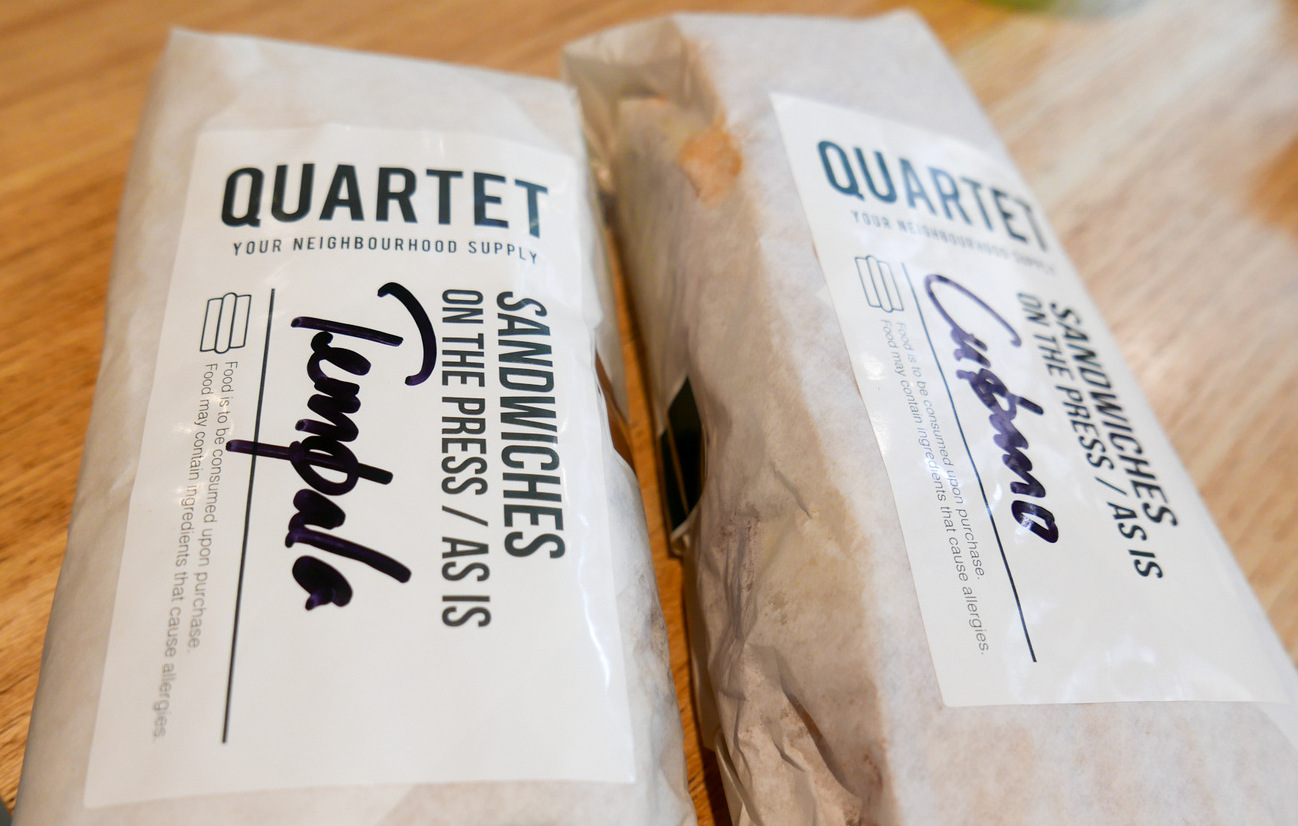 Our favourite might be the Indonesian-inflected Tempala (RM12.50), combining the nutty nuances of caramelised tempeh with chicken and orange slices, lettuce and tomatoes, and the Indian-inspired Bombay (RM12.50), featuring the vegetarian-loving crispness of cucumber, coriander chutney, tomato and red onions.
The cross-border creativity continues with the Cubano (RM15), a meaty-spicy pleasure with beef salami, beef and chicken slices, Sriracha mayo and japaneno, and the Mozacado (RM13), layered with mashed avocado, basil, tomato and cheddar cheese. Flavours and textures feel wholesome and reasonably well-balanced, while prices seem fair, considering how each sandwich supplies a substantial meal.
Desserts
Among the desserts, the star might be The Puan Sri (RM14), a decadent slice of cappuccino cheesecake with salted caramel and candied almonds, though some customers might also be seduced by the Chocolate Ever After (essentially a bittersweet choc ganache cake) and the Triple C (a revised carrot cake with coffee and cream cheese). Doughnuts, brownies and cookies are all available too.
Refreshing drinks
Wash down your meal with delicious refreshments including ice-cold milkshakes (RM11-RM14, in flavours like Granola and Cream, Crunchy Almond or Typically Mango), bottled raspberry and vanilla lattes (RM10; beautifully mellow, made fresh daily), spiced hot chocolate (RM11, enhanced with chilli and cinnamon) and Quartet's own soda mocktails (RM9.90/RM10.50; from lime mojito to raspberry bandung to strawberry and cream).
All of these are available for delivery if your office is around NU Sentral; there's also an extra piece of good news if you work in selected companies nearby (CIMB, MRCB and PwC, specifically) – you're entitled to a 10 percent discount at Quartet by flashing your employee's card. Thanks to the team here for having us.
Location & Details
Quartet
Lot CC-04A, Concourse Level, NU Sentral Mall, Jalan Tun Sambanthan, Kuala Lumpur. Located on the link bridge between NU Sentral and KL Sentral.
Daily, 8am-10pm.
Tel: +603-2276-0360