Olive Garden at Mid Valley Megamall: Restaurant review
This post is brought to you in part by Olive Garden restaurant.
We walked into Olive Garden in Mid Valley and were greeted by Chef Raymond (also the Managing Director Franchise Operations, Asia / MENA), who walked us through the concept of the restaurant and menu: Italian-American casual family dining, with an affordable price range – probably closer to local cuisine restaurants, rather than other Western outlets in the mall.
The team told us Olive Garden aims to be "popular and generous" – as mirrored in its options for unlimited salad, soup, and breadsticks. As part this theme, the restaurant is aimed to make customers feel like they are "coming home to family, with an abundance of food and sharing encouraged".
The Olive Garden brand has been around since 1982 in the USA, and has expanded to the UAE, Kuwait, Puerto Rico, Mexico and Brazil. The company arrived on Malaysian shores in May 2015 in this Mid Valley outlet, and another venue opened in Aeon Shah Alam in March 2016.
Naturally, the menu here has been adopted to suit Malaysian tastes and to use locally-sourced ingredients: back in America, the concept is true southern Italian which is very tomato-heavy, but obviously in Malaysia, the taste palate has been adapted to the local culture.
It serves no pork or wine, and there's more focus on seafood in Asia (whereas in the Middle East there are more steaks on the menu than in the US). Also, alternative cheeses have been used (for example, in America, gorgonzola is very common but less so here).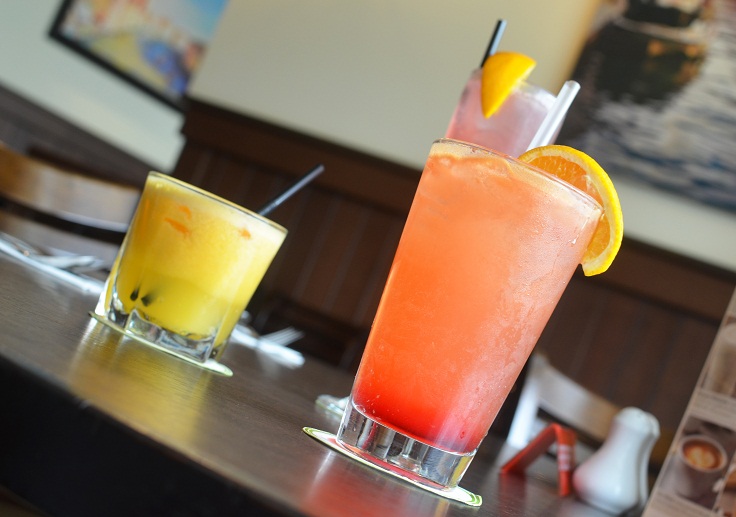 As we chatted, our drinks arrived. We found the Orange-Cranberry Limonata (RM16.50) particularly refreshing and also enjoyed a Fresh Fruit Punch (RM11.50) and Orange Juice (RM11.50). Chef Raymond also pointed out another Olive Garden institution: bottomless soft drinks such as Lipton Iced Tea and Mirinda Strawberry (RM9.90).
Antipasti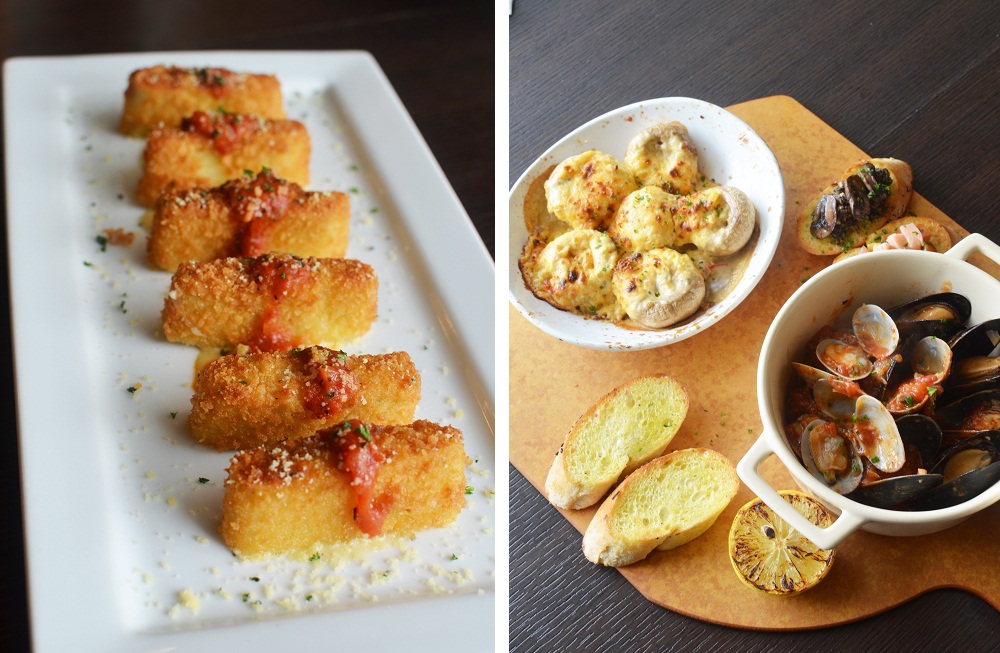 The Lasagna Fritta (RM15.90) was crunchy and rich, and the Trio Italiano (RM39.90) had lightly smoked salmon and basil bruschetta, cheesy and earthy stuffed mushrooms and a small ceramic bowl of clams and mussels that were sweet from the seawater and had a lovely degree of chewiness.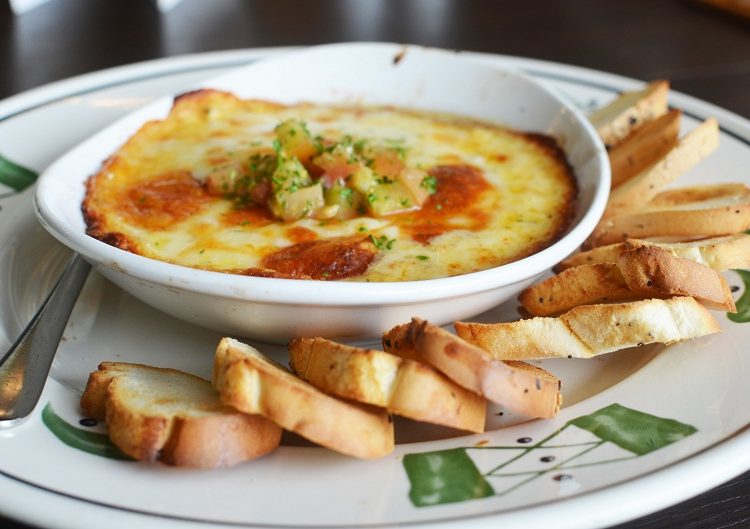 Easily the standout dish of the day was the Smoked Mozzarella Fonduto (RM29.90) which was a large dish of beautifully gooey, melted smokey cheese – smokey to the point of being reminiscent of bacon, and rich and delicious.
Zuppe e Salata (soup and salad)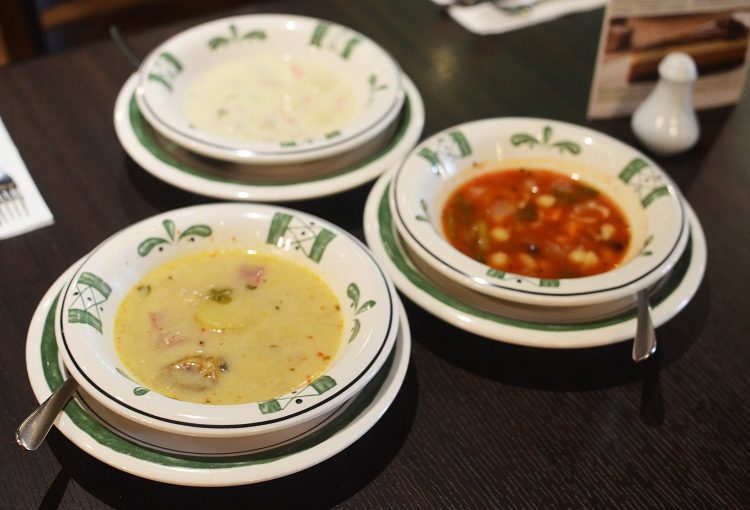 One of Olive Garden's most popular options in America is the unlimited, complimentary, soup when you order an entree, and the salad add-ons. These include the Zuppa Toscana (RM11.80), a light dish of chicken, beef bacon and chorizo that was warming but not too filling; and the nicely balanced Chicken and Gnocchi (RM11.80) with a thick and creamy white broth and moreish pieces of tender chicken.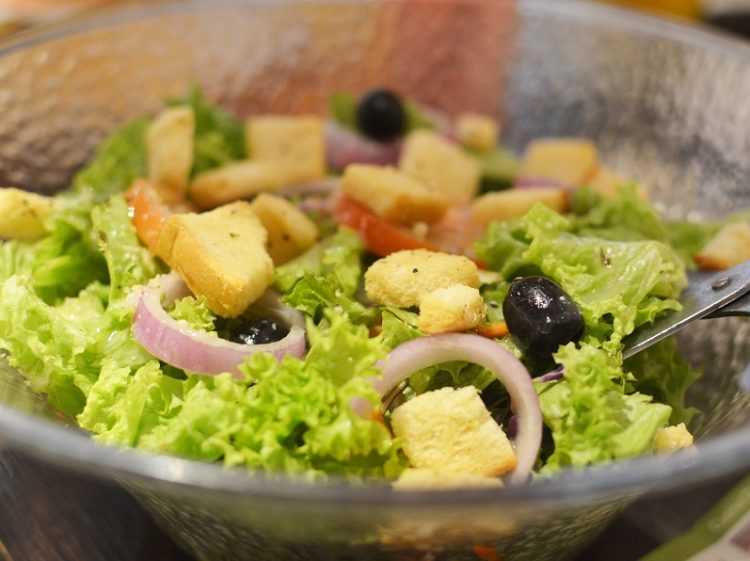 There was a hearty Minestrone (RM11.80), with a deep red broth and colourful pasta and vegetable pieces. We also enjoyed a huge bowl of fresh leafy greens with croutons and onions. The soups are available on their own as well.
Mains: Pollo (chicken) and Pesce (fish)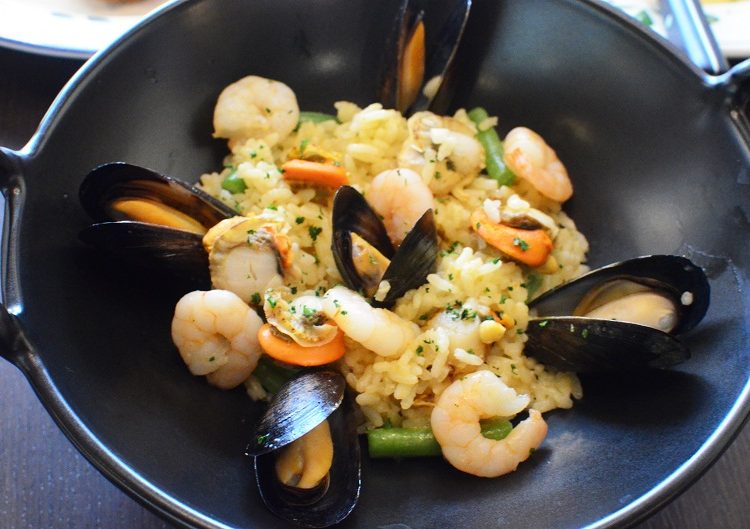 The seafood risotto (RM46.90), served in a cute black ceramic dish, had beautifully cooked mussels that were slightly chewy yet delicate, served on a bed of creamy rice. The Lobster Fettucine (RM53.90) was nicely seasoned and had huge prawns topped with a pretty piece of whole red lobster.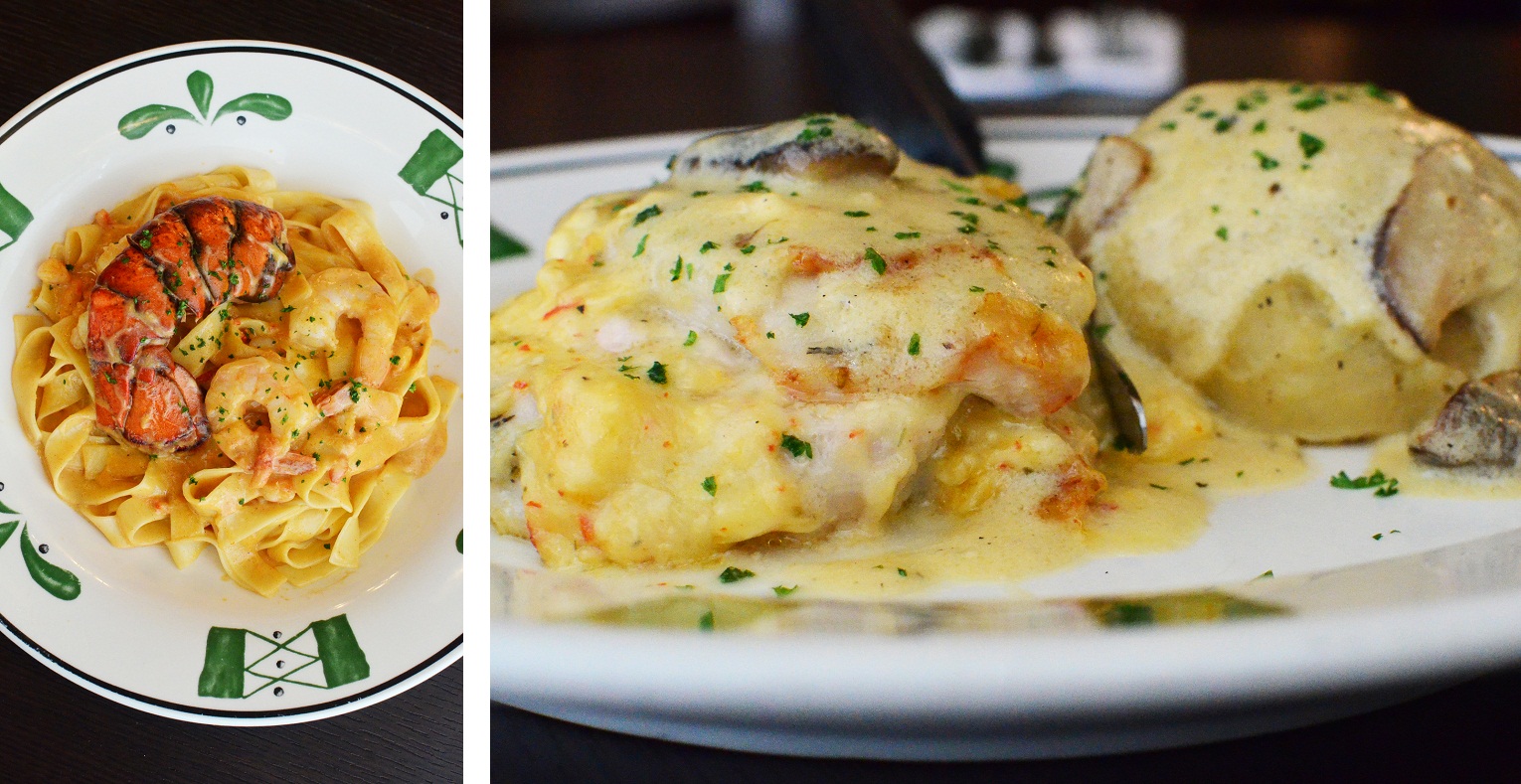 One of our favourite dishes of the main course was the Stuffed Chicken al Forno (RM34.90) which comprised a large juicy chunk of chicken breast, smothered in that same delicious smokey mozzarella as the starter. In Malaysia, the marsala wine that would usually go into the sauce is substituted with dairy ingredients and extra rosemary. The Chicken and Shrimp Carbonara (RM36.90) had large meaty prawns, a beautifully creamy sauce, and crunchy red peppers.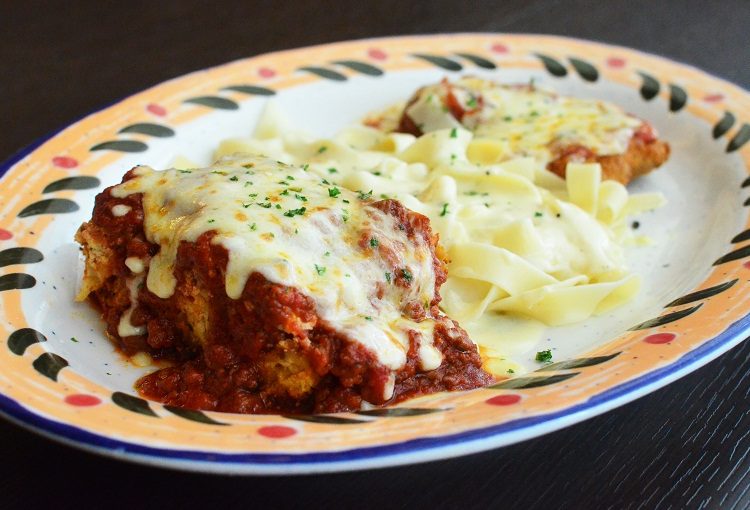 For those with a large appetite or wanting to share, The Tour of Italy (RM69.90) was an enormous platter of hearty Sardinian-style comfort food containing a meaty Lasagna Classico al Forno, satisfyingly chewy Chicken Parmigiana, and creamy yet light Fettucine Alfredo.
Dolci (desserts)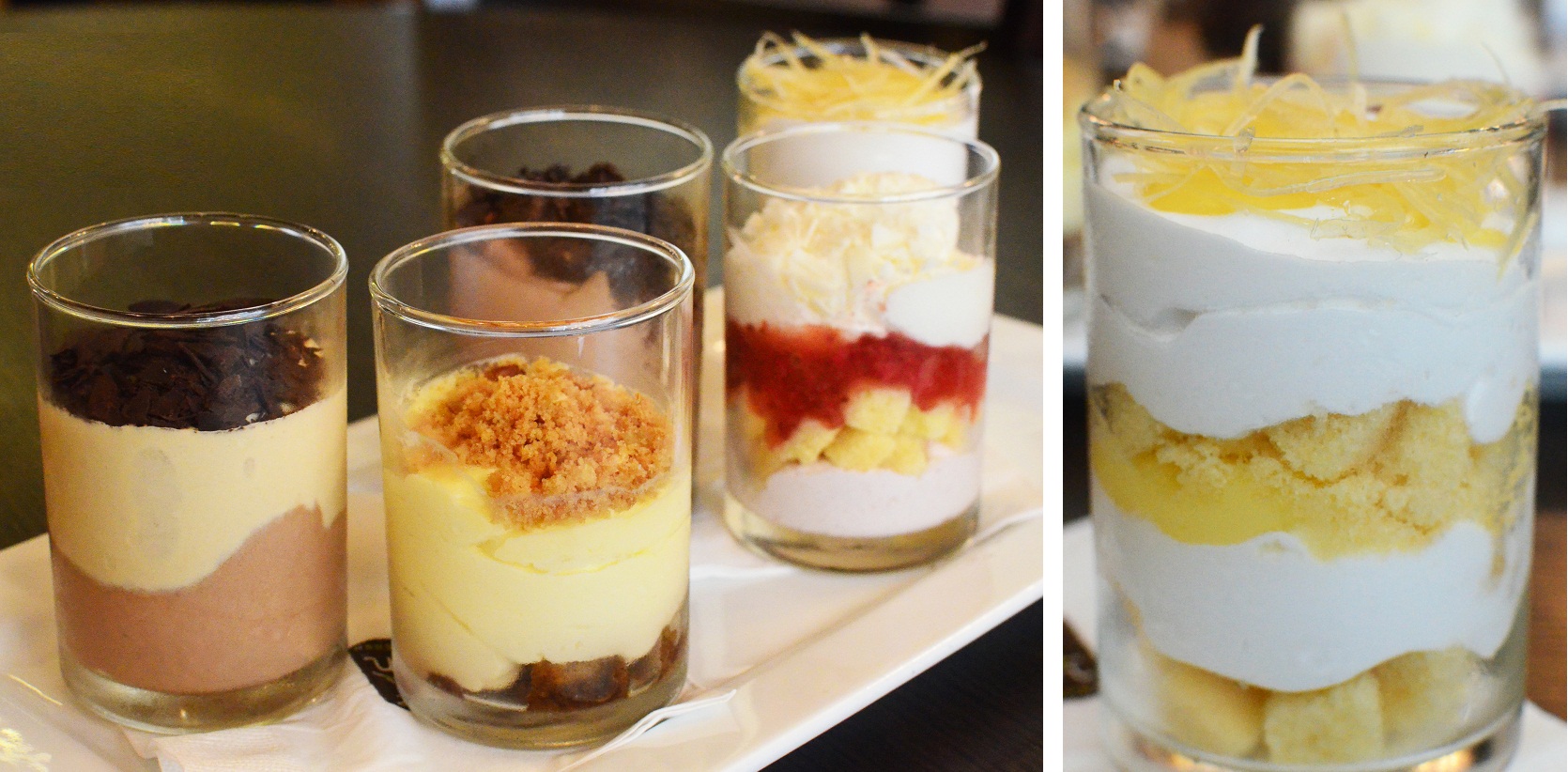 In the words of Chef Raymond, "desserts make an occasion more memorable" and so the menu includes small sweet bites called dolcini – which come in a group of one, three, or five (RM6.80/RM18/RM29) – which allow guests who are getting full to finish the meal with something sweet but not too heavy. The mousses and tiramisus were sweet and light – perfect for a lunchtime dessert – and only have 150 calories.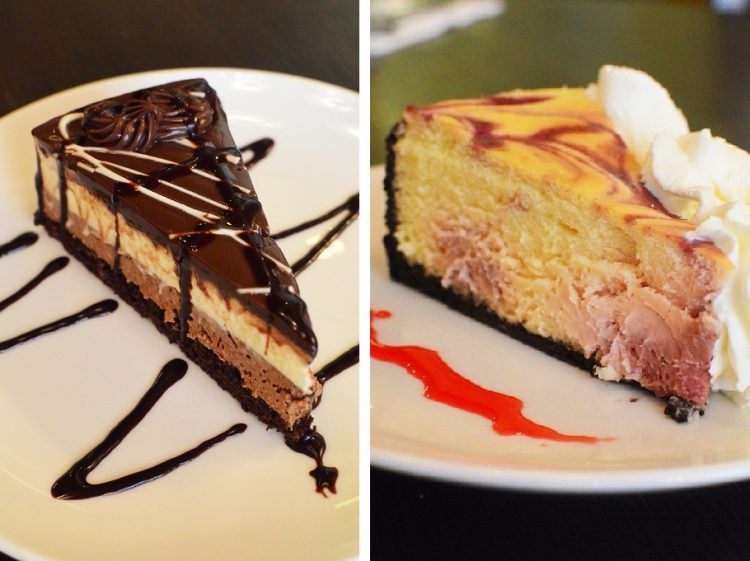 The Black Tie Mousse Cake (RM12.80) had a rich chocolate ganache balanced with fluffy whipped cream and the Tiramisu (RM12.80) delivered rich chocolate layers enhanced with a strong kick of espresso. The White Chocolate Raspberry Cheesecake (RM12.80) was dense and moist and felt very much like a traditional New York style baked cheesecake – a true hark back to the restaurant's American upbringing.
More about the brand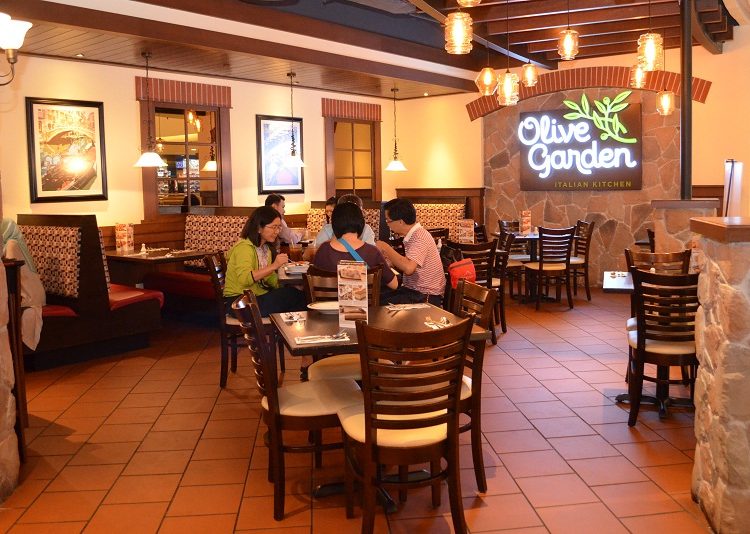 Chef Raymond has been at the company for 21 years as a GM before also joining the support center to develop local and later international menus. He was in Red Lobster in KL until March, which first opened at The Intermark on Jalan Tun Razak in 2014. He stated that, within one to two years, they are aiming to launch in China.
Interestingly, the Olive Garden has a culinary institute in Tuscany, Italy, built in conjunction with the famous wine-growing Zingarelli family. Every year, they send 120 culinary managers to Italy to learn about the food and the culture.
In addition, 20 chefs are brought to the US from Italy for a cooking council. They are sent to Florence, Rome, and Siena for an immersive learning experience. As a graduation exam, the chefs have to go to the market to buy ingredients, and then prepare a six to eight course meal for the chefs and the Zingarellis – in the institute found right in the the middle of the vineyard.
More details and address
For more details, visit olivegardenrestaurant.com.my
There is an Olive Garden in Mid Valley and Shah Alam. To view the directory for the Olive Garden group of restaurants, click here.