Nobu's December Menus Hit a Holiday Trifecta
Nobu Kuala Lumpur recently unveiled their fresh new menus – three of them! – all specially curated for the festive holiday season, and there's a little something for everyone to be found.
Keeping with the popular theme of its 'For Two' menus crafted for two diners and offered at a single attractive price, Nobu rolls out its Delectable December for Two menu, a five-course winner that kicks off with a nice Moriawase dish featuring an Oyster with Maui Onion Salsa, Salmon Sashimi with Karashisu Miso, and Bonito Tataki with Ponzu Sauce and Crispy Onion. Yum! Then it's the chef's selection of fresh sushi, which is always a treat.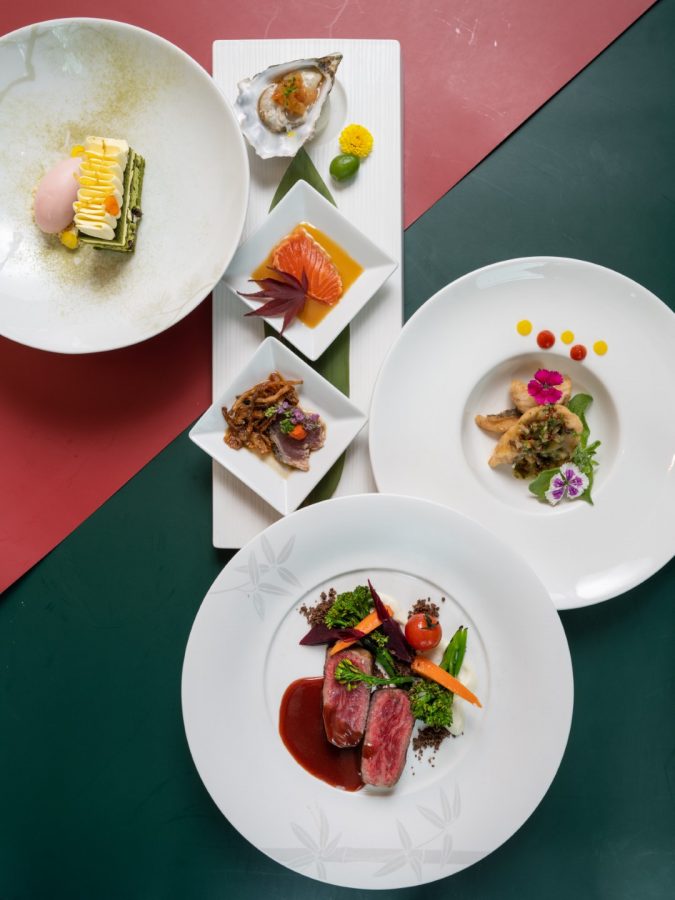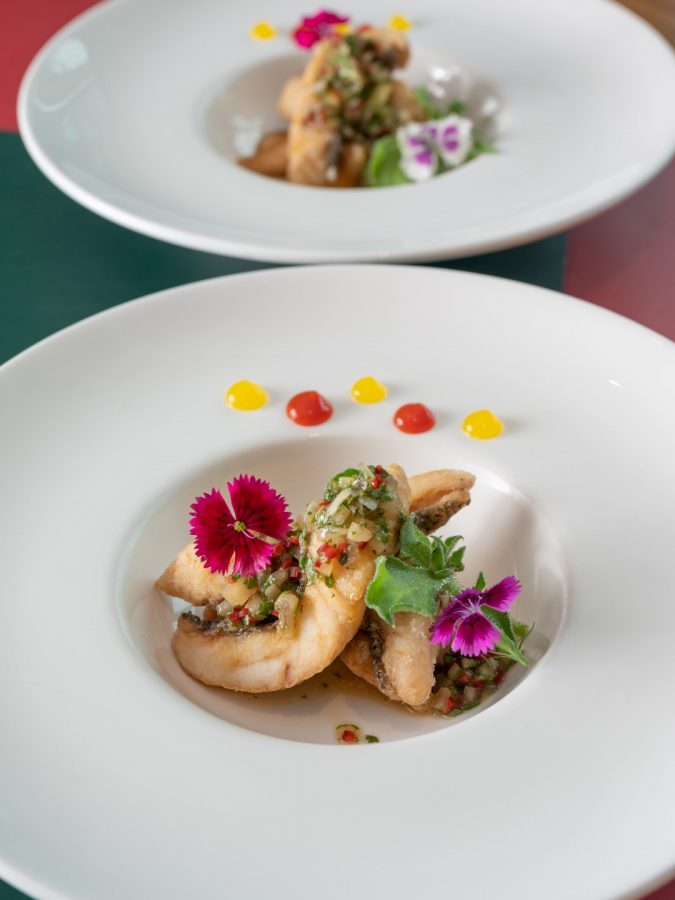 The main dishes – yes, there are two! – comprise a mouthwatering Coral Grouper with Shiso Chimichurri Salsa and a decadent Grilled Rib-eye Steak with Jerusalem Artichoke Purée. These are both fine choices, but if you want to kick it up a notch, there are "upgrades" available: an Alaskan King Crab with Soba and Soy Cream (RM70 additional per person) and a Grilled Japanese Wagyu Beef dish (RM165 additional per person).
Following these two scrumptious courses, the dessert is a simple and very satisfying Almond Green Tea Sponge Cake with Green Tea Ganache and Yuzu Peach Sorbet. A fitting end to a great procession of dishes!
The Delectable December for Two menu is priced at RM528 for two diners. The menu is offered Sundays through Thursdays only, from December 1 to December 23.
CHRISTMAS DELIGHTS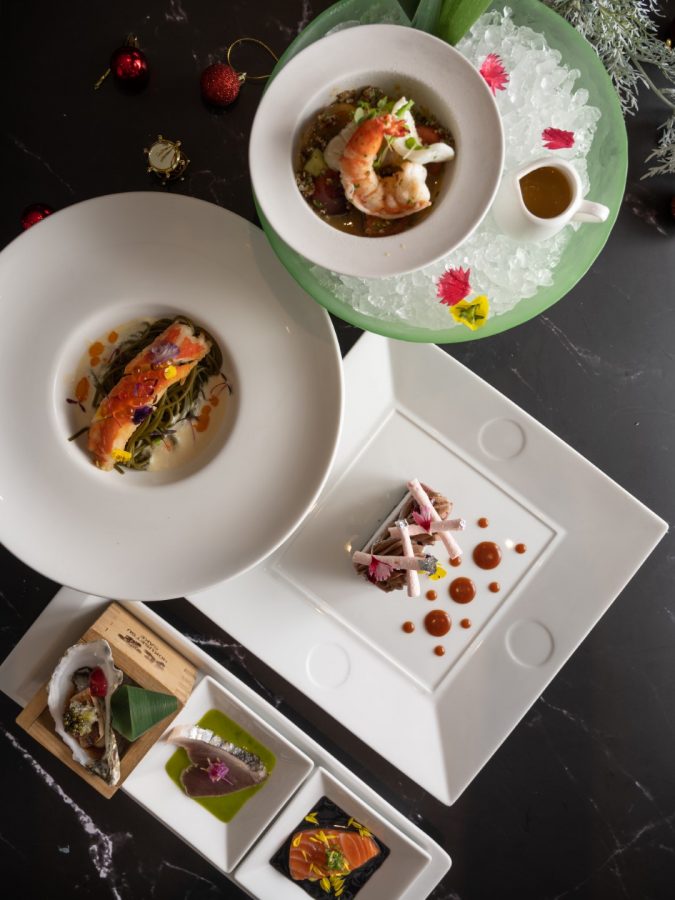 If you're looking to dine out for Christmas, Nobu's got you covered! The 6 Plates of Christmas by Nobu is a six-course menu, and begins with the Moriawase course and fresh sushi course, but with different items than those above. The first course features an Oyster Foie Gras with Caviar (which was our favourite on this dish), Salmon Sashimi with Black Goma Sauce, and Bonito Tataki with Amarillo Jalapeno Sauce with Crispy Shiitake. The sushi selection is specially chosen by the sushi chef, and certainly never disappoints!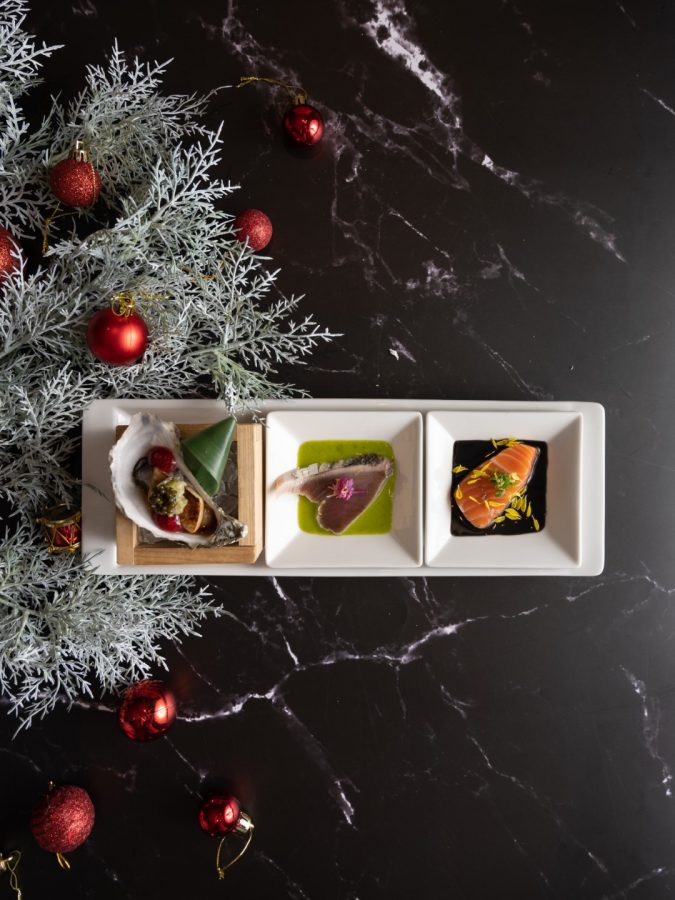 The Nobu Style Ceviche follows, an interesting take on the Peruvian classic, featuring a large prawn and fresh fish marinated in lime juice. Next up are both of the upgrades from the previous menu, offered here as standard: the Alaskan King Crab with Soba and Soy Cream and the Grilled Japanese Wagyu Beef with Jerusalem Artichoke Purée.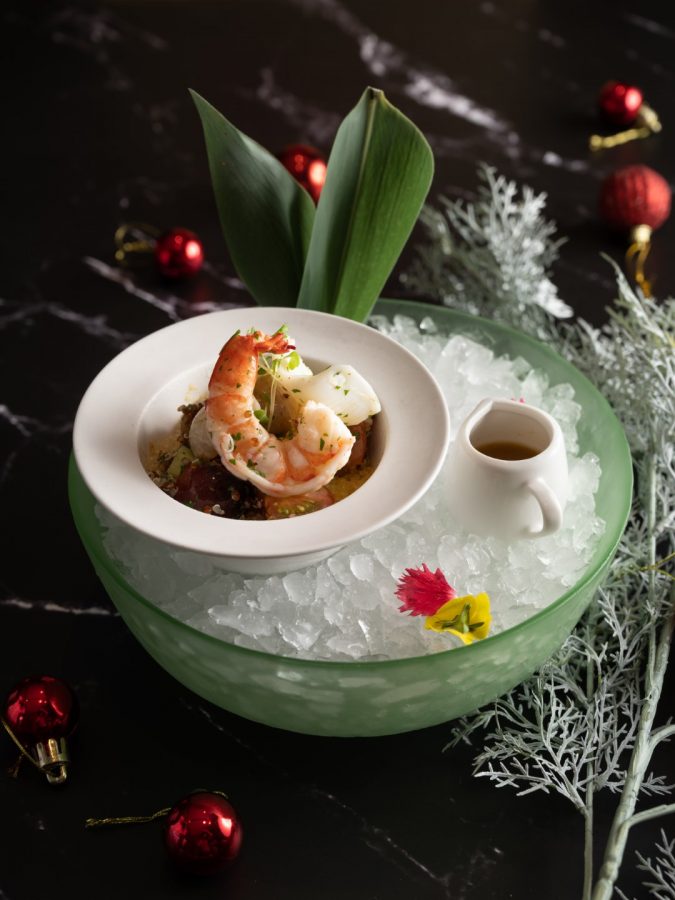 Dessert is suitably Christmasy: a Cherry Ice Cream Cake with Caramel Miso, Chocolate Cream, and Cherry Compote.
The 6 Plates of Christmas by Nobu is priced at RM658 per person, and is available only on December 24 and December 25.
RING IN THE NEW YEAR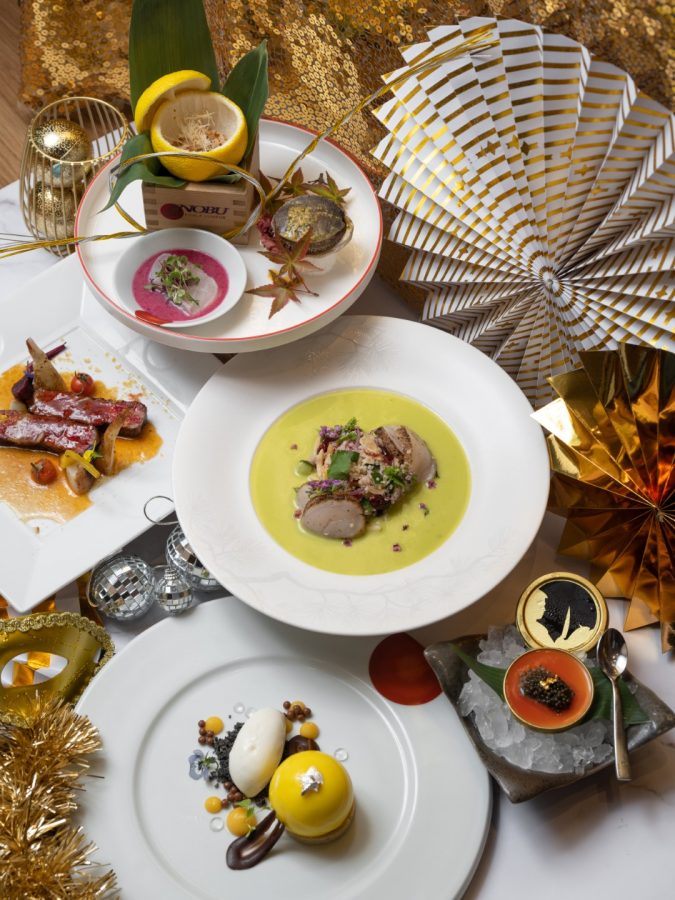 After a challenging 2020, and a 2021 that was probably even more difficult for many of us, we're certainly looking ahead to a new year with hopes of better days! Nobu invites you to say goodbye to 2021 and welcome in 2022 with its New Year at New Nobu menu!
No bonus points for guessing what the first two courses are at this point! Yes, the Moriawase and Sushi courses, this time comprising Shirako with Ceviche Miso, Madai with Kiku Sauce, and Abalone with Uni Butter Sauce, along with a flight of the chef's choice of sushi. Next up is the creative Scallop Tataki with a Quinoa Cranberry Salad and Jalapeno Dressing.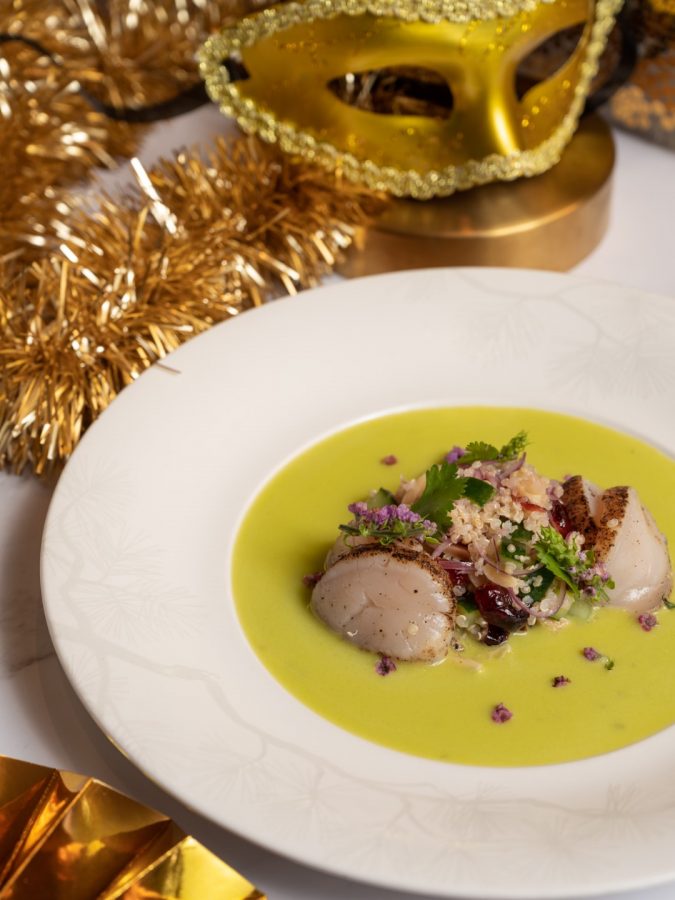 Following a curious Homemade Tomato Pudding with Caviar that serves as a palate refresher, the fourth course stuns with its presentation of King Crab in a Yuzu Truffle Butter Sauce (seriously, we like every word of that name) complemented by Crispy Kale. It's a delicious dish all around, and the one that follows it only manages to make the meal better! The fifth course is a fabulous Grilled Wagyu Beef with Bottarga Sauce, accompanied by a Roasted Jerusalem Artichoke and Shabu Mochi.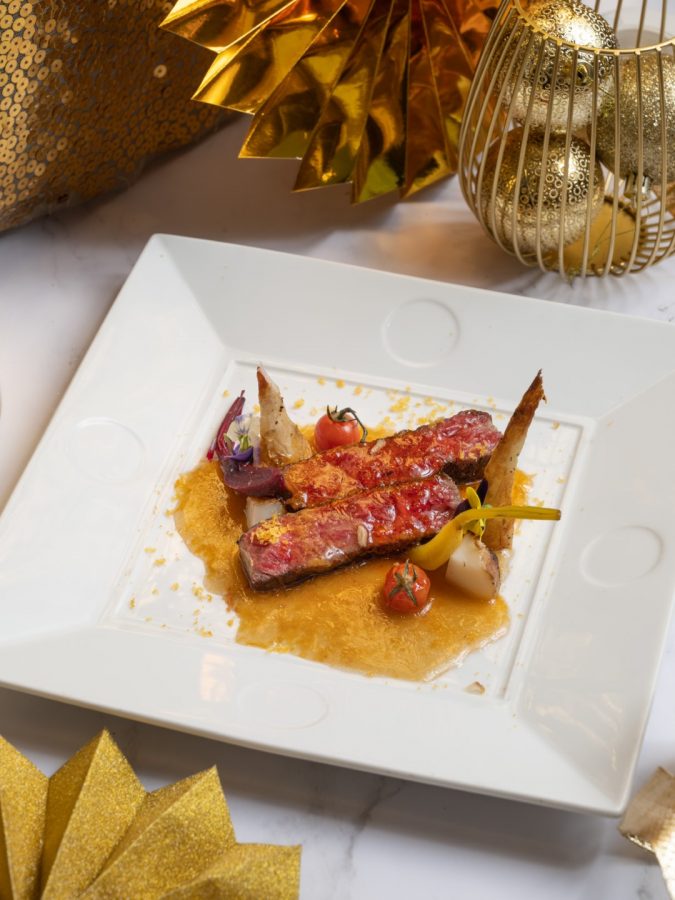 Finally, relax with dessert, a Yuzu Chocolate Mousse with Yuzu Curd, Vanilla Milk Ice Cream, and Black Goma Mochi. Trust us when we say this is a fantastic way to wrap up this meal!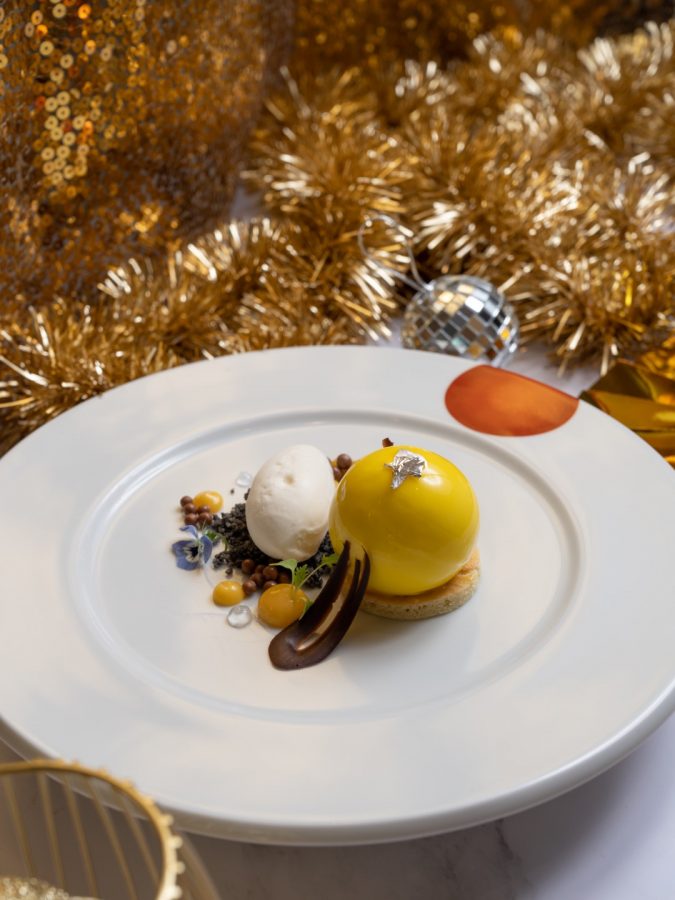 The New Year at New Nobu menu is priced at RM758 per person, with availability only on December 31 and January 1.
Prices noted are exclusive of tax and service.
Reservations are advisable, and certainly necessary for Christmas and New Year. (Visit letsumai.com to book your table.)
Location & Details
L4A-05, Level 4A Shoppes at Four Seasons Place
No, 145, Jalan Ampang
50450 Kuala Lumpur
T: 03.2380 0028