Mid-Autumn Festival in KL This Year
The Mid-Autumn festival is massively celebrated across Asia, especially in China, Vietnam, and even Malaysia, with many coming together in the spirit of family, fun, and lanterns! With over three thousand years of history, the most popular offerings of this season not to be missed are the mooncakes.
To celebrate this special seasonal occasion, we at EatDrink have compiled a list of hotels offering both traditional and zany mooncakes, including ones flavoured with the latest trendy Durian Musang King fruit and many other creative spins on this sweet delicacy. Here is the ultimate guide to light up your mid-autumn festival this year!
1. Shangri-La Hotel KL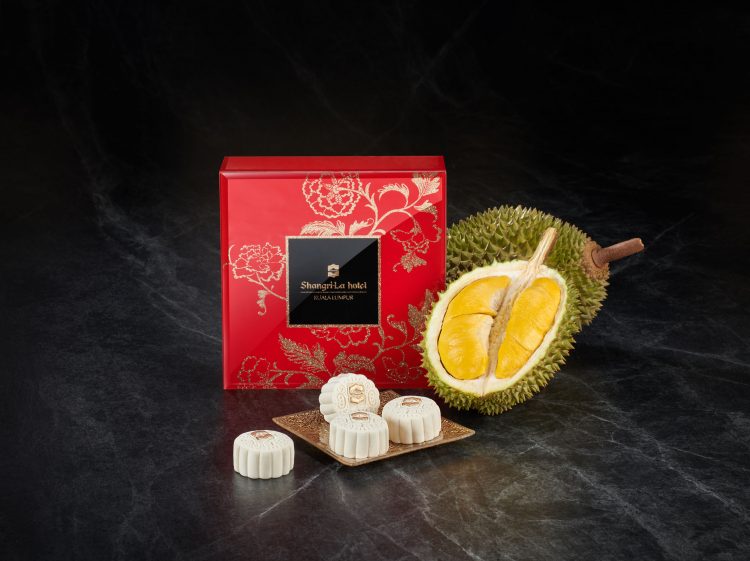 Shangri-La Kuala Lumpur presents decadent and elegant bites with a touch of artistry by the Executive Pastry Chef of in-house restaurant Shang Palace. Themed Shang Glamour, a Chinese cultural celebration united with modern flavour selections give the delicacy a playful snow-skin appearance with multi-layered fillings of surprising textures. Alongside the luxurious durian flavour, the Shang Palace Mooncake Gift Set is also featuring two special flavours of White Lotus Seed Paste with Lava Salted Egg and Ping Pei White Lotus Paste with Betroot and Single Yolk.
The mooncakes are available individually, as well as in collectible gift boxes. Traditional flavours such as Red Bean, White Lotus Seed Paste Single Yolk, and Assorted Nuts & Sun-dried Fruits will of course be available, as well as the snow skin (Ping Pei) collection of Ping Pei Durian, Ping Pei Custard with Bird's Nest and Ping Pei White Chocolate with Almond Nuts and Passion Fruit.
A Mooncake Counter is ready and waiting for you at Mid Valley Megamall from the 22nd of August to the 13th of September, price ranges from RM34 to RM65 individually and from RM139 to RM390 for gift box pax.
2. Le Méridien KL
Le Méridien's deli Latitude 03 offers sweet treats to bring to the sweet reunion for the first time! The traditional bite-sized delights are hand-made to perfection in the newest seasonal favourite flavours such as Baked Durian, and local beloved Pandan Paste. In addition, Le Méridien's limited edition Premium Mooncake Gift Set also features delicacies catering to chocolate and coffee lovers with Mint Chocolate, Tiramise and illy Italian coffee-infused mooncakes.
The mooncakes are individually priced at RM25 nett and the set collection of six are at RM158 nett.
Le Méridien's mooncakes are on sale from the 1st of August to the 13th of September, and Marriott Bonvoy loyalty members as well as Maybank, CIMB, HSBC, Hong Leong Bank and UOB Bank cardholders will enjoy 10% off all mooncake purchases.
To make an order, kindly email [email protected] or call +60 3 2263 7434
3. Hilton Kuala Lumpur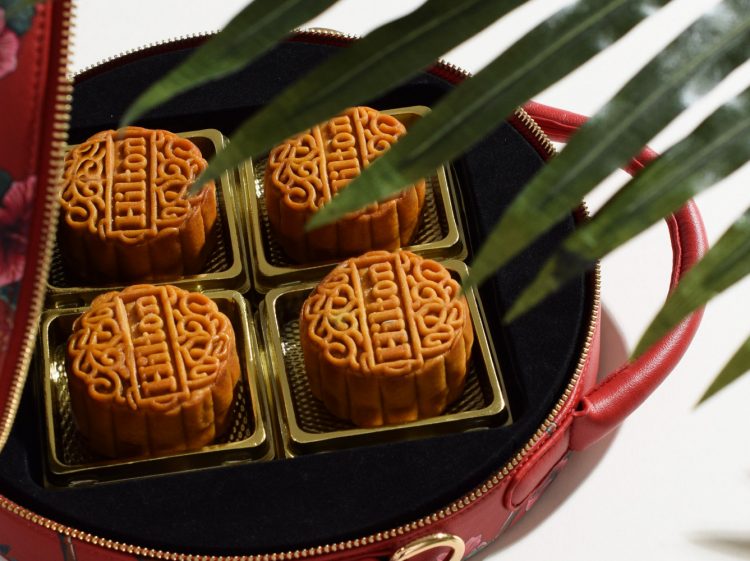 Still pondering over the perfect mid-autumn festival gift for family members or special friends? Hilton KL and local homegrown designer Christy Ng have teamed up to appease our inner zero waste needs and also pay homage to our nation Malaysia's homegrown pride and resource. Dubber Tropical Allure, the rounded faux leather box creation features hibiscus print and hummingbird embellishments, altogether encompassing the image of the full moon with prosperity and good luck symbols, with gilded zippers and trim.
Once the family has had their fill of the halal-baked mooncakes, the presentable box is reinvented into a fashionable and chic handbag (with the addition of a separately purchased handbag strap) for every other occasion. They come in two colours: Crimson Red and Royal Purple.
The box/bag is available for purchase without the mooncakes for RM148, and for RM168 with mooncakes.
Hilton KL's other mooncake packages of Heavenly Gold (four Musang King durian snow skin mooncakes), Coveted Classic flavours of Baked White Lotus and Pandan mooncakes, Much-Awaited Returns of previously well-received mooncake flavours, and the Mid-Autumn Series are also available at set prices.
Purchase can be made at the pop-up store in Hilton Kuala Lumpur's lobby from now until 13 September 2019 as well as major shopping malls Pavilion Kuala Lumpur (23 Aug 2019 – 12 Sept 2019), Mid Valley Megamall (22 Aug 2019 – 13 Sept 2019), and One Utama Shopping Centre (29 Aug 2019 – 12 Sept 2019).
Alternatively, online orders are also available at www.takehome.hiltonkl.com. For more information, call +603 2264 2006 or email [email protected]
4. The Westin Kuala Lumpur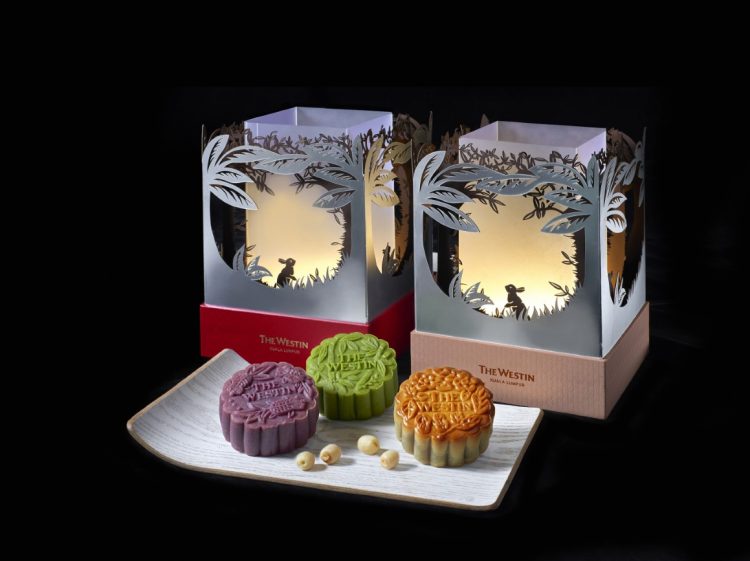 While mooncakes may be the centre stage of the Mid-Autumn Festival, the lantern is its (literal) spotlight! Five Sen5es at The Westin honours the other well-loved symbol of the season with a premium LED light box, available with a set of four traditional-baked mooncakes.
This year's flavour line-up presents eight variations including all-time favourites such as Black Sesame Single Yolk and Pandan Mung Bean Single Yolk; and new health-conscious range of Low Sugar White Lotus Paste and Low Sugar White Lotus Single Yolk. Two new introduced flavours of Purple Sweet Potato and Taro Sensation mooncakes are also available.
Prices start at RM118 nett per set for a set of four mooncakes in a Classic Westin Box, RM138 nett for a set of four in a Premium LED Light Box and RM178 nett for a set of four in a YUÈ Fantasy Box. The mooncakes are available for sale starting 1 August to 18 September 2019.
To place an order or for further information, call Westin Dining at 03-2773 8495 or email: [email protected].
5. Grand Hyatt KL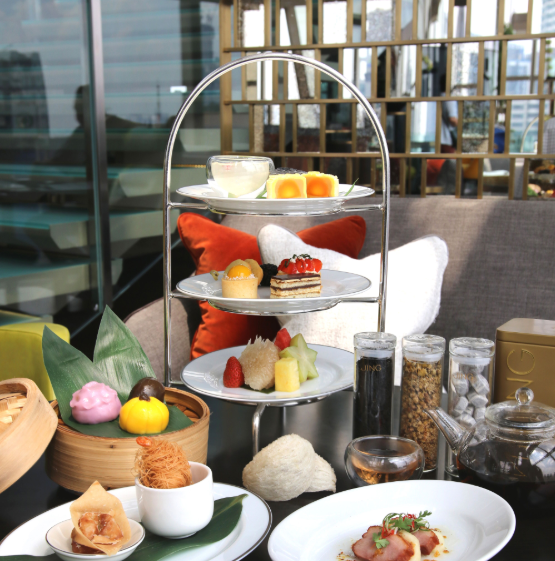 Did you know that the Mid-Autumn Festival is also a harvest festival? Well, the Grand Hyatt Kuala Lumpur is here to help you celebrate that part of the mooncake festival with a delectable afternoon tea and mid-autumn-inspired dishes! Curated by Executive Sous Chef Byron Zhang, diners of in-house restaurant THIRTY8 can enjoy seasonal treats of festival foods such as s pumpkin, taro, chestnut, pomelo and duck.
Only available for four days (10th to 13th September, 3pm to 5pm), the seasonal afternoon tea with an Oriental twist will be featuring delights like Pandan bird's nest drink, smoked duck, mid-autumn inspired dumplings (chestnut, pumpkin, taro), deep-fried wontons and pomelo seasonal fruit platter in addition to afternoon staples and all-time favourite – mango tartlet, hazelnut caramel Opera, bergamot-yuzu Madeleine and strawberry sable and Asia's finest premium tea – JING tea (Pu-erh) for a complete afternoon tea experience.
The afternoon tea is priced at RM128 nett per person.
A family reunion over the bounties of the harvest festival would not be complete without specialties such as braised chicken with yam and water chestnut, glutinous rice with smoked duck and sweet chestnut, signature mooncakes and many more! This lunch and dinner seasonal menu will be available from 9th to 15th September.
For reservation, please call THIRTY8 at +603 2182 1234 or email to [email protected].
6. Pullman KLCC
Red Chinese Cuisine at Pullman KLCC rings in the Festival of the Moon with irresistible traditionally-baked best-selling mooncakes of White Lotus Paste and Single Egg Yolk and Bamboo Charcoal Paste with Macadamia Nut and Raisin and brand new Five-variety Nuts with Dried Longan and Osmanthus.
For the Snow Skin collection lovers, the Snow Skin with Cardamom, rum and raisin mooncake provides a sweet chewy custard filling, while the Snow Skin with Roselle and Strawberry Paste, Snow Skin with Matcha Green Tea and Red Bean Omochi, and the Snow Skin with Sweet Potato and Mung Bean Paste will delight those with a sweet tooth.
Present these lovely treats in Red's limited edition elegant glass boxes that can also be customised for corporate gifting. The boxes can be bought in 100 (4 pieces per box) in a single receipt.
For prices and to place orders from the 1st of August to the 13th of September, contact Red Chinese Cuisine at +603 2170 3259, email [email protected] or visit Pullman KLCC Mooncake 2019 for online orders.
7. Pavilion Hotel Kuala Lumpur Managed by Banyan Tree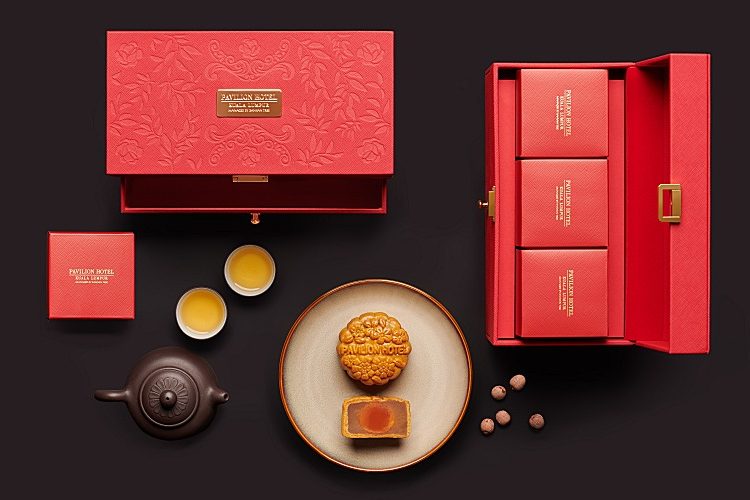 The classic quality of Pavilion Hotel Kuala Lumpur's mooncakes are always one not to be missed during the festive season! All-time signature flavours blended with seasonal produce create oriental delicacies with a local twist,
Pavilion Hotel's mooncakes are available for purchase at Level 8, Banyan Tree Retail Shop from the 12th of August to the 13th of September. Order now before the 25th of August and get a 15% discount off on all mooncakes.
For orders, please contact +603 2117 2888 or email to [email protected].
8. Sheraton Hotel Petaling Jaya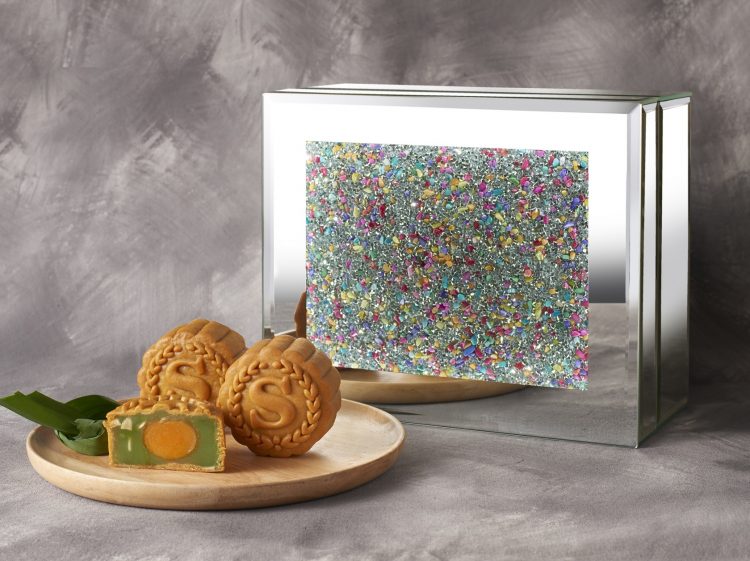 Sheraton PJ kick started the Mooncake Festival early with their Mid-Autumn Jewels showcasing exclusive and glistening mooncake boxes with four traditionally-baked mooncakes as a pack set. With flavours including Red Bean with Melon Seed and White Lotus with Single Yolk,  these mooncakes can be bought individually for RM26 nett, or at RM168 nett for four and the intricately designed gift box of Swan Crystal, Swan Pearl, Butterfly and Rainbow Stones.
Sales have started from the 22nd of July and will go on until the 13th of September.
For further inquiries contact 03 7622 8888 or email: [email protected].
9. W Kuala Lumpur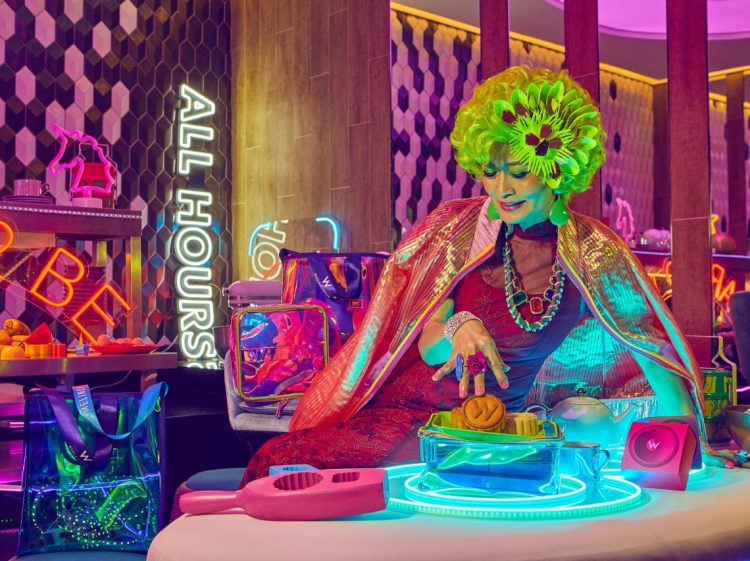 Yen, W Kuala Lumpur's Cantonese restaurant marks the Mid-Autumn Festival in a typically inventive fashion this year! Collaborating with local designer Melinda Looi, the culinary brigade of Yen creates classic Yellow Lotus Seed Paste with Single Yolk to Almond Sesame White Lotus Seed Paste and more, delightful mooncake varieties seamlessly blend tradition with a vibrant modern-day vibe.
The limited edition W Kuala Lumpur x Melinda Looi mooncake set comprises of four mooncakes, a translucent square pouch, candles, a paper lantern, a traditional story book on Mid- Autumn tales, and a stylish opalescent tote bag.
Prices start at RM43 nett for individual mooncakes and RM198 nett for the box of for, and have been available for sale from the 1st of August until the 12th of September.
For further enquiries or to order, kindly email [email protected] or contact 012 347 9088