Marrying Innovation and Tradition: Hilton Celebrates Mid-Autumn Festival in Style
Make this year's Mid Autumn celebration an exclusive treat with Hilton's premium traditional baked and snow skin mooncakes! Accompanied with a signature giftbox adding to its creative excellence and culinary craftmanship, this summer harvest festival-turned-reunion celebration is bound to be better than the previous ones.
"The Mid-Autumn season is a great opportunity to showcase the cultural diversity of our region where we have hotels operating across nine countries in South East Asia. Each year, our culinary teams seek to outdo themselves creating delectable festive feasts complemented by aesthetically pleasing boxes suitable for gifting or personal enjoyment that meets the ever-evolving consumer trends and tastes. We are delighted to be launching a beautiful new collection this year that marries tradition with innovation to help families and loved ones reconnect during this period," said Paul Hutton, vice president, Operations, South East Asia, Hilton.
Hilton's 2021 Mid-Autumn series is set to be a multidimensional feast of the senses – from sight to taste. Guests are invited to partake in an exciting journey of fine quality and exquisite flavours in participating restaurants and hotels.
Oriental Treasures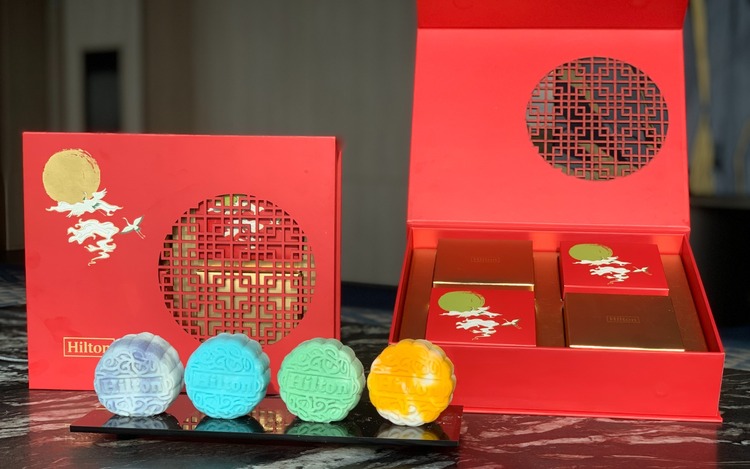 Across Malaysia and the Philippines, Hilton Hotels launches the Oriental Treasures regional series. Embellished in imperial red, this box represents the core of Chinese heritage with classic motifs of noble red-crowned cranes, celestial crowds, and a golden full moon. An ornate die-cut window pane inspired by moon windows of Oriental culture offers a peek into the individual matte-finishing gold and red receptacles housing individual mooncakes.
Available in: Hilton Kuala Lumpur, Hilton Kuching, Hilton Kota Kinabalu, DoubleTree by Hilton Kuala Lumpur, DoubleTree by Hilton Melaka, DoubleTree by Hilton Johor Bahru, Hilton Garden Inn Kuala Lumpur, Hilton Garden Inn Puchong
In keeping to Oriental tradition roots, Hilton celebrates a unique approach adopted by Southeast Asia's cultures, trends, and sourcing of local ingredients. Complied into a respective range of limited edition gift boxes, celebrate with modern tastes, sustainable chic, and sophisticated flair.
Chynna, Hilton Kuala Lumpur
Renew celestial spirit of cultural traditions as seasons change, flavours innovate, and moments together become a luxury. Timeless rituals take on different forms this year, and the Jade Moon gift box will make this season an occasion to remember. This striking mint green box celebrates modern tastes while paying homage to the prestigious shade of Jade – a symbol of wealth, peace, and prosperity. Highlight with the Royal Jade signature snow skin mooncake bearing a glowing resemblance with the gift box!
Toh Yuen, Hilton Petaling Jaya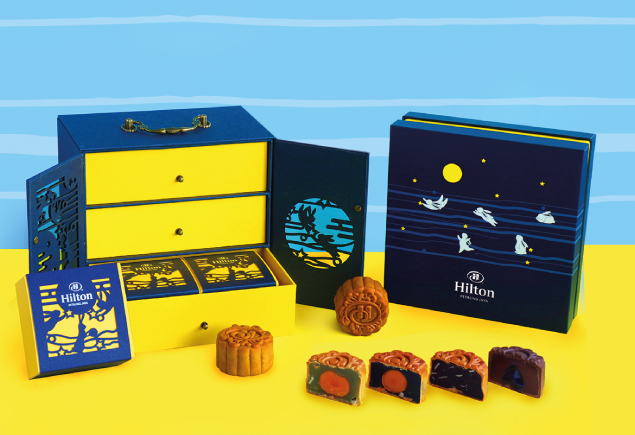 Inspired by folklore's loyal creature, the Mythical Joys gift box series by Hilton Petaling Jaya are a whimsical tribute to the legend of the Jade Rabbit. Crafted to reflect the Mid-Autumn night, Deluxe and Premium gift boxes sport vibrant navy blue and bright yellow combinations with familiar motifs of the rabbit and the full moon, making it the perfect companion piece to the celestial festivities.
Contact your nearest Hilton Hotel branch to order yours today!