Have an Opulent Ox Year with 'Ongsome' Heineken Deals!
Diligence, persistence, and 'Ongsome' honesty. Just what we need as we being to move forward from the challenges of last year!
This year's lunar cycle welcomes the Ox zodiac on the 12th of February, and with it, the opportunity to bull our way through the Chinese New Year with all-new practices and norms in place. As Kuala Lumpur and Selangor are still under RMCO for the foreseeable future past the CNY season, here's your unending PSA to stay safe, go out only when necessary, wash your hands, and (whether or not there's a pandemic on) drink responsibly!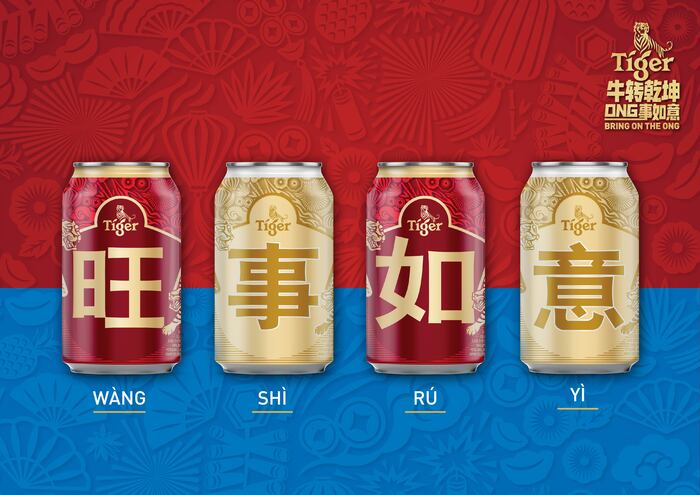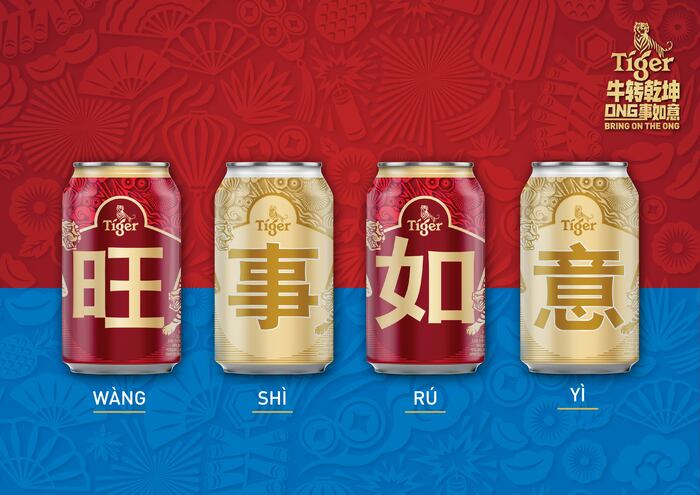 Bring on the ONG!
Tiger Beer and Tiger Crystal has been a brand synonymous with the festive season and community spirit. Special limited-edition cans in auspicious red and gold combine to create the prosperous greeting of 'Wang Shi Ru Yi'!
All four design variations can be collected in purchasing one carton of Tiger Beer and one carton of Tiger Crystal to receive a pair of 'Ong' cans from 16th January to 10th February at selected outlets across Malaysia.
Visit Tiger's CNY site for a one-of-a-kind Augmented Reality (AR) greeting when the 'Wang' and 'Ru' cans are scanned. More promotions and 'Ongsome' prizes are also up for grabs on the site.
Pop for Luck!
Leading up to the festivities, Tiger Beer has sent their own Golden Tickets out to participating restaurants, food courts, and coffee shops. Open until the 15th February, save your 660ml Tiger Beer and your 600ml Tiger Crystal bottle caps for special draws! Check them for the "A", "B", "C", and "D" labels and redeem from the list below:
"A" – 'Ongsome' Ang Pow of RM18,888
"B" – 'Ongsome' Ang Pow of RM388
"C" – 'Ongsome' Ang Pow of RM88
"D" – a collection of 12 unlocks redemption of the exclusive Tiger Ong Lai Bowl set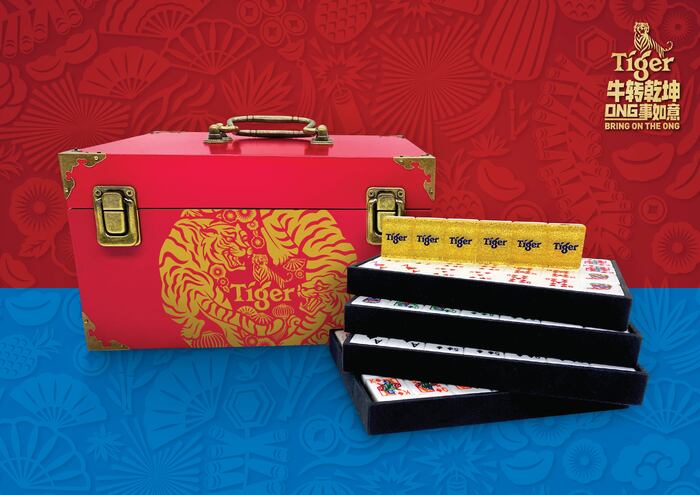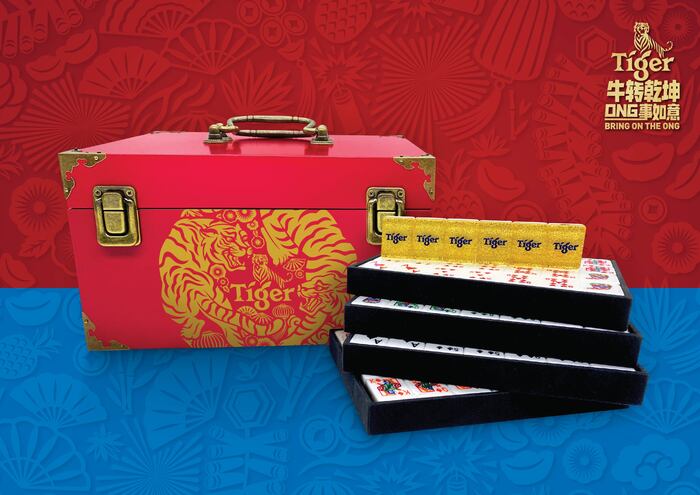 Tiger Rummy Run
Shop at selected supermarkets and hypermarkets for any two cartons of Tiger Beer, Tiger Crystal, Heineken, and Guinness, with one carton of Apple Fox Cider to get an exclusive Tiger Rummy Set for only RM99.
In addition, every purchase beyond RM200 of Tiger Beer, Tiger Crystal, and Apple Fox Cider entitles shoppers to be eligible for a Tiger Ong Lai Bowl Set (available while stocks last from now to 15th January).
Slaying in Style
Exclusive Tiger x Pestle & Mortar t-shirts are up for grabs, trendsetters! All you have to do is purchase Heineken Malaysia Berhad (HEINEKEN Malaysia) products worth over RM20 at 7 ELEVEN and MyNews outlest nationwide.
Snapshot your receipt and share to 011-3987 9037 via WhatsApp from the 16th January to 10th February 2021 to redeem!
Doorstep Delivery
Being the good, responsible people we are in reducing the spread of a pandemic, stay put and receive! Drinkies delivers chilled beers and ciders right and ready to your doorstep, and a purchase of RM210 worth of Tiger Beer, Heineken, Guinness, or Tiger Crystal brings you an Ong Lai Bowl Set as well.
Check Drinkies for this exclusive promotion running from 11th January to 28th February 2021.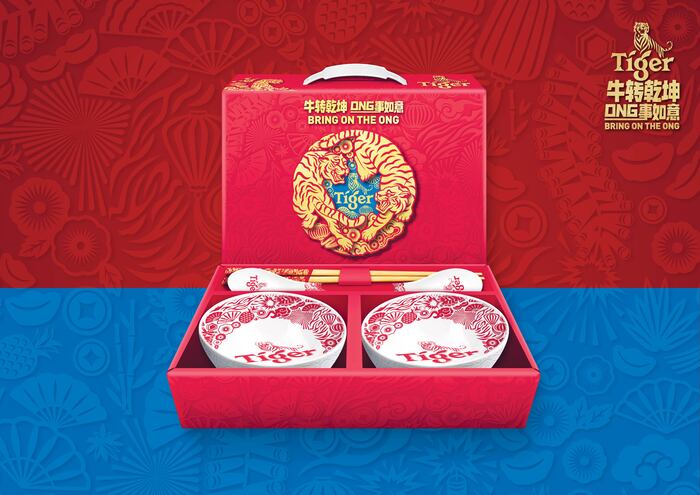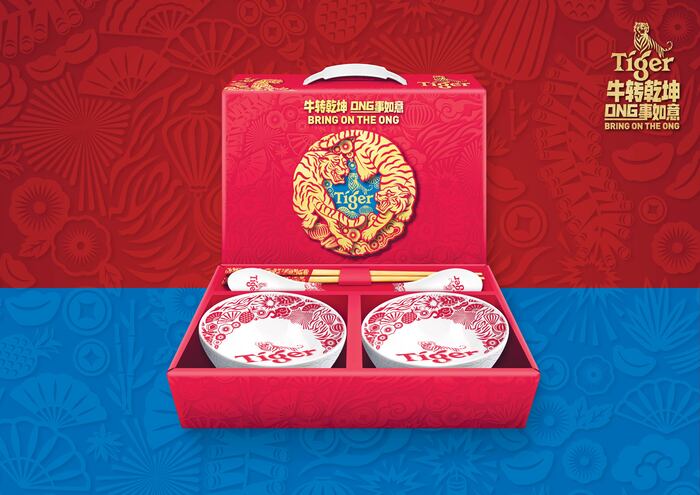 Golden Gifts Galore
Colour up on all these celebratory promotions with an additional gift-getting!
Guinness Gold Playing Cards are available with RM200 worth of Guinness product purchases,
Heineken Cooler Box for RM250 on Heineken brand products
iPhone 12 prize and RM50 vouchers to be won with up to RM200 worth in purchase of HEINEKEN Malaysia products in a single receipt at 99 Speedmart between 1st January and 15th February 2021~
New Norm Necessities
To ensure your utmost safety, Tiger Beer introduces a wholly unique way of redeeming all your coveted prizes. Visit Tiger's CNY site to upload your receipts eligible to qualify you. Upon confirmation of winning, the prizes will be delivered to your doorstep.
Spin the 'Ong' wheel for more exclusive merchandise with every RM288 and above purchases on HEINEKEN Malaysia products, available until 28th February.
"This Chinese New Year will be a rather different one for Malaysians. Now more than ever, our priority is to elevate the festive cheer among our loyal consumers by bringing the 'Ong' to them. From the prosperous limited edition Tiger Beer and Tiger Crystal cans, to the variety of 'Ongsome' cash prizes and merchandises worth up to RM1,000,000, we hope the Chinese New Year celebration this year will be a joyful one for fans of HEINEKEN Malaysia brews in a bigger way than ever before."

Roland Bala, Managing Director of HEINEKEN Malaysia.
For full details of all promotions and more information, visit https://tigercny.my/ or Tiger Beer's social media at http://www.facebook.com/TigerBeerMY. These promotions are open to non-Muslims of 21 years and above only.