Haute Cuisine at Home with Banyan Tree
Despite not having been identified as sources for cluster outbreaks, and despite an overwhelming willingness to adhere – and even exceed – mandated guidelines, restaurants continue to be among the first victims targeted anytime the government announces a fresh round of restrictions. The ban on dine-in business has shuttered plenty of eateries already, and industry groups have warned of mass closures and layoffs if the restrictions continue. The truth is, most restaurants are not built to operate solely as take-away and delivery outlets.
That said, however, many restaurants are trying their best to adapt to the difficult times, doing whatever they can to survive until the dine-in bans are lifted. And to their credit, a lot of these restaurants are moving beyond merely offering their standard fare as a delivery option. Many are curating special menus specifically for delivery, offering chef-at-home virtual classes online, and developing excellent DIY dining options to cater to diners who want a little taste of the restaurant finery that they've missed for so long.
With the latter in mind, Banyan Tree Kuala Lumpur has put together a range of truly lovely offerings, specially created for delivery, and we recently tried a handful of them to see how well it all held up.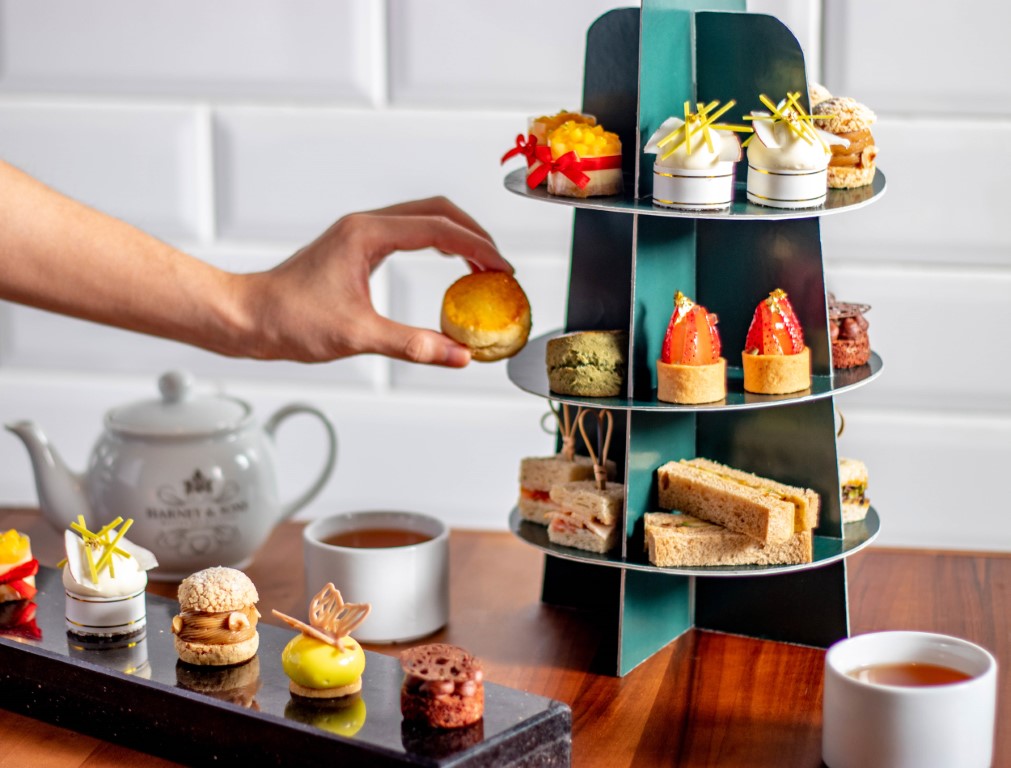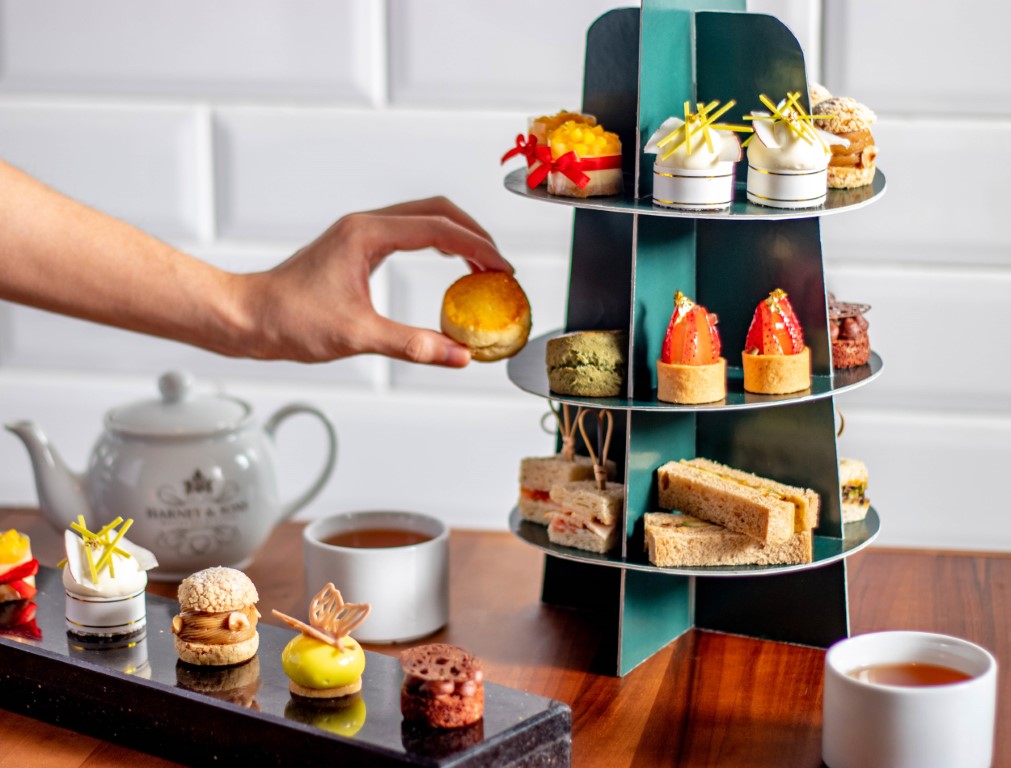 TEA FOR TWO
One of the most popular options at the hotel itself is Afternoon Tea at Altitude. While they can't deliver the stunning views from this lofty perch, the high tea set itself has been reworked into a dine-at-home beauty! It's a generous spread of sweet and savoury goodies for two persons, with the sandwich selections including tuna mayo sandwiches with butter lettuce and white bread; Mediterranean sandwiches with grilled zucchini and onion, garlic butter, and brown bread; roast angus beef sandwiches with curry mustard, lollo rosso lettuce, and wholemeal bread; and smoked chicken breast sandwiches with organic tomato, parsley mayo, and wholemeal bread.
On the sweeter side, it's even more tempting. One special treat is called the Butterfly, created with lemongrass mousse, hazelnut sponge, shortbread cookie, and tender caramel. We also really enjoyed the walnut brownie with Earl Grey ganache and salted caramel. Durian fans will love the mini cheesecake made from fresh durian flesh. There's a strawberry tart with almond shell and lime jelly; a dessert called the Emotion, made from coconut cake, lemon cream, and whipped coconut ganache; and a delicate Paris-brest choux with hazelnut cream and choux pastry. And no tea set would be complete without scones, and this one feature Altitude's classic and matcha scones paired with delicious homemade jam and authentic clotted cream, which we loved. The set comes complete with your choice of two premium Harney & Sons teas. (We chose smoked Earl Grey and Egyptian chamomile.)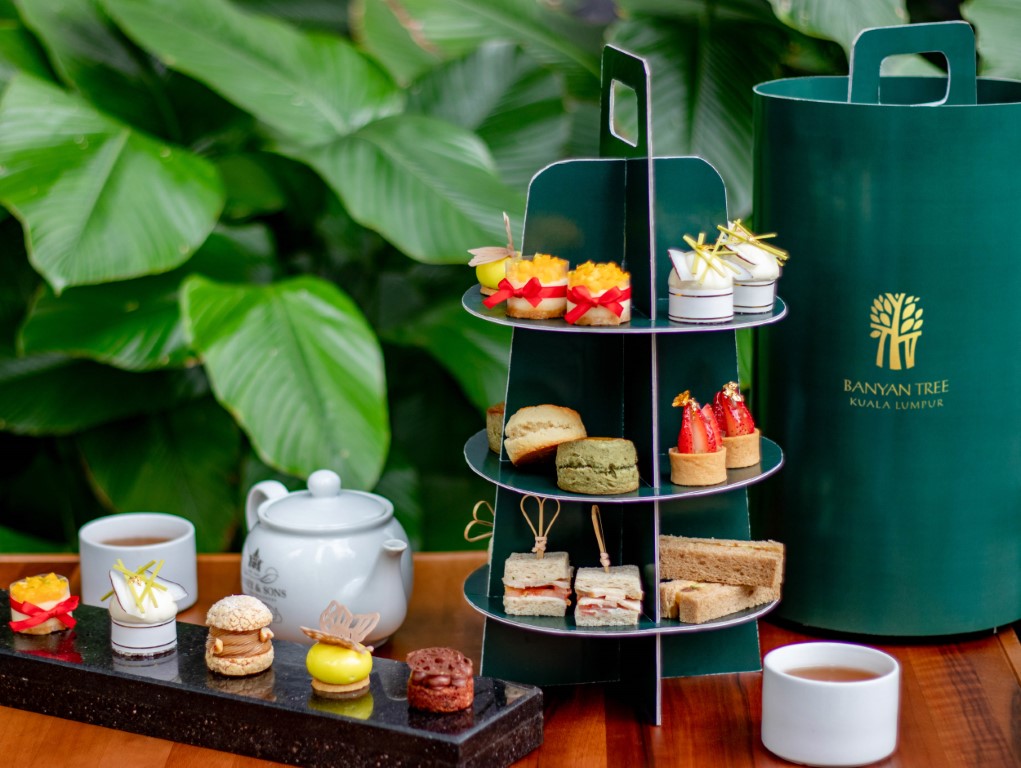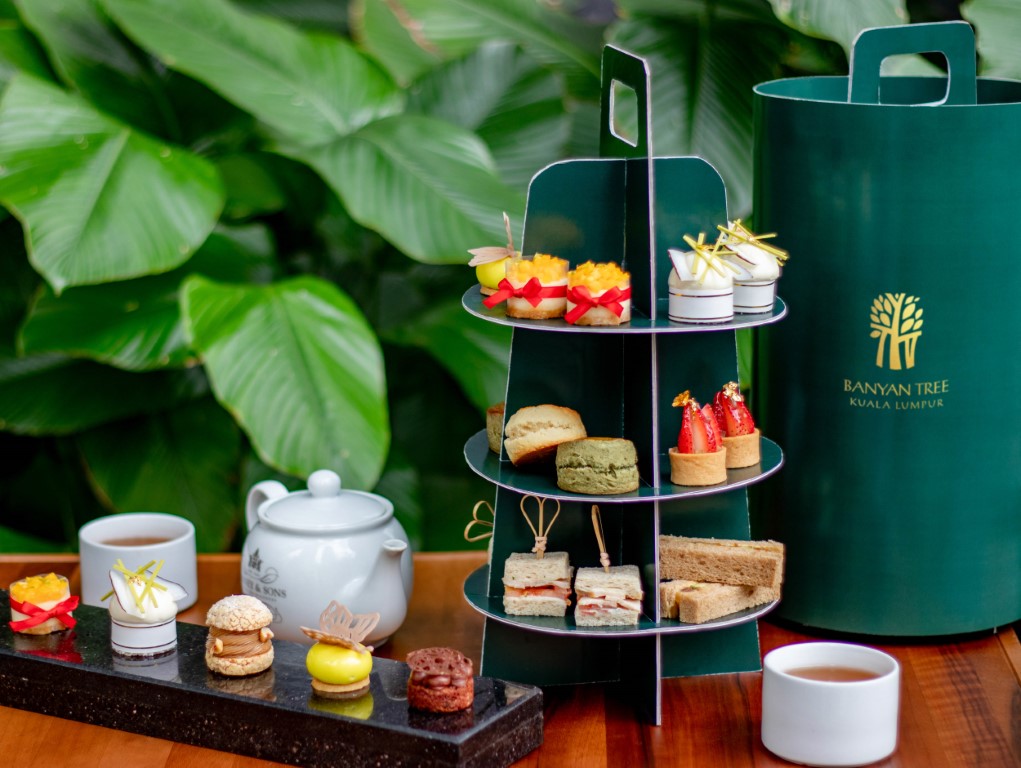 We were also impressed with the presentation. An eco-friendly paperboard high tea tower, with all the traditional tiers and appeal of an in-person tea set, was a lovely centrepiece on the table as we enjoyed the goodies it contained. Everything was intact – no damage, no breakage, and no treats jumping off to their doom. It was a wonderful afternoon tea set, perfectly made for home indulgence. We did note there is more of a focus on the sweet side of things, so if you personally find more favour with the sweets than the savouries, you'll be a big fan of this set. The full set for two is priced at RM188, and we were advised to order at least two hours in advance, and the Afternoon Tea set is available daily between 12 and 6pm. (Delivery charges vary based on distance.)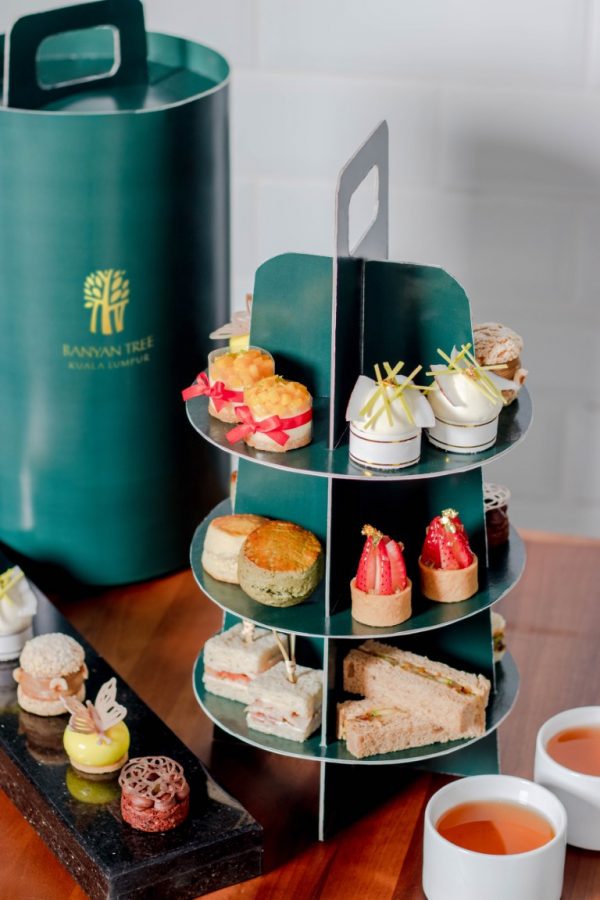 GOURMET GOODIES
Later, we looked at the menu from Horizon Grill, another of Banyan Tree's upscale outlets, and decided to try one of their box sets. They've actually created a full menu of top-notch gourmet dishes, some with pretty serious appeal that was hard to resist (like the Cove Club steak sandwich and the deep-fried soft shell crab burger), but in the end, we opted for one of the curated box set options, which really piqued our interest. There are three from which to choose – an artisanal cheese set, a DIY steak tartare set, and a super-indulgent caviar set. The boxes are offered with wine, or you can opt for food only. We chose the steak set, which comes with a bottle of Terrazas de los Andes Reserva Range Malbec. Ours was the 2018 vintage. (The set costs RM218; food only, RM88.)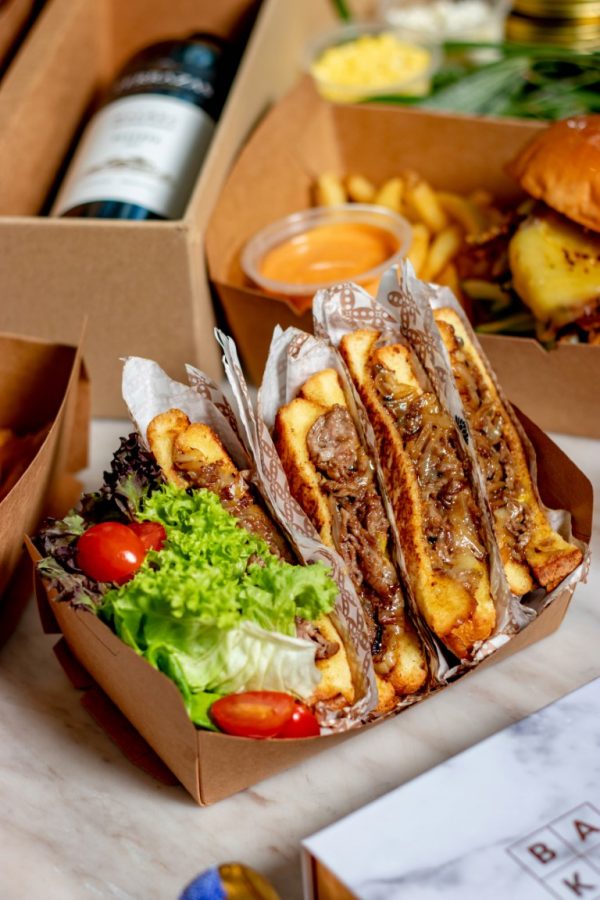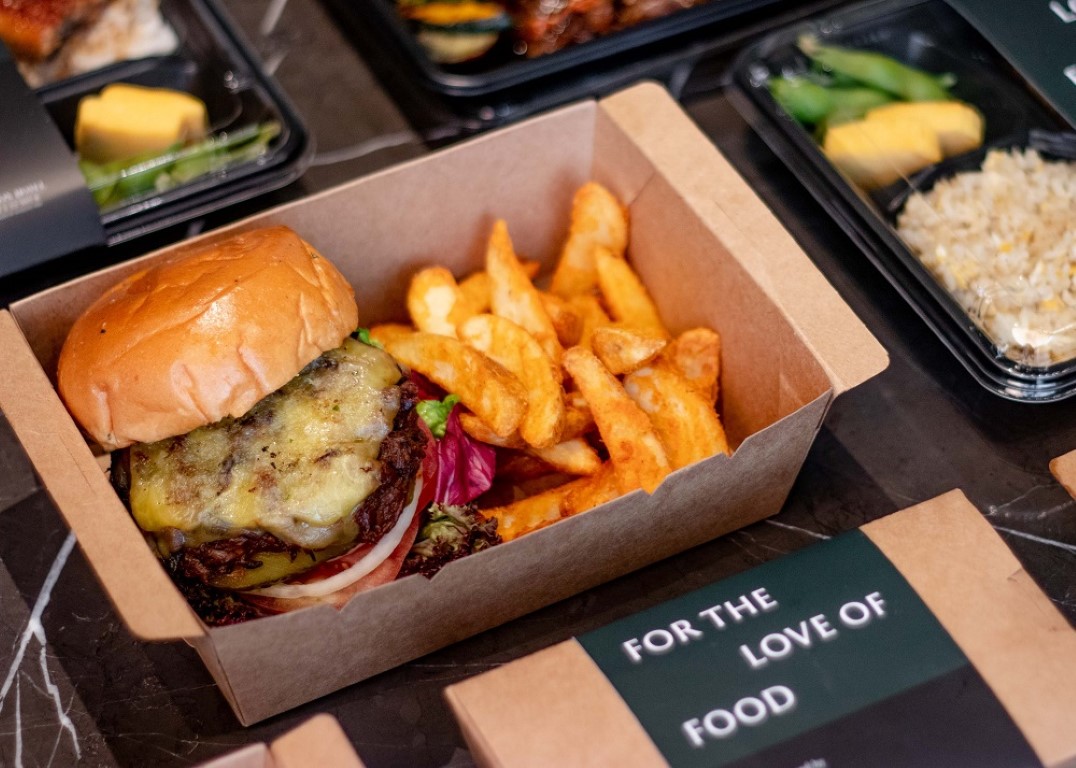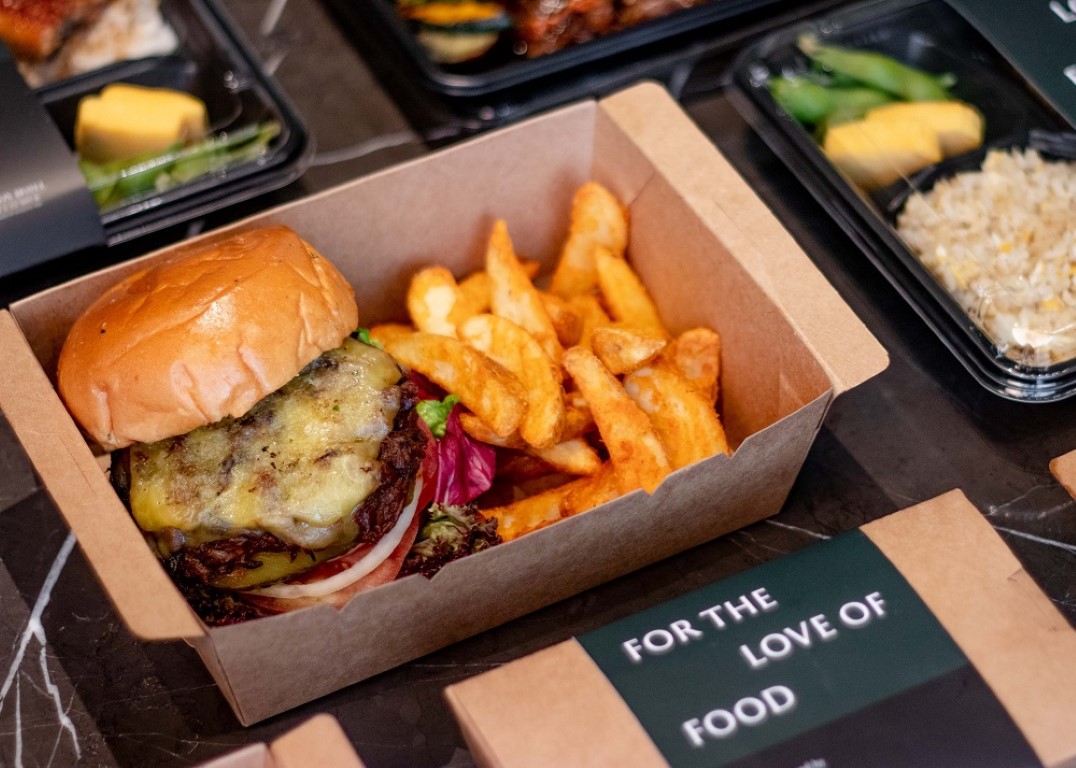 Upon delivery, we were immediately impressed by the packaging – once again in environmentally responsible hard paperboard, not plastic. The steak is hand-cut fresh Angus and A5 Wagyu beef, presented in a paperboard container with two sealed ice packs, so it was kept perfectly chilled. (We actually weighed the steak out of curiosity and it was a pretty generous 135 g portion!) In a separate compartment, a large loaf of fresh, warm garlic bread, wrapped in foil. Another compartment held the wine bottle – also chilled properly! Finally, the accompaniments: Yuzu Kasho mayonnaise, finely chopped chives, and chopped capers. The instructions guided us easily through the DIY process to mix the steak tartare, and after popping the cork on the wine, we were ready to indulge. It was absolutely delightful. The wine is a wonderful choice: a plush, jammy Argentinean Malbec that paired very nicely with the steak tartare. We were delighted with our selection, and would easily recommend it to anyone.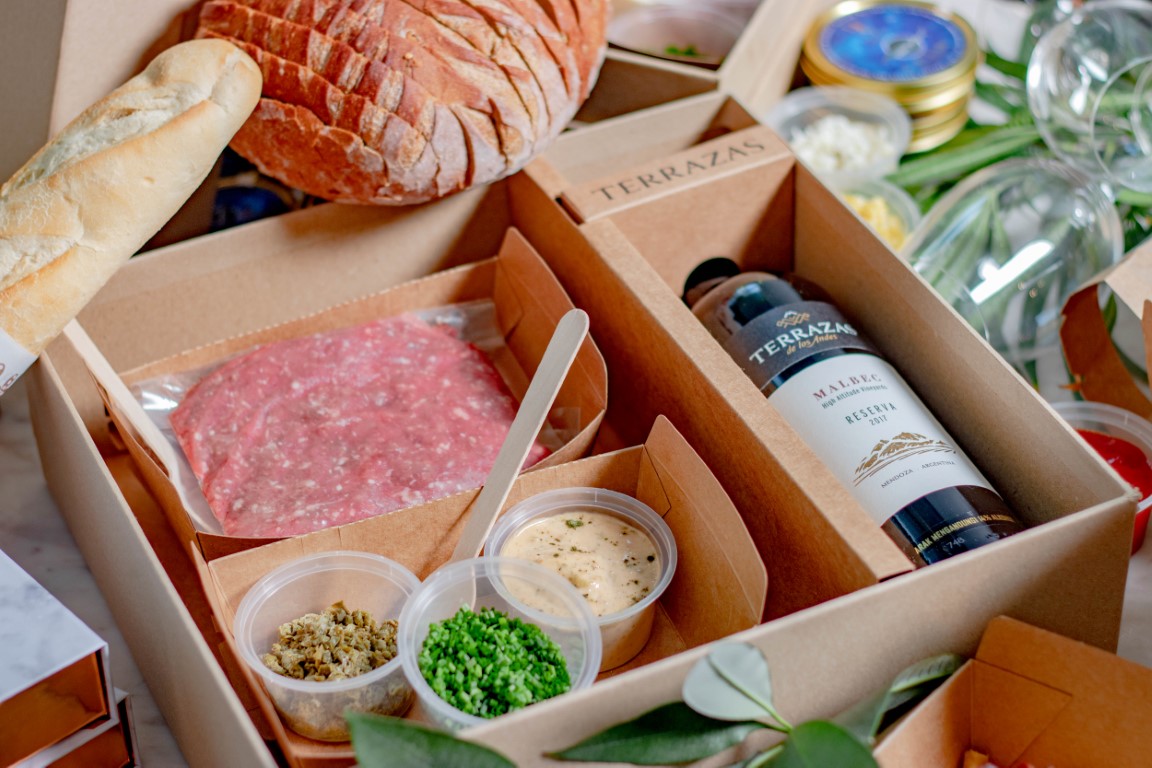 The other box sets comprise the luxe caviar option, with 30 g of Kaluga Queen caviar, and all the trimmings – crème fraiche, chopped egg white and egg yolk, chives, shallots, and fresh blinis – all accompanied by (what else) a bottle of chilled Veuve Clicquot Champagne (RM638; food only, RM288), and the artisanal cheese option. This one was a serious contender, too, featuring French Bordeaux Brie, French Alps Camembert, Parmigiano-Reggiano (aged 24 months), Swiss Cheddar, and Roquefort Blue. Accompaniments include Beerenberg strawberry jam, Australian honey crackers, marinated olives, and a loaf of warm baguette bread, also paired with a bottle of the lovely Terrazas de los Andes Reserva Range Malbec. (The set is RM256; food only, RM128.) The Horizon Grill sets and menu items are available from 12 to 9:30pm daily.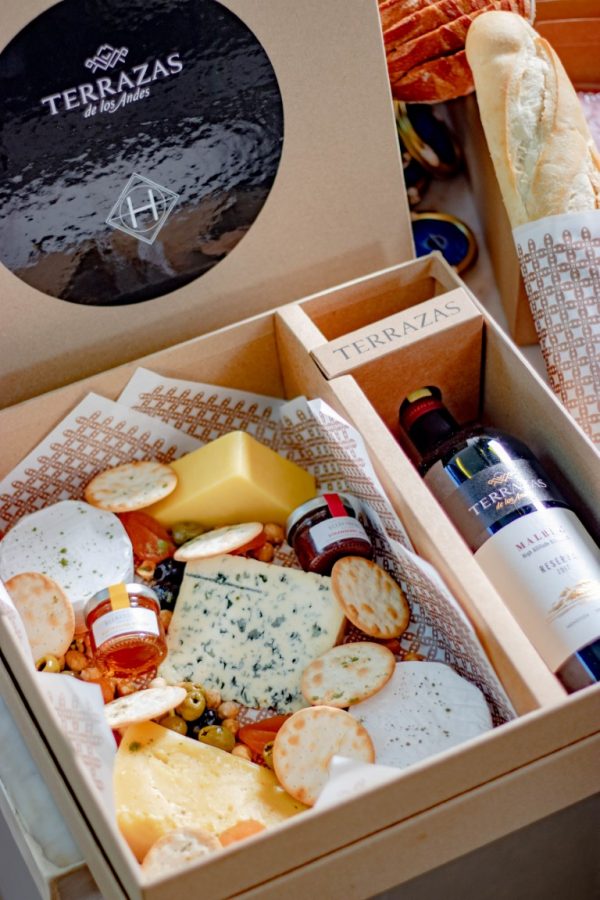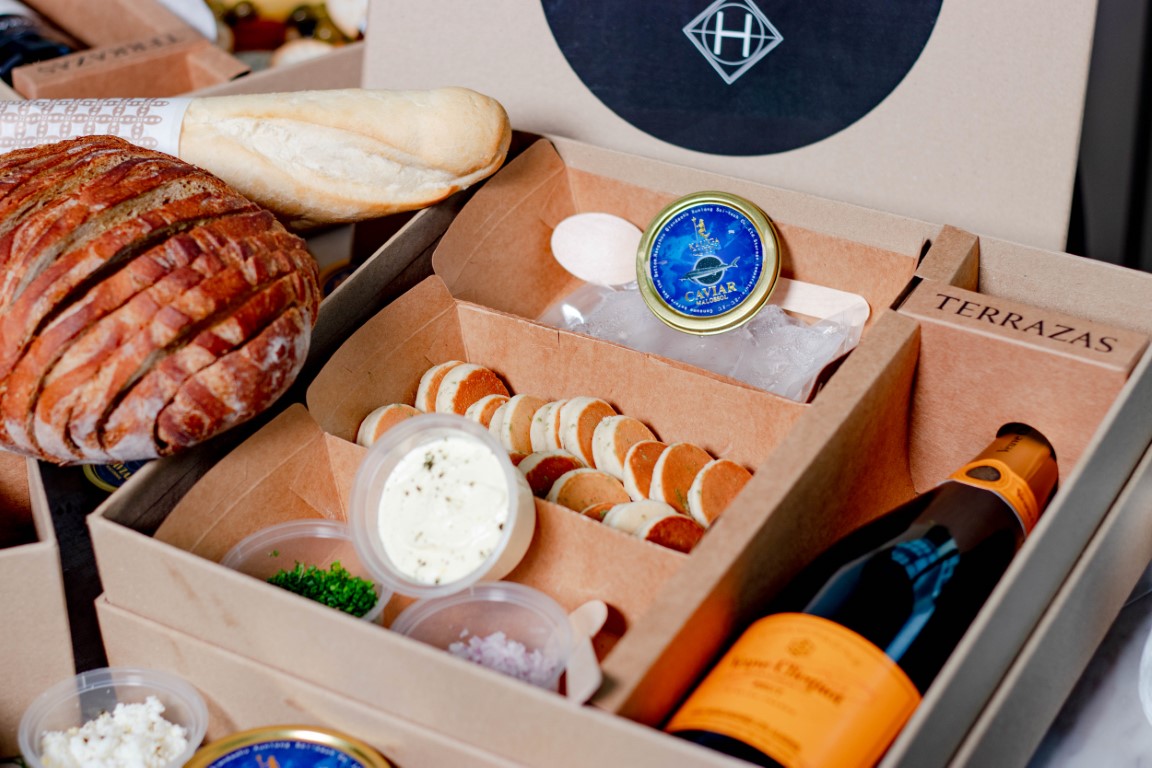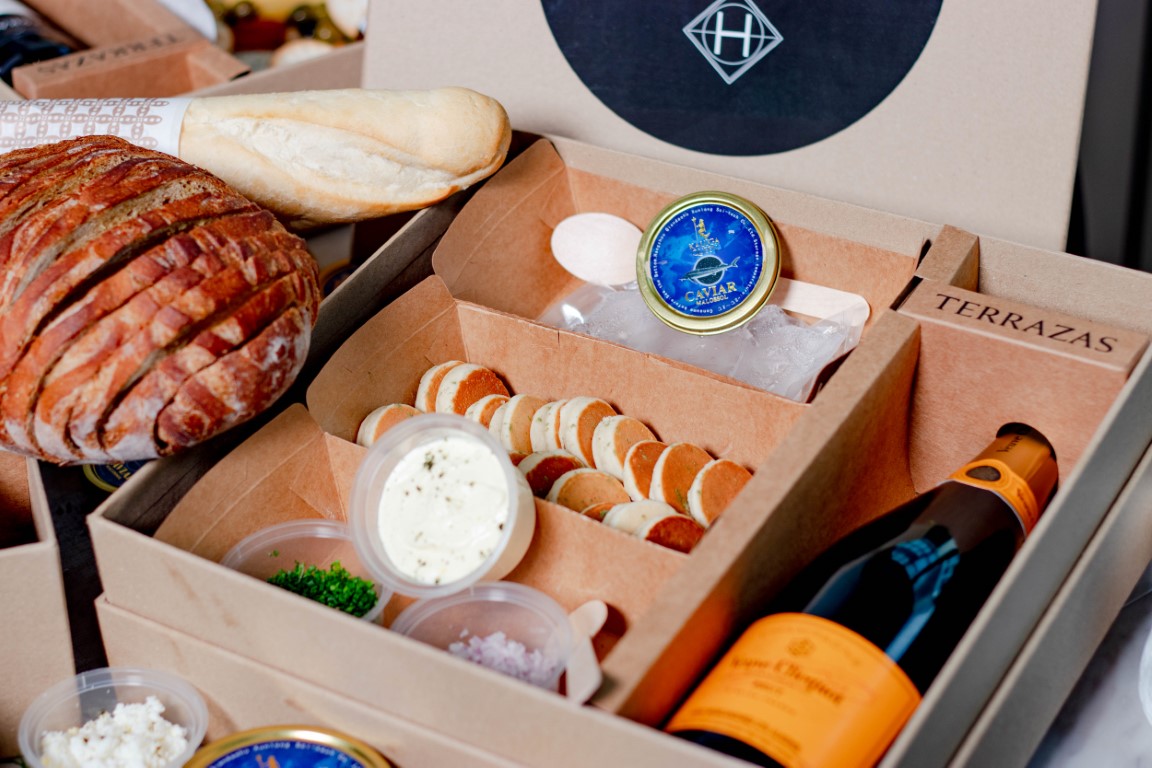 We were genuinely pleased with the quality and presentation of everything we ordered, and applaud not only Banyan Tree, but so many of the hard-hit KL-area restaurants who are really going the extra mile to stay afloat and still meet their own standards of quality and value during such difficult times.
Details
Banyan Tree Kuala Lumpur
Altitude | Horizon Grill
2 Jalan Conlay
50450 Kuala Lumpur
Scan the QR code to see the full menu.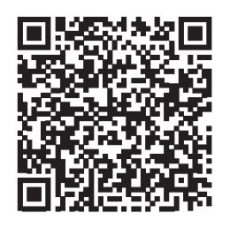 To order, WhatsApp or call +6012-288 2135.
Menu items are also available on other delivery services such as TableApp, GrabFood, Foodpanda, and Eatigo.