Family Heirlooms Straight From the Kitchen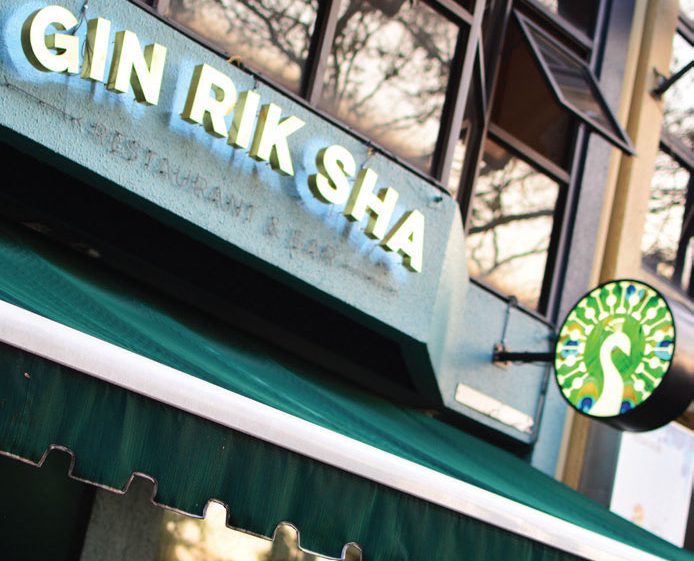 Though GinRikSha's curious name may not flow smoothly from your mouth (hint: the last two parts are derived from 'rickshaw'), your mouth will nevertheless thank you for visiting this gem of a restaurant in Bukit Damansara. Offering indoor and outdoor dining spaces, and decorated in a funky, eclectic style – be sure to check out the ceiling. Visual representations to its name, colourful wheels decorate the ceiling, perfectly contrasting the striking wall of plants. Vibrant and cosy, the restaurant's ambiance definitely enhances the dining experience, whether it's a relaxing night out or a sit-down dinner.
Gin Rik Sha is visually appealing, sure, but saves the best for exactly where it matters: in the dishes served. Describing their food as "Asian cuisine with a modern twist", serving up predominantly Indian dishes, it offers an extensive menu and it is best to order different dishes to share.
As soon as you see the offerings on the Small Plates starter menu, you know you're in for a treat. From Devilled  Cashews (RM10) and  Pop Corn Tempura (RM14), both  perfect to snack  on with a frosty cold beer, to the  ever-popular Salt & Pepper Squid (RM20) and  Tamarind Sesame  Chicken Wings (RM22), there are plenty of familiar faces dressed up to impress here.  Perhaps where this part of the menu shines brightest, however, is in the unfamiliar. Try the Pakora Basket (RM20), a serving of crispy fried veggie fritters with green chili chutney, or one of our favourites, the Mango Chicken Pappadoms (RM18), a delicious burst of Indian flavours nestled in a quartet of basket-shaped crispy pappadoms.


From the Sharing Menu, we also loved the zesty taste of the Butter Chicken Poutine (RM22), a Canadian staple served here with that terrific Indian twist. Just spicy enough, this featured chunks of tender chicken in a delectable butter sauce served atop a bed of shoestring fries. Ask for the fries to be extra crispy if you want to ensure they keep their shape and texture under all the spicy sauce. You can also indulge in the Kerala Shrimp (RM38) or the Mutton Varuval (RM32), the latter of which we devoured eagerly. Puan Sri Gita Menon, the restaurant's owner, curated the menu with most of the recipes adapted from her family's recipe stash.  Sometimes, her chefs are also sent to her home to learn family recipes that have been passed down for generations, with her mother and mother-in-law keeping an eye as they make it from scratch.
With an array of cocktails available as well, GinRikSha's cocktail reputation has been growing, with classic cocktails mixed with regional influences. The Gin Basil Smash (RM38), a fresh and refreshing drink with strong herby flavours, makes for a good night-time beverage.
Be transported to a tropical island holiday with the Midnight Kiss (RM26), which is also a good thirst- quencher on a hot day.
Finish up the meal with dessert if you have room, and for that, we would likely steer you towards the Bread & Butter Pudding that's made with a croissant for a lighter texture or the labour-intensive Salted Caramel layered cake – not too sweet, the perfect mouthfeel, and a brilliant end to a palate-exciting meal.
The bold flavours offered at GinRikSha have proven to be a crowd-pleaser among locals and expats alike. While most of the food are familiar to the taste buds, their unique fusion and food pairings adds an element of surprise not easily created with Asian cuisine.