Election Freebies: 9 Places Offering Free Stuff for Voters
Calling all voters! It's one week 'till the elections on May 9! Regardless of our political alliance, voting is an important part of being a country-loving Malaysian, but all in all, one thing that all Malaysians love is a good bargain, or in this case, getting free things! Several food outlets and even one hotel in Melaka have generously opened their doors to those fulfilling their civic duty next Wednesday by offering free stuff to voters. Here are the places to keep in mind:
1. Meet Mee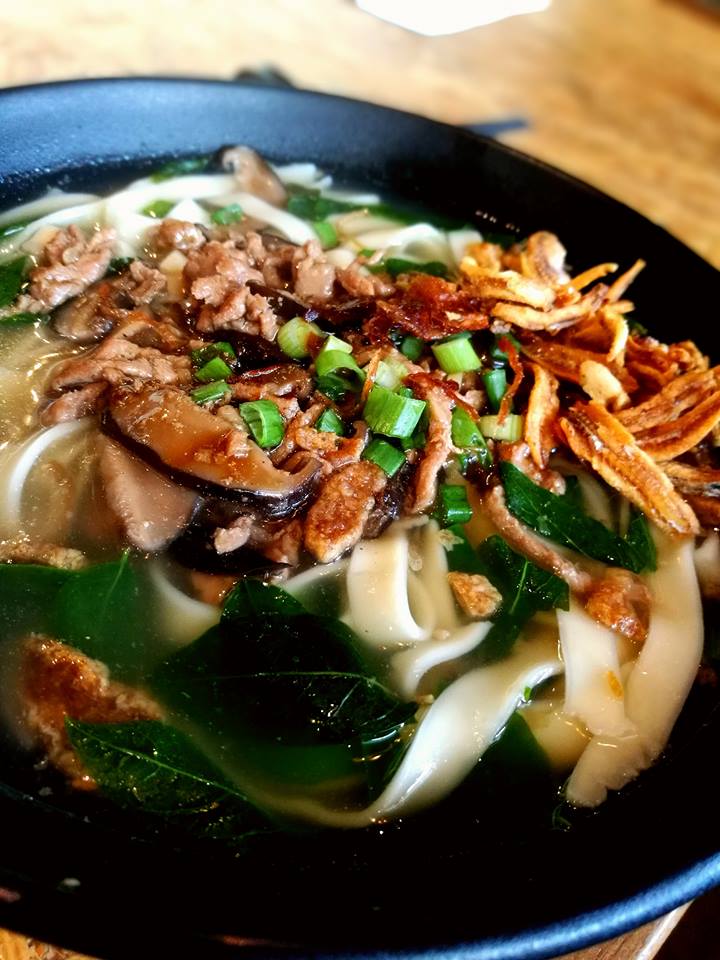 All three Meet Mee noodle branches – in Desa Setapak, Danau Kota, and Sungai Long – will be giving out free pan mee those who vote on May 9. According to Says, the bowls of pan mee are usually priced between RM8.20 and RM8.80 according to the type of noodles.
Free Malaysia Today reported of a spokesperson saying, "People are not voting because of my Pan Mee, but this is my way of playing my part in this coming general election," adding that the gesture was minute compared to those helping other to go home and cast their votes of May 9.
2. D'Legends Bar in TTDI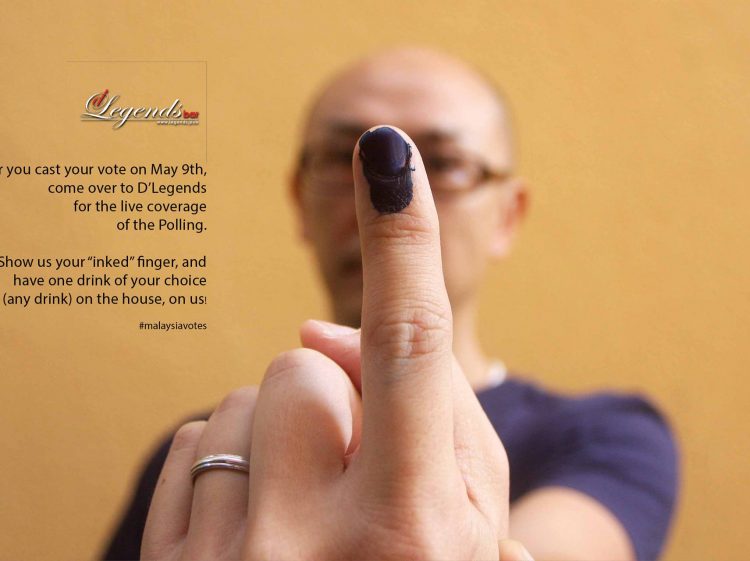 For D'Legend Bar, it's simple: show them your finger with indelible ink and you get to choose to have any drink on the house!
3. Eng Chun Bak Kut Teh in Klang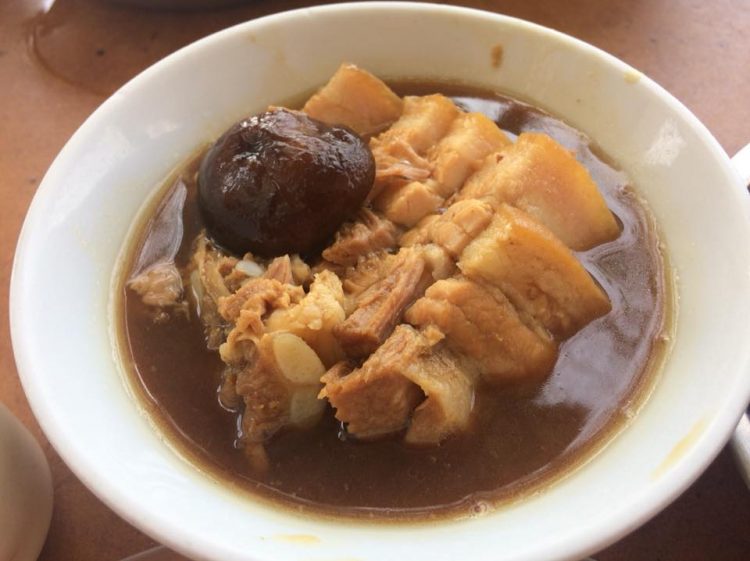 A bak kut teh shop in Klang, Eng Chun Bak Kut Teh, has pledged 500 sets of bak kut teh (herbed pork rib broth) worth RM5,500, according to Free Malaysia Today.
The restaurant's owner, Huang Yongjin posted on Facebook saying, "On polling day, we will observe the ink marks on the voters' fingers and they can enjoy a bowl of bak kut teh with rice," adding that he hoped people would come out to vote early, so his workers could also exercise their right to vote later in the day.
4. EPiC Fit Meals Co.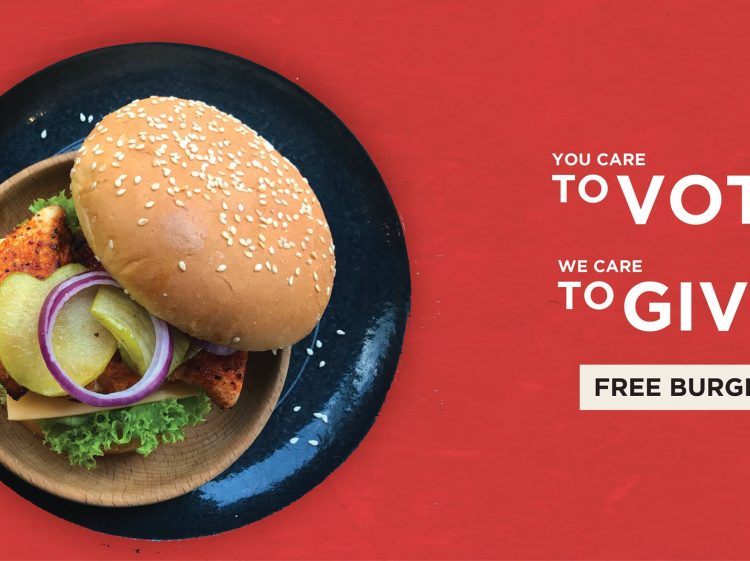 Your blue finger will earn you a free "Chummy" burger at their Damasara Perdana, Bandar Sunway, and Mont Kiara branches between 11am and 10.30pm.
According to Malay Mail, it's co-founder Lai Wick Kee said, "I realised a lot of people around me are not interested in voting. So, I thought to myself, what better way to encourage them than free burgers."
"People will be voting from morning to evening. So I wanted to provide a promotion based on their flexibility," he added.
5. BIG Group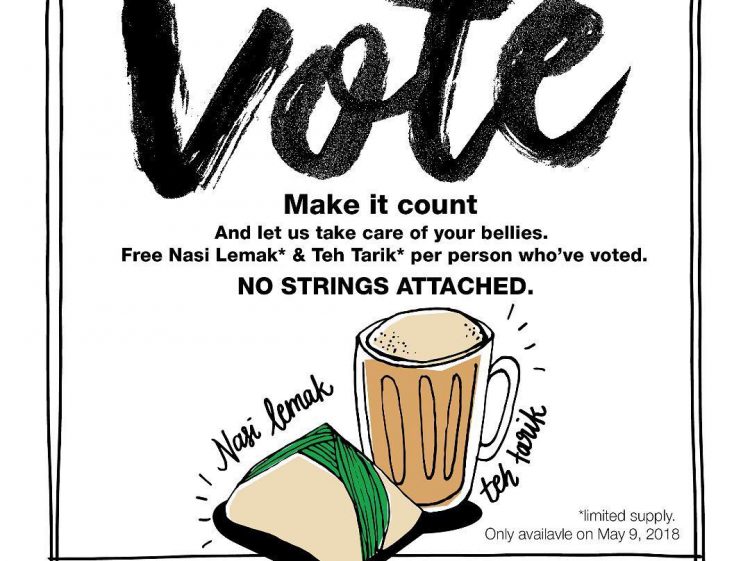 To get a typical Malaysian fix of nasi lemak and teh tarik, then head on over to the BIG Group. Just go to any of the BIG Group stores –  Plan b (Publika, Mid Valley, Ipoh), Bens (Pavilion, KLCC, Gardens, Publika, BSC), or BGFS (Batai, GLO, Publika) for a small reward for voting!
6. Online SS4 in Petaling Jaya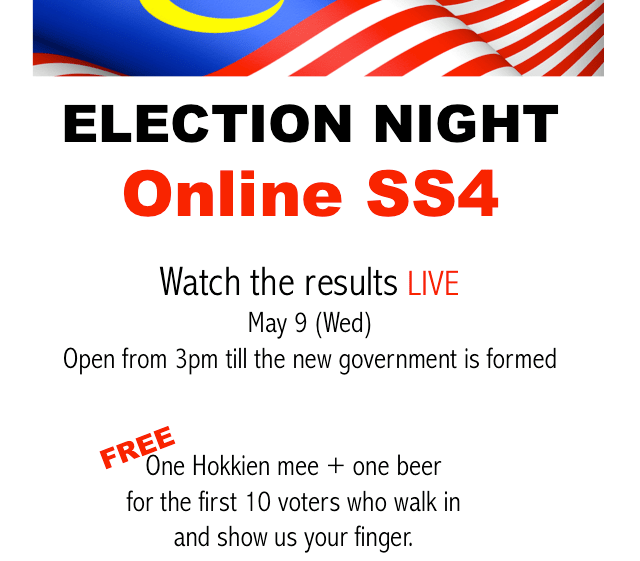 Since they did a viewing party in 2013 for GE13, Online SS4 will be doing it again but this time, they're offering goodies for the first first 10 voters who walk in. All you need to do is show them your finger with indelible ink and claim a free beer and their signature hokkien mee.
7. LYE110 in TTDI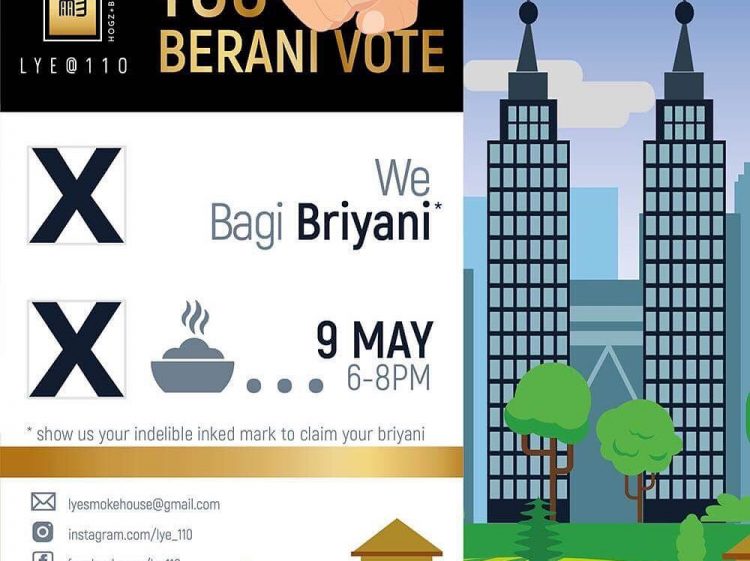 Calling all briyani-loving voters! Head over to LYe110 between 6pm and 8pm on May 9 to claim free briyani! Remember to show your blue-marked finger before claiming it.
8. Hall of Fame Sports Bar in Bangsar South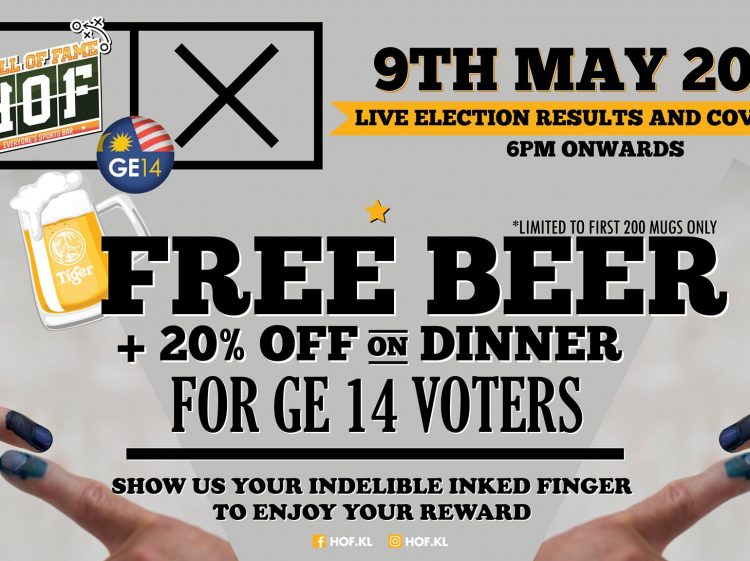 Join their viewing party and get 20% off your total bill if you show them your finger marked with indelible ink, starting 6pm. Why? "…because we care", to quote their Facebook page. For the first 200 people who turn up, you will get a free Tiger mug too!
9. The Rosa Malacca Hotel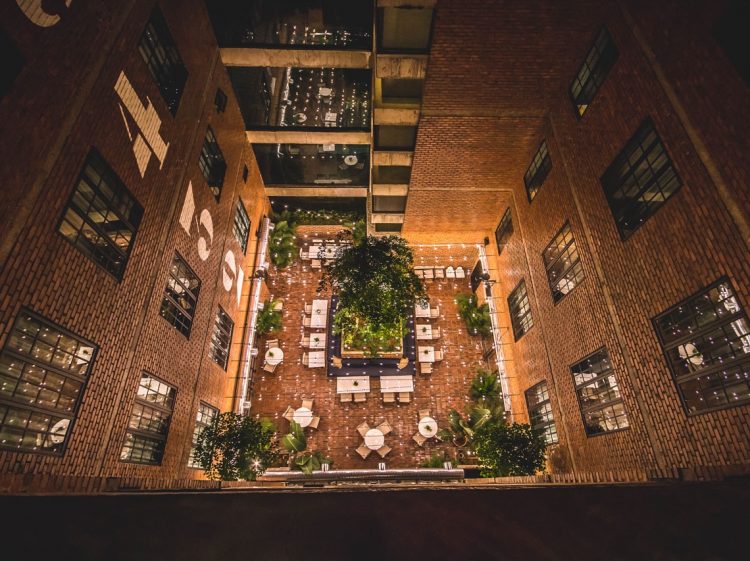 In a bid to get voters to come back to Melaka to vote, The Rosa Malacca Hotel offered 60 free rooms for voters, checking in on May 8 and out on May 9.
"Only the room is free, and those eligible must have an identity card with a Malacca address on it, and must be registered voters. They also need to provide proof that they are working outside Malacca, and a registered voter," said its executive director Sharavana Kumar Balakrisnen, according to The Sun Daily.
"Furthermore, since it is a public holiday, the hotel rate will be expensive, so that is how the idea was mooted, and turned into the hotel's corporate social responsibility which will encourage people to come back to vote," he said. Those interested, contact Jiha via WhatsApp at +6012-272 1026.