Chir Chir Fusion Chicken Factory at Pavilion KL: Restaurant review
This review is brought to you by Chir Chir Fusion Chicken Factory.
The Korean fried chicken trend shows no signs of stopping, and we wouldn't want it to! Beautifully fried chicken that's crispy on the outside and juicy on the inside, and coated with special sauces, is fast becoming one of the most popular comfort foods in the world – and Chir Chir Fusion Chicken Factory is taking this Asian delight up a notch.
Chir Chir (pronounced Chi-ruh Chi-ruh after the sound of boiling oil when chicken is placed in a deep-fryer) is a South Korea's largest chain of Chimaek restaurants – 'chi' for chicken, and 'maek' for beer. After successful expansion to Singapore and Indonesia, Chir Chir has finally arrived on Malaysian shores with its first outlet in Pavilion KL.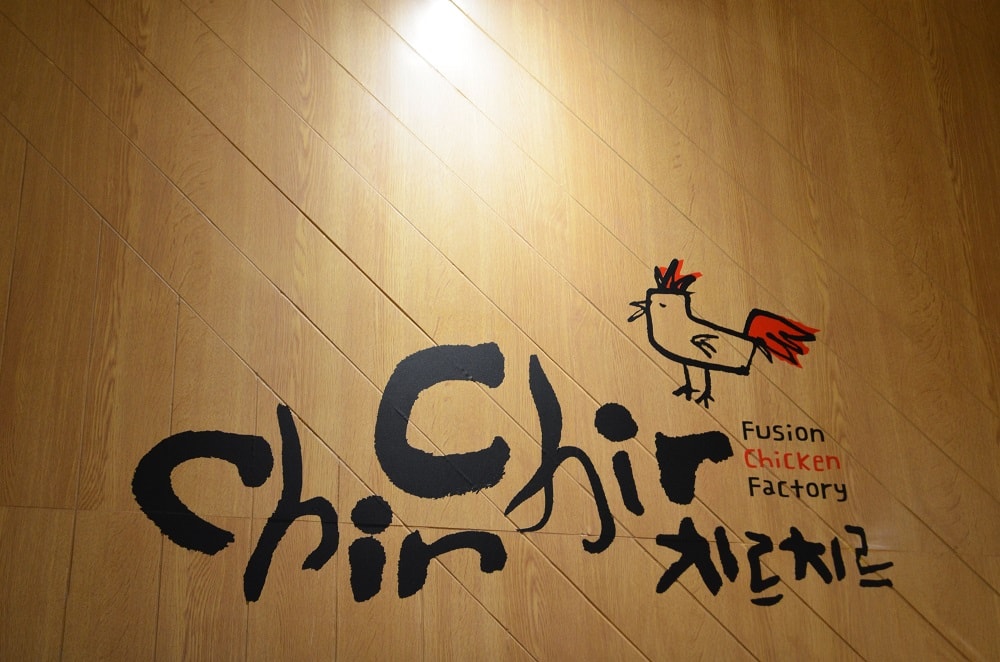 At first, we were expecting a standard restaurant that offers fried chicken with a variety of creative sauces – but Chir Chir is so much more than that. Firstly, almost every item on the menu is served as a sharing platter, so you'll need more than one hungry tummy to truly enjoy a selection of dishes. Also, you get more than just fried chicken here. They also have pasta, topokki, salads, and a seafood soup.
We kicked off our soiree with the cheesy topokki served with vegetable ham and turkey bacon bits. The topokki was pleasantly chewy and went well with the stringy cheese and vegetable ham, which was so full of flavour that I thought it was meat-based at first. This was probably one of the only dishes on the menu that came in a small iron skillet that didn't look like it was for sharing. However, the dish is quite rich and topokki can be quite filling, so you can easily share this dish if you wanted to. Don't forget to scrape off the cheese at the bottom of the skillet – it's the best bit!
Korean Fried Chicken
Next up on our Chimaek journey, we sampled a platter of the classic fried chicken; half Crispy Chicken and half Spicy Chicken (RM56.90). Surprisingly, we found the original to be spicier than the spicy chicken which in fact had a hint of sweetness. The chicken was satisfyingly crunchy batter on the outside, juicy and perfectly cooked on the inside – it was immaculate. The trick to that, we were told, is that the chicken was marinade for six to eight hours. This allows the flavours to seep right into the meat and tenderises it at the same time.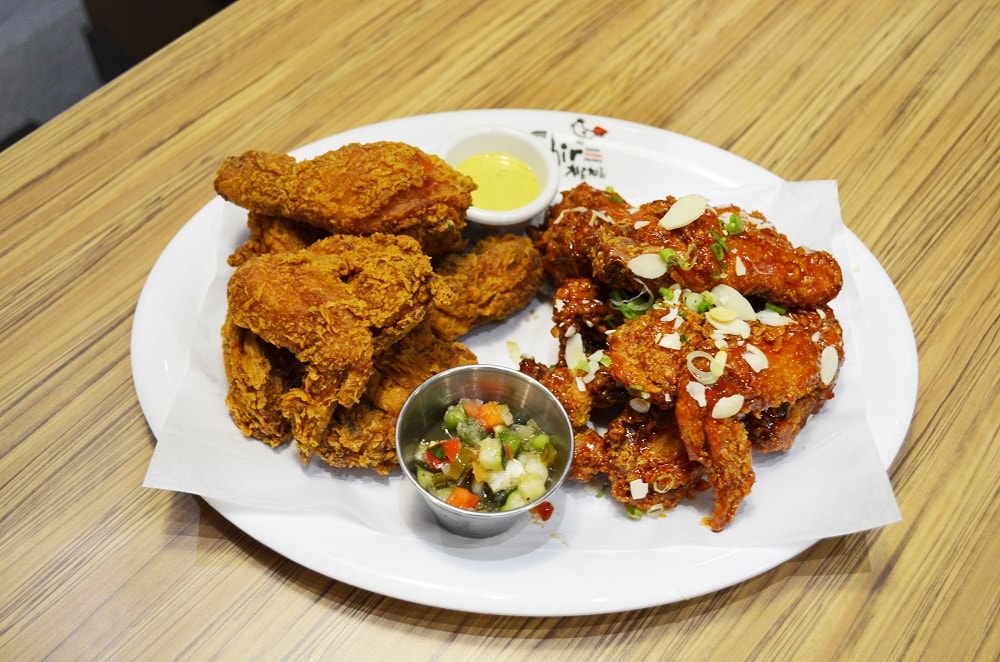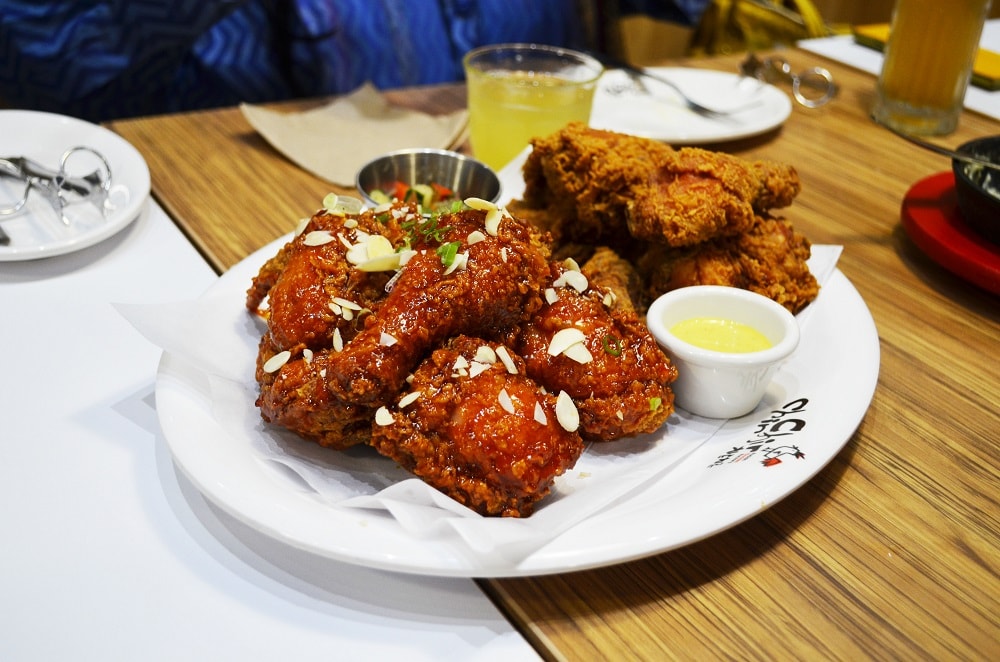 The next chicken dish we had was the Garlic Roasted Chicken (RM62.90). If you want a healthier poultry dish, this is your go-to. Not as traditionally 'Korean' in flavours as the other dishes but no less tasty, the pieces were coated in sweet roasted garlic and served with roasted potato, some salsa, and an egg which was baked shell-on. The chicken was once again the star of the dish – moist, tender, succulent, and packed with flavour.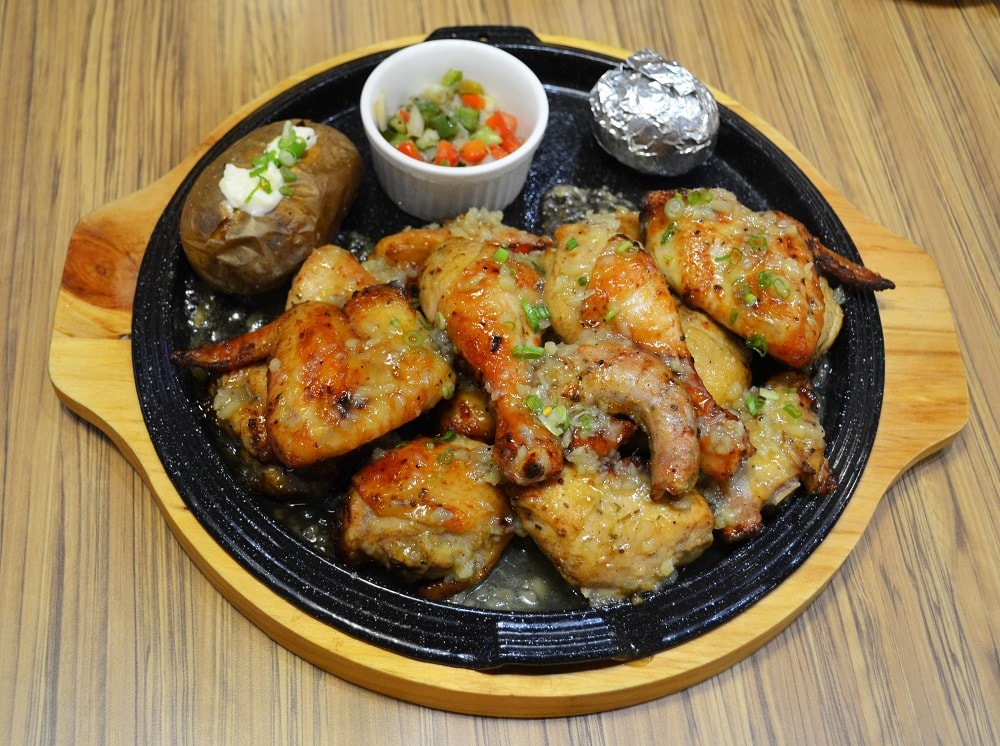 Our final fried chicken dish for the day was the best-selling Honey Butter Chicken (RM56.90) served with topokki, potato wedges, and a sweet honey butter sauce. The boneless chicken thighs and crunchy potatoes are great on their own or dipped into the sauce.
The topokki was a bit of a surprise in this dish, since they were deep fried instead of boiled, which gave them a crunchy exterior that worked well. The entire dish was dominated by the honey and butter though, so if you don't mind a dessert-like sweet tinge to your fried chicken, you will definitely like this dish.
Other chicken temptations include Chir Chir Mi Chir which is a pasta carbonara with Cajun fried chicken; garlicky fried chicken in tenders or bone-in pieces; and a number of fried chicken nests with salad and sauces.
Non-poultry delights
Apart from chicken, we also tried the Spicy Topokki (RM29.90) which was soup-like dish of topokki, fish cakes, Cajun fried squid, a fried boiled egg and sweet potatoes. We were warned that this is the spiciest item on the menu and after a few mouthfuls of the delicious soup, we concurred.
We were all sniffling and sweating but that didn't stop us from going back for more – everything about this soup was pleasant, from the sweet heat of the soup to the well cooked fish and rice cakes. It makes for a great rainy-day meal as it gives you a nice warmth that grows with every spoonful.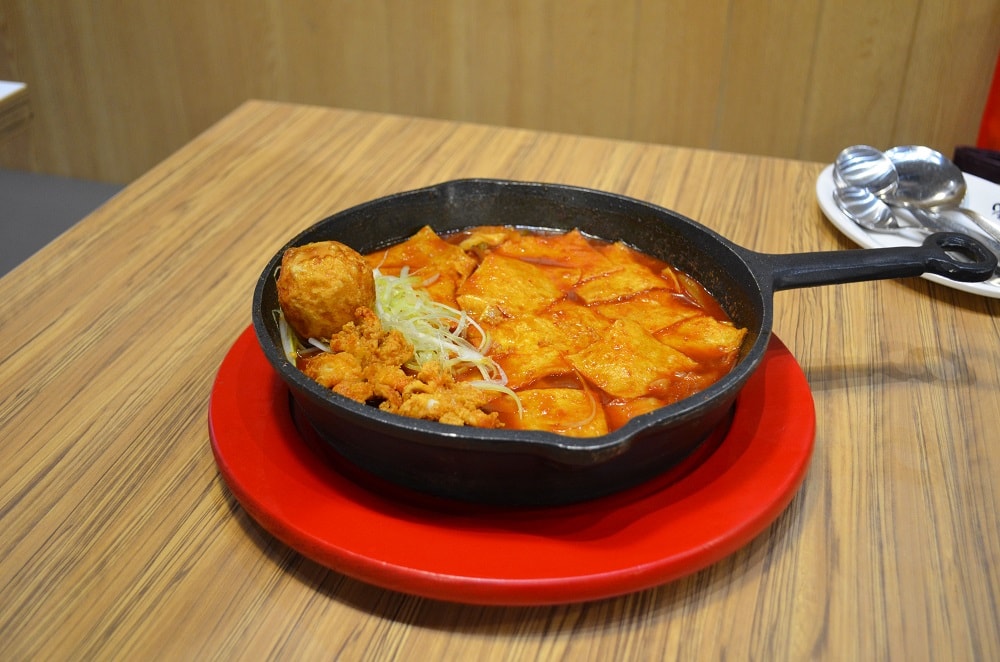 Chir Chir also has a selection of three salads: Honey Grape, Mango, and Cajun Chicken. We decided to go for the Honey Grape Salad (RM29.90); this one was a bit of a surprise. The salad was a big bowl of seedless green grapes topped with almonds, walnuts, pine nuts, a scoop of cream cheese, honey, and whipped cream. Yes, you read that right. There was whipped cream on the salad – so it's not a healthy salad, for sure.
When everything was mixed together, the honey and whipped cream gave the salad a sweetness which balanced the tangy green grapes and salty cream cheese very well. This was definitely one of the most unusual yet satisfying salads we've had in a while. Paired with the spicy fried chicken, it's a match made in heaven.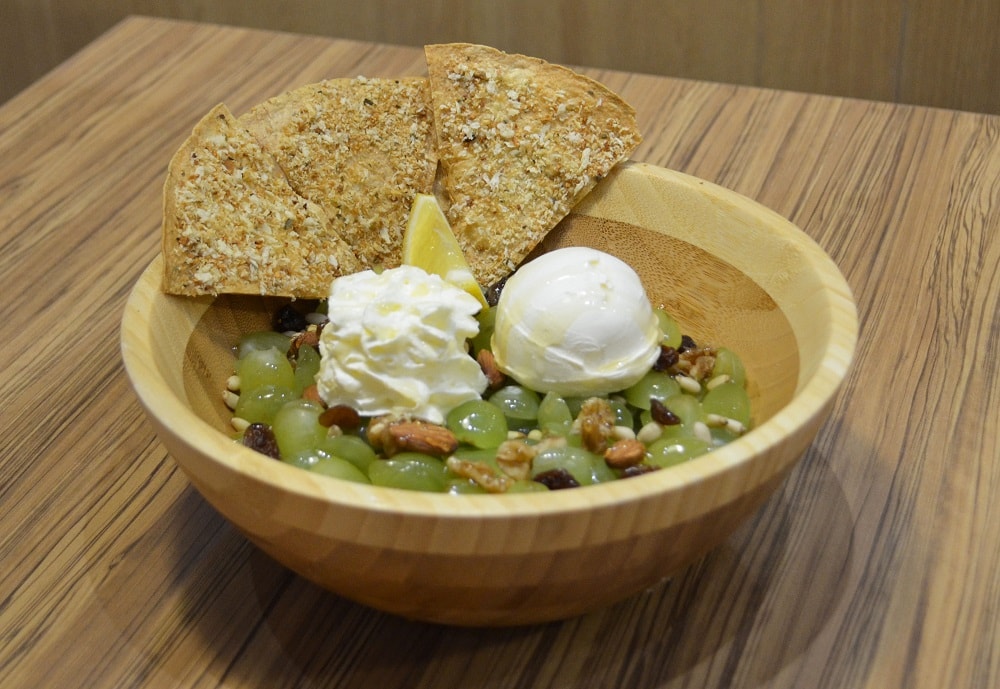 Cocktails and mocktails
The Chimeak experience if incomplete without the beer, so we ordered the Chir Cream Beer (RM24.90 for 350ml or RM34.90 for 650ml) of Carlsberg topped generously with whipped cream. Usually I wouldn't recommend drinking beer through a straw, but to avoid getting whipped cream all over your face, you might have to do just that.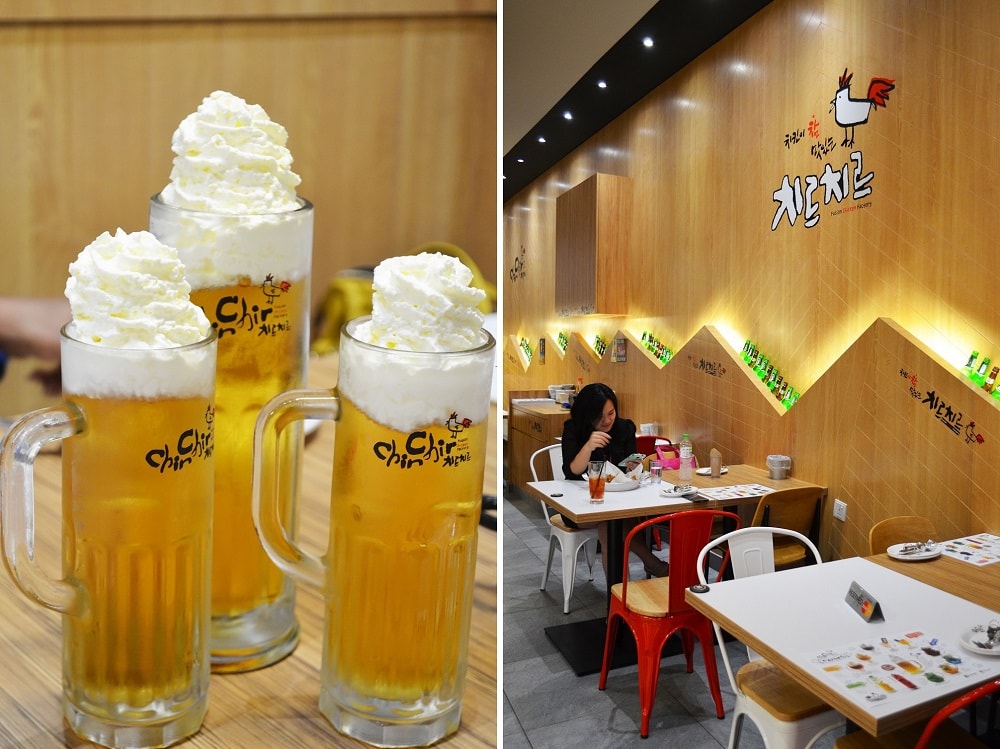 Once you drink a quarter of the beer with a straw, you can ditch it and go in like any normal beer drinker. The cream actually goes nicely with the beer – something about the fluffy, sweet cream partners well with the sharp, carbonated beer.  If you're a teetotaler, you can order the Tok Tok mocktails for RM24.90 (fruit juice concoctions that are carbonated right at the table) which are quite refreshing.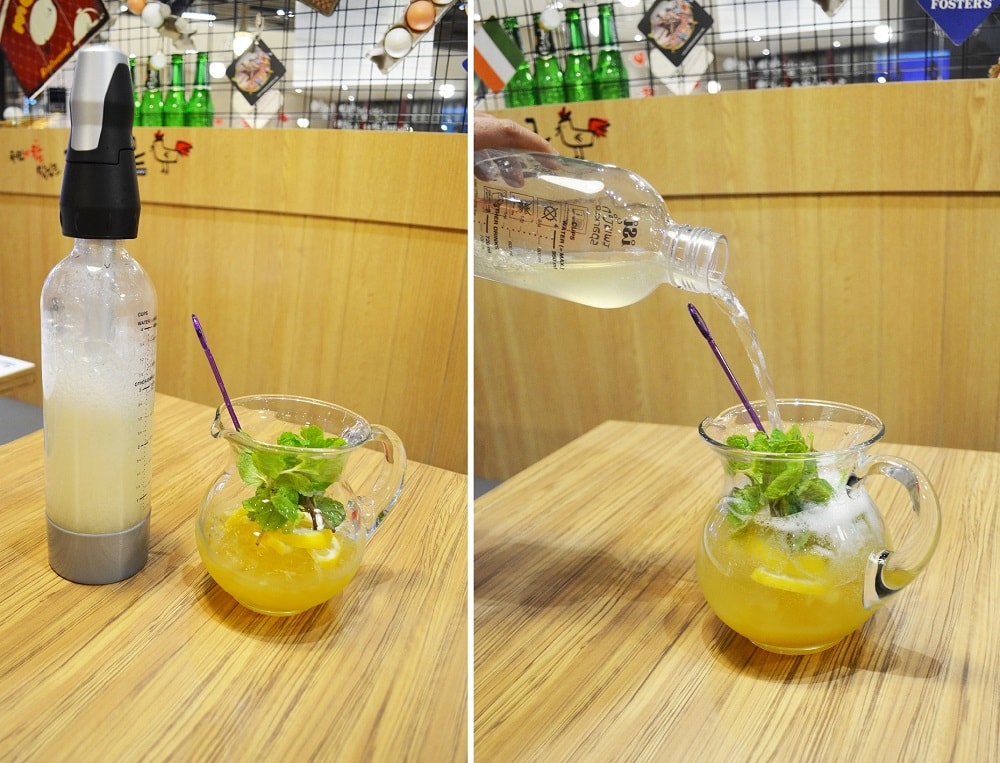 All in all, Chir Chir delivers completely as promised: a fusion chicken factory, churning our absolutely delicious Korean fried chicken with wonderful fusion twists.
Location & Details
Address: Pavilion Kuala Lumpur, 168, Jalan Raja Chulan, Bukit Bintang, 55100 Kuala Lumpur.
Tel: +603 2110 4867
Hours: Daily, 11am – 10pm