Boathouse at TTDI: Restaurant Review
Our British editor tries the yee sang 'wealth toss', a traditional Malaysian CNY dish, as well as some Italian fusion food and a super-rich dessert.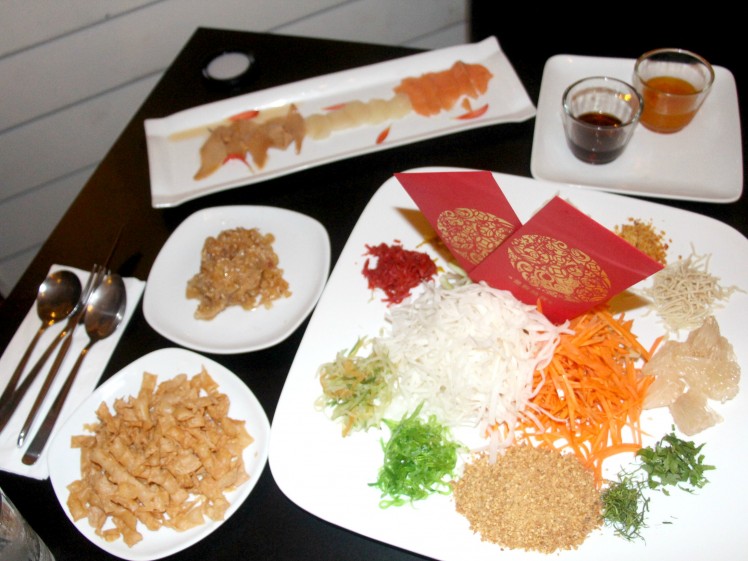 As we walked into Boathouse, we passed a group of six women and three men – nearly all of them dressed in the same seasonal red as the lanterns dangling from the ceiling  – as they giggled and talked among themselves. The lunar new year is obviously about fresh starts and hope for the time ahead, but it was good to see that it's not just about looking forward but about catching up with old friends and reminiscing about the past.
Indeed, Chinese New Year was the reason we were here, too. Our waitress Lene explained the CNY special menu, including the classic yee sang, as well as some adventurous fusion cuisine options, referring to the local chef's European training. We opted for a mixture of traditional and modern, wanting the best of both worlds: celebrating like locals as well embracing the Italian food heritage.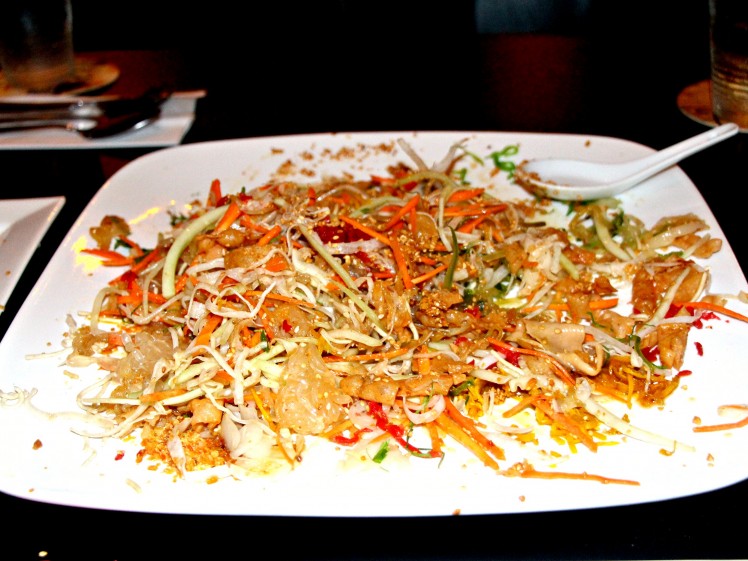 Yee sang is also known as the 'wealth toss' because one of the ingredients, yusheng, which is Mandarin for 'raw fish', sounds very similar to the word for abundance. In the case of the Boathouse recipe, the fish was salmon and this was accompanied by jade abalone, jellyfish and fresh scallops.
This was served on a bed of fresh shredded cucumber and carrot, peanuts, sesame seeds and all dressed with a super-sweet yet refreshing tamarind sauce, which caused the whole dish to take on a kind of 'dessert salad' form – in a good way.
Lene encouraged us to throw the yee sang as high as possible because the height of the throw represents the level of your wealth for the coming year. I of course obliged and, unsurprisingly, missed the (enormous) plate and managed to spill a good amount of the food onto the table and floor.
I'm not sure what this represents in terms of wealth; I'd like to think it means that my cup of money will 'runneth over' but it could just mean that I'm throwing my cash away.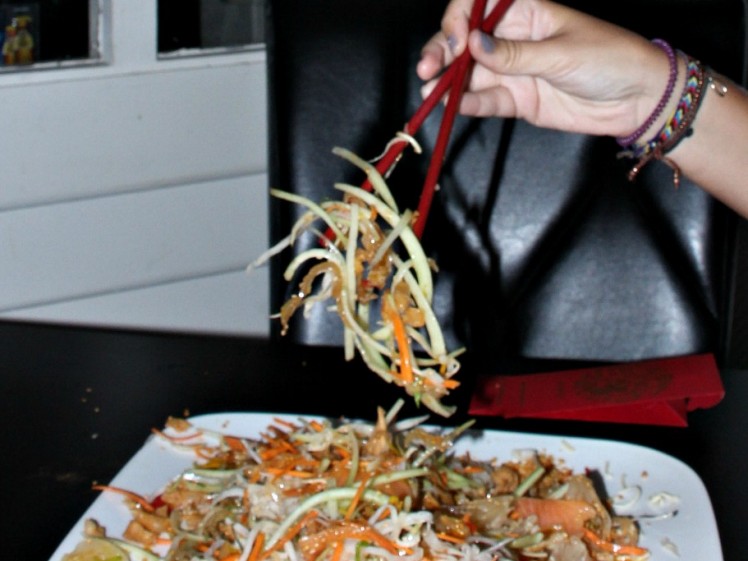 The menu says it serves four to six but across the course of the evening, the two of us managed to see it off. The varied mixture of textures: the crunchy fresh vegetables, the smooth seafood and the crispy crackers, was enjoyable as a starter or as a side dish to our mains.
And our mains were cured duck risotto, which featured Chinese 'waxed duck' or lap mei fang, that had been nicely smoked, tangy Chinese sausage, and Arborio rice cooked with chestnuts and mushrooms. The rice included dried oysters that provided a fishy and salty buzz of flavour in the background which was nicely balanced by the almost fruity quality of the sausage.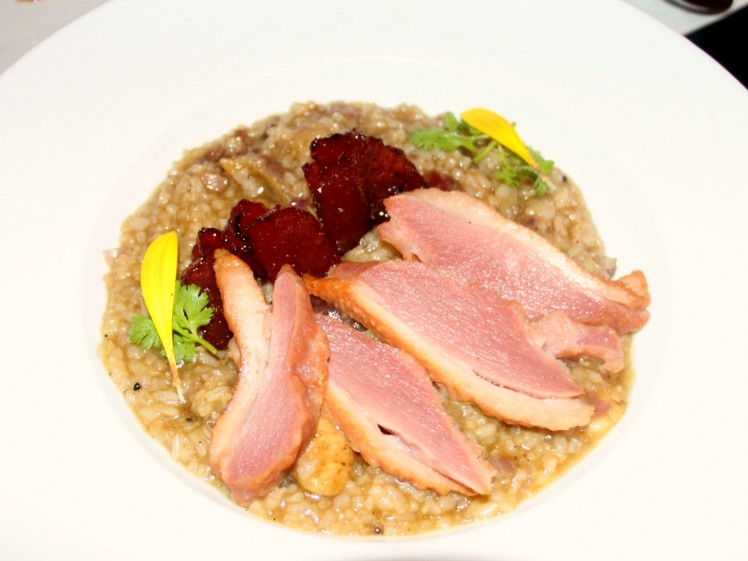 We learned that the sausage, once half-cooked, was separated and half went back into the wok with onions to be boiled with the risotto rice, dried oyster and no cream, arguably making this a healthy option.
The baked Iberico pork neck came nicely seared with a tasty crust and smoky capsicum peppers and although my co-diner noted that it tasted quite dry, the chef assured us that the traditional style dictated that the dish was meant to be served with no sauce.
As soon as the dish arrived at the table, the whole restaurant started to hum with the aromatic cheesy garlicky sauce, served over a bed of slightly chunky mashed potato which was creamy and soothing.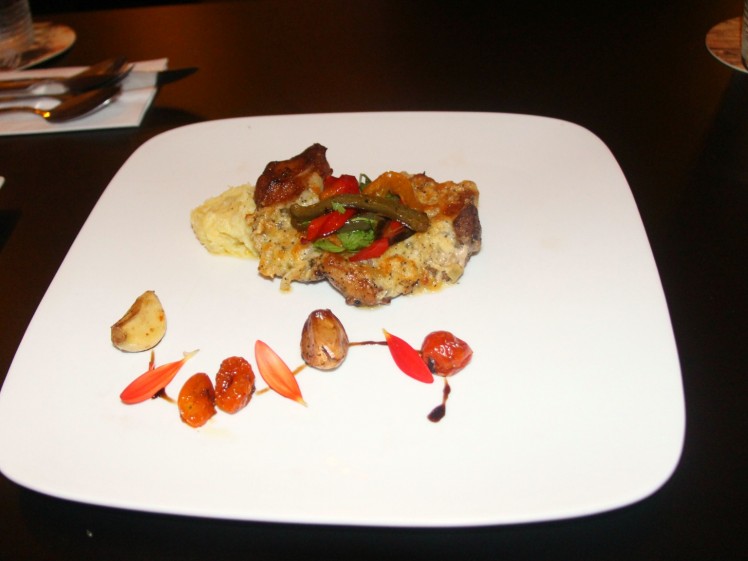 The chef herself, Yen Ni Law, comes from Taiping, Perak, about half an hour away from Ipoh. In 1992, she came to Kuala Lumpur to study at Alliance Francaise and later Taylor's University. Her professional career started at the Mango Tree, KL's first fine dining restaurant. She later went overseas to London, more specifically Norbury, to cook at Just William's Restaurant.
Here, she learned to cook English and Italian fusion food including baked camembert with parma ham. In Europe, she said she worked really, really hard – even when she spent some time in Ibiza. Her first dream was to write a book, and the second was to own a restaurant. In fact, the second dream came true first, as she started this restaurant 12 years ago and released her first book last February.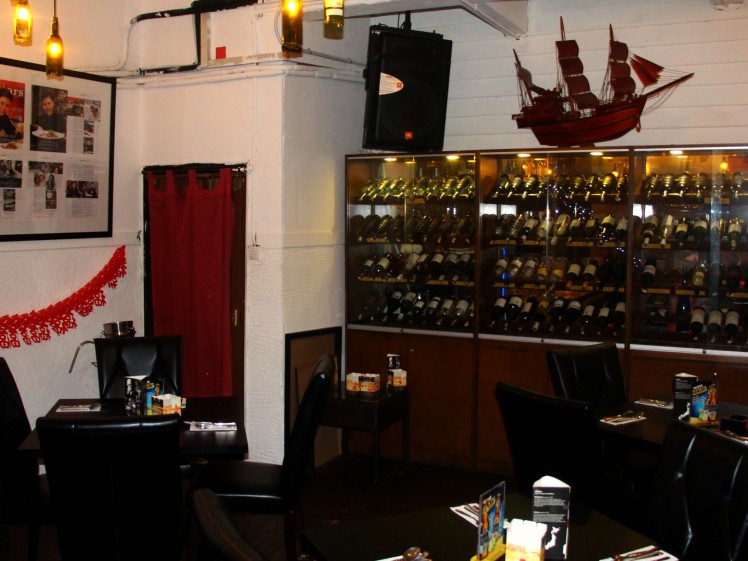 "I love to play with fire," Yen Ni joked. She includes on her menus steak au poivre and crepe suzette, which are flambeed at the table. Just then, Lene, came back with a glass of Hardy's house wine and another Paulaner wheat beer as Destiny's Child's 'Say My Name' bounced around the restaurant.
We had our arms twisted into sampling a dessert and were convinced to try the ominous-sounding 'Heart Attack' which contained peanut butter and banana, both deep fried and covered in chocolate sauce, all accompanied with velvety smooth vanilla ice cream. I could feel my arteries screaming – with pleasure and pain – with every mouthful.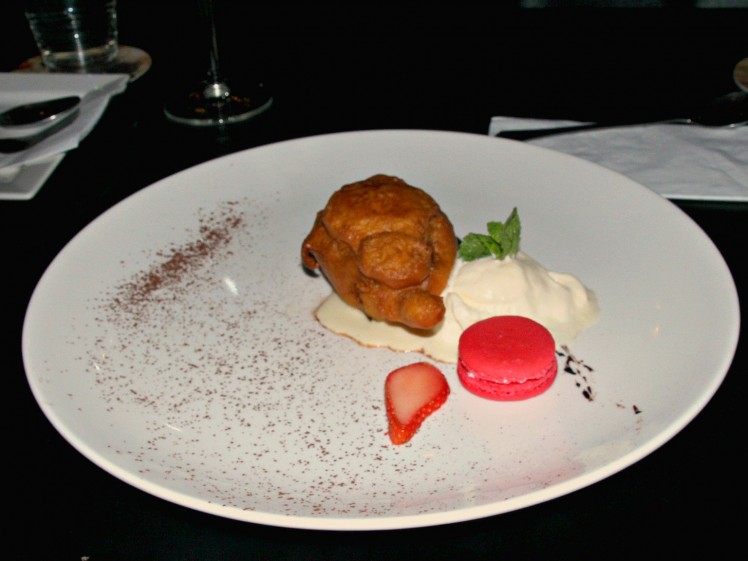 Having successfully avoided a cardiac arrest, we walked back out of the restaurant satisfied, again to the sound of laughter and festive revelry from our red-clad dining neighbours. They smiled at us as we left, in that typical 'we don't know each other but it's a time to celebrate' fashion, which always happens during any festive season. Gong xi fa choi!