Barat Vegetarian Restaurant at Lorong Kurau, Bangsar: Restaurant Review
Into the West
Barat is a vegetarian restaurant that everyone can explore, whether you're herbivorous or not. Its irrepressibly friendly founders Meeta & Prabodh Sheth have nurtured a loyal following over the past two years with their first outlet, the casual Gujarati vegetarian joint Ganga, & they've clearly poured plenty of heart into their new effort too (Ganga & Barat are now neighbours on Bangsar's Lorong Kurau).
Like Ganga, Barat is intentionally economical, belying its look as an upmarket venue – this is a beautiful establishment with compelling flourishes, including a mural by Indonesian illustrator Ines Katamso. But its cuisine leans in a different direction (the clue rests in the name Barat), looking to the Mediterranean for inspiration.
Tasting menu: This week only!
If you're visiting this week, Barat is exclusively serving a tasting menu that exceeds 10 courses, likely lasting more than two hours – the kicker is it costs only RM30 nett per person. Barat is blessed with an intelligent chef, Lingesh, who weaves both the fascinating & the familiar into his repertoire. Barat is still fine-tuning its selection – there were both hits & misses for us; we enjoyed the opening salvo of pumpkin soup tinged with the heat of ginger.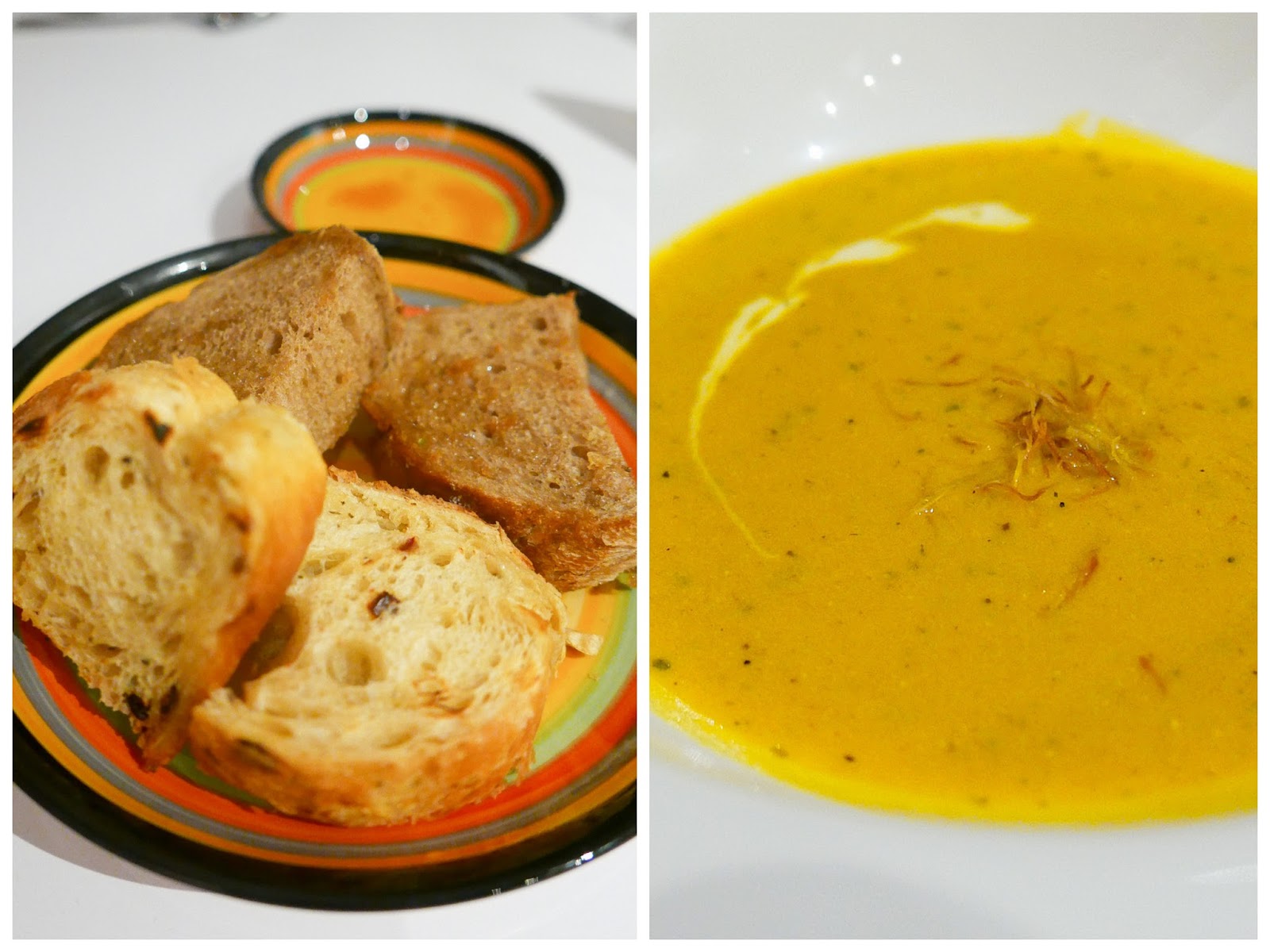 The fried mandarin orange segments were fun, served warm, perhaps the citrus equivalent of pisang goreng, paired with with currants, rocket leaves & a sesame dressing that may not have been the perfect match for this ensemble. The watermelon gazpacho was a shot of pure perkiness, & the fried cheese with spiced jam seemed an easy crowd-pleaser, but our favourite was the couscous laced with a ravishingly nuanced curry, coupled with glazed baby carrots, grilled asparagus & pomegranate dressing. The caveat: There was an inconsistency in how this was served – for one of us, the couscous emerged comfortingly warm; for the other, completely cold.
Barat's grilled peppers stuffed with cheese & roasted plum tomatoes packed with prunes in herb oil prove that vegetarian fare can yield robust, punchy dynamics. We'd probably skip the patatas bravas though (the potatoes evoked mass-produced slices of fried wedges that you might find at a lesser mall outlet, partnered with tomato sauce that was somewhat textured but a bit too heavily salted).
The pastas were a mixed bag – the aglio olio was under-seasoned, relying on the mushrooms, zucchini & grilled lemons for flavour; the pistachio carbonara with sun-dried tomatoes showed more promise, with a light nuttiness adding a mild extra dimension to the sauce, while the tomatoes provided bursts of chewy savouriness.
Barat's sweeter offerings might nonetheless help customers leave relatively contented – the endives with berries should satiate fruit devotees, while a concluding trio of a house-made chocolate brownie, ice cream & peach in brandy proves uniformly pleasurable. Many of these recipes are expected to make it on Barat's a la carte menu, which should be unveiled within a week or two.
A bar upstairs should be ready soon too – it looks set to be a lovely space to linger over vegetarian tapas & wine.
Location & Details
Barat Vegetarian Restaurant
19 Lorong Kurau, Bangsar, Kuala Lumpur.
Hours: 11.30am – 2.30pm and 6.30pm – 11.30pm. Closed Sundays.
Tel: 03-2284-2119