Bangsar Shopping Centre's Christmas Market Delight
Christmas can be the most beautiful and hectic time of the year for many. Between getting last-minute gifts and really treating yourself to some well-deserved year-end goodies, the mall is the place to go to for everything you'll need for the season. Bangsar Shopping Centre is full of international imports, so come and get something special!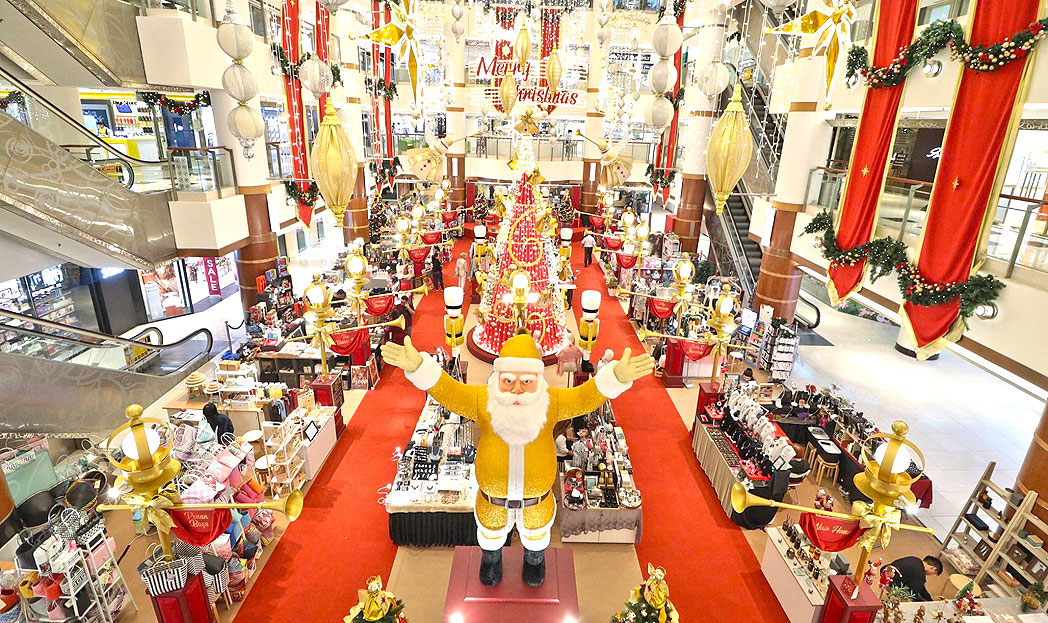 Discover whimsical magic at BSC's A Nutcracker's Christmas and immerse yourself in a true Nutcracker tradition and festivity. From life-size Christmas Nutcrackers and a giant Santa to colorful Christmas trees with dazzling ornaments and more, a merry Nutcracker world awaits you from 22nd November – 26th December 2019!

Poh Kong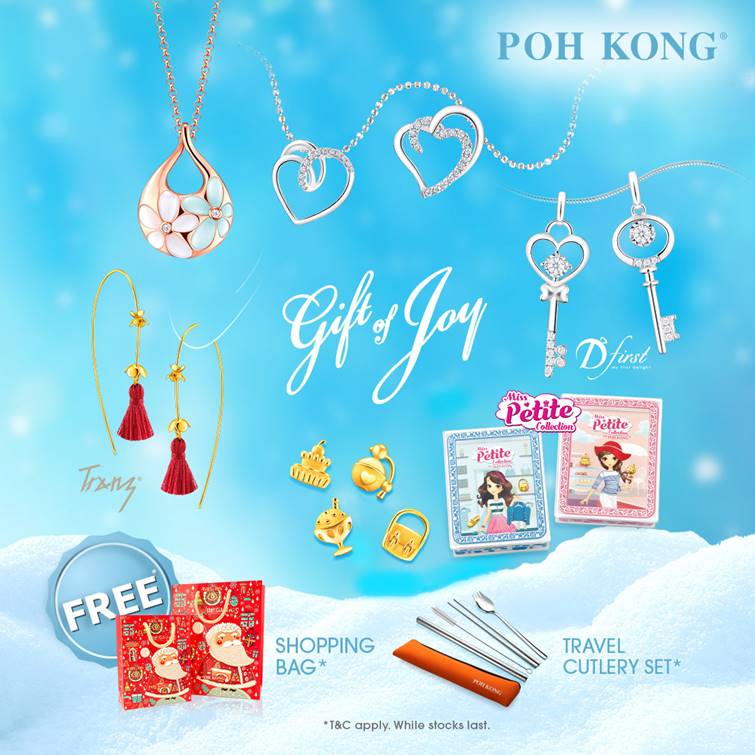 Get your Christmas Gift at POH KONG JEWELLERS now. Receive a complimentary gift with purchase of jewellery worth RM1,000 and above. T&C apply.
Poh Kong has served customers from all walks of life for many of their important occasions. There's always something for everyone, from exquisite pieces to simple designs, from irresistible collections to dazzling custom-made orders are available to suit our patrons' taste and budget.
Address: F3&F4, First Floor, Bangsar Shopping Centre
Tel: +603 2093 3161
Opening hours: 10am – 10pm
Noir Home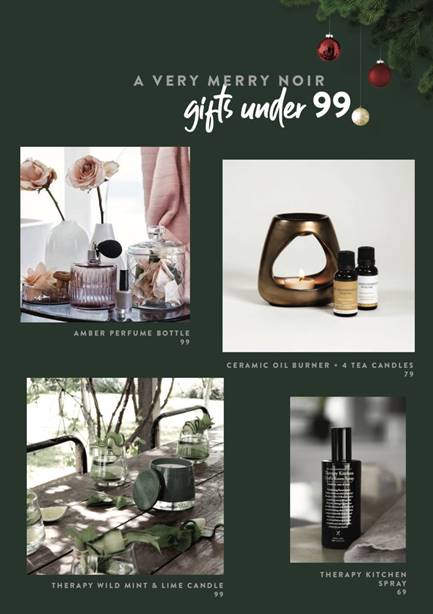 Christmas is just around the corner! If you haven't got the faintest idea of what to gift your friends & family this merry season, Noir Home got you covered. Visit Noir Home at Level 2, next to Times Bookstore & Mothercare for gift ideas under RM 99!
Here in Noir Home, they showcase multi-brand furniture collection from around the globe. Their designers draw inspirations from various cultures, resulting in sleek and modern designs of Danish influences. Noir Home going back to the basics – their furniture are expertly crafted by reputable craftsmen who had honed their skills over the years. In fact, every manufacturing process undergoes strict quality surveillance.​
Address: S11, Level 2, East Wing, Bangsar Shopping Centre
Tel: +603 2011 8138
Opening hours: 10am – 8pm
Gabbeh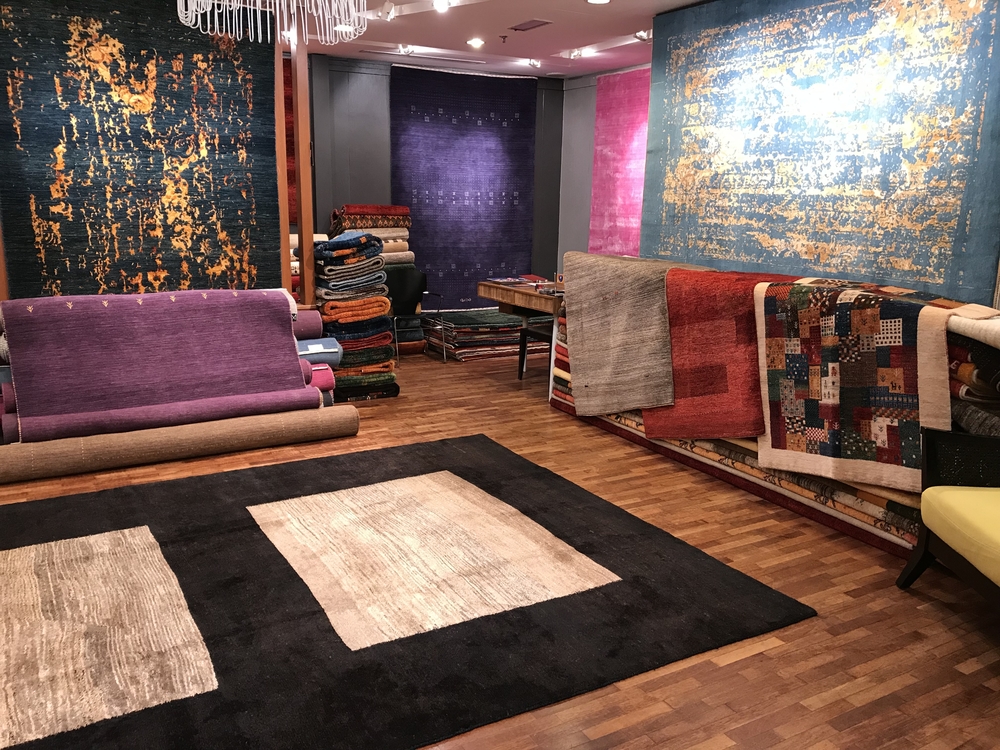 A trusted name in today's modern deco, Gabbeh is made of natural, hand-spun wool yarn with bright vivid colours created from plant dyes.
Gabbeh rugs are mostly made by the nomadic trades of Farsi provinces in South-West Iran, the most famous of which is the Qashqai tribe from Shiraz. Gabbeh designs are typically asymmetrical and often depict symbols and motifs which tell the weaver's personal stories.
At Persian Collection's Gabbeh Showroom, you will find the biggest variety of specially handpicked Persian Gabbeh.
Gabbeh is offering a year-end sale discount of up to 70%, and each purchase comes with a free gift!
Address: Lot S12 ,2nd floor, Bangsar Shopping Centre
Tel: +603 2095 8966 | TollFree: 1-800-CARPET
E-mail: [email protected]
Nottingheels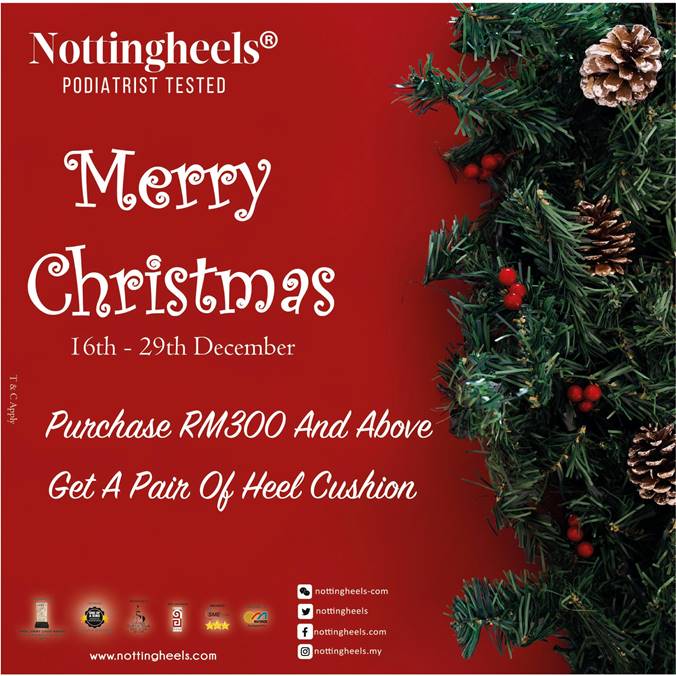 Merry Christmas from Nottingheels.com! Purchase RM300 and above and receive a pair of heel cushions! It's the time of the year to pamper those feet ladies. To meet growing demand for fashion forward, orthopedically correct and corrective shoes, Nottingheels developed fashionable footwear solutions suitable for women and men across retail and corporate professions to hospitality and travel industries alike.  Whether one is standing, walking or working in company offices or on sales floors, in air cabins or at finer restaurants, they can now be in stylish comfort shoes.
Address: Lot F 140 1st Floor, Bangsar Shopping Centre
Tel: +603 2011 4000
Opening hours: 10am – 9pm
Lalejin Home & Deco
Check out some beautiful unique handmade Middle Eastern home decor from Lalejin, perfect little gifts for a proud homeowner or someone who would like to spruce up their work desk!
Lalejin is offering a year-end sale discount of up to 50%.
Address: TK4, 3rd Floor, Bangsar Shopping Centre
Tel : +6012 3080 068
E-mail: [email protected]
Food and Beverage
Dancing Fish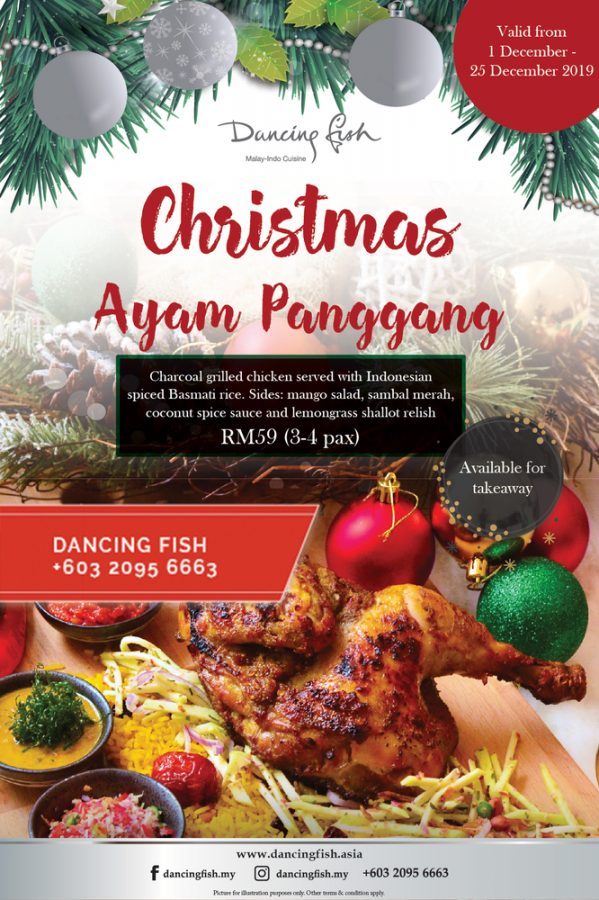 Combining the best of local tastes and international festivities, Dancing Fish is offering a whole roast chicken Indonesian-style with spiced Basmati rice and sides of mango salad, sambal merah, coconut spice sauce, and lemongrass shallot relish. The Christmas Ayam Panggang is available for takeaway if you're in a pinch on what to bring to that potluck dinner!
Address: Lot T120, 121 & 122 285, 3rd Floor, Bangsar Shopping Centre
Tel: +603 2095 6663
Opening hours: 10am – 10pm
Dome
Address: Lot G7, Dome Cafe, Bangsar Shopping Centre
Tel: +603 2092 4377
Hours: 3pm – 6pm
Ruyi & Lyn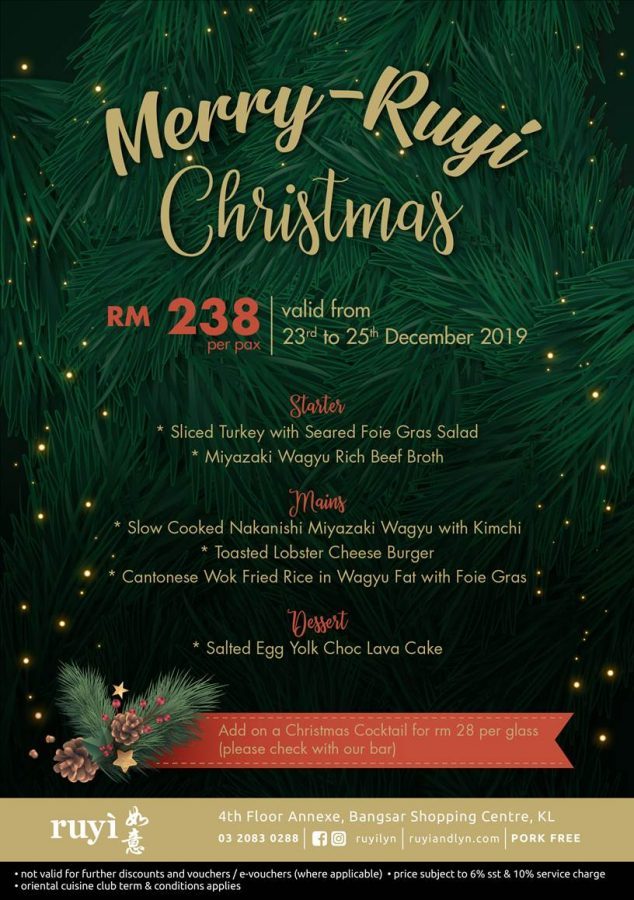 Still can't decide where to have your Christmas gatherings? RUYI & LYN 如意 is your answer to a gastronomic and fulfilling festive feast! Hurry and make your reservations today.
A modern Chinese restaurant perched on the top floor of Bangsar Shopping Center, Kuala Lumpur; with over 22,000 sq feet of space, we are no ordinary restaurant. It's huge. It's a dream.
RUYI represents a heartfelt desire of the good life. LYN is an acronym for Link Your Network: our dream of bringing people together – of all races, gender, religion, social backgrounds and nationalities.
Address: 4th Floor, Annexe, Bangsar Shopping Centre
Tel: +603 2083 0288
Opening hours: 12pm – 12am
Monte Carlo Bistro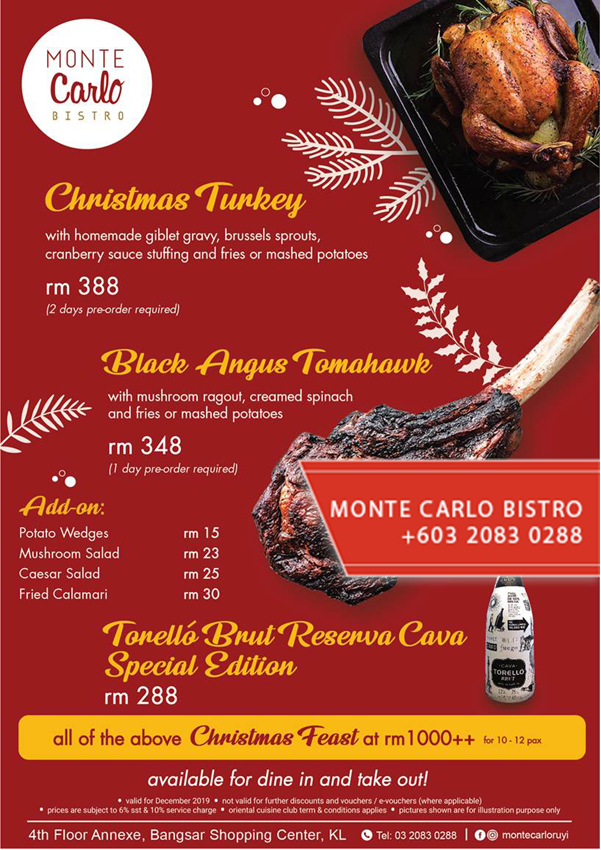 *2-day preorder must be made.
For the unconventional, a Black Angus Tomahawk is available with mushroom ragout, cream spinach, and fries/mashed potatoes at RM348.
*1-day preorder required.
Get both those deals and a bottle of Torello Brut Reserva Cava Special Edition for 10 – 12 pax at only RM1000++ for dine in or take out!
Address: 4th Floor Annexe, Bangsar Shopping Centre
Tel: +603 2083 0288
Opening hours: 10am – 10pm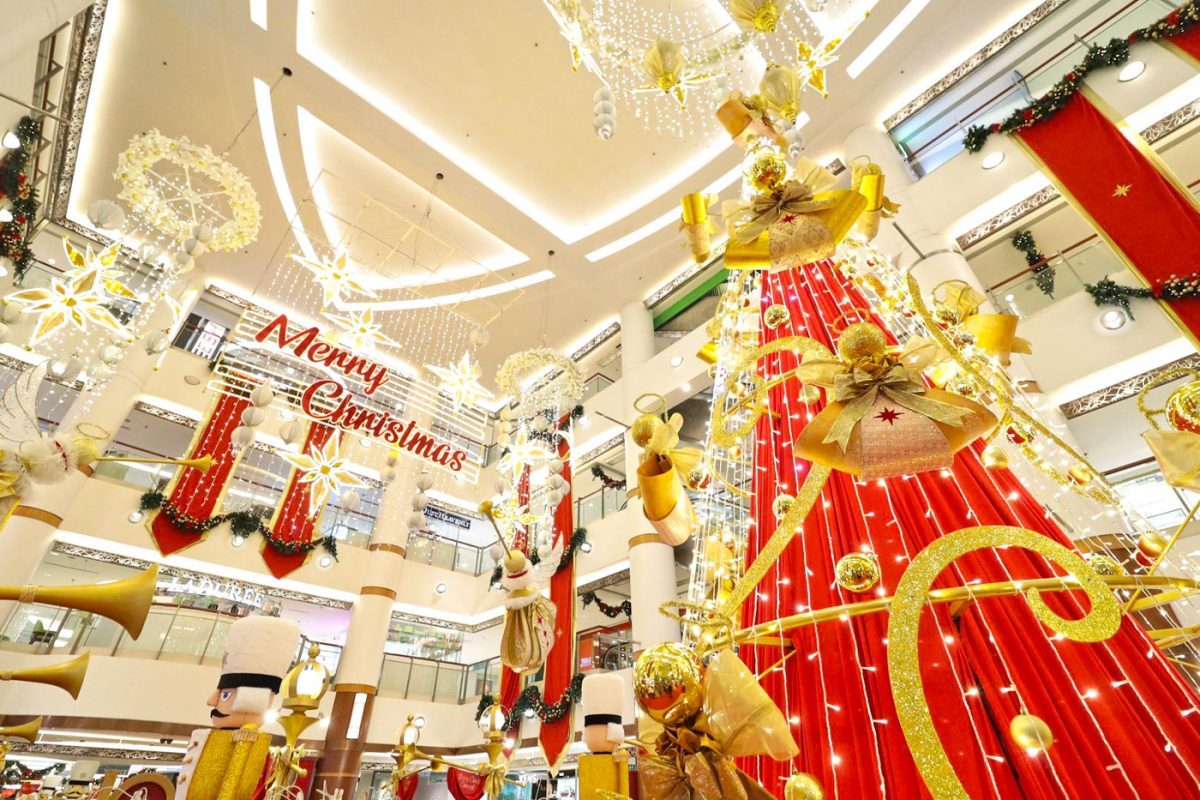 To learn more, and for updates on shopping specials, events, and all the festive timetables, just visit bsc.com.my.
Address: Bangsar Shopping Centre, 285 Jalan Maarof, Bukit Bandaraya, 59000 Kuala Lumpur
Tel: +603 2094 7700
Opening hours: 10am – 10pm daily