Australia's Favourite Gin Comes to Malaysia
Four Pillars. Four gins. That's what Malaysian consumers can enjoy from the amazing Australian distillery that's gone from start-up to top-of-class in just a few short years!
In 2015, Four Pillars was already developing some of the world's best gins at what used to be a lumberyard in Healesville in the Yarra Valley of Australia. Among the first wave of craft distillers to produce a gin in Australia, Four Pillars grew from a small craft distillery run by three friends in 2013 to being named the world's leading gin producer by the International Wine & Spirit Competition (IWSC) for the last two years in a row, making Australia's favourite gin officially the world's best.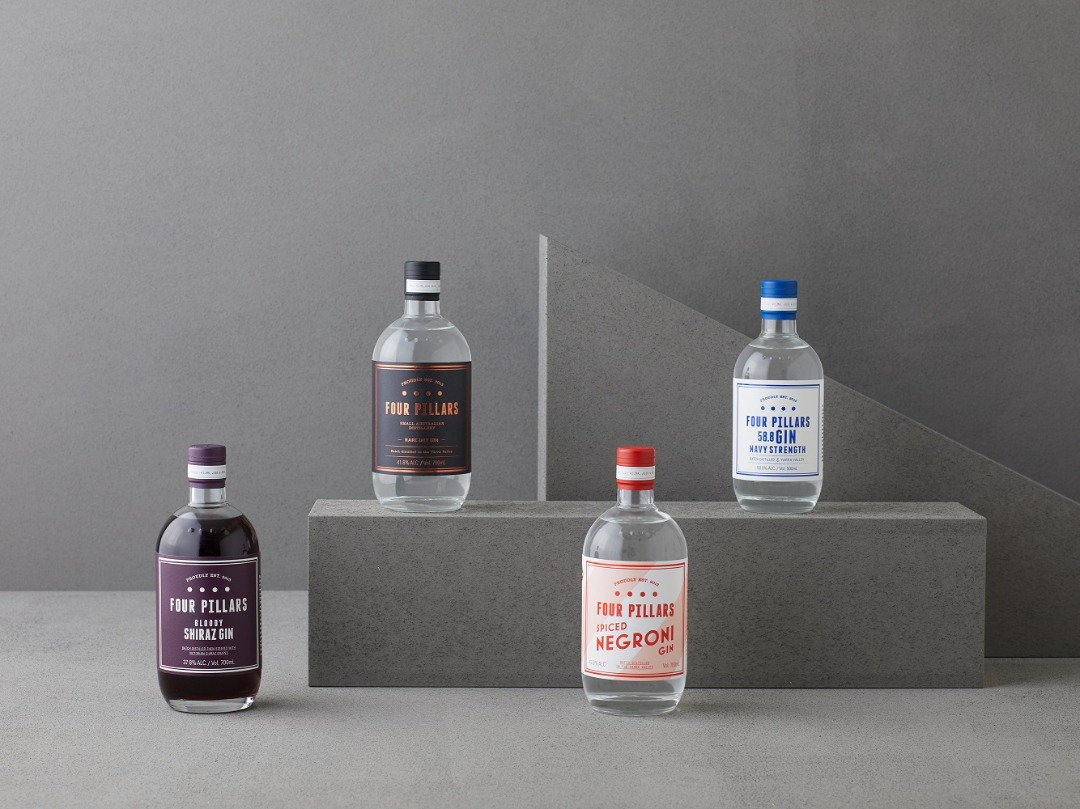 The modern Australian gin maker stakes claim to the world's most delicious and awarded range of craft gins. With access to some of the most diverse flora from down under, Four Pillars combines intense creativity around gin with a huge passion for hospitality and gin-influenced good times.
Local native botanicals like lemon myrtle from Queensland, Pepperberry leaf from Tasmania and fresh local citrus in every bottle, give Four Pillars gin its unique flavour, but the art of making great gin doesn't stop there. The award-winning gin maker scours the corners of the globe to get its concoctions to their current level of renown. From Macedonian juniper berries, turmeric from Nepal, and tea from Japan, no expense is spared to create the perfect infusion for each craft gin.
We've sampled some of the results from Four Pillars and can certainly vouch for the quality… all their efforts pay off beautifully in a curated range of distinct gins that each hold a unique niche on the bar.
Distribution of these four core gins from Four Pillars will be managed in Malaysia by Luen Heng F&B.  The labels include Rare Dry Gin, the original classic with citrus and just enough spice, Bloody Shiraz Gin steeped with local Yarra Valley wine grapes, Navy Strength Gin which is intense (at 58.8% ABV), smooth and made for cocktails, and the IWSC award-winning Spiced Negroni Gin, the only gin in the world specifically created from scratch to go into the wildly popular Negroni cocktail, specially crafted to cut through the bitter Campari and vermouth. Highly aromatic, rich, and spicy with great power and intensity, it draws on the West African spice grains of paradise and Indonesian cubeb peppercorns to really up the ante. As if that weren't enough, Tasmanian Pepperberry leaf, cinnamon, and fresh ginger in the botanical basket help lift the spice notes and complete this international champion.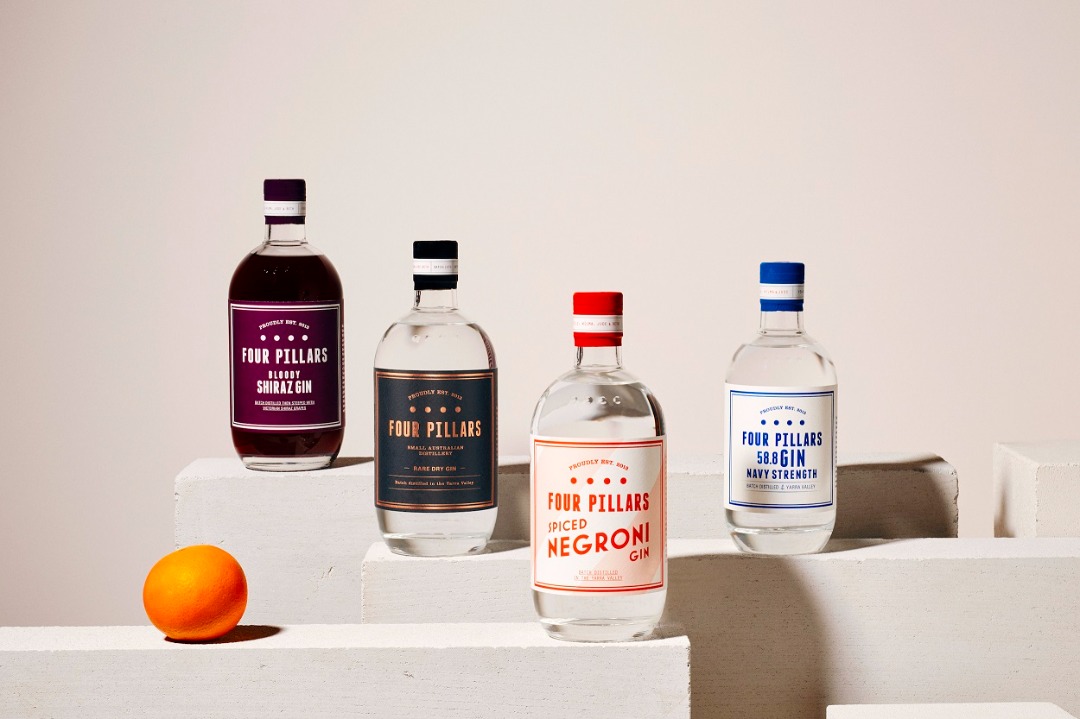 Possibly the most impressive label in the line-up, however, is the Bloody Shiraz Gin. Starting with the distillery's Rare Dry Gin variant, Victorian Shiraz wine grapes are steeped in the spirit to yield a unique gin that's lashed with complex flavours and an enticing level of natural sweetness. The finished product clocks in at just 37.8% ABV, so it's a bit lower than the usual gin (and considerably lower than Navy Strength gins), making it a nice choice for those seeking lower-alcohol cocktails (albeit by just a little bit in this case).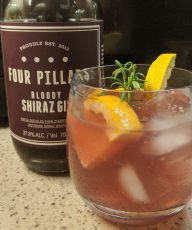 The best way to showcase the Bloody Shiraz Gin is also just about the simplest. Here's all you need:
45mL Four Pillars Bloody Shiraz Gin
90mL Bitter Lemon Tonic Water, chilled (we like Fever Tree)
Slice of ruby grapefruit
Sprig of fresh rosemary
For maximum cocktail awesomeness, fill a chilled glass with ice cubes, grapefruit, and rosemary, and, using a bar spoon, stir quickly for about 10 seconds to further chill the glass and release some of the aromas and flavours of your garnish. (You can add the garnishes at the end, but we tried both methods and preferred the extra bit of infusion.) Strain off the bit of melted ice water, then add the gin, followed by the bitter lemon tonic. Give a quick stir and be prepared to make another one, because you'll probably polish off the first one in no time! It really is that refreshing, tasty, and easy to drink.
For a selection of the best contemporary, inventive, and fresh takes on gin check out Four Pillars at Luen Heng's e-commerce site HERE. (We have noted that some of the products go out of stock quickly, perhaps a testament to their fast-growing popularity.)
 Feature image courtesy of Australian Bartender.