Junior Chellapa: Review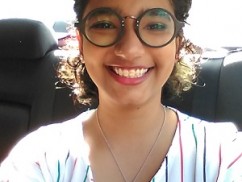 Kathleen Fernandez
April 9, 2018
LIKE 'EATDRINK' ON FACEBOOK
Share This Post :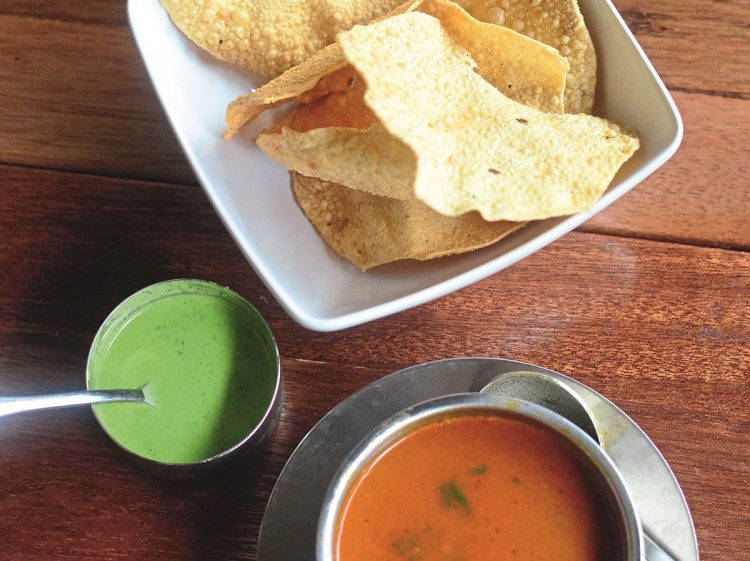 Waking in, we were greeted with a blast of colours and smells – the walls were adorned with colourful prints and designs while delicious smells of Indian cooking waft into the dining area from the kitchen. We started off our Indian feast with the tangy and spicy crab rasam. It's a good opener to this meal, in my opinion, as it perfectly teased the appetite for the spice-heavy dishes that followed.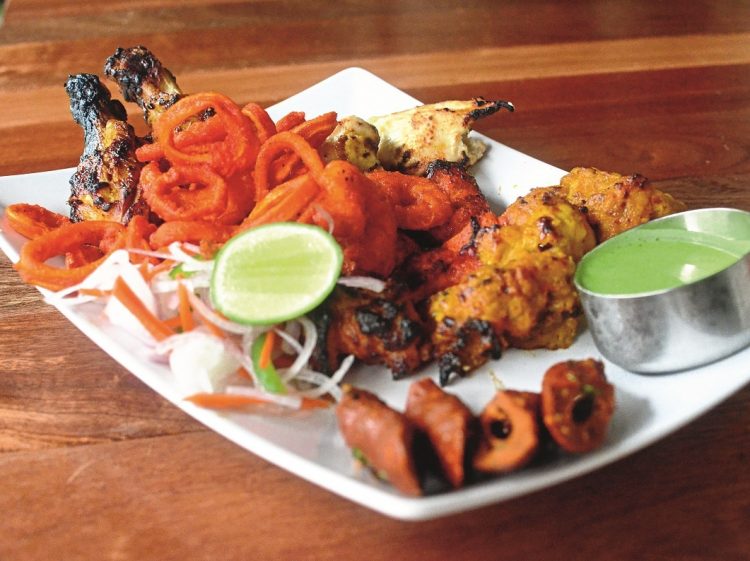 Next on the menu was the exotic tandoor and hot platter that came with three types of chicken, one fish, and lamb kebabs all cooked in a tandoor (Indian clay oven) as well as some deep-fried battered shrimp and calamari rings. This platter is a meat-lover's dream! The three types of chicken were satisfyingly charred and distinctly flavoured while the lamb kebabs were herbaceous and tender. The fish, however, was the best part – tender, juicy, and packed with flavour and a smoky aroma from the tandoor.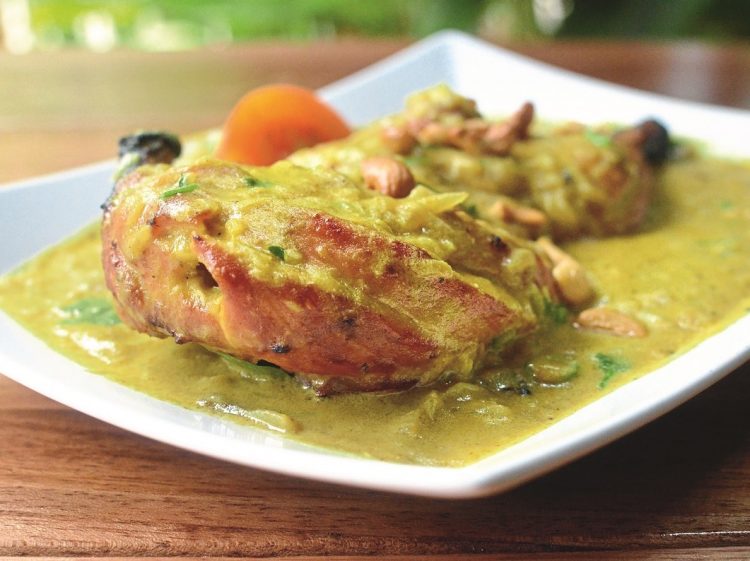 Next up on this poultry heavy meal was the half chicken pasanda – a kurma like curried chicken with a creamy cashew nut gravy, succulent chicken on the bone, and a warm heat from bird eye chillies. The gravy in the pasanda was just begging to be scooped up, so that's just what I did, using naan as my vessel. The original and garlic naan served were perfect substitutes for modern cutleries, which lay forgotten by the side of my plate after a few minutes.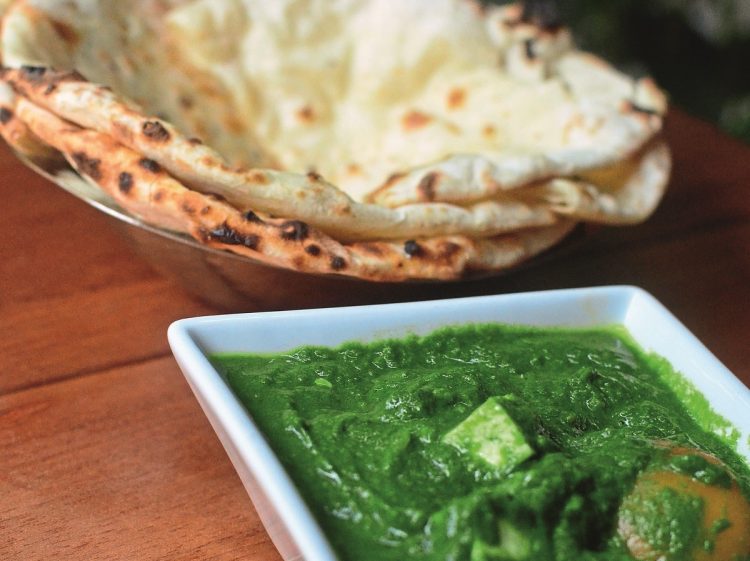 Apart from naan, we also sampled the briyani – perfectly cooked long grain rice speckled orange and yellow with turmeric and a number of other spices to give it the familiar briyani flavours most Malaysian's are accustomed to. Accompanying this, we had a serving of palak paneer, cubes of cottage cheese served in a vivid green spinach gravy. If you're a fan of palak paneer, this might tickle your taste buds. The cottage cheese is firm without being hard and the spinach gravy is bright and light on the palate.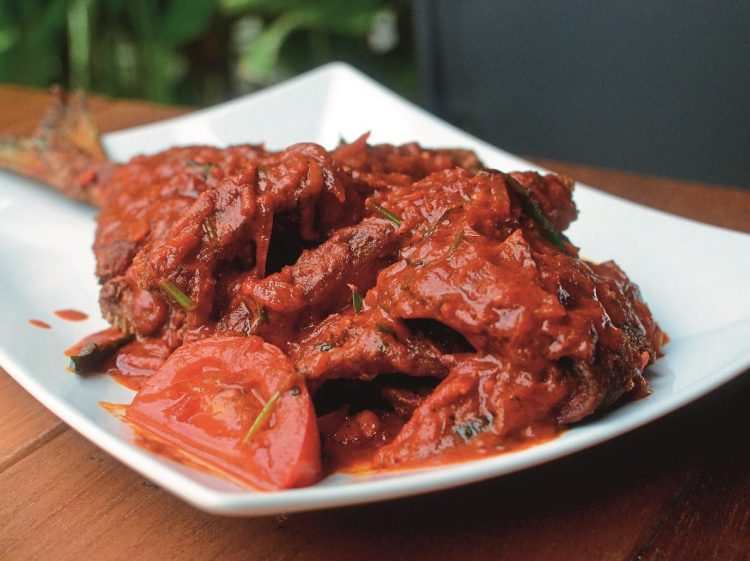 It's worth noting that some of the best dishes at Junior Chellapa are their seafood offerings. We also ordered the sliced fried fish sambal which was easily my favourite of the entire meal. The beautifully fried pomfret slices were coated with a smooth, spicy, and tangy sambal that complimented the tender white fish. What's better is scooping up pieces of the fish and sambal with a bit of naan. With sips of salted lassi in between, it was a party in my mouth.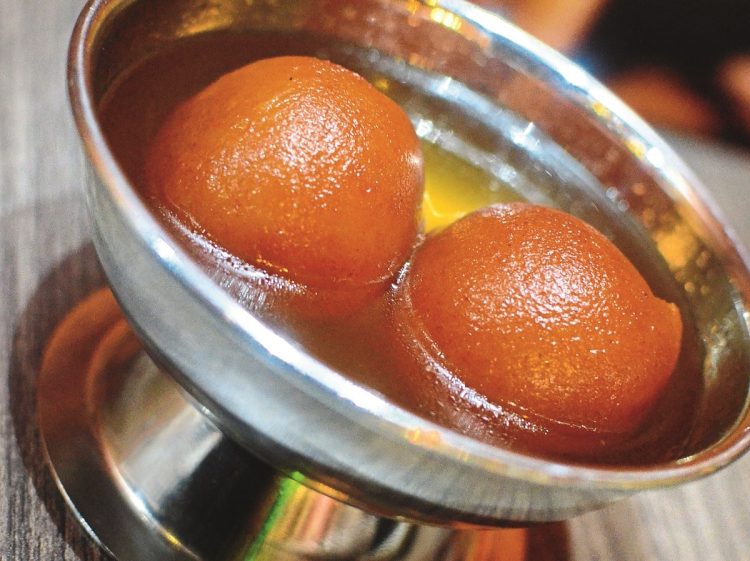 Now, any Indian cuisine connoisseur will tell you that no good Indian meal is complete unless you have a traditional sweet Indian dessert. Who am I to argue with that? To round things off, I had the gulab jamun. I was excited to dig in and I was not at all disappointed. The milk dumplings were light, had a slight chew to them, and the rose scented syrup was not overly sweet so as to overpower the dumplings. It was a sweet end to a warm meal.
Location & Details
Address: Junior Chellapa, 4, Lorong Raja Chulan, Kuala Lumpur, 50250 Kuala Lumpur
Hours: Daily, 11am – 2.30pm and 6.30pm to 10.30pm
Tel: +603 2020 1020
Find: View directory for Junior Chellapa here.
This article was originally published in the June 2017 issue of The Expat magazine.
Related Topics