14 rooftop bars in KL with the best views
EatDrink Staff
March 2, 2016
LIKE 'EATDRINK' ON FACEBOOK
Share This Post :
There are a few ways you can savour the KL skyline, and one of those ways would be to have a relaxing drink in a classy high rise or enjoy a party in the sky. Kathleen Fernandez takes a look at the best bars with a view in Kuala Lumpur:
1. Marini's on 57
There might be no better perch in KL for sipping a Sangria while soaking up the sunset. The entrance to Marini's can be best spotted from outside Mandarin Oriental Hotel's lobby; take the express elevator, which whisks customers within 60 seconds to near the top of the 58-floor Petronas Tower 3.
Read review: Marini's on 57 at Petronas Tower 3
Find: Contact details and map for Marini's at 57
2. Elysium
With a soaring 32nd-floor view that takes in both the Petronas Twin Towers and the KL Tower, Elysium's cushion-filled outdoor lounge offers one of the city centre's most scenic settings for kicking back over cocktails.
Read review: Elysium at Wisma Goldhill
Find: Contact details and map for Elysium
3. SkyBar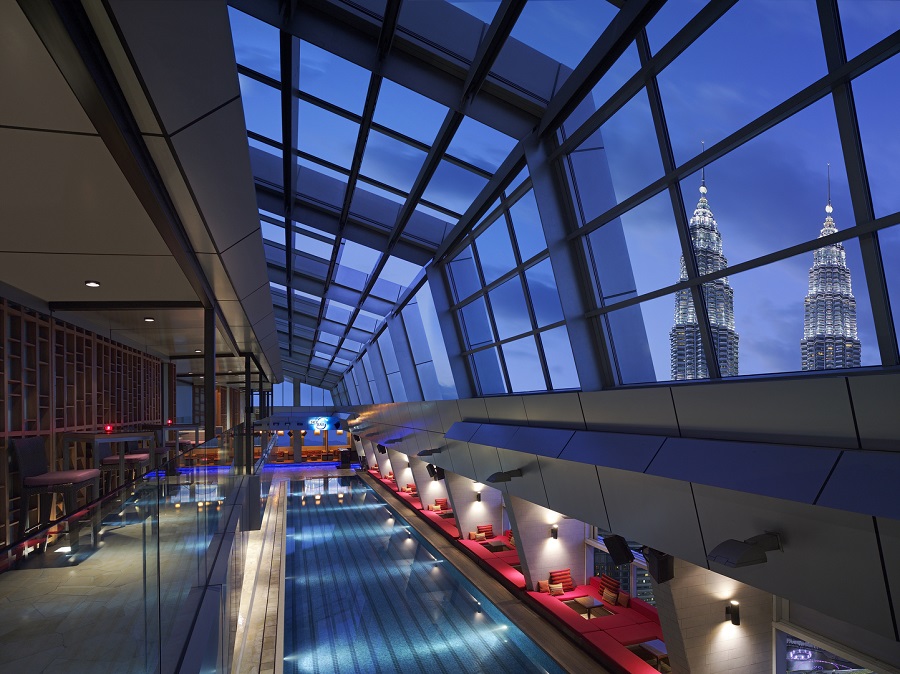 Perched high up on the 33rd floor of the Traders Hotel, SkyBar KL gives you an amazing panoramic view of the city's skyline as you sip on delicious cocktails and nibble on an array of scrumptious snacks. SkyBar offers a bar at one end, a pool in the middle, sunken booths, and day beds next to the floor-to-ceiling windows, which offers a magnificent view of the Petronas Twin Towers. It defines high-level relaxation.
Read review: SkyBar, KL
Find: Contact details and map for SkyBar
4. Stratosphere at The Roof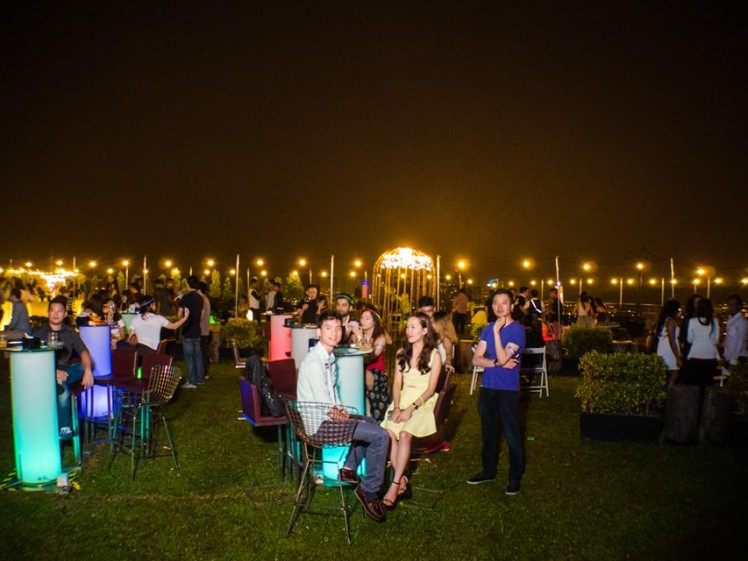 Stratosphere is a a bar on a grassy helipad with an unfettered 360-degree view of suburban Petaling Jaya and its surroundings. But with no roof to call its own, Stratosphere's at the mercy of the elements. Rainy evenings, begone!
Read review: Signature and Stratosphere at The Roof
Find: Contact details and map for Stratosphere
5. Luna Bar
Luna is nicely laid out and so welcoming upon entry; to the left is a neon-lit bar which leads down almost the entire length of the open rooftop space. 34 floors up is more than enough to get a staggering view of Bukit Bintang sprawled below you – but the bar's centrepiece is the giant, 'real-life disco ball' above your head.
Read review: Cristallo di Luna and Luna Bar at Pacifc Regency Hotel
Find: Contact details and map for Luna Bar
6. Heli Lounge Bar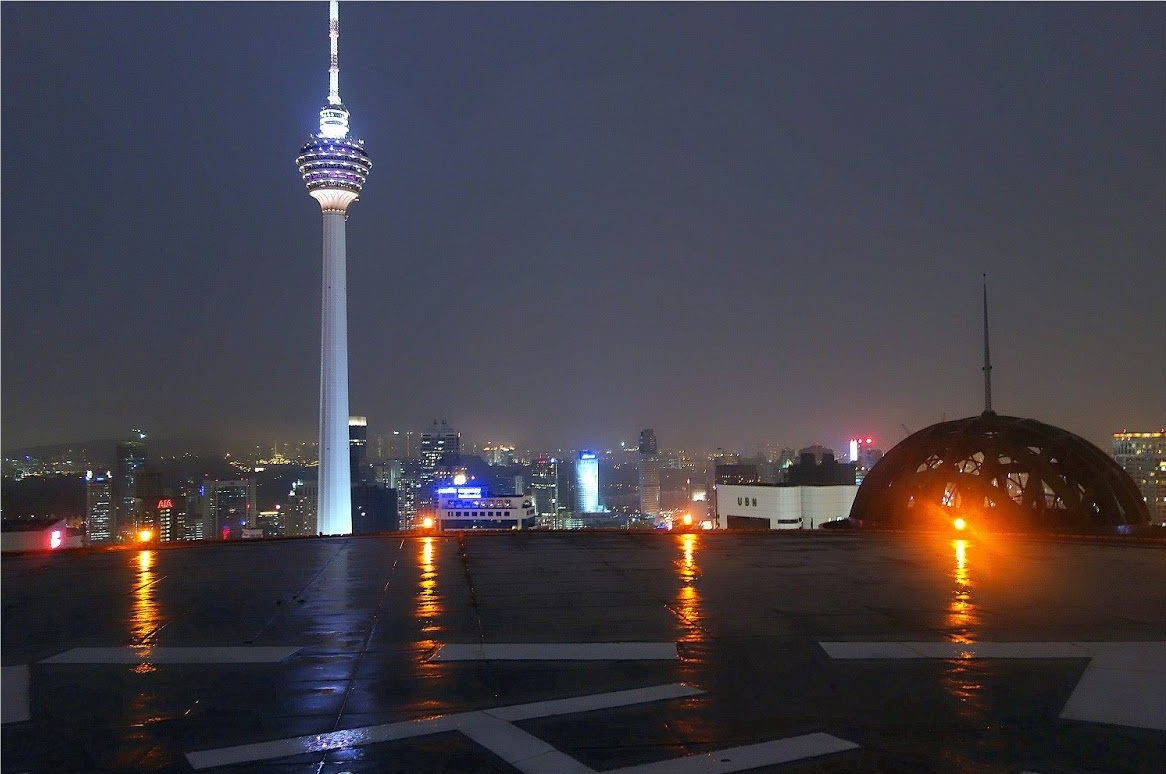 Heli Lounge Bar isn't just another KL rooftop watering hole; customers can spend the evening sipping cocktails on the 36th-floor helicopter landing pad of Menara KH, with no walls or windows to ruin their 360-degree view of KL's skyline. The helipad is also a fully operational one; so the bar is;t open during the daytime.
Read review: Heli Lounge Bar at Menara KH
Find: Contact details and map for Heli Lounge Bar
7. Thirty8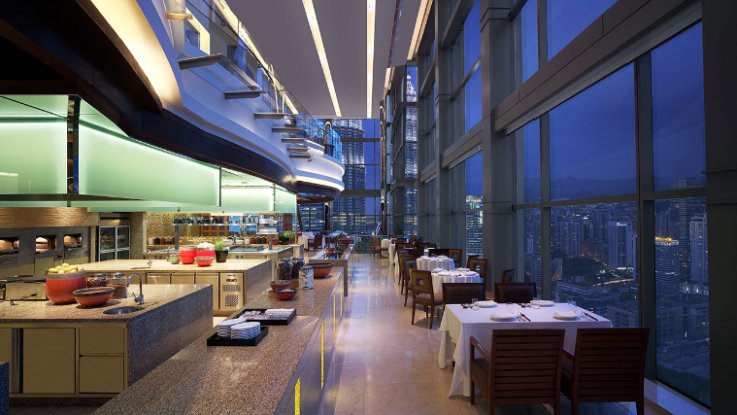 Unsurprisingly situated on the 38th floor of the Grand Hyatt in KL, this lounge boasts a 360-degree view of the city. The cosy sitting area is designed for relaxation and the sophisticated menu and cocktails are as impressive as the circular wine bar counter. This is an elegant high-rise space that would make any celebration just that little bit more special.
Find: Contact details and map for Thirty8
8. Mai Bar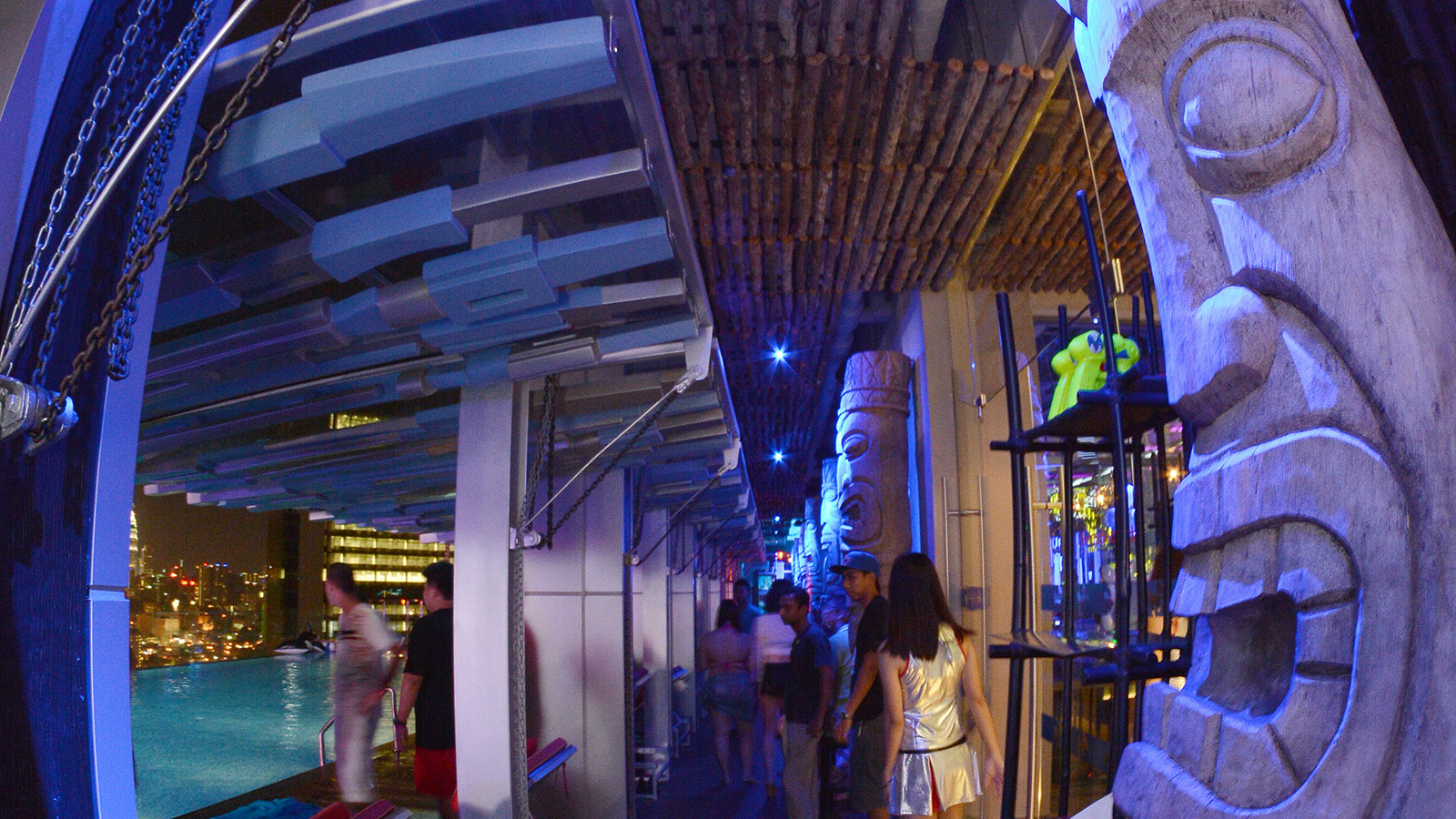 This Tiki-themed rooftop bar at Aloft in KL Sentral serves up fun concoctions in the air, with an elongated black bar that's lit with LED lights to supposedly represent the pacific rim. The Tiki theme doesn't stop at the decor – which includes Tiki paintings and sculptural artwork by Australian artist Tony Twigg – it flows into the cocktail menu as well, which features traditional cocktails with a local twist that are sometimes served in Tiki themed mugs.
Find: Contact details and map for Mai Bar
9. Rooftop Mansion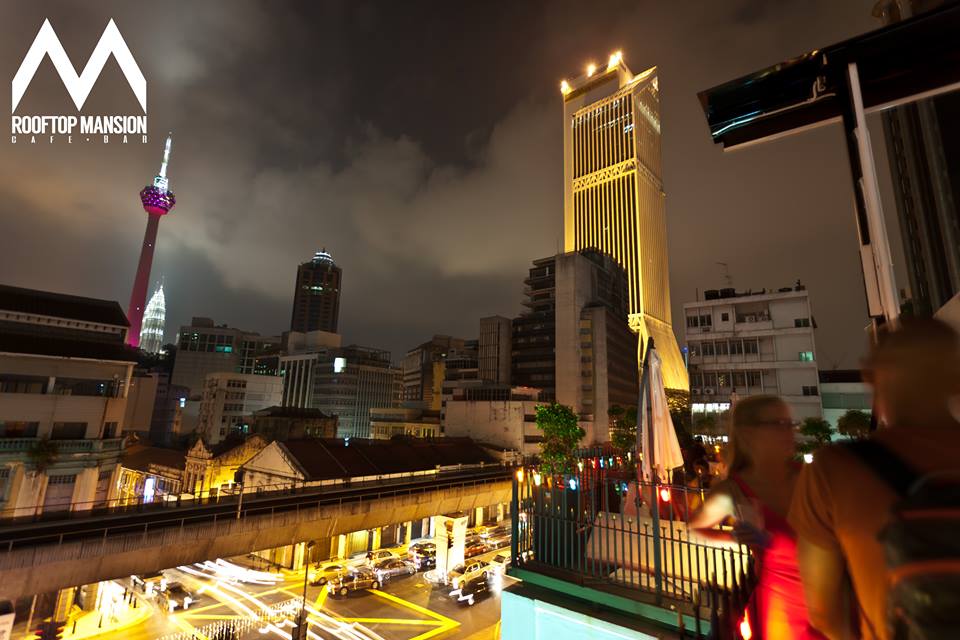 Widely regarded as one of the best backpacker venues in town, this sixth-floor rooftop party pad has cocktails in buckets, a pool table, long wooden tables for drinking games and a chill-out space. The Chinatown location means that the venue has a great view across to KL Tower, and good-value drinks and popular DJs playing commercial house music mean that this is always a big night, especially for tourists.
Find: Contact details and map for Rooftop Mansion
10. Tetto Lounge
One of the slightly less frenetic venues of Bukit Bintang's Changkat neighbourhood, Tetto, tucked away above Fuzio restaurant on Jalan Berangan, has a big screen, a couple of comfy sofas, and drinks promotions. Also, guests can climb up the steel spiral staircase to the exclusive-feeling rooftop that is just high enough to be away from the chaos of the party street itself without feeling too far from the action.
Find: Contact details and map for Tetto Lounge
11. Mojito Rooftop bar, Nagaba
For a dose of day-drinking amid wide-open spaces with a view in the city centre, check out Mesui's Mojito Rooftop Bar in Nagaba. Even if the sun may be fierce, it's never too early for a cocktail or two. True to its name, the bar has a mojo for Mojitos: classic, coconut, white grape, watermelon, passion fruit or lychee
Read review: Mojito Rooftop Bar at Jalan Mesui
Find: Contact details and map for Mojito Rooftop Bar
12. View Rooftop Bar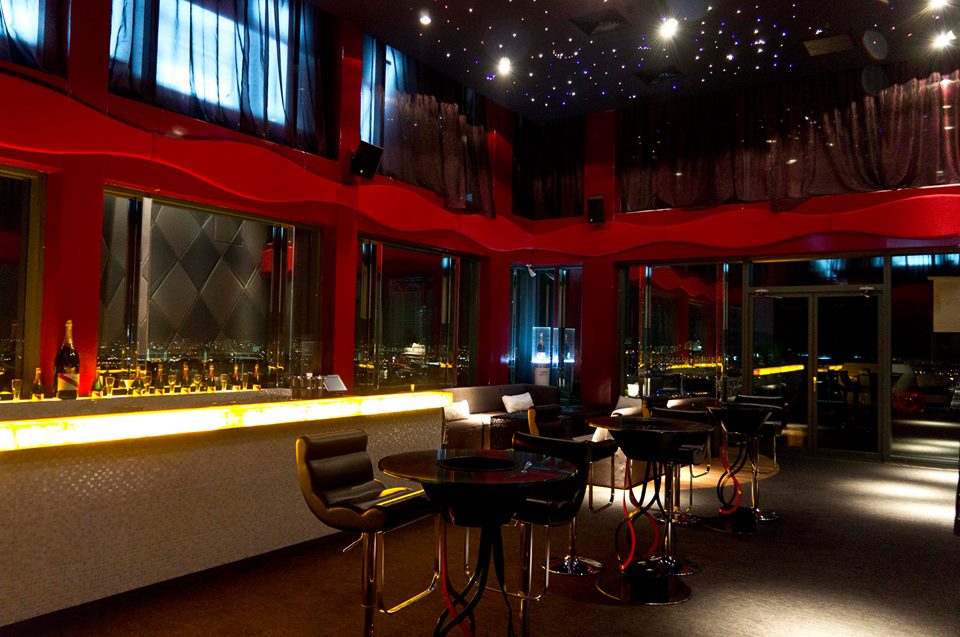 VIEW Rooftop Bar transforms the Kuala Lumpur skyline; evoking the senses of sight, sound and taste with a panoramic view of Kuala Lumpur. Ideal for romantic interludes, glamorous cocktail parties and unforgettable events, VIEW is a unique chill-out option. You'll witness stunning sunsets and magical moonlit skies with a cocktail in your hand.
Find: Contact details and map for View Rooftop Bar
13. The Bridge Bar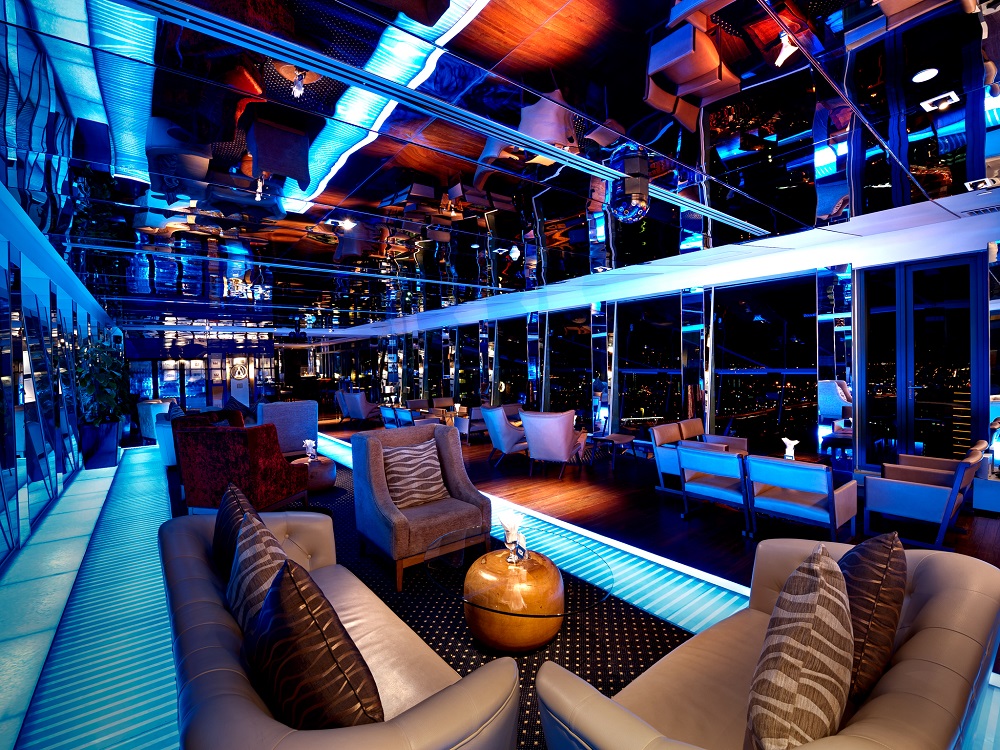 An exclusive, neat little nook at G Tower, the Bridge Bar is highly exclusive. Hotel guests get free entry but the general public is charged RM50 to step in. The entry charge may be steeper than most places in KL but entry comes with one free drink and the stylish interior of chic furniture plus a glass platform to view the city below more than makes up for it.
Find: Contact details and map for The Bridge Bar
14. Fuego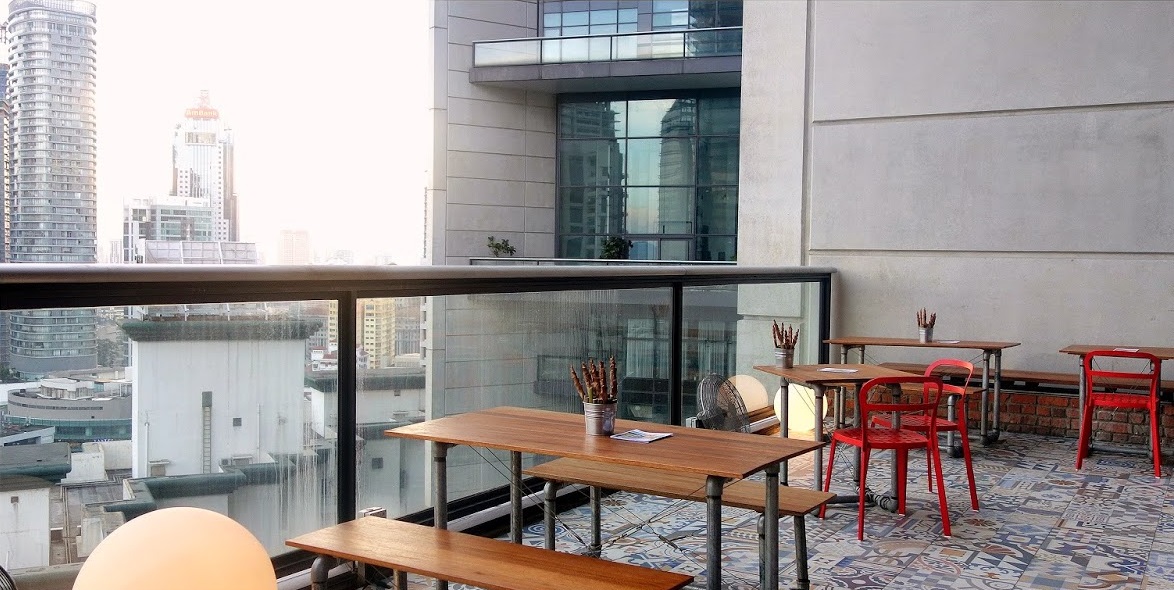 Irresistible strains of South American fever swirl around the upper reaches of Troika Sky Dining, where few customers will be immune to the culinary contagion unleashed by Fuego, Eddie Chew & Chris Bauer's latest establishment. This alfresco bar on The Troika building's 24th floor is inspired significantly by 'asado' barbecue-style feasting. But it's evolved into even more than that, thanks to a menu that comprises some of KL's most cunningly creative tapas & cocktails.
Read review: Fuego: South American tapas and cocktails
Find: Contact details and map for Fuego
Related Topics