10 contemporary twists on nasi lemak in KL and Selangor
Sean Yoong
July 1, 2015
LIKE 'EATDRINK' ON FACEBOOK
Share This Post :
1. Nasi Lemak Pizza at Tujo, Jalan Pinang
Photo courtesy of Tujo
Nasi lemak possesses a potential that many Malaysian restaurants are exploiting in imaginative ways. Innovations like Tujo's Malaysiana pizza, showered with typical nasi lemak accompaniments like crispy anchovies, peanuts and sambal on a squid ink or spinach-infused crust, illustrate our continuing fascination with the country's national dish.
Address: Ground Floor, Ascott The Residence
Find: Contact details and map for Tujo
Read Review: Tujo at Ascott Kuala Lumpur: Restaurant Review
2. Nasi lemak sushi at Ruyi & Lyn, Bangsar Shopping Centre
This new restaurant serves a sushi compilation of nasi lemak, Hainanese chicken rice and sticky mango rice. Fun stuff – the rice is prepared like the real thing, so you get the full fragrance and flavour infused in each distinctive recipe – coconut milk nuances in the petite nasi lemak sushi, for example, crowned with anchovies, peanuts, sambal and tiny slices of egg.
Address: Level 4, Bangsar Shopping Centre
Find: Contact details and map for Ruyi & Lyn
Read Review: Ruyi & Lyn at Bangsar Shopping Centre: Restaurant Review
3. Nasi lemak crème brulee at Ecole P, Damansara Uptown
Ecole P's 'nasi lemak' creme brulee took a long time to fine-tune, but it's a texturally flawless triumph now, with dynamic dimensions of pandan, coconut and a hint of ginger that carefully replicate the taste of nasi lemak. Accompaniments for this recipe change from time to time like berry sambal and an anchovy-peanut brittle.
Address: First Floor, 19, Jalan SS21/37,  Damansara Utama
Find: Contact details and map for Ecole P
Read Review: Review: Ecole P, New Menu at Damansara Uptown
Updated on 9th May, this restaurant has since closed but may reopen. We'll keep you posted.
4. Nasi lemak gelato at Cielo Dolci at IOI City Mall, Putrajaya
Photo courtesy of Cielo Dolci
Cielo Dolci's 'nasi lemak' gelato has become the stuff of legends, now available on selected weekends at its outlet in IOI City Mall as well as spin-offs Whimsical at Solaris Dutamas and Every Sundae at Damansara Uptown.
Address: iOi City Mall
Find: Contact details and map for Cielo Dolci
5. Nasi Lemak 1.0, 2.0, 3.0 and more at Wondermama, Bangsar Village
Wondermama is serious about its nasi lemak; expect multiple variations of moist, satisfyingly fragrant rice partnered not only with the perfect accompaniments of sambal petai udang, kangkung, peanuts, hard-boiled egg and ikan bilis, but also new-fangled options like soft-shell crab, salmon, or chicken karaage, deep-fried the Japanese way.
Address: Bangsar Village 1
Find: Contact details and map for Wondermama
Read Review: Review: Wondermama X at Avenue K
6. Nasi Lemak with a health-conscious twist at Fortunate Coffee, Sentul
Fortunate Coffee's nasi lemak is built with brown rice & a little less coconut milk than the norm; most of the flavour comes from the accompaniments – organic tempeh, potato rendang, a tasty-thick sambal & a side salad with passion fruit dressing. Typically available Mondays through Thursdays.
Address: H-G-3A Ground Floor, Plaza Riverwalk, 3rd Mile Jalan Ipoh
Find: Contact details and map for Fortunate Coffee
Read Review: Fortunate Coffee at Riverwalk: Restaurant Review
7. Nasi Lemak with Korean Fried Chicken at Project B, Sentul
Order a regular serving of nasi lemak at this new café and you can choose to pair it with a variety of fried chicken. Our recommendation: Try the Korean sweet-and-sticky chicken for pan-Asian pleasure.
Address: 25-G Jalan 11/48A, Sentul Raya Boulevard
Find: Contact details and map for Project B
Read Review: Project B at Sentul Raya Boulevard: Restaurant Review
8. Nasi lemak pizza at Brulee Brasserie, Casa Tropicana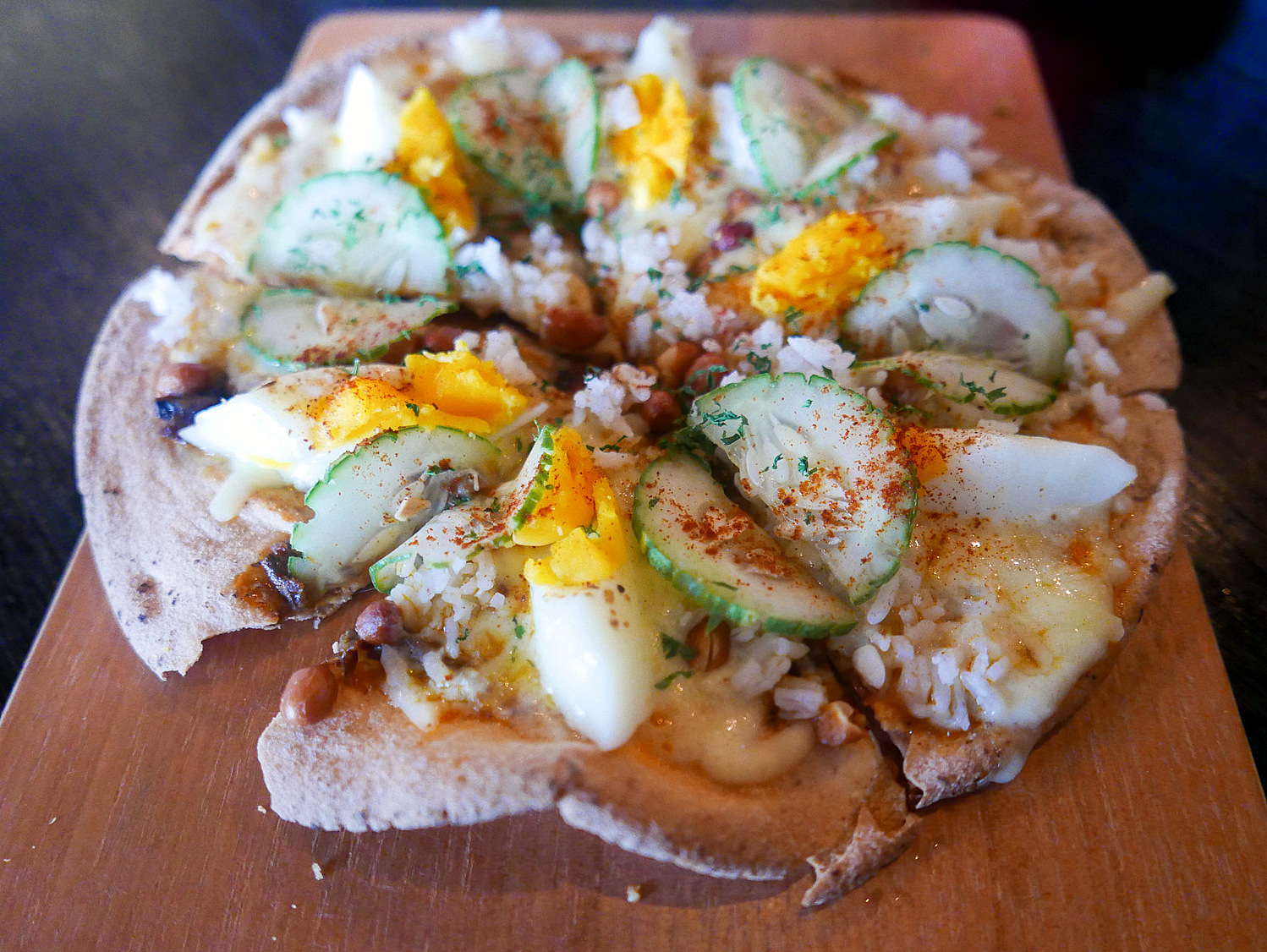 Brulee Brasserie has pizza inspired by local favourites like Sambal Petai Pizza. Another domestically influenced delight is the Nasi Lemak Pizza, a fun fusion of Malaysian and Italian sensibilities, crowned with the crucial coconut milk rice, hard-boiled egg, cucumber, peanuts and anchovies.
Address: B1-2, Casa Tropicana, Jalan Persiaran Tropicana
Find: Contact details and map for Brulee Basserie
Read review: Brulee Brasserie at Casa Tropicana
9. Nasi lemak cheesecake at Lepaq Lepaq, Ceylon Road
This could become Lepaq Lepaq's best-seller, tinged with morsels of glutinous rice and peanuts, topped with cucumber gelatin, anchovies and sambal – an honourable effort at turning Malaysia's national dish into dessert. The cake's flavours tip toward sweetish; the savoury and spicy components feel comparatively muted, illustrating some of the inherent constraints in making a peculiar cake taste palatable.
Address: Lot 687, Jalan Ceylon
Find: Contact details and map for Lepaq Lepaq
Read review: Lepaq Lepaq at Ceylon Road
10. Nasi Lemak apam at Hoppers KL, Pudu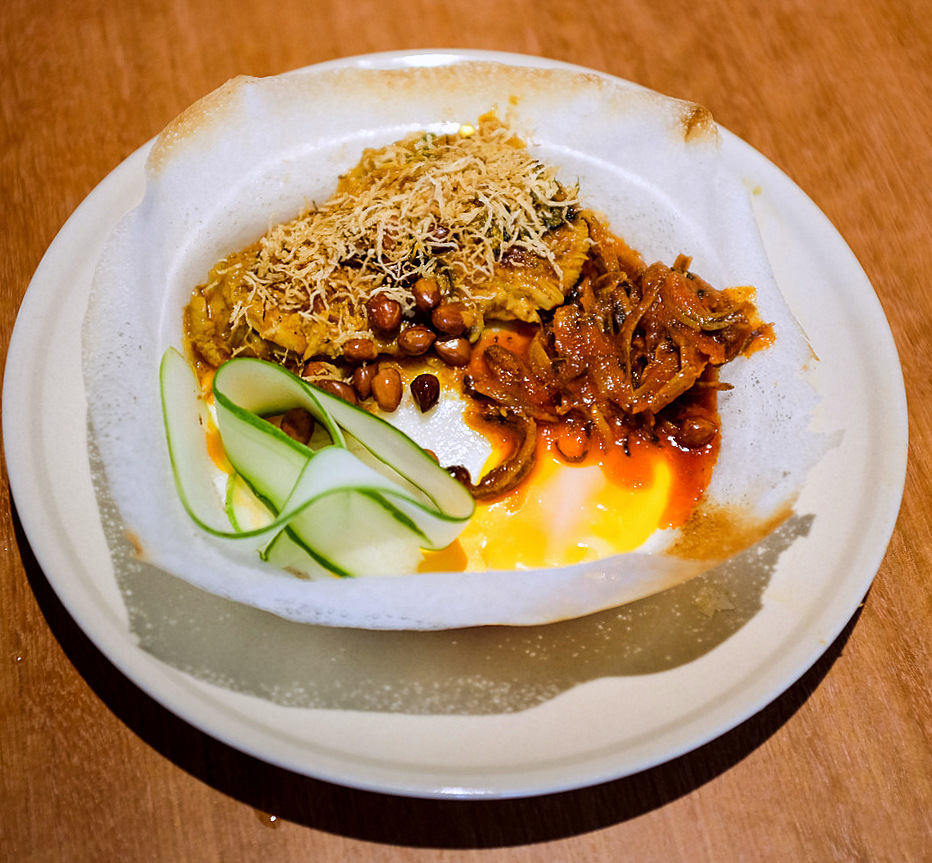 Contemporary hoppers – pancakes inspired by South Indian and Sri Lankan traditions, infused with Malaysian flavours. Start with the savoury interpretations, available as plain pancakes or with an egg baked at the base, complete with elaborate toppings. The combination of slow-roasted chicken rendang, sambal ikan bilis, groundnuts and cucumbers is an unmistakable homage to the nuances of nasi lemak.
Address: 76 Jalan Pudu, Kuala Lumpur
Find: Contact details and map for Hoppers KL
Read review: Hoppers KL at Pudu
Read More:
This article was originally published in July 2015 and was updated in May 2016.
Related Topics